2019 WASHOUGAL NATIONAL PRE-RACE REPORT (UPDATED)
THE 2019 WASHOUGAL NATIONAL PRE-RACE REPORT
We are excited to head north and capture all of the action from the beautiful Washougal MX Park this weekend. 
The 2019 AMA Outdoor Nationals are headed to the Pacific North West for round nine of the season at the Washougal Motocross Park. The Washougal National has been apart of the Pro Motocross circuit since for the last four decades making it a historic landmark on the tour. The Washougal National is one of the most unique races of the season for many reasons. One, it's arguably one of the most beautiful tracks on the circuit with the layout weaving in between trees, up and down hills. Secondly, it's unique because of the hard packed Pacific Northwest dirt. Unlike many of the other nationals that have deep and loamy soil, the Washougal track has a very hard base and the bumps and ruts shape up completely different from most other National tracks. With this being said, the unique track can be challenging for the riders and hopefully it will provide for some great racing this Saturday.
2019 WASHOUGAL NATIONAL TV SCHEDULE
To watch the Washougal National LIVE, you'll need the NBC Sports Gold Pass.
The entire Washougal National will be shown LIVE with the NBC Sports Gold Pass, but if you don't want to spend the $34.99 to watch the final four races online, you'll be able to watch the first motos LIVE with MAVTV (if you have that channel) and for the second races you'll have to wait until later in the evening.
Qualifying Practice – 10:15 A.M. LIVE with the NBC Gold Pass
250 Moto 1 – 1:00 P.M. LIVE on MAVTV and NBC Gold Pass.
450 Moto 1 – 2:00 P.M. LIVE on MAVTV and NBC Gold Pass.
250 Moto 2 – 3:30 P.M. LIVE only with NBC Gold Pass
450 Moto 2 – 4:30 P.M. LIVE only with NBC Gold Pass
250 Moto 2 – 7:00 P.M. Coverage delayed on NBCSN
450 Moto 2 – 8:00 P.M. Coverage delayed on NBCSN
*All times show in pacific standard time
2018 WASHOUGAL NATIONAL HIGHLIGHTS
HUNTER LAWRENCE INJURED
Hunter Lawrence (right) with his teammate Chase Sexton (left). 
Hunter Lawrence announced on Instagram that his Geico Honda locked up on him on the face of a jump which caused him to go over the handlebars and end up injured. He didn't mention what part of his body was hurt, but he did say that it will most likely require surgery. With that being said, Hunter Lawrence will most likely be out for the rest of the season. We are sad to loose him, the Australian has been gaining momentum and his first Moto win at the Millville National showed the improvements he has been making.
COOPER WEBB IS COMING IN HOT

Cooper Webb had a big smile after finding himself back on top of the podium.
Cooper Webb is surely coming into Washougal full of confidence after winning his first ever 450 National at Millville. Cooper is someone who believes in himself, he's not scared to battle and he thrives on confidence. Because Webb is 54 points down, he isn't much of a threat to Eli for the Championship, but now that he has the taste of winning again, we expect to see Cooper Webb battling at the front for wins throughout the rest of the Outdoor season.
ELI TOMAC STILL WANTS TO WIN  
Eli Tomac launches off the wall jump at the Washougal National in 2018.
Although he extended his points lead at the Millville National, Eli Tomac was not satisfied with third overall. He was close to Cooper Webb at the end of the first Moto and a lap rider slowed him down considerably and let Webb get away on the final lap. Eli was respectful on the podium and didn't make any excuses like most riders would have, but with the way he marched off the podium, everyone knew he was set out to redeem himself in Moto 2. With another bad start and a small tip-over, Eli was only able to salvage a fifth in the second race which gave him third overall. Although it was a sub-par result for the defending Champion, it still allowed him to extend his points lead by four on Marvin Musquin who finished with 3-7 Moto scores for fourth overall.
KEN ROCZEN IS HOT AND COLD 
Ken Roczen went 14-2 at Millville which earned him fifth overall.
In the first Moto Roczen found himself buried back in the pack after the start, but he wasn't able to pass through like he usually does and he eventually was caught up in a crash with a rider who went down in front of him. Ken moved up to 12th before getting passed by two riders and eventually lapped in the first race to finish 14th. But a good start in the second Moto completely turned his day around. Ken was able to put in a serious battle at the front with Cooper Webb for the Moto win. He wasn't able to hold off the hard charging Supercross Champion, but the second race of the day surely lifted his confidence and reminded Ken that he's still capable of winning. We hope to see Ken battling at the front again at Washougal.
ZACH OSBORNE IS BACK ON THE PODIUM
Zach Osborne earned his fourth 450 National overall podium at Millville.
Zach Osborne has stated that with his age, he doesn't have time to take it easy in his rookie 450 season. At 29 years old, Zach made the jump up from the 250 to the 450 class, and although the season started off slow when he missed the first six rounds of Supercross due to an injury, he is finding his stride and earning podiums now. Zach also experienced a midseason injury recently. During the week leading up to Redbud, Osborne had a crash and he injured his shoulder and left him on the sidelines for Redbud. His trainer, Aldon Baker didn't think he would be able to race so soon after the injury, but Zach was determined to make it happen and it paid off for him. He was able to score another second overall and grab his fourth podium of the AMA Outdoor National season. Zach means business and he will be a tough competitor this Saturday at Washougal.
ADAM CIANCIARULO IS SIX FOR EIGHT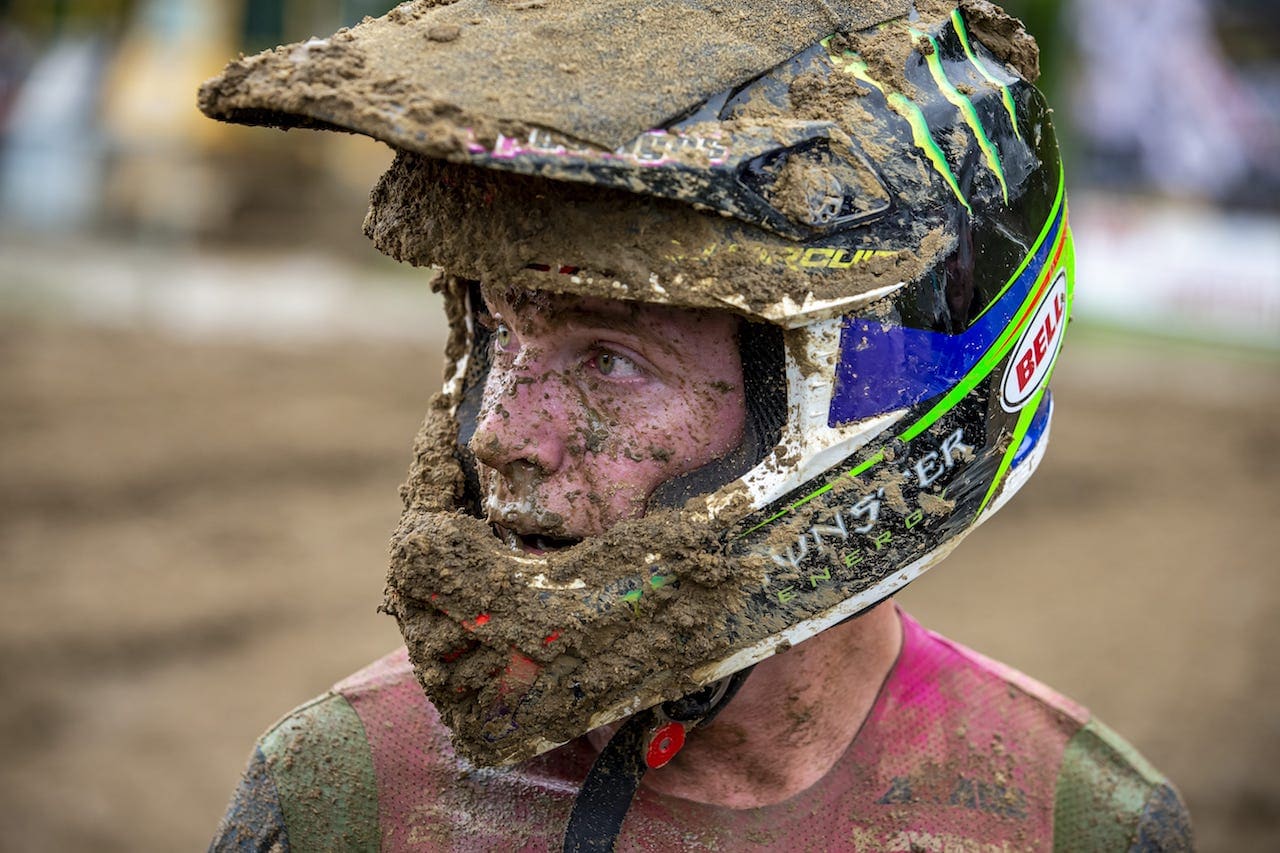 Adam Cianciarulo's 3-1 Moto scores helped him extend his points lead to 36.
Dylan Ferrandis was fast at Millville, but he wasn't able to put it all together. Adam Cianciarulo capitalized and earned 11 more points than Dylan at the Millville National. We are eight rounds into the 2019 season and Adam has been able to win six of them. It's not that Adam is always the fastest rider on the track, but he has been the most consistent and it has paid off for him. In years previous, Adam wasn't known for being the consistent rider that he is now. But now Adam has matured and he seems to have learned from his mistakes.
2018 WASHOUGAL NATIONAL PHOTOS
We love taking photos at Washougal.
Ken Roczen and Eli Tomac had some great battles at Washougal last year.
Benny Bloss is coming into Washougal confident after finishing fifth in Moto 2 at Millville.
Aaron Plessinger, Joey Savatgy and Shane McElrath rounded out the 250 podium in 2018.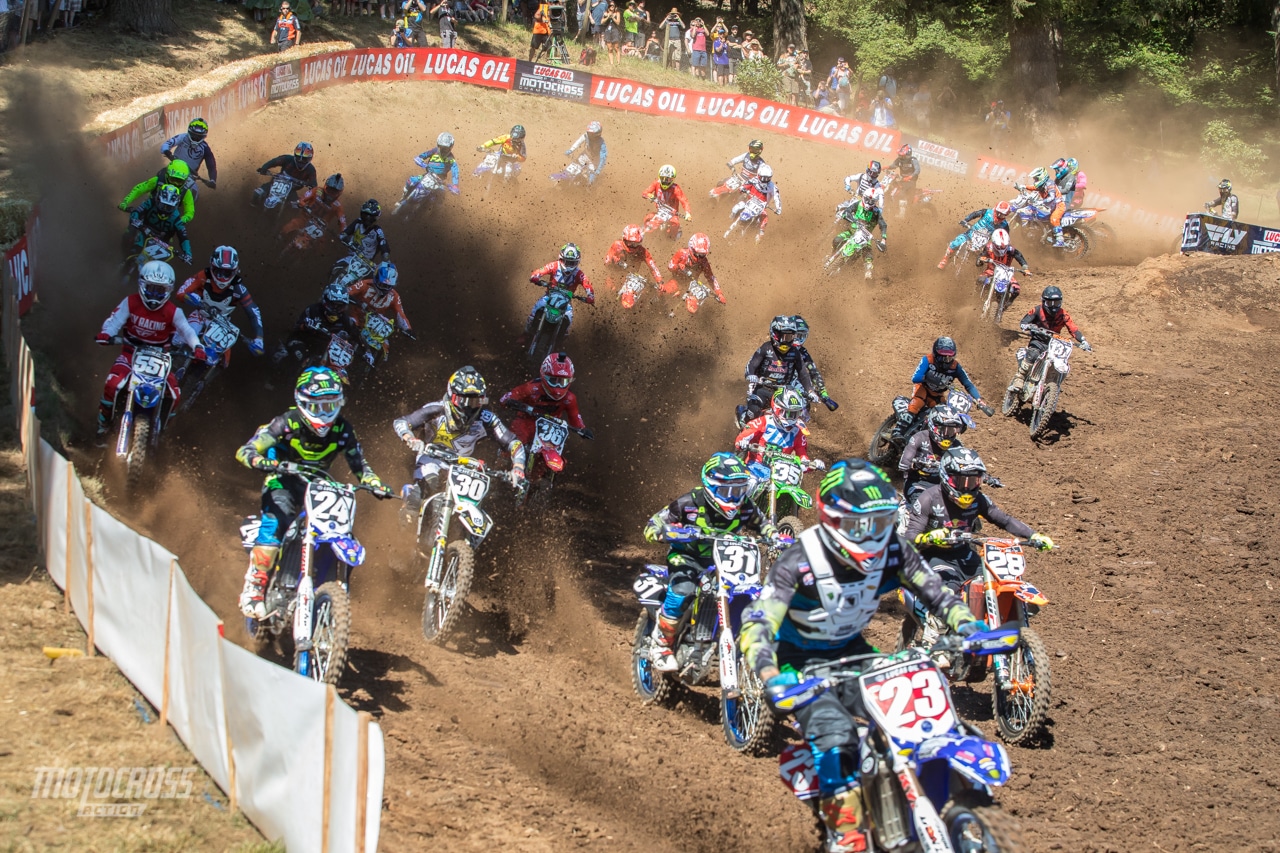 The roost hurts exceptionally bad at Washougal. Here's the 250 start with Aaron Plessinger grabbing the holeshot. 
Shane McElrath gets low in 2018.
Eli Tomac, Ken Roczen and Marvin Musquin topped the podium in the 450 class.
The trees and beautiful landscape in Washington make it easy to take artistic photos like this one.
Aaron Plessinger uses his long legs to skim the famous Washougal whoop section.
Jordon Smith navigates the sand section in 2018. This short sandy spot was added in the landing area of the wall jump. Soft, sand rollers formed in the straightaway and they allowed the riders to launch off of the wall jump as far as their legs could handle.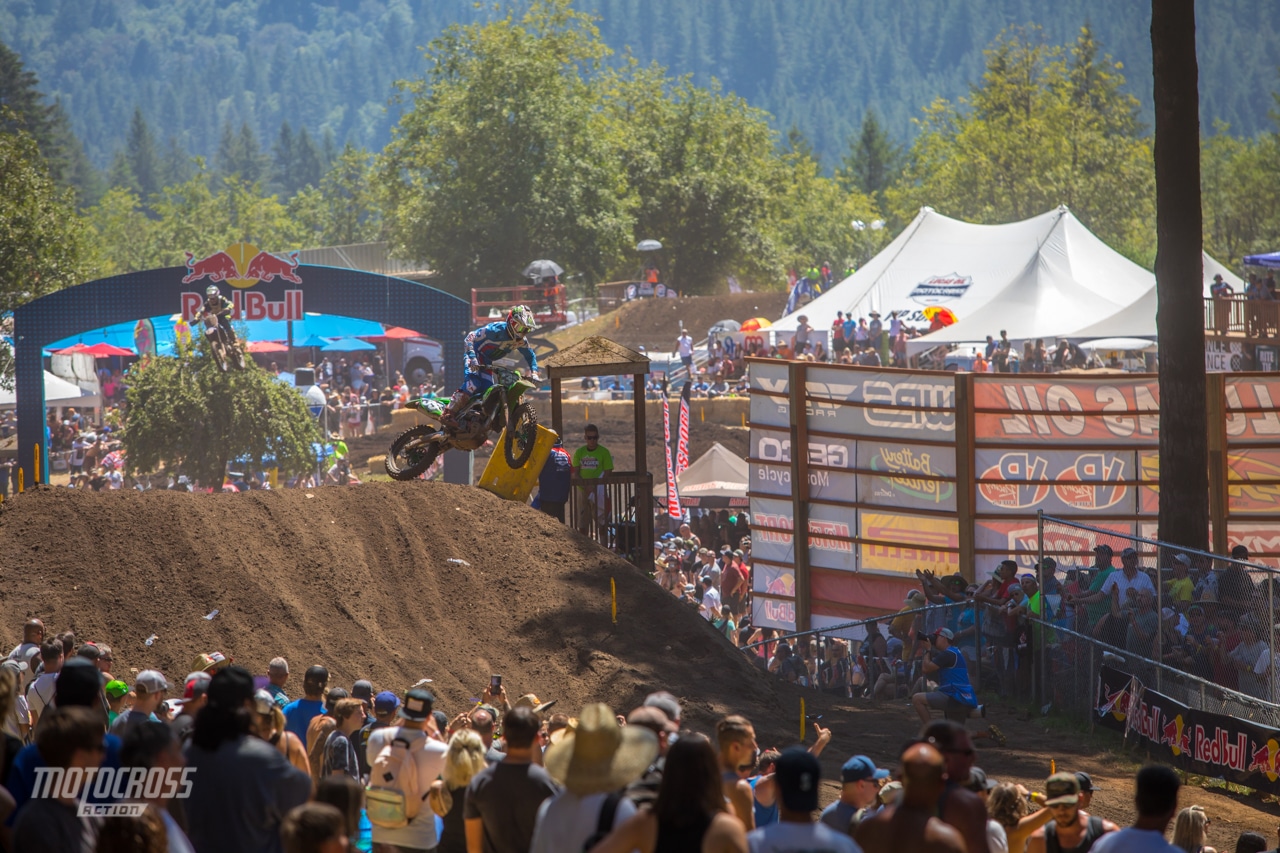 Here's a shot of Austin Forkner launching off the wall into the sand.
Blake Baggett jumps into the whoops leading up to the finish line.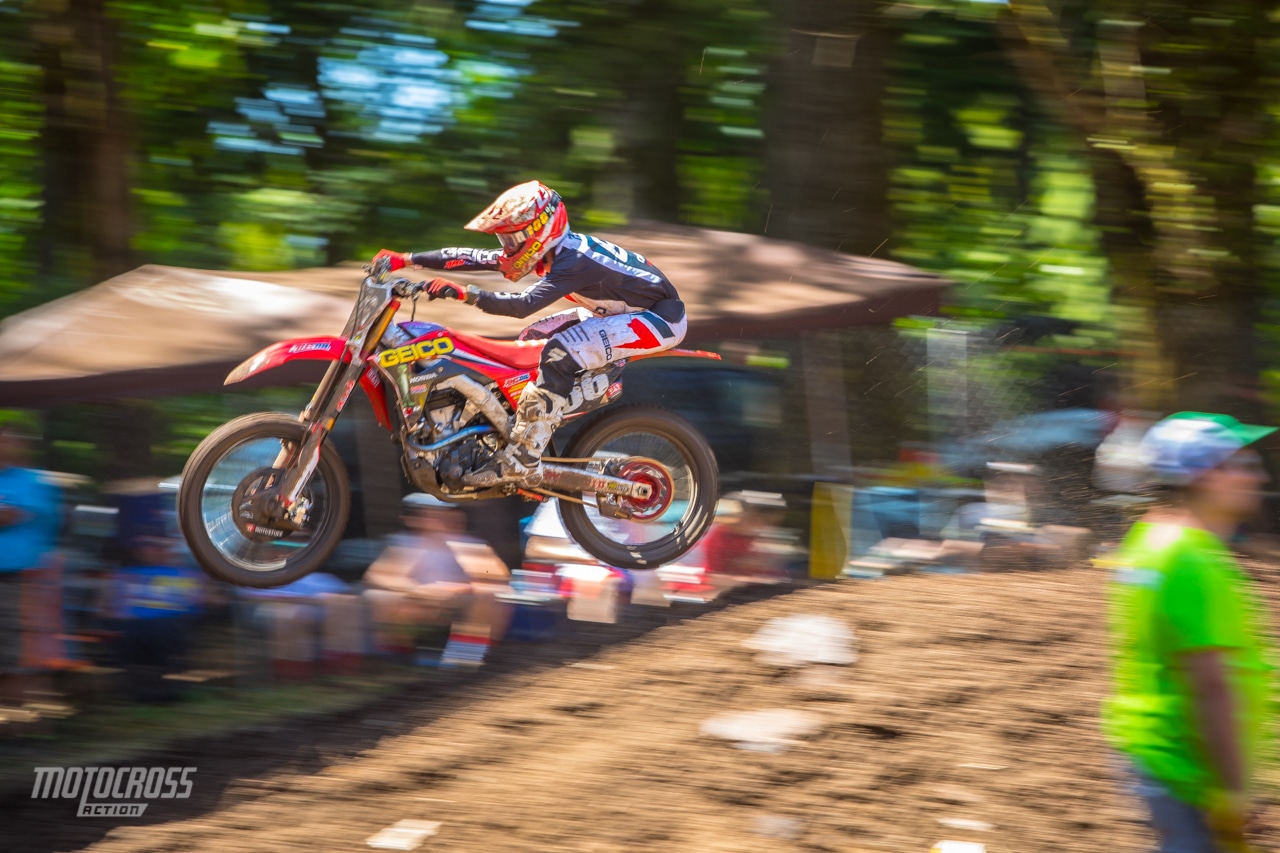 Rj Hampshire gets fully extended leaning back on a downhill single jump.
Kyle Cunningham almost drags handlebar in a deep rut.