2019 WORLD MOTOCROSS CHAMPIONSHIP RESULTS (UPDATED): VIALLE (250) & COLDENHOFF (450) TAKE SWEDEN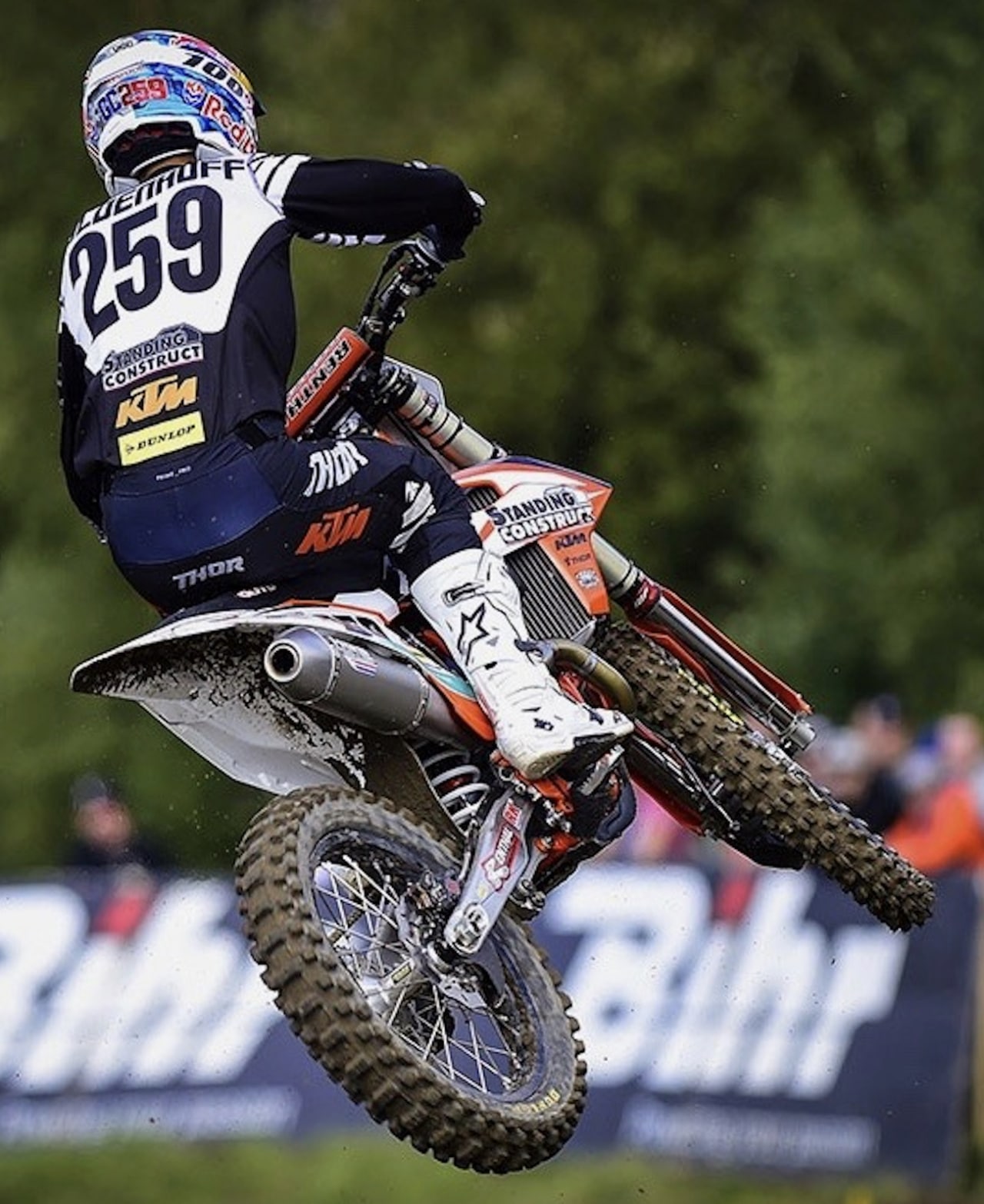 Glenn Coldenhoff has been a major player at the tail end of the 2019 450 GP season. His 1-2 took the overall victory in Sweden—beating out Tim Gajser's 3-1. Over the last three GPs Coldenhoff has gone 3-3-1-1-1-2

Jeffrey Herlings came back to the 450 GPs after his second long layoffs for a broken foot. He led, but got arm pump, dropped back, eventually fell and returned to the pits. He came back in the second moto to finish 26-4 for 12th overall.
SWEDISH GRAND PRIX RESULTS: 450 CLASS
1. Glenn Coldenhoff (KTM)…1-2
2. Tim Gajser (Hon)…3-1
3. Pauls Jonass (Hus)…4-3
4. Jeremy Seewer (Yam)…7-5
5. Jeremy Van Horebeek (Hon)…5-7
6. Gautier Paulin Yam)…6-8
7. Arnaud Tonus (Yam)…12-6
8. Kevin Strijbos (Yam)…9-8.
9. Tommy Searle (Kaw)…8-10
10. Romain Febvre (Yam)…2-25
Other notables: 11. Arminas Jasikonis: 12. Jeffrey Herlings; 13. Jordi Tixier; 14. Vsevolod Brylyakov; 17. Alessandro Lupino; 19. Shaun Simpson.
Jorge Prado won his second straight 250 World Championship in the first moto in Sweden, but lost his first race in 16 weeks when he went 1-4.
Tom Vialle, who is pegged as Prado's replacement at Team KTM for the 2020 250 GP's, became only the second rider to win a 250 GP in 2019 who's named wasn't Jorge.
SWEDISH GRAND PRIX RESULTS: 250 CLASS
1. Tom Vialle (KTM)…2-2
2. Calvin Vlaanderen (Hon)…4-1
3. Jorge Prado (KTM)…1-4
4. Adam Sterry (Kaw)…5-3
5. Maxime Renaux (Yam)…6-5
6. Thomas Kjer Olsen (Hus)…8-6
7. Mitchell Evans (Hon)…11-7
8. Dylan Walsh (Hus)…10-9
9. Mathys Boisrame Hon)…7-12
10. Darian Sanayei (Kaw)…9-11
Other Notables: 1. Henry Jacobi; 13. Mitchell Harrison; 14. Zach Pichon; 15. Brian Moreau; 19. Brent Van Doninick.
Tim Gajser (above) clinched the 450 World Championship a week ago and, with Jorge Prado nailing down the 250 title in Sweden, the Turkish and Chinese Grands Prix are left for the lower placings to battle over top ten finishes—like Tonus versus Coldenhoff and Vialle versus Geerts.
450 WORLD CHAMPIONSHIP POINTS STANDINGS
(after 16 of 18 rounds)
1. Tim Gajser (Hon)…709
2. Jeremy Seewer (Yam)…511
3. Gautier Paulin (Yam.)…468
4. Glenn Coldenhoff (KTM)…446
5. Arnaud Tonus (Yam.)…443
6. Arminas Jasikonis (Hus)…397
7. Pauls Jonass (KTM)…390
8. Romain Febvre (Yam)…384
9. Jeremy Van Horebeek (Hon)…377
10. Antonio Cairoli (KTM)…358
250 WORLD CHAMPIONSHIP POINTS STANDINGS
(after 16 of 18 rounds)
1. Jorge Prado (KTM)…737
2. Thomas Kjer Olsen (Hus)…592
3. Jago Geerts (Yam)…467
4. Tom Vialle (KTM)…460
5. Henry Jacobi (Kaw)…442
6. Adam Sterry (Kaw)…356
7. Maxima Renaux (Yam)…340
8. Calvin Vlaanderen (Hon)…324
9. Ben Watson (Yam)…282
10. Mathys Boisrame (Hon)…278
Photos: Ray Archer, Honda, KTM, MXGP