250 OVERALL RESULTS | MILLVILLE MOTOCROSS NATIONAL (UPDATED)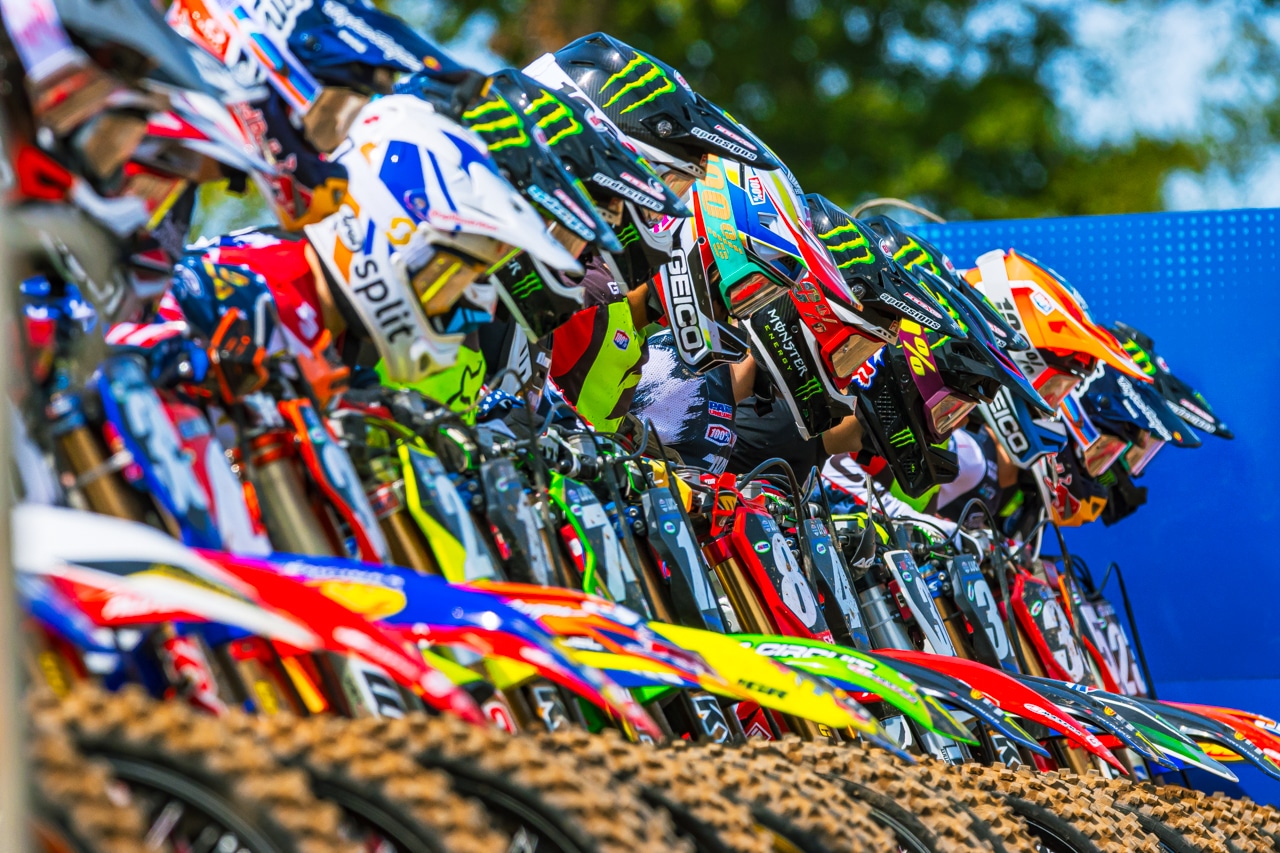 250 OVERALL RESULTS | 2020 SPRING CREEK  PRO MOTOCROSS NATIONAL
For the 6th round of the 2020 AMA Nationals, riders headed to Millville, Minnesota for the Spring Creek Pro Motocross National. Racers were blessed with beautiful weather and racing conditions in the cool Fall air and it was that time of the year for some exciting racing. Coming off a hot streak from qualifying, the Martin brothers dominated the clock and put down the fastest laps in the 250 class. It is no surprise that the two had a few tricks up their sleeves for unlocking their incredible speed, after all, it is their homegrown track. However, that is to say, that the competition was not playing around either. The top 6 riders were all within the same second of each other and to put it closer, first and second place was .01 second within each other. Star Yamaha riders Justin Cooper and Dylan Ferrandis followed Alex Martin closely and Jeremy Martin in the fourth position.
250 OVERALL RESULTS | SPRING CREEK
Dylan Ferrandis won the second moto and took the overall
It's no surprise that the Star Racing Yamahas took the second moto holeshot as Shane McElrath snagged the holeshot followed by his teammates Justin Cooper and Dylan Ferrandis. Alex Martin and his brother Jeremy Martin sat in fourth and fifth similar to the first moto. Within the second lap Jeremy Martin passed his brother for the fourth place position and it was a fight for third place for Jeremy Martin in order to keep the red plate. Then it was Alex's turn to feel the heat behind him as Cameron McAdoo and Hunter Lawrence caught up to him.
Jeremy Martin gained some speed as well as he set his eyes on the Frenchman in front of him. Unfortunately for Ferrandis his teammates were the ones in front of him and he started matching their pace and didn't want to take them out ,which gave Jeremy the perfect opportunity to catch up to him. The leader Shane McElrath went down in a turn and lost 4 positions but thankfully got up fairly quickly.
Justin Cooper had the lead and held off Dylan Ferrandis for a good chunk of the race
Justin Cooper took the lead and the heat was on as there was a three-way battle for first place featuring the top two points leaders and a whole lot of pressure on his shoulders. Dylan Ferrandis made a clean pass on Justin Cooper but Cooper wasn't done with the race yet. Unfortunately, Justin Cooper lost some speed through the large sand rollers giving Jeremy Martin the opportunity to make a pass. Jeremy Martin realized that he didn't want to let Ferrandis have the chance to push away like the first moto, so he started closing the gap. For the rest of the pack, not many passes occurred, with Alex Martin in fourth place and Shane McElrath holding onto fifth place. Hunter Lawrence rode in the sixth position with second-place finisher in the first moto R.J. Hampshire in the seventh position.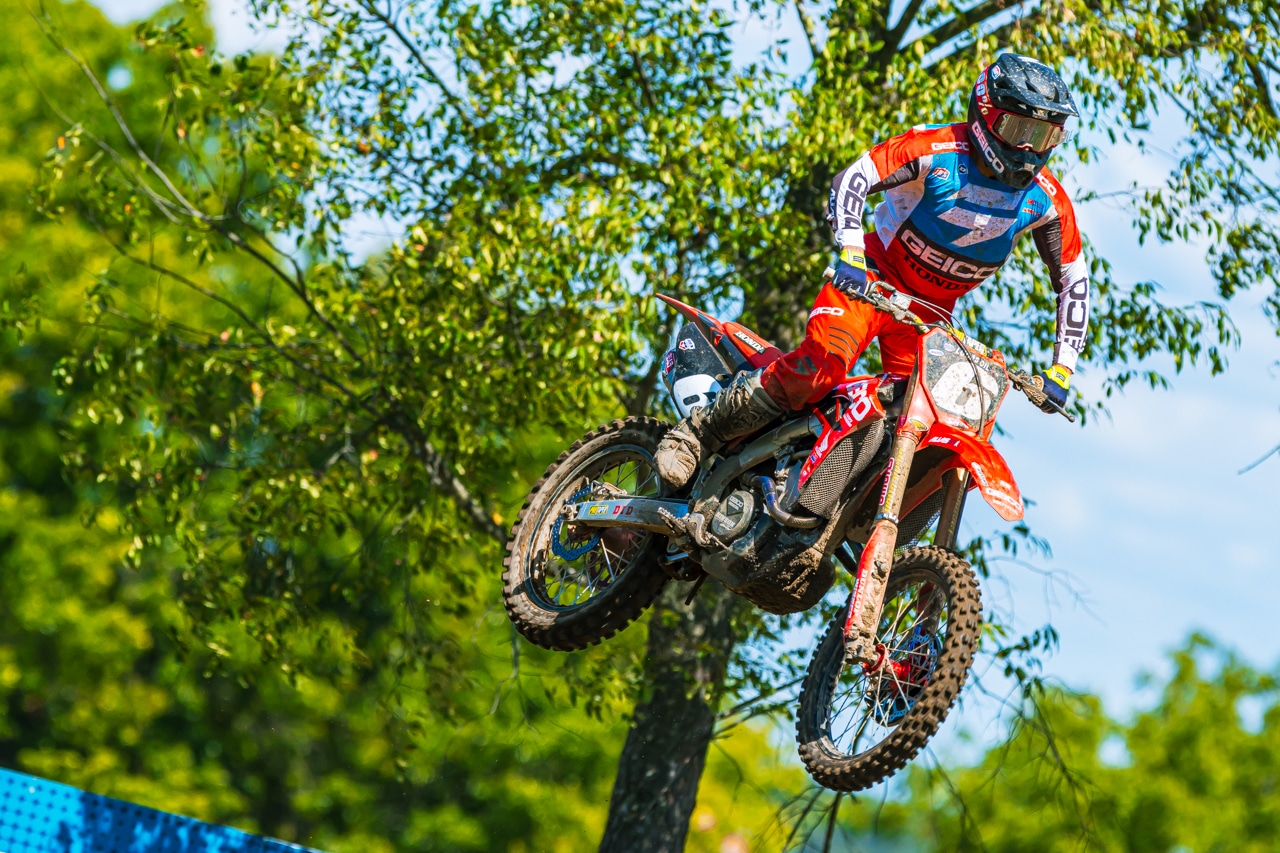 Jeremy Martin did not make it easy for the Frenchman in the second moto
Dylan and Jeremy Martin had a second betweenthem but more than 9 seconds between second and third place. Each time Dylan got comfortable with his current position, Jeremy would push harder and make up a few bike lengths. For one half of the track Dylan was faster, but the other half Jeremy would make up considerably more time. With two laps left we saw an exciting battle between Shane McElrath and Jett Lawrence for seventh place. By the time the last lap came around Dylan Ferrandis and Jeremy Martin set a staggering 25-plus second gap on Justin Cooper. Jeremy Martin threw down his fastest lap of the whole race at the second to last lap  when Ferrandis made a mistake and you could hear the roar of the fans. The two riders went side-by-side as they drag raced to the finish line and Jeremy just could not catch up to the fast rider from France. Dylan Ferrandis took first place and the overall with a 1-1 to Martin second overall with a 5-2.
POS.
#
RIDER
MOTO FINISHES
1
14
Dylan Ferrandis
1
1
2
6
Jeremy Martin
5
2
3
26
Alex Martin
4
4
4
83
Jett Lawrence
3
6
5
32
Justin Cooper
9
3
6
24
R.J. Hampshire
2
11
7
35
Hunter Lawrence
7
5
8
84
Jo Shimoda
12
8
9
74
Mitchell Harrison
11
9
10
57
Derek Drake
8
12
11
12
Shane McElrath
15
7
12
220
Carson Mumford
13
10
13
30
Brandon Hartranft
10
13
14
29
Cameron Mcadoo
6
38
15
134
Jarrett Frye
14
14
16
227
Derek Kelley
17
16
17
667
Jesse Flock
18
17
18
67
Jerry Robin
16
19
19
239
Mason Gonzales
21
15
20
352
Jalek Swoll
39
18
21
387
Joshua Varize
19
25
22
221
Mathias Jorgensen
24
20
23
355
Joseph Crown
20
35
24
726
Gared Steinke
26
22
25
251
Ezra Hastings
28
23
26
296
Ryder Floyd
22
30
27
77
Kevin Moranz
25
28
28
981
Curren Thurman
33
21
29
337
Vincent Luhovey
30
26
30
130
Austin Root
23
33
31
815
Colton Eigenmann
32
27
32
129
Chase Lorenz
31
29
33
469
Josh Boaz
29
34
34
167
Cody Williams
27
37
35
124
Lane Shaw
34
31
36
702
Josiah Hempen
35
32
37
188
Gage Schehr
40
36
38
742
TJ Uselman
37
39
39
68
Nick Gaines
36
40
40
874
Zack Williams
24
41
604
Max Miller
38
250 MOTO 1 RESULTS | SPRING CREEK
Alex Martin qualified first in combined qualifying.
| | | | |
| --- | --- | --- | --- |
| POS. | # | RIDER | INTERVAL |
| 1 | 14 | Dylan Ferrandis | 17 Laps |
| 2 | 24 | RJ Hampshire | +04.160 |
| 3 | 83 | Jett Lawrence | +05.989 |
| 4 | 26 | Alex Martin | +07.504 |
| 5 | 6 | Jeremy Martin | +09.807 |
| 6 | 29 | Cameron Mcadoo | +23.993 |
| 7 | 35 | Hunter Lawrence | +25.267 |
| 8 | 57 | Derek Drake | +33.786 |
| 9 | 32 | Justin Cooper | +37.436 |
| 10 | 30 | Brandon Hartranft | +40.276 |
| 11 | 74 | Mitchell Harrison | +44.921 |
| 12 | 84 | Jo Shimoda | +46.339 |
| 13 | 220 | Carson Mumford | +58.717 |
| 14 | 134 | Jarrett Frye | +1:06.182 |
| 15 | 12 | Shane McElrath | +1:08.763 |
| 16 | 67 | Jerry Robin | +1:42.347 |
| 17 | 227 | Derek Kelley | +1:54.705 |
| 18 | 667 | Jesse Flock | +2:00.406 |
| 19 | 387 | Joshua Varize | +2:01.592 |
| 20 | 355 | Joseph Crown | +2:07.733 |
| 21 | 239 | Mason Gonzales | 16 Laps |
| 22 | 296 | Ryder Floyd | +16.625 |
| 23 | 130 | Austin Root | +17.495 |
| 24 | 221 | Mathias Jorgensen | +24.696 |
| 25 | 77 | Kevin Moranz | +27.210 |
| 26 | 726 | Gared Steinke | +27.730 |
| 27 | 167 | Cody Williams | +31.306 |
| 28 | 251 | Ezra Hastings | +44.607 |
| 29 | 469 | Josh Boaz | +44.921 |
| 30 | 337 | Vincent Luhovey | +49.306 |
| 31 | 129 | Chase Lorenz | +1:01.469 |
| 32 | 815 | Colton Eigenmann | +1:48.201 |
| 33 | 981 | Curren Thurman | +2:01.078 |
| 34 | 124 | Lane Shaw | 15 Laps |
| 35 | 702 | Josiah Hempen | 14 Laps |
| 36 | 68 | Nick Gaines | 11 Laps |
| 37 | 742 | TJ Uselman | 7 Laps |
| 38 | 604 | Max Miller | 6 Laps |
| 39 | 352 | Jalek Swoll | 2 Laps |
| 40 | 188 | Gage Schehr | +33.006 |