2020 AMA SUPERCROSS NEWS: LOOKING BACK AT WHAT HAPPENED AT ANAHEIM 2 LAST YEAR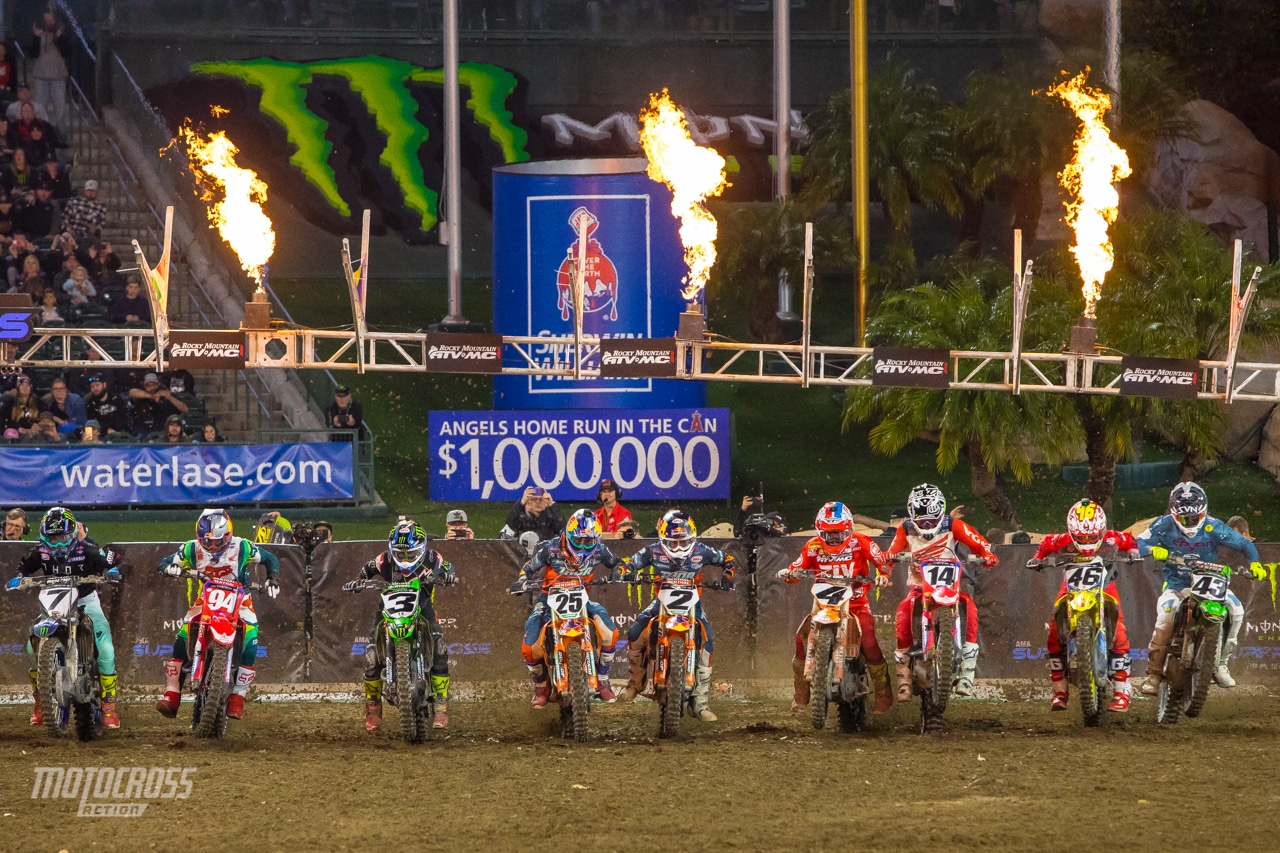 Anaheim 2 was the third race of the 2019 AMA Supercross series, just as it is in the 2020 AMA Supercross series. Heading to A2 last year there had been different winners in both the 450 and 250 class in rounds one and two. Last year Anaheim was a three-moto race, but in the 2020 series next week's Glendale, Arizona, Supercross will be the first three-moto event.

Photos by Daryl Ecklund—Story by Josh Mosiman
The third round of the last year's Anaheim 2 Supercross was an eventful night for racing. Supercross fans got their money's worth in the first three races of 2019. The 450's were extra exciting to watch because of the diversity. Justin Barcia and Blake Baggett were not at the top of our list of potential 450 main event winners at the beginning of the season, but each got wins to start the 2019 season. And at the 2019 Anaheim 2 Supercross Cooper Webb became the third different winner in three 450 Mains.
Cooper Webb won his first ever 450 Supercross at Anaheim 2 last year. With Blake Baggett's win in Glendale the week before, there were two first-time winners out of three races.
LAST YEAR'S ANAHEIM TRACK TALK:
Eli Tomac: "The first half of the track kind of had a base, there were smaller ruts. But then the two rhythm lanes and the last half (of the track) they felt like an East coast race where there's big ruts and jumping onto the triples was pretty gnarly. You had to really get in line. It was a bummer to see Justin Barcia go down there. They were gnarly, if you were in the wrong rut you would go over the bars or case something."
The riders felt that the the two rhythm sections at last year's A2 race were tough and sketchy—with the ruts in the transitions. 
Marvin Musquin: "I was kind of surprised they didn't work on the two rhythm sections before the finish. They were already big rhythm sections and to be able to go through them every single lap was tough. I was trying my best to be really smooth and clean. You could lose time or make up time. Obviously Justin went down, and it was a tough section. Usually they work on sections like that when they are a little sketchy before the main, but they were working on different spots and they don't have much time. Anyway they did a great job building the track super early before the rain. So it was already a lot of work and a good job from those guys. But obviously a lot of racing tonight, a lot of laps and a lot of motos, but at the end it makes it technical. I really enjoyed the track, it had some cool sections and split lanes and stuff and that's what we want to see. We want to see more battles and more creative stuff on the track, that's what we need."
Last year Anaheim 2 moto one race boiled down to a battle between Cooper Webb and Ken Roczen. Cooper Webb jumped the quad and passed Ken, but Ken pulled up next to Webb in the next rhythm section, but Webb was able to block his line in the final corner and win the first moto of three at A2 .
Cooper Webb: "They seemed to fix the same sections over and over which is nice. I think tonight, with those jumps that we were doing, the quads were already pretty big. Some of the lines, you could tell just from the rain almost had soft spots. You'd hit the same rut and then the next lap you'd come around and it was almost caved in. Like these guys said, it was more East Coast- style for sure. So, you had to be on it, but just doing it every lap was hard at the end. Especially that last main event."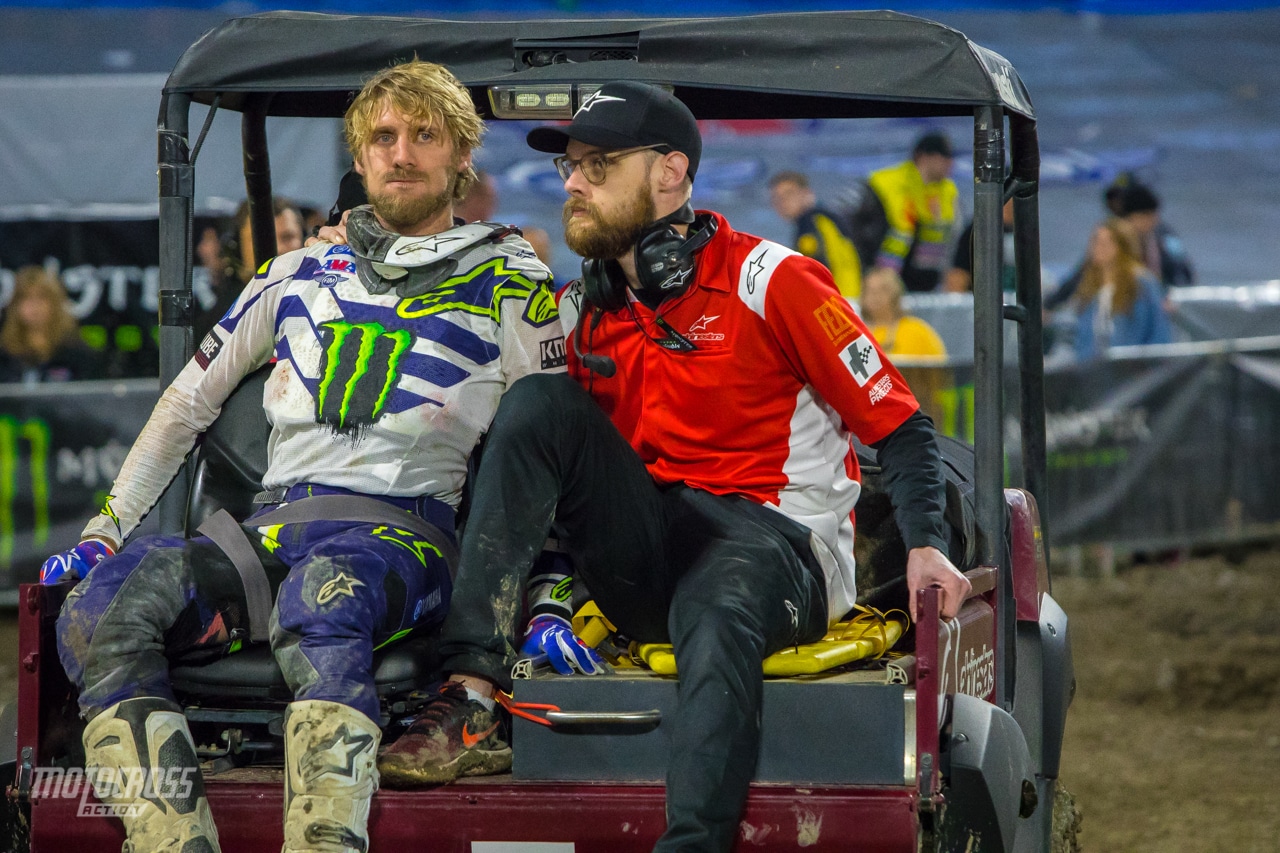 The winner of the first Supercross round in 2019 and 2020 was Justin Barcia. But last year's A2 race was a three-moto event. Justin went 7-3 in the first two main events but a big crash took him out of the third main event. 
Last year's Anaheim 2 Supercross wasn't the night that Blake Baggett had hoped for after winning his first 450 Supercross main event in Glendale the week before. In the first main Blake caught a tough block cover in his rear tire (pictured here) and it took him a while to get it out. He went 21-10-12 in the three 450 motos for 15th overall. 
450 OVERALL RESULTS
Cooper Webb
Marvin Musquin 
Eli Tomac 
Ken Roczen
Dean Wilson
Cole Seely
Aaron Plessinger
Joey Savagty 
Jason Anderson
Justin Barcia
Shane McElrath rode solid in the first 250 West main and he improved throughout the night to score 3-2-1 main event finishes and win the 250 class at last year's Anaheim 2 race. Shane was only two points behind Colt Nichols in the 250 championship point standings after three races.
Shane McElrath: "I just kind of stayed in the mix in the first two (main events). I didn't feel very good. I rode a little tight. I knew the last one was going to be tough and I knew that fitness was going to come into play. These guys (Colt and Dylan) aren't going to roll over for anybody and it was fun battling with guys and having to make passes. That was something I worked on in the offseason. But I need to fix my starts a little bit, these guys were at the front each time and I have a lot to improve on."
Colt Nichols: "I don't know if a lot of people would've pegged me to be up here (on the podium) all three times at the beginning of the season. But I'm right where I need to be and I'm happy with that. I knew it was going to be between these guys (Ferrandis and McElrath) and obviously Adam is going really well too. I think everyone is kind of, I don't want to say accepted of that, but I think everyone was shocked with the mud race and I did well in that and then I was able to do good in Phoenix and good here. I'm right where I need to be."
Dylan Ferrandis: "I finished tight on points with Shane, and I'm the first loser so it's a  little bit disappointing for me. But it was a good night. I got three solid starts, my teammate and I put the bikes up front on the start, so the bike is really good. We had three solid motos, I just need to improve on myself and we will be better."
250 OVERALL RESULTS
Shane McElrath
Dylan Ferrandis 
Colt Nichols 
Rj Hampshire 
Adam Cianciarulo 
Cameron Mcadoo 
Jacob Hayes 
Michael Mosiman 
Chris Close
Mitchell Harrison

The two Yamaha teammates Dylan Ferrandis and Colt Nichols made it known that the Monster Energy Yamalube Star Racing Yamaha team was doing something right. Both of the Yamaha riders were 24-years old last year and one of them proved to be at the top of his game by series end. 
As you can tell by the broken visor, Adam Cianciarulo took a digger in 250 main event 2. With his 4-14-2 moto scores Adam missed the podium and finished 5th overall. 
RJ Hampshire was riding well all night. He went 5-4-5 for 4th overall at A2. 
ANAHEIM 2 HISTORY LESSON:
Anaheim has held more races than any venue in the sport. Since 1976 Anaheim has been a part of the schedule every year with the exception of: '80, '88, '97, and '98. From 2001-'15 Anaheim hosted three races a season, with the exception of 2011-'12 when there were two races. In 2016 Anaheim went back to hosting two races and it has been the same since, including this season.
Chad Reed was looking good while wearing Jeremy McGrath's replica Fox gear from 1997. Fox took the design they used for Jeremy over 20 years ago and put it on their modern materials for Chad.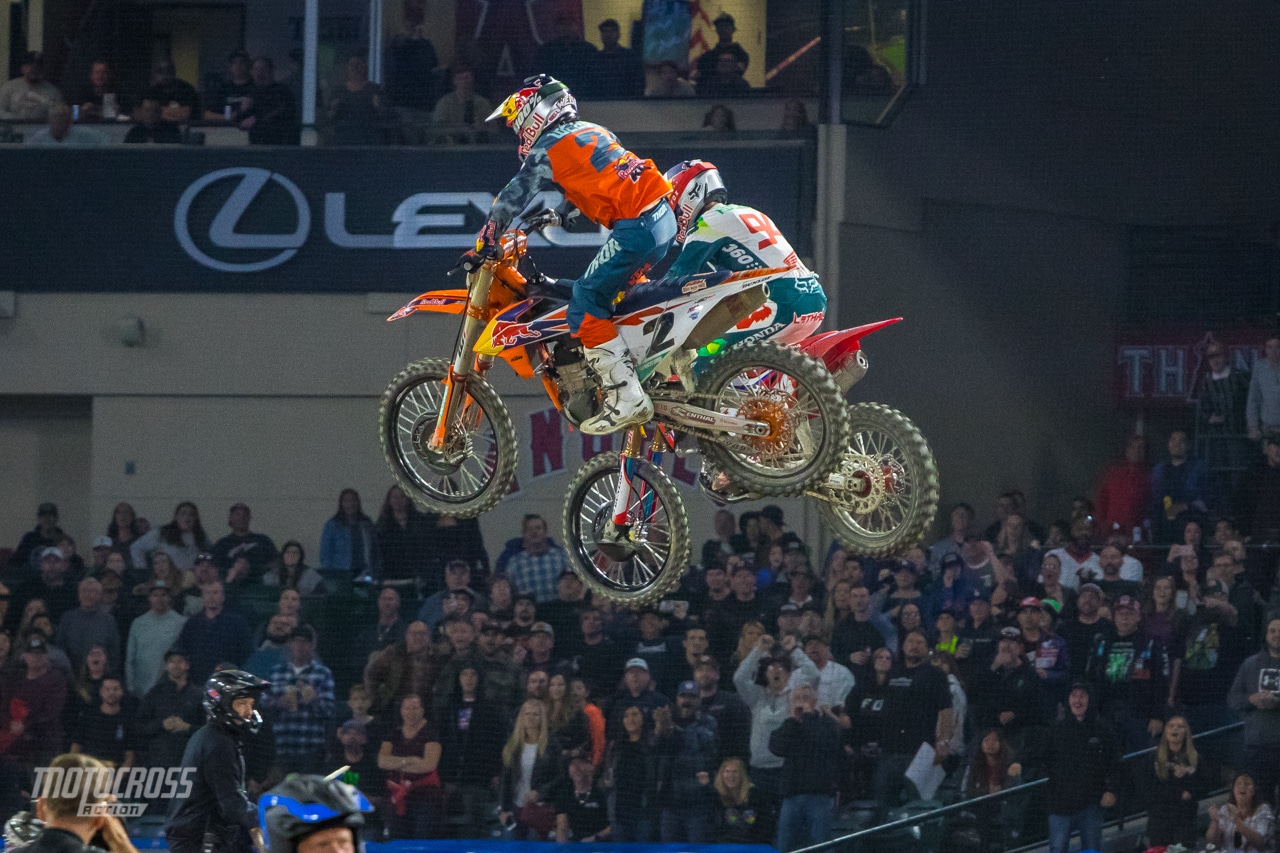 Cooper Webb was second early in the first 450 main event behind Ken Roczen. He followed behind Ken for a while and, from our perspective, Cooper looked happy to be in second and to score his best finish in the 450 class. But once Cooper passed the mechanics area with two laps to go he flipped a switch and caught right up to Ken. If Ken wouldn't have missed the quad, it might have been a different story in moto one. 
Jacob Hayes was on the gas in 2019. For his third Supercross race since leaving the  Arenacross series, the Cycle Trader Rock River rider looked more mature than most rookies. Hayes has refined his skills in the Arenacross series and now wants to make a name for himself in Supercross.
Photo 1: Cooper Webb does a nose-wheelie coming into first turn. 
Photo 2: Cooper pushes his way through the inside of the first turn to come away with the holeshot. After winning the first main event, Cooper was riding with new confidence that we haven't seen from him at the races since his 250 days.  
After finishing second in Glendale the week before, Jason Anderson had a rough night at Anaheim 2. He went 6-6-17 for 9th overall. 
Michael Mosiman went 10-6-7 for eighth overall: "I was looking to flip the switch this week" said Mosiman. "I haven't been myself the past two weeks. I was feeling really good after practice. I ripped the start in the first moto but got pushed wide and didn't ride aggressive enough. I think I have the speed, so it's just a matter of putting it together. It's insane how fast these guys go, but I'm able to do it."
Mitchell Harrison was able to bounce back after having engine issues which caused him to miss the main event at Anaheim 1 and he did not start the main at Glendale. Harrison scored a 12-9-11 for 10th overall at Anaheim 2. He would have a series of bike problems in 2019 and would eventually dropped out of the AMA Series and moved to Europe to the race the 250GPs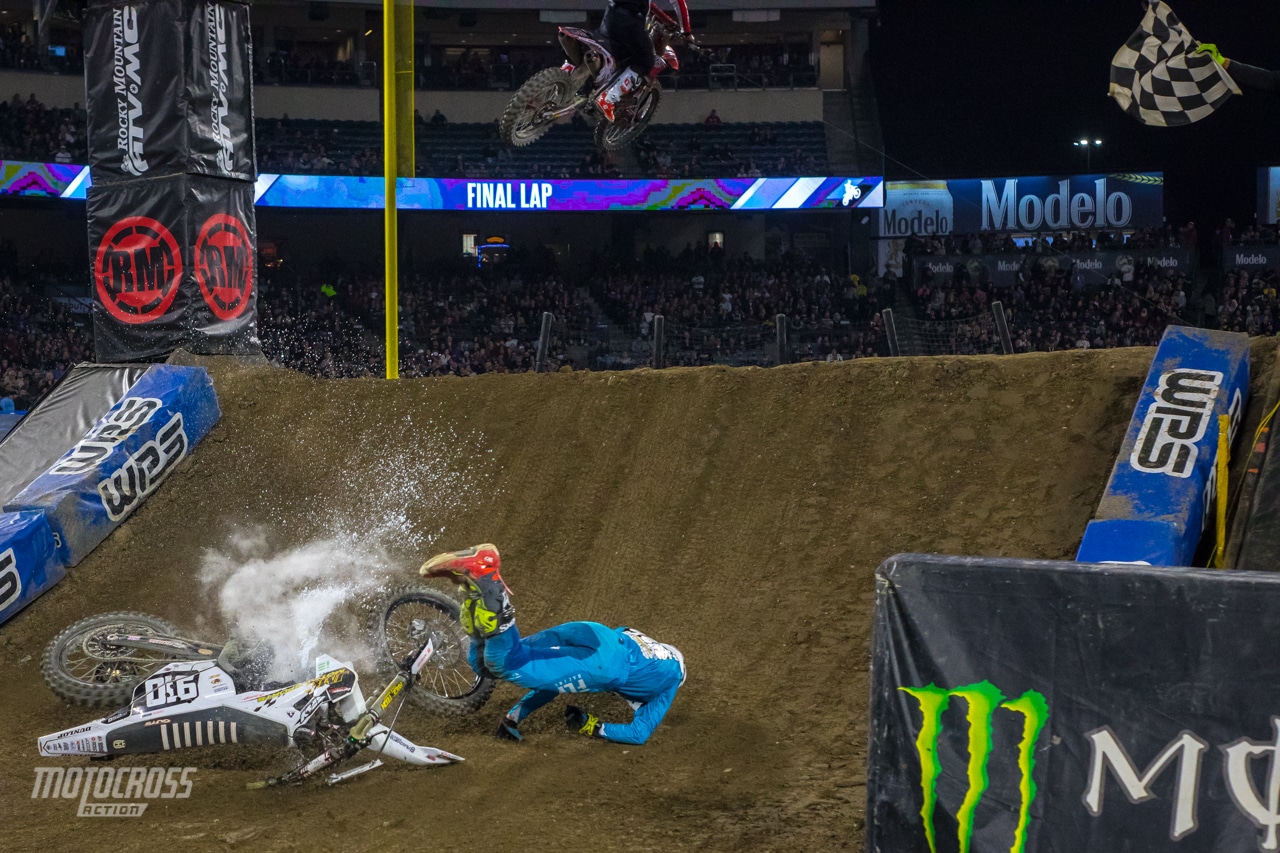 Carson Brown had a rough night at Anaheim 2, we were glad to see him get up after this crash right before the finish line.
Colt Nichols had the 2019 AMA 250 West points lead and the red plate heading to round four in Oakland. 
250 CLASS POINT STANDINGS (ROUND 3 OF 10)
| | | | |
| --- | --- | --- | --- |
| POS. | # | NAME | Total |
| 1 | 39 | Colt Nichols | 70 |
| 2 | 12 | Shane Mcelrath | 68 |
| 3 | 34 | Dylan Ferrandis | 63 |
| 4 | 92 | Adam Cianciarulo | 62 |
| 5 | 31 | Rj Hampshire | 57 |
| 6 | 64 | James Decotis | 44 |
| 7 | 111 | Chris Blose | 44 |
| 8 | 44 | Cameron Mcadoo | 41 |
| 9 | 36 | Michael Mosiman | 39 |
| 10 | 156 | Jacob Hayes | 37 |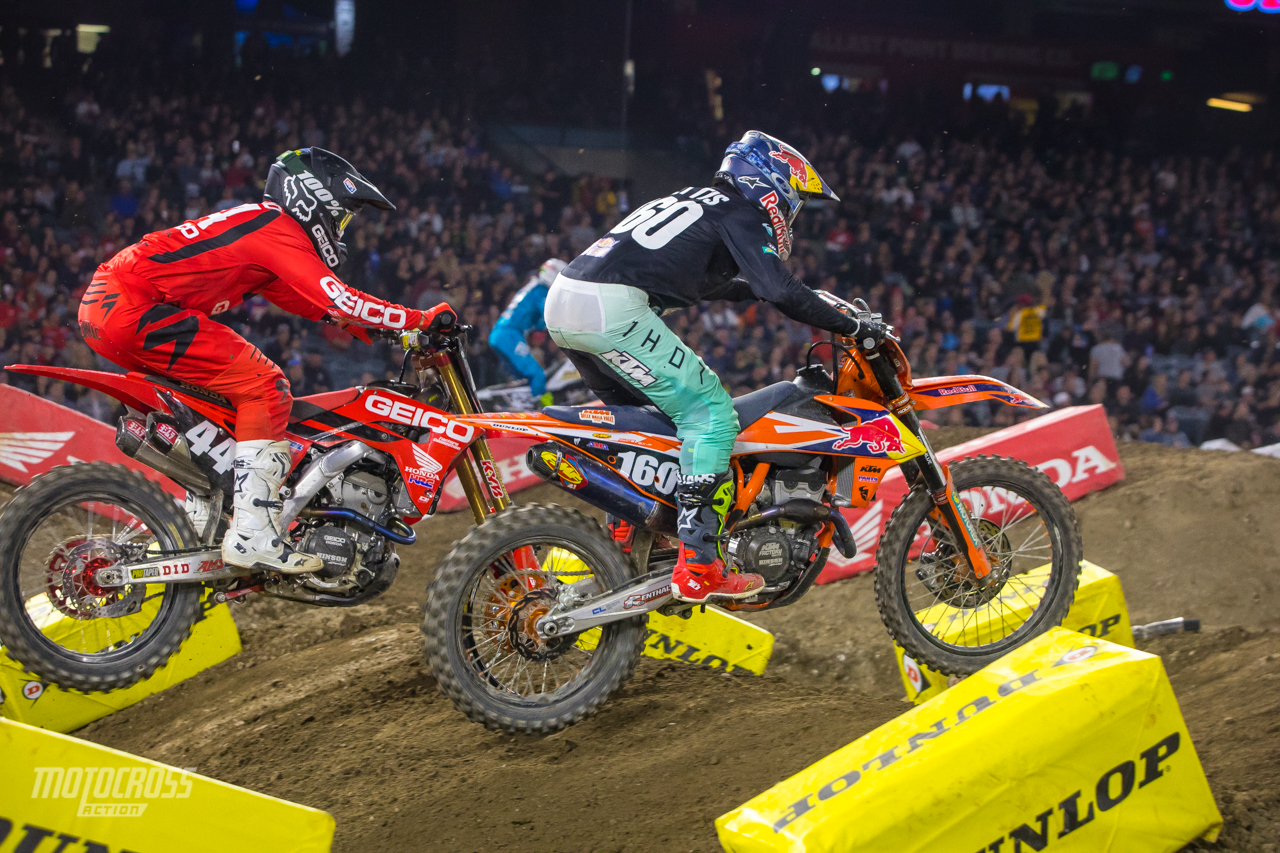 The Canadian Jess Pettis and the Iowa native Cameron Mcadoo side by side through the whoops. Cameron sat in 8th place in the championship point standings (In 2020 McAdoo, now on the Pro Circuit Kawasaki team, was hurt in a St. Louis practtice crash and will sit out a couple races with a coallpsed lung). Jeff Pettis is 11th at A2, one point behind Jacob Hayes.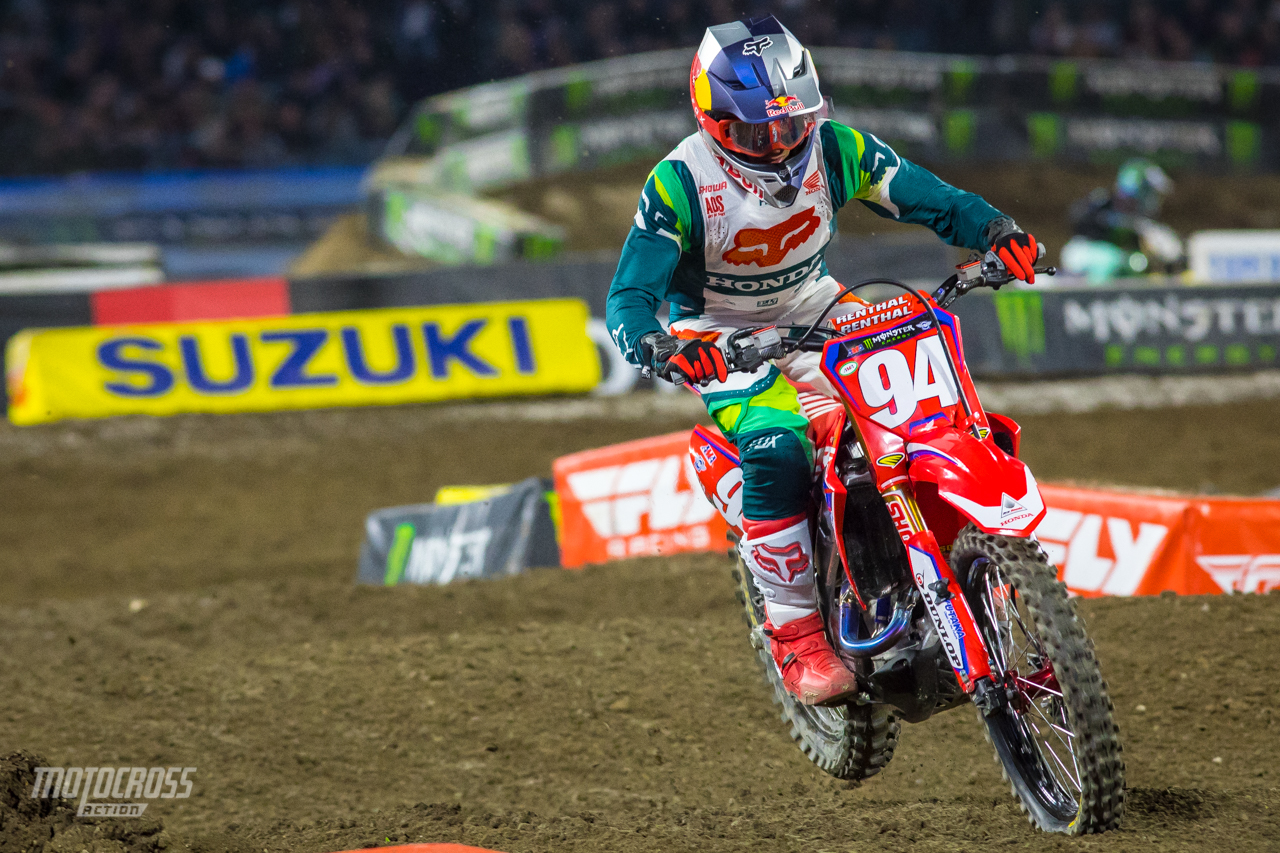 Ken Roczen finished fourth overall and he will kept the points lead and red plate going to round four in Oakland.
450 POINT STANDINGS (ROUND 3 OF 17)
| | | | |
| --- | --- | --- | --- |
| Pos | # | NAME | Points |
| 1 | 94 | Ken Roczen | 63 |
| 2 | 3 | Eli Tomac | 61 |
| 3 | 2 | Cooper Webb | 57 |
| 4 | 51 | Justin Barcia | 56 |
| 5 | 25 | Marvin Musquin | 56 |
| 6 | 15 | Dean Wilson | 52 |
| 7 | 1 | Jason Anderson | 46 |
| 8 | 4 | Blake Baggett | 45 |
| 9 | 7 | Aaron Plessinger | 45 |
| 10 | 14 | Cole Seely | 44 |
Eli Tomac was sitting second in 2019 AMA 450 Supercross points after Anaheim 2. When asked about his results so far tin the 2019 season he said:
"The past champions have been Mr. Consistent throughout the season. You gotta just get through these rounds and really set the tone, that's what the past champs have done. We gained points tonight in the championship, so we're in a good spot, just doing our thing."
With the three Moto format of the Triple Crown, some riders Moto scores were all over the place. Cole Seely went 5-7-13 for 6th overall. Cole retired and is not racing in 2020. his Honda ride went to Justin Brayton for the 2020 Supercross season.