2020 MONSTER ENERGY SUPERCROSS RACE SCHEDULE: YOU CAN BELIEVE THAT THIS ONE IS ACCURATE
THE 2020 MONSTER ENERGY SUPERCROSS SCHEDULE HAS BEEN ANNOUNCED 
The 2020 AMA Supercross schedule has been announced. A few aspects of it will surprise you. 
The 17-round schedule for the 2020 season of the Monster Energy AMA Supercross series has been made official and it might surprise you. The FIM World Championship will return to some of the sport's most iconic stadiums while also bringing back the St. Louis, Mo., Tampa, Fla. and Foxborough, Mass. venues back into the running. The most surprising change for 2020 is that the season finale has moved from it's home in Las Vegas to the state of Utah on Saturday, May 2 at Rice-Eccles Stadium in Salt Lake City. We are shocked to think that Las Vegas won't hold the finale next year, but it makes sense when we step back and look how many sporting events have been moved to Utah. Utah has been nicknamed the State of Sport and we're guessing Utah fought hard in encouraging FELD to bring the finale there. Las Vegas is still on the schedule, but this year it will be the penultimate round.
2020 SUPERCROSS SCHEDULE
Nashville, Tennessee won't be on the SX schedule for 2020. 
Round 1–JANUARY 4 – ANGEL STADIUM OF ANAHEIM, Anaheim, CA.
Round 2–JANUARY 11 – THE DOME AT AMERICA'S CENTER, St. Louis, MO.
Round 3–JANUARY 18 – ANGEL STADIUM OF ANAHEIM, Anaheim, CA.
Round 4–JANUARY 25 – STATE FARM STADIUM, Glendale, AZ.
Round 5–FEBRUARY 1 – RING CENTRAL COLISEUM, Oakland, CA.
Round 6–FEBRUARY 8 – PETCO PARK, San Diego, CA.
Round 7–FEBRUARY 15 – RAYMOND JAMES STADIUM, Tampa, FL.
Round 8–FEBRUARY 22 – AT&T STADIUM, Arlington, TX.
Round 9–FEBRUARY 29 – MERCEDES-BENZ STADIUM, Atlanta, GA.
Round 10–MARCH 7 – DAYTONA INTL. SPEEDWAY, Daytona Beach, FL.
Round 11–MARCH 14 – LUCAS OIL STADIUM, Indianapolis, IN.
Round 12–MARCH – 21 – FORD FIELD, DETROIT, MI.
Round 13–MARCH – 28 CENTURY LINK FIELD, Seattle, WA.
Round 14–APRIL 4 BRONCOS STADIUM AT MILE HIGH, Denver, CO.
Round 15–APRIL 18 – GILLETTE STADIUM, Foxborough, MA.
Round 16–APRIL 25 SAM BOYD STADIUM, Las Vegas, NV.
Round 17–MAY 2 – RICE-ECCLES STADIUM, Salt Lake City, UT.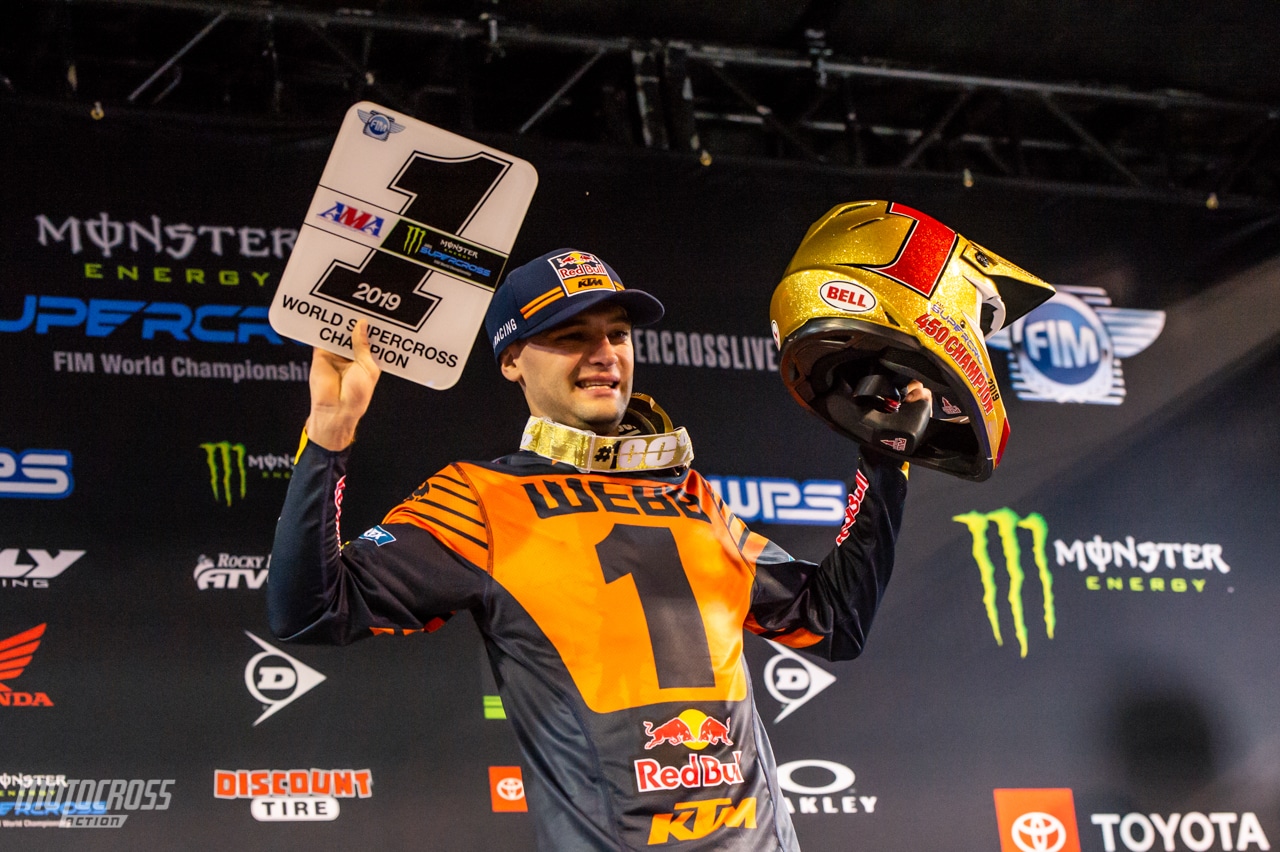 Cooper Webb will be running the #1 plate during SX in 2020.
BACK TO BACK 27-HOUR DRIVES
Another big change for 2020 is the move of the second round. Teams and riders in the 450 class will race the annual season opener at Anaheim on the first Saturday of January, but instead of making the five and a half hour drive Glendale, Arizona for round two, they will have to drive 27 hours to St. Louis, Missouri. After round two, everyone will have to load back up again and drive the same 27 hours back to California for to race again the next Saturday in Anaheim.
The biggest change for 2020 is that the finale has moved from Las Vegas to Salt Lake City.
Las Vegas has hosted the final race for the past 23 seasons and remains on the schedule as the penultimate round of the season which will then head to Salt Lake City for the finale and title crowning.
2020 SUPERCROSS SCHEDULE ANNOUNCEMENT VIDEO
POPULAR RETURNING SX VENUES 
The Oakland Supercross is still on the circuit, but the stadium has been renamed from the O.CO Coliseum to the RingCentral Coliseum.
The 2020 series is widely different from the past seasons, but the Supercross series is still proud to return to a few popular venues. One of the favorites is the Arlington, Texas round on February 22 at AT&T Stadium. During the 2019 Supercross season, 57,000 plus fans witnessed the closest race in history between Cooper Webb and Ken Roczen when they crossed the finish line in a near photo finish. Other favorite rounds are Oakland, California, at the RingCentral Stadium February 1, Atlanta, Georgia. at the Mercedes Benz Stadium on February 29, Detroit, Michigan. at Ford Field on March 21 and Seattle, Washington at CenturyLink Field on March 28.
DENVER, COLORADO RETURNS FOR 2020
Eli Tomac won at the Denver Supercross in 2020 and we know he is excited to go back next year.
The 2020 AMA Supercross series will return to the Denver, Colorado Broncos Stadium at Mile High on April 4 for the second year in a row.  In 2019, more than 59,000 raucous fans cheered on hometown favorite Eli Tomac in what was one of the loudest races in recent memory.