2020 AMA SUPERCROSS: WHAT HAPPENED THE LAST TIME SUPERCROSS CAME TO ST. LOUIS?
On March17, 2018, thousands of fans gathered in St. Louis' America's Center to watch round 11 of the 2018 Monster Energy Supercross season. From early morning qualifying to the final wave of the checkered flag, fans were not disappointed in the events of that night. There were quite a few stories and rivalries beginning to form heading into this night of racing. Zach Osborne versus Austin Forkner and Jason Anderson versus Eli Tomac to name a few. Not to mention multiple other riders who were seeking the top step. How did it all shake out?  On the eve of  Supercross returning to St. Louis, after skipping the Gateway City in 2019, find out "What Happened The Last Time Supercross Came to St. Louis."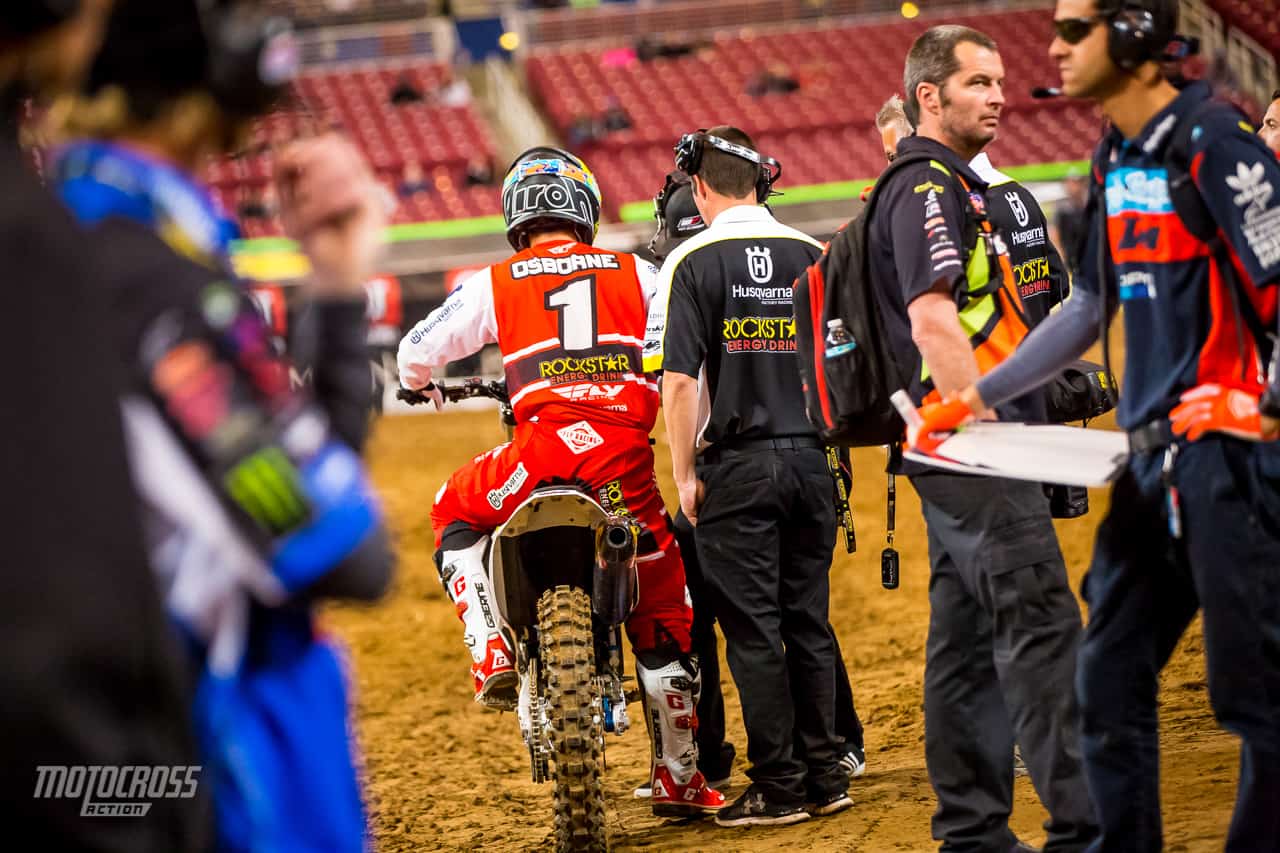 The day started off with qualifying. Zach Osborne clinched the fastest 250 East time of the day followed by Austin Forkner and Jordon Smith. Yes, St. Louis was an 250 East race in 2018 and is a 250 West race in 2020.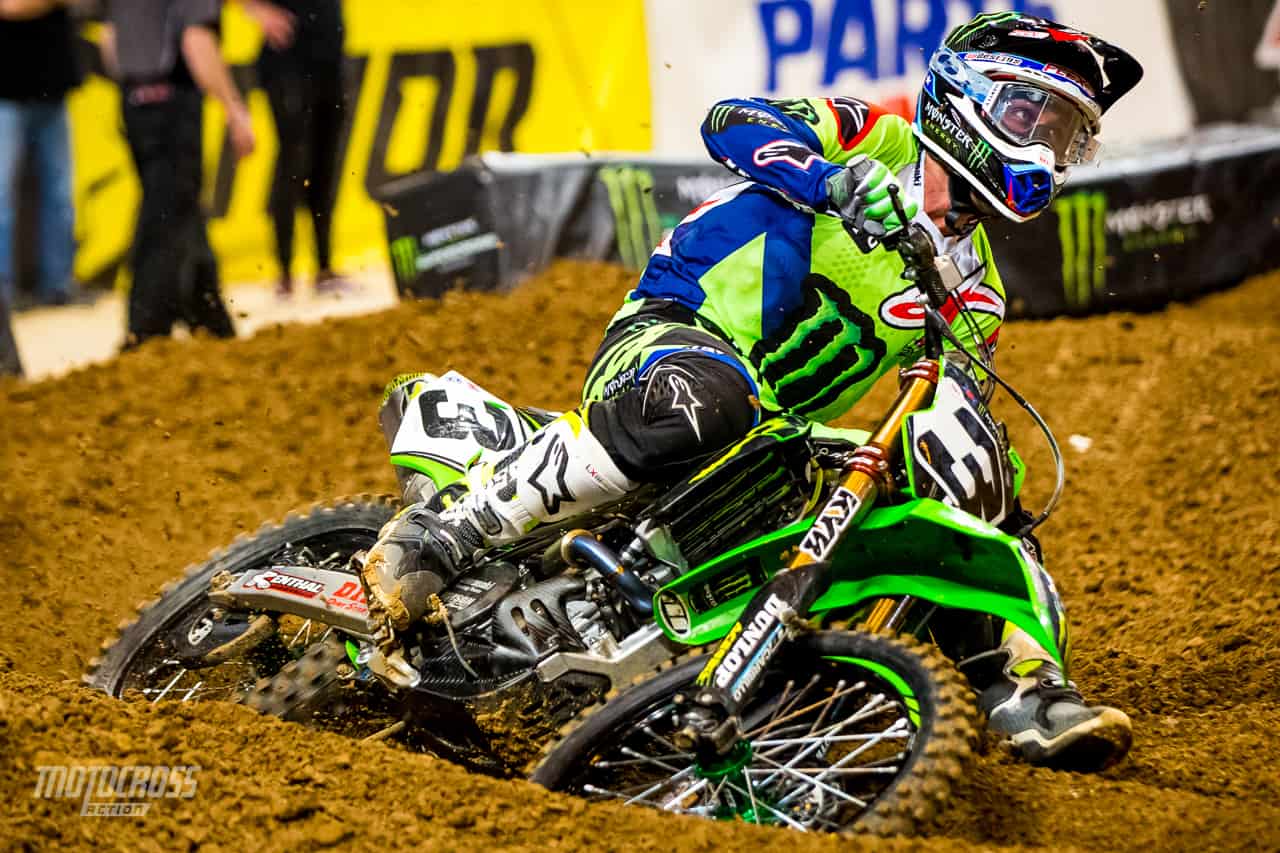 In the 450's, Eli Tomac grabbed the top spot in qualifying followed by Justin Brayton and Malcolm Stewart.
The opening ceremonies in St. Louis.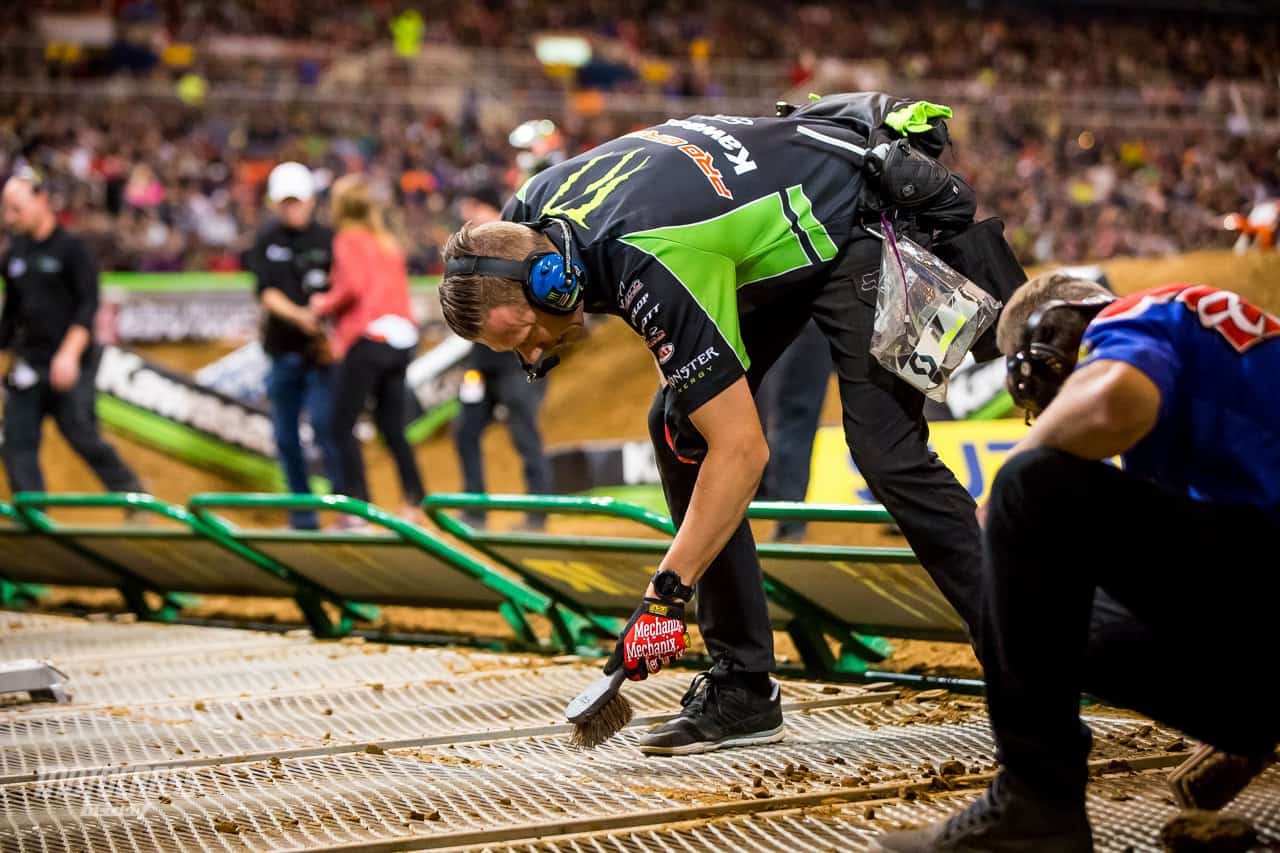 After opening ceremonies were all wrapped up and the smoke cleared the air, it was time to load the gates for the first four races of the night. Pro Circuit mechanic, Olly Stone preps the starting pad for his rider Austin Forkner.
Austin Forkner definitely dominated his 250 East heat race. He nailed a clean start, and managed to pull away from the pack. His teammate Martin Davalos followed behind in second, and privateer Jacob Williamson in third. Forkner looked more than ready to face Zach Osborne in the main.
In 250 East heat two, JGR Suzuki rider Kyle Peters jumped to the early lead. After a minute in a half,  Zach Osborne made a clean pass on Peters and took the lead. As the checkers waved, Zach Osborne took the win followed by Kyle Peters and Jeremy Martin.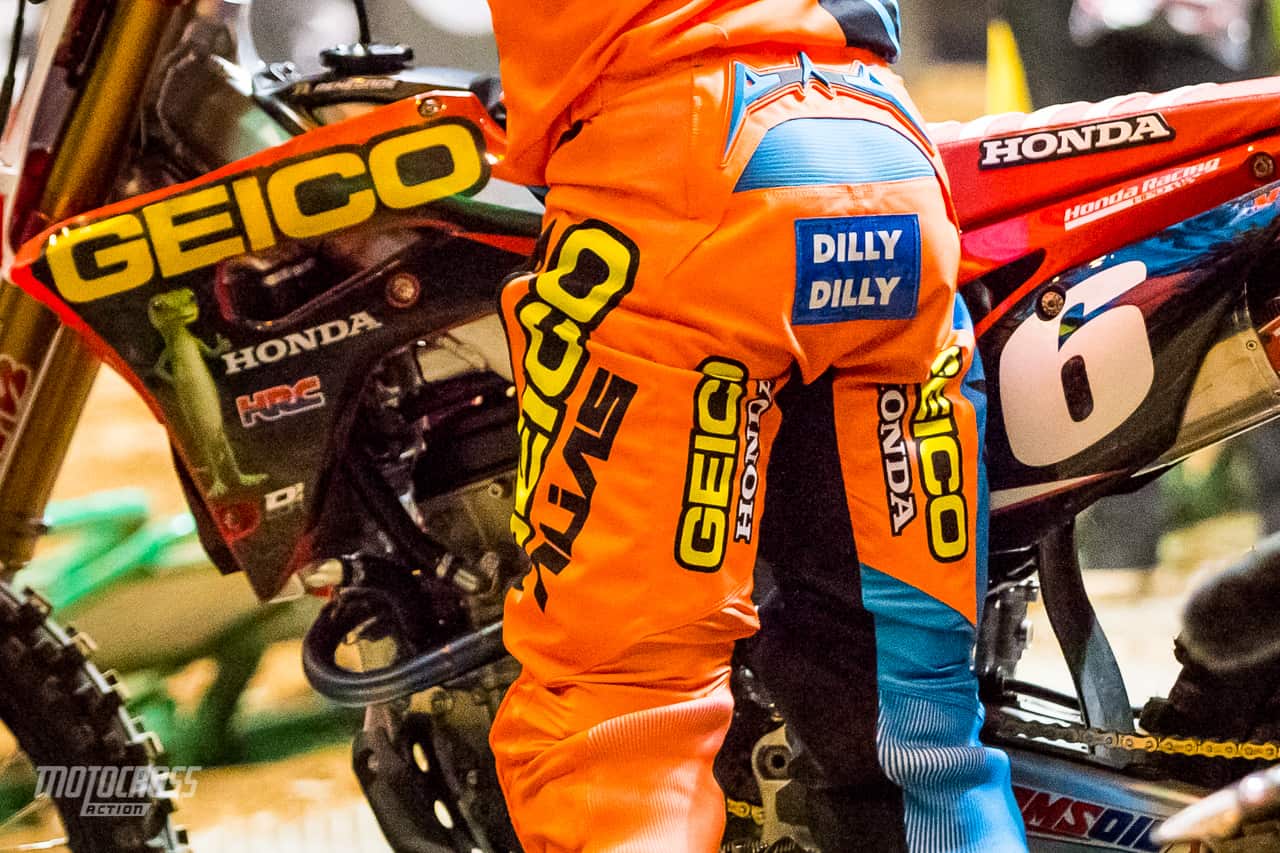 Jeremy Martin's custom patch for the night. The phrase came from a "Bud Lite" commercial that was playing on TV at the time.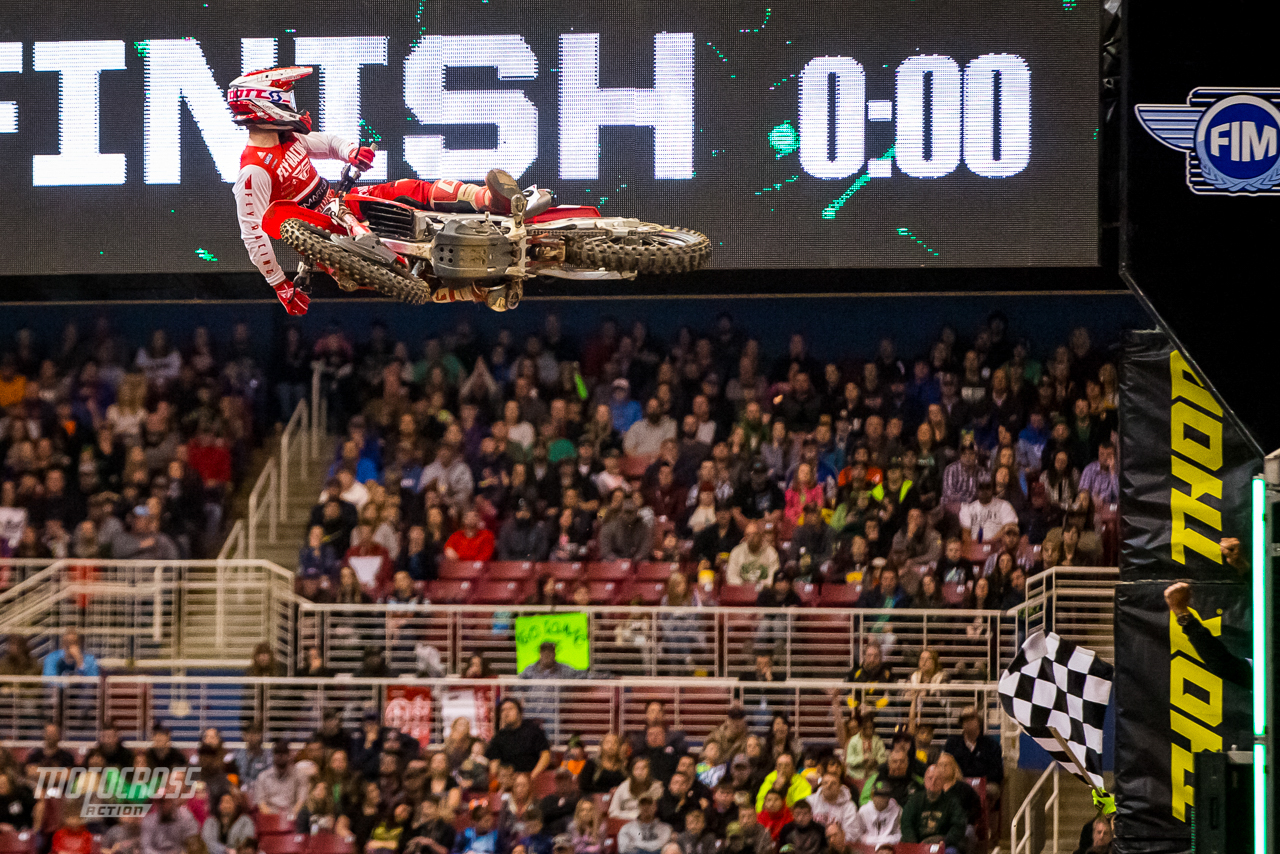 Next up was the 450 heat races. With big rider names like Ken Roczen and Justin Barcia injured, it left the door open for many athletes to potentially take the win. In 450 Heat one in St. Louis, It was all about previous weekend's Daytona winner Justin Brayton. He took the heat win, followed by Dean Wilson and Broc Tickle.
Heat two was the race that everyone was waiting for. The Eli Tomac versus Jason Anderson showdown. Off the start, Eli fell back drastically leaving Jason to check out. In the end, it was Jason Anderson in first, Eli Tomac in second and Blake Baggett in third.
In between the final heat races and first LCQ, KTM's Junior SX kicked off. As always these little racers brought excitement and energy to the field. On this night, Elly Gross took first, followed by Levi Wilkins in second and Lucas Skelton in third.
Once the Juniors were off the track, it was time to drop the gate for the LCQs. In the 250 class, Cody Vanbuskirk gave Drake Sizemore a run at the lead the entire race. But in the end, it was Drake Sizemore in first in the Last Chance with Cody Vanbuskirk in second, Ramyler Alves in third and Tanner Basso in fourth.
As the night progressed, the track was getting deep and it began to make things a bit more interesting.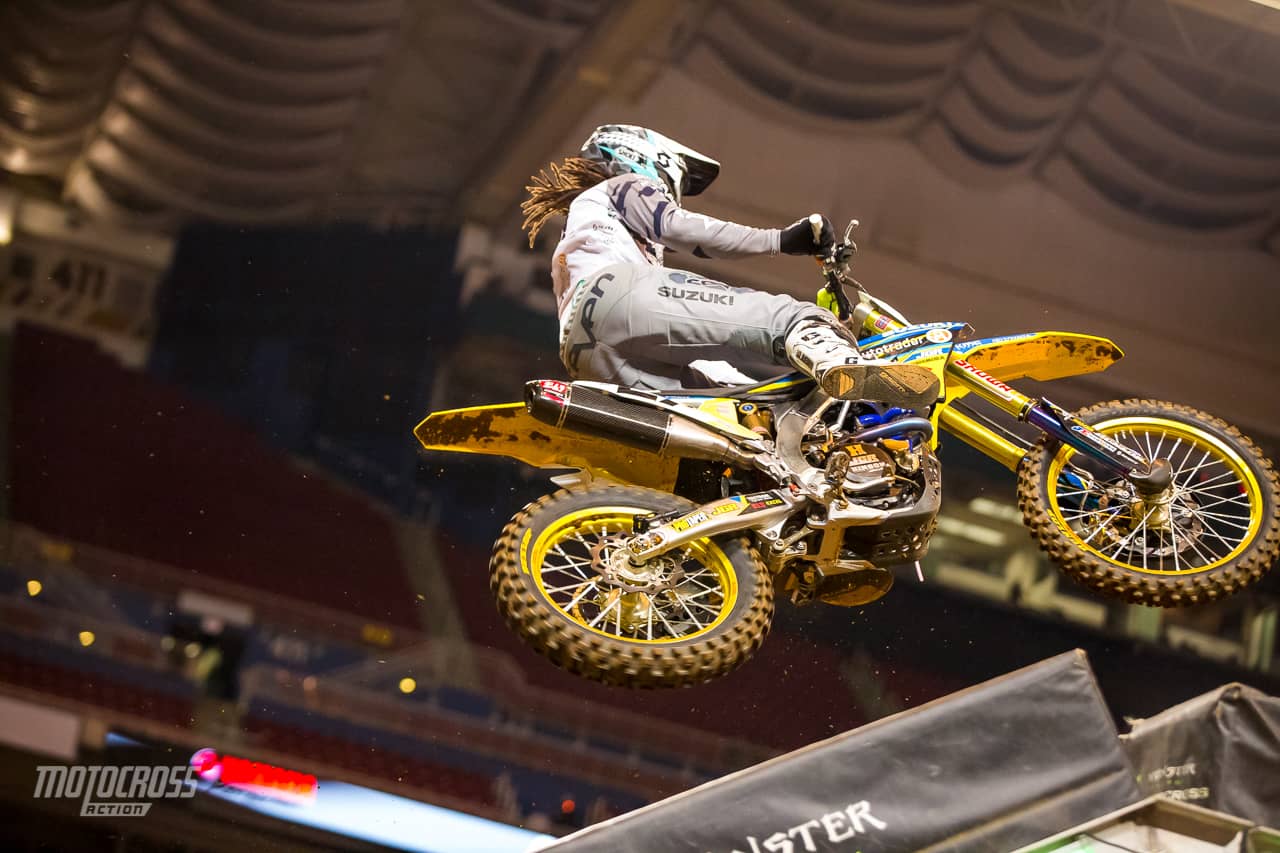 Malcolm Stewart was unfortunately in this week's 450 LCQ after a little mistake in his Heat. Fortunately, he took the LCQ win cleanly and transferred straight to the Main Event. Behind him was A. J. Catanzaro, Dylan Merriam and Scott Champion.
After all the qualifying was complete, you know what comes next. The Mains. Zach Osborne was doing his pre-race prayer just behind the 250 starting grid.
Austin Forkner showing the "Show Me" state some love.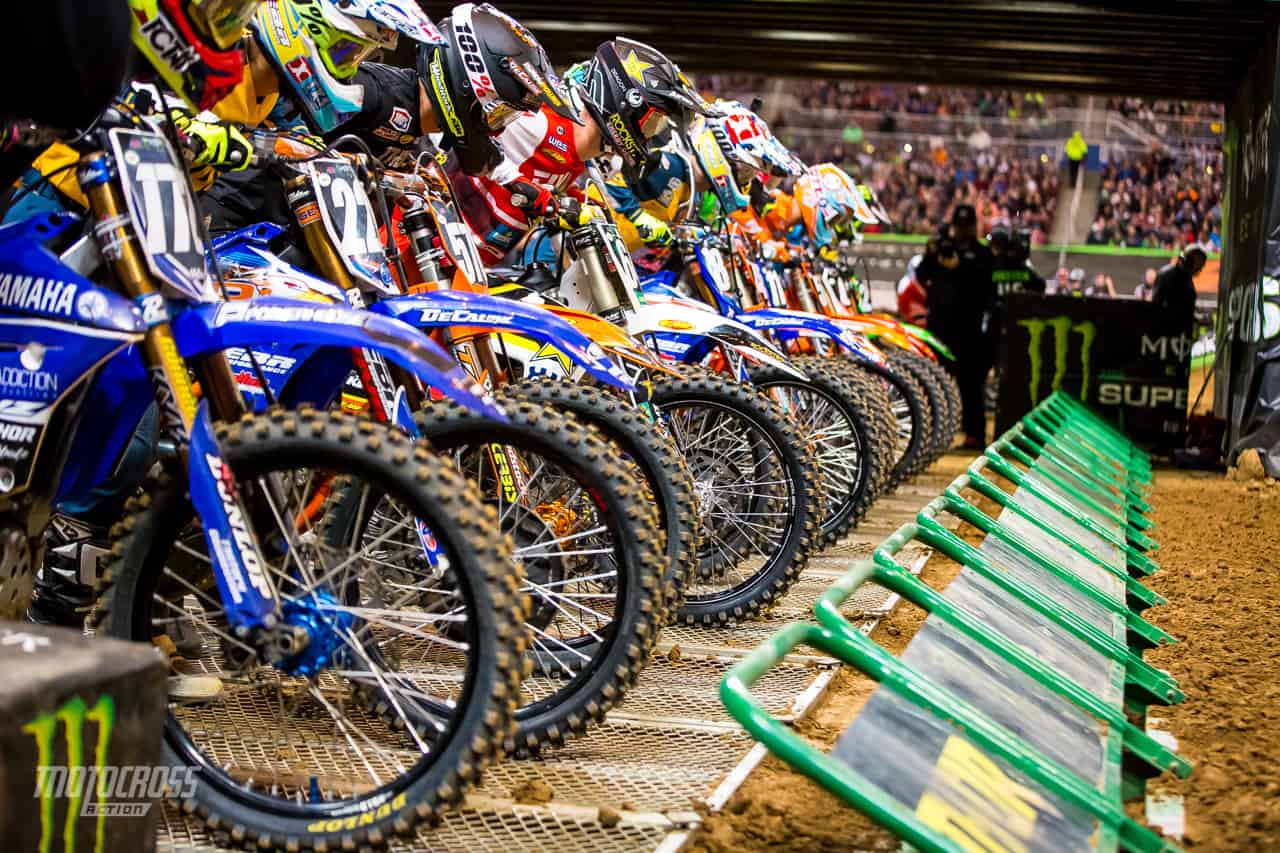 And here we go, its time to see how the 250 Main Event panned out!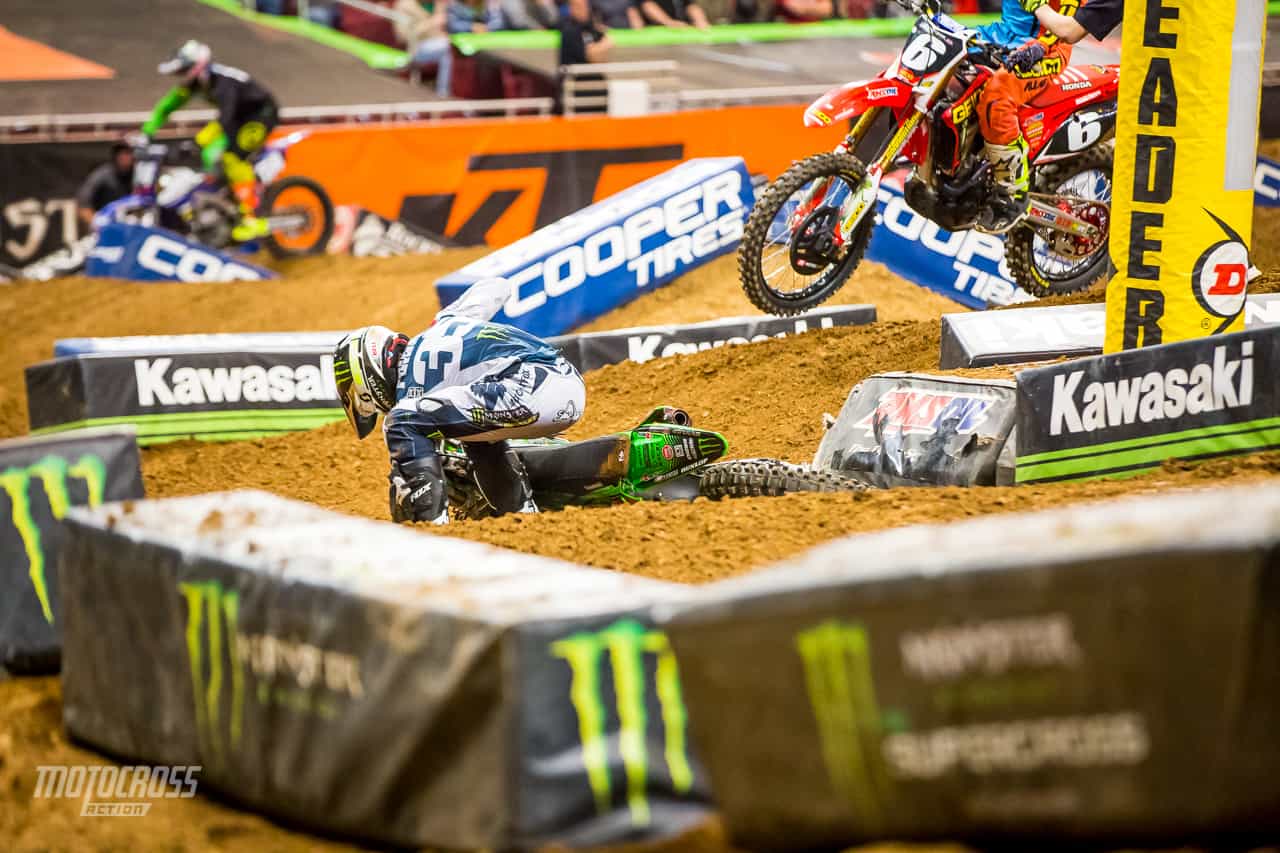 Off the start, it was Austin Forkner out front. He ran solid, clean and looked completely unbreakable. Until, he broke. Zach Osborne got a great start, and managed to stay behind Forkner the entire time by not letting him out of his sights. Once Osborne began to put some pressure on Forkner, he crashed and gave the lead away. As the race went on, Forkner made a few other mistakes, and finished in fifth.
In this sport, in order to get solid exposure you need to have a break-out ride. And that's exactly what St. Louis was for Kyle Peters. He finished great in his 250 heat, and ended up hanging with the front runners in the 250 Main. He crossed the line in fourth.

We're getting use to seeing the number 45 of Jordon Smith up on the box. He is the master of catching the field, and laying down solid and smooth laps. In the end he put himself in third.
Another rider we are getting use to seeing is Jeremy Martin. The number 6  had a rough start to the 2018 season. But he has really put together some great rides over the past few weeks. Jeremy capitalized on the mishaps of Austin Forkner, and began to reel in Osborne. But in the end, he would settle for a second in the 250 East main event.
Zach Osborne is one heck of a rider. Nobody can ever take that away from him. As the rivalry began to form between him and Austin Forkner, somebody had to step up. Here in St. Louis, Zach stepped up, and broke the young guy. Not only did he take the win, but he increased his points lead by eight points over Forkner.
Official Results: Zach Osborne (1st), Jeremy Martin (2nd), Jordon Smith (3rd).
250 EAST COAST SX POINT STANDINGS (ROUND 4 OF 9)
Zach Osborne (Hus)…115
Austin Forkner (Kaw)…107
Jordon Smith (KTM)….102
Jeremy Martin (Hon)…93
Luke Renzland (Yam)…71
Kyle Peters (Suz)…70
R. J. Hampshire (Hon)…57
Sean Cantrell (KTM)…56
Colt Nichols (Yam)…54
Martin Davalos (Kaw)…52
Next up, the 450s. Heres a unique shot of riders helping riders get ready for the 450 Main. 
Of all the times to step up to the plate, the time is now. Weston Peick hads been a top five guy all season, and had been very consistent. He's gave it his all to make it up front. But in St. Louis, he'd cross the line in fifth.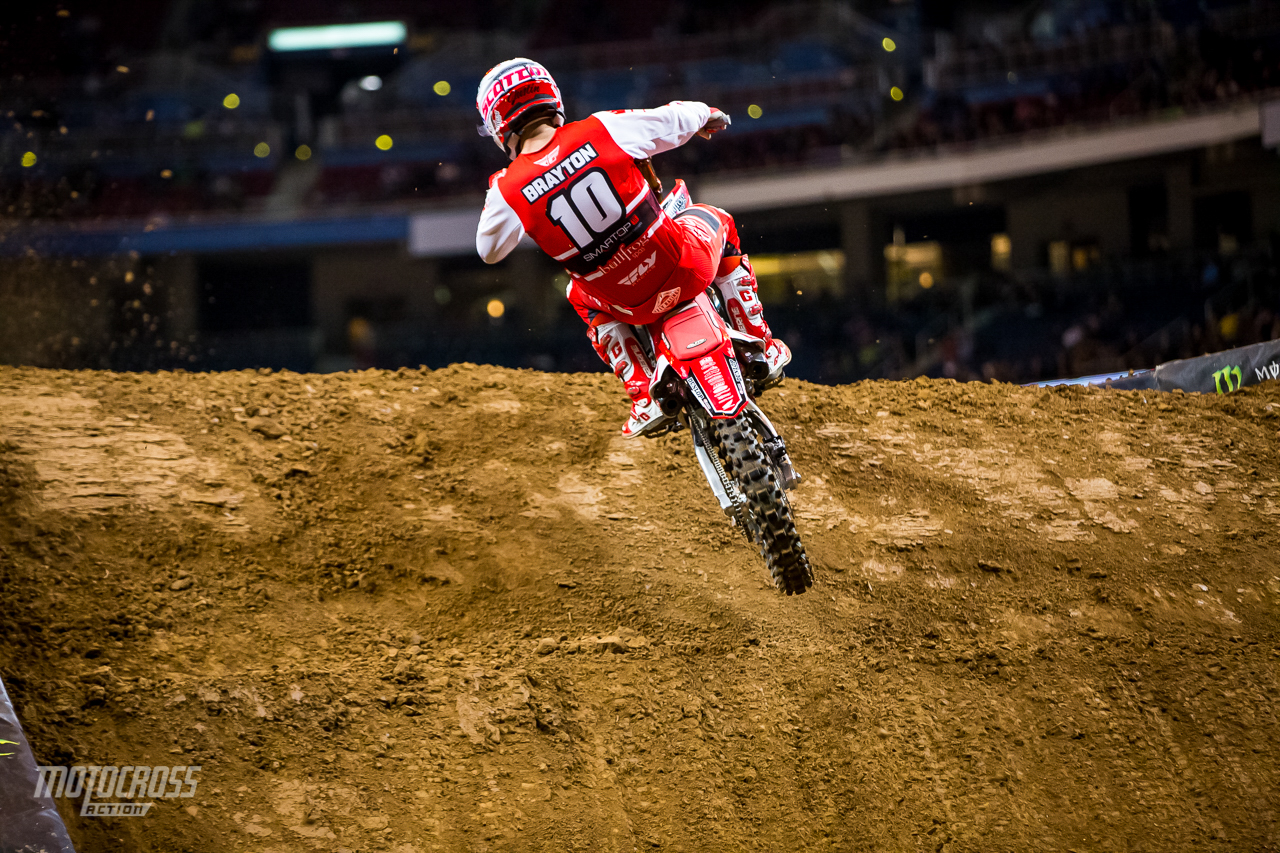 Last weekend's winner did not have as much luck in St. Louis. A bad start and loss of ground were the recipes of Justin Brayton's night. He gave it everything he had, and hung on to fourth.
Marvin Musquin is another rider that has been very consistent. He rides his own lines  and often clocks in the fastest times of the day during the races. But this weekend, he'd grab yet another third place. He knows he is capable of more, and so does the field.
Although Jason Anderson crossed the line in second, it wasn't the night he had in mind. Beating Eli Tomac straight up is something that was on his mind. Jason was charging hard, and riding great. He just needs that extra edge over Eli to rack up more wins. His consistency is paying off, as he also extends his points lead to 42 points more over the field.
When Eli Tomac shows up, he shows up to race. He doesn't mess around. He is one of the fastest riders in the world. We knows he can win races. But it might take a miracle to get him up into the 2018 Championship running even though crossed the line in first, once again.
Official Results: Eli Tomac (1st), Jason Anderson (2nd), Marvin Musquin (3rd).
450 SUPERCROSS POINTS STANDING (ROUND 11 OF 17)
Jason Anderson–246
Marvin Musquin–204
Justin Brayton–189
Eli Tomac–186
Blake Baggett–181
Weston Peick–171
Broc Tickle–147
Cooper Webb-146
Cole Seely–124
Justin Barcia-113
_____________________________________
TOP NEWS AFTER ST. LOUIS:
Cooper Webb wasn't in attendance during the 450 Heat races in St. Louis due to a crash in practice. Sources say he actually had a mid week crash practicing, and was not well coming into St. Louis.
Cooper Commented: "Just want to give everyone a heads up. I had a practice crash on Tuesday resulting in a shoulder injury/dislocation due to a freak bike problem out of anyone's hands. I rehabbed all week to try to race today in St. Louis. Unfortunately my shoulder isn't good enough to race today which resulted in a Free Practice crash in practice 1. Extremely bummed but I will do everything in my power to be back as soon as I can. I'd like to thank all my sponsors and fans for understanding."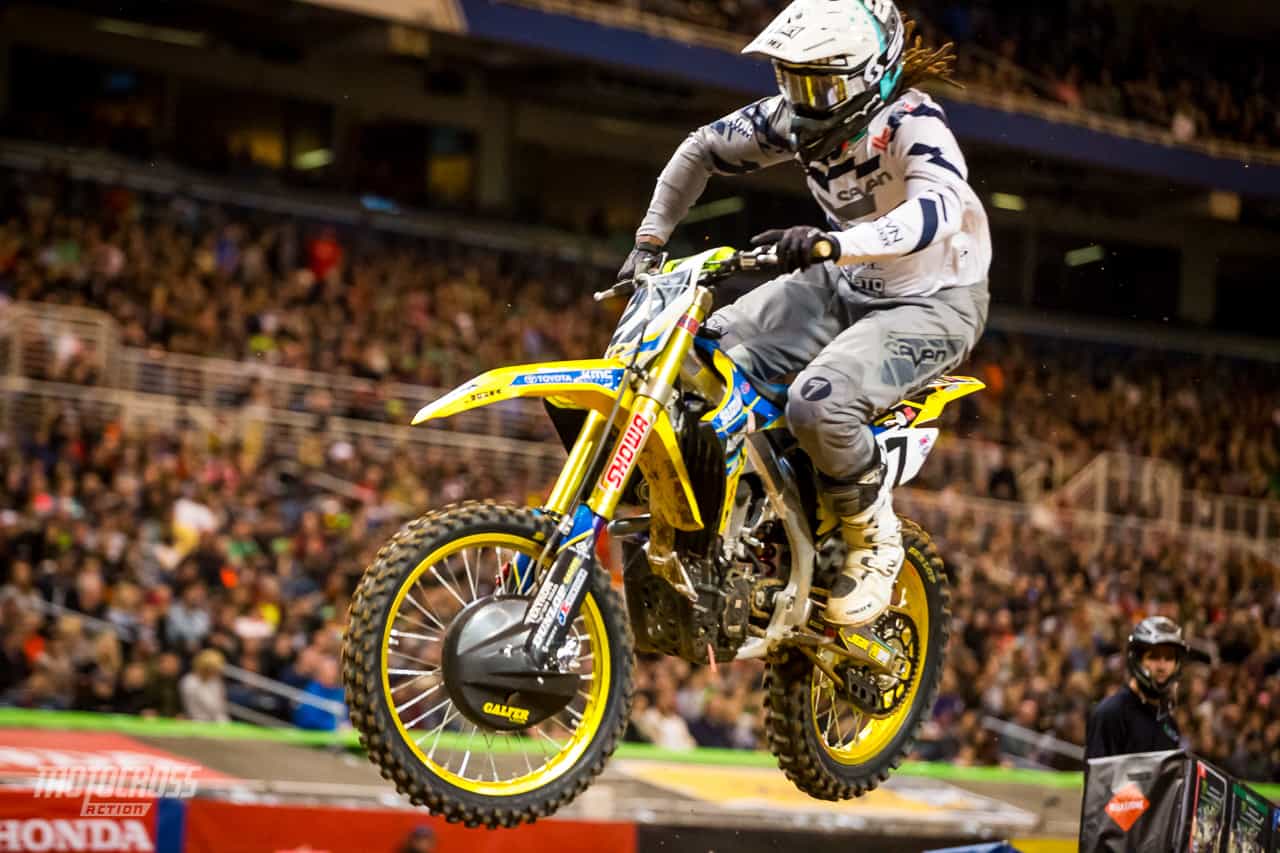 It was also a rough night for Malcolm Stewart. Unfortunately he went down hard in his heat and injured his shoulder. He managed to win his LCQ, but he wasn't feeling all that well.
Malcolm commented: "Was riding good all day, had a bad start in the heat and got together with another rider and went down and messed my shoulder up, ended up 10th! I can't complain I'm just glad I'm safe. I'll give you guys a update this week on shoulder. Thank you fans for being there for me As well as the alpinestars medical group for helping me!" #WeStillThere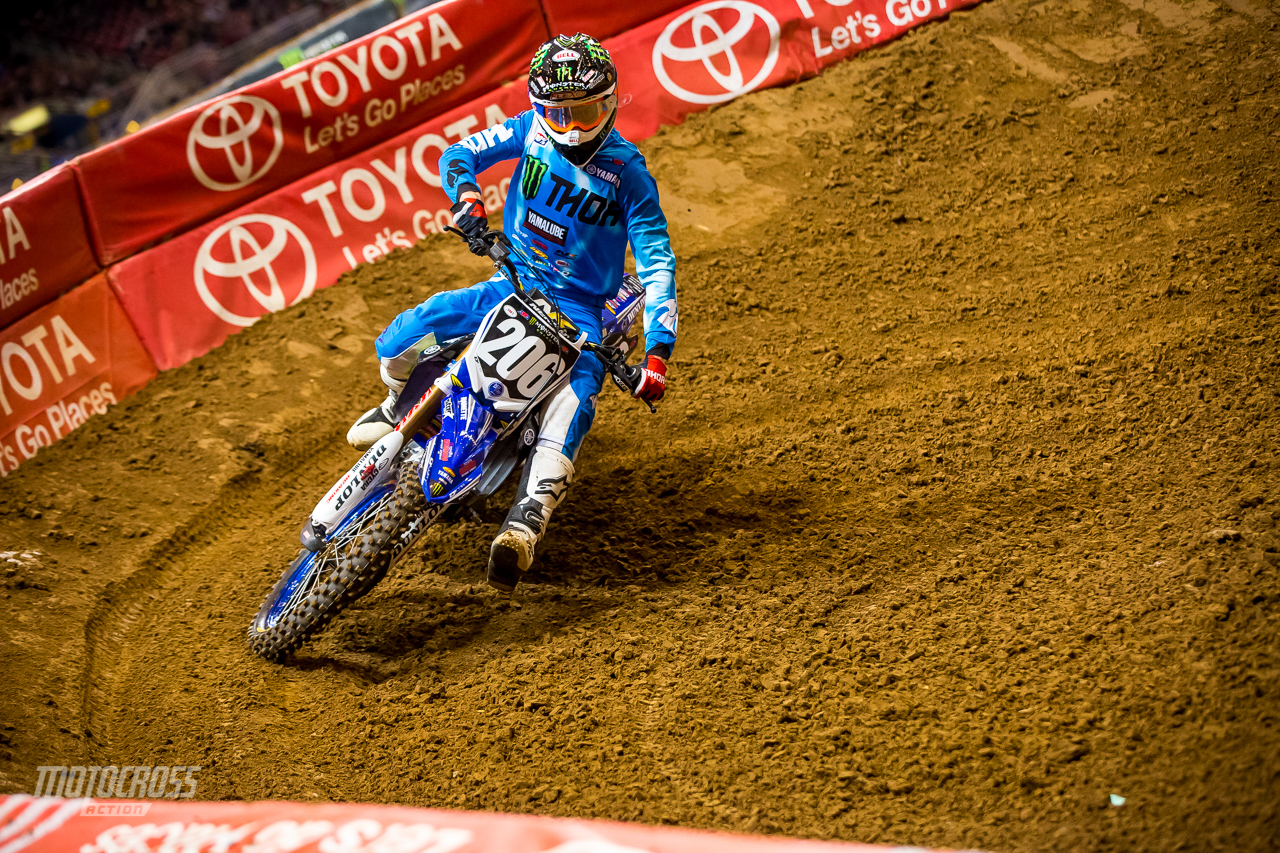 Did you notice that Star Racing had a new rider under their tent? Assistant team manager Wil Hahn brought in Thomas Ramette from France to fill in for the injured Colt Nichols and Dylan Fernandis. "Thomas has not ridden a 250 in over six years," said Hahn. The current French 450 rider hopped on Ferrandis' bike and loved every bit of it. The only thing he wanted to change, was the bar placement. 
Thomas Commented: "P4 in heat and P10 in the main for my first AMA 250 Supercross race. Getting better and better on 250. thanks everyone at @starracingyamaha for their amazing job."
Well, Austin Forkner went on a slight rant with a lapped rider after going down in the 250 Main Event. Privateer Ramyller Alves supposedly had the blue flag waved at him multiple times during that particular lap, and ended up taking Forkner out while he was on a mission to gain back positions.
Forkner commented: "Well I tried. Hit a kicker on the dragon and got a buck as most of us saw. Lost my flow and then got together with a lapper and ended up 5th. As far as my little "tantrum", I prolly should've calmed down a bit before I said something , but hey tempers are high it's a close championship and it's not over."
Alves followed up with: "I want to get it cleared out, I wasn't trying to take out or hold up any rider that was on the lead lap. On the lap of the incident, from the finish line jump till the accident I didn't get one, not one, blue flag waved at me, I had no idea that the rider behind me was a rider on the lead lap. I was battling for positions the whole race and not seeing a blue flag being waved on that lap, that caused me to think that he was a rider I was battling with. Couple laps before the incident, I got a blue flag waved so I let the rider behind me pass, but it ended up not being a rider on the lead lap, it was actually a rider I was battling with. It's a difficult situation to be in as a rider. Moving forward."
Photos by Krystyn Slack.