2020 ANAHEIM 2 SUPERCROSS | THE AFTERMATH: FERRANDIS VS. HONDA & KEYBOARD WARRIORS (UPDATED)
2020 ANAHEIM 2 SUPERCROSS | THE AFTERMATH: DYLAN FERRANDIS VS. GIECO HONDA AND THE KEYBOARD WARRIORS
The 2020 Anaheim 2 Supercross is in the books and it was a wild night of racing. Coming into round three of the Monster Energy Supercross season, all eyes were on the 450 class because it has been so exciting. With guys like Ken Roczen grabbing his first win in three years, Justin Barcia backing up his stunning A1 performance for 2019, Adam Cianciarulo battling at the front and dominating timed qualifying and Eli Tomac and Cooper Webb struggling to get going, the 450 class has kept us on our toes.
The 250 class was fairly uneventful at the first two rounds besides Austin Forkner cutting the track and being penalized. With take outs, crashes and bar-to-bar battles in the 250 Main and more of the same in the 450 Main, there is a lot to be talked about from Anaheim 2. In Motocross Action's The Aftermath, we like to take a deeper look at all the racing action and share our favorite photos that we took from the event.
Words by Josh Mosiman
Photos by Travis Fant, Trevor Nelson and Josh Mosiman
JETT LAWRENCE ADDRESSES THE KEYBOARD WARRIORS
In response to the serious hate comments Dylan Ferrandis is receiving online, Jett Lawrence addressed the issue in an instagram post on Tuesday morning after the race stating that it's gone too far and that people need to lay off Dylan Ferrandis. You can read the entire message below:
Jett Lawrence posted the following on his instagram: "Honestly guys you need to lay off @dylanferrandis it's gone a bit too far so I needed to say something. We are all racing at the highest level and have to make decisions in the blink of an eye that can determine the outcome of a race or night. Sometimes this process pays off sometimes it doesn't and we end up doing "dumb" stuff . We are all out there laying it on the line every Saturday night for your guys entertainment and would never do anything on purpose to hurt another rider! I understand being bummed on your favorite rider crashing out or being taken out and I don't like what happened to Christian ! but in this sport this can happen and a lot of you guys love it for that very reason. I look forward to racing with Dylan and Christian and everyone else over the next few months then outdoors and no doubt we will rub plastic and heck I might do something wrong but it won't be on purpose to hurt another rider other than to get a win or a championship."
DYLAN FERRANDIS TAKES OUT CHRISTIAN CRAIG
 Dylan Ferrandis took out Christian Craig on his way to winning the 250 Main Event.
The most controversial topic of the Anaheim 2 Supercross by far was the take-out move that Dylan Ferrandis put on  Christian Craig to get into second place. The defending Champion was riding aggressively throughout the race, making contact to get to the front of the pack. Christian Craig had led the race early, but then was passed by his teammate Jett Lawrence to move him back into second. Dylan came over the finish line behind Craig and rode straight to the end of the turn where he connected with Christian Craig and launched him down the straightaway, (as seen on video). Ferrandis picked his bike up, still in second place and went on to catch Craig's teammate. He made an aggressive pass on Jett to take over the lead and win the 250 West Main Event. Meanwhile, Christian Craig was forced to drop out of the race when his handlebars were severely damaged in the wreck.
After the race, Dylan Ferrandis was booed by the entire stadium and now he and his wife are receiving threats online, mostly on his instagram account, telling him what a horrible person and rider he is. The AMA delayed the posting of the results until almost midnight on Saturday, well after race fans had gone home and gone to bed. In the official results it was confirmed that Dylan would not be penalized positions or points, but he would remain the 250 Main Event winner.
The next day, Dylan Ferrandis posted on his instagram that he received a probation and warning that if he breaks a rule on his probation in the next 12-months, the AMA will fine him for it. As of Monday, the AMA hasn't released any kind of press release about his official probation or fines. We are left to wonder how much the fines would be, and if it comes down to a win or lose situation, is it worth the fine and the social media ridicule to do it again? On average, riders on a factory team are paid $50,000 to win a 250 Main Event and much more to win a Championship, would a $3000 fine stop you from taking someone out? Maybe not, but we're guessing the intense hatred in the comments Dylan is receiving from social media will certainly make him think twice next time the opportunity arises.
Dylan Ferrandis posted on instagram about the situation: "First win at the Angel stadium last night. Crazy night and race, gave absolutely everything I had to the finish. Unfortunately I had this racing incident with Christian Craig that make both of us crash during the main event, I want to apologize to him and I hope he's not injured, definitely not the way I wanted to pass him. Racing is never easy, specially when you dedicated your whole life to win and you had a 15min race to do it, sometime the decision we take are not the smarter… The AMA gave me a 12 months probation with fine if I violate a rule in my probation period. Head down and back to work."
There are always two sides to every story. Either Dylan Ferrandis completely took-out Christian Craig with malicious intent put him on the ground and gain second place, or it was a mistake on Dylan's part where he wanted to make an aggressive pass, but it didn't go as planned and he took himself down in the process. We will never truly know because we weren't in Dylan's head as he launched off the finish line jump with his adrenaline pumping to the max. Either way, most people agree that it wasn't the right move for the situation and he should be penalized. But really where the whole thing has turned sour is because the fans have taken to social media to express their harsh opinions about Dylan without reserve and without consequences for their words. It's truly ugly and embarrassing to read the comments Supercross fans and Americans are making towards the French rider.
Supercross fans pay money to watch racers battle their hearts out and leave it all on the track. Plus, Supercross itself will probably be replaying the crash video during their pre-race commercials and NBC Sports will be showing it on TV to attract attention and show fans what can happen in a Supercross event. Would it be different if it was an American rider taking out another American? Would it be different if Jett had won the race and Dylan placed second? We will never know.
Christian Craig was running in second place when he was taken out. 
Christian Craig said via instagram: "I can only control what I'm doing on the bike. What happened last night was out of my control. I take pride in being a good role model for this sport so I won't say anymore. I'm focused and looking forward to next weekend. Thank you to my team and all the fans. The support is REAL and I'm thankful!"
JETT LAWRENCE VS. DYLAN FERRANDIS

Jett Lawrence and Dylan Ferrandis battle on the last lap of the Main Event. Jett crashed in the whoops on the next straightaway, one corner away from the finish line.
The 250 class really made the stadium come to life when 16-year-old rookie, Jett Lawrence passed his teammate Christian Craig for the lead in the 250 West Main Event and then pulled away to a massive lead. With Ferrandis taking out Craig while they were running second and third, Jett's lead increased even more. On lap 14 of 18 total, Jett had a big crash all by himself in the lead. Luckily, he and his bike were okay and Jett was able to remount his bike — losing only nine seconds to Ferrandis. In the final laps, Dylan continued to close the gap while Jett Lawrence navigated through the thick field of lapped riders while leading his first ever 250 Main Event. An Australian, Jett Lawrence came to America with his brother just before the 2019 season when they both signed with the Geico Honda team. Jett's older brother, Hunter Lawrence, has had the spotlight on him since he's older and has more experience racing Pro in the 2019 GP's and in the AMA outdoors last year. But many people had been quoted stating that fans needed to keep our eyes on Hunter's younger brother Jett and they weren't kidding. Jett was very impressive at Anaheim 2 while leading for most of the race in his third-ever AMA Supercross. He did make a few rookie mistakes and have some close calls in the whoops, but those are to be expected when a 16-year-old rookie is leading the Main.
Dylan Ferrandis caught up to Jett with one lap to go and he made an aggressive move to get alongside Jett and make the pass, but Jett wasn't ready to give it up yet. He got back alongside Ferrandis by riding a wheelie through the first set of whoops in the picture above. Ferrandis blocked him as hard as he could in the next corner to stay in front and then Jett would go down all by himself in the second set of whoops.
Jett Lawrence mid-crash.
We don't like to see anyone crash, but we especially hate when the rider is knocked unconscious in the process. Jett Lawrence laid in the middle of the track without moving for a few moments as everyone in the stadium held their breath.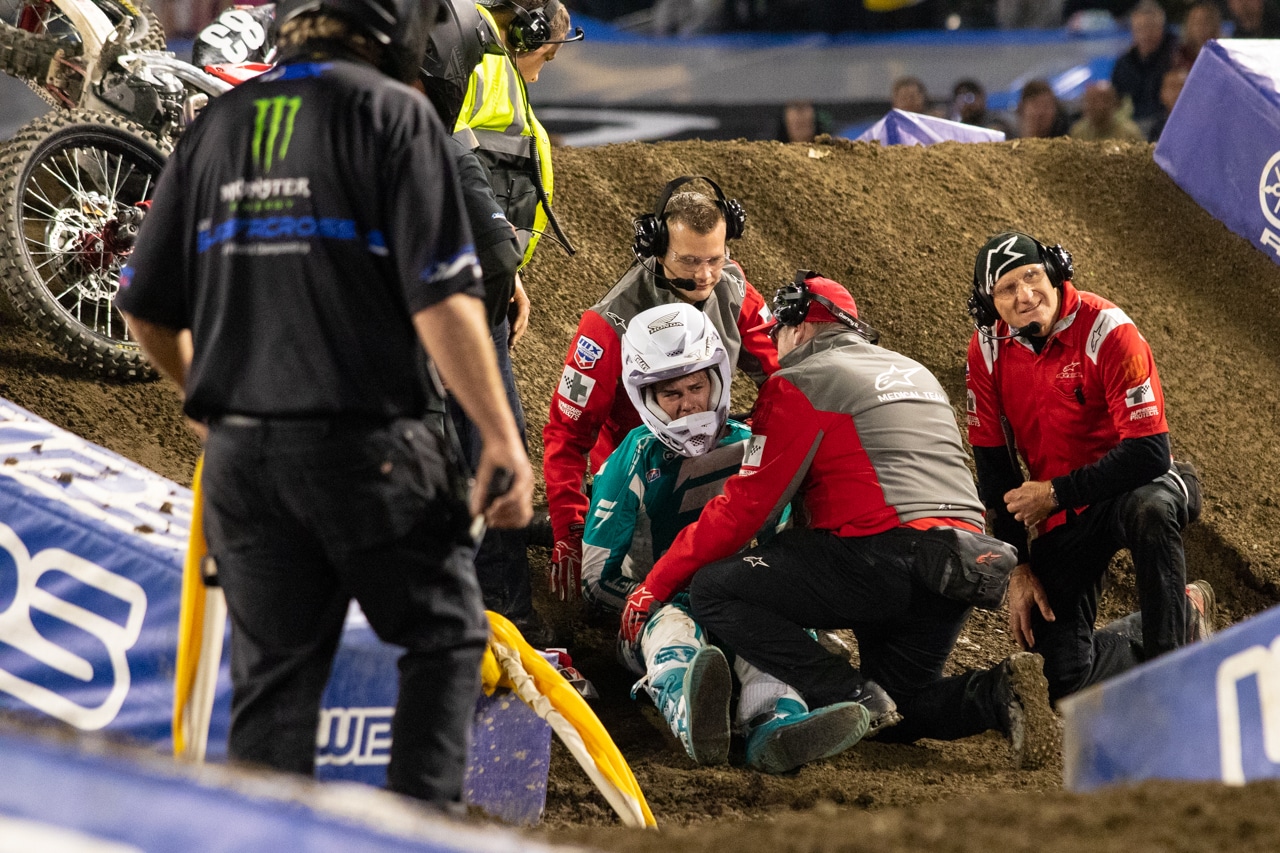 The Alpinestars medical unit was on the scene immediately to take care of Jett. 
Luckily, Jett was okay and moving. The Alpinestars Medical Unit was there to take care of him and haul him off the track. The stadium cheered as he rose and sat on the back of the Alpinestars cart to head out of the stadium.
JETT LAWRENCE POSTS ABOUT HIS CRASH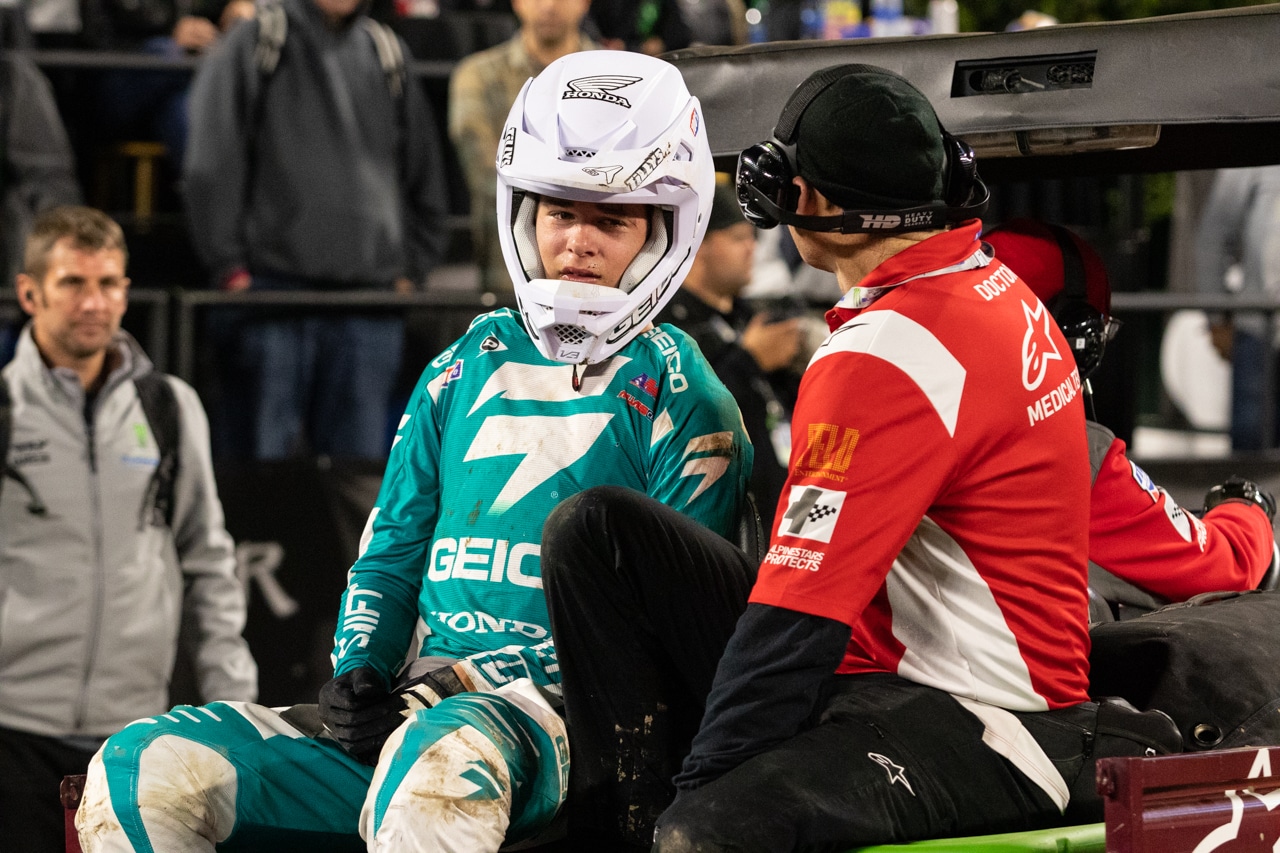 Jett Lawrence posted via instagram: "No words really guys! I'll never settle for second and will always leave everything out on the track. Lucky to only have a broken collarbone. We will get it all sorted tomorrow and get back to the races ASAP. Thanks for all the support and messages."
Austin Forkner was running in fourth when he crashed.
Austin Forkner was behind Dylan Ferrandis in fourth place when he crashed in the second whoop section on lap ten.  He went down hard and landed square on his back. He got up quickly and looked to be alright, but then he slowed down and began grabbing his back in pain. After a short while he remounted his bike a lap down and continued to race. Unfortunately for the lead riders, Austin wasn't obeying the blue flags afterwards and he continued to race at his normal pace while Justin Cooper, Brandon Hartraft and Alex Martin had to work hard to get around him. Michael Mosiman sat behind Austin for the final four laps of the race and he wasn't able to get around him.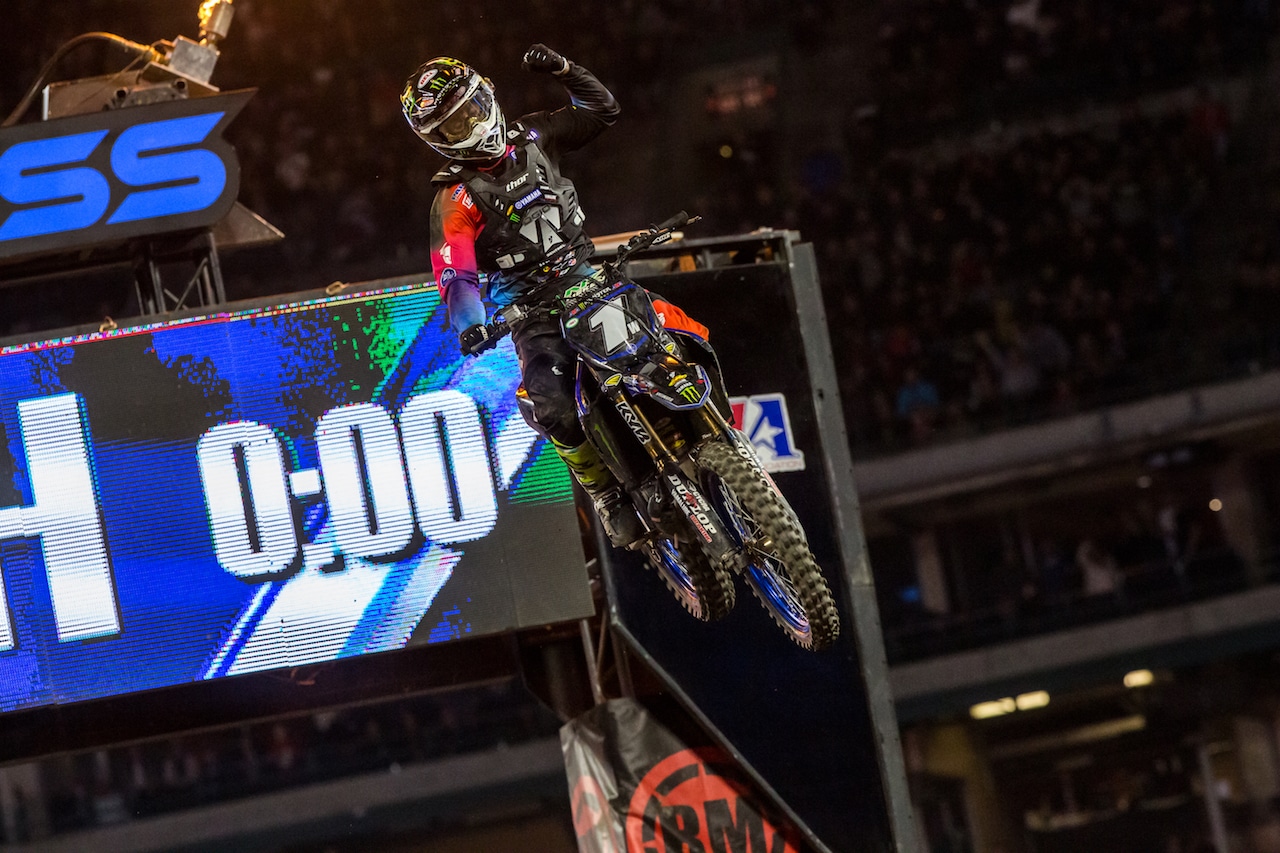 Dylan Ferrandis claimed his first 250 Main Event win of the season while the stadium had their eyes glued on Jett Lawrence to see if he was okay.
ELI TOMAC GRABS HIS FIRST WIN OF 2020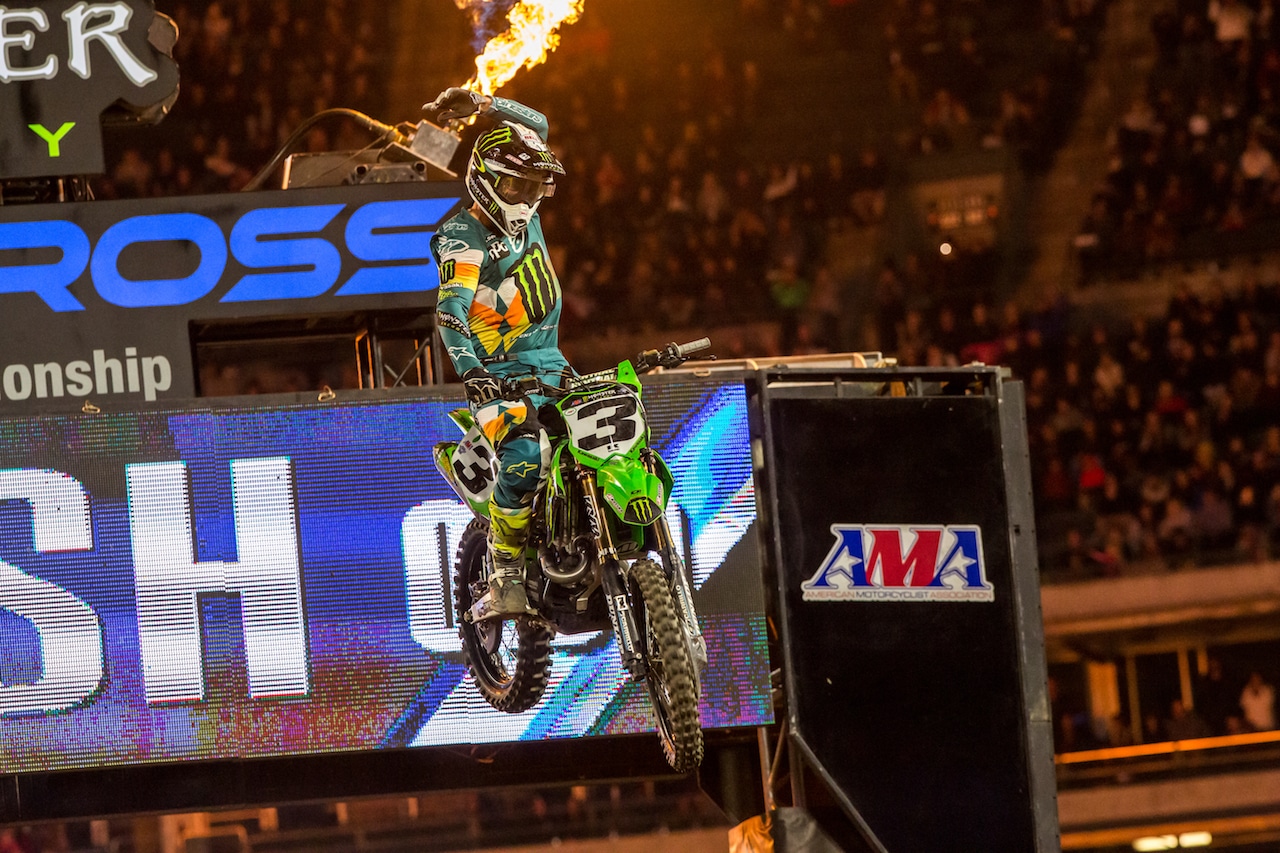 Eli Tomac claimed his first win of 2020 on Saturday. 
Eli Tomac marched through the 450 field and caught Ken Roczen to win his first 450 Main Event of the 2020 Supercross season. After struggling at the first round, Eli was riding great in St. Louis and it looked like he would be able to bounce back and win like he did last time the series raced in St. Louis in 2018. But Eli wasn't able to move through the pack fast enough and he ended up in fourth place.
At Anaheim 2, Eli found an extra gear in the Main Event and caught up to Ken Roczen, who had a sizable lead early in the Main Event. He made quick work of Roczen and pulled a gap in the middle of the race. At the end of the race, Eli slowed his pace down considerably while Roczen was pushing to hold off a hard charging Cooper Webb. Eli eventually won by 1.9 seconds over Ken and 3.1 seconds over Cooper.
Eli Tomac was very happy to get back on the podium at A2. 
MXA's intern Photographer Trevor Nelson ran as fast as he could from the floor to the top of the stadium in 8-minutes to grab this photo during opening ceremonies.
The technical A2 track featured two whoop sections, a gnarly dragon back, tough rhythm sections, an option lane, a long start and lots of flat corners. As usual, the whoops were the toughest obstacle on the track and the Anaheim 2 whoops were even tougher than normal. Cooper Webb told MXA that he thought the rain that we experienced earlier in the week made for softer dirt and tougher conditions at Anaheim. By the end of the night most riders were jumping through the whoop sections instead of skimming them, but nobody was making it look easy.
Cooper Webb caught up to Ken Roczen and Eli Tomac in the final laps of the 450 Main Event and it looked like he might able to get close enough to Roczen, but Ken held strong and Cooper finished on the podium in third. Here, Cooper chats with Roger Decoster and Ian Harrison after the 450 Main Event. 
Zach Osborne charged hard at Anaheim to finish a respectable fourth place. 
450 MAIN EVENT PLAY-BY-PLAY PHOTOS
Ken Roczen grabbed the holeshot in the 450 Main Event.
Cooper Webb passed Zach Osborne on lap two to get into third place.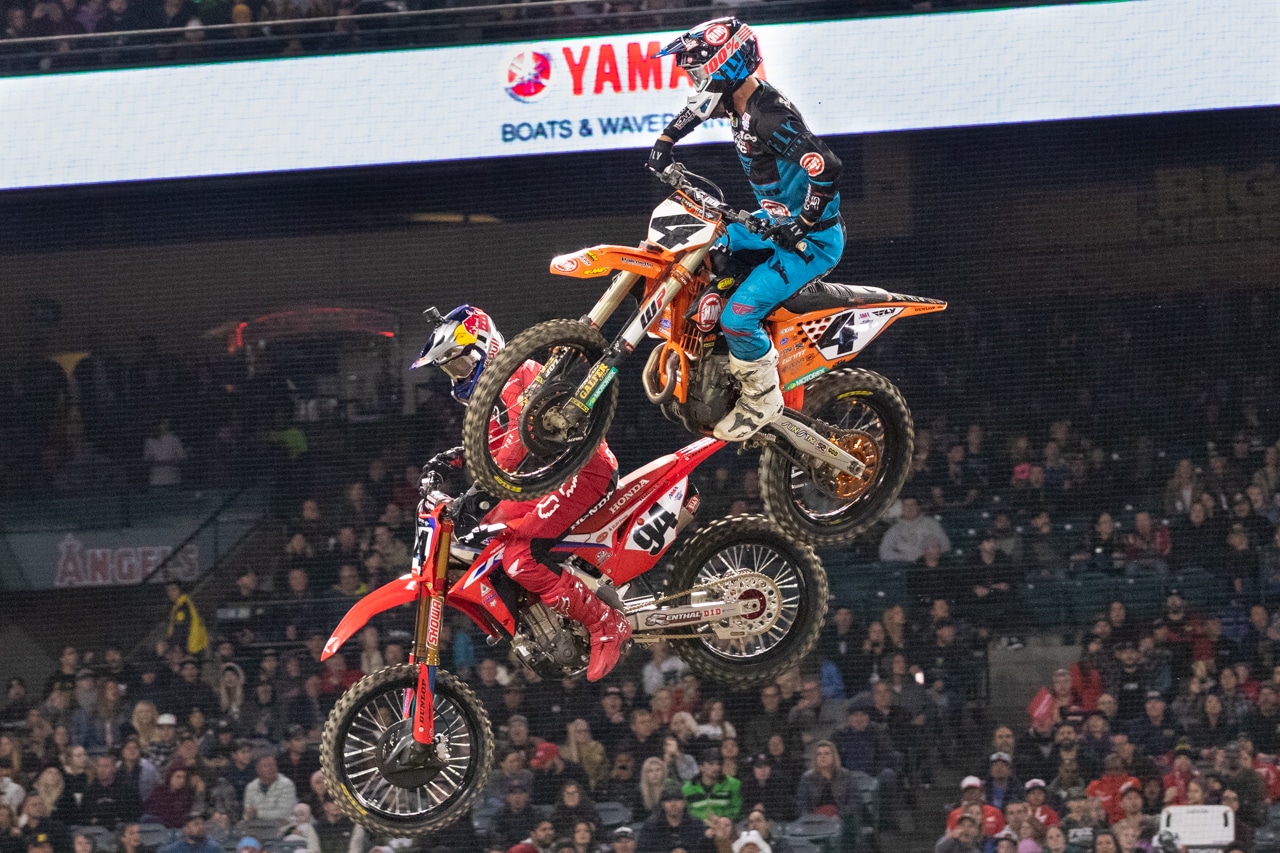 Blake Baggett was in second place early in the 450 Main Event. Here he launched passed Ken Roczen.
Blake Baggett stalked Ken Roczen early in the 450 Main Event. At the end of lap three, Blake built up speed through the second whoop section to catch Roczen and launch passed him off the double into the corner. In the photo above, Ken Roczen looks over to see Baggett next to him.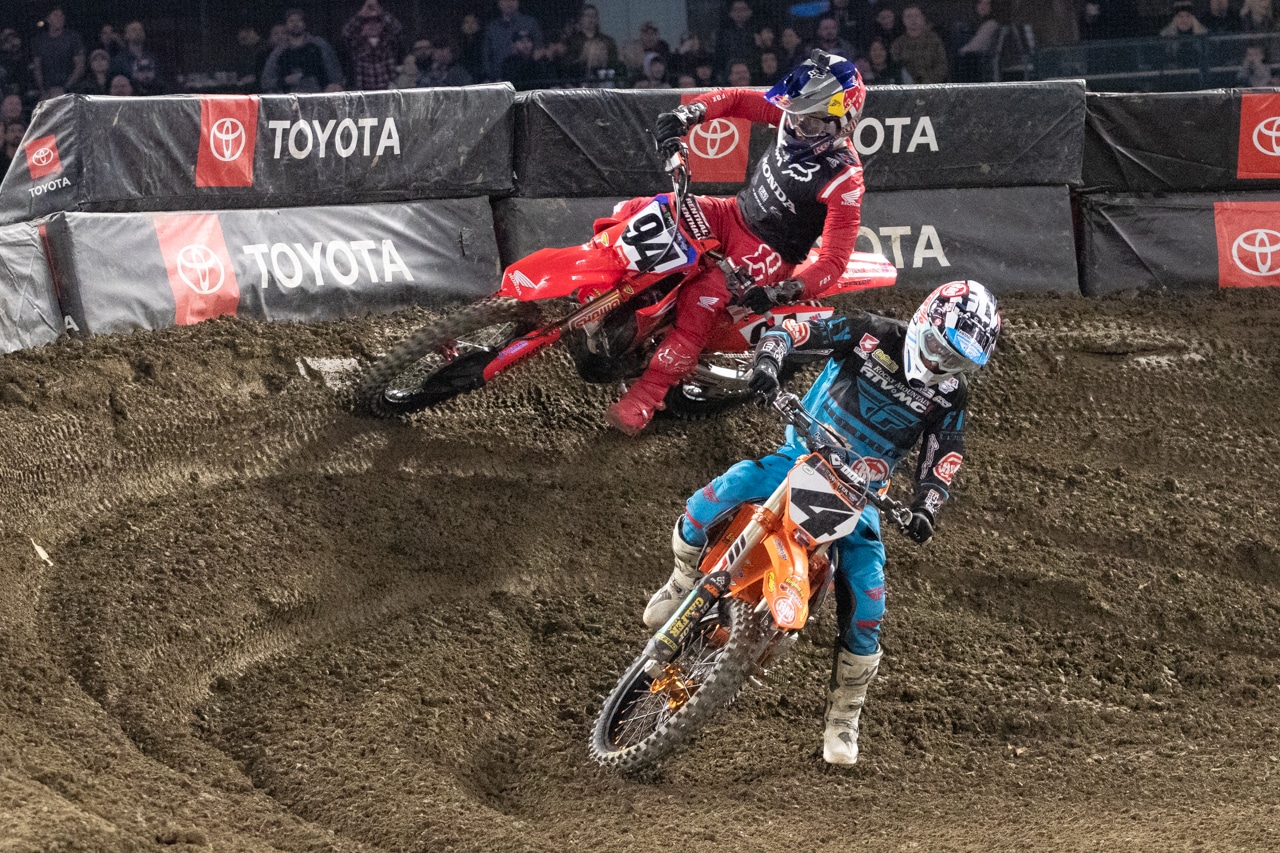 Ken Roczen didn't fight him right away.
Ken Roczen knew better than to be aggressive while he was on the outside of Blake coming into the corner. Ken allowed Blake to pass in the turn, and he gained momentum for the dragons back by rounding the outside of the corner.
Ken Roczen hit the outside line while Blake hugged the inside over the dragons back.
Ken Roczen was able to blitz the dragons back and pass Blake Baggett back to take over the lead again across the finish line jump. Then, Blake would slide out two corners later after passing the mechanics area and throw away his chances of winning the race.
Eli Tomac and Jason Anderson mid air.
Eli Tomac started in the middle of the pack in the 450 Main Event. He crossed the line in 10th place on the first lap, and quickly made his way up to second place on lap five and first place on lap eight.
Eli Tomac passed Cooper Webb on lap five to get into second.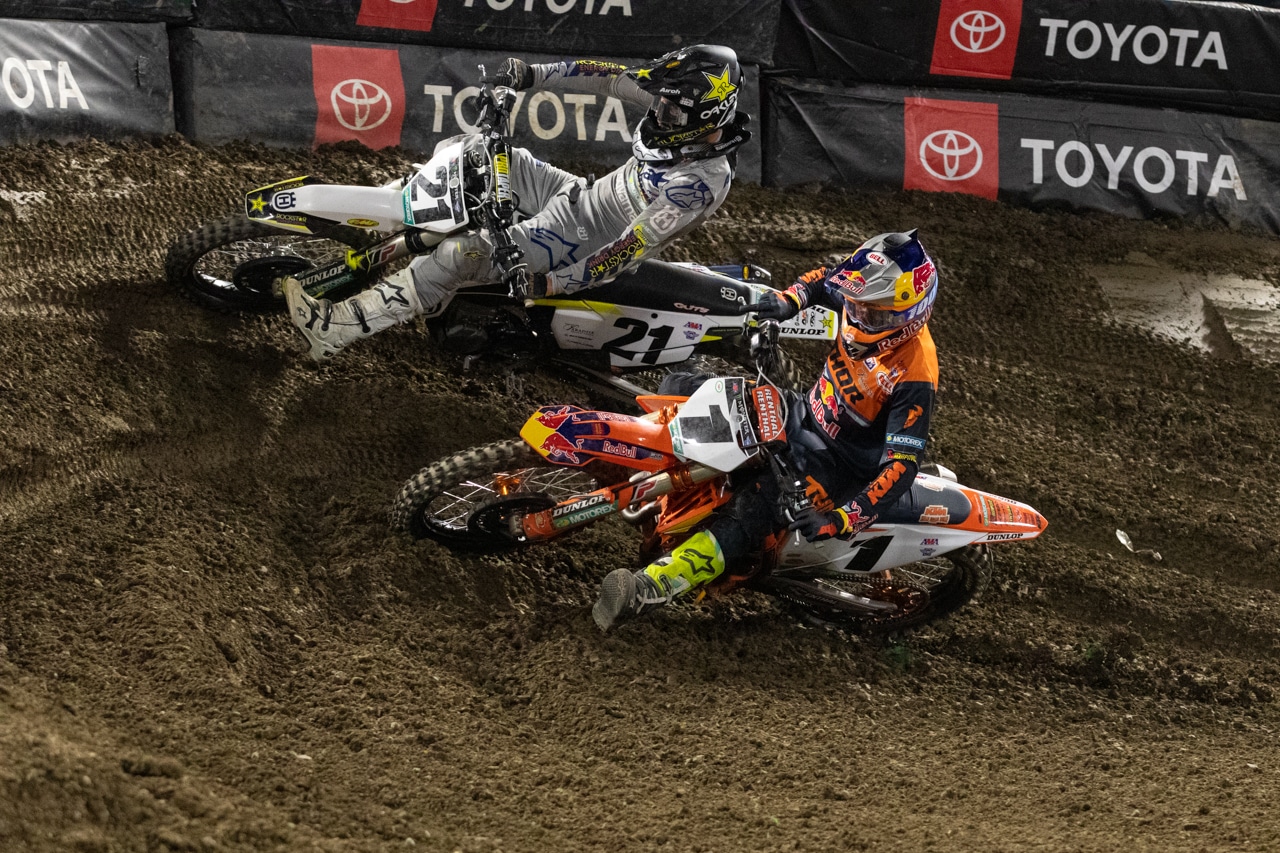 Cooper Webb dives up the inside of Jason Anderson.
Cooper Webb started the race in fifth place and he passed Aaron Plessinger and Zach Osborne to get into third and then when Blake Baggett crashed, he inherited second, but he couldn't hold off Eli Tomac.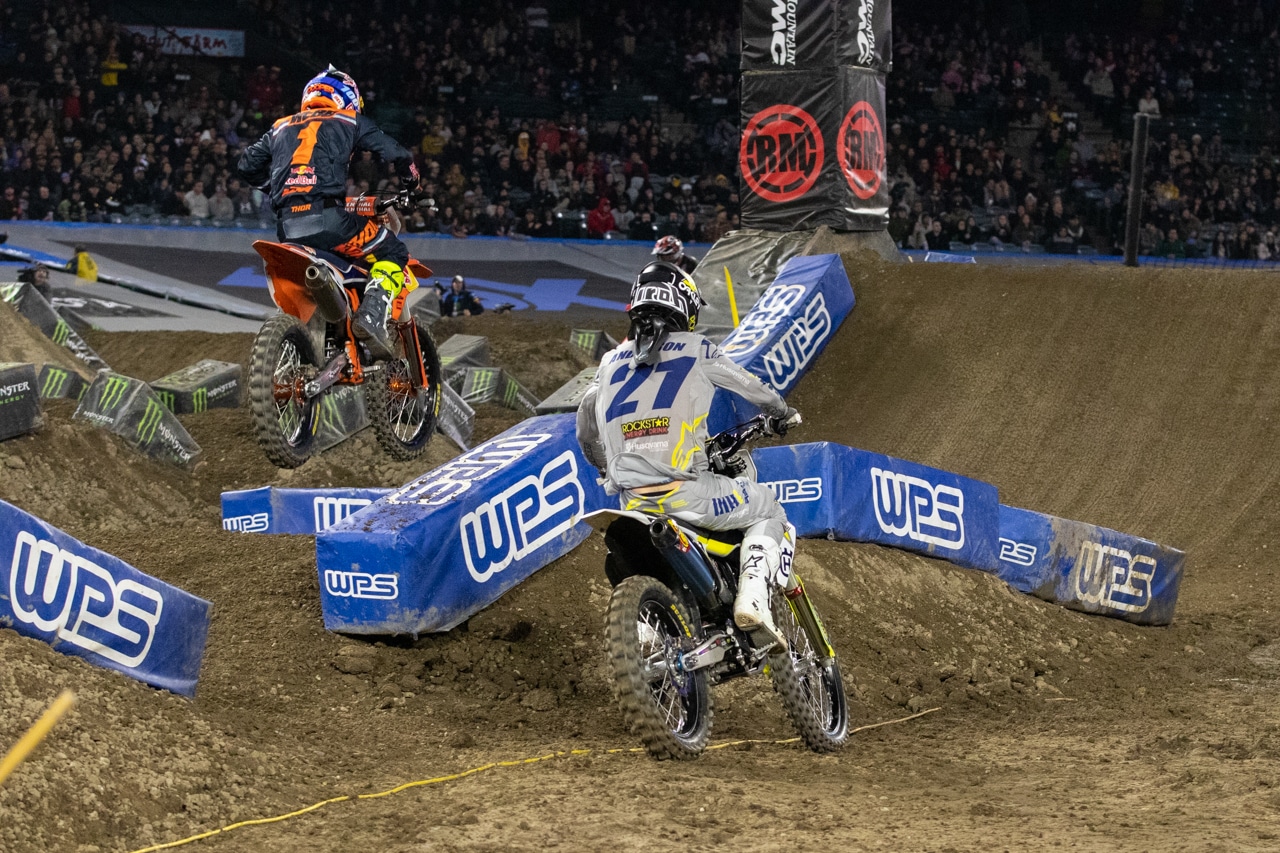 Cooper Webb pushed Jason wide in the turn before the dragon's back. Instead of fighting to stay on the track, Jason went around the dragon's back and reentered the track before the finish line.
Adam Cianciarulo sneaks up the inside of Zach Osborne.
ADAM CIANCIARULO OVER THE DRAGON BACK
In the first photo, Adam rides a wheelie over the dragon back.
Next, Adam leans as far back as he could.
This photo was taken on the next lap, instead of riding a wheelie through the dragon's back skimmed each whoop with both wheels and then got kick off the last one into an endo. 
The dragon's back was claiming many riders throughout the day. The whoops were big, steep, cupped out and rutted. Many riders ended up liken Adam Cianciarulo in the photo above consistently, and occasionally they wouldn't be able to save it and they would go down hard.
ADAM CIANCIARULO SQUARES UP JASON ANDERSON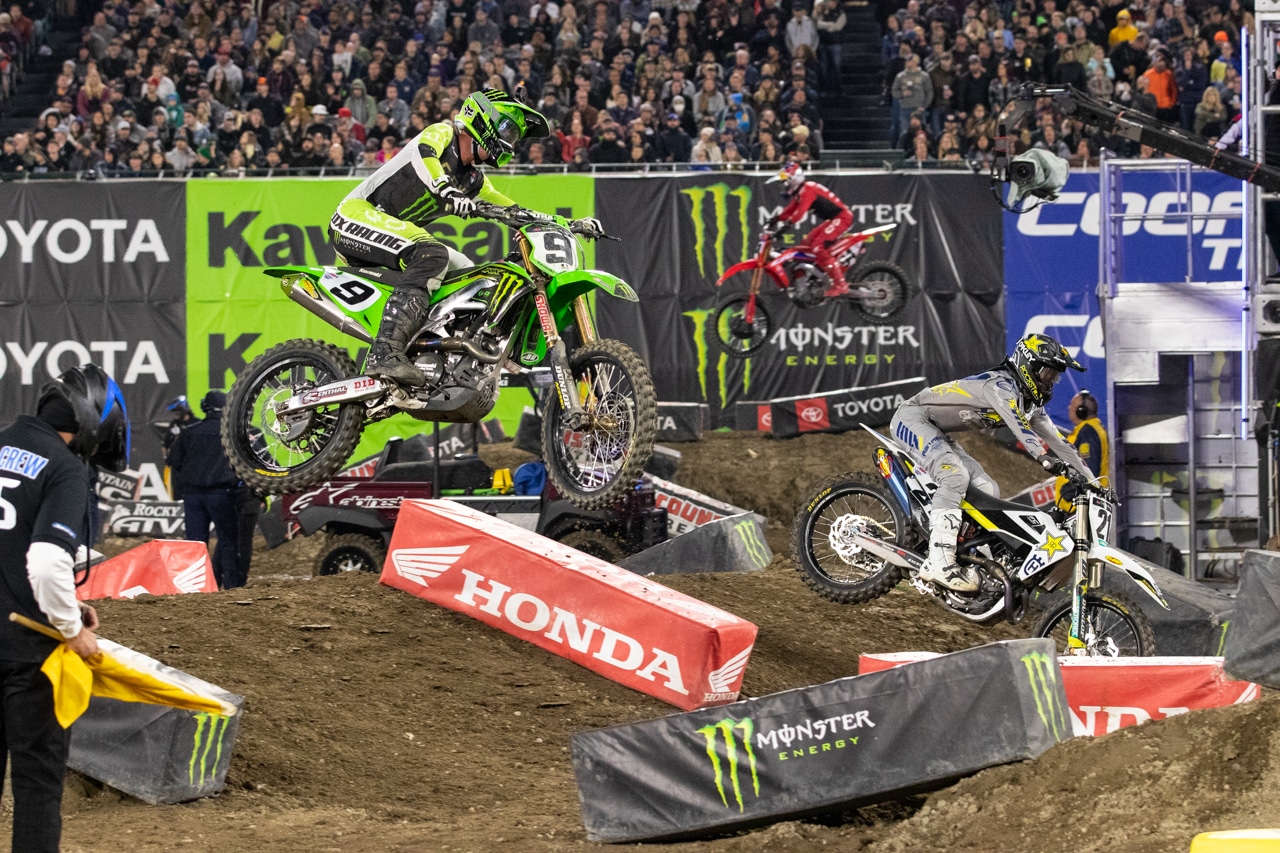 Adam Cianciarulo and Jason Anderson through the option-rhythm lane. 
Adam Cianciarulo took the inside line in the option lane rhythm section which set him up for the outside in the next turn.
Adam Cianciarulo squares him up.
Then, Adam got on the brakes hard and squared up Jason Anderson and shot down the next straightaway quickly to make the pass on the 2018 Champion on lap twelve.
ANDERSON VS. OSBORNE 
Zach Osborne had to work hard to finally pass his teammate and friend, Jason Anderson.
Off the track, Jason Anderson and Zach Osborne are friends, but on the track, they hold no punches. Starting on lap thirteen, Zach Osborne caught up to Jason Anderson and the battle was on.
Jason Anderson blocks Zach Osborne again.
Jason blocked Zach many times before Zach finally made the pass. Zach went on to finish fourth place ten seconds behind the leader and Jason fifth place, four seconds behind Zach.
INSIDE THE PITS ON RACE DAY
Confetti flying everywhere at the Monster tent. This is the definition of "party in the pits."
"Ride Stacyc" recently became a sponsor of the Monster Energy Supercross series. On Saturday they had this little track in the pits and they put on a race on the starting line with many famous riders kids involved in the race. The list of famous Dad's whose kids were in the race included Christian Craig, Josh Grant, Carey Hart, Ryan Villopoto and more.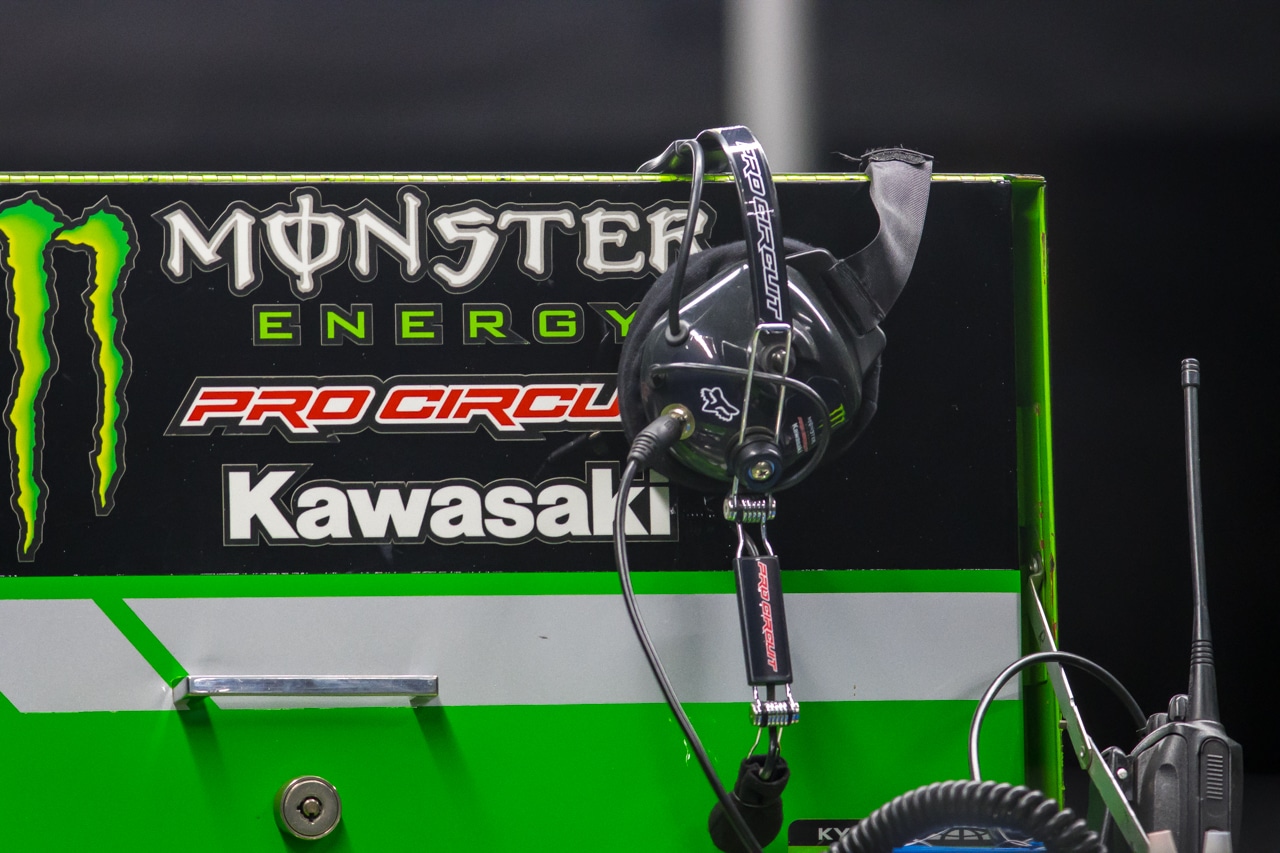 Head sets are crucial for team crew members to communicate back and forth to mechanics and team managers. 
Justin Brayton and Ken Roczen sign autographs.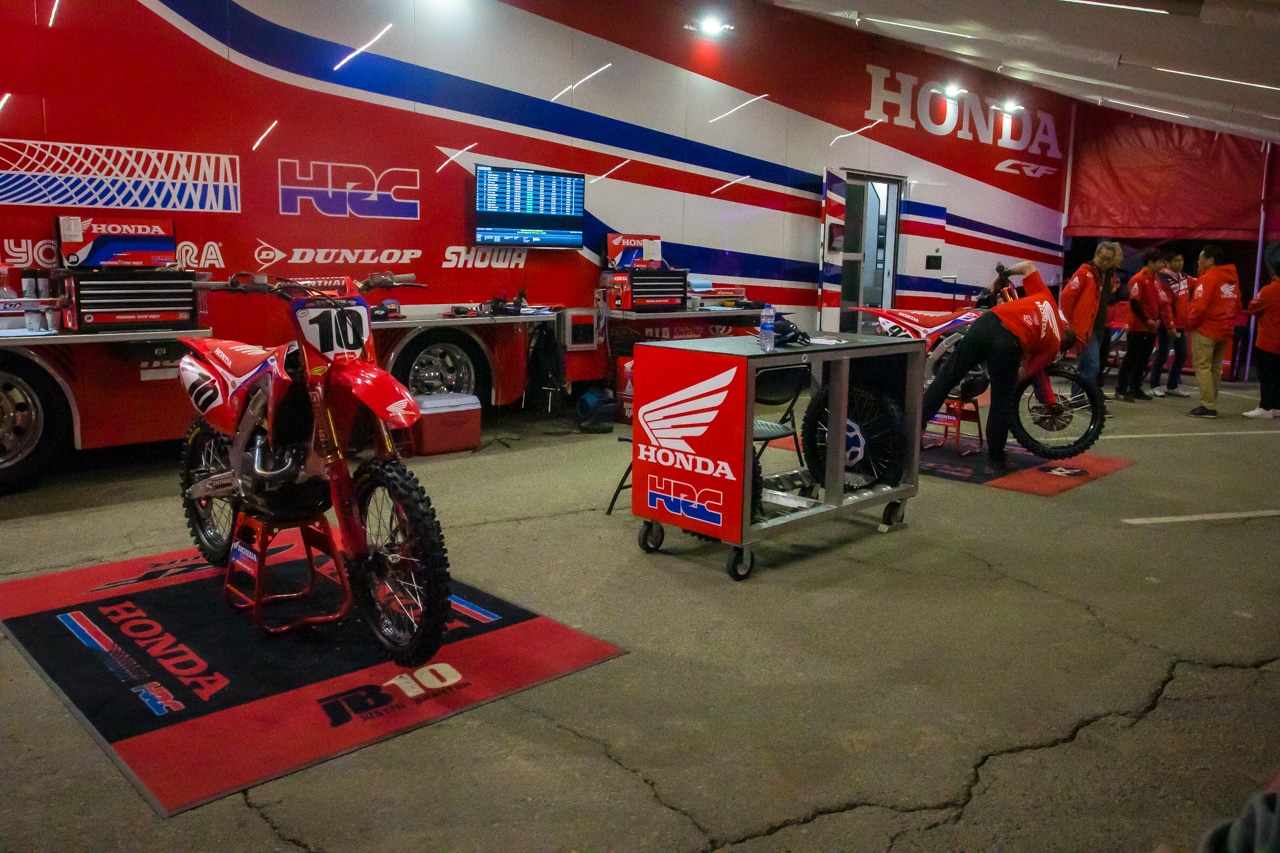 The factory Honda HRC rig.
Chad Reed checks his Oakley goggles to decide which lens he wants for the night show.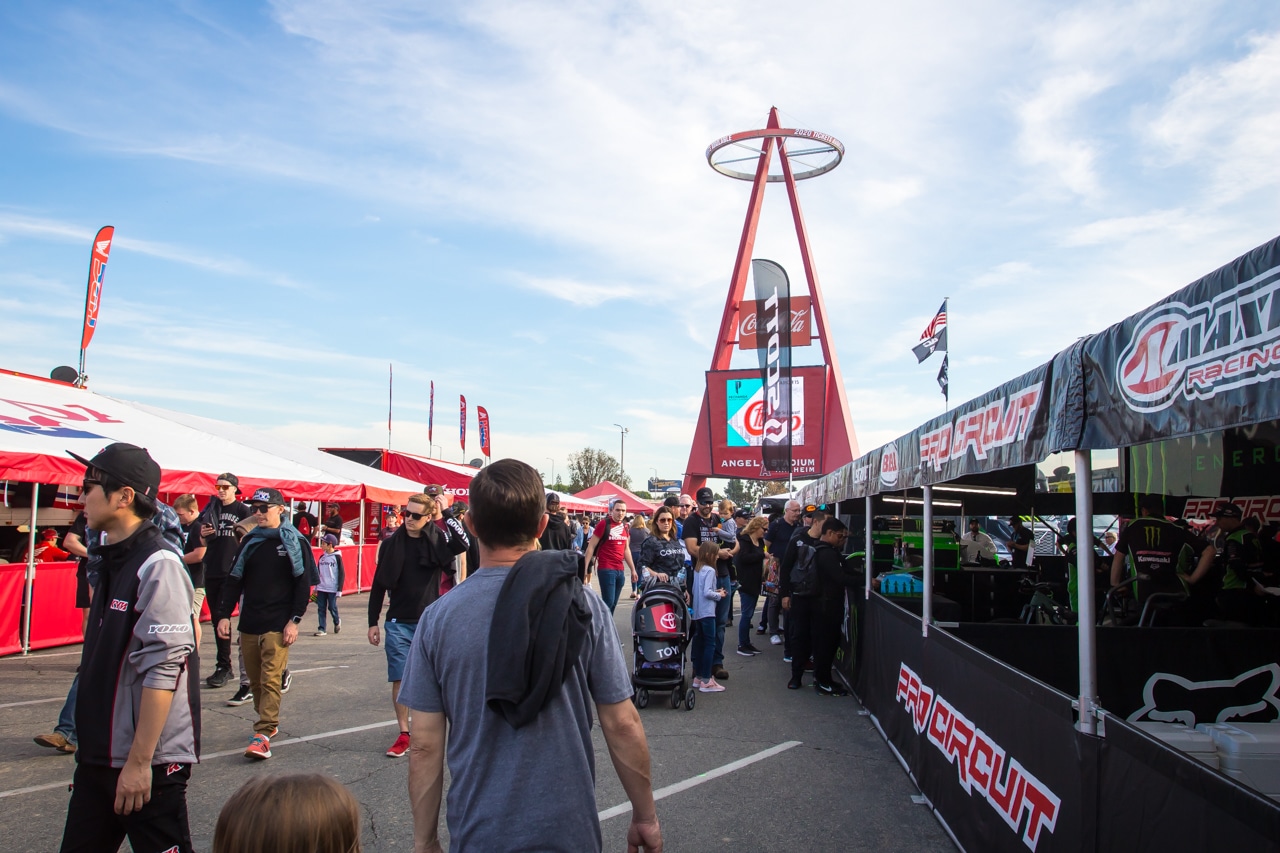 The famous "A" is an iconic simple of not only the Anaheim Angels baseball team, but (more importantly) Anaheim Supercross.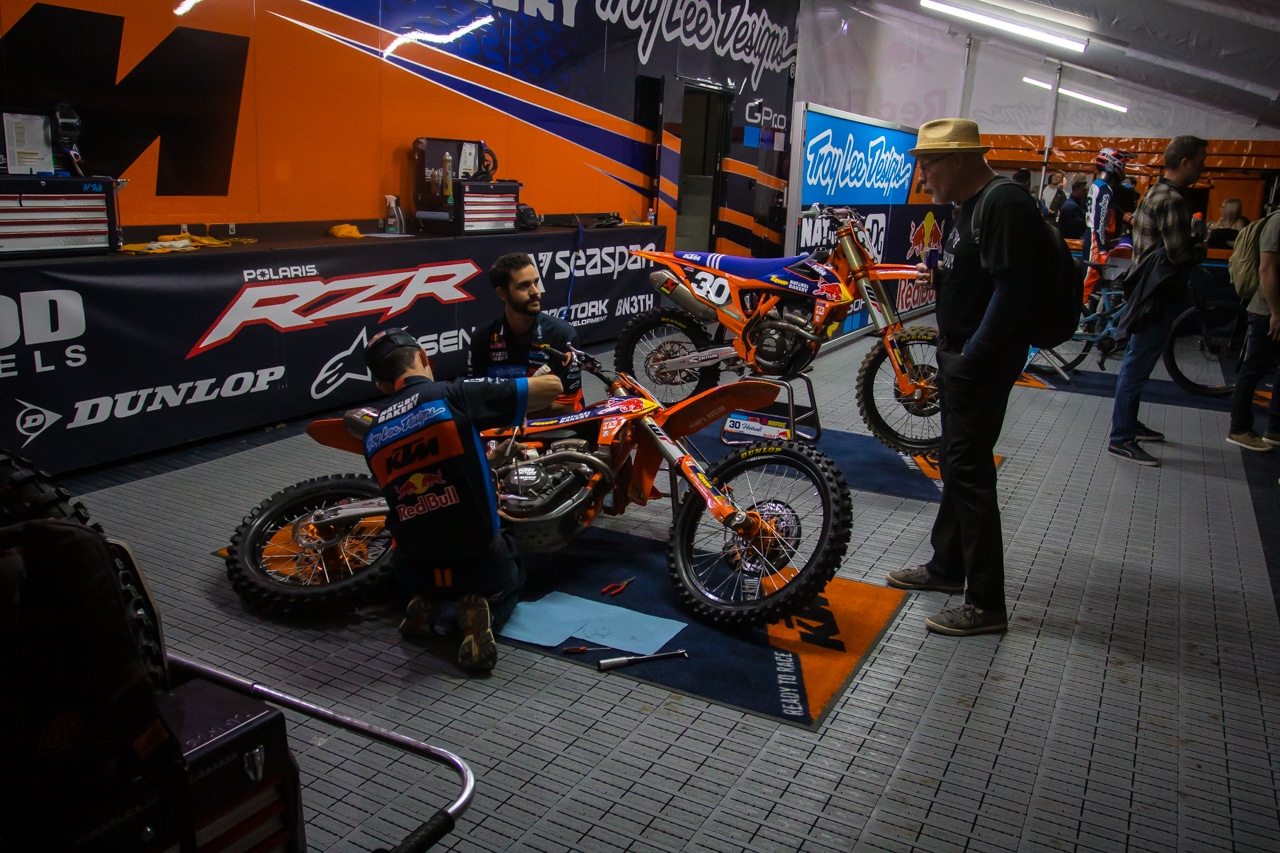 Hunter Falk gives Derek Drake's race bike a new clutch.
Ken Roczen's bike will look something like this next Saturday in Glendale.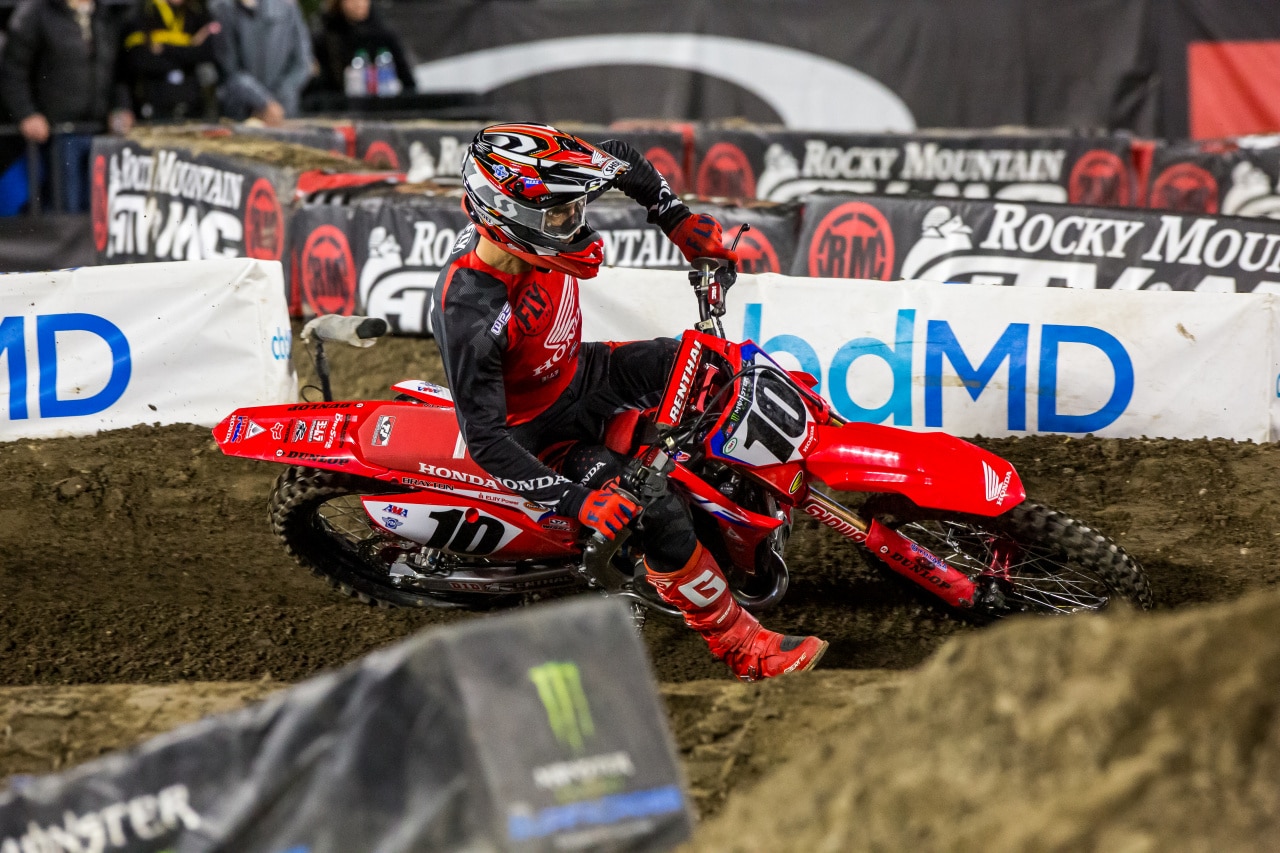 Justin Brayton was fast in Anaheim, he finished seventh in the Main Event.
450 SUPERCROSS POINT STANDINGS AFTER ROUND 3
Ken Roczen-66
Justin Barcia-63
Eli Tomac-61
Jason Anderson-57
Adam Cianciarulo-56
Cooper Webb-53
Zach Osborne-46
Malcolm Stewart-46
Justin Brayton-46
Blake Baggett-42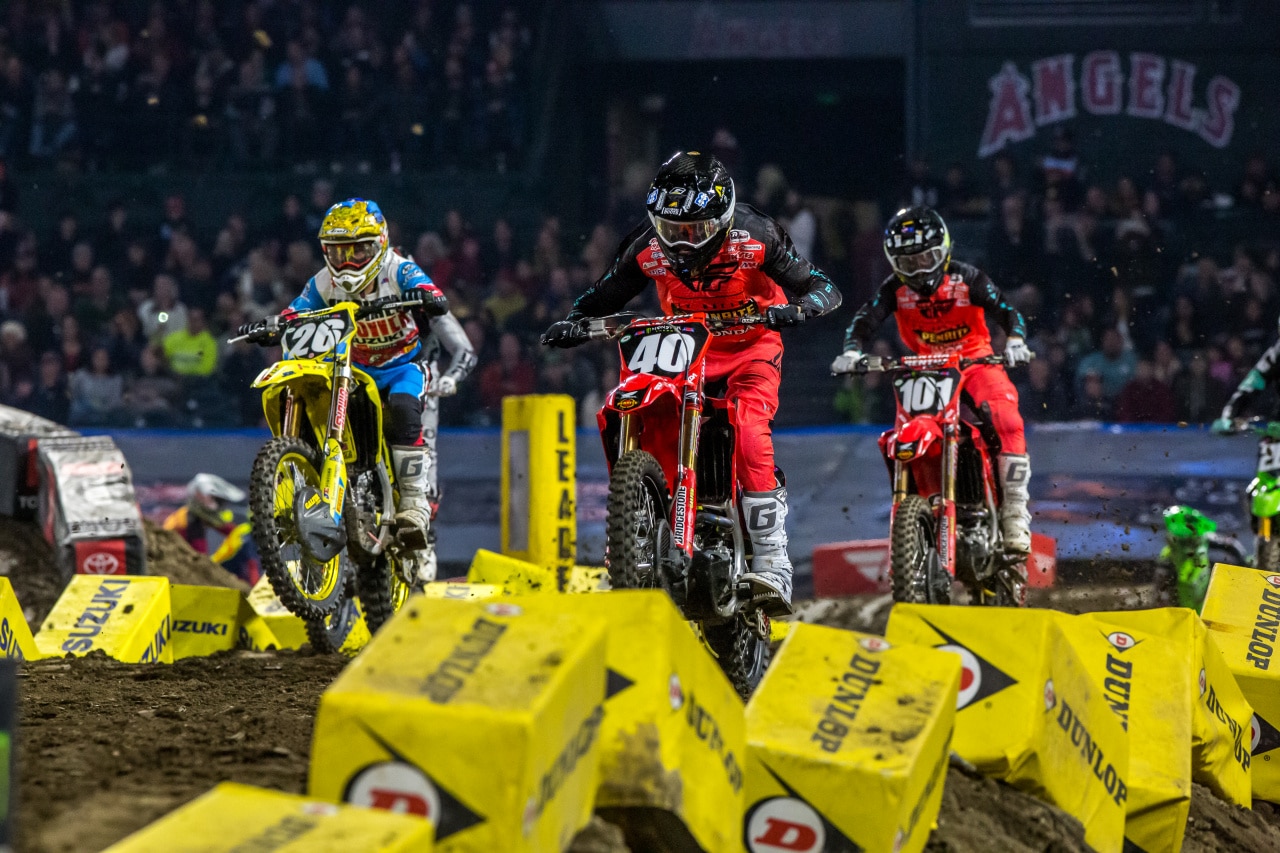 Mitchell Oldenburg #40, Alex Martin #26 and Luke Clout #101 all were fast on the tough Anaheim 2 track. Alex Martin finished fifth in the Main Event and Luke Clout finished sixth and Mitchell Oldenburg finished seventh.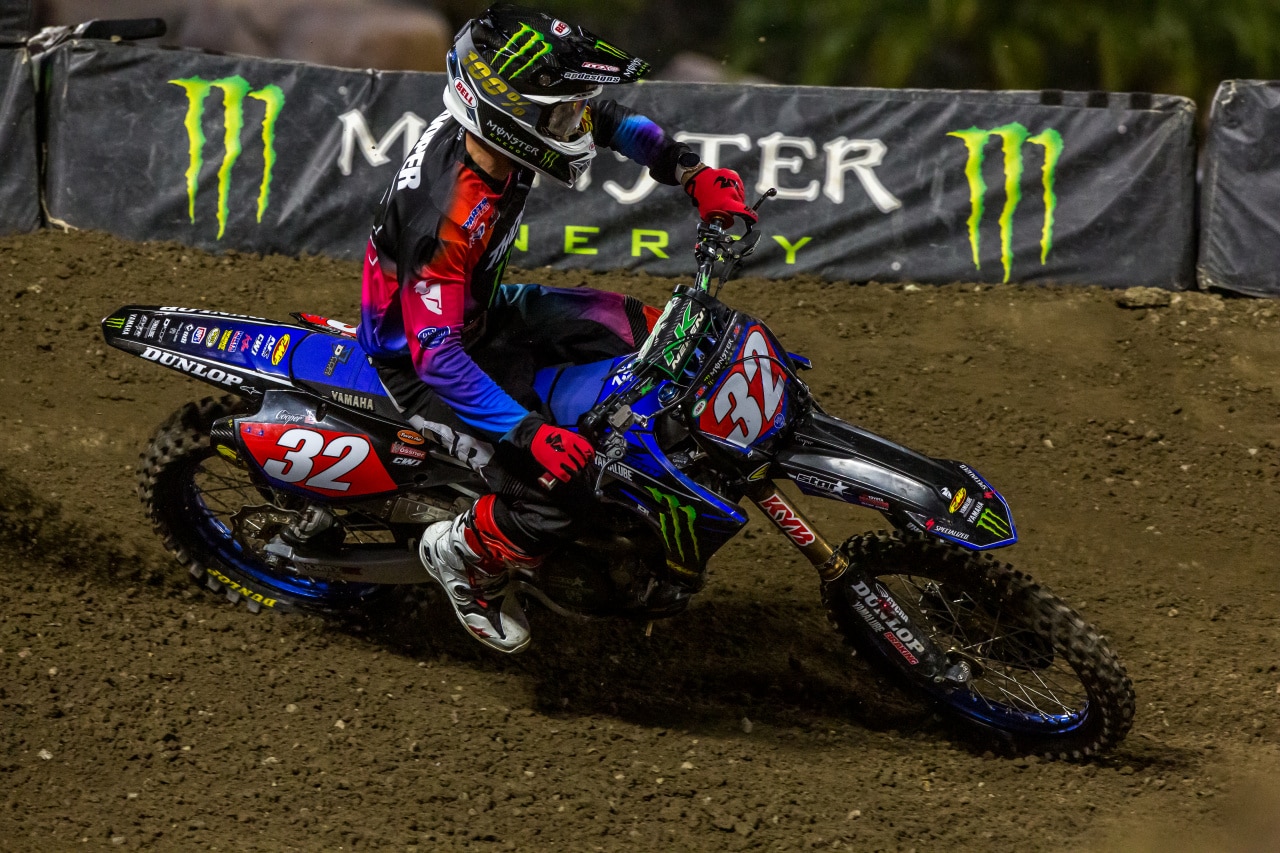 Justin Cooper extended his points lead when Austin Forkner crashed and dropped back to fourth, 22 points behind in the standings.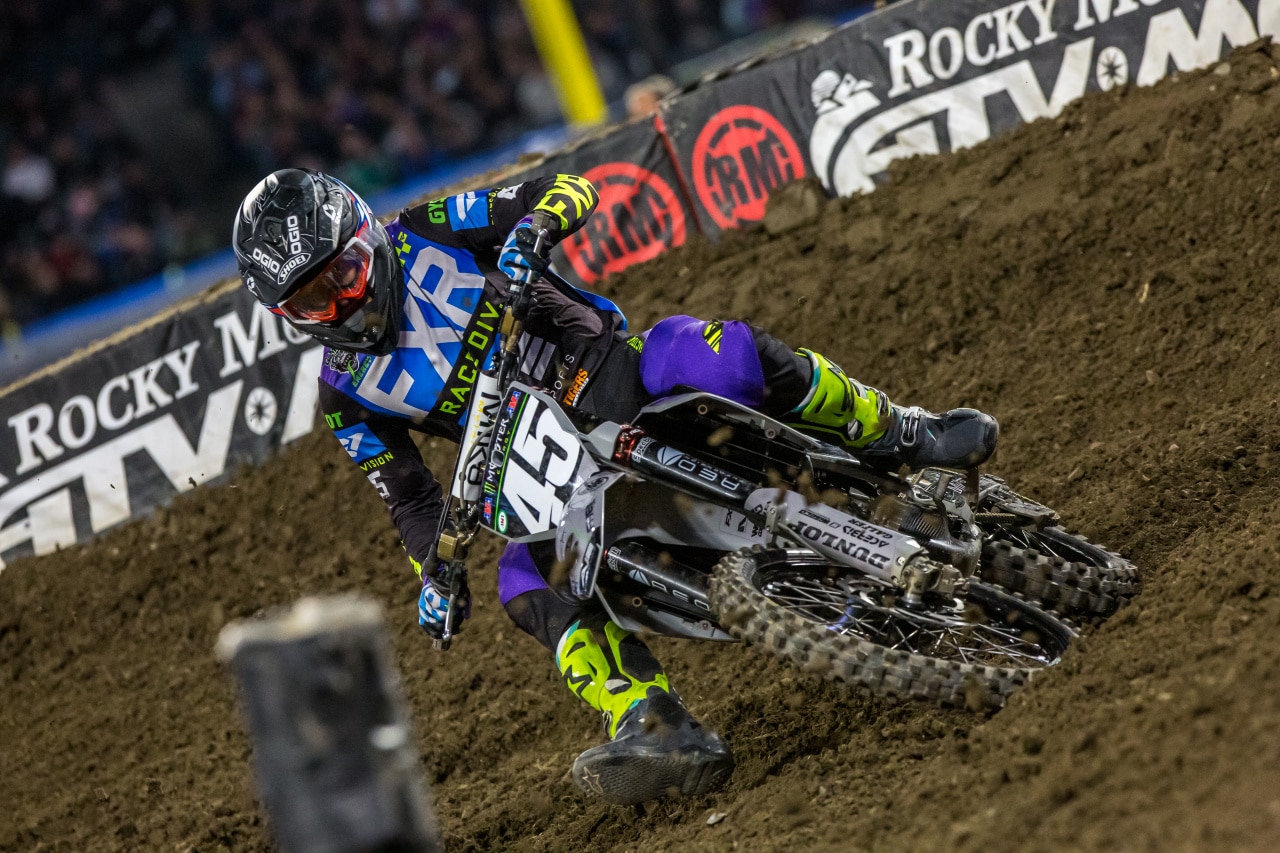 Jacob Hayes came from 21st to 8th place in the 250 Main Event. 
Austin Forkner in the whoops which he eventually crashed in.
Brandon Hartranft put himself in a good position in the 250 Main Event and when Jett Lawrence, Austin Forkner and Christian Craig each crashed out of the event, Brandon was able to grab his second podium ever, one week after his first podium.
250 WEST SUPERCROSS POINT STANDINGS AFTER ROUND 3
Justin Cooper-72

Dylan Ferrandis-60
Brandon Hartranft-58
Austin Forkner-50
Alex Martin-50
Jett Lawrence-46
Jacob Hayes-44
Michael Mosiman-41
Mitchell Oldenburg-38
Luke Clout-35
Michael Mosiman struggled all day with crashes, but surprisingly the crashes weren't in the whoops where everybody else was crashing. But he pulled it together in the Main Event and survived the brutal track to finish fourth place in the Main Event.
The 250 Main Event start, as you can see the Geico Honda 250 riders were able to get a good jump off the gate.
Christian Craig and Jett Lawrence led the 250 Main Event from the beginning.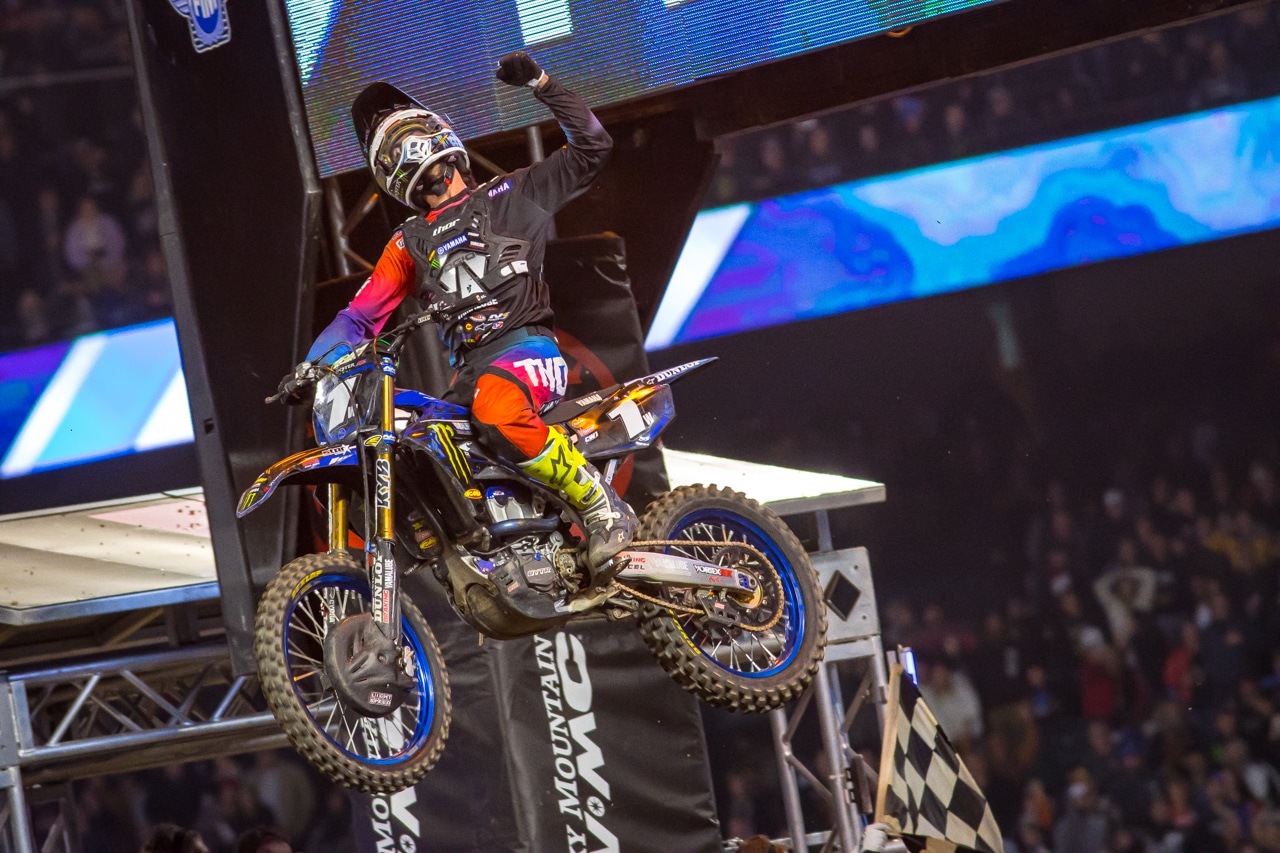 Dylan Ferrandis across the finish line in the 250 Main Event. 
WORDS FROM THE RIDERS:
Eli Tomac said via instagram: "Last night was a much needed rebound for us! Looking forward to Glendale!"
Cooper Webb said via instagram: "Man, it's nice to be back feeling healthy and back on the podium P3 at A2. Charged hard last night but fell short of 2nd. Good to be back in the mix lookin forward to the rest of the season!"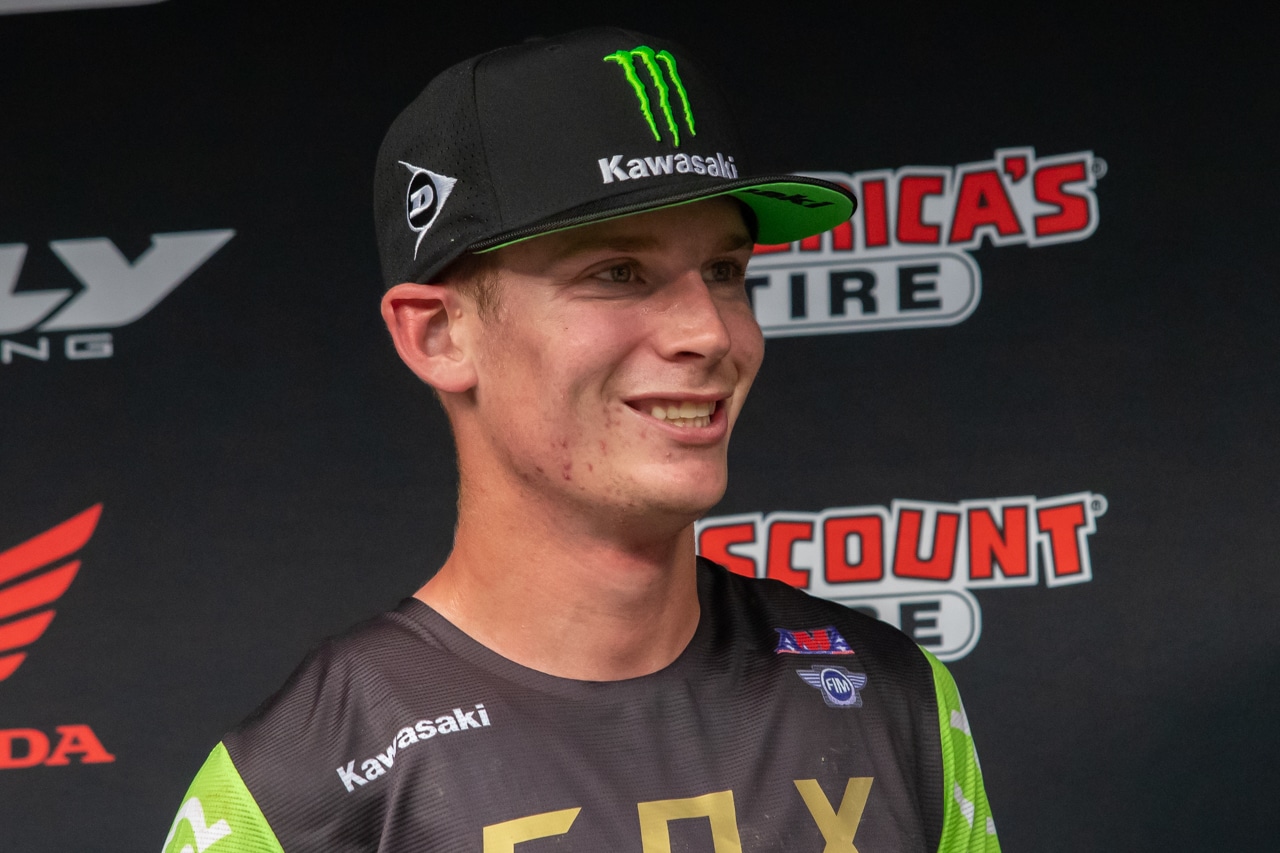 Adam Cianciarulo said via instagram: "Just never really found a flow on the track last night. Those guys are riding great and when you're a little off it certainly shows! 6th is all I could manage but I'm confident we can improve and be better next weekend. Appreciate you guys!"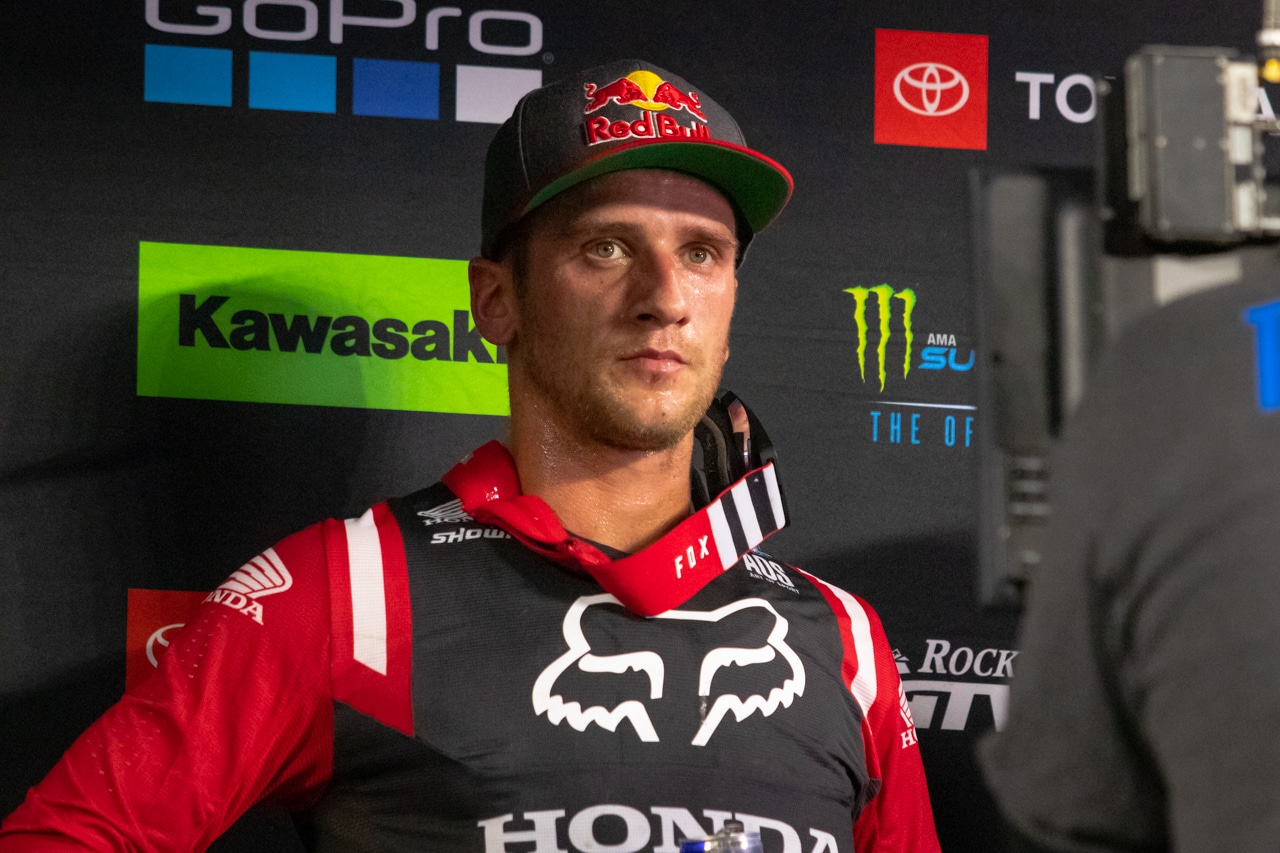 Ken Roczen posted via instagram: "Solid night of racing at A2! I won my heat race and grabbed the holeshot in my main event. I had my struggles with the whoops in the main so i had to pick my battles last night. No matter what, the team and i are satisfied with a 2nd place and by that we took over the red plate! it's a long season but it's also good to enjoy the little things along the way. Thanks to everybody that came out and to my entire crew that are backing me through this journey!"
Justin Barcia posted via instagram: "A2 was a difficult one for me but salvaged what I could and got out of there safe and healthy excited for a good work week and really looking forward to Glendale really like that place"
Brandon Hartranft said via instagram: "Great weekend at Anaheim 2, I was able to pull off another third. Felt more like myself throughout the day, but I know I have more in me. Really loving my @tld_raceteam and ready to keep the ball rolling this weekend in Phoenix!"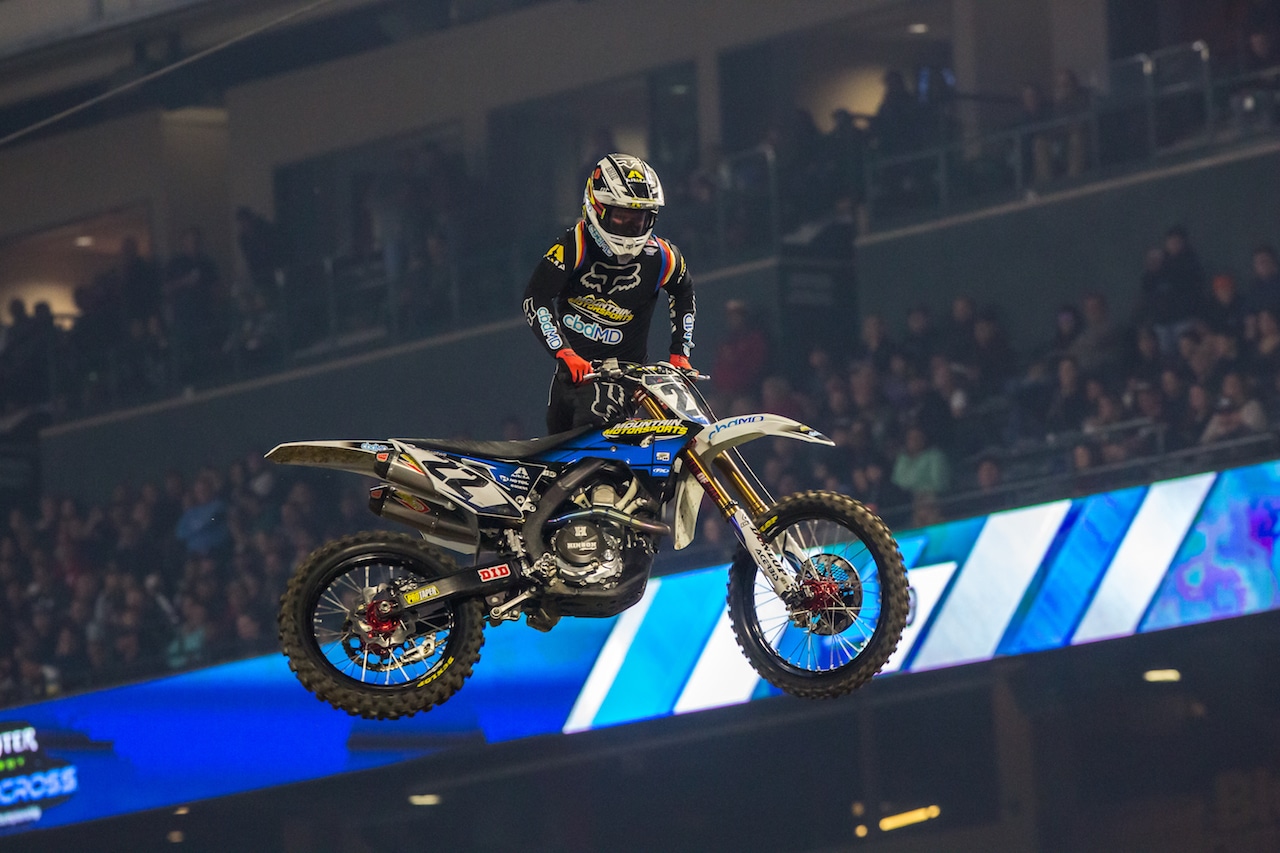 Chad Reed posted on instagram: "When someone asks you your favorite Anaheim memories. What's yours? 75 races and I raced 47 , 4 way tie with 8 wins. Safe to say I've loved Anaheim, I felt the love last night also THANK YOU #onelastride"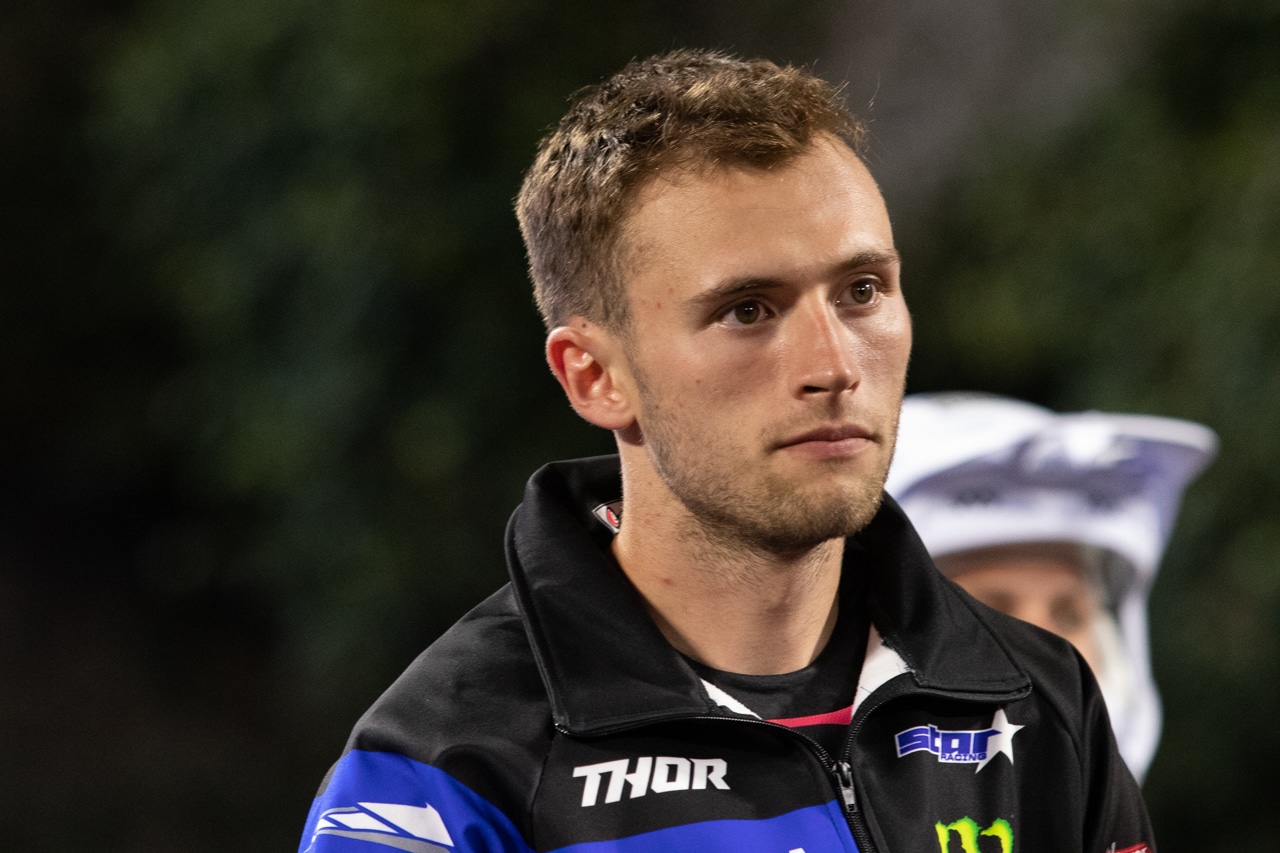 Justin Cooper said via instagram: "A2 in the books, definitely struggled to find a flow all day. Track was really tough so it was good to get away safe and on the podium. Back to work this week and we will come out swinging in AZ"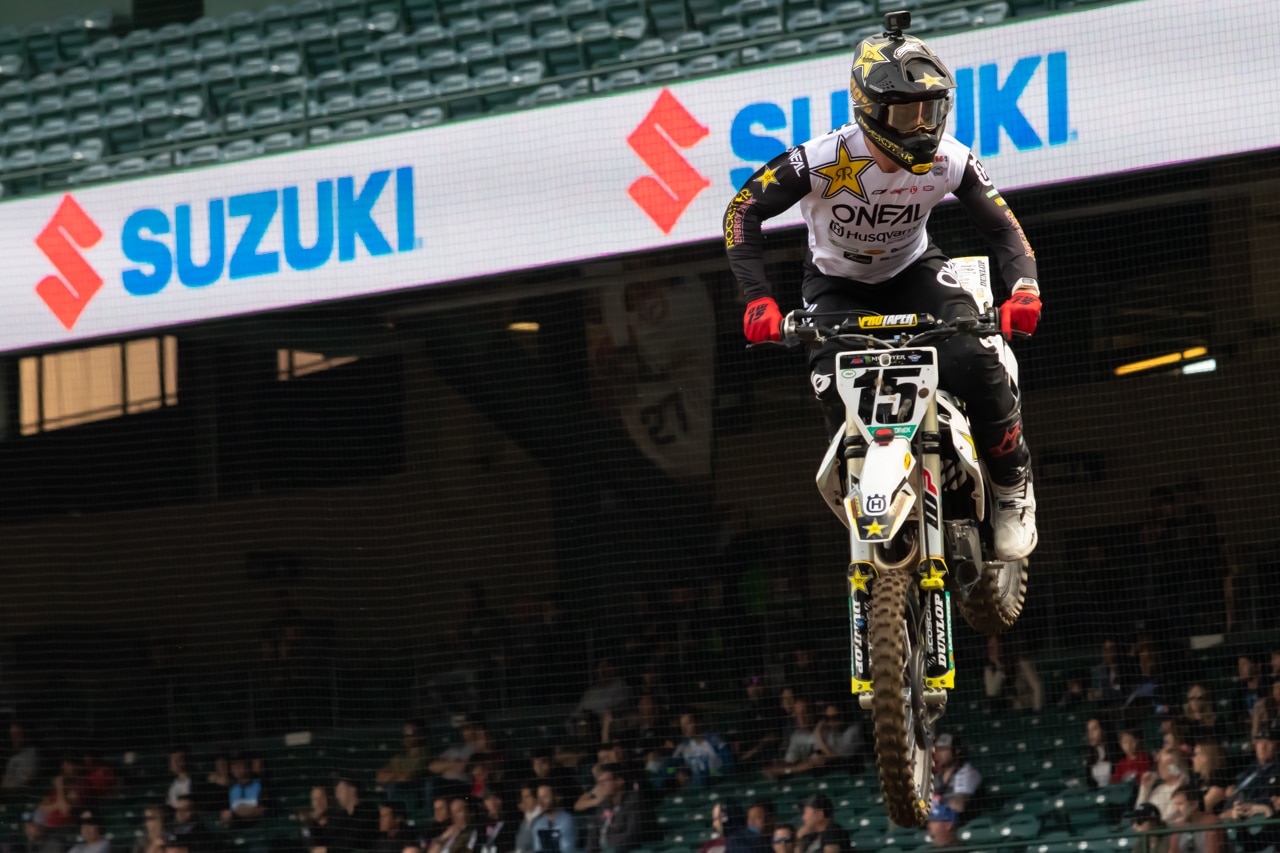 Dean Wilson said via instagram: "Improvements Qualified 4th, 3rd in Heat, Top 10 in main. Like I said from the start I will only keep getting stronger, fitter and faster from here on. Thank you Team"