2020 ATLANTA SUPERCROSS | PRE-RACE REPORT: TOMAC, MCELRATH, SEXTON LEAD THE POINTS
2020 ATLANTA SUPERCROSS | PRE-RACE REPORT: TOMAC, MCELRATH & SEXTON LEAD THE POINTS HEADING INTO ROUND NINE IN ATLANTA, GEORGIA
The 2020 Atlanta Supercross is up next and round nine of the 2020 Monster Energy Supercross season is set to be a good one at the Mercedes-Benz Stadium in downtown Atlanta, Georgia. Coming into the Atlanta SX, Eli Tomac is looking solid with two wins in a row and a seven-point lead. Ken Roczen's second overall at the Arlington Triple Crown was an improvement from his third in Tampa, but it wasn't quite enough to beat out Tomac. At the moment, we don't have any information on Cooper Webb for if he will race or not this Saturday. Currently, the defending Champ is 26-points behind Eli Tomac and he has a hematoma and deep bone bruising to his pelvis and sacrum after flying through the air and landing straight onto his back in Alrington. In this week's Supercross Pre-Race Report, we highlight the top news stories coming into the race and provide our viewers with the TV and LIVE streaming schedule, race day schedule, injury reports, track map, animated track preview video, updated points and more.
ZACH OSBORNE JOINS THE INJURED LIST
Zach Osborne suffered a broken rib, two bruised lungs and a sprained wrist. He will miss the Atlanta Supercross and his return to racing is yet to be determined as he assesses the proper recovery time for his injuries. Click here for more.
RYAN DUNGEY PARTS WAYS WITH GEICO HONDA
After three months with the Factory Connection Racing team, Ryan Dungey announced his departure. Click here for his statement and the team's response.
COOPER WEBB IS QUESTIONABLE FOR ATLANTA
Cooper Webb suffered a hematoma and bone bruising in his big crash at the Arlington Supercross. 
So far we have no word on Cooper Webb's current condition and we can't confirm whether he will or won't be able to race this Saturday at round nine in Atlanta. Cooper suffered a hematoma with deep bone bruising to his pelvis and sacrum in his big crash off the dragon's back at Arlington. But, Cooper did sound hopeful when he made his post on instagram. Cooper stated: "Extremely lucky and blessed to only walk away with that. Thanks everyone for the support and prayers. Not quite done yet" 
ATLANTA SUPERCROSS STATS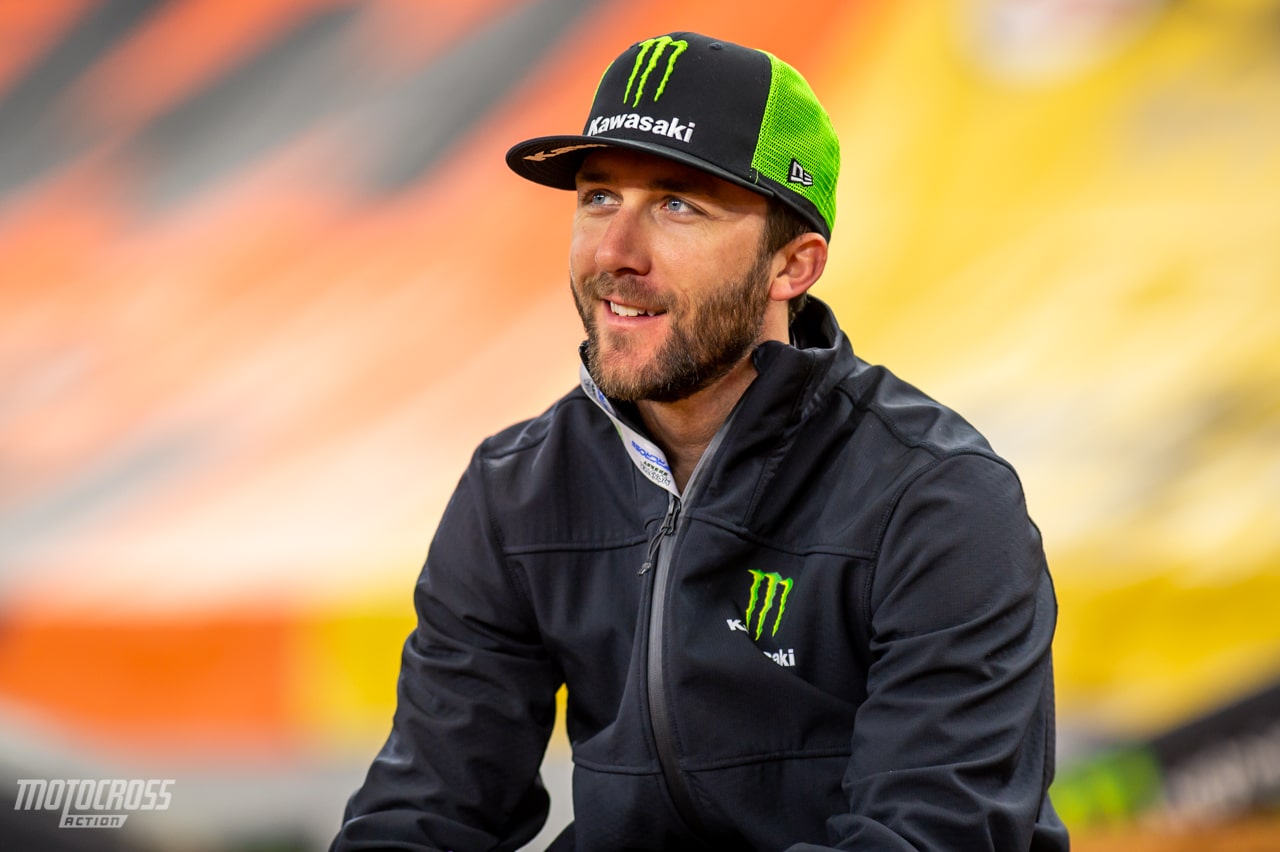 So far, Eli Tomac has been a new man in 2020. No, he hasn't been on the podium at every race, but he has been much more consistent than he was in the past and so far, he has been the best—seven points better to be specific.
 Supercross has previously stopped in Atlanta 42 times and 2020 is set to be the third time for the series inside of the Mercedes-Benz Stadium. Also, the winner of the Atlanta Supercross has gone on to eventually win the 450SX Class Championship every year since 2015 when there were two stops in Atlanta. At Atlanta 1, Chad Reed took the win, but at Atlanta 2, Ryan Dungey won the race and later the title. In the last 42 Atlanta Supercross races, 25 times the winner has gone on to be Champion. Will the streak since 2015 continue this weekend? Will Eli Tomac win in Atlanta and win his first Supercross Championship?
250SX: CHASE SEXTON VS. SHANE MCELRATH
So far, Chase Sexton and Shane McElrath have proven to be the top dogs in the East. Now they head into round three of the 250SX East division tied in points and they'll share the red plate.
Coming into the 250SX East Coast series, the defending Champion, Chase Sexton has a chip on his shoulder. He won the title in 2019, but he only won one Main Event and critics say that he "lucked" into the title because Austin Forkner—who had the points lead—tore his ACL and couldn't finish the series. Now, Chase is out to prove that he can be the dominate rider and win it again before he moves up to the premier 450 class for the AMA Nationals and the 2021 season. Shane McElrath is even more so in a must-win situation. He has had won seven Main Events (which is six more than Sexton) and finished on the podium 19 times, but he's still looking for his first title and after this year, he will have pointed out of the 250 class and will be forced to find a ride in the stacked 450 class for 2021. Shane gambled and changed teams for 2020 and it appears that it is working out for him so far, but—like Chase—he is looking to win and secure a spot in the 450 class next year.
ADAM CIANCIARULO GETS SURGERY ON BORKEN COLLARBONE
Adam Cianciarulo broke his collarbone at the Arlington Supercross.
Adam Cianciarulo was a victim of the dragon's back in Arlington. He broke his collarbone and did not line up for the night show at round eight and with no word coming from the Kawasaki pits of a miraculous healing, we expect he won't be at round nine either. Some people think he will miss the rest of the season, but that doesn't have to be the case. Collarbones can be fixed easily in surgery and many times riders can get back on the bike again in a matter of weeks. Adam had surgery this week and got his collarbone plated.  We expect Adam will be back for redemption before the Supercross season is over. Below is what Adam had to say about his collarbone surgery.

BROC TICKLE OUT FOR ATLANTA
Unfortunately, Broc Tickle injured his hand at Arlington and he will miss the Atlanta SX.
Broc Tickle posted via instagram on Thursday morning: "It has been awesome being back at the races and thankful for the opportunities that have put myself back behind the gate. After getting X-Rays on Monday, I'm going to miss some races and be back as soon as I'm healed up. As I make progress and have more of a timeline for when I'll be back at the races I'll keep you guys updated. Obviously, I'm bummed but, always could be worse. I'm thankful and grateful for the support of everyone that has welcomed me back behind the gate."
ATLANTA SUPERCROSS TV SCHEDULE
Round eight of the Monster Energy Supercross season can be watched LIVE on the NBC Sports channel or online using your smart phone or computer with the NBC Sports Gold Pass. Racing begins at 5:00p.m. Eastern time in Tampa, Florida, which is 2:00p.m. Pacific time. If you want to watch qualifying and get the scoop on how the track is shaping up, you'll need the NBC Gold pass. The NBC Sports Gold Pass is now at a discounted rate, it will cost you $59.99 for Supercross or you can upgrade and get both the Supercross and Pro Motocross seasons for $74.99. With the NBC Gold Pass you can watch qualifying and the races LIVE on your smart phone or computer. If you're interested in the NBC Sports Gold Pass, click here.
NIGHT SHOW RACING LIVE – 2:00 PM Pacific, 5:00 PM Eastern NBC Sports TV Channel or NBC Gold Pass
Click here for the full 2020 Supercross schedule.
SHANE MCELRATH INTERVIEW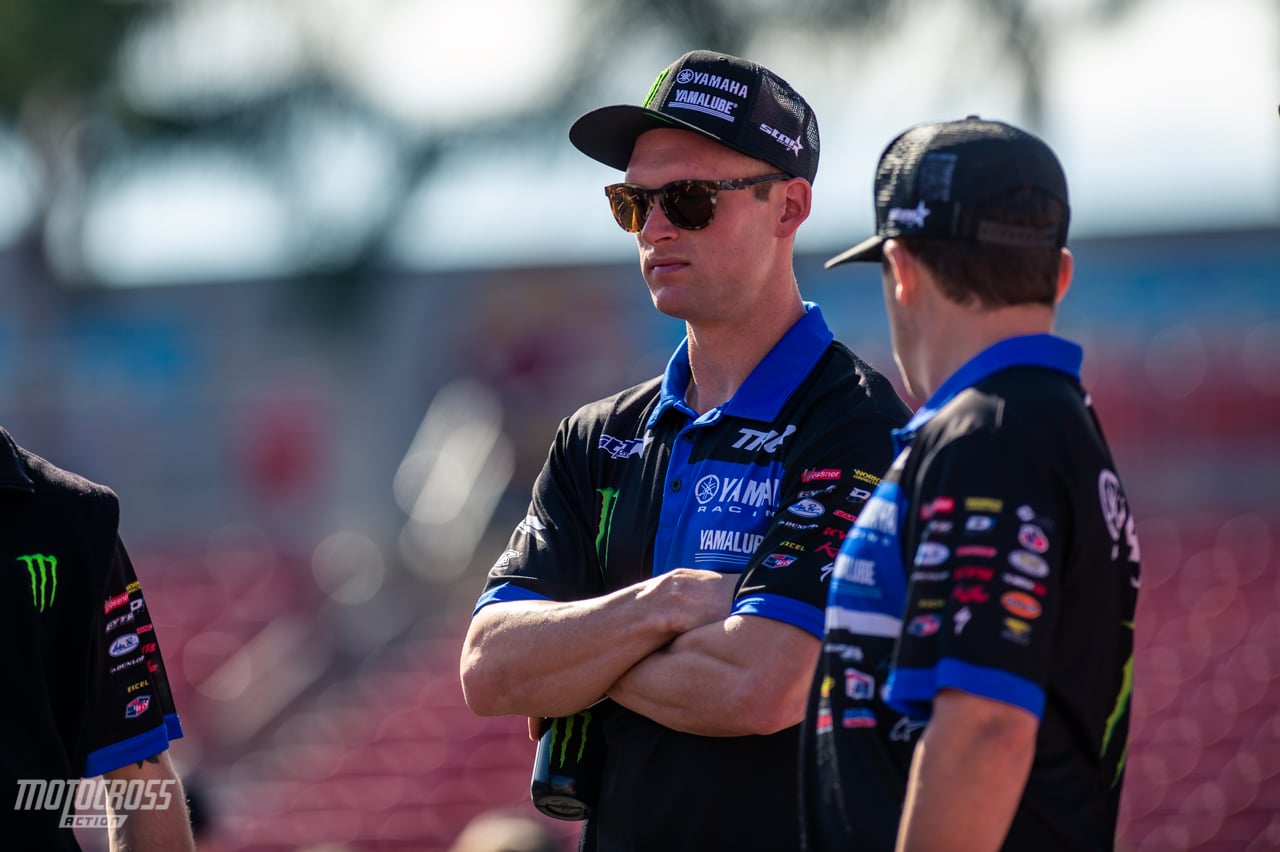 Shane McElrath talked about his new team, new program and his new game plan for this 2020 season in a recent interview with us. Click here for MXA's interview with Shane McElrath.
ATLANTA SUPERCROSS RACE DAY SCHEDULE
Below is the full race day schedule for round nine in Atlanta.
8:30 am – 9:00 am Rider's Track Walk
9:00 am – 9:15 am Riders Meeting (Mandatory)
9:15 am – 9:30 am Chapel Service
10:00 am – 10:08 am 250SX Group C Free Practice
10:10 am – 10:18 am 250SX Group B Free Practice
10:20 am – 10:28 am 250SX Group A Free Practice
10:30 am – 10:38 am 450SX Group A Free Practice
10:40 am – 10:48 am 450SX Group B Free Practice
10:50 am – 10:58 am 450SX Group C Free Practice
11:05 am – 11:15 am 250SX Group B Qualifying
11:20 am – 11:30 am 250SX Group C Qualifying
11:35 am – 11:45 am 250SX Group A Qualifying
11:50 am – 12:00 pm 450SX Group A Qualifying
12:05 pm – 12:15 pm 450SX Group B Qualifying
12:20 pm – 12:30 pm 450SX Group C Qualifying
1:20 pm – 1:30 pm 250SX Group C Qualifying
1:35 pm – 1:45 pm 250SX Group B Qualifying
1:50 pm – 2:00 pm 250SX Group A Qualifying
2:05 pm – 2:15 pm 450SX Group A Qualifying
2:20 pm – 2:30 pm 450SX Group B Qualifying
2:35 pm – 2:45 pm 450SX Group C Qualifying
The top 40 times from Qualifying Practice in both Classes transfer directly to the Heat Races
5:05 pm – 5:13 pm 250SX Heat #1 – 6 Minutes/Plus 1 lap – 20 riders (1 – 9 to Main)
5:19 pm – 5:27 pm 250SX Heat #2 – 6 Minutes/Plus 1 lap – 20 riders (1 – 9 to Main)
5:33 pm – 5:41 pm 450SX Heat #1 – 6 Minutes/Plus 1 lap – 20 riders (1 – 9 to Main)
5:47 pm – 5:55 pm 450SX Heat #2 – 6 Minutes/Plus 1 lap – 20 riders (1 – 9 to Main)
6:01 pm – 6:07 pm KTM Junior Racing Main Event – 3 Laps – 15 Riders
6:07 pm – 6:19 pm Track Maintenance
6:19 pm – 6:26 pm 250SX Last Chance Qualifier – 5 Minutes/Plus 1 lap – 22 riders (1 – 4 to Main)
6:30 pm – 6:37 pm 450SX Last Chance Qualifier – 5 Minutes/Plus 1 lap – 22 riders (1 – 4 to Main)
6:53 pm – 7:10 pm 250SX Main Event – 15 Minutes/Plus 1 lap – 22 riders
7:28 pm – 7:50 pm 450SX Main Event – 20 Minutes/Plus 1 lap – 22 riders
ATLANTA SUPERCROSS TRACK MAP
For the sixth time this season, the track will feature a sand section.
ATLANTA SUPERCROSS ANIMATED VIDEO TRACK MAP
450 OVERALL POINTS STANDINGS (AFTER ROUND 8 OF 17)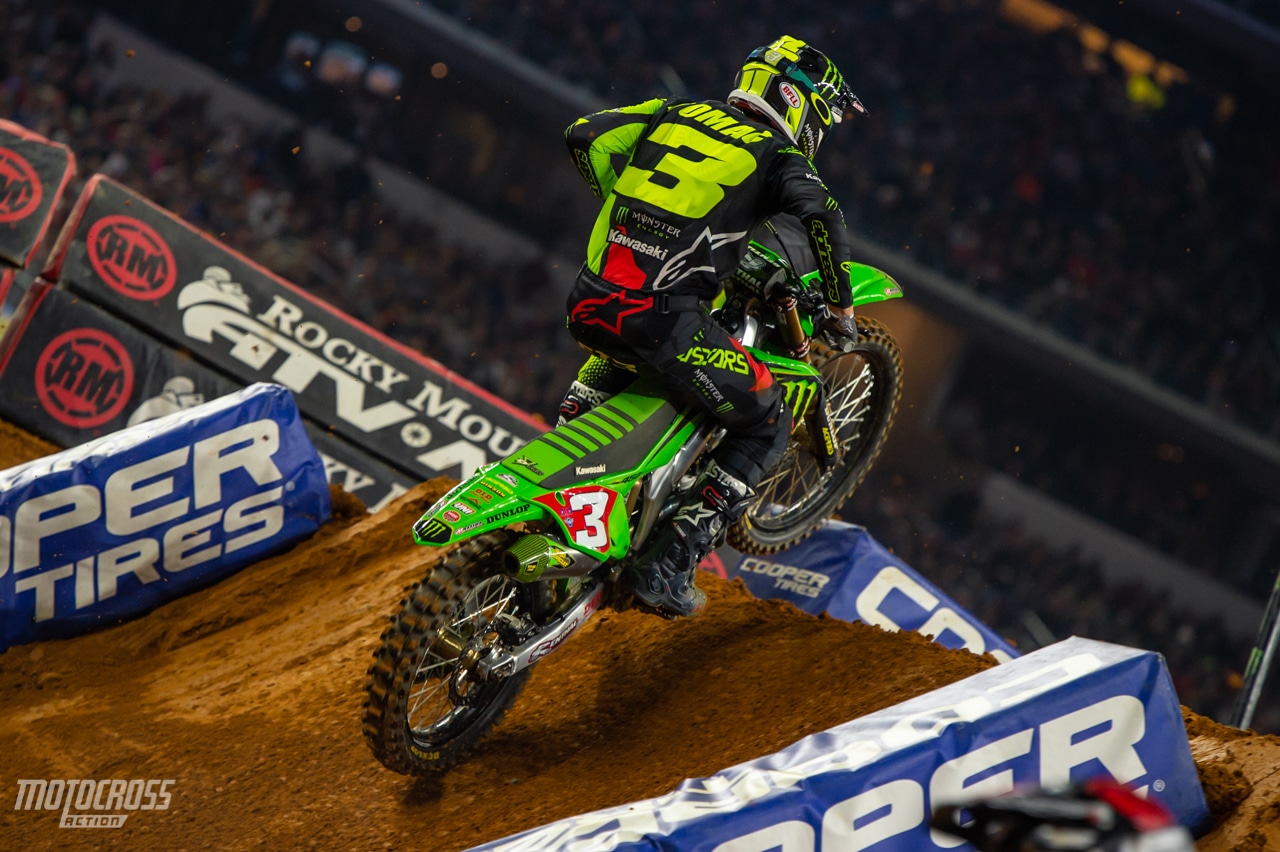 Eli Tomac holds a seven-point lead over Ken Roczen.
| | | |
| --- | --- | --- |
| POS. | NAME | POINTS |
| 1 | Eli Tomac | 181 |
| 2 | Ken Roczen | 174 |
| 3 | Cooper Webb | 155 |
| 4 | Justin Barcia | 154 |
| 5 | Jason Anderson | 139 |
| 6 | Adam Cianciarulo | 128 |
| 7 | Malcolm Stewart | 122 |
| 8 | Justin Hill | 110 |
| 9 | Zach Osborne | 105 |
| 10 | Justin Brayton | 105 |
250 EAST COAST POINTS STANDING AFTER ROUND 2 
Chase Sexton and Shane McElrath both have a nine-point lead on Jeremy Martin.
| | | | |
| --- | --- | --- | --- |
| POS. | # | NAME | POINTS |
| 1 | 1E | Chase Sexton | 49 |
| 2 | 12 | Shane Mcelrath | 49 |
| 3 | 6 | Jeremy Martin | 40 |
| 4 | 24 | Rj Hampshire | 38 |
| 5 | 36 | Garrett Marchbanks | 37 |
| 6 | 355 | Joey Crown | 31 |
| 7 | 54 | Jordon Smith | 28 |
| 8 | 175 | Joshua Hill | 28 |
| 9 | 84 | Jo Shimoda | 26 |
| 10 | 66 | Enzo Lopes | 19 |