2020 ATLANTA SUPERCROSS | THE AFTERMATH: CARNAGE & COME-BACKS (UPDATED)
2020 ATLANTA SUPERCROSS | THE AFTERMATH: CARNAGE & COME-BACKS
Just when you think we're finally due for a boring night of racing, the 2020 Atlanta Supercross provided us with another awesome night of racing that included more take-outs, crashes, last-lap battles, underdog success stories, sand sections and more. Round nine of the Monster Energy Supercross season ended with a tie-in the 450SX point standings and now we're headed into round ten at Daytona with Eli Tomac and Ken Roczen both wearing red. Meanwhile, Justin Barcia is gaining momentum and he sits 23-points back and the defending Champion, Cooper Webb now sits 24-points back after riding through major pain in Atlanta and still coming from behind to finish third. In Motocross Action's The Aftermath, we like to highlight the major stories of Supercross and share our favorite photos from the event.
Photos by Brian Converse
Words by Josh Mosiman
KEN ROCZEN GAINS 7-POINTS ON TOMAC & TIES IT UP
Ken Roczen's win in Atlanta evened out the points between he and Eli Tomac and it brought the momentum back to the #94's side of the pendulum.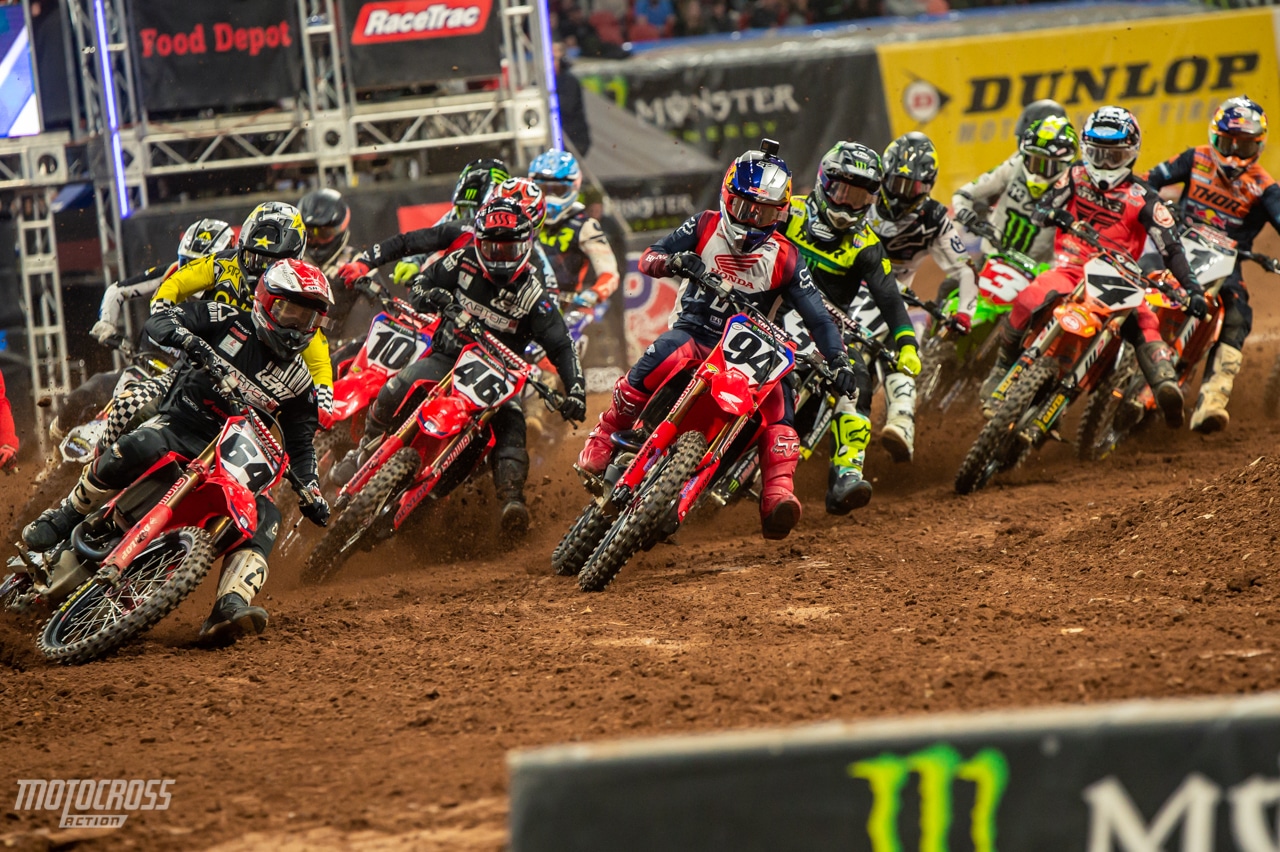 Ken Roczen grabbed the holeshot and slipped away from the rest of the field in the 450SX Main Event. Martin Davalos, Vince Friese and Justin Hill were behind Ken on the start and each of them managed to stay in the top five until late in the race. Martin finished fifth, Justin Hill sixth and Vince Friese ninth after Jason Anderson crashed and Vince crashed into him.
HONDA SWEEPS ATLANTA ONE-DAY AFTER DUNGEY LEAVES
Ken Roczen and Chase Sexton, both factory Honda riders, won their Main Events in Atlanta just one day after Ryan Dungey announced he was no long going to be apart of the Geico Honda team as a part-owner.  
With Ryan Dungey announcing on Friday before the race that he was parting ways with the Factory Connection Geico Honda team, questions were raised. Ryan is known throughout the industry for being a top-notch guy, not quick to make hasty decisions. But, with Ryan being at Geico Honda as a part-owner for only three months and then leaving the team in the middle of the season, we didn't know what to think. Obviously, with Ryan Dungey being such a successful former Champion and ambassador for our sport, the Factory Connection Honda team must've been sad to see him go. Yes, his reasoning was because of the large commitment it took to be apart of the team and he wanted to spend more time with his family and in Ryan's words, he said that his overall impression of the team was very high. But, it's still a bummer for the boys in red.
With that being said, Honda's sweep of the 450SX and 250SX Main Events in Atlanta must've felt that much sweeter. Not that they wanted to rub anything in Ryan's face, but at least this way the buzz around the Honda tents can be about something positive like winning both Main Events instead of a sore subject, like Ryan Dungey leaving the team. After the race, both HRC Honda's Team Manager, Erik Kehoe and Geico Honda's Team Manager, Josh Wisenor were seen celebrating together with the rest of their crew. The Atlanta Supercross was a great night for team Honda and it came at the right time.
Chase Sexton was ecstatic about his win in Atlanta. 
COOPER WEBB CANNOT BE DENIED
Cooper Webb came from behind to finish a miraculous third place in Atlanta and gain two-points in the title chase.
Cooper Webb's said that the race in Atlanta was the hardest race he's ever had. After his big crash in Arlington, Cooper had a hematoma and bone bruising on his pelvis and sacrum. After doing therapy all week long and throughout the day on Saturday, Cooper somehow managed to race through the pain and come from behind to pass Martin Davalos on the last lap, with Eli Tomac breathing down his neck, and finish on the podium in third. On the first lap, Cooper was tenth across the finish line and he dropped back to 13th on lap three when he stalled his bike. He didn't look too hot earlier in the race either, it looked like Cooper was definitely going to lose points in Atlanta, but by the end of the Main Event, he had clawed his way the front. Whether he wins or not, Cooper will never g down without a fight and that's what makes watching him race so much fun.
Cooper Webb said after the race:"That was probably the hardest race I've ever had. It's amazing, after I had a bad start and then I stalled it, I was way back. I was way back, but I just tried to put my head down and do the best I can. I got a few gifts from the guys up front, but man it was painful. I had to pull out of second practice earlier because it was hurtin'. I knew it wasn't going to be fun or easy, but that's racing. Sometimes you gotta buckle up your jeans and go after it. It's a long way out, but the only thing keeping me going is this Championship. We're going to do whatever we can. I really want to give it up to the Lord for just letting me be out here today."
ELI TOMAC TAKES-OUT BLAKE BAGGETT
Eli Tomac and Blake Baggett mid-crash.
Eli Tomac admitted that he made a mistake when he tried to pass Blake and he said that the last thing he wants to do is take both himself and Blake down. Below we have the full play-by-play sequence of Eli taking out Blake.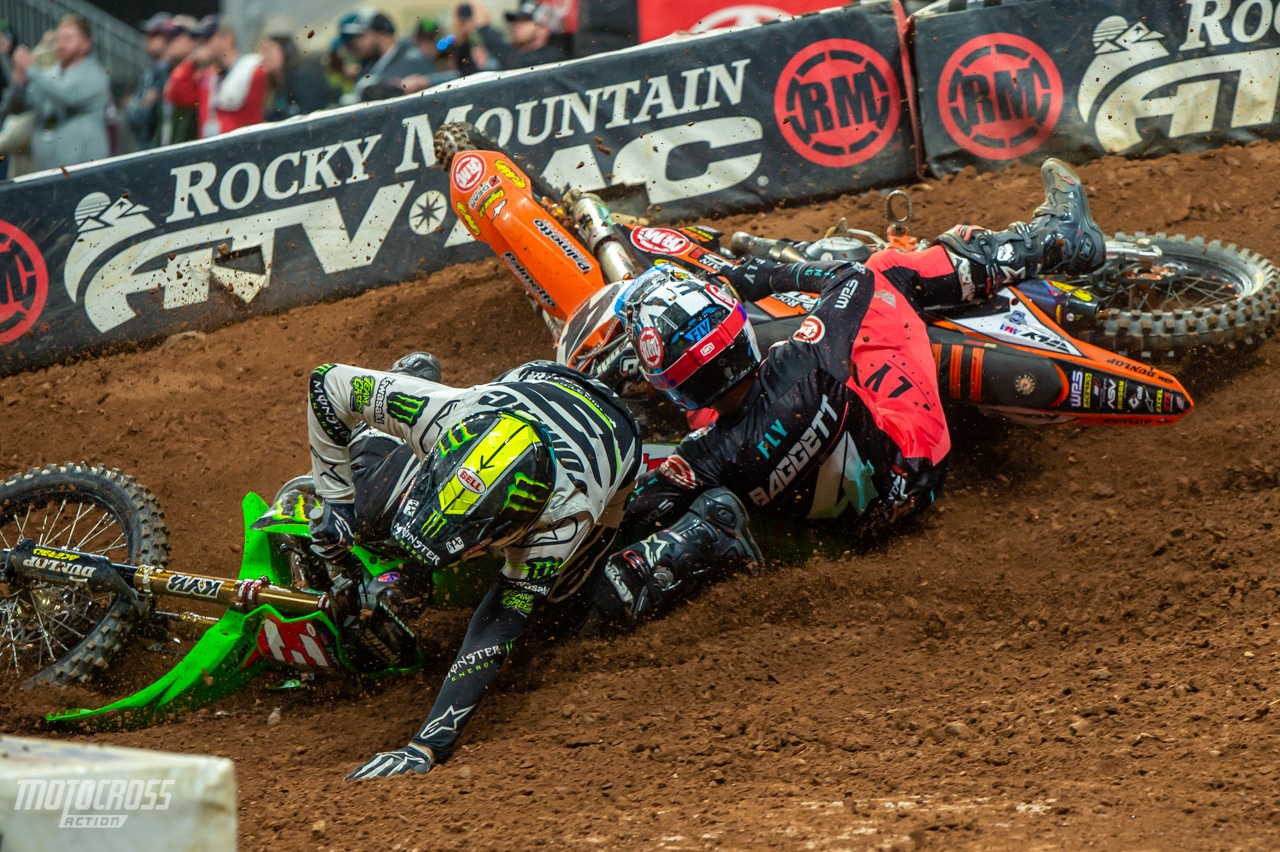 Blake Baggett got up and finished 19th while Eli Tomac charged to 4th.
ELI TOMAC VS. JUSTIN BARCIA
Photo 1—Justin Barcia wasn't happy after Eli ran into him earlier in the race. Here Justin runs back into Eli to pay him back.
Photo 2—Eli Tomac and Justin Barcia have banged bars multiple times this season and it seems like the rivalry will continue. Read below for Eli's and Justin's comments about racing aggressively after the race.
ELI TOMAC'S AGRESSIVE 15TH-TO-4TH PERFORMANCE
Eli Tomac came from behind to finish fourth in Atlanta.
Eli Tomac was on the gas in Atlanta trying to make up for his bad start and his mistake in the sand section when he stalled the bike. He was seventh on the first lap and eighth on lap three when Blake Baggett passed him. At this point it looked like we might've been witnessing the old Eli coming out where he would have a bad race and lose major points in the Championship. After Baggett passed him on lap four, Eli went in for an aggressive block pass on Blake, but he tried to open a door that wasn't there and he ended up taking both himself and Blake down. As you can see in our play-by-play photo sequence and on TV, Blake wasn't happy about it and he shoved Eli as he was trying to get his bike up. After picking up his bike, Eli was in 15th place, and he put his head down and started charging. By lap nine, he was still in 13th place but he kept plugging away. Luckily for Eli, riders were having issues all over the track. Jason Anderson specifically had two big mistakes that cost him a lot of time and eventually took out Vince Friese and Dean Wilson. This allowed Eli to gain even more positions and get up onto the rear wheel of Cooper Webb. Somehow, though, Cooper turned up the heat when Eli got in behind him and he managed to hold off Tomac until the finish. Both riders would pass Martin Davalos who was having the race of his life and Eli would finish fourth, one-spot off the podium and one-spot behind Webb.
Eli Tomac rode aggressive in Atlanta. He had run-ins with Justin Barcia and he took Blake Baggett and himself out as well.
When Eli Tomac was asked about his run-in with Justin Barcia, Eli said: "If I get bumped I'm just gonna bump back, that's just the way it is. Mine might've been a little bit more of a hit, but really I'm just kind of giving it back." Eli and Justin have traded paint multiple times this season and it's neither of them wants to back down. Eli also mentioned that the tight track in Atlanta led to more aggressive racing. Eli also mentioned that he was in a hurry to catch Ken Roczen who had a big lead out front and he said "that was all I could do."  Eli also addressed his take-out on Blake Baggett, he said: "I didn't mean for it to be that bad. I thought I had good momentum to slingshot from the outside to in and then he was already coming down. The tight track really made it hard to make moves, so that was that."
JUSTIN BARCIA'S STATEMENT ABOUT HIS RUN-IN WITH TOMAC
Justin Barcia also fought from behind to end up on the podium and during his journey to the front, he found himself battling with Eli Tomac, rubbing elbows and getting aggressive. 
When asked during the press conference if he likes trading paint and rubbing elbows in the middle of the race like he did with Eli Tomac, Justin Barcia said: "No I don't really like it, I made a good clean pass on Eli and if someone physically hits me so hard it hurts me, I'm not happy with it. So I thought the pass he put on me was stupid and he did a pass on Baggett and cleaned him out. So I thought he was kind of on a mission tonight to get to the front and whatever it took, he was going to do it. But it ended up costing him. So I thought he rode a bit harder than I thought he should've. And I know pretty hard because I've done it before. So I was just trying to ride my own race and move to the front of the pack. When you get caught up in a battle that's not in the front you lose time and if you're not a second faster than the guys in front of you, you're not going to make those passes back. So it's definitely a little annoying in the middle of the race but we got through it."
MERCEDES-BENZ STADIUM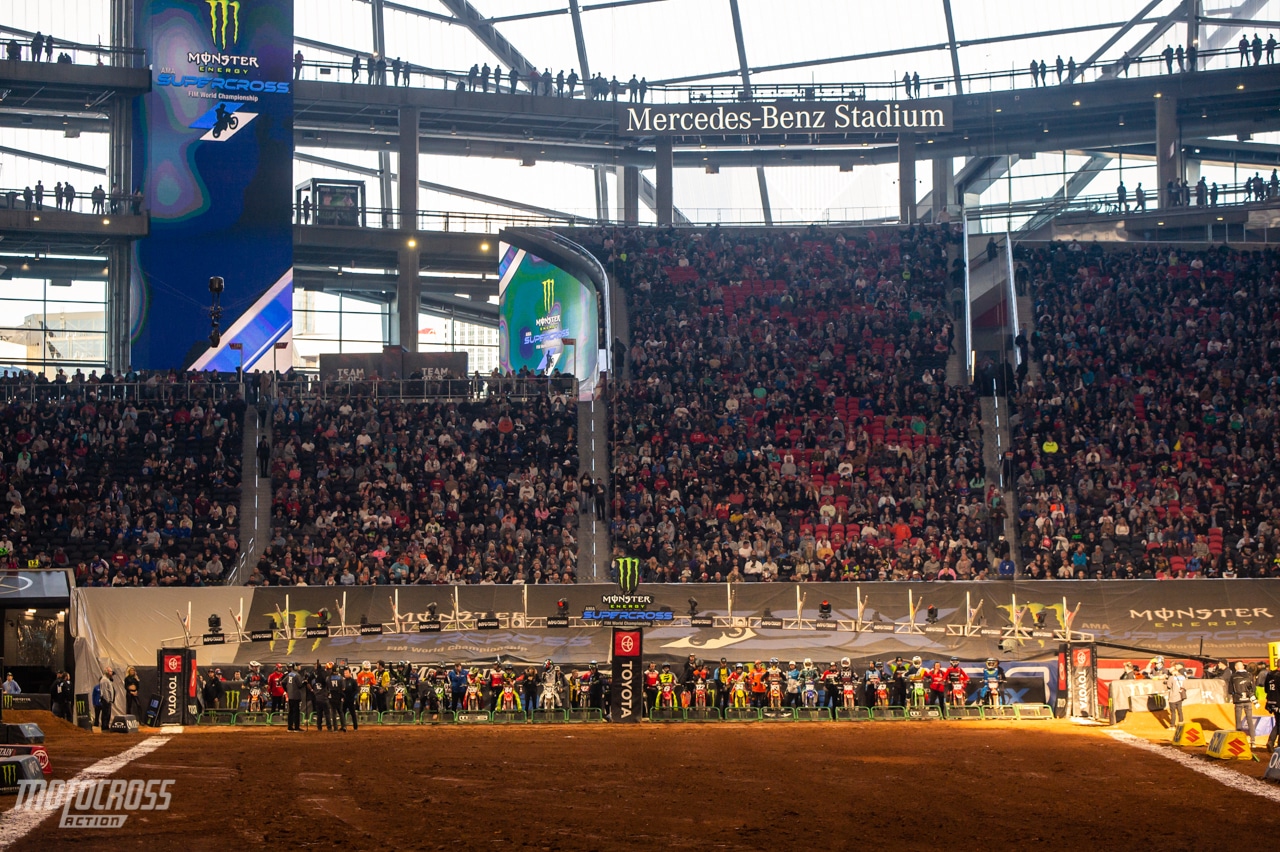 The Mercedes-Benz Stadium in downtown in Atlanta, Georgia, is new and it has only been used for the last three years. In 2018, the Atlanta SX featured a Triple Crown and in 2019 it was an East/West Shootout. The 2020 season marked the first time that the Atlanta format was standard in the new stadium and it was the first time that a Japanese manufacturer had won in Atlanta since 2015 when Chad Reed topped the 450 class on a Kawasaki.
JEREMY MARTIN HITS THE GROUND, TWICE.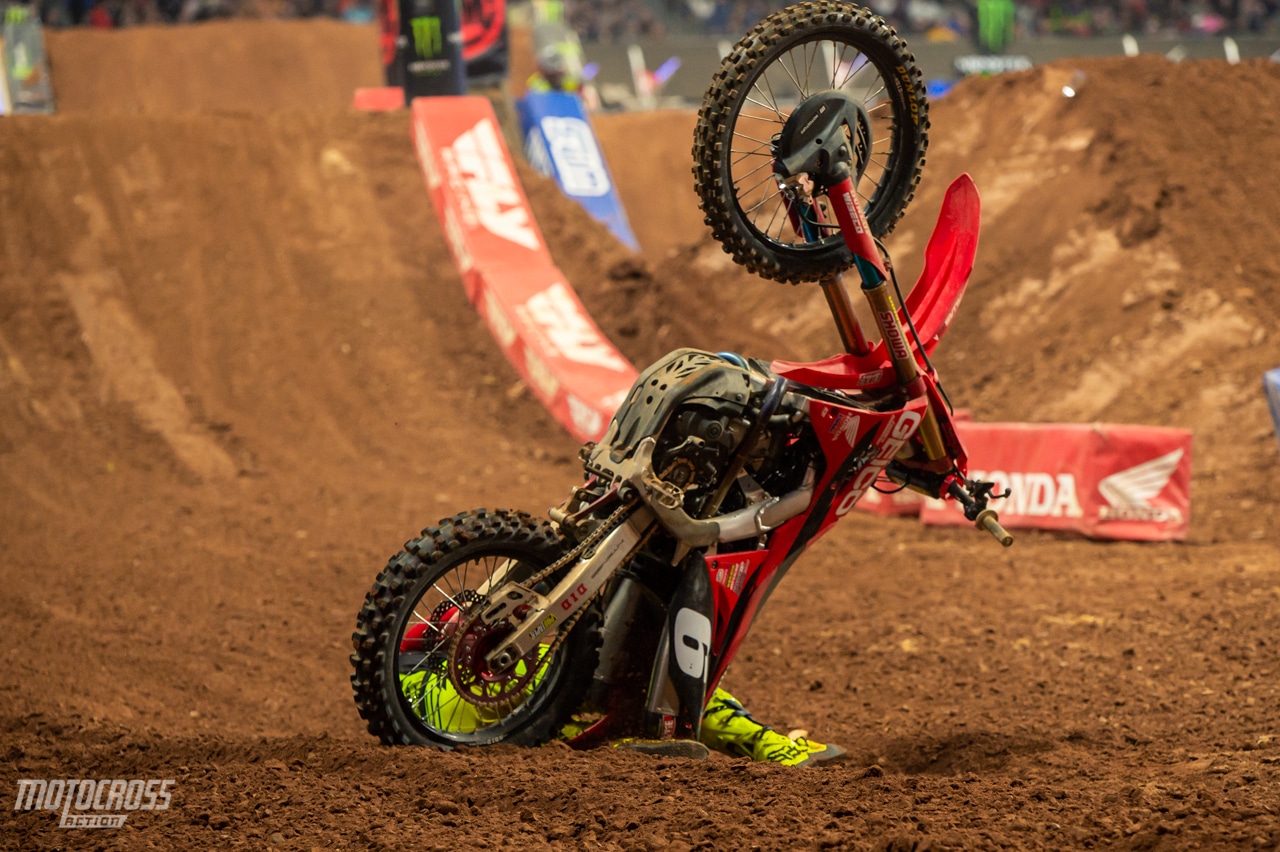 This photo was taken during the 250SX Main Event, while the photo below was taken during qualifying practice earlier in the day. Unfortunately, Jeremy crashed on the same inside single twice on Saturday.
For the full photo sequence of Jeremy's first crash, you can click here.
MARTIN DAVALOS' ALMOST PODIUM
Martin Davalos was second off the start and he stayed there until Justin Barcia passed him on lap 19. 
There were multiple underdog stories in the 450SX Main Event but Martin Davalos' was the most impressive because he almost had a podium and when we say almost, we aren't kidding. Although the TV cameras weren't following Martin around the track, he sat in second behind Ken Roczen and stayed there until he let Justin Barcia pass him on lap 19. Martin literally pulled over and let Barcia go and we're guessing that Martin was nervous having Barcia behind him after their incident at the San Diego press day and since then, they've raced aggressive with one-another. Martin pulled over on the start straight away, pulled a tear off and let Justin go by. He jumped in behind him, but he couldn't keep the same pace. Then, after running in the podium position for 24 laps straight, Cooper Webb and Eli Tomac were able to get the better of Davalos with just three corners to go before the checkered flag. Really, Martin didn't do anything wrong, he did his best to hit the inside lines and block the other guys, but when Webb squared him up and dove underneath, it was over for Martin. Eli got by at the same time and he had to settle for a fifth. Still, this is a career best for Martin in the 450 Supercross class and he was still happy after the race.
Martin Davalos delivered the Team Tedder Racing program with a fifth, their best finish ever, in Atlanta. 
JUSTIN HILL CONTINUES TO IMPROVE
Justin Hill finished sixth in Atlanta, but he wasn't happy about it.
Coming into 2020, many people wrote off Justin Hill. The former 250 West Supercross Champion has jumped around to many different teams and after he was dropped by the JGR Suzuki team and landed on the Smartop Bullfrog Spas MotoConcepts team, Justin Hill had the ball in his court. Justin was tired of sub-par results and he wanted a taste of victory again in 2020. This year he has steadily gained momentum and it looked like he had the podium in his hands at the Atlanta Sx. Justin ran in third place behind Ken Roczen and Martin Davalos for 14 laps until Justin Barcia was able to get around him. Then he ran in fourth place until lap 21 when both Cooper Webb and Eli Tomac made the pass on him with just four laps left.
VINCE FRIESE STEPPING HIS GAME UP 
Vince Friese was excellent in Atlanta and at 29-years-old, Vince is having the best season of his 13-year Pro career. 
Vince ran fourth until lap 16, then on lap 18, Jason Anderson passed him and then stalled it which left Vince with nowhere to go except into Anderson's rear wheel which caused Vince to go down. Vince's reputation is to get a good start and then fade backwards and sometimes fans and riders don't like him because of it. But, at the end of the day, Vince is just doing the best that he can. It takes a lot of guts to run at the front of a 450 Main Event and Vince, being the exceptional starter that he is, has done it many times. Plus, the more time you spend riding with the front runners, the more comfortable you get up there. With that comfort comes speed and then finally, you find yourself battling for a top five in the most competitive Supercross class in the world with just a few laps left. Well done Vince. Unfortunately, he was in the wrong place at the wrong time when Anderson made a mistake and Vince had nothing he could do but crash. At 29-years-old, although he isn't the most popular, Vince Friese is a veteran in the sport having race professionally since 2008 and a ninth at the Atlanta SX Main Event isn't bad. Vince will take the confidence gained while running up front into round ten at Daytona.
DEAN WILSON'S CRASH
Dean Wilson ended up 10th place after a crash in Atlanta.
Dean Wilson had an awesome ride going in Atlanta, but his teammate Jason Anderson slowed him down once in the over-under tunnel and eventually played a key role in take Dean down when Jason stalled his bike, Vince Friese ran into Jason and Dean ran into Friese. You can see the crash on Dean Wilson's instagram post below.
SAND IN SUPERCROSS: SEVEN-SANDY-SHOTS
CEDRIC SOUBEYRAS CRASHES
Cedric Soubeyras had this tough crash in Atlanta, but he still went on to finish 11th in the 250 Main Event.
WORDS FROM THE RIDERS:
Eli Tomac said via instagram: "P-4 ATL. Mixed emotions on the night! The contact with BB4 was a mistake on my part , the last thing I want to do is take us both down and out. Those 20 minutes felt like 40 minutes clawing back to 4th. Can't wait to be ripping around Daytona!"
Ken Roczen posted via instagram: "WE DID IT IN ATLANTA! Incredible night for the whole Honda crew. @chasesexton winning his Heat and Main and so did I. Winning just gets more and more fun and addicting!"
Cooper Webb posted via instagram: "I've learned so much in racing but last nights lesson was one for the books. Physically, Mentally an Emotionally I left it all out there on the track with some major adversity. Proud to stand on the podium with a 3rd place finish in ATL. ATL 2020 you were literally a pain in my ass"
Martin Davalos posted via instagram: "Atlanta has always been good to me!! Last night was an insane experience. I really tried my hardest to hold the position and I am so bummed I wasn't able to seal the deal but there were still so many positives to take away from last night. I had so much fun and I want to thank everyone for the support and for the kind messages. I appreciate y'all!"
Chase Sexton said via instagram: "HOTlanta was a good one! 🔥 @honda_racing_us sweep with @kenroczen94 and I taking both heat and main wins! I'm super thankful to be apart of a great team and to have the people behind me that I do! Blessed 🙌🏻 @fchonda @honda_powersports_us Fans were awesome all night as well! You guys are great."
Rj Hampshire said via instagram: "Showed up when it counted.
P.2 on the night! Continued to have our struggles throughout the day but working on fixing those. Happy with the progress and will continue to be better! Thanks team @rockstarhusky"
Dean Wilson posted via instagram: "Soooo bummed was in such a good position for a podium. I felt so good at this point in the main and bikes were just stopped infront of me and crashed. Few miss haps tonight but I'm feeling good qualified P-5 and felt solid in the main. Thank you TEAM It will come"
Jeremy Martin posted via instagram: "Bummer deal in the main event at Atlanta sx. Hit the ground pretty hard but I'm already back training getting ready for Daytona sx!"