2020 DAYTONA SUPERCROSS HOMEWORK: DO YOU REMEMBER WHAT HAPPENED LAST YEAR AT DAYTONA?
The number three of Eli Tomac gets his third win of 2019, his third win at Daytona, with a picture of Dale Earnhardt who was number three custom painted on his helmet. 
2020 DAYTONA SUPERCROSS HOMEWORK: DO YOU REMEMBER WHAT HAPPENED LAST YEAR AT DAYTONA?
Photos by Brian Converse
Words by Josh Mosiman
Daytona holds a special historical record, as it is the only venue that has been included in every single Supercross season. Once again the unique and challenging conditions of the outdoor Supercross track provided for great battles and interesting stories. After Eli Tomac was behind by over two seconds on Marvin Musquin in qualifying, he was able to find some speed and battle through to cross the finish line first when it counted most. Find out all the details on the 2019 Daytona Supercross in Motocross Action's 'The Aftermath.'
2019 DAYTONA 450 SUPERCROSS HIGHLIGHTS
Ricky Carmichael is the Daytona Supercross track designer. He also rode with the youngsters on press day and in front of the crowd during opening ceremonies on race day. We interviewed Ricky about his Daytona wins and we asked him about what he looks for when designing a track. 
Eli Tomac started in second and after battling back and forth with Blake Baggett early in the race, he was able to get into the lead and take his third win of the year. 
Marvin Musquin was fast all day in Daytona, but when it came time to race, it seemed like he was pushing too hard and that led him to make costly mistakes. In the long 1000-foot rhythm section, Marvin landed on a tough block and almost went down, then he stalled his bike and then on the final lap while trying to make a pass on Webb for second, he nearly went down in the sand. These mistakes, plus many more, kept Marvin from winning in Daytona. 
Cooper Webb wasn't the fastest at the 2019 Daytona Supercross, but he was able to hold off his teammate to finish second. Eli Tomac won, but Cooper still extended his Championship points lead over Ken Roczen and Marvin Musquin. Coming into Daytona he was 13 points ahead of Roczen (who was second). After Daytona, Roczen dropped back to fourth in points and Eli Tomac moved up to tie Marvin Musquin for second, 19 points behind Cooper Webb.
Since his first win of the season in San Diego, Eli Tomac has won two more times, but unfortunately for the Colorado native, he hasn't been very consistent. Starting in San Diego, Eli's finishes have been 1-6-12-1-6-1. Eli's win in Daytona brought him three points closer to Cooper Webb in the championship standings, but it's going to take more wins for Eli and some mistakes from Webb to make the championship battle close again. 
Ken Roczen came into Daytona feeling good and during the day he spoke highly of the soft and rutted Daytona track. Unfortunately for Ken, in the sand corner on the start of the 450 main he ran into Chad Reed and went down with his HRC Honda teammate Cole Seely. Ken got up and charged up to eighth place. This was the first race in 2019 where Ken didn't finish in the top five and it dropped him back to fourth in the championship—21 points behind Webb.
Blake Baggett grabbed the holeshot and held the lead for the first three laps of the eighteen lap main event. 
Baggett was riding well in Daytona. He was the first one to launch the famous Daytona wall jump and he looked like he could grab his second win of the season. Even after Eli passed Blake, the number four was able to get back into the lead for another lap by passing Tomac back in the sand corner. After battling with Tomac, Webb and Musquin he would end up crossing the finish line in fourth place. 
Shane McElrath was actually riding his KTM 250SXF in the 450 class at Daytona. Because Shane's 250 East teammates Jordon Smith and Mitchell Falk are out with injury, the team decided to bump Shane up to the 450 class for the weekend.

Daytona was a good one for three out of the four 450 Supercross rookies. Justin Hill was one of the rookies that had a good night. His seventh place finish was a season best for the JGR Suzuki rider.
Joey Savatgy had another solid night of racing in the 450 class. He passed Cole Seely in the final corner of his heat race to finish third, and then in the main he started in fifth and finished in fifth. He said via Instagram: "Daytona was gnarly… Happy with the first half of my race, 2nd half struggled but managed to keep it together! P5, and I live to fight another weekend. Thanks team #Team17."
Zach Osborne also had a season best in Daytona. After starting the season late because of a shoulder injury, Zach struggled at his first few races with his best finish being a tenth in Detroit. Daytona was much better for the 450 rookie, he passed his way through the pack to finish sixth on his Rockstar Husqvarna.

Aaron Plessinger was the one 450 Supercross rookie who didn't have a good night. He made a big mistake and cased a triple in the long 1,000ft. rhythm section that cause him to get ejected off the bike and landed hard on this feet. Aaron announced via Instagram that he broke his heel, he posted: "Well.. As everyone has seen I had a little get off in the main tonight, ended up breaking my heel. Not much info right now, just X-rays but I'll keep y'all updated. Thanks for the love and support! 
Coming into the 2019 Daytona Supercross, many put Eli Tomac at the top of the list for predicted 450 class winners, but after a slow start in qualifying some were doubting if he would get it done. After the first qualifying session, Eli was ninth place, 1.9 seconds behind the fastest time set by Marvin. In the second qualifying session, Eli dropped his time significantly, but Marvin did as well. Eli moved to fourth place with a 1.09.295 but Marvin Musquin was all the way down to a 1.07.724 at that point.
Marvin Musquin was quick all day in Daytona. He qualified fastest, almost a full second ahead of Ken Roczen who was the runner up. The unique outdoor-style track must have made a difference in the qualifying times, because we can't remember when the last time someone was so far ahead of the rest in a Supercross qualifying session. 
WHAT THE 450 RIDERS HAD TO SAY ABOUT THE 2019 DAYTONA SUPERCROSS

Eli Tomac: "Starting with the day, it was just tough, I was behind these guys. At one point Marvin had a lap time that was two and a half seconds faster than me and I'm kinda sitting there questioning myself. We just kind of played catch up and made some improvements each practice. Getting to the main event, it kind of took me a little bit to get into the groove. I got shuffled to third, and then I finally found the lines and the flow. I was making good time in the whoops and it just started coming to me. Having that third win here is pretty special."
Cooper Webb: "It was a battle the whole time, I think I came around third or so the first lap and Marv got around me quick. I made a few mistakes, went back a little bit and had to pass my way back up. Then Marv made a mistake, I think me and Blake got around him. Then I had a battle with Blake and then Marv was all over me at the end, so it was a battle the whole time. It was a fun race, difficult race, but it was good to get a second and be on the podium again at Daytona."
Marvin Musquin: "I had a great day, practice was awesome. It started off with yesterday in press. The whole weekend was great, the atmosphere was great, I definitely look forward to Daytona. Practice was great, I was the fastest and I put in some really-really fast laps so I was really comfortable. In the heat race we actually went down in the second turn, so that put me behind, I came back to fifth place. I was a little bit outside on the starting lane going into the main event, but somehow I made it happen. When I got off the sand I was in the top five. So it was a great position. I made some passes and I was riding great, I just made some mistakes. I actually hit neutral and stalled the bike, over there on the far side of the track. That cost me a lot and I had to charge back and I was able to come back to third and almost to second. I definitely charged really hard and the speed was good, but it was only enough for third place. I'm a little bit bummed, but I did my best and it was a hard fight for sure." 
Eli Tomac talks about the sand section: "It was a spot to pass so it was nice, I would say earlier in the day and a majority of the time we were using the inside, but I once we got racing the outside opened up and that was good. In the main actually I kind of made, I'll just call it a 'dork mistake,' I left the door back open to Blake there. The outside was faster if you were in the clean air, but I left that open. But it was good, we were able to make a couple passes in it as long as your goggles stayed clean."
When asked about managing the new expectations and pressure being the 450 points leader Cooper Webb said: "Once you get that taste of victory you want it all the time. For me it's pretty easy (to stay focused), I gotta beat tonight and you know, there's stuff for me to work on. So that's what I think keeps me motivated and in the moment, taking it weekend by weekend and doing it that way."
450 CHAMPIONSHIP POINT STANDINGS (AFTER ROUND 10 of 17)
Cooper Webb-222
Eli Tomac-203
Marvin Musquin-203
Ken Roczen-201
Blake Baggett-161
Dean Wilson-149
Chad Reed-137
Justin Brayton-127
Joey Savagty-124
Aaron Plessinger-123
Full points standing, CLICK HERE .
2019 DAYTONA 250 EAST SUPERCROSS HIGHLIGHTS
Once again, Austin Forkner dominated the 250 class. He passed into the lead early, but landed on a tough block in the rhythm section . After the close call he managed the race well to take his fourth win of the season. Here he does the famous Daytona Speedway burn out immediately after crossing the checkered flag, the fans were stoked!
For the second time this season Austin Forkner, Chase Sexton and Justin Cooper top the 250 podium.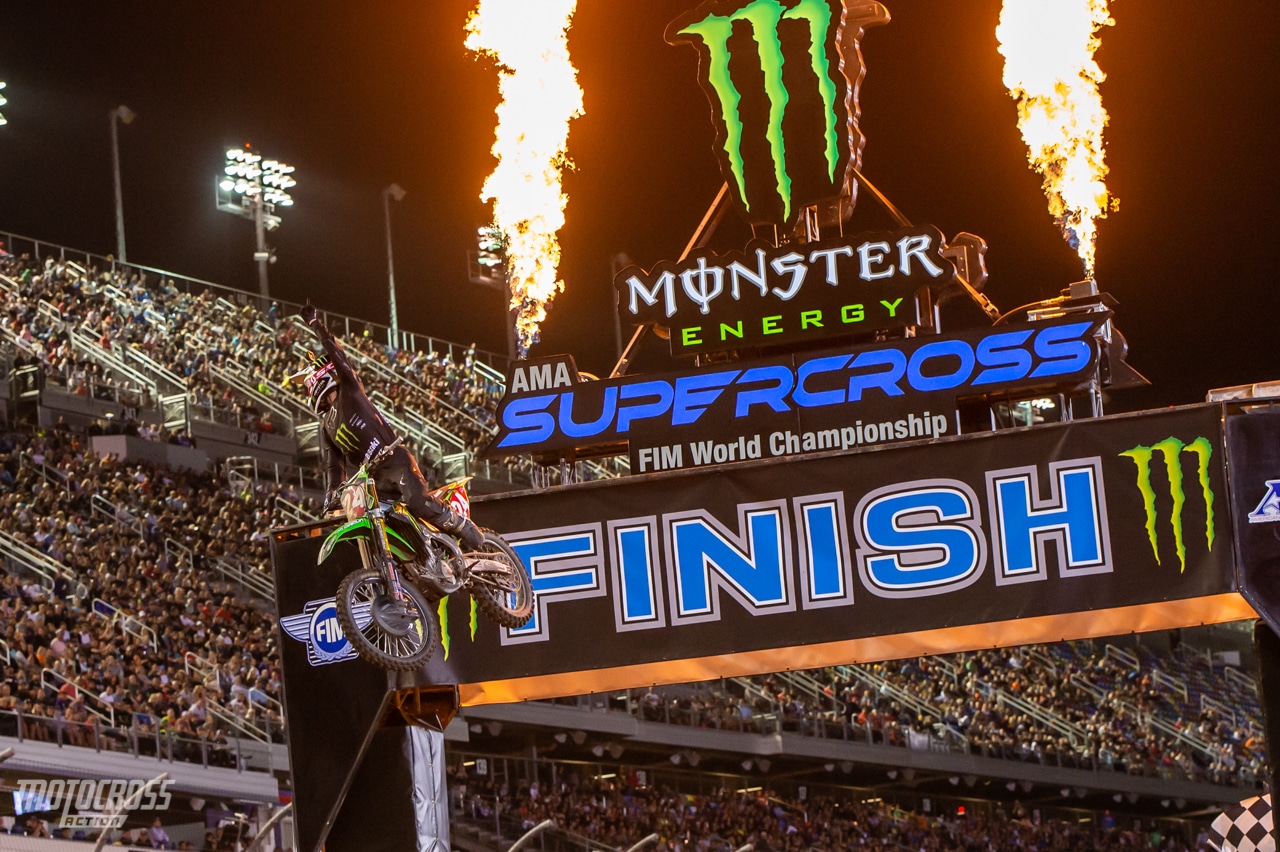 Austin Forkner celebrates another win. When asked what the difference is for him in 2019 Austin said: "I made a few changes as far as my program goes, on and off the bike with trainers and stuff. I just feel like it's experience, this is my third year. And things that I've learned, definitely from my rookie year and even from last year, I feel like I've learned them and made improvements this year. So I think it's really just experience, it just takes time and it's hard to come in to your first year nowadays and immediately go to the top. It's just experience that I think is the biggest thing."
Chase Sexton was fast all day in Daytona, he even beat out Austin by 0.06 to score the fastest lap time in qualifying. But when it came to the main event he wasn't able to challenge the points leader. Chase finished second again.
Justin Cooper continues to prove his skills. So far in 2019 he has raced five races, been on the podium three times and has been in the top five at each race. 
Kyle Peters #55 grabbed the holeshot in the 250 main and led for the first two laps. 
Mitchell Oldenburg bounced back from a practice crash in Atlanta to have a season best fourth place finish in Daytona. He was happy with his progress and we are glad to see him back after the crash!
The turn after the start was a deep sand corner and it was causing riders trouble all day. Here Austin Forkner makes a small mistake as Kyle Peters sweeps around the outside to take the lead.
Alex Martin was on the gas in Daytona, he finished fifth on his JGR Suzuki.
Ryan Sipes started a long week of racing in Daytona. In 2019 Sipes has set out to do something out of the ordinary, he's racing a variety of different motorcycle races throughout the year. He started his unique 2019 season in Daytona at the famous Daytona Beach Bike Week. On Saturday he raced Supercross and finished fourteenth in the 250 class, on Sunday he raced the Florida GNCC (which is a three-hour off-road race in the trees) and then on Thursday he will be back at Daytona to race the AFT Flat track TT race. 
After missing three rounds due to a knee injury, Thomas Covington raced his second Supercross ever in Daytona. After a bad start he finished fifteenth on his Rockstar Husqvarna.
After getting the holeshot and leading the first two laps, Kyle Peters fell back to seventh. This was still a great ride for the JGR Suzuki rider out of Greensboro, NC. He said via Instagram: "Daytona 2019, felt good to run up front where we belong. Still got some work to do but taking the positives and moving forward! My team is awesome."
Jace Owen #159 came over from racing the Kicker Arenacross series that just finished to Supercross in Atlanta. Unfortunately, he didn't qualify for the night show there with the tough competition and the East/West format. But he qualified well in Daytona, a 5th place in the heat race showed the industry that Jace Owen is legit.
Austin Forkner won his heat race and threw this huge nac-nac for the fans off the finish line jump.  
Another one bites the dust, Kyle Cunningham goes down in the tough sand section. 
Austin Forkner carves the sand corner all by himself. In the main event, it was faster to hit the outside line like Austin is doing here. But if someone was close behind you, they could hit the inside and make the pass, even though it was slower down the next straight away.
John Short #69 pulls a tear-off while Richard Jackson #725 looks over at our photographer Brian Converse.
Lorenzo Locurcio gets blasted with a face full of dirt as he comes over the wall jump. Lorenzo won the 250 LCQ and he finished thirteenth in the 250 main event. He will now race the 250 GPs in Europe for Bud Racing.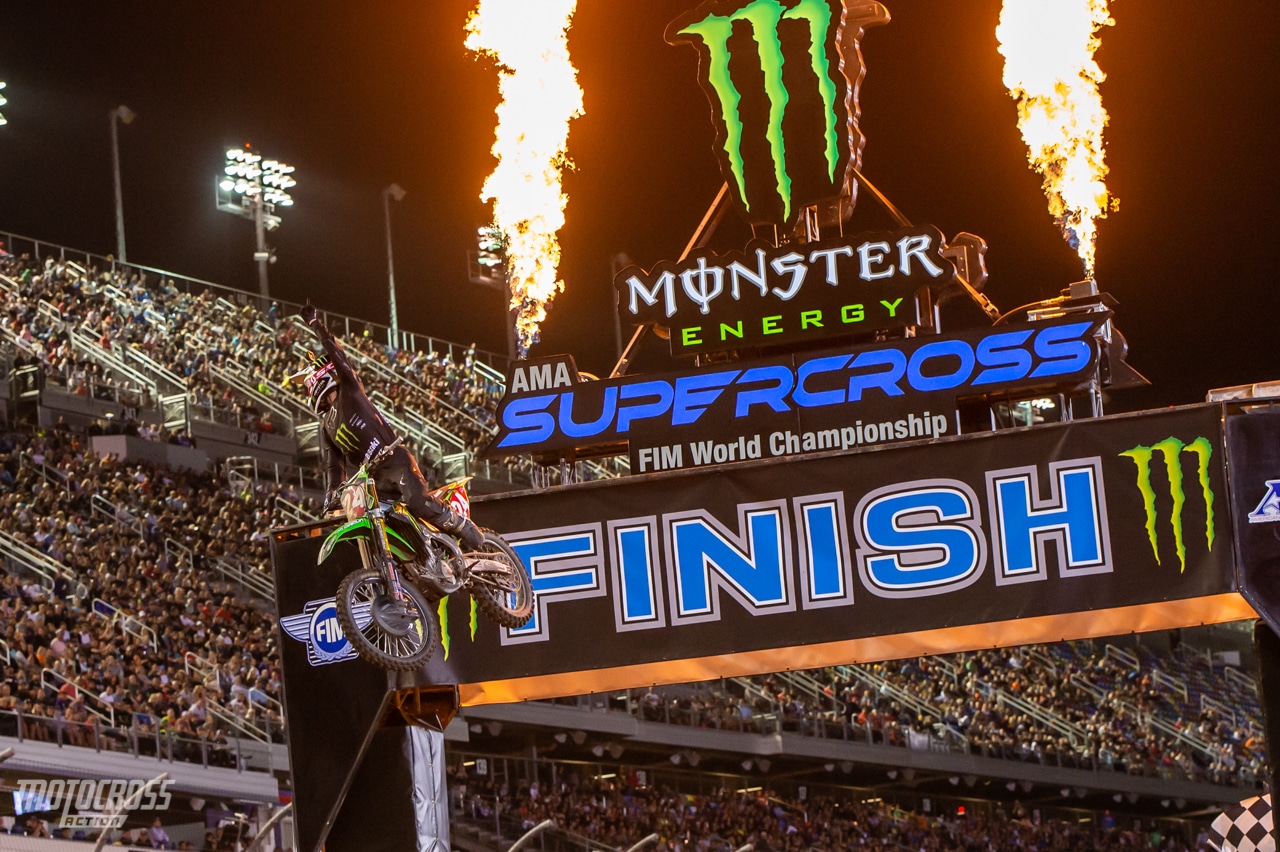 Austin celebrates as he takes the checkers.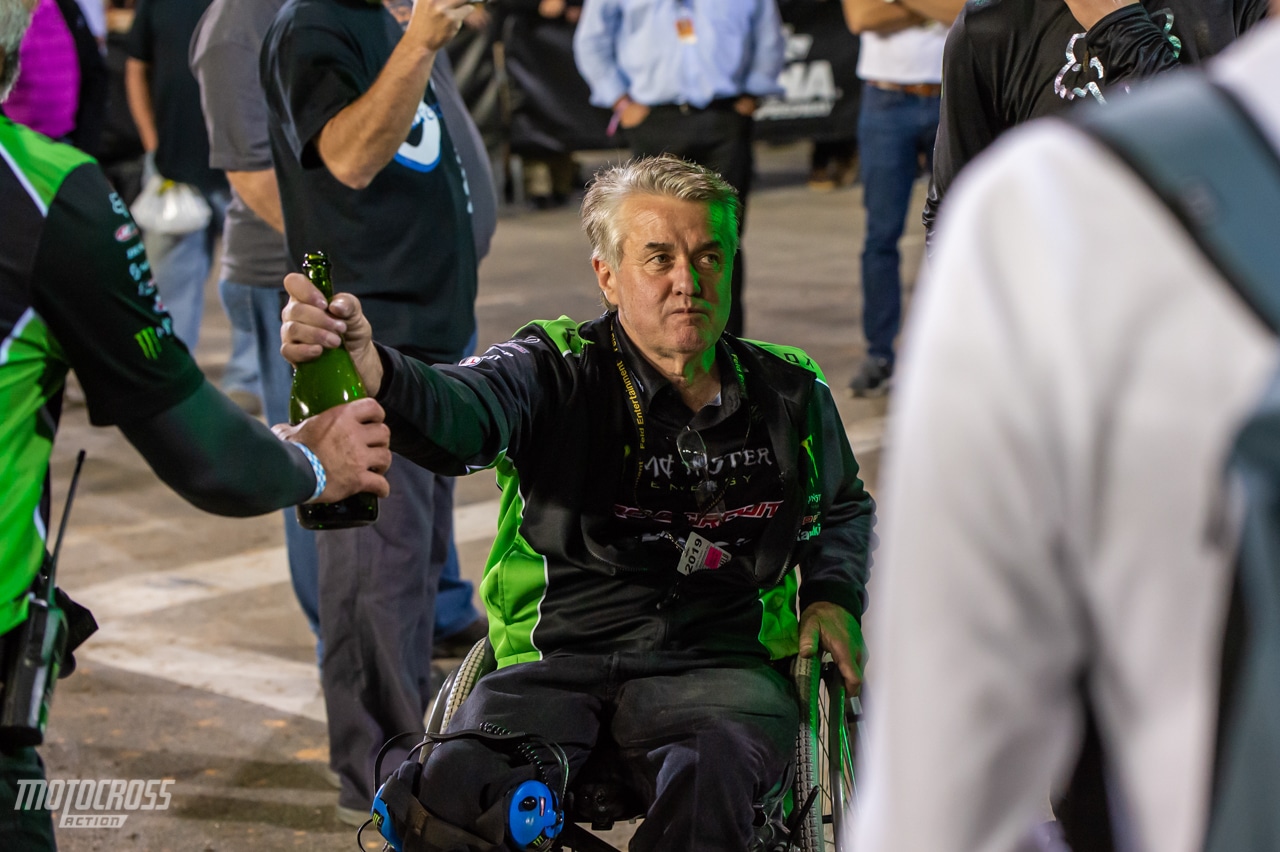 Mitch Payton passes Forkner's podium champagne to Jon Primo. 
Since Austin isn't 21 yet the Pro Circuit crew gets to drink his champagne. 
Austin wasn't mad about it as he had another surprise waiting for him after the win. 
WHAT THE 250 EAST RIDERS HAD TO SAY ABOUT THE 2019 DAYTONA SUPERCROSS
Austin Forkner when asked about how he was able to win: "The start helped and it was doing that rhythm every single lap and not making a mistake on it, because it was easy to miss time it and then the whoops were also destroyed. Basically that whole straight right there, it was really critical that you got that clean. I feel like that was the difference for me, just trying to eliminate mistakes. I think I made some little ones, but I didn't make any mistakes in the main so that was, I think, what did it."
Chase Sexton:"I went and got the holeshot in the heat race and then fell by myself in the first corner. I didn't help myself with my gate pick (in the main) but I made some passes and I think I was right around fifth in the beginning. I got myself right behind Justin (Cooper) and then he ended up making a mistake and I got him. Austin was probably about four seconds in front of me it kind of just stayed there for the rest of the race. The track was gnarly, it was easy to make mistakes, I just tried to be consistent, Austin rode really well, he didn't make any mistakes. It was all in all a good race." 
Justin Cooper when asked about the track: "I'd say it started out pretty smooth, obviously in the heats, and then it just broke down from there. Every lap the lines were getting deeper, we were kind of taking the same lines out there. There were three main lines in each turn and they were getting dug out each lap. The whoops got really tricky, it was kind of like a goat trail, you kind of had to hop and skip through there. Each lap was getting tougher, the faces (of the jumps) were going away with the ruts. It was almost down to the foot pegs so at the end of the race you kind of had to watch which ruts you were taking out of the turns." 
250 EAST COAST POINT STANDINGS (AFTER ROUND 5 OF 9)
Austin Forkner-125
Justin Cooper-102
Chase Sexton-102
Alex Martin-78
Martin Davalos-71
Brandon Hartranft-71
Jordon Smith-70
Mitchell Oldenburg-69
Kyle Cunningham-65
Kyle Peters-62
Full points standing, CLICK HERE .