2020 DUBYA USA WORLD VET CHAMPIONSHIP: DAY ONE WAS WET & COLD (UPDATED)
This a pretty clear indication that something bad is brewing on the horizon. The fact that there isn't a horizon is also a clear sign. Photo: Mark Chilson
PHOTOS BY  MARK CHILSON, JODY WEISEL AND DAN ALAMANGOS
It hasn't rained in SoCal in seven months, but as soon as the 2020 Dubya USA World Vet Championship opened the gates of Glen Helen Raceway, the skies opened up, then the sun came out, then it drizzled, then it poured, then the sun came out and then it poured again. To make matter worse, after Saturday's motos were over and day one was in the books, the track was ripped by lightning, black skies and a downpour that drenched the already soaked track … it was an unwelcome present for Sunday's racers.
Andy Jefferson is featured on the event T-shirt this year, while Rocket Rex Staten gets his just due on the Walk of Fame.
The more it rained the less the riders were enthused about their second motos. If the sun came out, they all showed up on the line, but if was raining, many riders stayed in the pits.
Not every rider kept it under control in the slippery conditions. This Yamaha rider makes a beeline for the Glen Helen sign with his feet flying.
And at the last second avoids an embarassing crash that no one would ever let him forget
Saturday is not the most important day on the World Vet schedule. It was only put into the program years ago to allow foreign and out-of-state racers a chance to acclimate to a track that is nothing like what they are used to racing on back home—wherever that may be.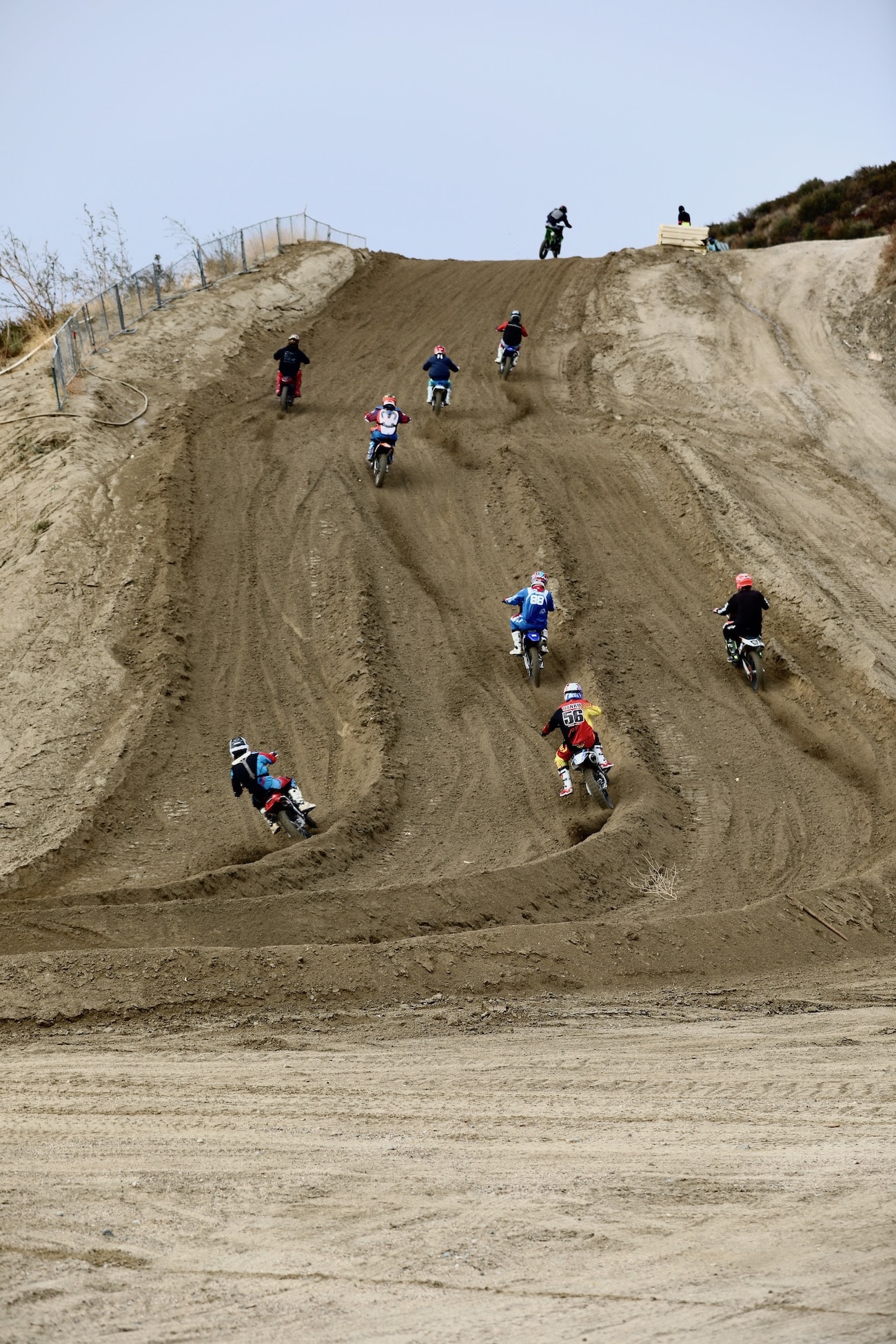 There were three separate, but equal, line choices up Shoei Hill. That is four-time 250 National Champion Gary Jones (88) in the middle line.
This year's track promised long lap times, big hills, super fast downhills, lots of off-camber turns, the steeply banked Talladega first turn and a special three-lane second turn to insure that every rider coming out of Talladega on lap one had a place to go —as opposed to piling into a one-line log jam before the 22-story Shoei Hill climb.
Gary Jones (left) hangs out with Ozker Lopez on the starting line. Ozker's family owned the Moto Islo motorcycle company in Saltillo, Mexico. Moto Islo was where Gary Jones had his Ammex motorcycles manufactured.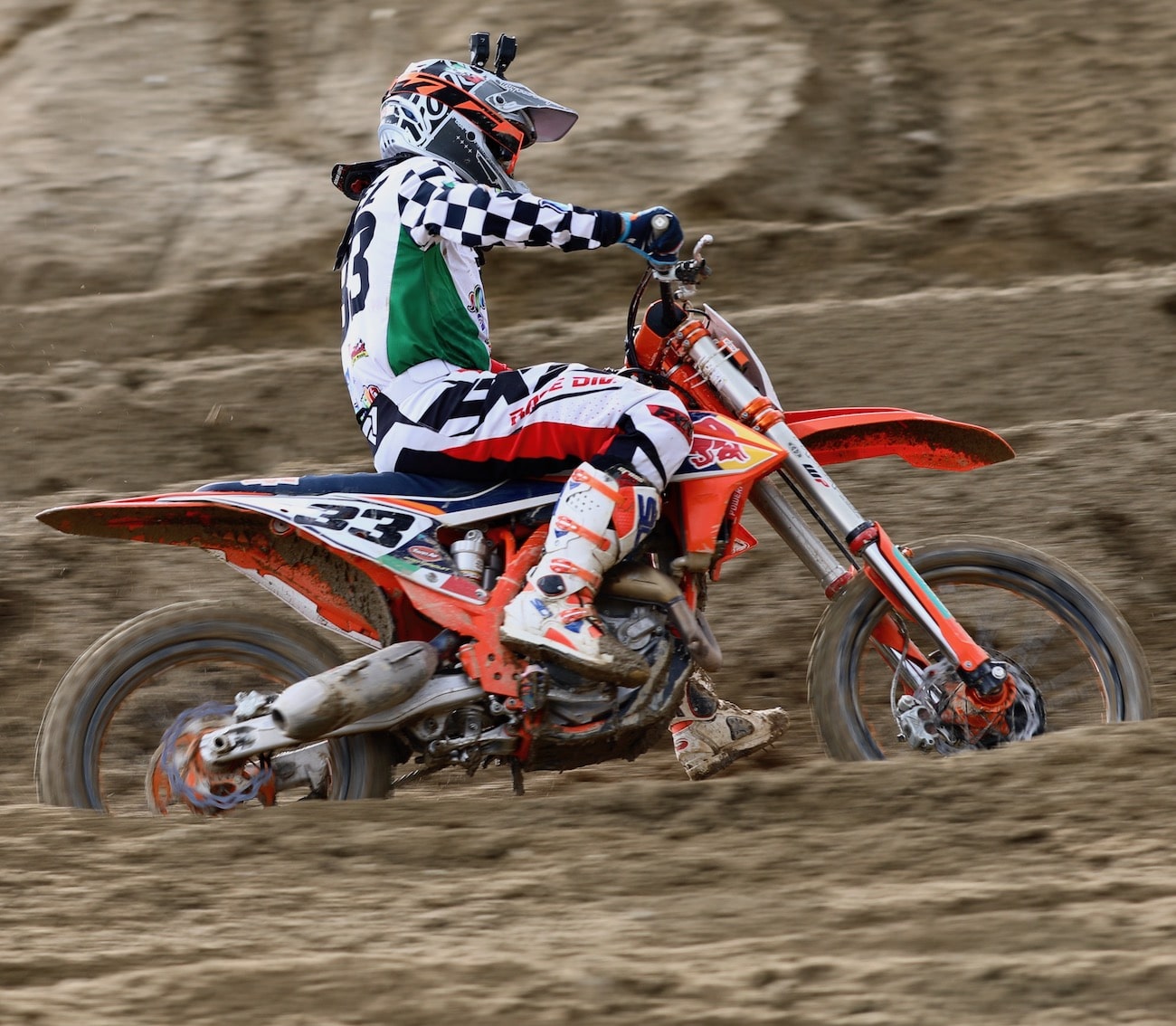 Ozker Lopez's muffler fell off of his KTM 450SXF.  Well, it didn't fall all the way off. Ozker raced the complete second moto with his muffler dragging through the berms.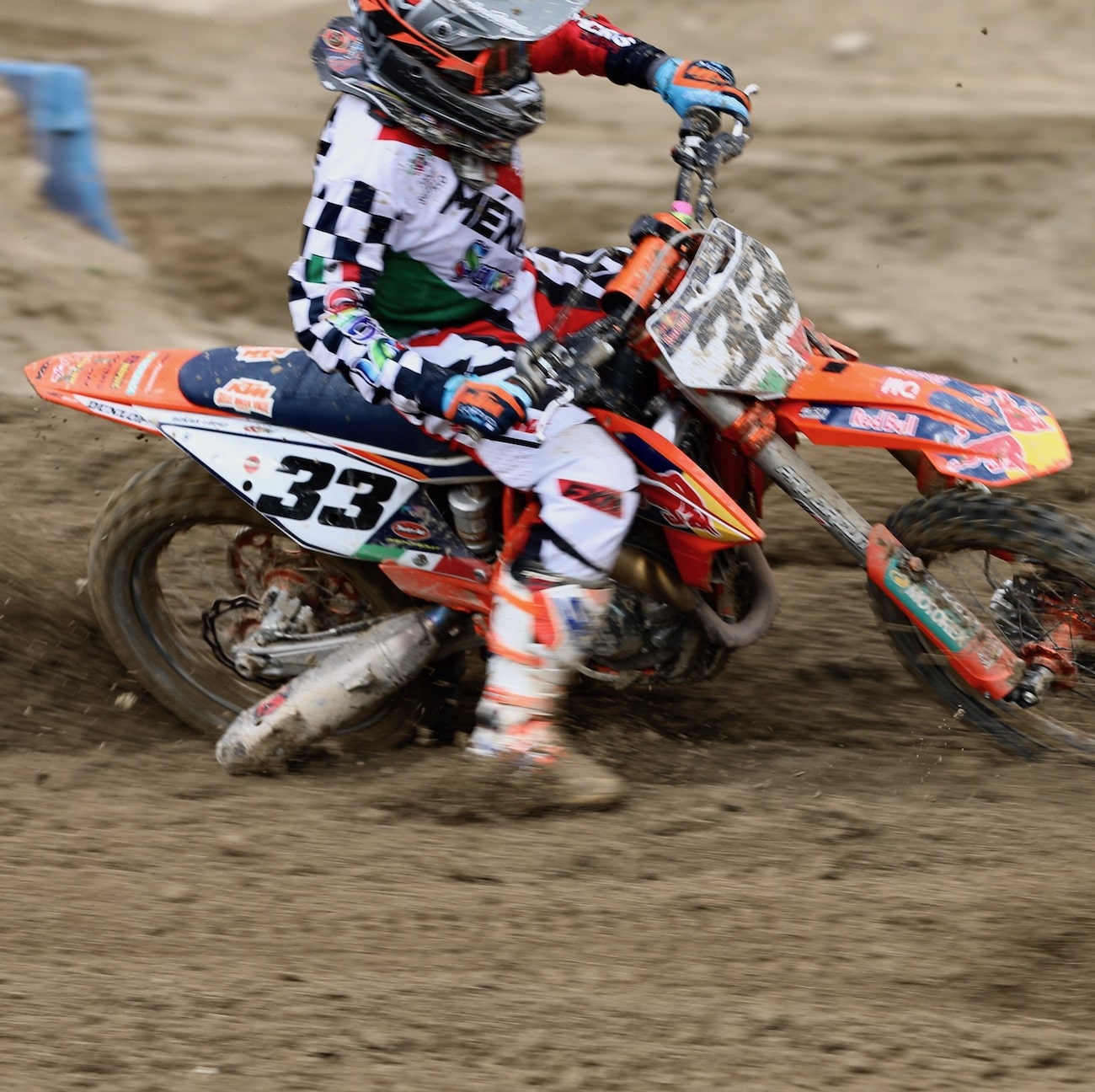 Amazing, it not only stayed on, but it was still working the whole time.
And the track was awesome…in practice and for the very first moto of the day. Then, the rains came. The important races on Saturday are the Over-40 Pro class, Over-50 Pro class, Over-30 Pasha 125 Pro race and the first moto of the World Vet Cup of Nations race.
The pandemic made it impossible for World Vet racers to make it from most European countries, Japan, Canada and Mexico because of two-week quarantines when they came home. But there were still lots of riders from abroad, including a complete Polish team that was based out of Chicago.
Sunday has always been the big day at the Dubya USA-sponsored World Vet because it hosts the Over-30 Pro race, which is for all intents and purposes is the actual "World Vet Championship" race. The Over-30 class is the one that holds the most prestige and pays the most money. Of course, the second moto of the World Cup Of Nations is also held on Sunday along with the Over-60 and Over-70 titles.
The rolling whoops varied with the constantly changing weather. Wet when it rained and dry when the sun shined. This photo was shot was during a rain storm.
HERE IS A QUICK PHOTO ESSAY AND THE RESULTS
FROM DAY ONE AT THE WORLD VET
Dennis Stapleton borrowed a 125 for the weekend and took home the trophy, the placque and a check for $1000.
Mike Alessi holeshot both motos, earning a $250 bonus from Pietronico Roofing Systems, but unfortunately he stuck his YZ150 so deep in this mucky berm in the first moto that it took three spectators to get him out of the way of oncoming traffic.

Jeff Alessi came out to race after a long lay-off from Glen Helen and scored a 6-6 day for fifth overall.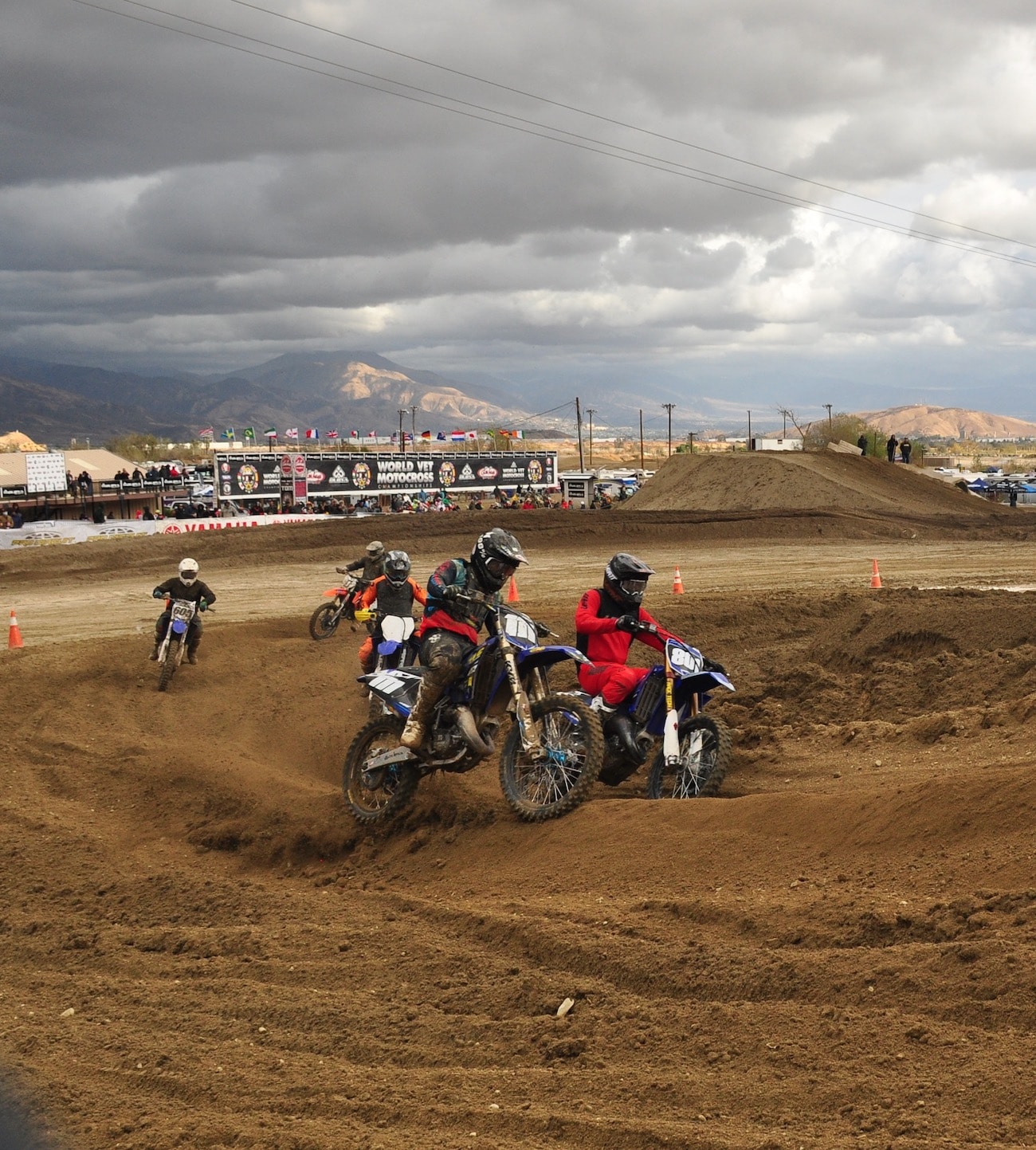 Jeff Alessi (801) got under Mike Sleeter (111) in the second corner of the second moto of the Pasha 125 Pro race and never let him back in. Photo: Mark Chilson
(From left to right) Shaun Hillion, Dennis Stapleton and Mike Alessi with benefactor Pasha Afshar. Pasha put up $4000 of his own money to support 125 two-strokes. Photo: Mark Chilson
WORLD VET RESULTS: OVER-30 PASHA 125 PRO
1. Dennis Stapleton (Hus)…2-2
2. Mike Alessi (Yam)…4-1
3. Mike Sleeter (Yam)…1-4
4. Shaun Hillion (Yam)…3-3
5. Jeff Alessi (Yam)…6-6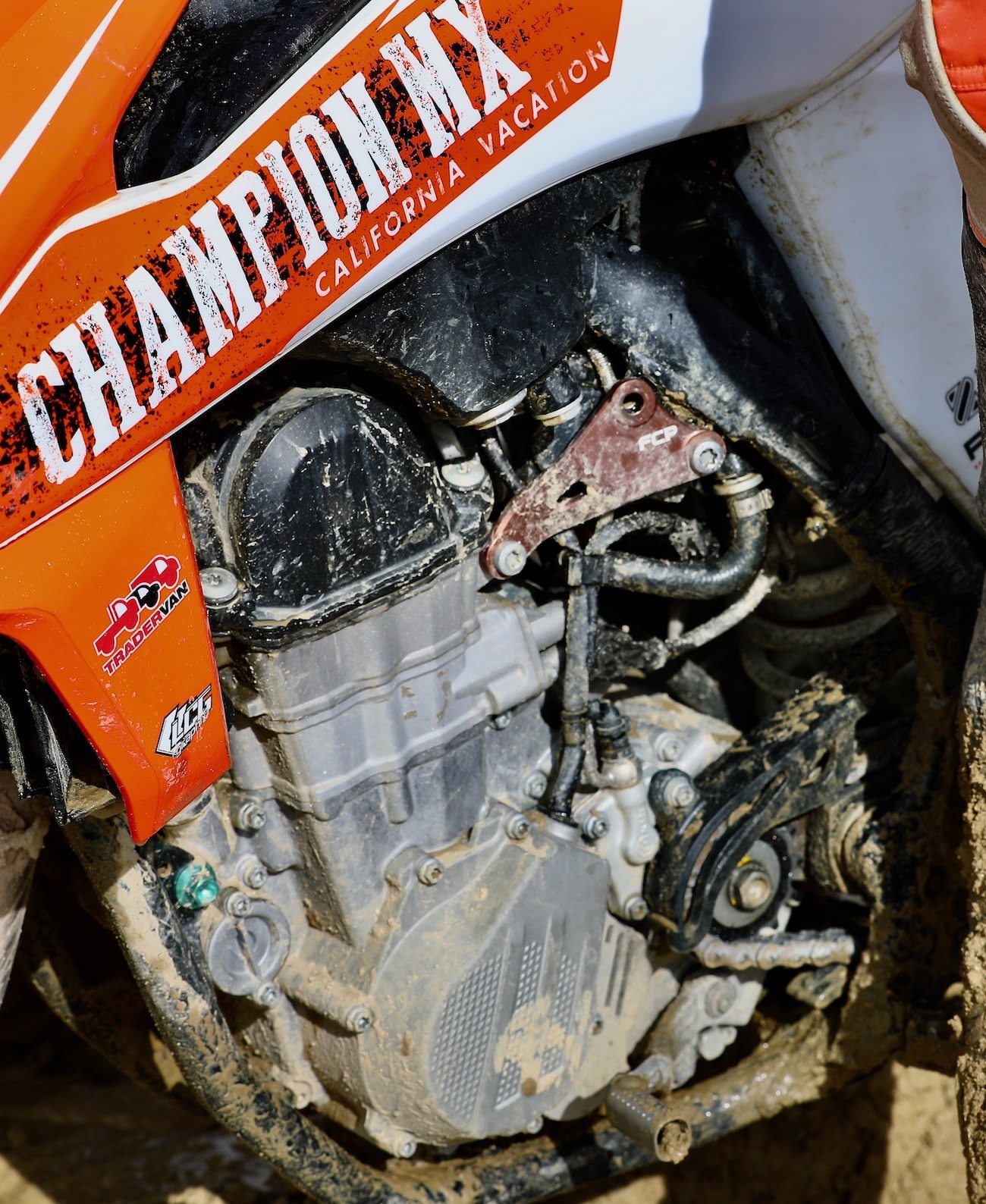 Kurt Nicoll averted trouble when someone noticed on the starting line that a head stay bolt was missing on his KTM. Luckily, Glen Helen chose that moment to grade some mud off the track and Kurt was able to get a new bolt in time.
Kurt Nicoll won his fourth Over-50 World Vet Championship to go with his 2015 Over-40 crown.
It wasn't as easy as it sounds for Kurt to go 1-1 in the Over-40 class. He had to eat some mud.
Arizona's Ed Foedish keeps his record for finishing on the podium, but never the top step with a second  place behind Kurt Nicoll in the Over-50 Pro race.
WORLD VET RESULTS: OVER-50 PRO
1. Kurt Nicoll (KTM)…1-1
2. Ed Foedish (Hus)…3-2
3. Roderick Tapia (Hus)…4-3
4. Phil Desimone (Yam)…6-4
5. Kevin Barda (KTM)…5-5
Mike Brown (3) is the favorite of the fans when and wherever he races.
Seeing is half the game.
Kris Keefer jumps through the rolling whoops during a dry spell.
WORLD VET RESULTS: OVER-40 PRO
1. Kris Keefer (Yam)…1-2
2. Mike Sleeter (Yam)…3-1
3. Mike Brown (Hus)…2-3
4. Mark Tilley (KTM)…4-4
5. Lee Walston (KTM)…6-5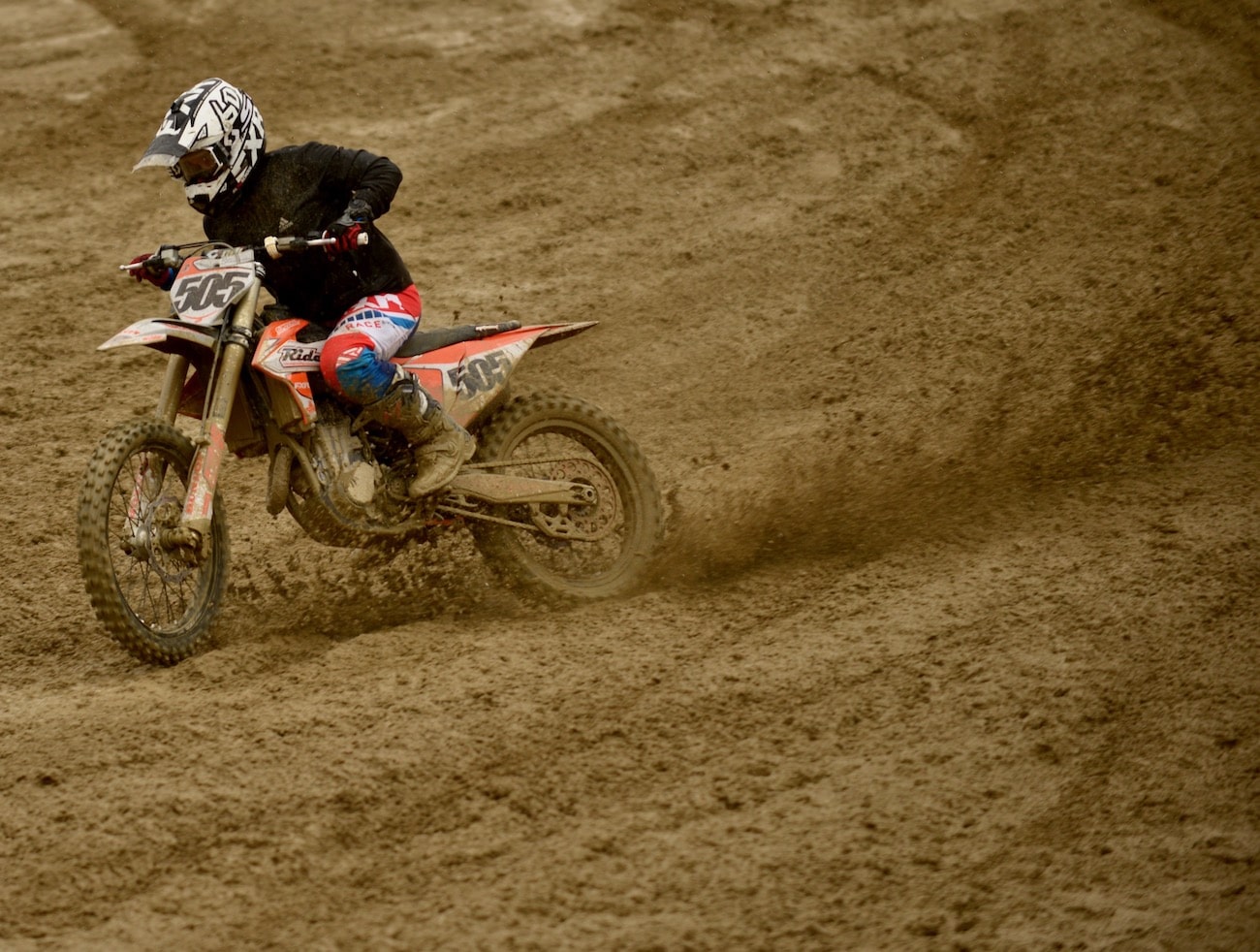 Born in Guam, Sean Lipanovich (505) won the Over-30 portion of the World Vet Cup of Nations, and with the help of fill-in riders Mike Brown and Doug Dubach, will take a commanding lead into Sunday's final moto for the island nation.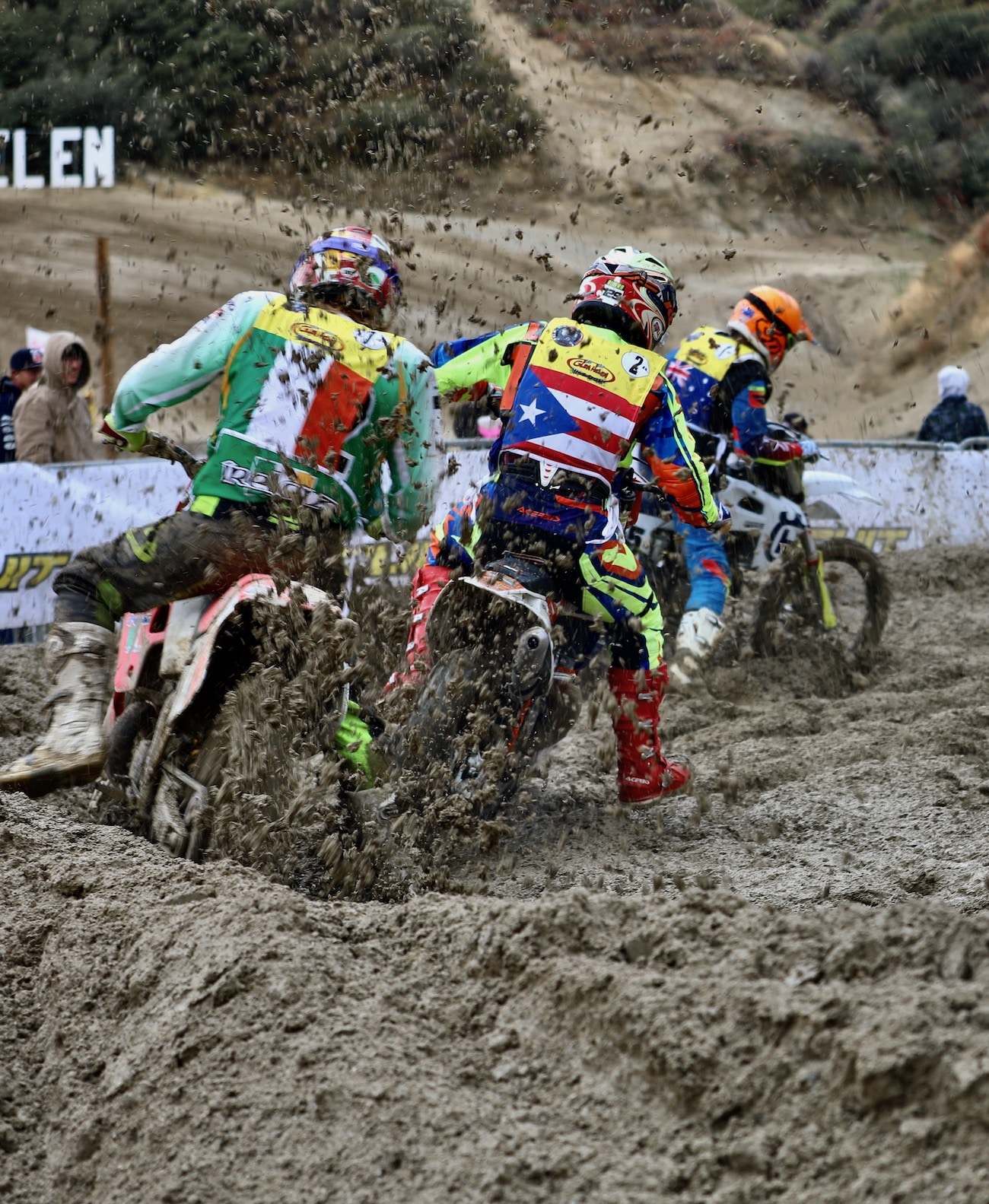 The war of the worlds is fought in the trenches. Here, Ireland's Rory O'Neill, Puerto Rico's Nick Luciano and Australia's Dan Alamangos fly their flags.
WORLD VET CUP OF NATIONS (SATURDAY MOTO)
1. Guam (S. Lipanovich, M. Brown, D. Dubach)…1-1-1 = 3
2. Puerto Rico #2 (L. Grana, N. Lucino, K. Barda)…5-5-3 = 13
3. Poland (K. Kuziora, K. Lubas, A. Kruk)…4-7-2 = 13
4. Australia (A. Hopson, D. Feeney, D. Alamagos )…7-4-2 = 16
5. The Netherlands (J. Perry, R. Schmidt, M. Smith)…8-3-6 =17
6. USA #3 (D. Desimone, V. Tarantino, R. Kuhry…10-4-4 =18
7. Ireland (D. O'Connor, R. O'Neill, D. Feeney)…6-6-10 = 19
8. USA #1 (T. Hampton, D. Aldridge, M. Ward)…2-8-9 = 19
9. USA #2 (H. Hayes, L. Walston, I. Dejager)…9-2-10 = 21
10. Puerto ##1 (K. Hernandez, B. Hooker, D. Rowedder)…7-10-10 = 27