2020 DUBYA USA WORLD VET CHAMPIONSHIP: MIKE ALESSI DOES IT AGAIN (UPDATED)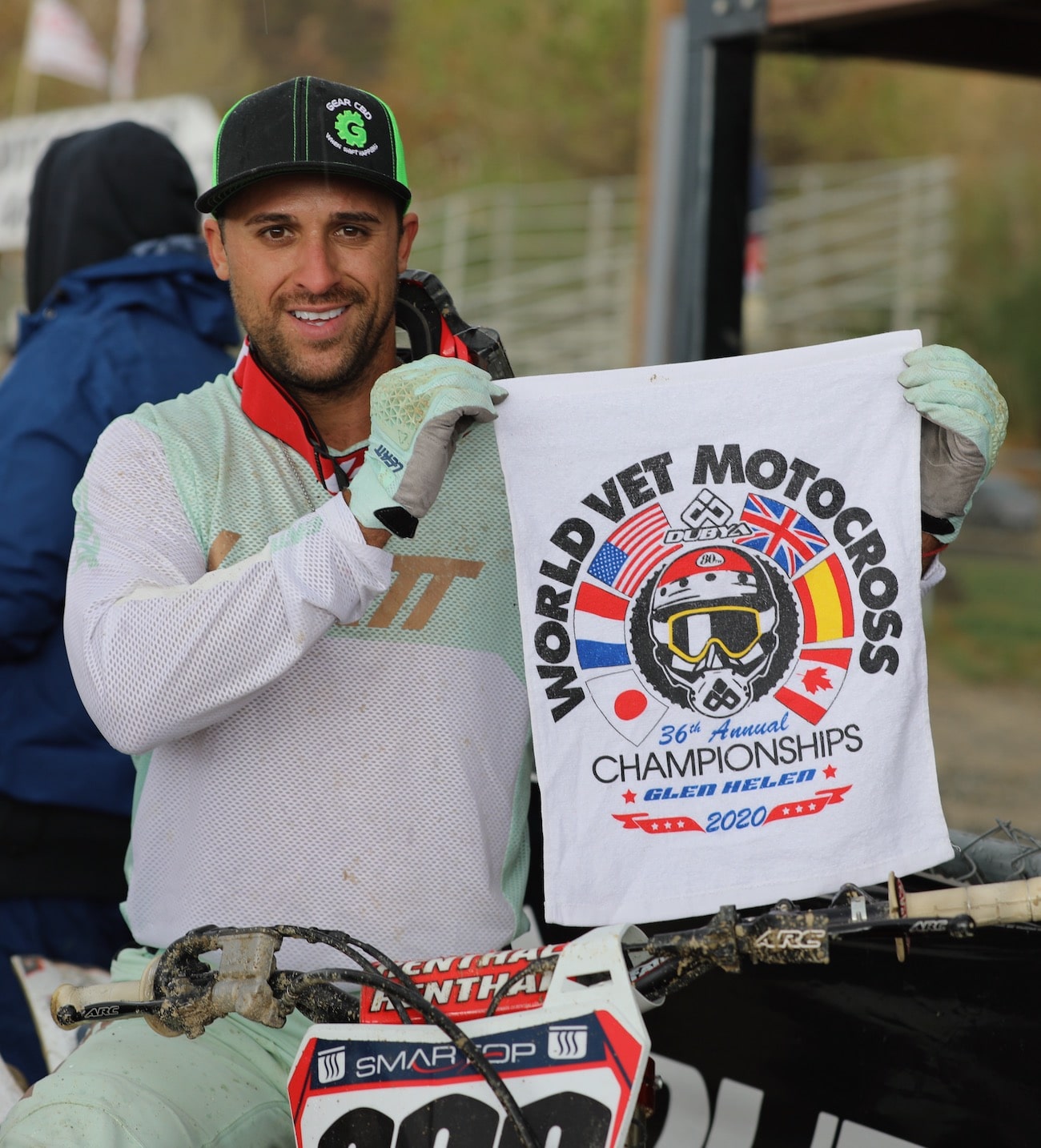 Mike Alessi has had a very good month, winning the World Two-Stroke Championship and the World Vet Motocross Championship, has put about $40,000 in his pocket thanks to a creative bonus plan and some fast riding.
PHOTOS BY JODY WEISEL, DAN ALAMANGOS, RICH STUELKE, KYOSHI BECKER & MARK CHILSON
A month ago Mike Alessi showed up at the 2020 World Two-Stroke Championship and won the Open class. But, that is only half of the story. Mike won the Open Pro class which paid $2700 to the winner. He also won the Pasha 125 Over-30 Pro class and pocketed another $1000 dollars. And, Mike was smart enough to included the World Two-Stroke Championship, which he won for the first time back in 2016, into his bonus packages. Most of his sponsors agreed to pay him handsome bonuses if he won—and the kicker was that ESR Racing offered to pay a $20,000 bonus to any Pro rider who won the World Two-Stroke Championship on an ESR Racing YZ325 kitted bike Mike not only got the $20,000 bonus, but he even earned a piece of the $2000 in holeshot bonuses. All in all, Mike went home from the World Two-Stroke race with $30,000 in purse, holeshot and bonus money.
Mike Alessi was, as expected, the holeshot king of the World Vet.    
North Carolina's Lee Walston (297) adapted to Glen Helen very well, winning the Over-45 Expert class, finishing fifth in the Over-40 Pro class and going 2-2 in the World Vet Cup of Nations Over-40 division for Team USA.
So it was no surprise that Mike showed up at Glen Helen a month later for the 2020 Dubya USA sponsored World Vet Motocross Championships. Although not officially retired from racing, Mike has no nterest in the AMA Nationals or the Supercross series. He wants to race for fun…and make money at the same time. A World Vet victory in the prestigious Over-30 class would pay a couple thousand dollars, and there was the additional draw of a Pasha 125 Pro race (for riders over 30 years old) and Mike planned to win that on his way to a big payday.
Dennis Stapleton started the weekend out by winning the Pasha 125 Pro two-stroke race and came back on Sunday to make the top ten in the Over-30 Pro race.
Unfortunately for Mike, he didn't win the Pasha Over-30 125 Pro race, instead he had a bad moto in the mud and ended up second overall behind MXA's Dennis Stapleton. However, Mike made $600 in purse money for second place, $250 in holeshot money and a $300 bonus for a total of $1150, which was $150 dollars more than Pasha 125 Pro winner Dennis Stapleton made for winning.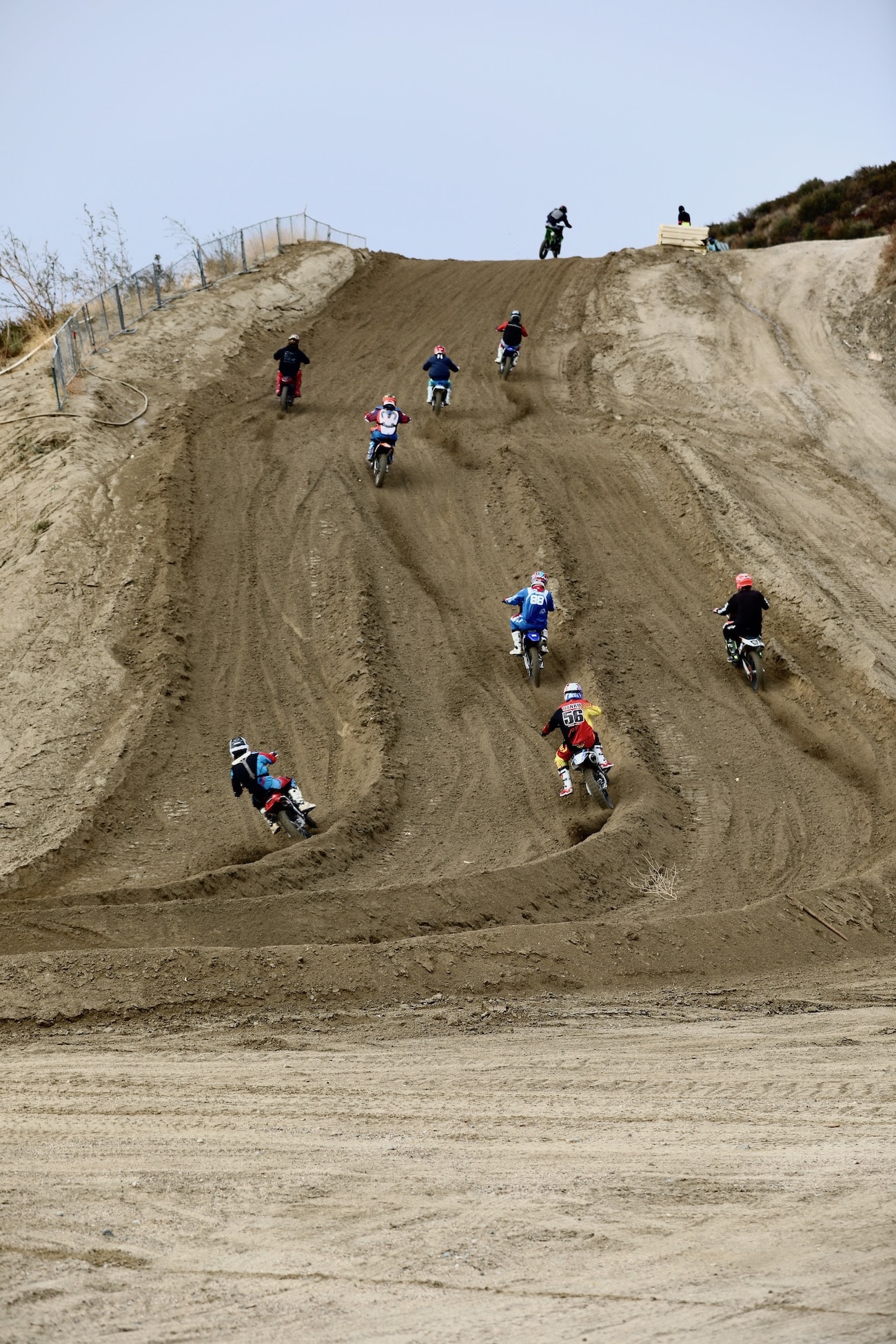 Glen Helen's creative three-lane second turn made it possible for a big pack of racers to come out of the Talladega first turn and have a choice of which line to take up the first big hill. Unfortunately, the first big rain storm saw rain run down the hill and turn the split lanes into a Jet Ski track. No problem, Glen Helen moved the corner farther down the hill where it was dry.
Mike was back on the starting line the next day for Over-30 class. Although there are World Vet Championships for riders Over-30, Over-40, Over-50, Over-60 and Over-70—only the Over-30, Over-40 and Over-50 Pro classes pay purse money…with the Over-30 class getting the lions share of the payout. There was little drama involved in Mike's first-ever World Vet Motocross Championship. He holeshot both motos, opened up big leads on lap one and mastered the muddy conditions easily to win both motos in front of a top ten of Dominic Desimone, Sean Lipanovich, Arik Swan, Mike Brown, Jeff Loop, Dennis Stapleton, Michael Carter, Jetti Pifer and Bryce Huffman.
Mike Brown was third in Saturday's Over-40 Pro race, fifth in Sunday's Over-30 Pro race and went 1-1 to win the Over-40 division of the World Cup of Nations.
When the rains came, the riders who wanted to win went all-in. Here, Dominic Desimone (565) and Mike Brown (3) appear to be on a collision course in the second moto of the Over-30 Pro race. Desimone would finish second overall behind Mike Alessi.
Equally dominant, with strong 1-1 days were Over-50 World Champion Kurt Nicoll, who won the big Five-Oh crown for the fourth time ever, while Pete Murray did the same thing the Over-60 World Championship and Ike DeJager went 1-1 in the Over-70 World Championship. Nicoll, Murray and DeJager aren't surprise winners. All three have shown determination and perseverance in the past. Nicoll, a four-time runner-up in the FIM 500 World Championships, took his first Vet World Championship crown in the Over-40 class back in 2015 and then took the Over-50 title in 2016, 2018, 2019 and 2020.
Kurt Nicoll won his fourth Over-50 World Vet Championship and the Pasha 125 Over-50 two-stroke race. The $1000 125 prize will help defray the cost of cleaning his bike and gear.
You gotta love these three-sided aluminum signs that are decorated with different messages on each side. That is Andy Jefferson on his Pro Circuit Husqvarna in the art from the event T-shirt. Andy was the 2002 Over-40 Vet World Champion.
Newly crowned Over-60 World Champ Pete Murray's run of victories had much greater spacing than Kurt's. Pete won his first title 20 years ago, when he won the 2000 Over-40 World Championship, he lost it to Jeff Ward in 2001, Andy Jefferson in 2002 and Doug Dubach in 2003-2007 and again to Doug in 2009-2011. Then 12 years after his first World Vet crown, he won the Over-50 World Championship in 2012 (he knew that Doug Dubach would turn 50 in 2013, so 2012 was his do-or-die year). When Pete turned 60 in 2019, he won his third World Championship and backed it up with what would be his fourth World Crown this year—a 20 year span from first win to latest win.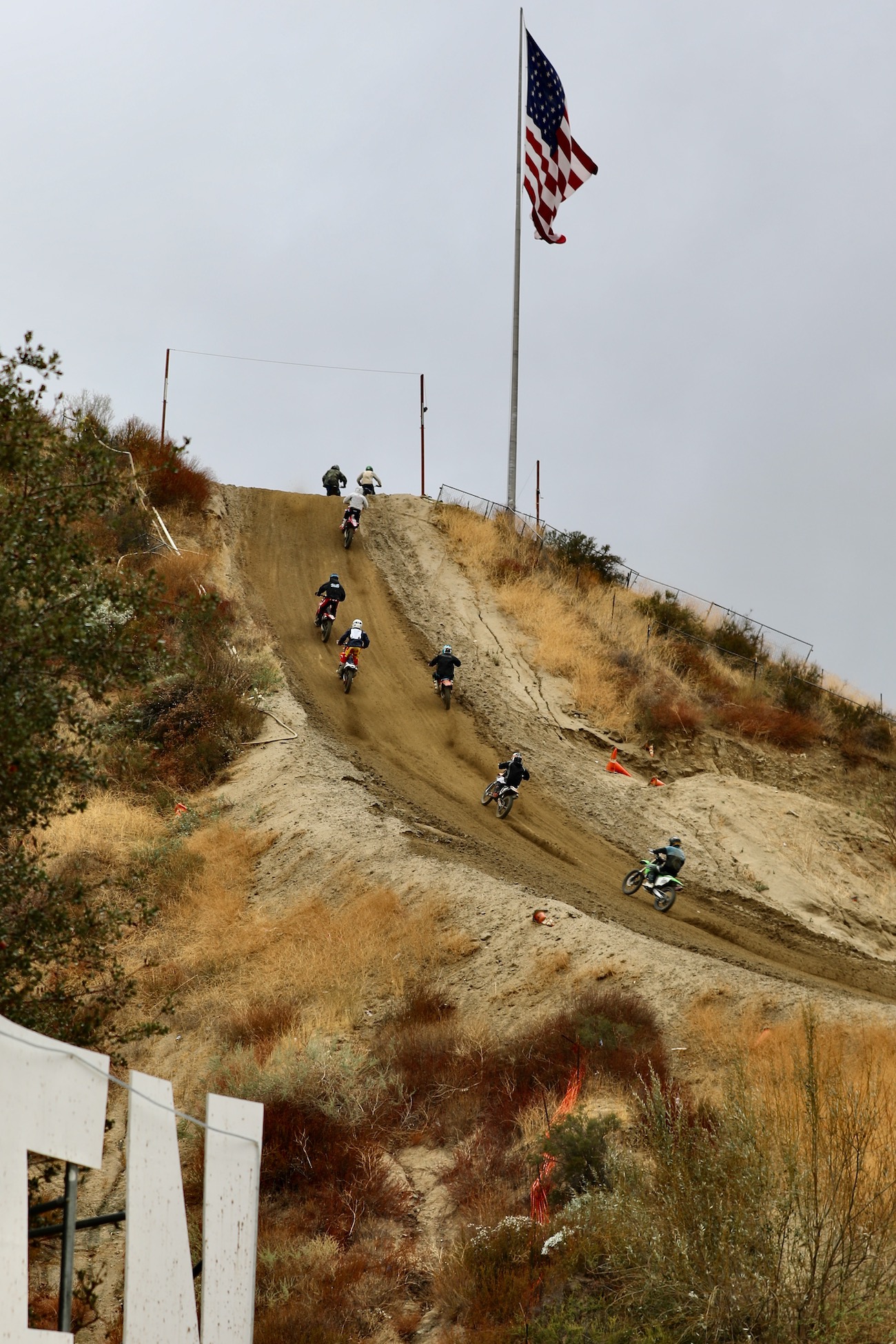 This is a view of a hill that no fans ever see, unless they are on a bike. It is the second half of the Shoei Hill complex and is really steep in the last 60 feet of its 220-foot height. This photo was shot from the top of the Talladega first turn (next to the Glen Helen sign)
Ike DeJager had a lot in common with former Over-40, Over-50 and Over-60 World Champion Pete Murray, in that they both had to wait years to repeat their initial World Vet success. DeJager won the Over-50 World Vet Championship in 2001, just one year after Pete Murray won his first Over-40-title. It wasn't until 2019 that Ike took the Over-70 title. Ike returned in 2020 to become a two-time Champ. The Over-70 Championship was added to the World Vet program for the first time in 2001.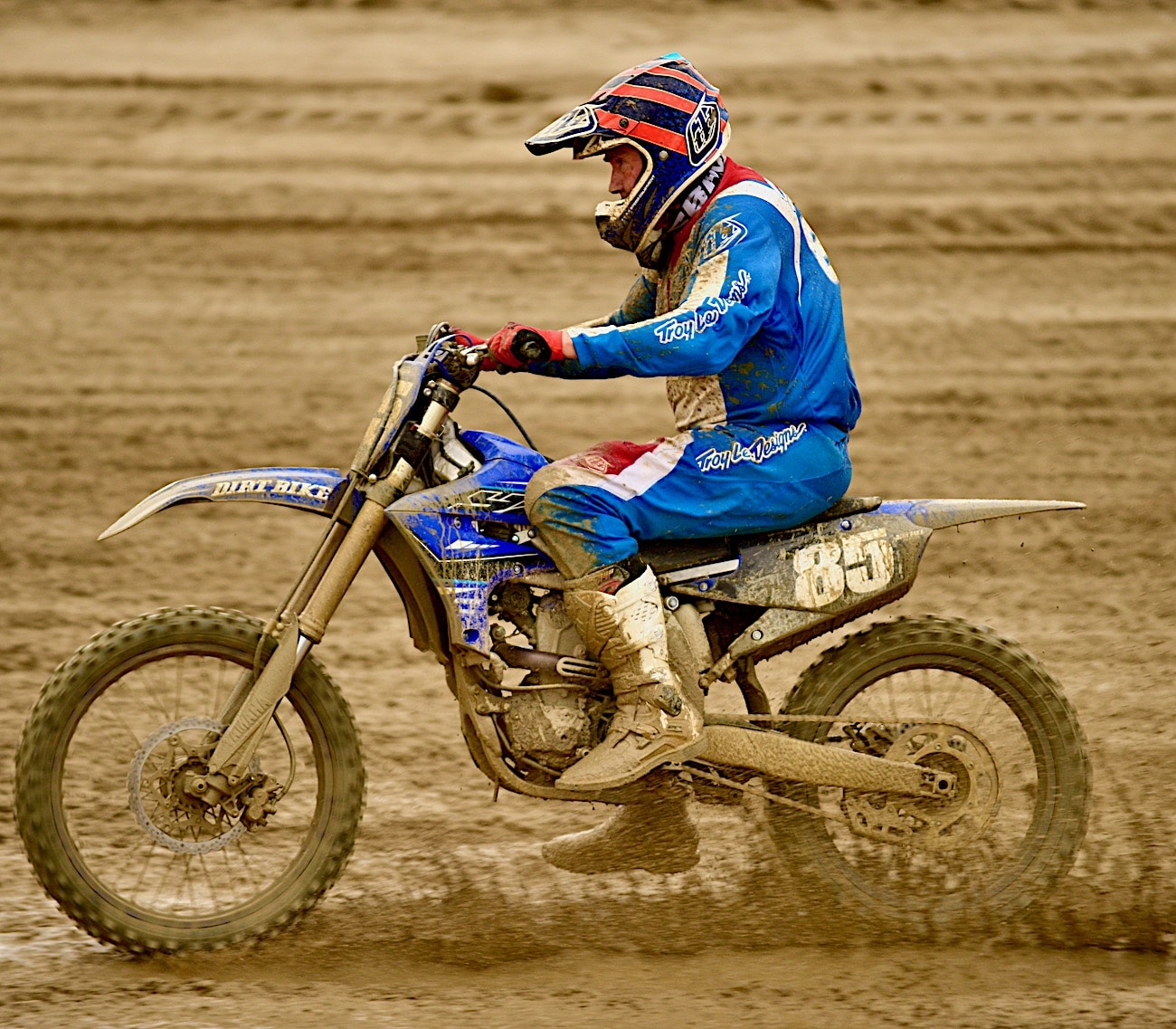 Gary Jones, who was a four-time 250 National Champion, and is also the only rider to have won World Vet titles in the Over-30, Over-40, Over-50 and Over-60 classes—eight in all.  He will be 70 in 2023.
Over its first 19 years, the Over-70 title has been won by 13 different riders, but only four of those 13 have ever won it more than once. Feets Minert was the first over-70 Champion and he did the deed in 2001 and again when he was close to 80 years old in 2010. Canadian Zoli Berenyi, Sr. won the 70 crown for five consecutive years (2002-2006). Zoli also won the Over-50 Championship twice and the Over-60 title four-times. Lars Larsson won the Over-70 title twice (2011-2012) and had won the Over-60 crown once (2001). Gary Chase won the 70s in 2014 and 2018 to go with the Over-60 title he won in 2012. Ike DeJager joins the multi-time champ list with wins in the Over-70 class in 2019-2020 and in the Over-50 class in 2001. These are remarkable men.

Neither rain, nor snow nor mud on your goggles can stop a determined racer.
Other remarkable men were the 400 riders who braved two days of persistent rain showers that took the Glen Helen race track from perfect or sloppy, from pleasant to cold and from sunny to gray in the blink of an eye. Glen Helen's John Allen worked late into the night on the Friday night before opening day to make the track a thing of beauty only to watch as wave after wave of showers melted it.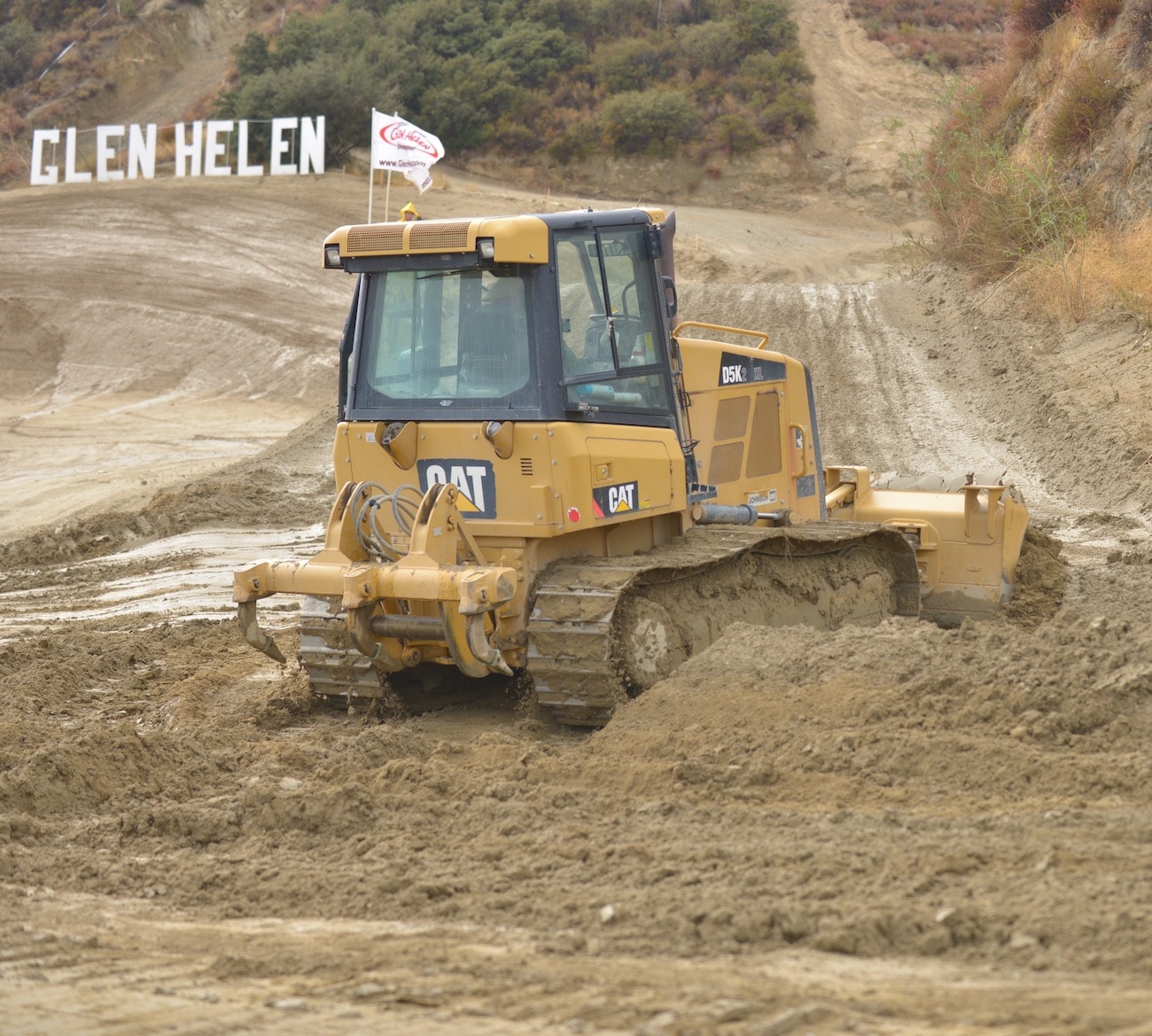 This is the vehicle that kept the race alive during its darkest moments. Both days of racing saw intermittant sun and rain. John Allen's Cat work did an amazing job of keeping everything moving forwards.
Then John worked Saturday night and early Sunday morning to turn what was a disaster zone back into a raceable configuration. The track workers and flag men didn't have the benefit of going back to their vans or trailers to wait for their next moto. They roughed it in the elements.
With a world-wide quarantine and lock-down rules in place, only the hardiest of riders were able to make the trip. In the case of Rory O'Neill (111) and his CR500, he was already in the US working for Bridgestone tires in Indiana.
The 2020 Dubya World Vet Championship was affected by the coronavirus pandemic as riders from France, Spain Germany, England, Holland, Japan, Mexico, Canada and the far corners of the world faced 14-day quarantines when they got home from the World Vet. The international turnout was reduced, but, amazingly, riders from all across the USA came to take their places. The numbers of states represented was impressive—many from places that didn't think that 50 -degree weather and a few showers were all that different than back home.
Before the rains came, the Glen Helen track was in amazing shape as this serpentine climb shows. Glen Helen's track crew worked over-time to keep the track close to its original layout as possible.
Kris Keefer won the Over-40 Pro class with a 1-2.

This a pretty clear indication that something bad is brewing on the horizon. The fact that there isn't a horizon is also a clear sign. Photo: Mark Chilson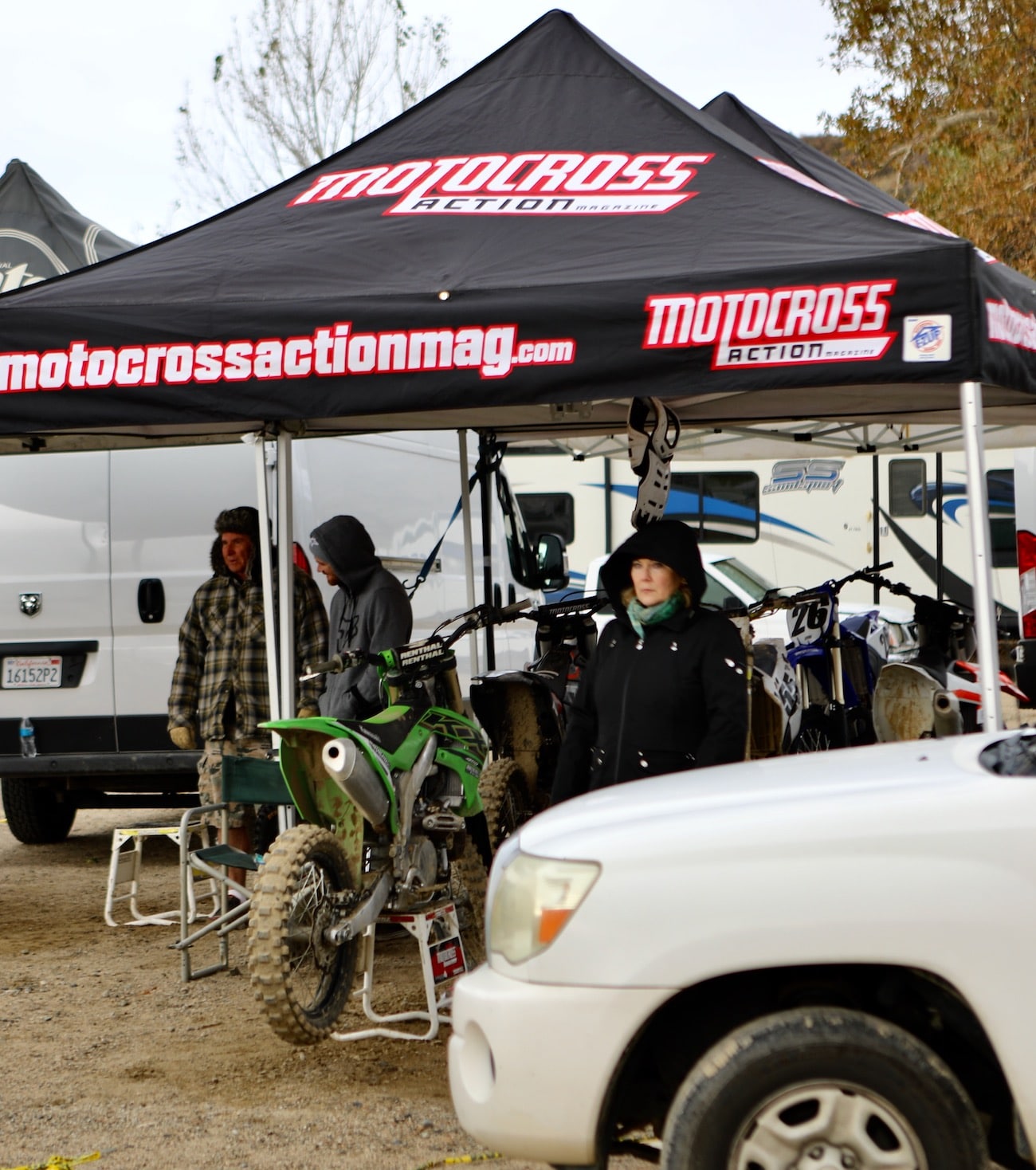 The MXA team huddled under four awnings, bundled up in winter gear and tried to keep their goggles clean.
2020 WORLD VET MOTOCROSS CHAMPIONSHIP RESULTS
WORLD VET RESULTS: OVER-30 PRO
1. Mike Alessi (Hon)…1-1
2. Dominic Desimone (Hon)…3-1
3. Sean Lipanovich (KTM)…2-3
4. Arik Swan (Kaw)……4-4
5. Mike Brown (Hus)…5-5
WORLD VET RESULTS: OVER-40 PRO
1. Kris Keefer (Yam)…1-2
2. Mike Sleeter (Yam)…3-1
3. Mike Brown (Hus)…2-3
4. Mark Tilley (KTM)…4-4
5. Lee Walston (KTM)…6-5
WORLD VET RESULTS: OVER-50 PRO
1. Kurt Nicoll (KTM)…1-1
2. Ed Foedish (Hus)…3-2
3. Roderick Tapia (Hus)…4-3
4. Phil Desimone (Yam)…6-4
5. Kevin Barda (KTM)…5-5
WORLD VET RESULTS: OVER-60 EXPERT
1. Pete Murray (Yam)…1-1
2. Robert Reisinger (Hus)…2-3
3. Bryan Schritter (Kaw)…4-2
4. Will Harper (Hus)…3-4
5. David Fontes (Hon)…5-5
WORLD VET RESULTS: OVER-70 EXPERT
1. Ike DeJager (Yam)…1-1
2. T.V. Holmes (KTM)…3-2
3. Jim O'Neal (Yam)…2-3
4. Ron Dugan (KTM)…4-4
5. Bart Kellogg (KTM)…5-5
WORLD VET RESULTS: OVER-30 PASHA 125 PRO
1. Dennis Stapleton (Hus)…2-2
2. Mike Alessi (Yam)…4-1
3. Mike Sleeter (Yam)…1-4
4. Shaun Hillion (Yam)…3-3
5. Jeff Alessi (Yam)…6-6
WORLD VET RESULTS: OVER-50 PASHA 125 PRO
1. Kurt Nicoll (KTM)…1-1
2. Pete Murray (Yam)…2-2
3. Kevin Barda (Yam)…3-3
4. Robert Reisinger (Yam)…5-4
5. Dave Cincotta (TM)…6-6
WORLD VET CHAMPIONSHIP CUP OF NATIONS
The top three teams in the 2020 World Vet Cup of Nations crowd onto the  podium in one of the brief moments of sunshine. They were Team Guam (center), Team Puerto Rico (left) and Team Poland (right).
The World Cup of Nations is usually manned by three-man teams of Vet riders from each country. Last year there were 21 teams in the event, but this year, with the pandemic presenting travel issues, there were only 12 teams and the requirement of having three riders from Spain or England or Mexico or any other country was modified to insure that the race could continue. The rules were changed, for this year only, to allow a Team Captain, who held a passport from his home country, to select a team from available Vet riders.
For the day, the fill-in riders would be honorary citizens of Holland, Puerto Rico, Poland, Australia or the other nations. Sometimes it worked out that three racers from a given country were already in the USA, as with Team Poland, Team Australia and Team Ireland.  But most of the time, the Team Captain selected two of his friends, racing buddies or,  in the case of Team Guam, two of the fastest World Vet Champions of all time. Check the results for your favorite country.
David O'Connor (30) formed a team of Irish riders that included  Zach Osborne's mechanic Dave Feeney and Bridgetone's Rory O'Neill. They tied for fifth with Holland, but ended up sixth based on the best moto score tie-breaker.
Sean Lipanovich (center), who was born in Guam, couldn't find any other Guamanians to help him win the World Cup, so he drafted a couple untested kids by the names of Mike Brown and Doug Dubach to fill out the required team of one 30 year old, one 40 year old and one 50 year old.
WORLD VET CUP OF NATIONS FINAL STANDINGS
1. Guam (S. Lipanovich, M. Brown, D. Dubach)…1-2-1-1-1-1 = 7
2. Puerto Rico #2 (L. Grana, N. Lucino, K. Barda)…5-5-5-6-3-3= 27
3. Poland (K. Kuziora, K. Lubas, A. Kruk)…4-8-7-5-2-2 = 28
4. Australia (A Hopson, D. Feeney, D. Alamanagos )…3-3-8-9-5-5 = 33
5. Holland (J. Perry, R. Schmidt, M. Smith)…8-7-3-4-6-8 = 36
6. Ireland (D. O'Connor, R. O'Neill, S. Lawler)…6-4-6-7-7-6 = 36
7. USA #1 (T. Hampton, D. Aldridge, M. Ward)…2-3-8-8-9-7 = 37
8. USA #2 (H. Hayes, L. Walston, I. DeJager)…9-10-2-2-10-9 = 42
9. USA #3 (D. Desimone, V. Tarantino, R. Kuhry…(only five scores)
10. Puerto #1 (K. Hernandez, B. Hooker, D. Rowedder)…7-9-D-D-D-D = (only two scores)
REX STATEN RECEIVES THE EDISON DYE LIFETIME ACHIEVEMENT AWARD
Rex was so moved by the honor and the applause of the crowd that tears welled up in his eyes. It nice to see one of the sport's toughest men display emotion.
During a break in action on Sunday, while the track crew tried to fix some of the tracks roughest downhills, Rex Staten was given the Edison Dye Lifetime Achievement Award and presented with a trophy and marble placque that will be placed pemanently into the Walk of Fame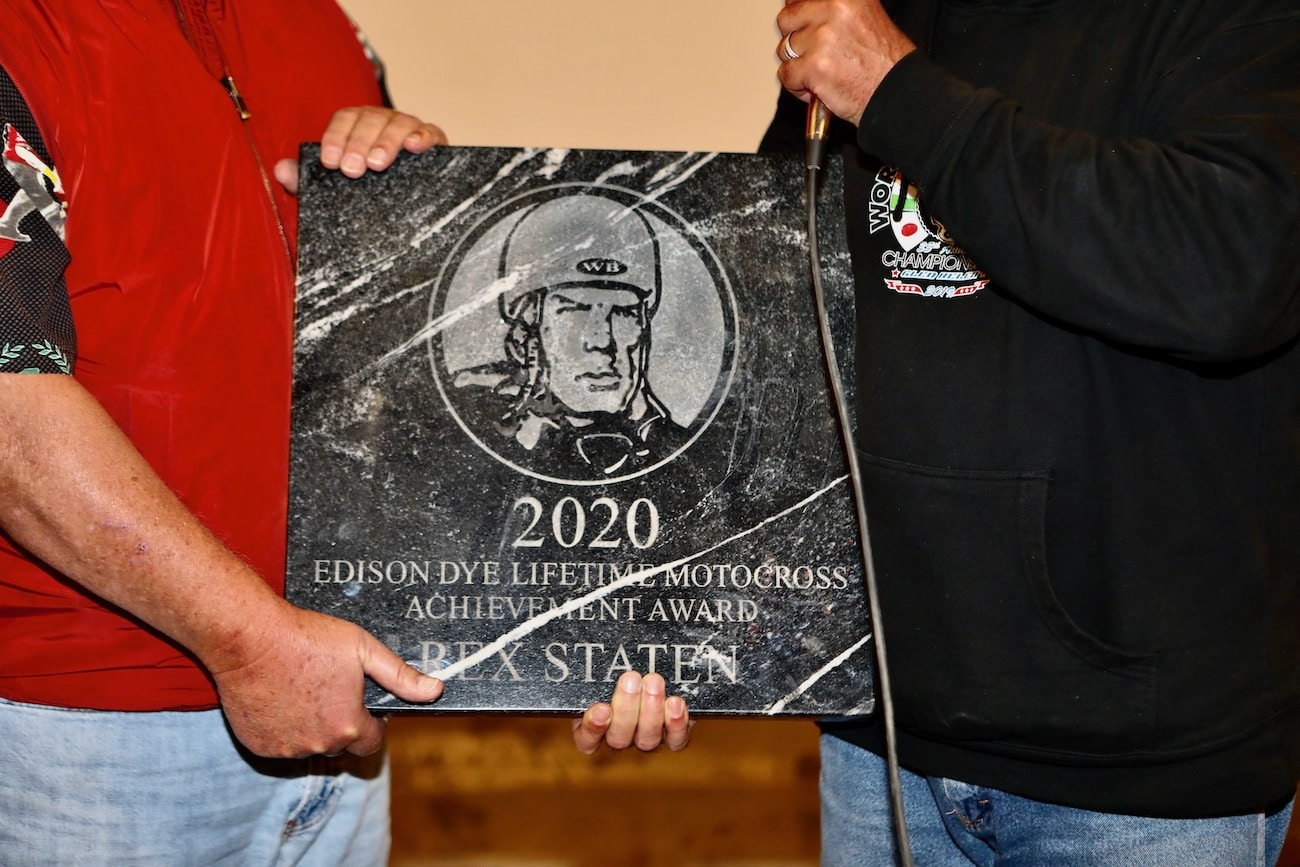 The marble placque will be put into the Walk of Fame at Glen Helen Raceway. It will join the 23 others that have be awarded since 1997.
Rex is the 24th person to be honor for their contributions of the sport of motocross. The assembled crowd watched a video on Rex's life and achievements.  Rex, overcome with emotion, made valiant attempt to thank the crowd.
EDISON DYE LIFETIME ACHIEVEMENT AWARD WINNERS (1997-2020)
1997 …Roger DeCoster
1998 …Rick Johnson
1999 …Edison Dye
2000 …Torsten Hallman
2001 …Bruce Brown
2002 …1981 MX Des Nations Team:
(Chuck Sun, Danny LaPorte, Johnny O'Mara, Donnie Hansen)
2003 …Gary Jones
2004 …Jeff Ward
2005 …Stu Peters
2006 …Joel Robert
2007 …Bob Hannah
2008 …Brad Lackey
2009 …Tony DiStefano
2010 …Broc Glover
2011 …David Bailey
2012 …Marty Smith
2013 …John DeSoto
2014 …Feets Minert
2015 …Dave McCoy
2016 …Lars Larsson
2017 …Malcolm Smith
2018 …Jody Weisel
2019 …Mitch Payton
2020 …Rex Staten