2020 GP OF TRENTINO: JAGO GEERTS WINS IN SCENIC TRENTINO, BUT VIALLE STILL HAS A 73-POINT LEAD
Jago Geerts will look back on the 2020 season and know that his title hopes were damaged at the three races in Lommel.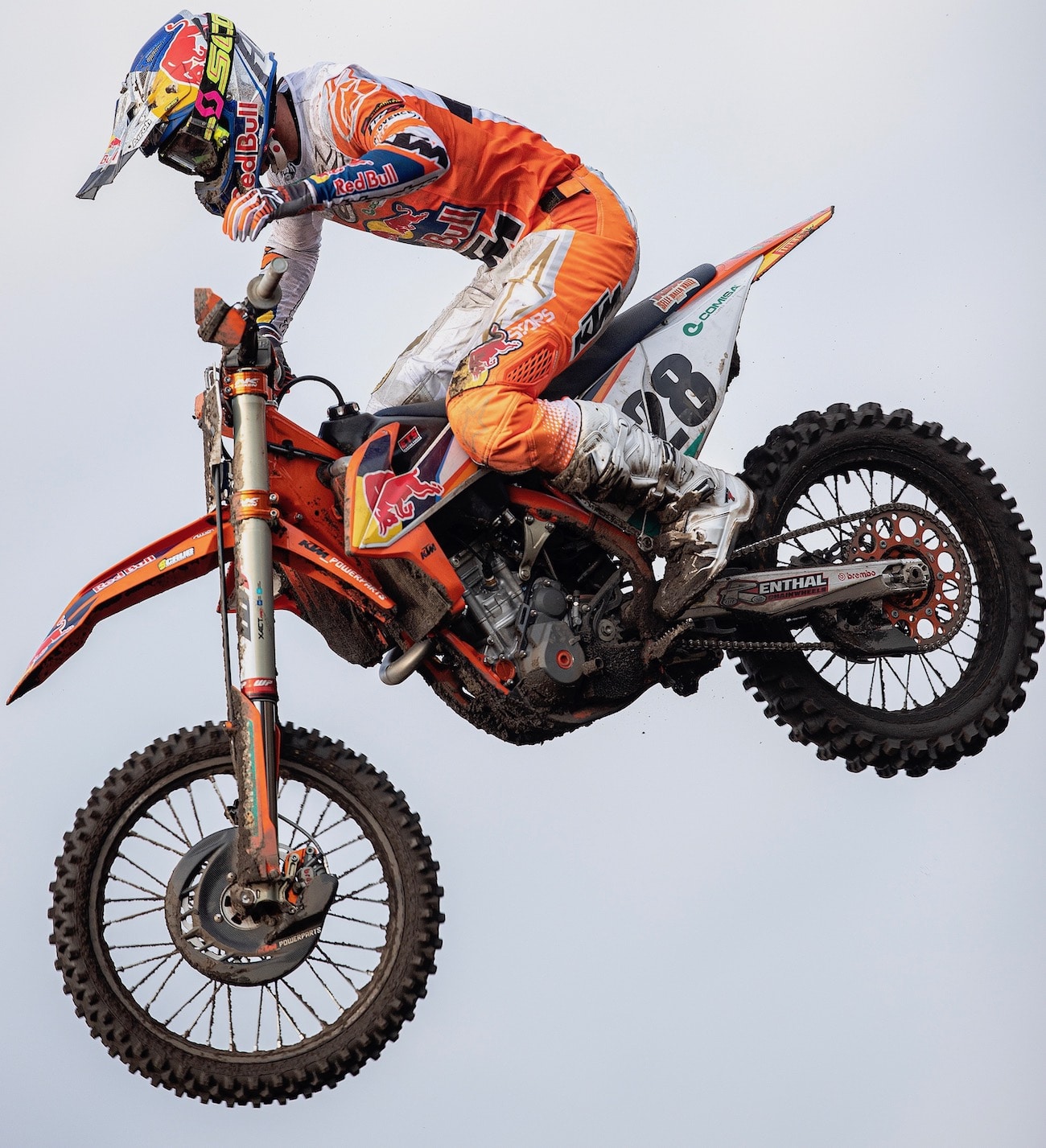 Tom Vialle can secure the 2020 World Championship on Wednesday at round 17 of 18.
Jago Geerts (4-1) won the first of three rounds to be held at the Arco di Trentino, but only squeaked back a single point in the title chase with KTM's Tom Vialle, who went 2-3. The significance of only being 73 points behind Tom is that if the Frenchman hadn't fallen while leading he second moto, he would have had a 75-point lead. A 75-point lead means that Vialle would have had a three moto lead with only four motos to go in the series. It gives Geerts the slimmest of slim chances in the title chase. But, in reality, Tom Vialle has the 2020 FIM 250 World Motocross Championship in the bag and should clinch at Wednesday's penultimate round.
Jed Beaton holds down fourth in the 250 standings by one point.
There were several signs of future talent on display at Trentino. First, Thibault Benistant moved up from the EMX series last week and this week he finished second in a moto. His 15-2 was good enough for sixth. Second, GasGas' Isak Gifting continues to record top ten finishes, and he too had a second place in a moto last week in Lommel. Gifting went 7-7 for seventh. Meanwhile, Thomas Kjer Olsen and Jed Beaton are engaged in a Husqvarna-only duel for fourth in the 250 World Championships. They are one point apart (489 to 488) in favor of Beaton.
The Arco di Trento track is in a beautiful location.
2020 GP OF TRENTINO 250 OVERALL RESULTS
1. Jago Geerts (Yam)…4-1
2. Thomas Kjer Olsen (Hus)…1-4
3. Tom Vialle (KTM)…2-3
4. Jed Beaton (Hus)…3-9
5. Maxime Renaux (Yam)…8-5
6. Thibault Benistant (Yam)…15-2
7. Isak Gifting (Gas)…7-7
8. Ben Watson (Yam)…10-6
9. Roan Van Moosdijk (Kaw)…9-8
10. Ruben Fernandez (Yam)…5-12
Other notables: 11. Conrad Mewse (KTM); 12. Michael Sandner (Gas); 13. Kevin Horgmo (KTM); 14. Morgan Lesiardo (Hon); 15. Bas Vaessen (KTM); 19. Stephen Rubini (Hon); 20. Alvin Ostlund (Hon).
2020 FIM 250 GP POINTS STANDINGS
(After 16 of 18 rounds)
1. Tom Vialle (KTM)…693
2. Jago Geerts (Yam)…620
3. Maxime Renaux (Yam)…505
4. Thomas Kjer Olsen (Hus)…489
5. Jed Beaton (Hus)…489
6. Ben Watson (Yam)…466
7. Roan Van De Moosdijk (Kaw)…442
8. Conrad Mewse (KTM)…327
9. Ruben Fernandez (Yam)…304
10. Stephen Rubini (Hon)…235