FIRST LOOK! 2020 HONDA CRF450 & CRF250
2020 Honda CRF450
The 2020 CRF450 has some minor updates this year. 
Price: $9,399
Availability: July 2019
For 2020, Honda's flagship CRF450R—the same platform raced by Team Honda HRC's Ken Roczen and Cole Seely—puts more engine-management choices at the fingertips of racers, with the addition of Honda Selectable Torque Control (HSTC). Developed through HRC's worldwide racing effort, the system maximizes rear-tire hookup to keep all of the Unicam engine's horsepower driving the bike and rider forward, improving racing success regardless of track conditions. In keeping with racing-body regulations, the system measures rate of rpm increase and adjusts delivery accordingly, and a handlebar-mounted switch enables selection from three levels of delivery (most in class). In addition, the CRF450R's front-rear balance is refined and handling is improved thanks to internal suspension updates, and a new battery position that lowers the machine's center of gravity. Improved rear-brake pad performance and durability, and the exclusive specification of Dunlop Geomax MX3S tires round out a machine that's ready to take riders to the next level.
Click here for the first look at the 2020 Honda CRF450 Works Edition updates.
2020 CRF450 Updates
All-new Honda Selectable Torque Control with three levels of intervention. HSTC monitors rpm spikes and responds by temporarily reducing torque to aid rear traction. A handlebar-mounted switch allows selection between three modes, depending on conditions and rider preference.
Revised mapping for riding modes in Standard, Smooth and Aggressive options, selectable via a separate handlebar-mounted switch, enables simple tuning depending on rider preference or course conditions.
Revised internal fork and shock settings for improved chassis balance and overall handling.
Battery position lowered by 28mm accentuates moves center of gravity downward to further improve chassis balance and handling.
New rear brake-pad material for improved performance and increased durability.
Elimination of lower rear brake-rotor guard, to improve heat dissipation and reduce unsprung weight.
Updated graphics.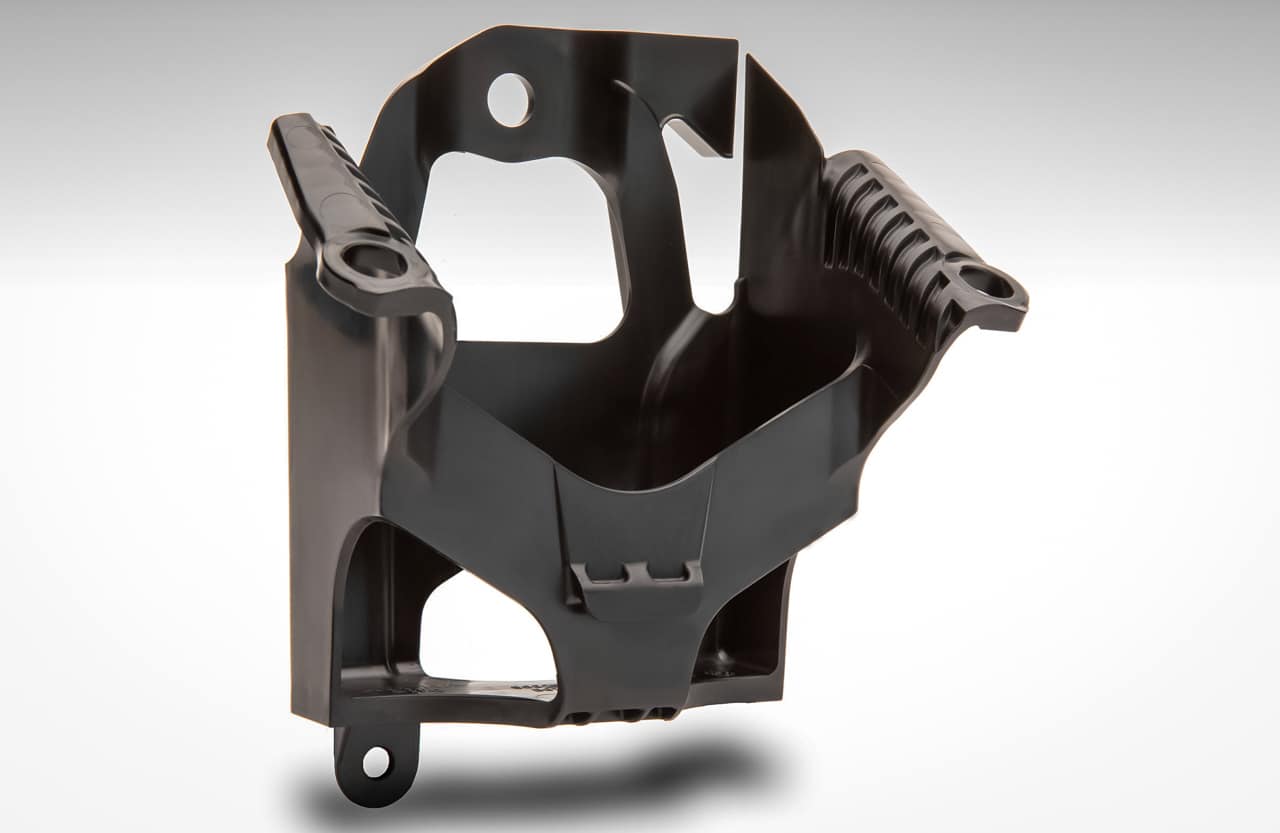 The updated battery holder that lowers the battery position by 28mm.
Engine/Drivetrain
449cc single-cylinder engine with Unicam cylinder head, downdraft intake tract, electronic fuel injection and electric start offers unparalleled "Absolute Holeshot" performance.
Selectable HRC launch control provides a steady stream of torque for excellent performance on race starts.
Electric starter (powered by a lightweight lithium-ion battery).
Shift sensor allows a dedicated ignition map for each gear, enabling optimum running.
The Honda CRF450 now offers a Selectable Torque Control with three levels of intervention.
Chassis/Suspension
Twin-spar aluminum frame engineered for great traction and cornering feel, and to minimize weight.
Chassis layout allows heavier components to be located as centrally and low as possible for nimble handling and feel.
Front-brake caliper uses a pair of pistons (30mm and 27mm) for optimal braking performance on a 260mm rotor with a petal pattern to best dissipate heat.
Showa® shock and 49mm coil-spring fork.
Front brake hose resists expansion for precise, consistent braking feel.
Top triple clamp has two handlebar-clamp locations for moving the handlebar back and forth by 26mm. With reversible handlebar clamp enabling an additional 10mm of adjustment from the base position, there are a total of four different handlebar positions.
Black Renthal® Fatbar® handlebar encourages active riding position, while also contributing to light steering feel.
Footpegs shed mud and give the rider great feel and confidence in all riding conditions.
Lightweight, compact 1.66 gallon titanium fuel tank keeps weight to a minimum.
Black D.I.D rims deliver a strong presence on and off the track.
Minimization of lines and gaps in the plastic panels results in a smooth surface, facilitating riding-position changes.
In-mold graphics are durable and resistant to peeling caused by washing or abrasion.
Available only through Honda dealers, Dunlop Geomax MX3S tires provide superior bump absorption and excellent grip.
2020 HONDA CRF450 SPECIFICATIONS

Model
CRF450
ENGINE
Type
449.7cc liquid-cooled 10º single-cylinder four-stroke
Valve Train
Unicam® OHC, four-valve; 38mm intake, titanium; 31mm exhaust, steel
Bore x Stroke
96.0mm x 62.1mm
Compression Ratio
13.5:1
Induction
Programmed fuel-injection system (PGM-FI); 46mm throttle bore
Ignition
Full transistorized
Starter
Push-button electric starter
Transmission
Constant-mesh 5-speed return; manual
Clutch
Multiplate wet (6 springs)
Final Drive
#520 chain; 13T/49T
SUSPENSION
Front
49mm fully adjustable leading-axle inverted telescopic Showa coil-spring forkw/ 12.0 in. travel
Rear
Pro-Link system; fully adjustable Showa single shock w/ 12.4 in. wheel travel
BRAKES
Front
2-piston caliper (30mm, 27mm) hydraulic; single 260mm disc
Rear
1-piston caliper hydraulic; single 240mm disc
TIRES
Front
Dunlop Geomax MX3S 80/100-21 w/ tube
Rear
Dunlop Geomax MX3S 120/80-19 w/ tube
MEASUREMENTS
Rake (Caster Angle)
27°22?
Trail
116mm (4.6 in.)
Length
85.9 in.
Width
32.6 in.
Height
49.6 in.
Ground Clearance
12.9 in.
Seat Height
37.8 in.
Wheelbase
58.4 in.
Fuel Capacity
1.66 gal.
Color
Red
Curb Weight*
247 lbs.
*Includes all standard equipment, required fluids and full tank of fuel. Ready to rideSpecifications subject to change

2020 Honda CRF250R
It seems Honda focused its attention on gaining more low-to-mid power on the 2020 CRF250. Which it desperately needs. 
Price: $7,999
Availability: July 2019
The machine that took Chase Sexton to the 2019 AMA 250SX East Region Supercross Championship and Jace Owen to the 2019 Kicker Arenacross title gets a host of important updates for 2020,including engine enhancements aimed at bettering low-to-midrange power, and chassis revisions that improve handling. To increase torque and improve driveability, the cam profile is new, the combustion chamber is reshaped, and the exhaust resonator has been removed. At the same time, maneuverability has been improved through a lighter frame and swingarm with optimized flex characteristics, along with a lower battery position and internal front-and-rear suspension updates.
2020 CRF250 Updates

New cam profile delays opening of exhaust valves and has reduced valve overlap, resulting in improved torque and power in the 6,000-10,000 rpm range.
Optimized combustion-chamber shape.
Ignition timing is optimized at 8,000 rpm for improved torque and power.
Gear-position sensor added to allow dedicated ignition maps for each gear.
Header-pipe resonator is removed for improved power character when shifting from second to third gear.
Muffler is revised for improved low-to-midrange torque.
New air-filter element is 10% larger for increased airflow.
The 2020 CRF250 air-filter in 10 percent larger. 
Enlarged left-side radiator for efficient cooling with higher engine-power output.
Second gear has revised (higher) ratio for improved drive, while second and third gears have a new WPC surface treatment for improved durability and reduced friction.
Clutch capacity is increased by 18%, and clutch spring has a higher rate.
New lighter aluminum perimeter frame and aluminum swingarm are designed to achieve increased yaw-angle stiffness while retaining lateral and torsional stiffness, resulting in improved stability.
Newly shaped footpegs are 20% lighter and shed mud more easily, giving the rider great feel and confidence in all riding conditions.
Thanks in part to revised internal suspension settings (fork has increased low-speed damping, while shock has increased low-speed compression and reduced high-speed compression), handling has been improved in the following areas: stability, tracking, turning and traction.
Battery repositioned 28mm lower to drop center of gravity for better handling.
Rear brake has a shorter hose and longer, lighter pedal, as well as a new pad material with improved power and better durability in muddy conditions. Lower-rear brake guard removed for reduced unsprung weight and improved cooling.
New graphics.
Engine/Drivetrain
High-performance, DOHC, 249cc single-cylinder engine with dual-overhead-cam design and high rev limit, offering great performance.
Finger rocker arms with Diamond Like Coating (DLC) maximize valve lift while retaining a low engine height.
Downdraft intake layout produces strong power and enables great throttle response by reducing resistance, thereby improving air-charging efficiency.
44mm throttle body provides ideal low-rpm intake airflow for strong corner-exit performance.
Piston oil jet uses five nozzle holes for efficient piston-cooling efficiency and minimized knocking, enabling a precise ignition-timing setting for optimum power delivery.
Advanced AC generator reduces weight and friction losses.
Electric-start standard for easy, fast engine startup.
Easily selectable Standard, Smooth, and Aggressive riding modes enable simple tuning depending on rider preference or course conditions.
Selectable HRC launch control provides a steady stream of torque for excellent performance on race starts.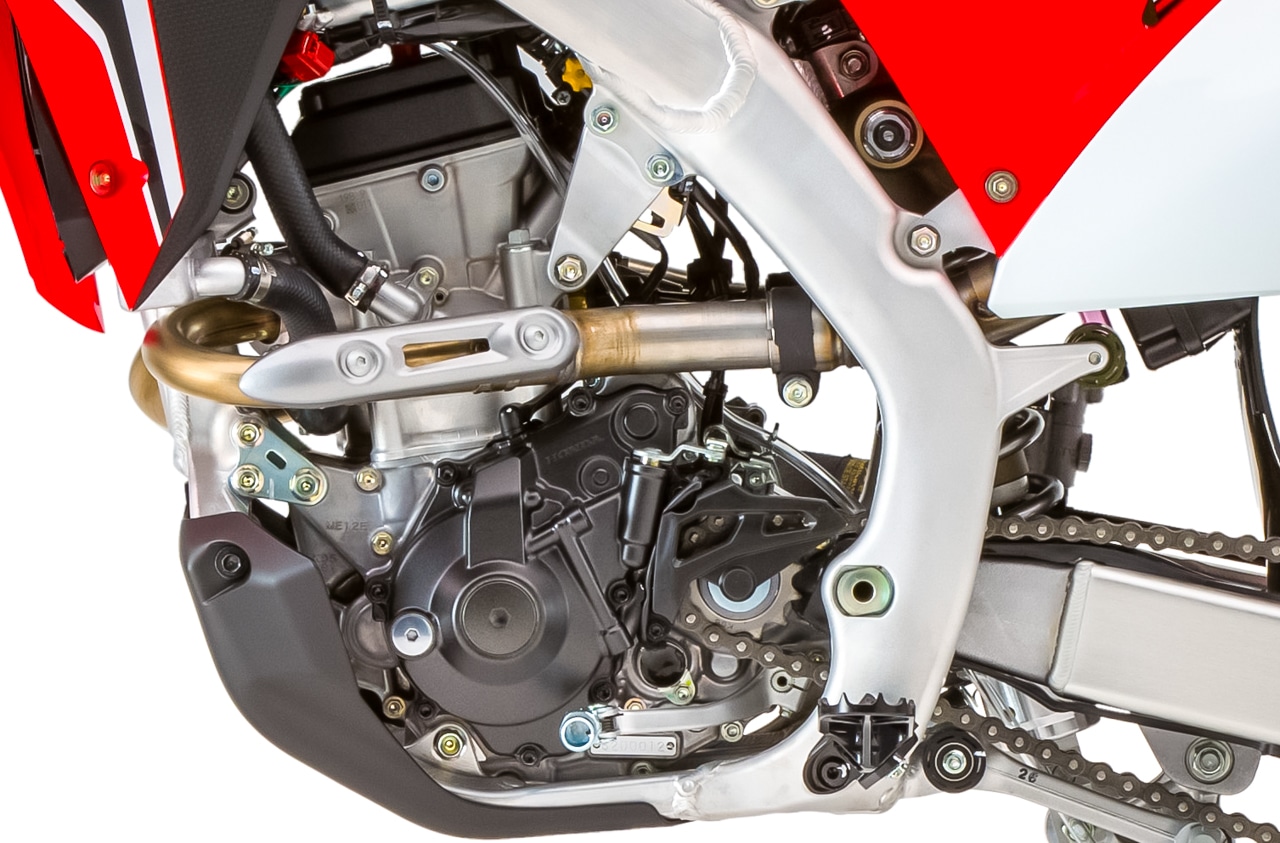 The CRF250 engine has a lot of updated for 2020. 
Chassis/Suspension
Low center of gravity reduces front-end lift for strong acceleration performance.
Lightweight and compact 1.66 gallon titanium tank keeps weight to a minimum.
Lightweight front-brake caliper uses pistons of different diameters (30mm and 27mm) for strong braking performance.
Front brake hose resists expansion for precise braking.
Renthal® Fatbar® reduces weight of the steering system, and flexes for optimal comfort.
Top triple clamp features two handlebar-holder locations for moving the handlebar rearward and forward by 26mm, ensuring rider comfort. When holder is turned 180 degrees, the handlebar can be moved an additional 10mm from the base position, resulting in four total unique riding positions.
Black rims deliver a strong presence on and off the track.
Smooth bodywork layout eases rider movement.
In-mold graphics are durable and resistant to peeling caused by washing or abrasion.
Geomax MX3S tires, exclusively available through Honda, for superior bump absorption and grip in wide variety of conditions.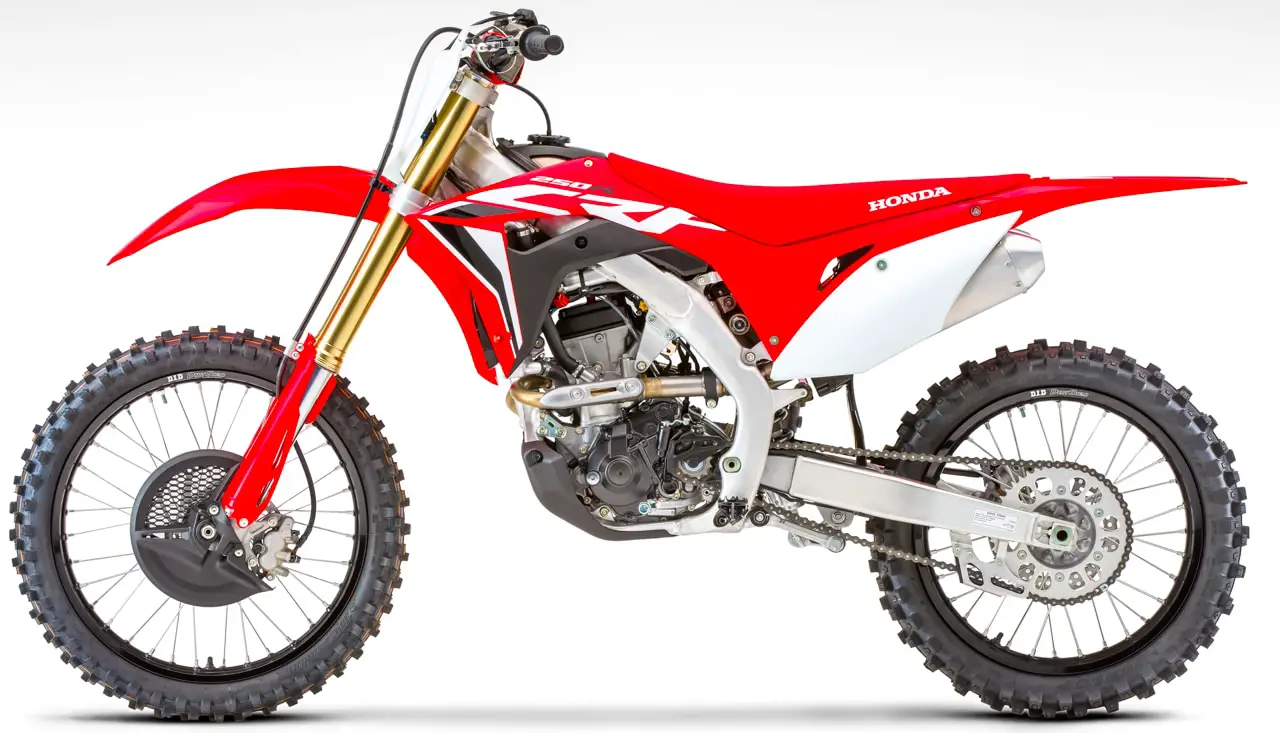 2020 HONDA CRF250R SPECIFICATIONS

Model
CRF250R
ENGINE
Type
249cc liquid-cooled single-cylinder four-stroke
Valve Train
DOHC, four-valve; 33mm intake, titanium; 26mm exhaust, titanium
Bore x Stroke
79.0mm x 50.9mm
Compression Ratio
13.9:1
Induction
Programmed fuel-injection system (PGM-FI); 44mm throttle bore
Ignition
Full transistorized
Starter
Push-button electric starter
Transmission
Constant-mesh 5-speed return; manual
Clutch
Multiplate wet (5 springs)
Final Drive
#520 chain; 13T/48T
SUSPENSION
Front
49mm fully adjustable leading-axle inverted telescopic Showa coil-spring fork; 12.0 in. travel
Rear
Pro-Link system; fully adjustable Showa single shock; 12.4 in. travel
BRAKES
Front
2-piston caliper (30mm, 27mm) hydraulic; single 260mm disc
Rear
1-piston caliper hydraulic; single 240mm disc
TIRES
Front
Dunlop Geomax MX3S 80/100-21 w/ tube
Rear
Dunlop Geomax MX3S 100/90-19 w/ tube
MEASUREMENTS
Rake (Caster Angle)
27°22?
Trail
116mm (4.6 in.)
Length
85.9 in.
Width
32.5 in.
Height
50.2 in.
Ground Clearance
12.9 in.
Seat Height
37.8 in.
Wheelbase
58.3 in.
Fuel Capacity
1.6 gal.
Color
Red
Curb Weight*
237 lbs.
*Includes all standard equipment, required fluids and full tank of fuel?ready to rideSpecifications subject to change