2020 OAKLAND SUPERCROSS: WHAT HAPPENED THE LAST TIME SUPERCROSS CAME TO OAKLAND?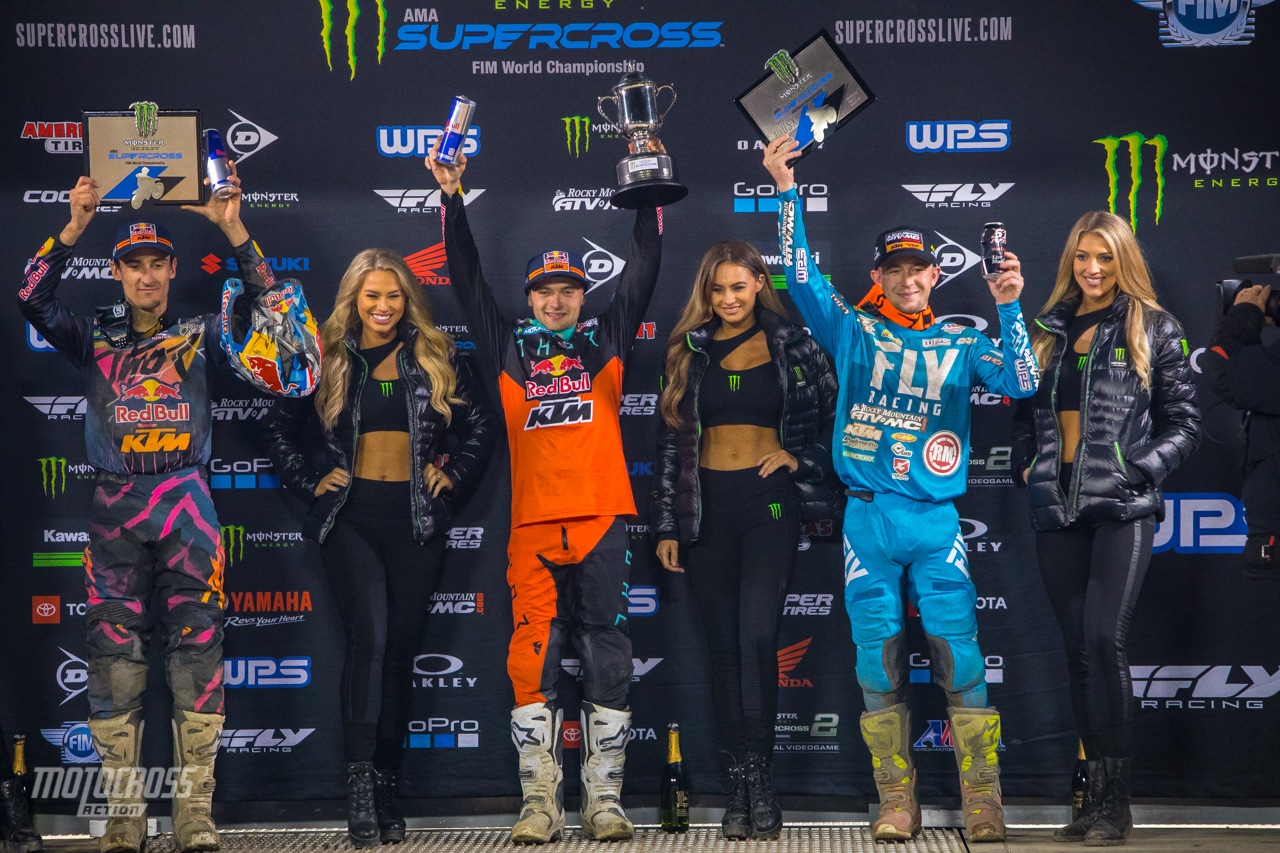 KTM swept the 450 podium in at the 2019 Oakland Supercross. Cooper Webb led the race from wire to wire while Marvin Musquin and Blake Baggett fought their way to the front.
Photos by Daryl Ecklund, Story by Josh Mosiman
Take a trip with the MXA wrecking crew back to last year's AMA Supercross series. In 2019 Oakland was the fourth round of the Monster Energy Supercross season. It used the standard Supercross race format, the weather was perfect and unlike last weekend at the 2020 Glendale Supercross, there weren't any red flags stopping the races. In the first three rounds of the 2019 season there were no repeat winners, but Cooper Webb and Adam Cianciarulo put an end to that in Oakland by winning their second race of the year. Even though we didn't have new winners, Saturday night in Oakland wasn't short on excitement.
450 MAIN EVENT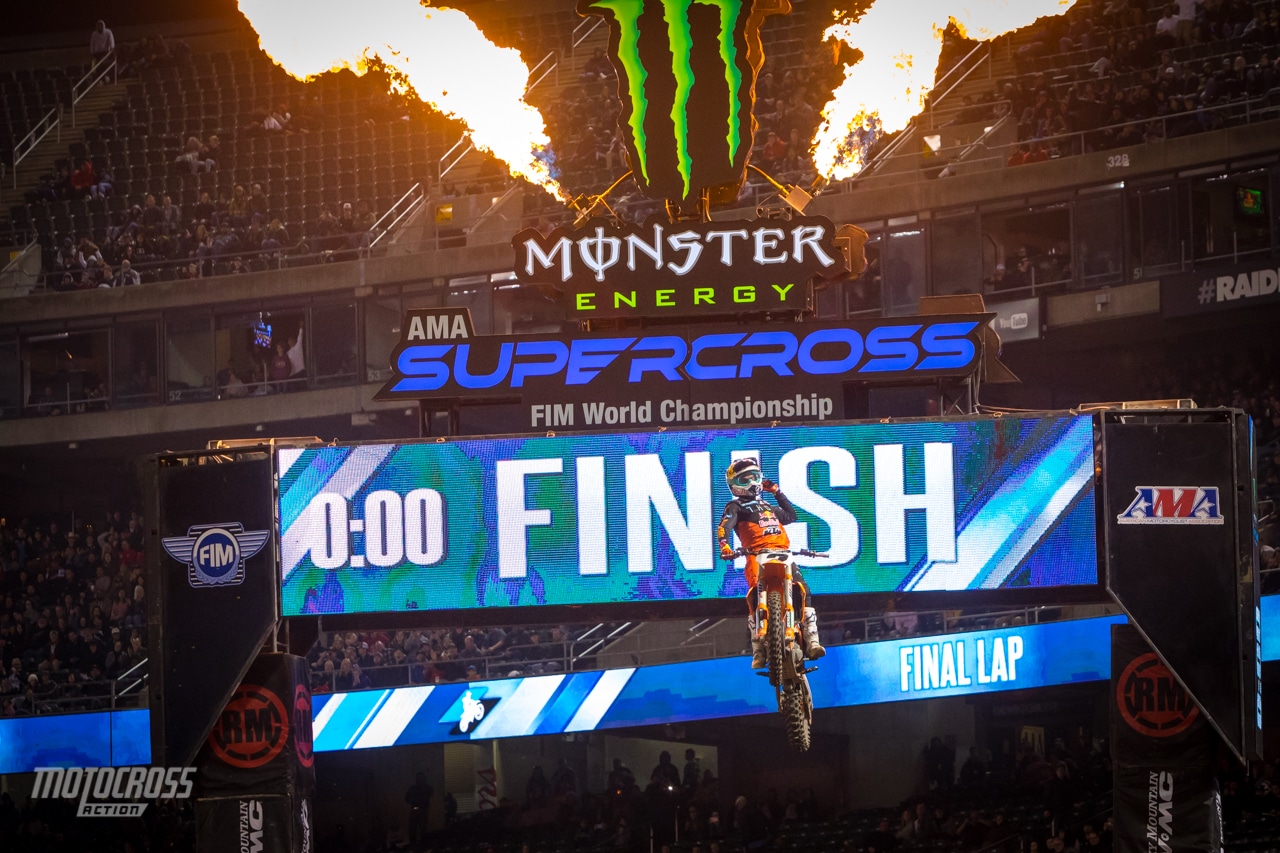 Cooper Webb won his second-ever 450 Supercross main event, only one week after his first-ever 450 win! Cooper led every lap, but that doesn't mean the race was boring. Cooper's KTM teammate Marvin Musquin, who is out of action in 2020 with ACL surgery, made it interesting by closing the massive gap on his young teammate to just seven-tenths of a second at the finish line.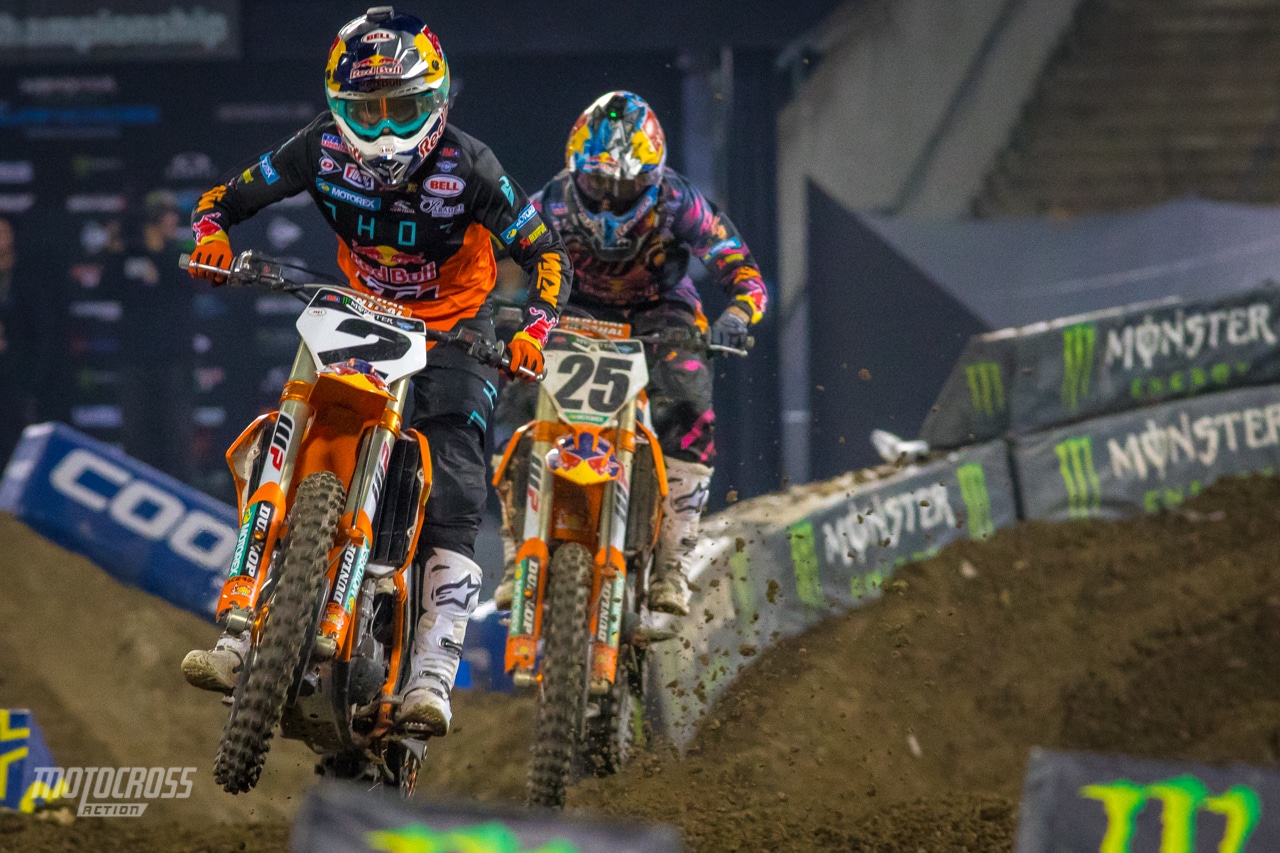 Things were close on the final lap of the 450 main event. The crowd's hearts were racing as they watched the underdog, Cooper Webb, hold off his more experienced teammate and take the win.
After crossing the finish line in tenth on the first lap, Eli Tomac fought through the pack to get up to third before Marvin Musquin and Blake Baggett passed him. Eli would then pass Roczen with two laps to go and finish fourth.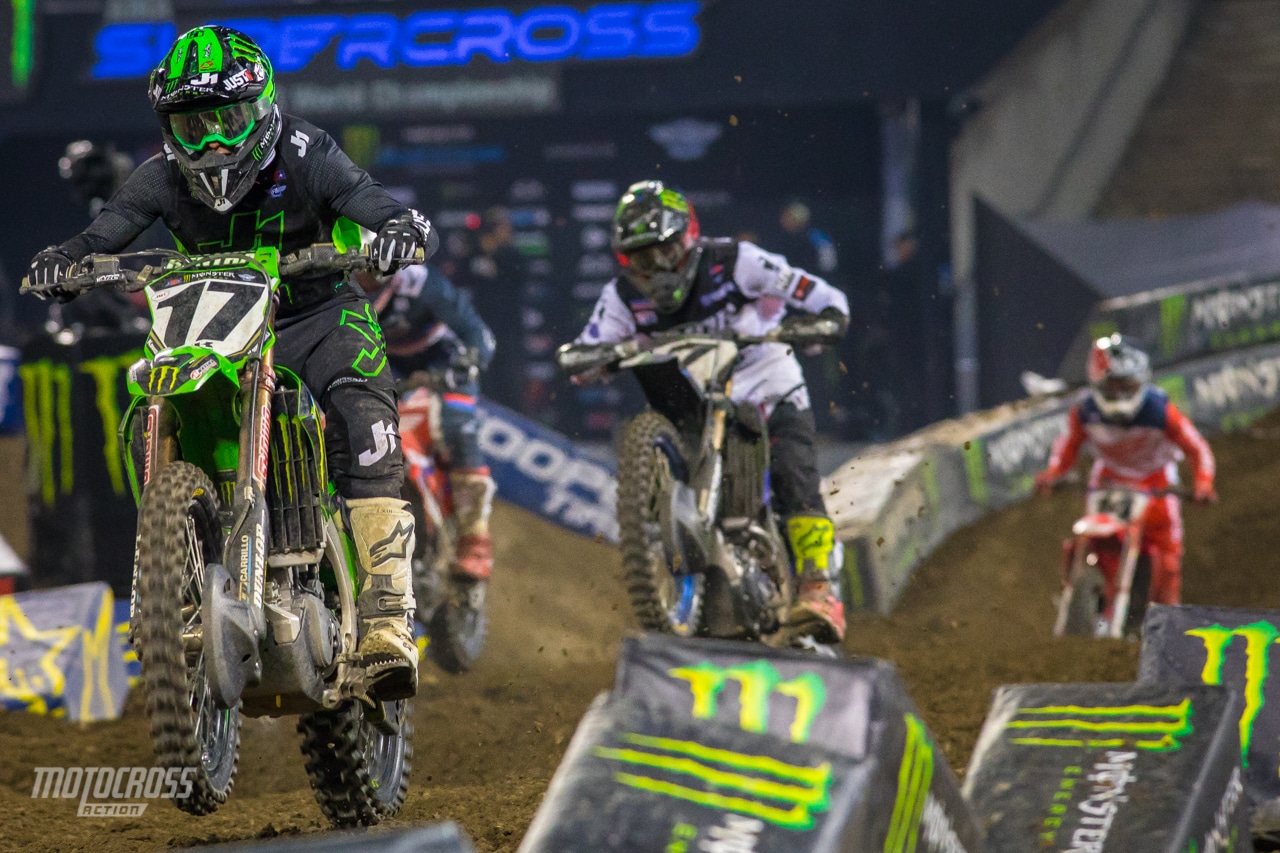 After finishing 16th at Anaheim 1, suffering a concussion in Glendale and placing eighth at Anaheim 2, Joey Savatgy looked like he could run with the front runners at the 2019 Oakland Supercross. In the 2019 Oakland 450 main event, Joey was fifth on the first lap. He passed Aaron Plessinger and Justin Bogle to get into third. Then, Musquin went down which gave Joey second place. He ran second for only one lap before his bike broke.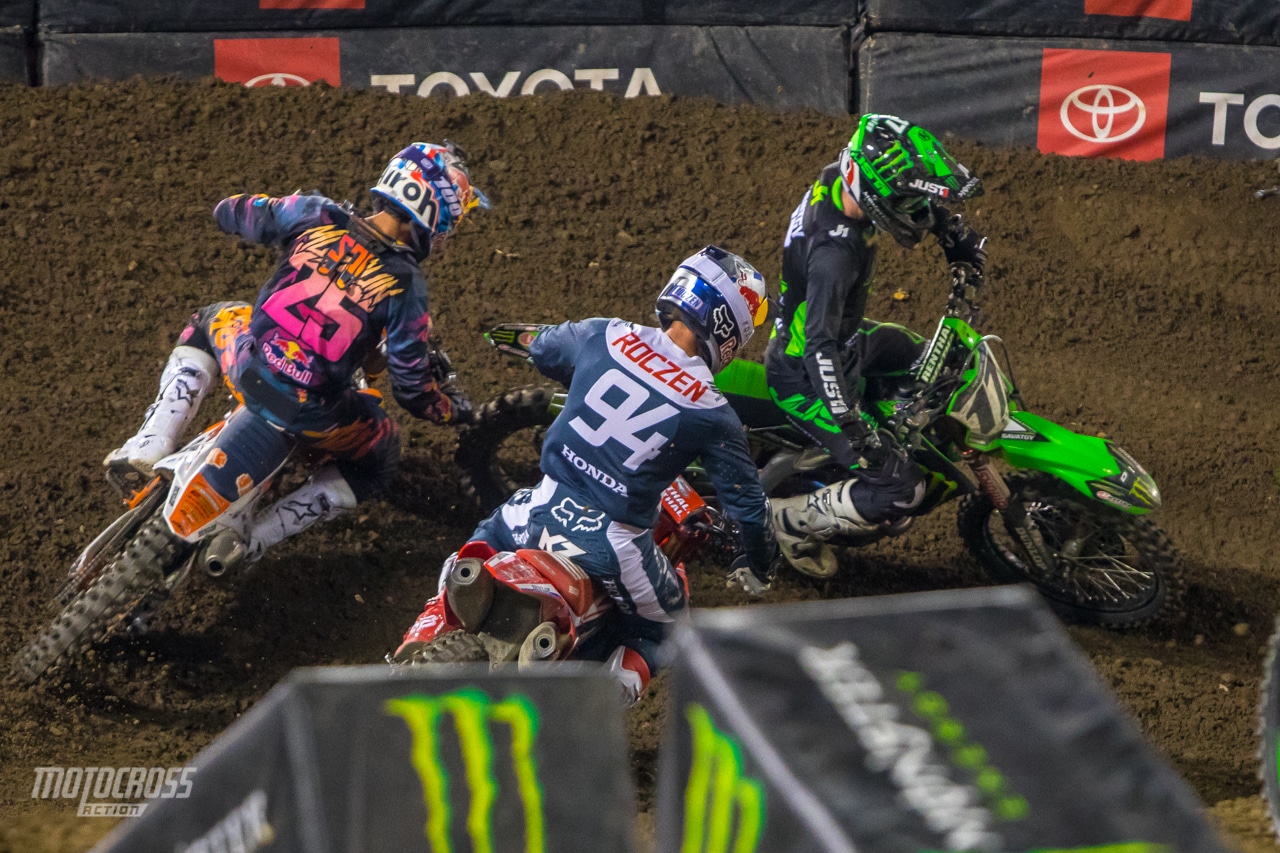 Joey Savagty, Marvin Musquin and Ken Roczen get close in an intense battle for second in the 450 main event. Two corners after this Savagty's bike quit on him and two laps after that, Marvin passed Roczen and started charging after Cooper Webb.
Savatgy pushed his bike off the track after his KX450 failed in the main. 
Cole Seely was on fire all day at the 2019 Oakland Supercross. He qualified second behind his teammate Ken Roczen. Cole finished second behind Eli Tomac in his heat race. In the main event he was 7th on lap three when he had this small crash in the sand. Cole picked his bike up and went on to place eleventh.
After Musquin went down and Savagty's bike broke, Ken Roczen found himself in second. But he wasn't able to stay there. Musquin, Baggett and Tomac were all able to pass Ken which resulted in a fifth place for the German. 
Cooper Webb was the points leader leaving the 2019 Oakland Supercross, but only 4 four points separated the top four. 
Roczen said via Instagram: "Tonight was not good for me. I ended up fifth after a terrible race. I am not going to let this distract me. We will bounce back!"
Eli Tomac said multiple times in 2019 that he wanted to be smart and in the fight for the championship when it counted.

2019 OAKLAND TRACK TALK:

Cooper Webb: "This track, for the main it got really tough. I'd say besides the main everybody was pretty close in practice. The whoops were tough all day. To me the track was totally different when it broke down. We were all doing the same rhythms and pretty identical times, so once it broke down I think the track was a lot more race-able and we could have our strong points and stuff. It was cool for me, obviously another win is pretty awesome."
Cooper Webb grabbed the holeshot and led every lap of the 450 main event. At one point he was a full straightaway ahead of second place. He settled in, almost a little too much, which allowed Marvin Musquin to catch him on the last lap. But Cooper held his composure and won his second-ever 450 main event. 
Marvin Musquin: "You never know what's going to happen when you're racing like that with a track like tonight. From practice to the main it's so much different, especially those whoops. You see some guys that kill it in the whoops in practice and coming into the main event it's a different story. It's super rough and technical and you got to be creative. That's where I think I was able to do pretty good."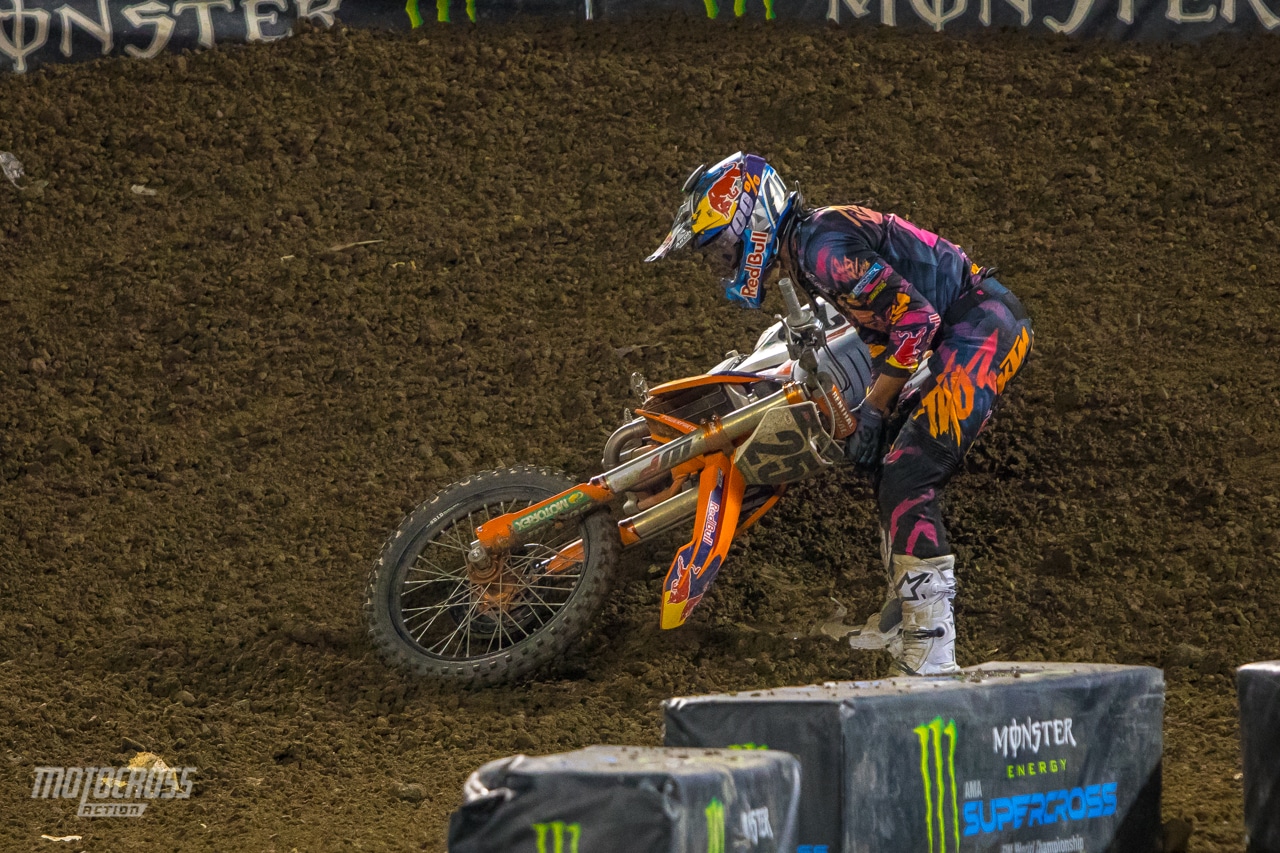 Marvin Musquin ran second behind Webb early in the main event before he lost the front end in a corner and went down. He picked his bike up in fourth place, a long way behind Webb, but came back to pass Eli Tomac and Ken Roczen to catch right up to Webb at the checkered flag to finish second.
Here, Marvin Musquin (25) leads Ken Roczen (94), Blake Baggett (4) and Eli Tomac (3).
Adam Cianciarulo: "I've kind of struggled on the softer dirt and I'd say the transitions here were super steep and obviously the whoops were bad…" "It broke down a lot and the track was tough to ride too. There was something about it, two sets of whoops and the wall was a little bit hard with the sand right after. It was tough."
Blake Baggett was the hard charger of the night. He came from 15th on the start to finish on the podium in third. When the rest of the field starting jumping through the rutted and sketchy whoop sections, Blake elected to continued to skim them —gaining a lot of time. 
Blake said: "I'm terrible at jumping,(through the whoops) just gonna put it out there. So I'm just gonna stick to closing my eyes and trying to skim as long as I can and I skimmed all night. I just kept sending it in there and that's been my strong point recently."
2019 OAKLAND SUPERCROSS: 450 OVERALL
Cooper Webb
Marvin Musquin
Blake Baggett
Eli Tomac
Ken Roczen
Dean Wilson
Justin Barcia
Justin Brayton
Chad Reed
Justin Bogle
2019 AMA 450 POINTS STANDINGS (AFTER 4 OF 17 ROUNDS)
Cooper Webb-83
Ken Roczen-81
Eli Tomac-80
Marvin Musquin-79
Justin Barcia-72
Dean Wilson-69
Blake Baggett-66
Cole Seely-56
Justin Brayton-52
Aaron Plessinger-49
250 WEST MAIN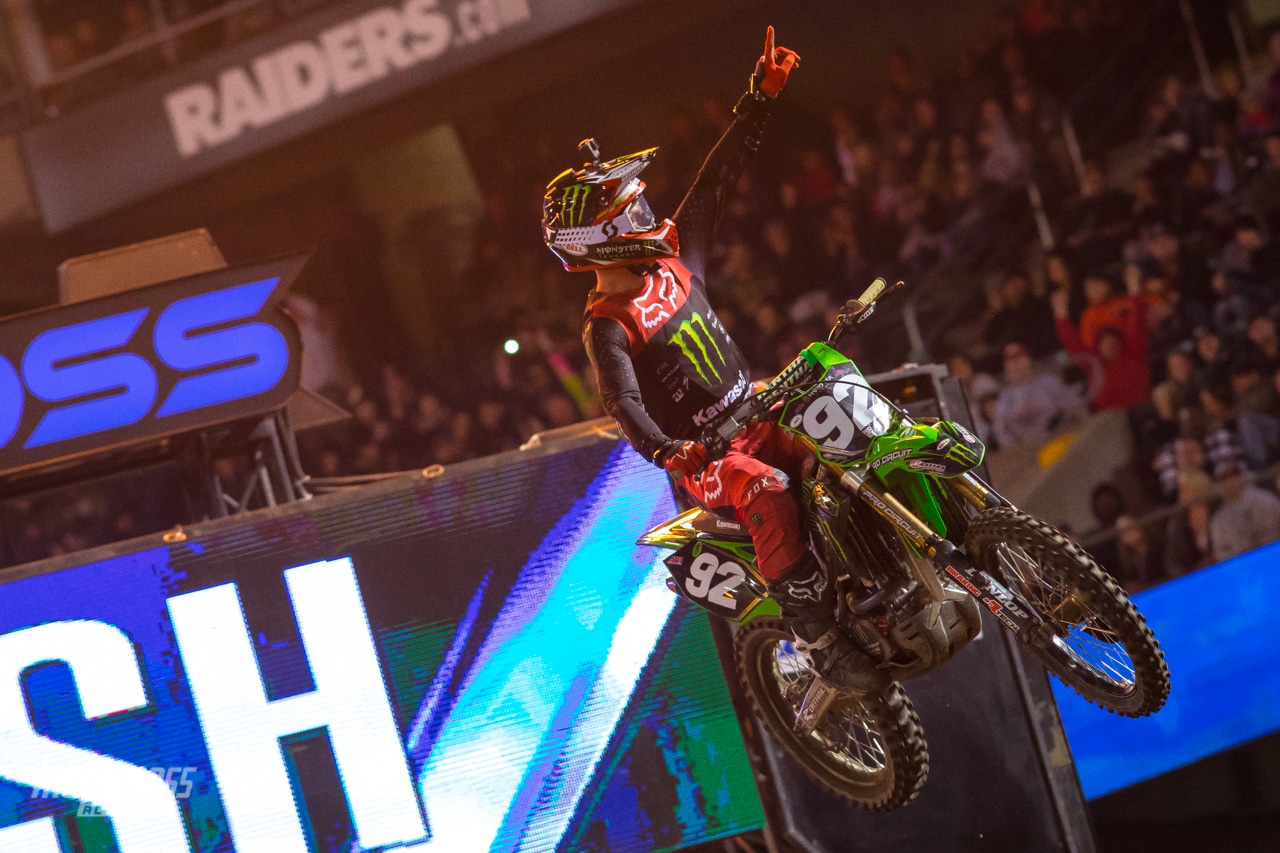 Adam Cianciarulo was third around the first turn but got to the front before the first lap was over and led every lap of the 250 West main event.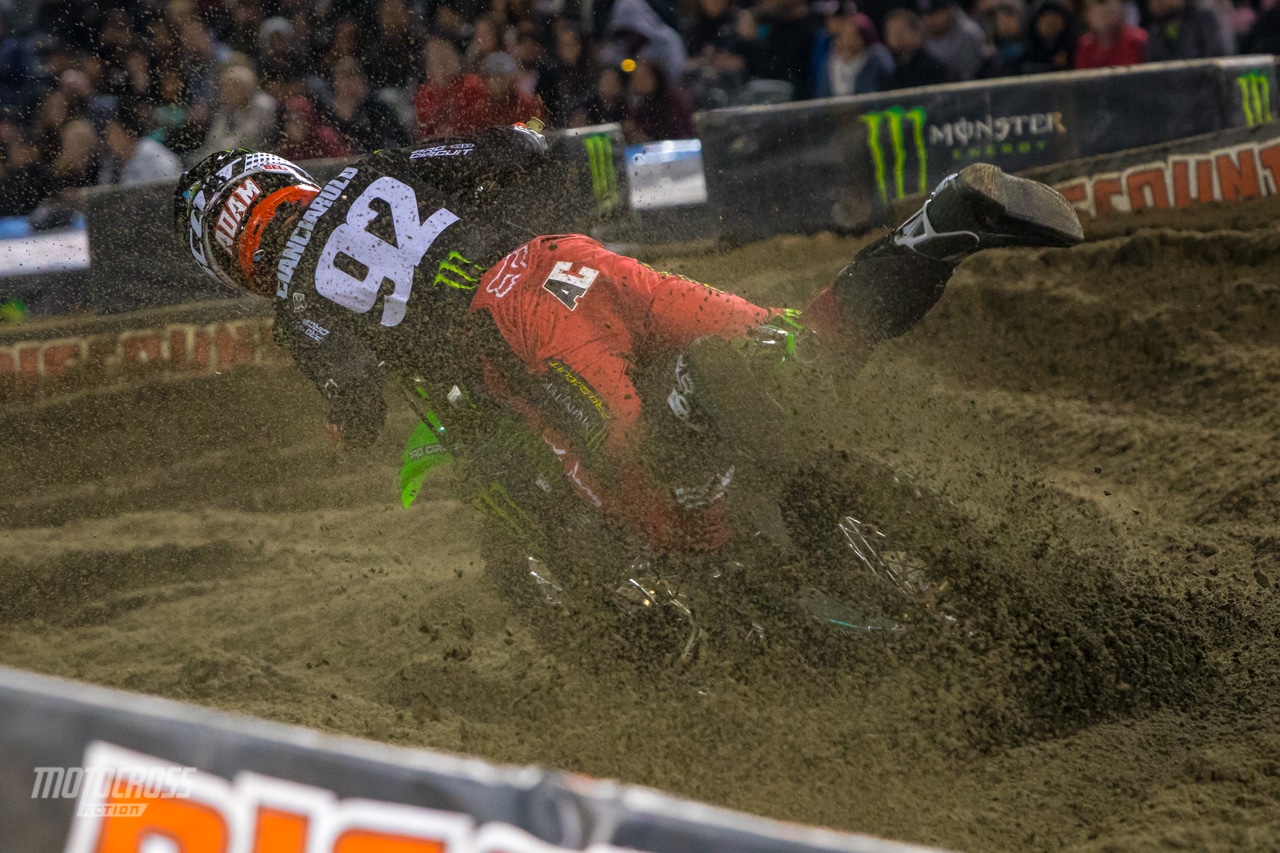 Adam almost lost the win in the sand section. 
Dylan Ferrandis was seventh on the first lap. But his impressive speed in the back-to-back whoop sections allowed him to come through the pack to finish second, only 2.570 seconds behind Adam Cianciarulo.

Shane McElrath ran third for a few laps before Ferrandis got around him. Shane finished fourth and he moved to third in 250 West points after th 2019 Oakland Supercross—only four behind Colt Nichols. 
Dylan Ferrandis has enjoyed the taste of the podium three times in four races now. His finishes have been 2-6-2-2 so far in 2019.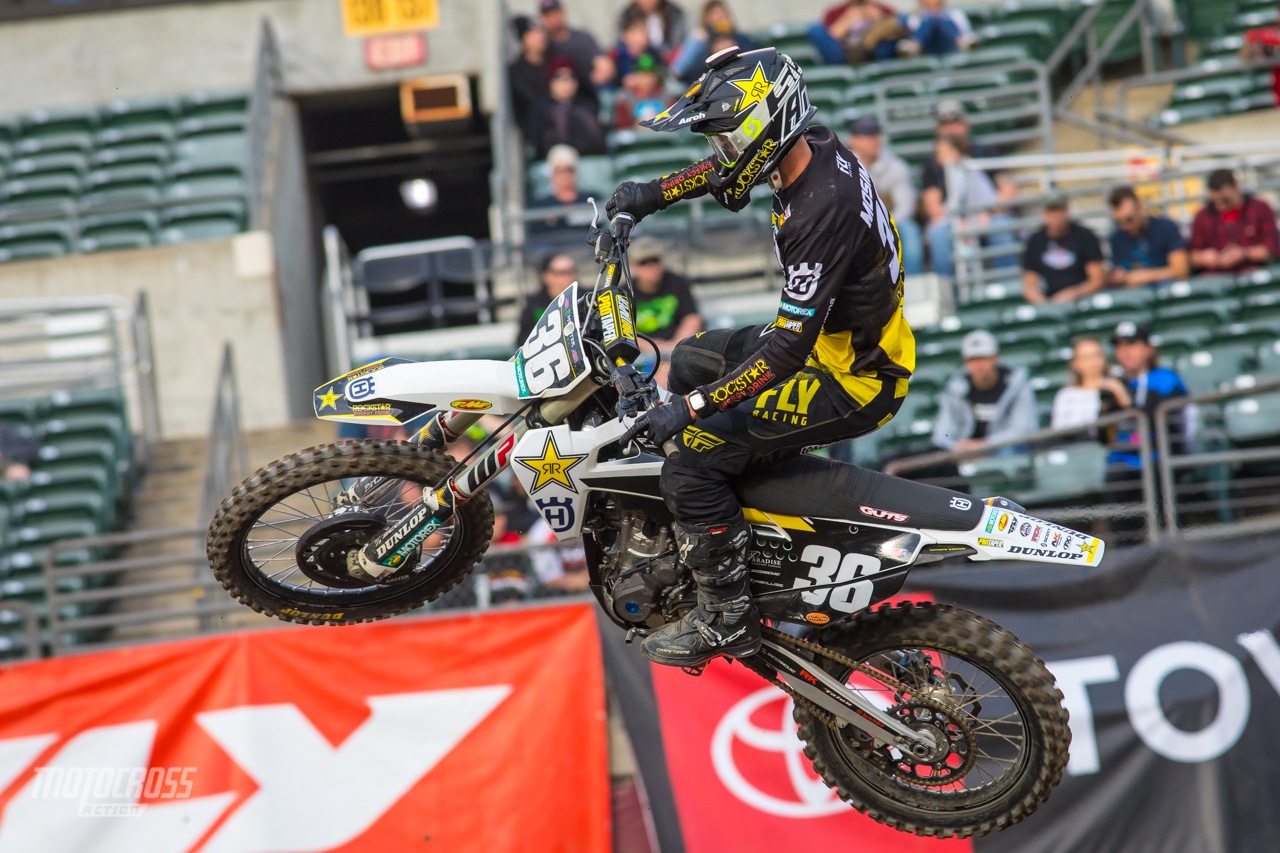 Michael Mosiman grew up in Sebastopol, California, a little over an hour north of Oakland. He finished seventh in the 250 main and he's tied with Jacob Hayes for eighth in points. 
James Decotis was riding awesome all day in Oakland. He was fast in the whoops and this allowed him to go from fifth to first in his 250  heat race. Unfortunately, Decotis had issues in the main and would finish 15th.
Jerry Robin drove to Oakland by himself and raced without a mechanic or anyone to give him the pit board. All on his own, he qualified for the 250 main event and finished 12th.

Jacob Hayes continued to move forward. In his fourth Supercross of his rookie season the Cycle Trader Rock River Yamaha rider broke into the top five with a fifth place finish. 
Colt Nichols proved to be a serious Championship contender early in the 2019 250 West. He won Anaheim 1 and continued to stay on the podium with a second and two thirds in the first four rounds. He left the 2019 Oakland Supercross leading the 250 West Cchampionship by three points.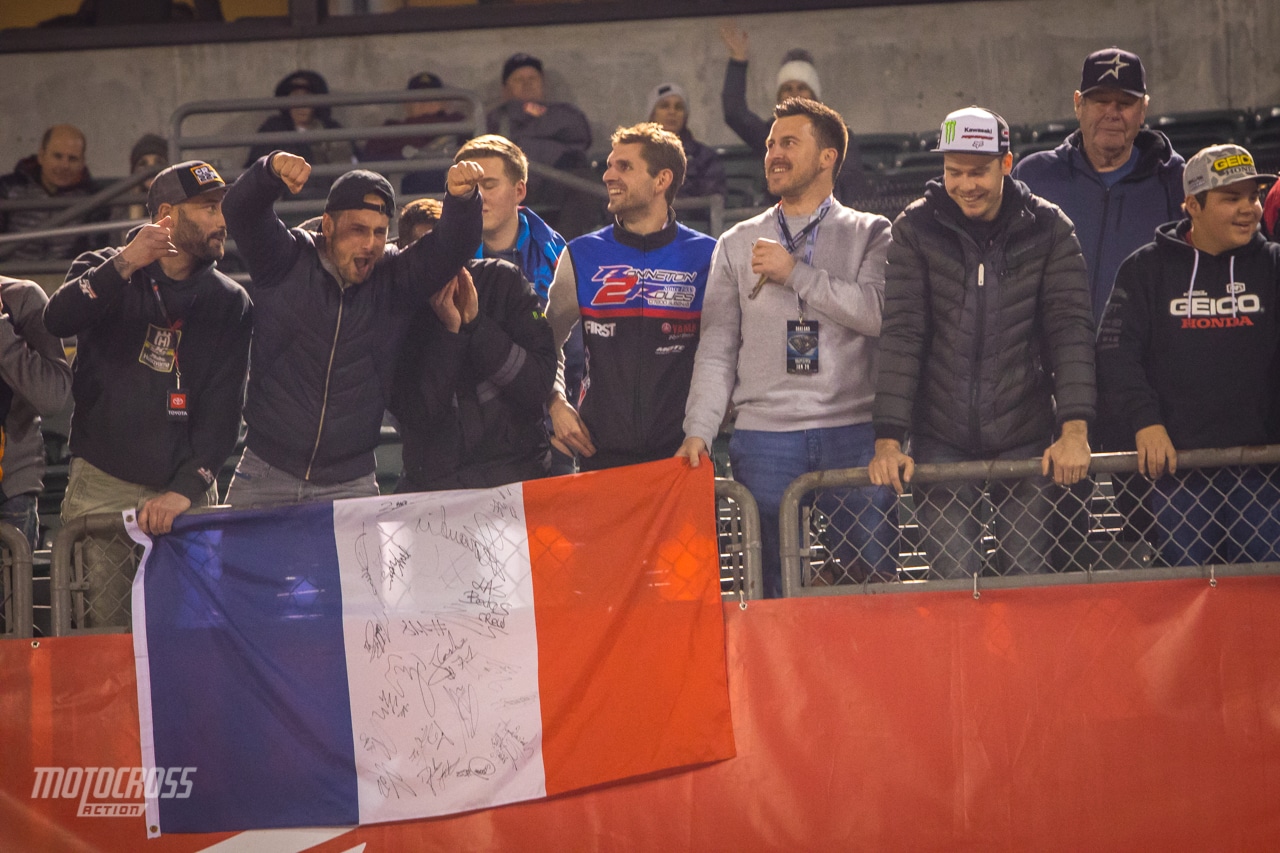 Marvin and Dylan had some fans come all the way from France to watch in Oakland. They were stoked on his ride.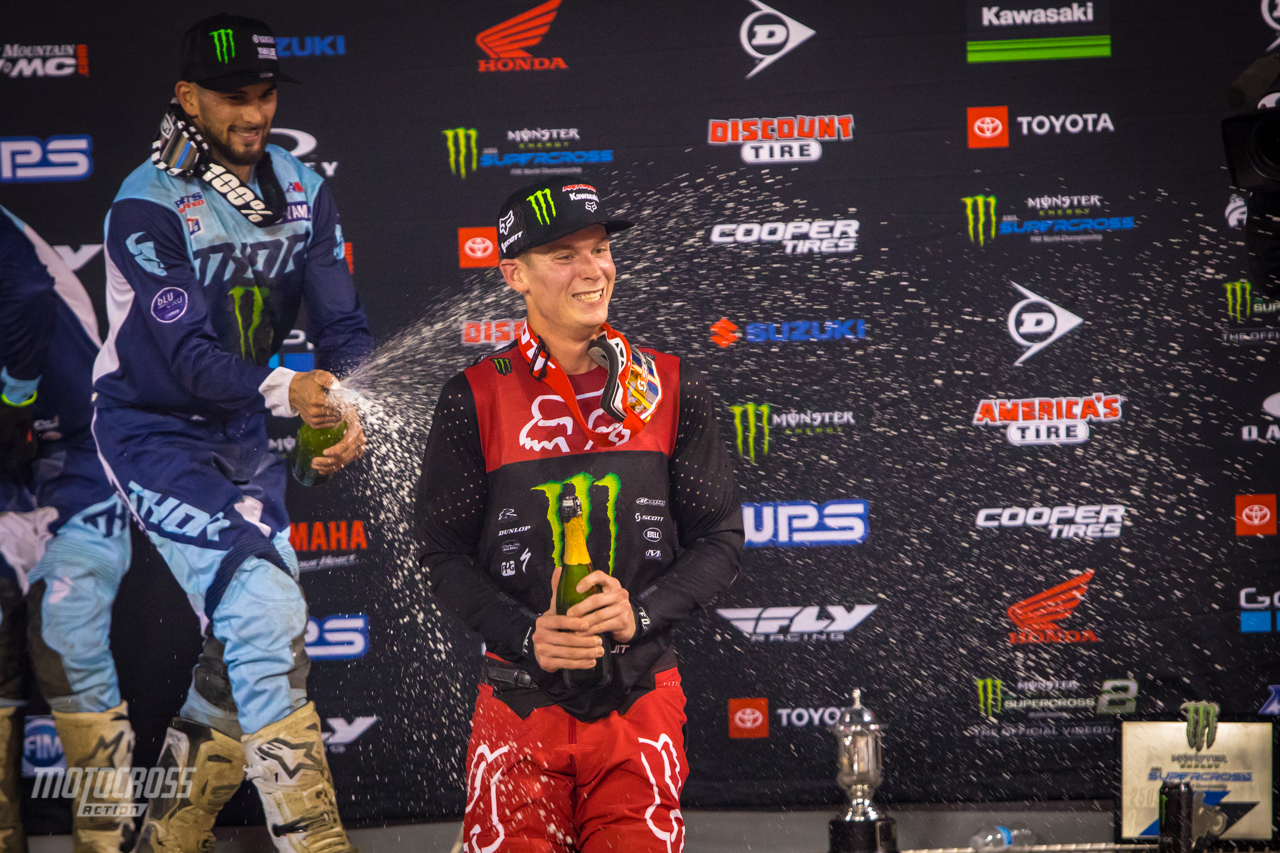 So far in 2019 Adam Cianciarulo has  gone 5-1-5-1 at the first four rounds. After winning in Oakland, Adam sits second in the 250 West championship point standings—3 points behind Colt Nichols.
2019 OAKLAND SUPERCROSS: 250 OVERALL
Adam Cianciarulo
Dylan Ferrandis
Colt Nichols
Shane McElrath
Jacob Hayes
Cameron McAdoo
Michael Mosiman
Garrett Marchbanks
Chris Blose
Sean Cantrell
2019 AMA 250 POINTS STANDINGS (AFTER 4 OF 10 ROUNDS)
Colt Nichols-91
Adam Cianciarulo-88
Shane McElrath-87
Dylan Ferrandis-86
R.J. Hampshire-67
Cameron McAdoo-58
Chris Blose-58
Jacob Hayes-55
Michael Mosiman-55
James Decotis-52