2020 SALT LAKE CITY SUPERCROSS ROUND 13 | 450 QUALIFYING RESULTS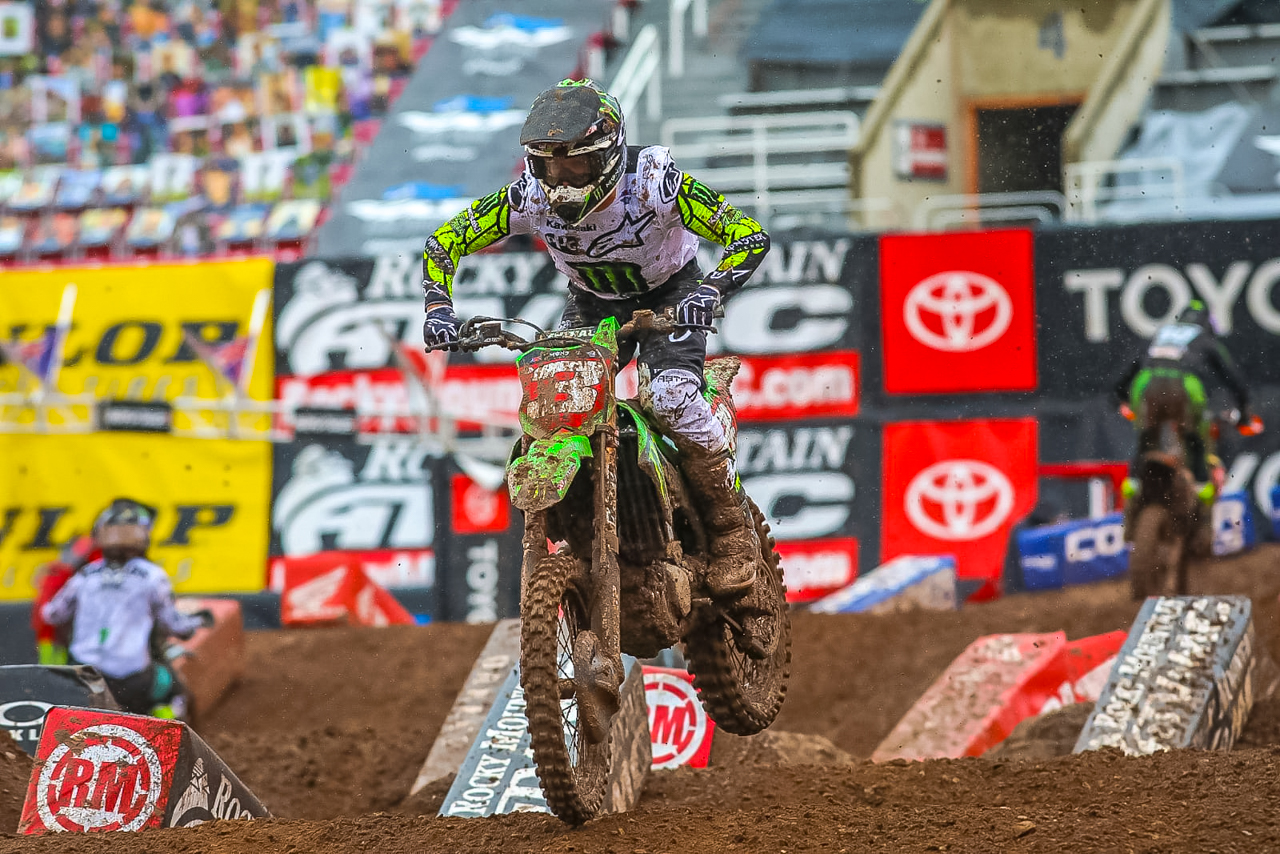 2020 SALT LAKE CITY SUPERCROSS ROUND 13 | 450 OVERALL QUALIFYING RESULTS
Supercross is back racing again on a Sunday and unlike the dusty and dry conditions that the riders experienced last weekend, Round 13 of Supercross in Salt Lake City is a mudder! Click here to check out photos from the pits and track before practice started. Eli Tomac, Ken Roczen and their mechanics are feeling the weight of the world on their shoulders right now as Eli tries to maintain his 13-point lead and Ken Roczen tries to make up those points. The bikes take an extra beating during mud races which means the mechanics have to pay special attention to how they're holding up. Riders like Cooper Webb, Justin Barcia, Dean Wilson and Aaron Plessinger are happy to see the mud today because they see opportunity within the slippery track conditions. Cooper Webb is hoping for mistakes from the top three so he can tighten up the 29-point difference between he and Eli. Barcia, Plessinger and Wilson are all taller riders who are known for being fast in the mud. They're each hoping to get a taste of the podium today at Round 13 in Salt Lake City.
Click here for 250 Qualifying Results.
450 OVERALL QUALIFYING RESULTS
Round 13 of Supercross in Salt Lake City is a muddy one. 
Jason Anderson had the fastest time at the beginning of the practice, but after six and a half minutes, Eli Tomac was able to log a quick lap and jump to the top of the board. Meanwhile, Ken Roczen jumped up to fifth fastest with over two-minutes left after starting out the practice slow. In the end, it was Eli Tomac who scored the fastest lap in the only 450 Group A qualifying session of the day and Dean Wilson was second behind him.
| | | |
| --- | --- | --- |
| POS. | NAME | BEST TIME |
| 1 | Eli Tomac | 57.629 |
| 2 | Dean Wilson | 58.076 |
| 3 | Jason Anderson | 58.192 |
| 4 | Cooper Webb | 58.531 |
| 5 | Zach Osborne | 59.678 |
| 6 | Malcolm Stewart | 59.988 |
| 7 | Martin Davalos | 1:00.521 |
| 8 | Ken Roczen | 1:00.855 |
| 9 | Aaron Plessinger | 1:01.134 |
| 10 | Chad Reed | 1:01.169 |
| 11 | Blake Baggett | 1:01.354 |
| 12 | Justin Brayton | 1:01.418 |
| 13 | Justin Hill | 1:01.870 |
| 14 | Jake Hogan | 1:02.068 |
| 15 | Tyler Bowers | 1:02.094 |
| 16 | Broc Tickle | 1:02.378 |
| 17 | Benny Bloss | 1:02.412 |
| 18 | Justin Barcia | 1:02.811 |
| 19 | Alex Ray | 1:04.482 |
| 20 | Kyle Cunningham | 1:04.729 |
| 21 | Fredrik Noren | 1:05.873 |
| 22 | Kyle Chisholm | 1:06.132 |
| 23 | Ryan Breece | 1:06.472 |
| 24 | Cade Clason | 1:08.118 |
| 25 | Logan Karnow | 1:09.880 |
| 26 | Vince Friese | 1:11.039 |
| 27 | Carlen Gardner | 1:11.682 |
| 28 | Adam Enticknap | 1:12.912 |
| 29 | Preston Taylor | 1:13.113 |
| 30 | Nick Schmidt | 1:13.794 |
| 31 | Carter Stephenson | 1:14.609 |
| 32 | Alexander Nagy | 1:14.663 |
| 33 | Mason Kerr | 1:14.784 |
| 34 | Josh Greco | 1:14.913 |
| 35 | Deven Raper | 1:15.871 |
| 36 | Theodore Pauli | 1:16.263 |
| 37 | Joshua Cartwright | 1:17.107 |
| 38 | Tevin Tapia | 1:17.235 |
| 39 | Scotty Wennerstrom | 1:17.336 |