2020 SAN DIEGO SUPERCROSS | BEST IN THE PITS AND PRESS DAY GALLERY: MILITARY APPRECIATION DETAILS (UPDATED)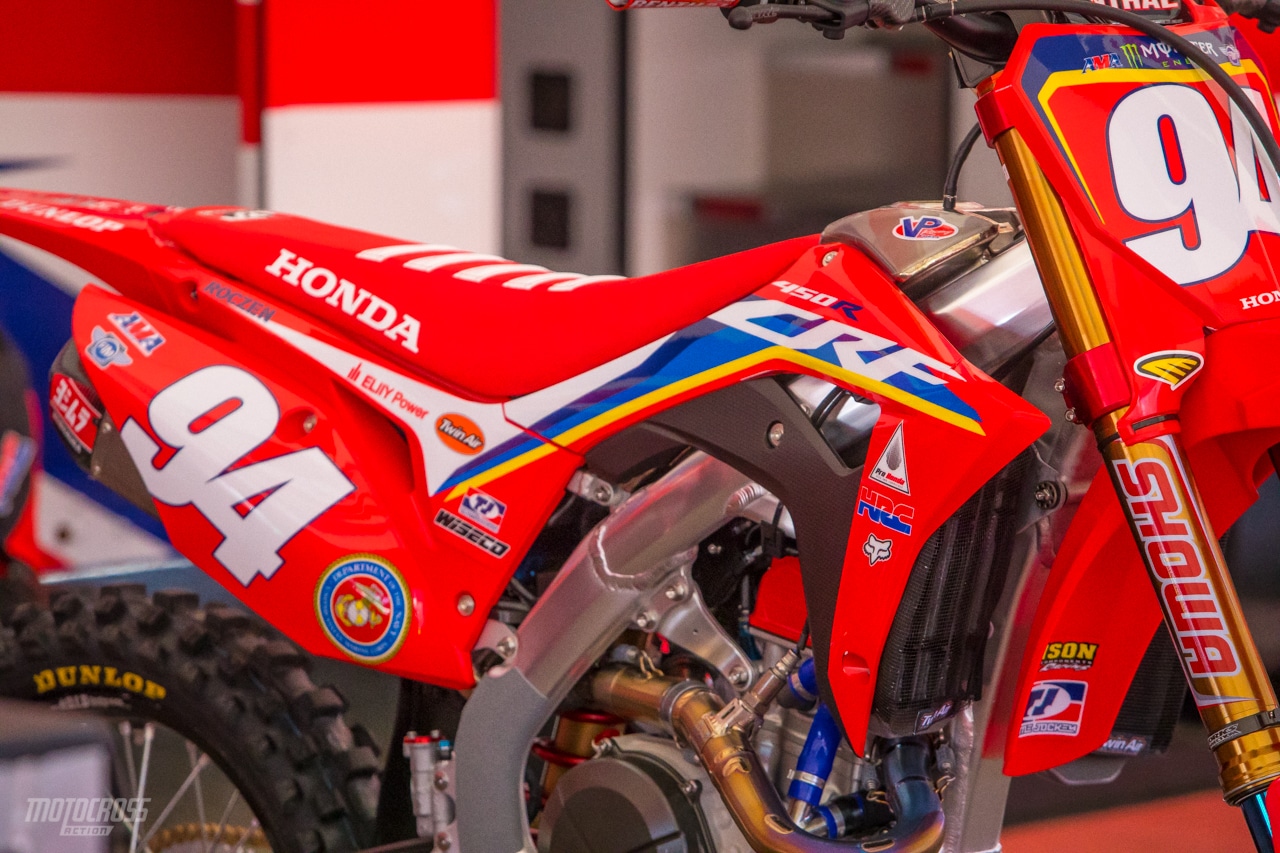 2020 SAN DIEGO SUPERCROSS | BEST IN THE PITS GALLERY: MILITARY APPRECIATION DETAILS
The 2020 San Diego Supercross is getting set to go and the mechanics and crew members have the bikes and rigs all shined up and ready for the military appreciation weekend at round six of the 2020 Monster Energy Supercross series. Before press day riding gets under way, MXA's Daryl Ecklund made a trip through the SX pits in downtown San Diego to check out all the cool military themed graphics and to get up close and personal with the bikes and teams as they prepare for the big show. In this artcle, we added our favorite photos from the pits and our favorite photos of Ken Roczen, Josh Hansen, Adam Cianciarulo and more during press day. To get the TV schedule, parking information and more, check out our pre-race report by clicking here. Click the link below to stay up to date with all of the action from the SDSX in downtown San Diego.
Photos by Daryl Ecklund and Trevor Nelson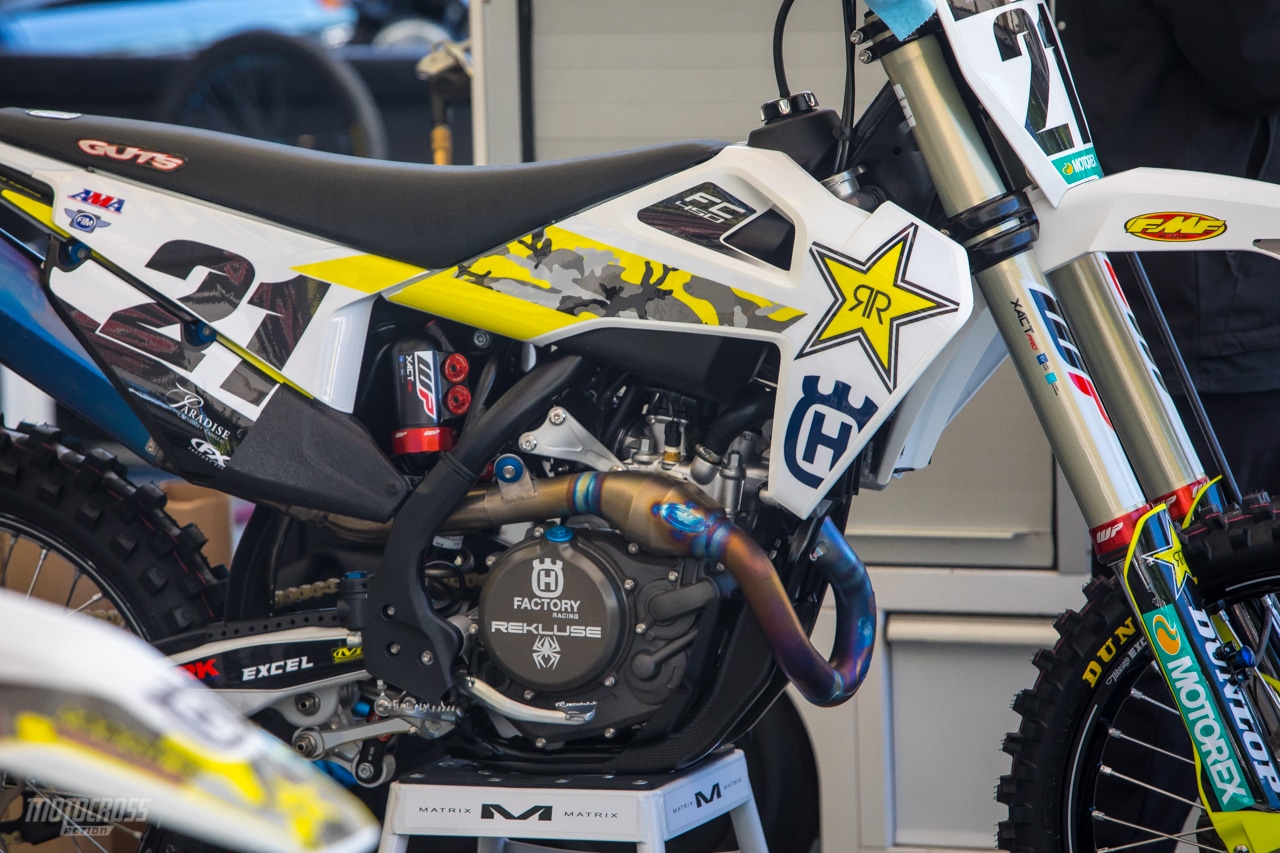 Jason Anderson's camo graphics on his Rockstar Husqvarna.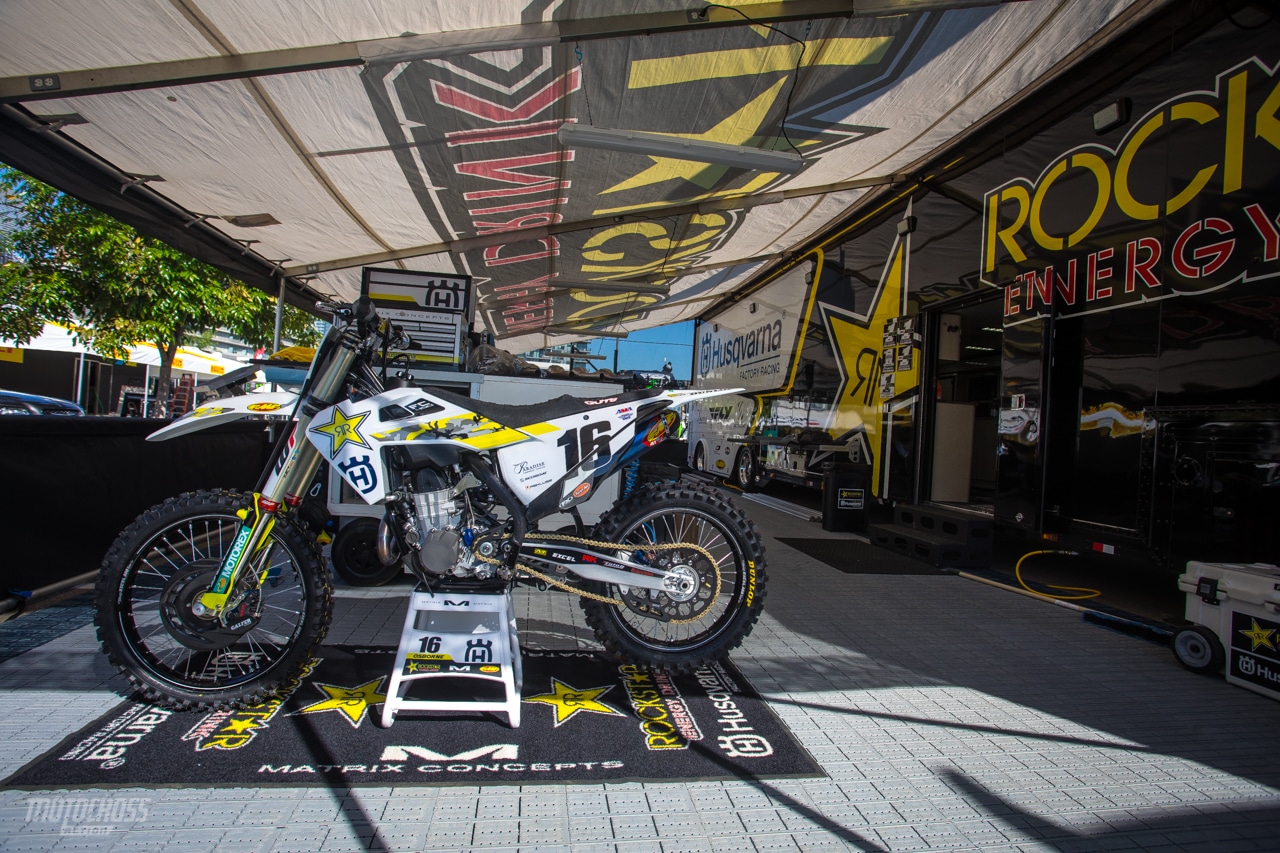 Zach Osborne's bike under the Rockstar Husqvarna tent. Notice the tree in the middle of the pits? Instead of the teams pitting in a big open parking lot like they do at most stadium, the rigs park in a regular downtown parking lot in San Diego. The lot has trees and curbs all throughout. This makes parking much more difficult for the drivers.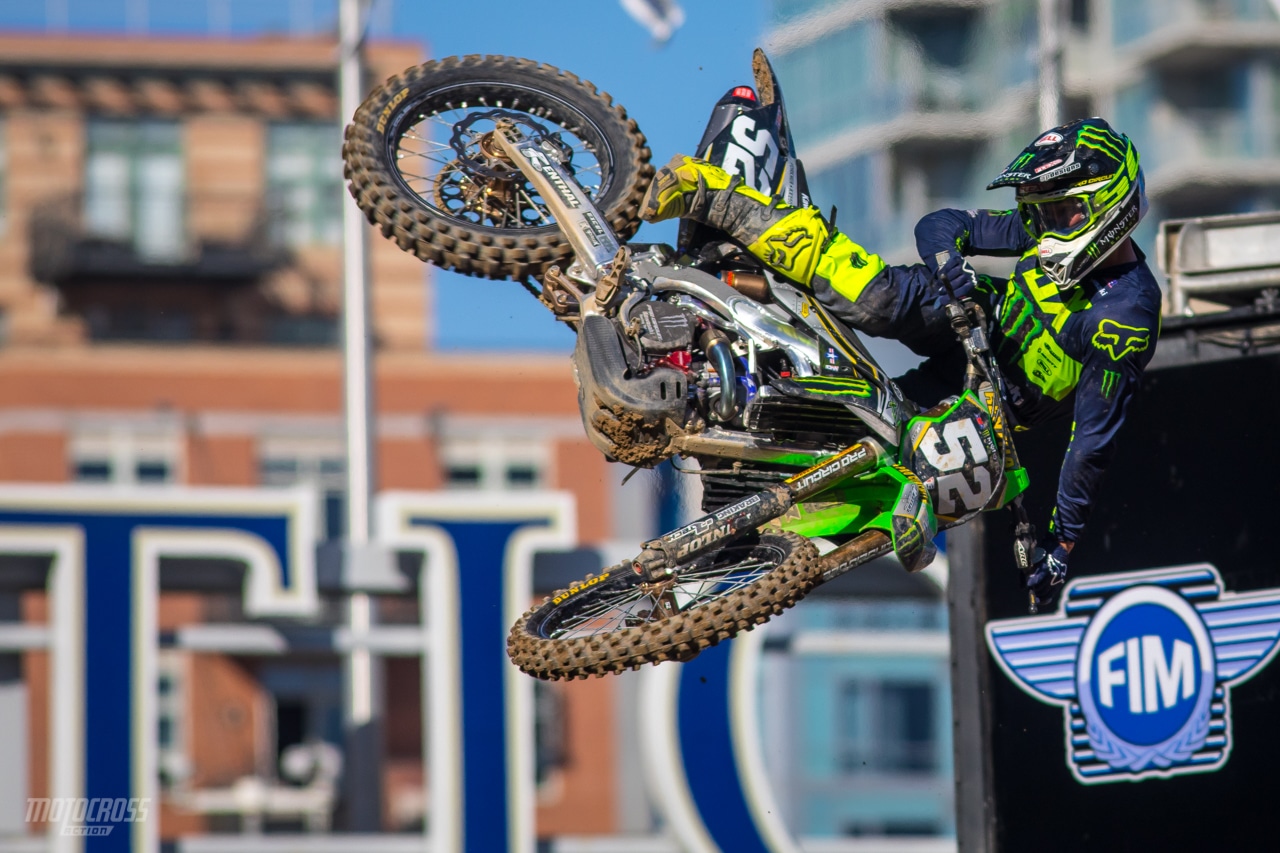 Austin Forkner was throwing some big whips during press day.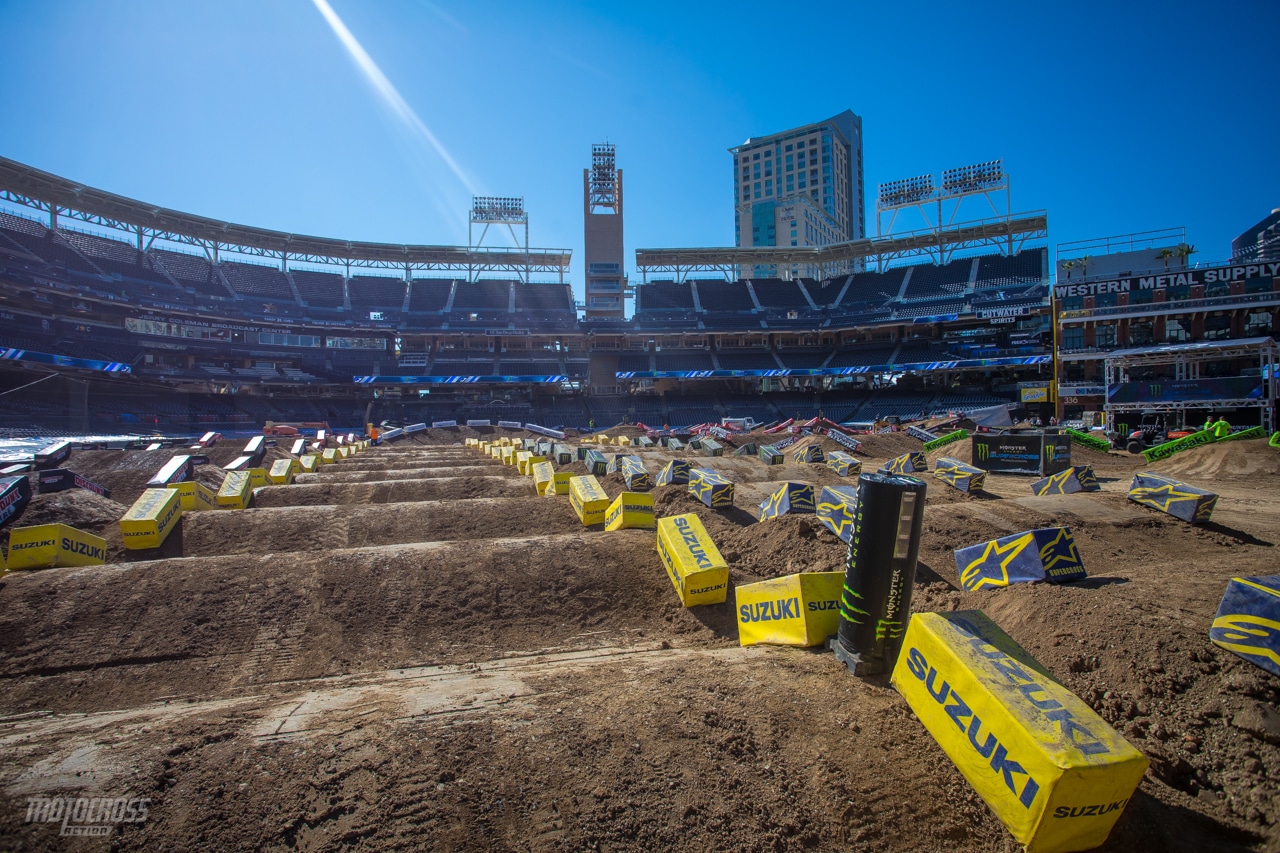 The back-to-back whoop sections in San Diego are going to be a huge difference maker in San Diego. 
Another angle. Some riders will be having nightmares about these whoops tonight.
Eli Tomac's factory KX450 with camo graphics.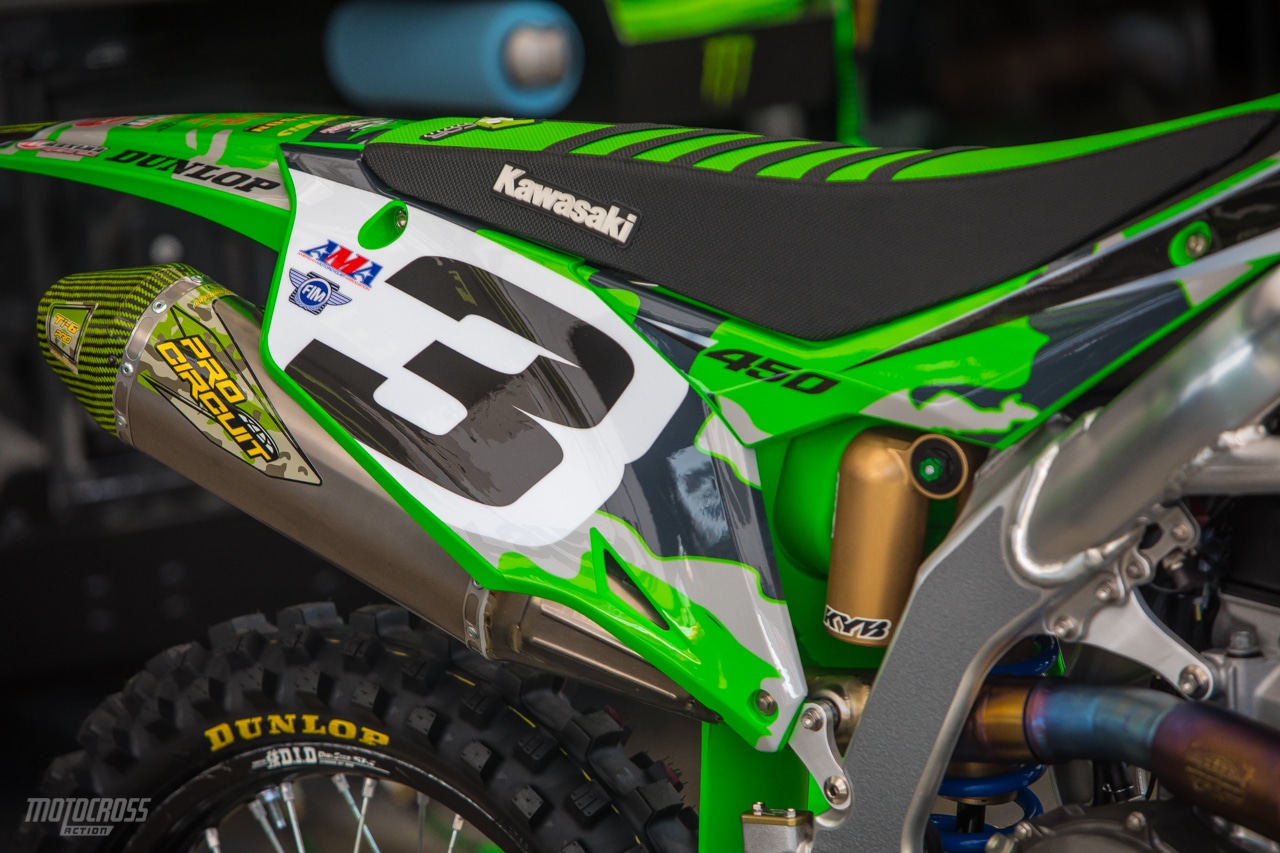 Even the Pro Circuit muffler on Eli's bike has green camo graphics.
Josh Hansen showed up to ride press day in San Diego. Is he racing? According to his instagram story he isn't racing this weekend, but he was out there having fun with the guys during press day.
Michael Mosiman has some cool camo Fly Racing gear.
Imagine the feeling the riders get when they line up behind this gate in front of a packed stadium.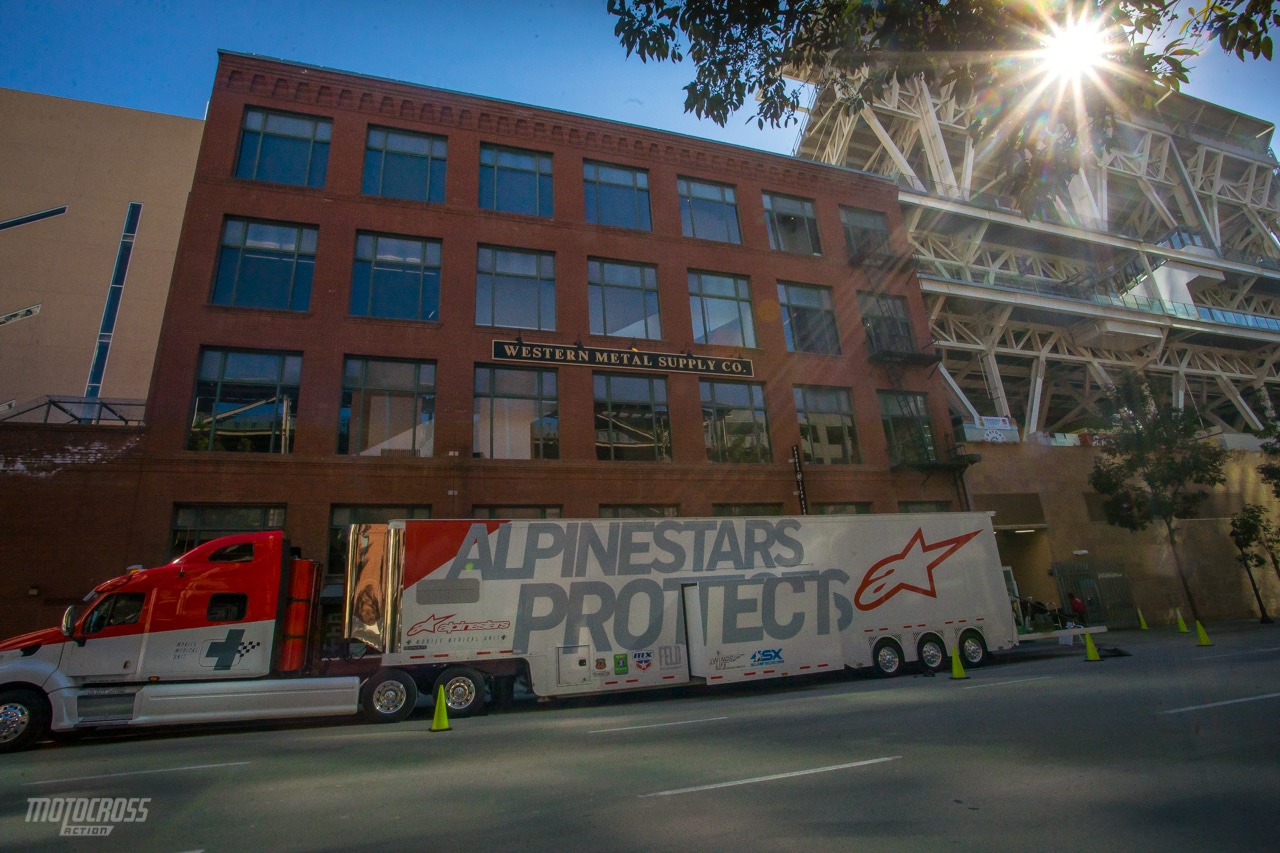 With the Petco Park being located in downtown San Diego, the Alpinestars mobile medical rig has to park on the street just outside of the stadium.
Aaron Plessinger's factory Yamaha YZ450F with blue digital camo.
The Red Bull KTM team stands are pretty cool.
Separating the two pit areas in San Deigo is the railroad for this trolley. 
Dylan Ferrandis is happy to have the red plate on his bike for the first time since A1 this weekend.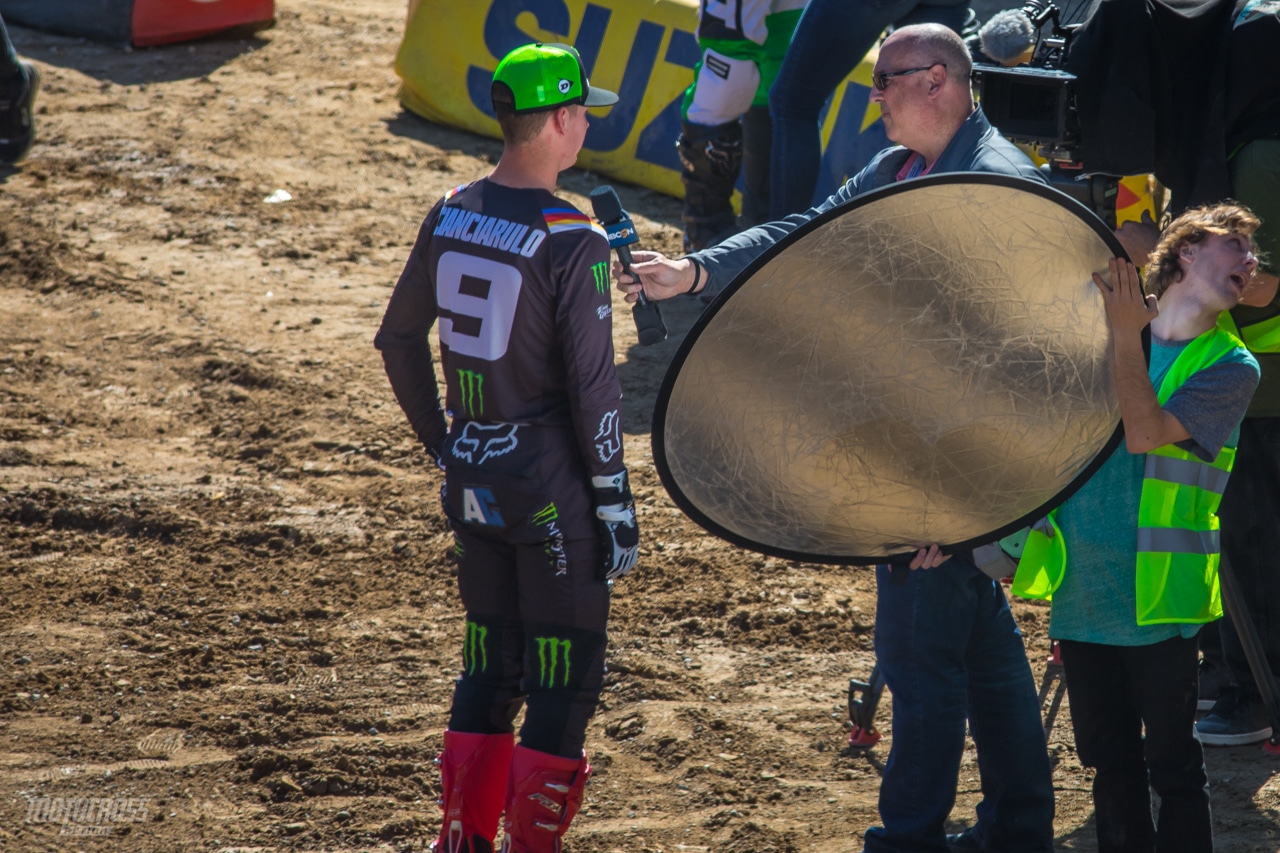 If your a popular rider and you show up for press day, you have to be willing to deal with the press. Here Adam Cianciarulo stands for one of his many interviews. 
Brent Duffe putting the final touches on Justin Brayton's HRC Honda CRF450.
Justin Brayton's bike has a big U.S. Army logo placed on his side number plates.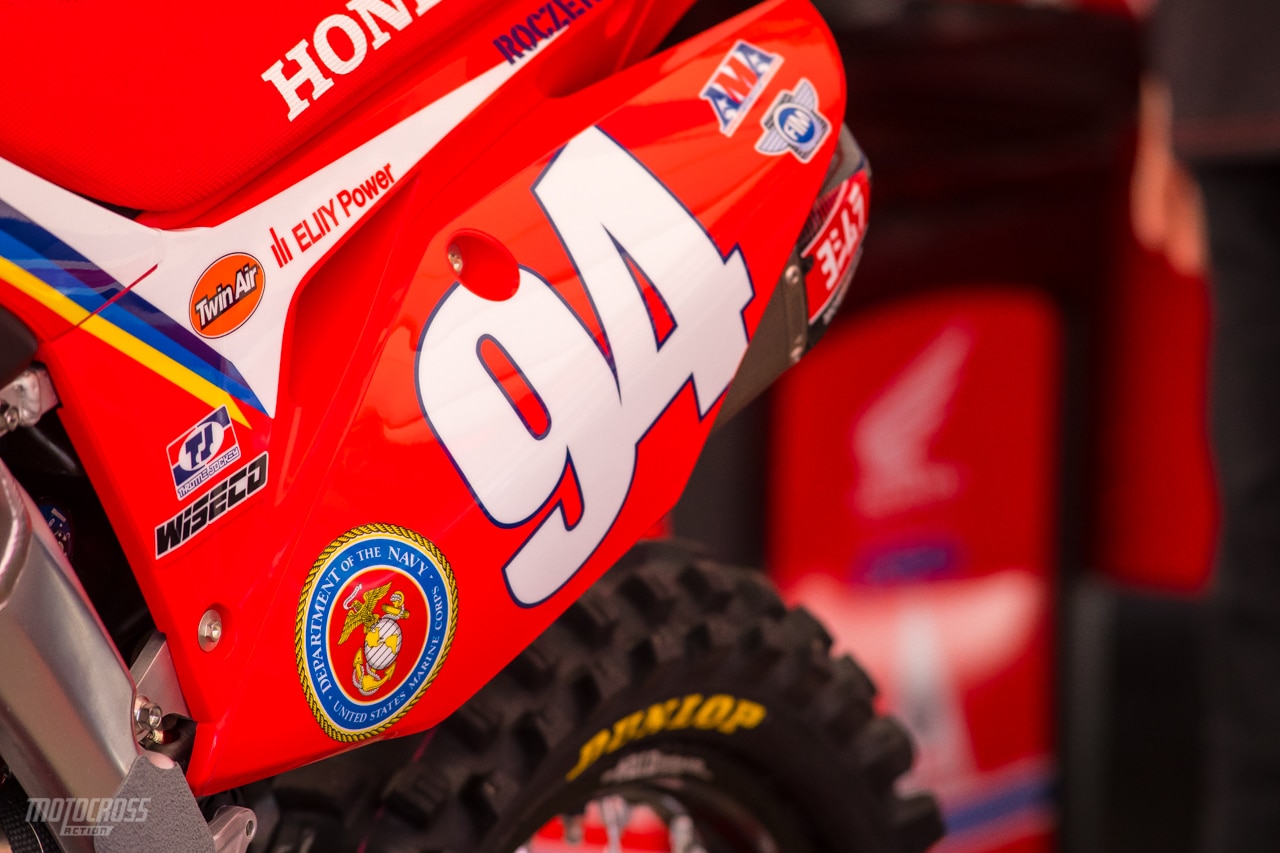 Ken Roczen has the U.S. Navy logo on his bike.
Josh Hansen chasing Ken Roczen during press day.
Adam Cianciarulo chasing his friend Cameron McAdoo.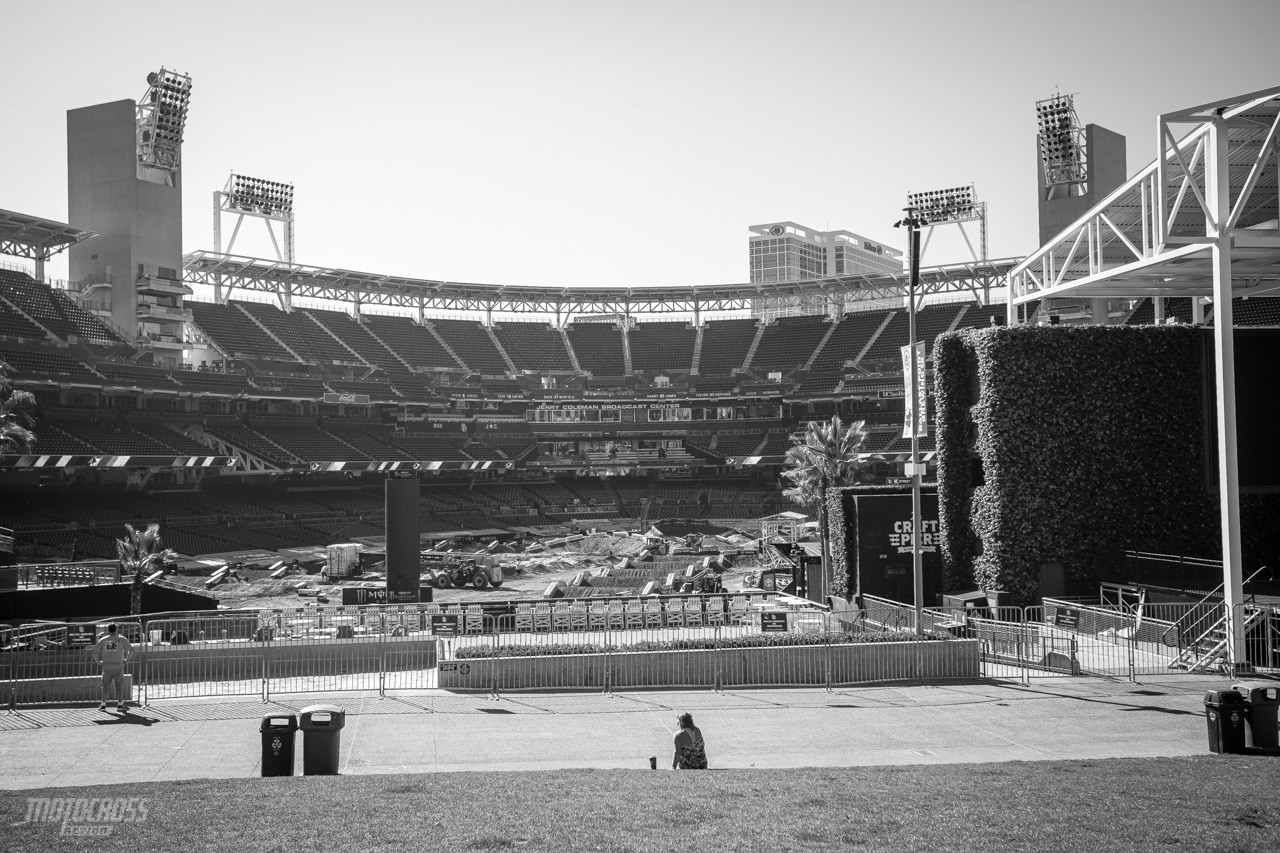 Here's a view of the track from outside of the stadium.
Michael Mosiman doing a little stand up drifting through the slick stuff.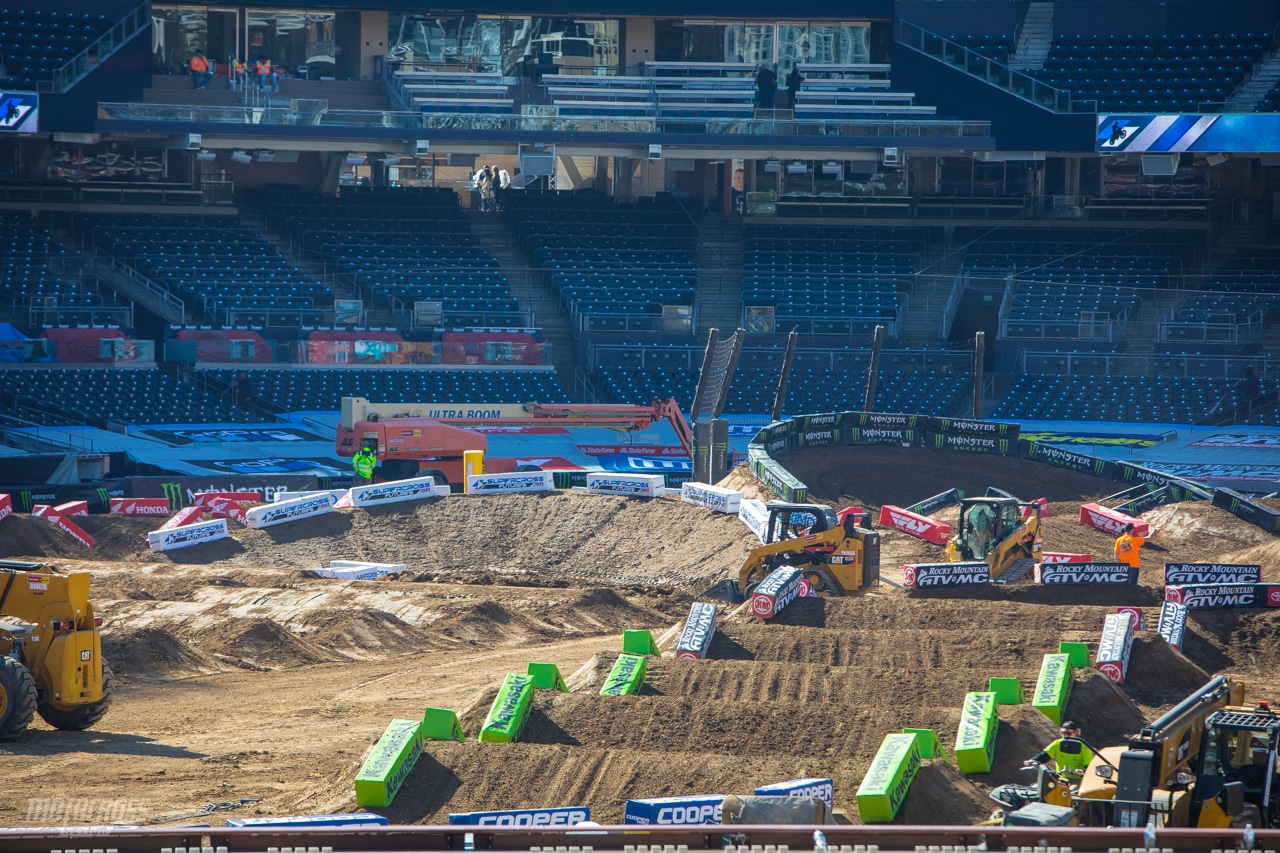 The track was ridden for the first time this morning by a few privateers for the early morning news channels. Friday afternoon, the factory Husqvarna, Kawasaki and Yamaha teams will all have their chance to ride press day. Stay tuned for our press day video.
Ricky Brabec's Dakar winning Honda CRF450 is on display under the HRC Honda tent.
Close up on Ricky Brabec's stead.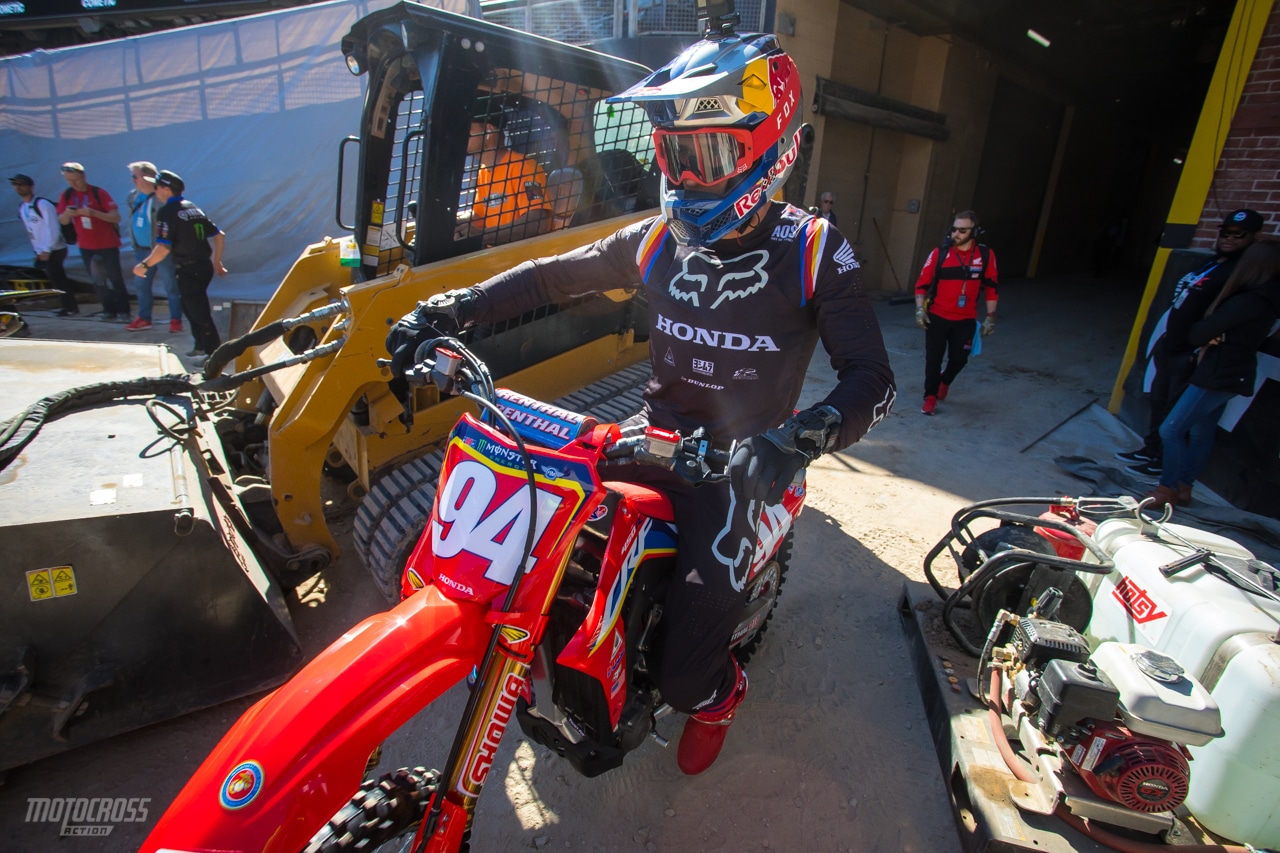 Ken Roczen entering the stadium for press day.
The Fly Racing mannequins slept in on Friday morning.
The Pro Circuit Kawasaki's have some really unique graphics this weekend as well.
It's all in the details. This Pro Circuit front fender decal is rad.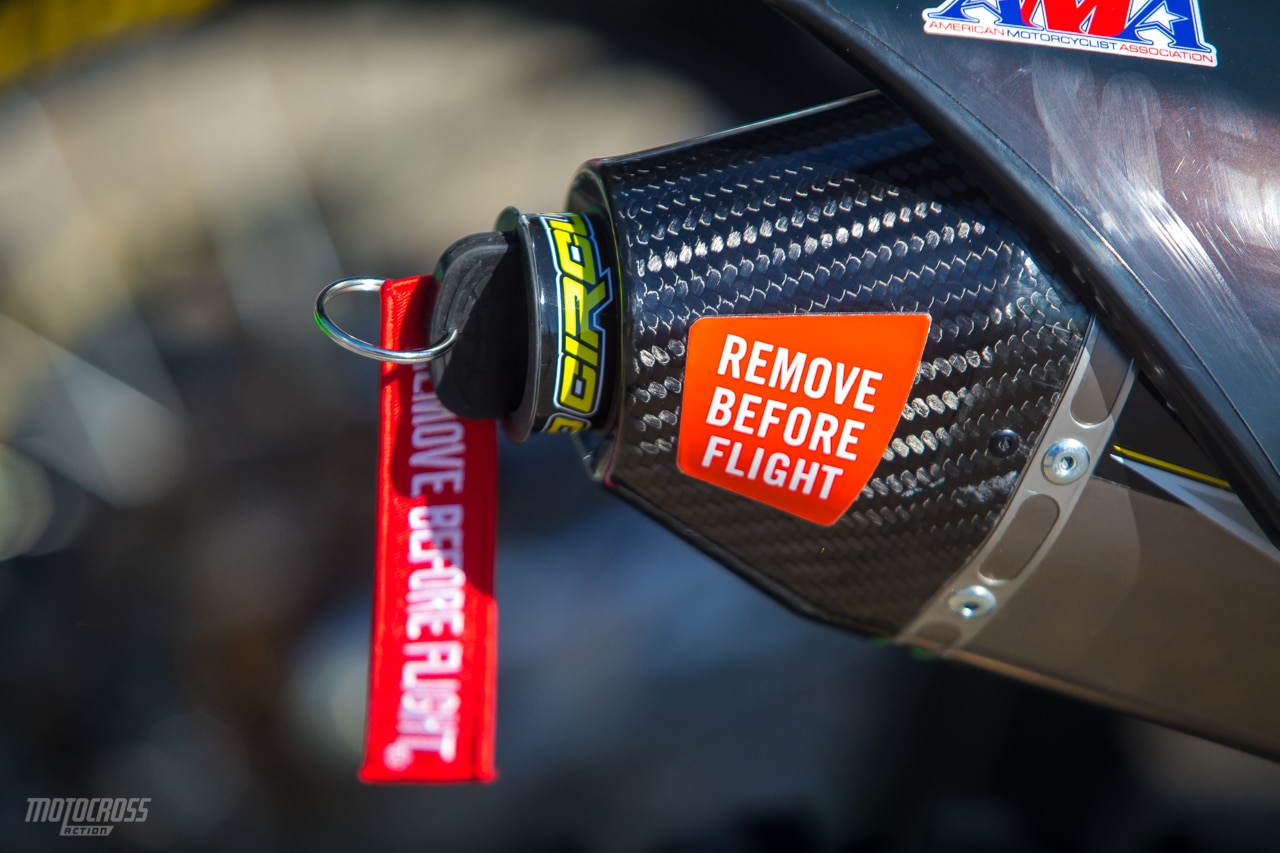 Just a reminder.
Austin Forkner's machine.
More details on the Pro Circuit Kawasaki KX250s.
Mitchell Falk on his BWR Honda.
Anthony Keith Gwynn Sr. was nicknamed "Mr. Padre." He played 20 seasons in the MLB for the San Diego Padres.
You might not be able to tell because of the camo gear and the bike angle, but that's Michael Mosiman…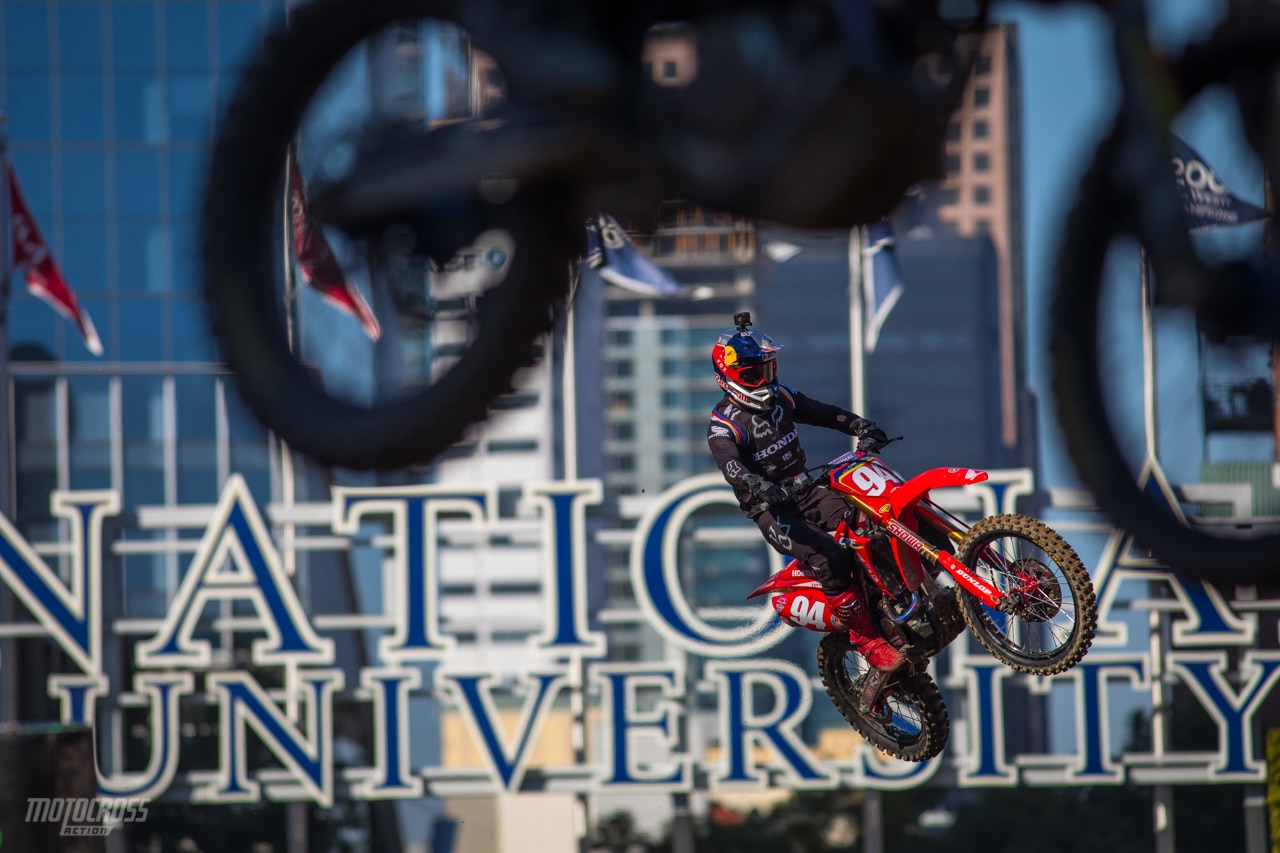 Ken Roczen with downtown San Diego behind his back.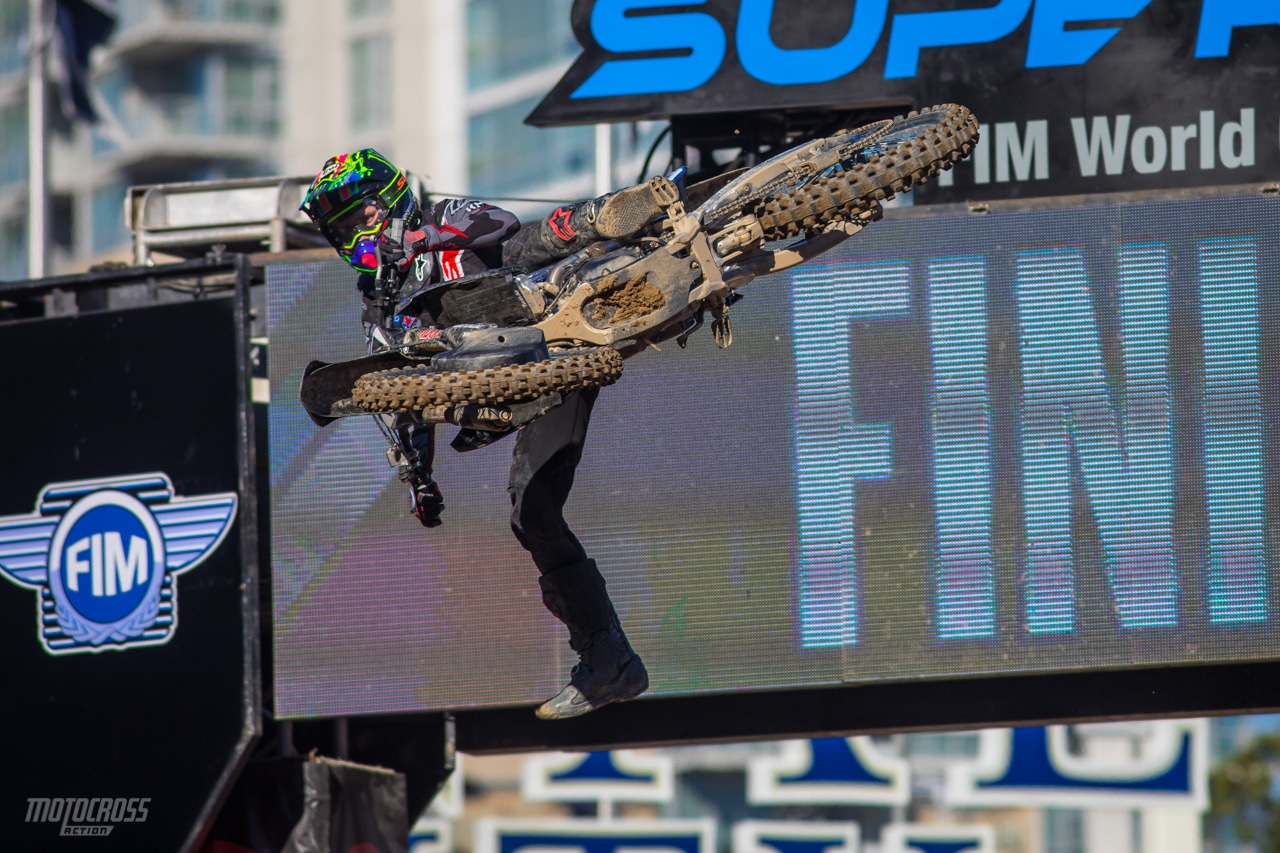 This is how you know Justin Barcia is feeling comfortable.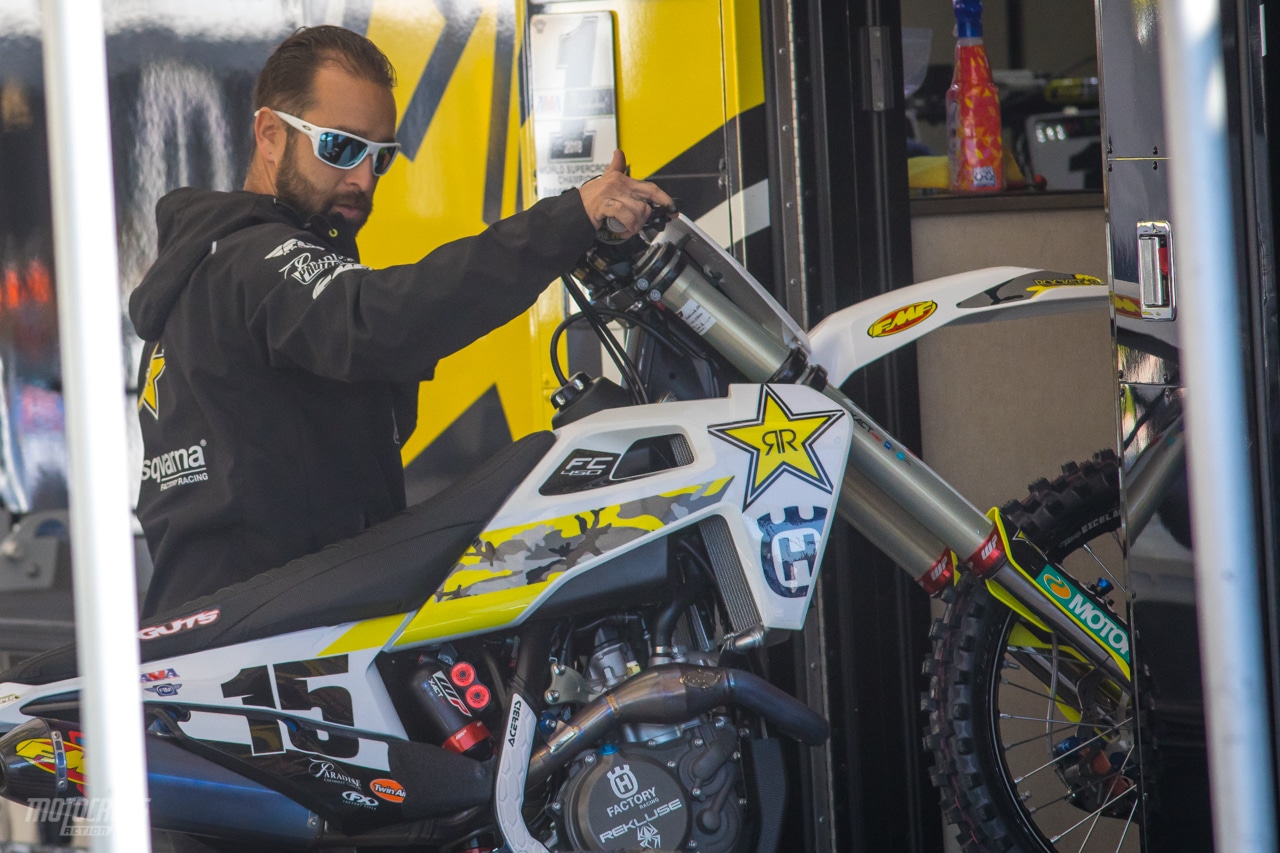 Jason Anderson's mechanic, Chris Loredo unloads Dean Wilson's FC450 out of the Rockstar rig.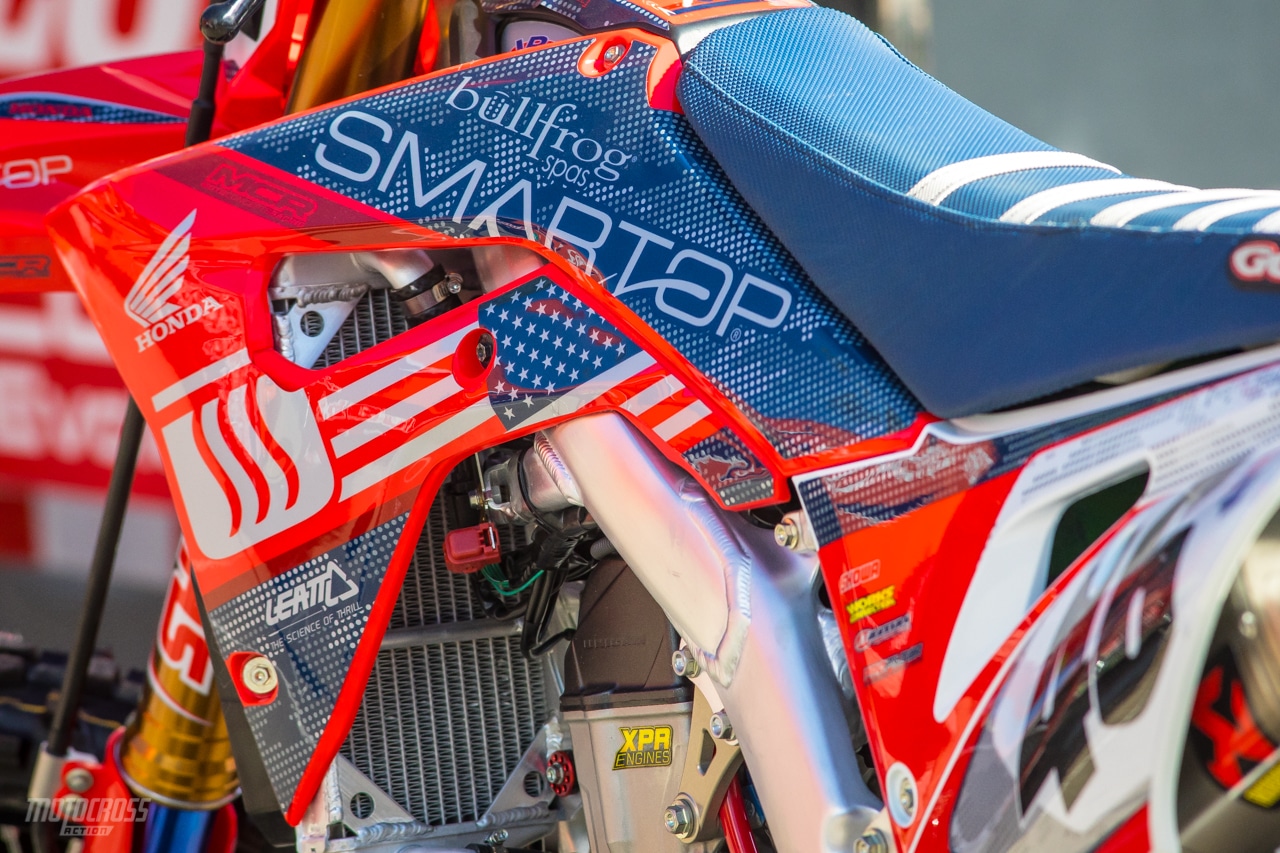 Justin Hill's Smartop Bullfrog Spas Honda looks awesome.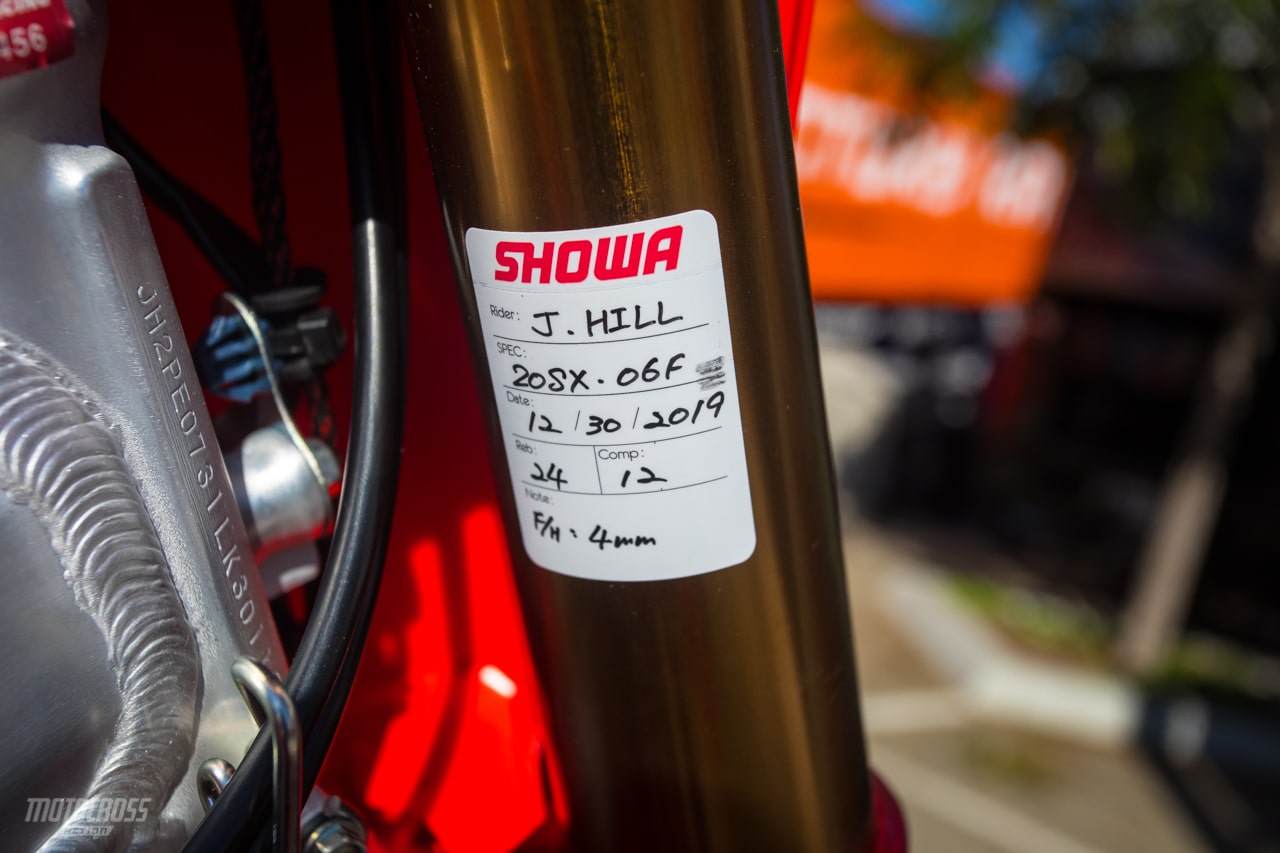 Apparently these settings are from December 30th. Justin has said that he hasn't changed his settings much, it looks like he wasn't kidding.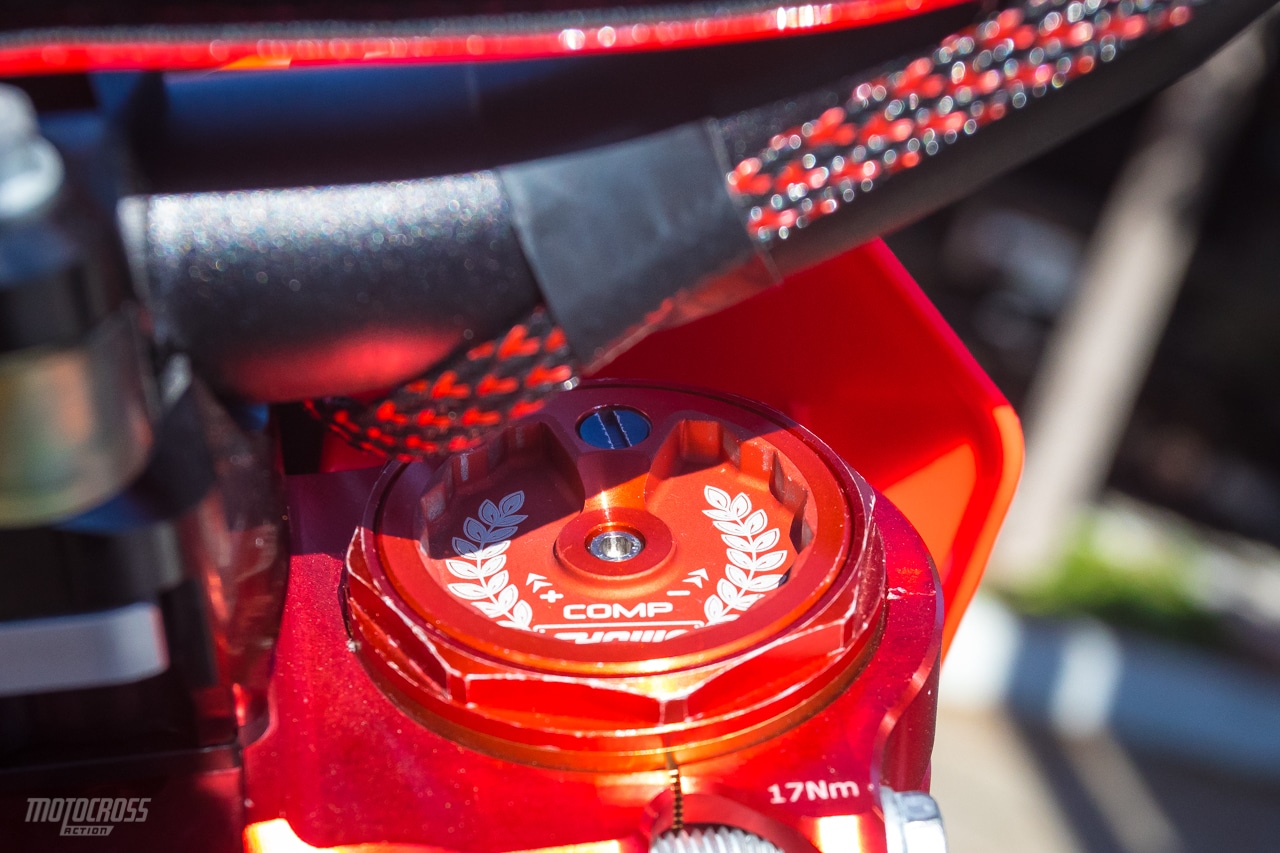 We love details like these.
Another angle of Justin Hill's bike.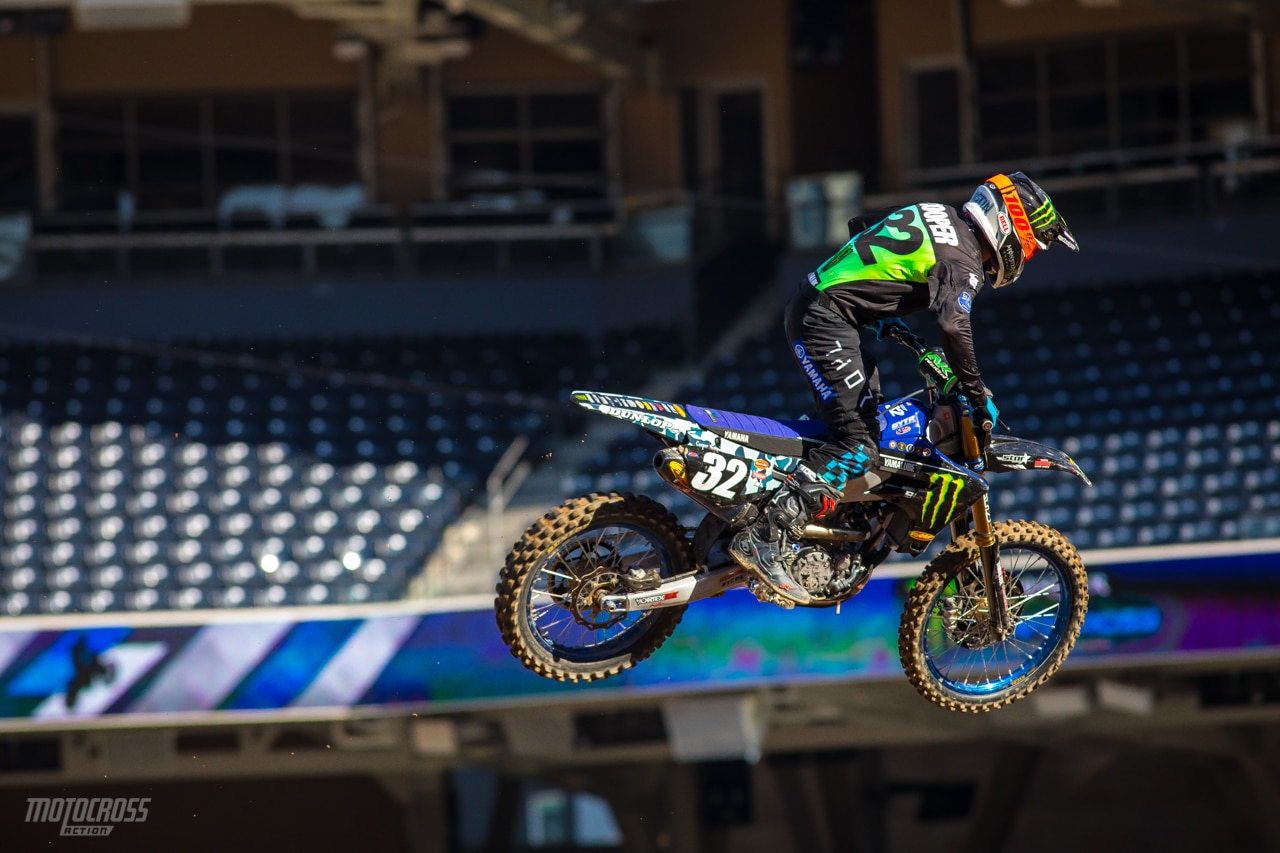 Justin Cooper lost the red plate to his teammate last weekend in Oakland. San Diego will be his first round without it since round two in St. Louis.
Josh Hansen on his Honda CRF450.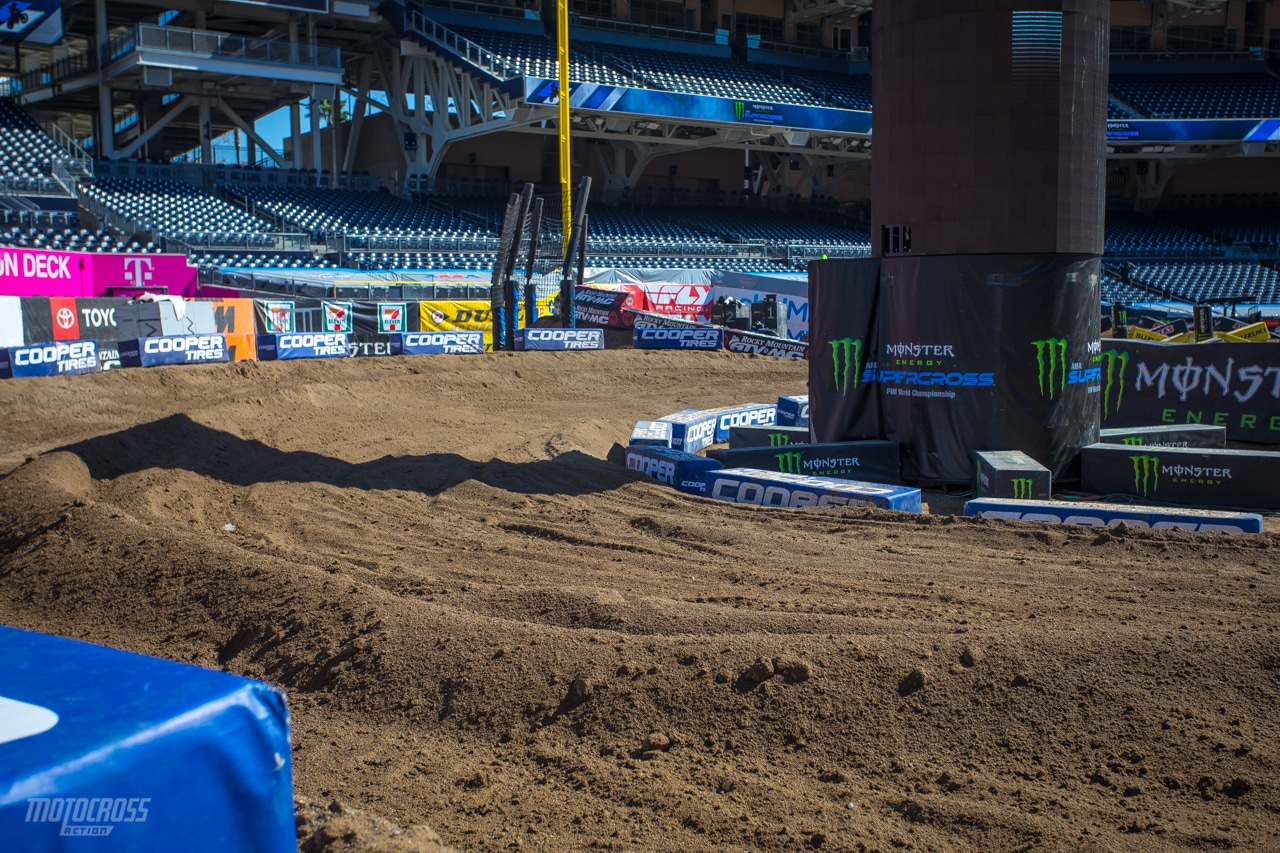 In San Diego we have another sweeping sand corner like Glendale.
USA USA USA!
The JMC Husqvarna bikes weren't outside yet when we strolled through the pits, but our friend Martin Castelo posted these photos on instagram and we had to share them. Martin ran the #150 in memorial of Chris Kyle the United States Navy SEAL sniper. He served four tours in the Iraq War and was awarded several commendations for acts of heroism and meritorious service in combat.
Martin Castelo didn't even have numbers on his side panels for press day.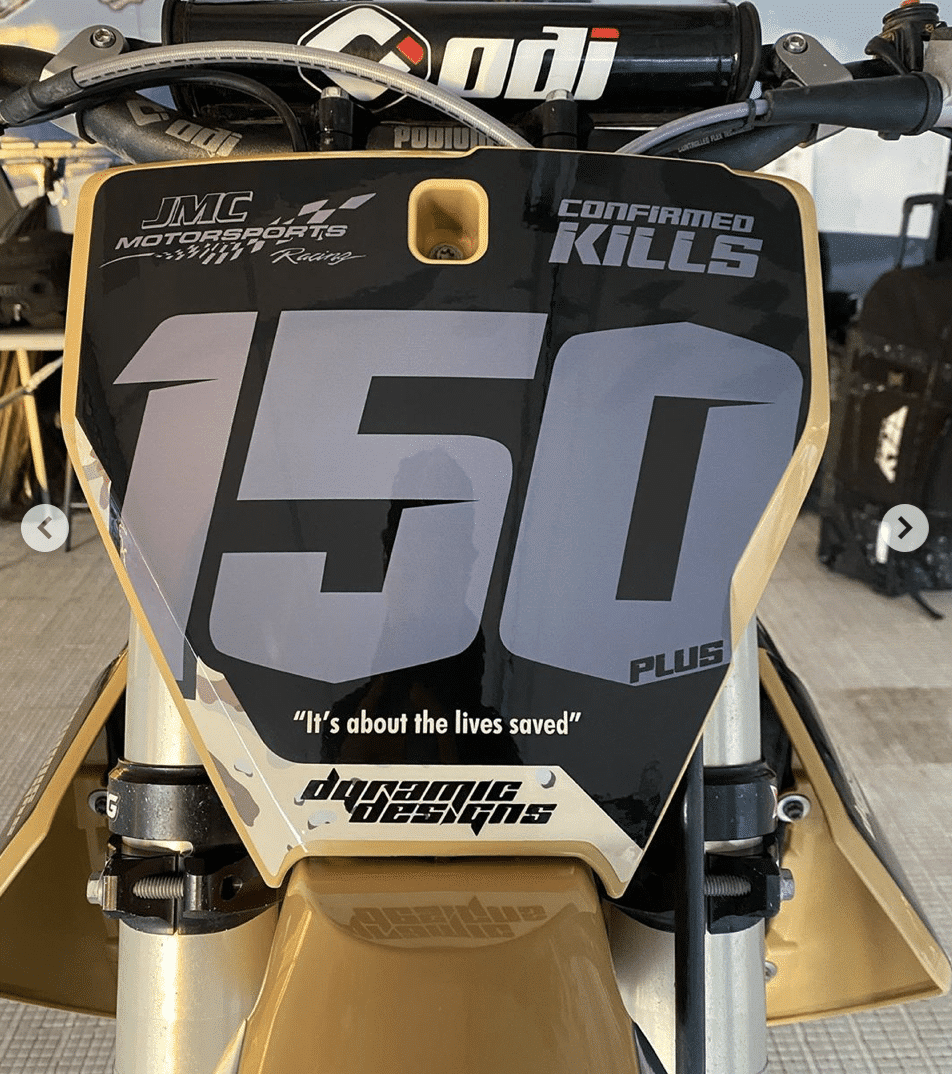 Martin Castelo posted about his setup on instagram: "Military appreciation bike came out sick thanks to @dynamic___designs. The design is in memory of Chris Kyle, US Navy Seal Sniper. We ran #150+ today for all his confirmed kills. I'm not American but I'm thankful to be able to race dirt bikes in such an awesome country! Thanks to all who have served and their families"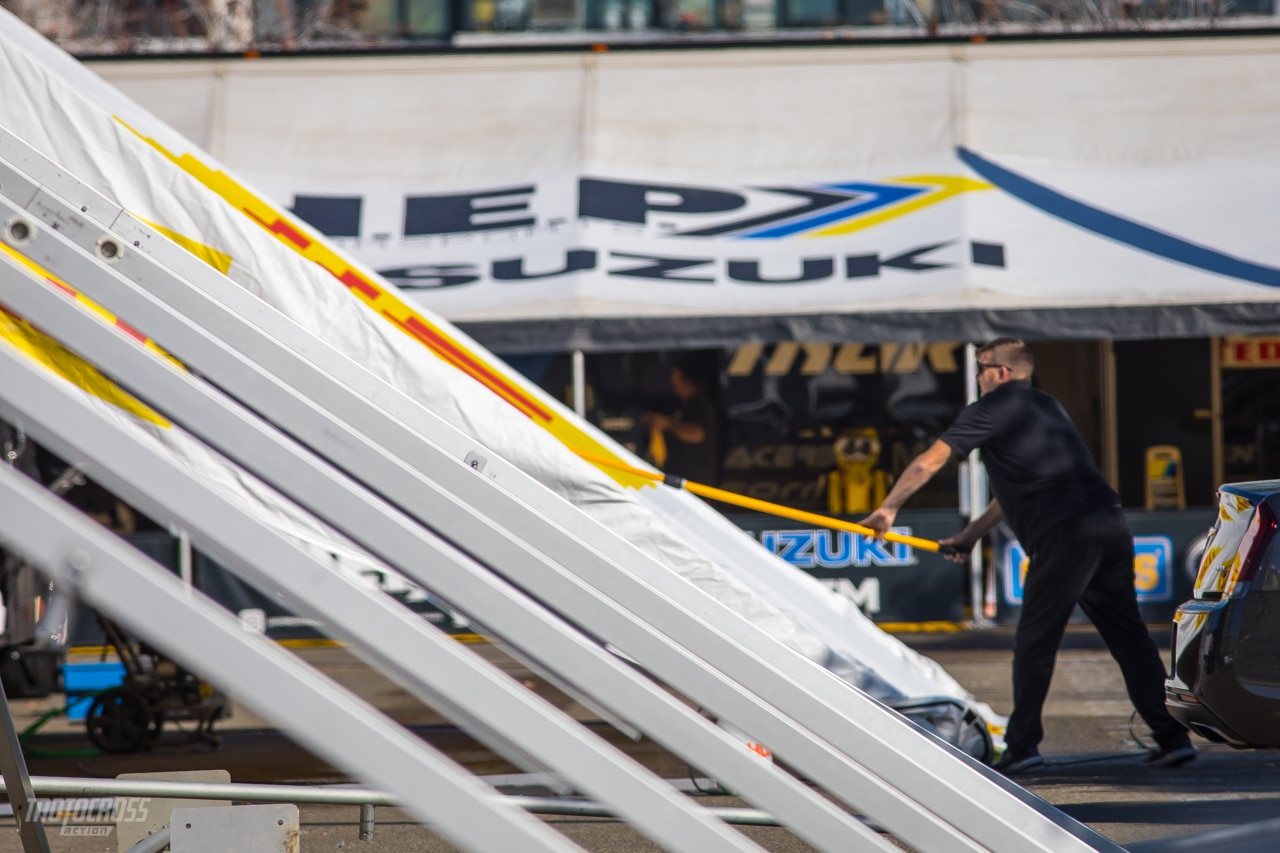 This Pirelli guy was the lone ranger scrubbing down their awning.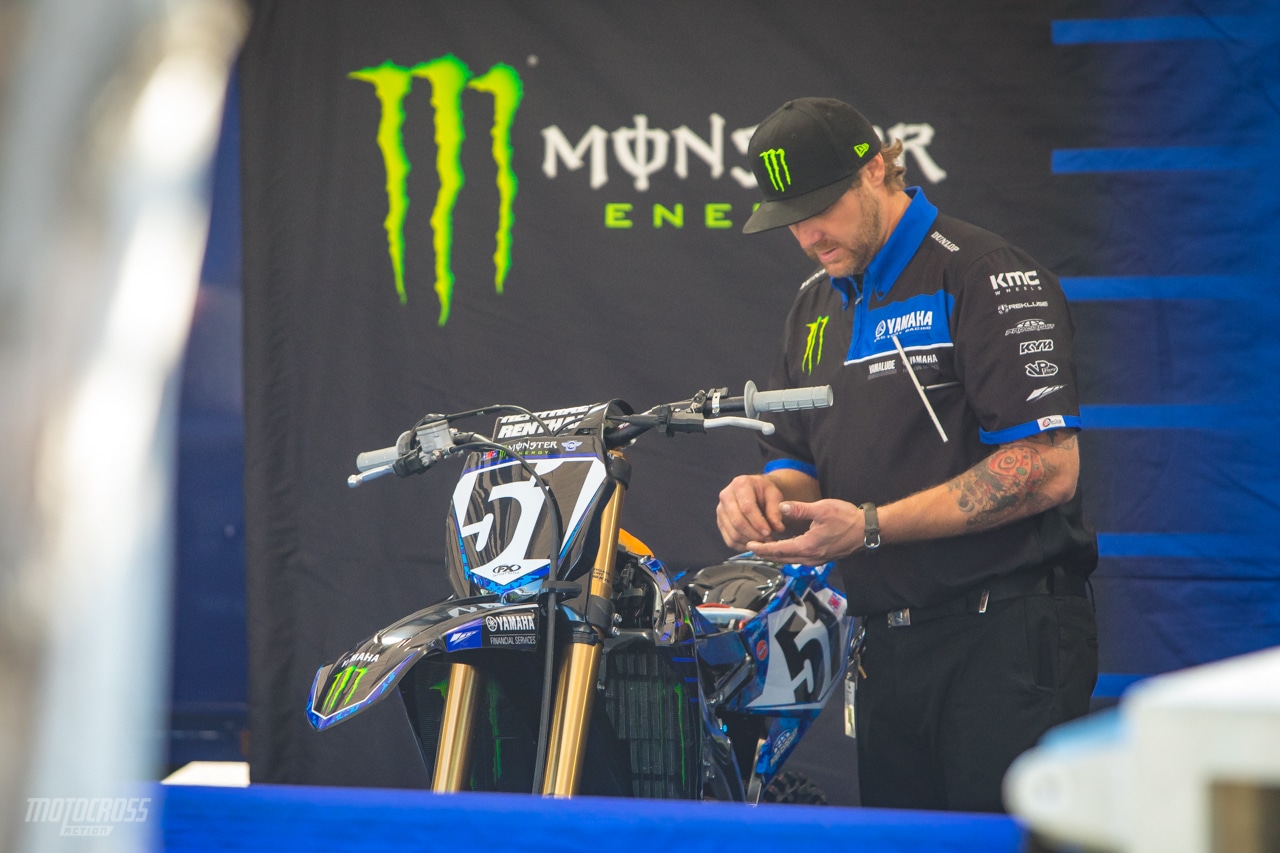 Justin Barcia's bike gets some love before he goes out for press day.
One more shot of the Pro Circuit Kawasaki's.
The truck drivers are no joke when it comes to setting up camp for the weekend. Some teams have nail guns that easily shoot through the asphalt to stake down the awnings and banners. 
Even the stadium seats get a bath before the big show.
The San Diego Supercross track from the stands.
Dylan Ferrandis on the gas.
More cleaning is done to the Petco Park stadium. We always appreciate how clean and nice this stadium is.
Adam Cianciarulo's KX450.
Who's thirsty?
Austin Forkner staring into our camera.
Bryson Gardner had a litter mishap in a corner.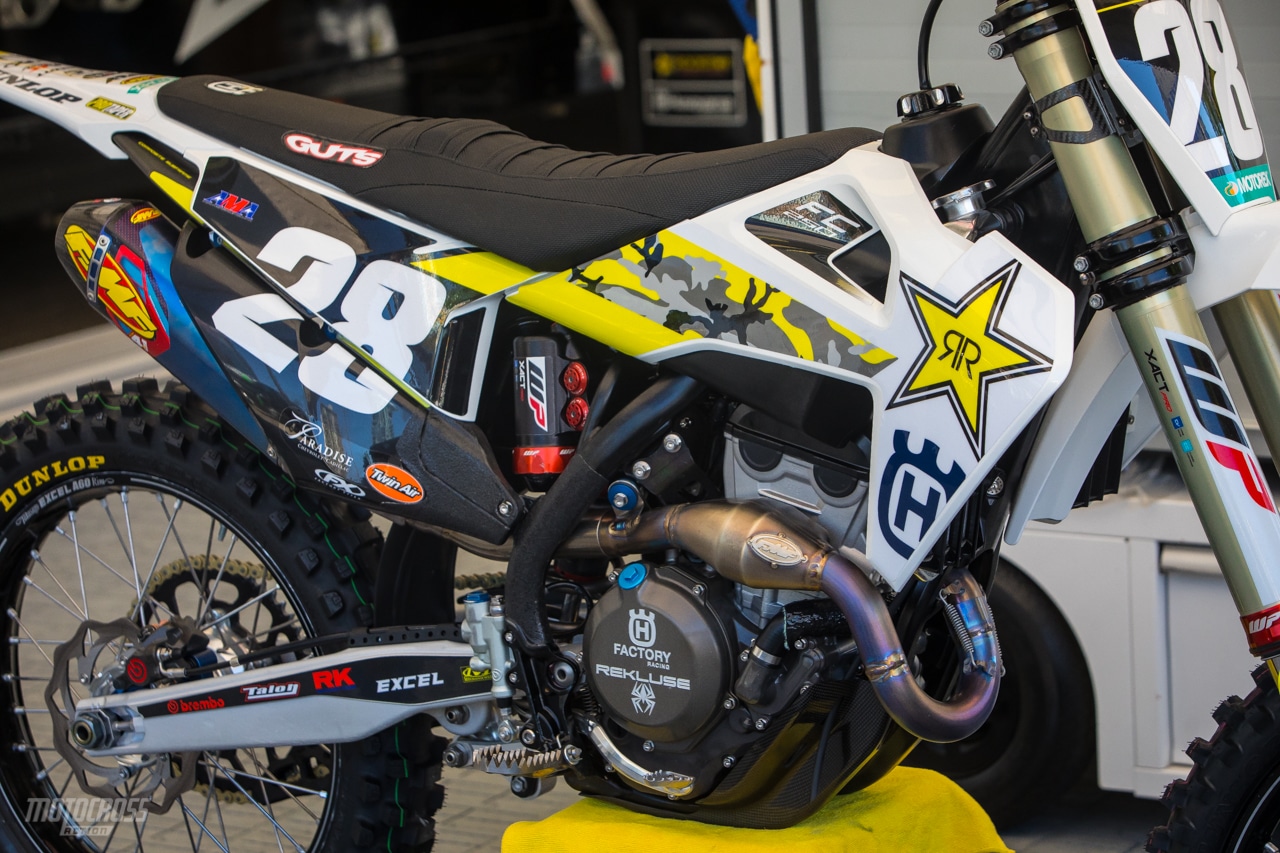 Michael Mosiman's Rockstar Husky.
We saw a lot of Raiders hats last weekend in Oakland. This was the only one we saw today in San Diego.
This KTM 50 is prepped and ready for the SDSX!
More KTM Junior Challenge 50s waiting patiently to get back out onto the track.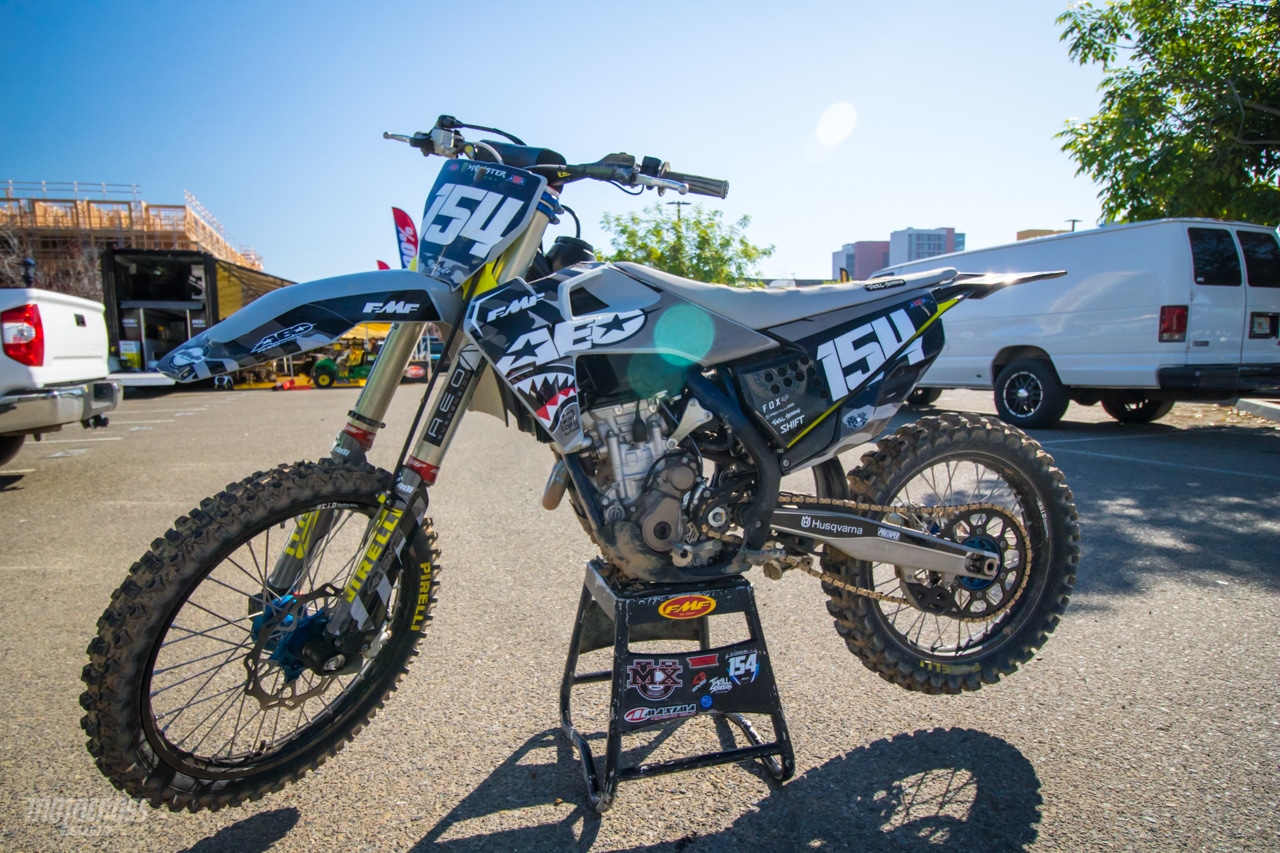 Privateer Chase Felong has a pretty cool look on his Husqvarna FC250. 
HEP Suzuki's Ryan Breece rode the early morning press day in San Diego.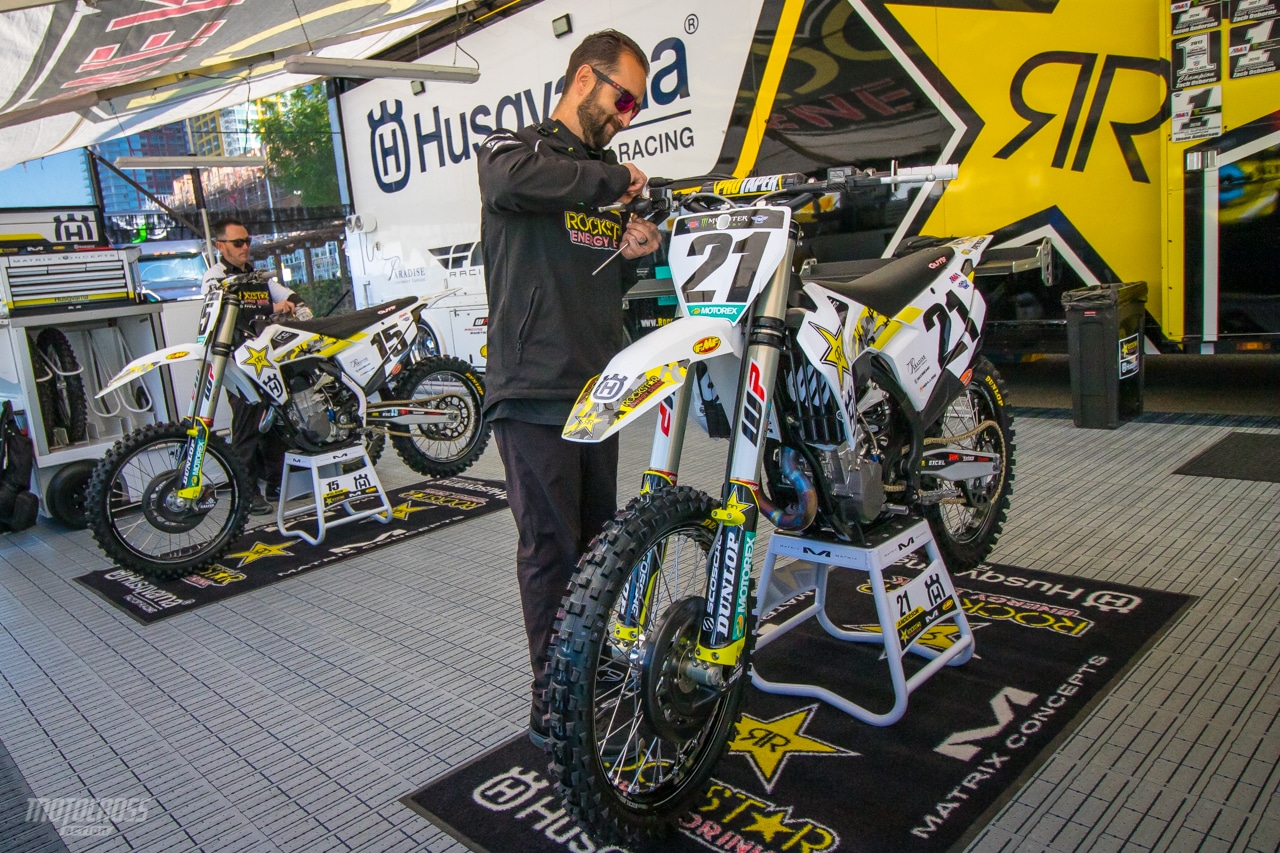 Chris Loredo aka "CLO" working on Jason Anderson's bike before he heads out for press day.
Kyle Cunningham's HEP Suzuki.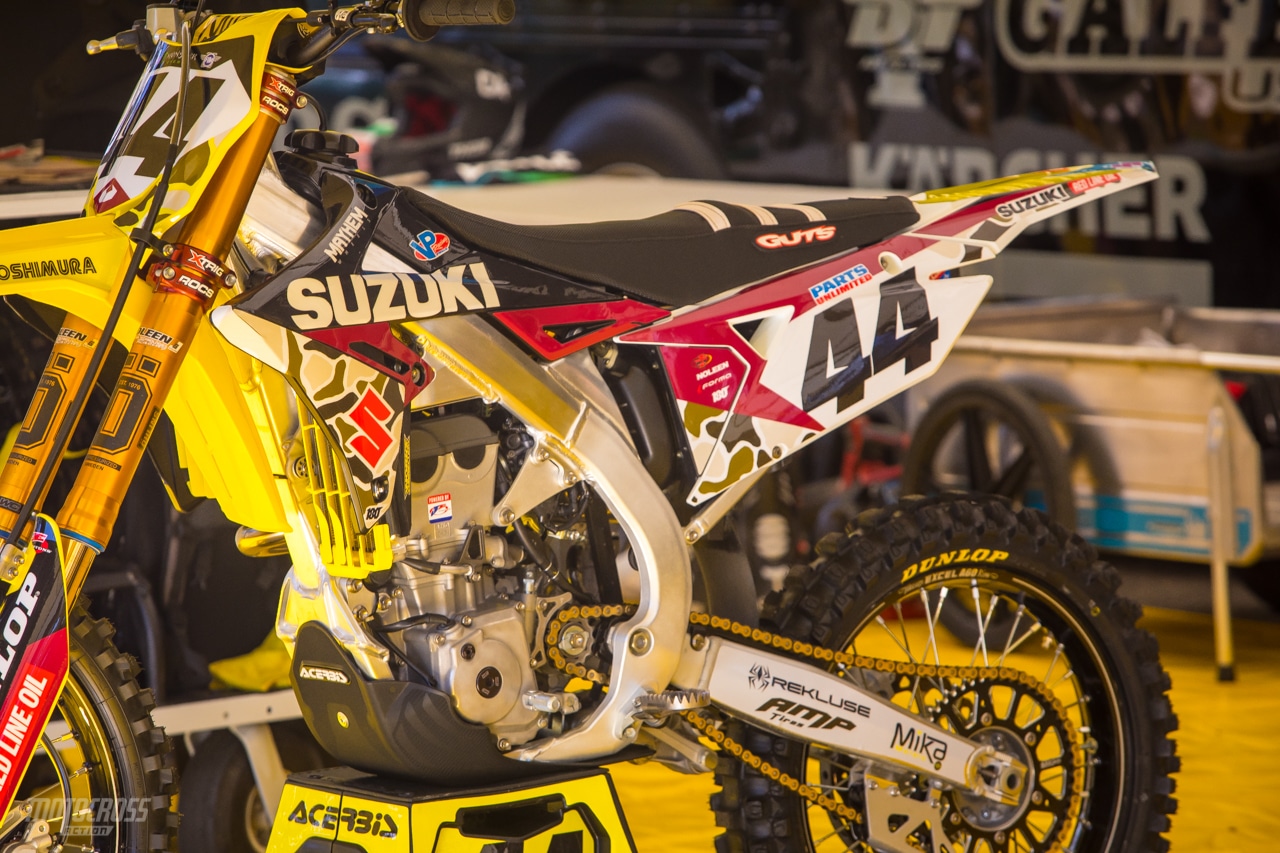 The HEP Suzuki team's military appreciation graphics are pretty cool. We love this race.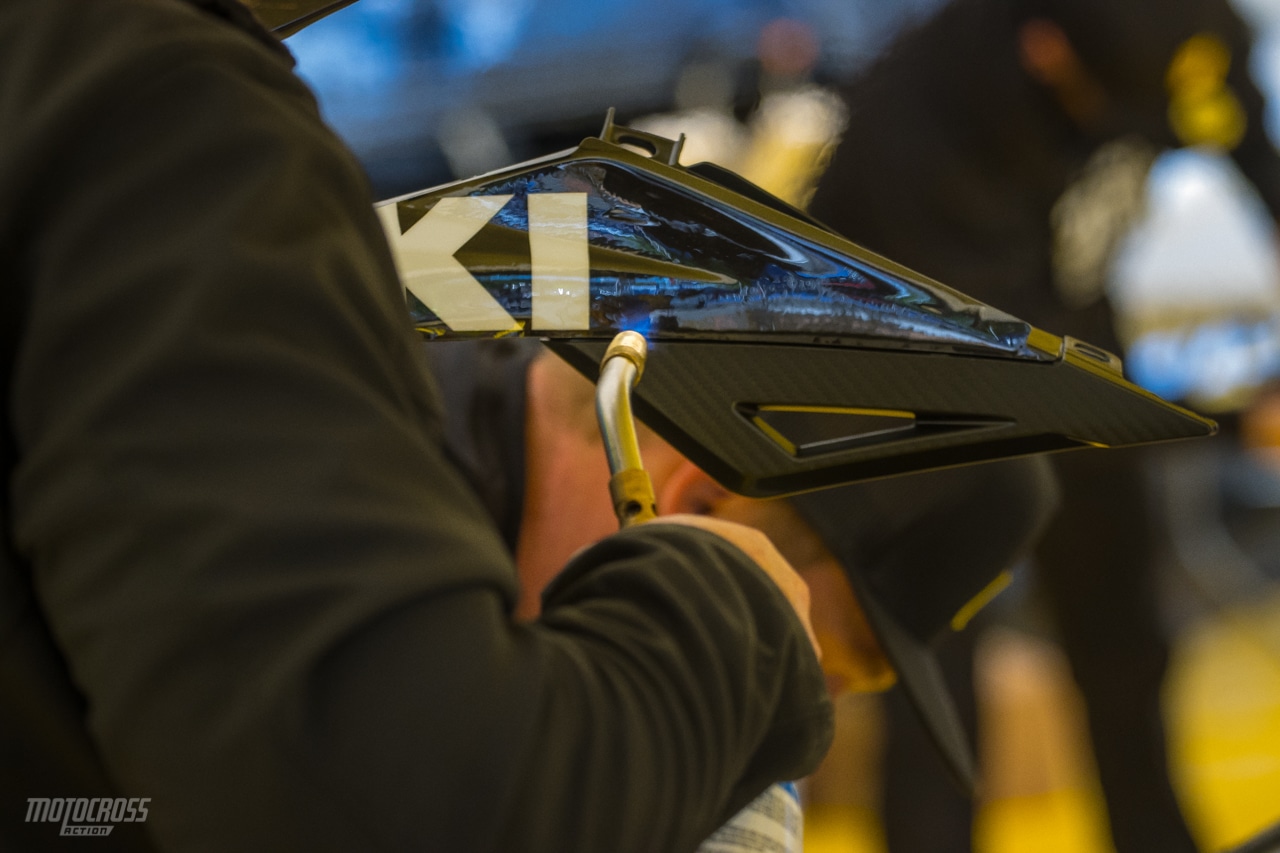 Another HEP Suzuki gets some heat treatment to make sure the graphics go on perfectly.
Taiki Koga and his mechanic cruising on their Honda grom.
This is one way to be efficient. Lots of teams and riders are using electric scooters to move around the pits with ease. The scooters are extra nice in San Diego because the pits are so far from the stadium.
Ken Roczen's swing arm and chain.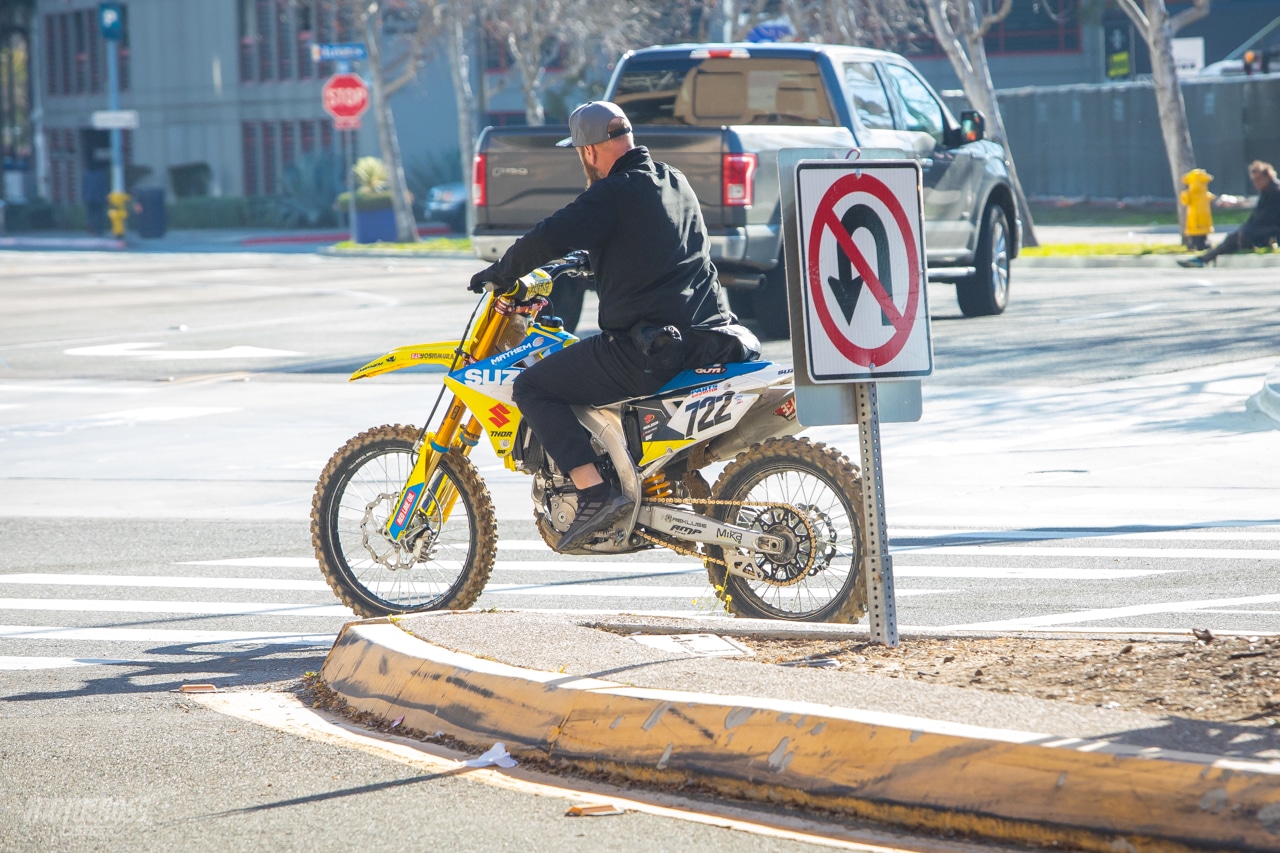 Adam Enticknap's mechanic rides his bike back from sound testing.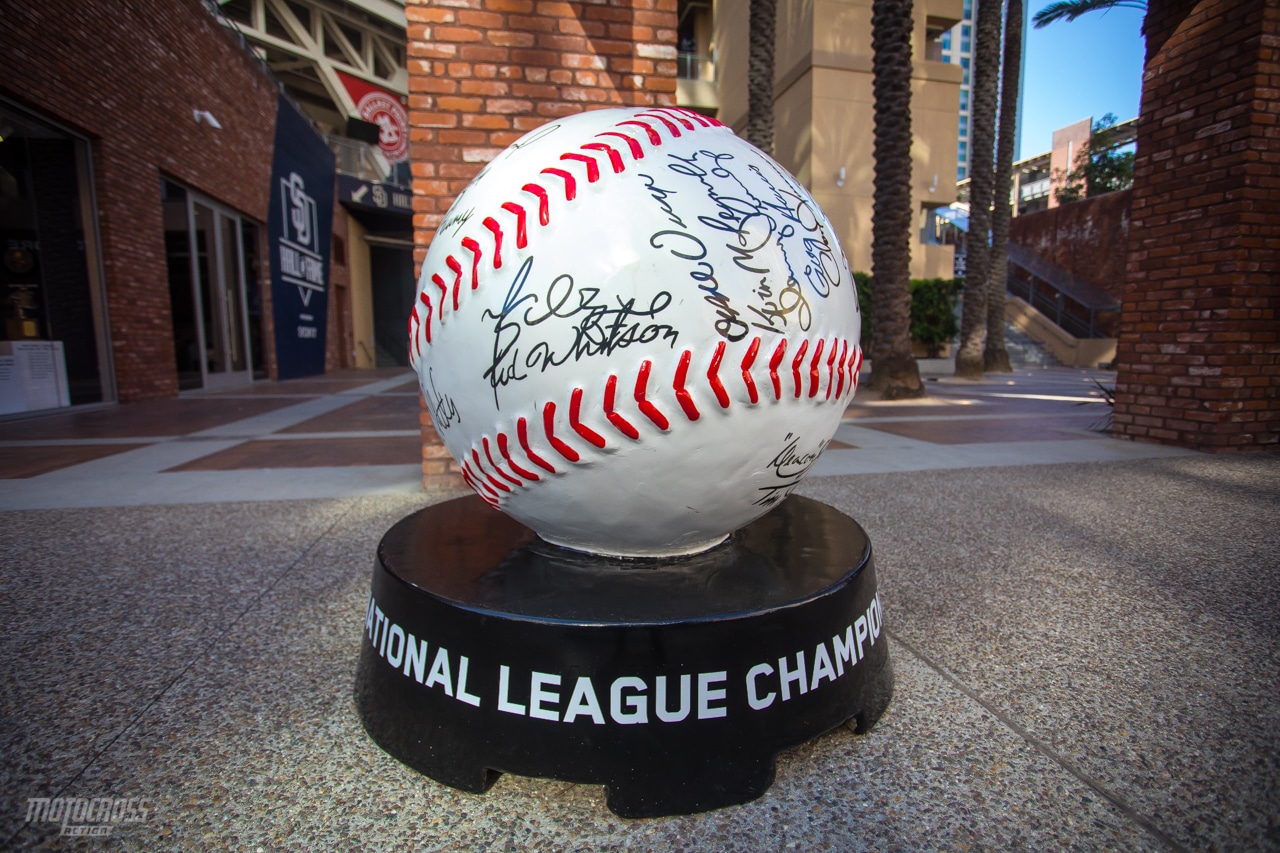 Click the link below for all of MXA's coverage from the San Diego Supercross.