2020 SAN DIEGO SUPERCROSS: LOOKING BACK AT LAST YEAR'S LIME-GATE RACE
The 2019 San Diego Supercross was pure carnage, Justin Barcia exited this corner with his eyes closed.
Photos by Daryl Ecklund, Story by Josh Mosiman
The first five rounds of the2019 AMA Supercross Championship were completely different from what everyone was expecting. It was awesome! Last year's weather provided for some crazy track conditions and the underdogs stepped their game and, if you remember, the 2019 San Diego Supercross was a mud fest
Eli Tomac rolls the finish line to takes his first win of the 2019 season in the 450 class.
The conditions for the 2029 San Diego Supercross were insanely tough. All week, the weather forecasted a monsoon on Saturday. The Dirt Wurx crew built the track early and prepared for rain by covering it with tarps. Although it didn't start raining until the afternoon on Saturday, when it rained, it poured. AMA decided to adjust the qualifying schedule and eliminate free practice and first qualifying sessions to save the track. The rain came down hard and by the time the riders got out there for their one and only qualifying session, the track was a mudfest.
One of the top stories after the 2019 San Diego Supercross was about the lime in the dirt. 
When it rains, the Dirt Wurx crew usually adds lime to the trackto absorb the moisture in the dirt. There have been many occasions where a track received rain and we think it's going to be a mud race, but the Dirt Wurx crew is able to save the track by covering it with tarps and using lime. At the the 2019 San Diego Supercross  the lime had a negative affect on the riders bodies and their bikes. Because of how muddy it was, every rider was covered with mud—and lime. Lime is a caustic chemcial and when it comes in contact with the skin it burns.
450 ACTION
Pit board battles between Marvin Musquin's and Justin Bogle's mechanics. 
Things got close between the Red Bull Factory KTM and Rocky Mountain ATV-MC WPS KTMs of Musquin and Bogle.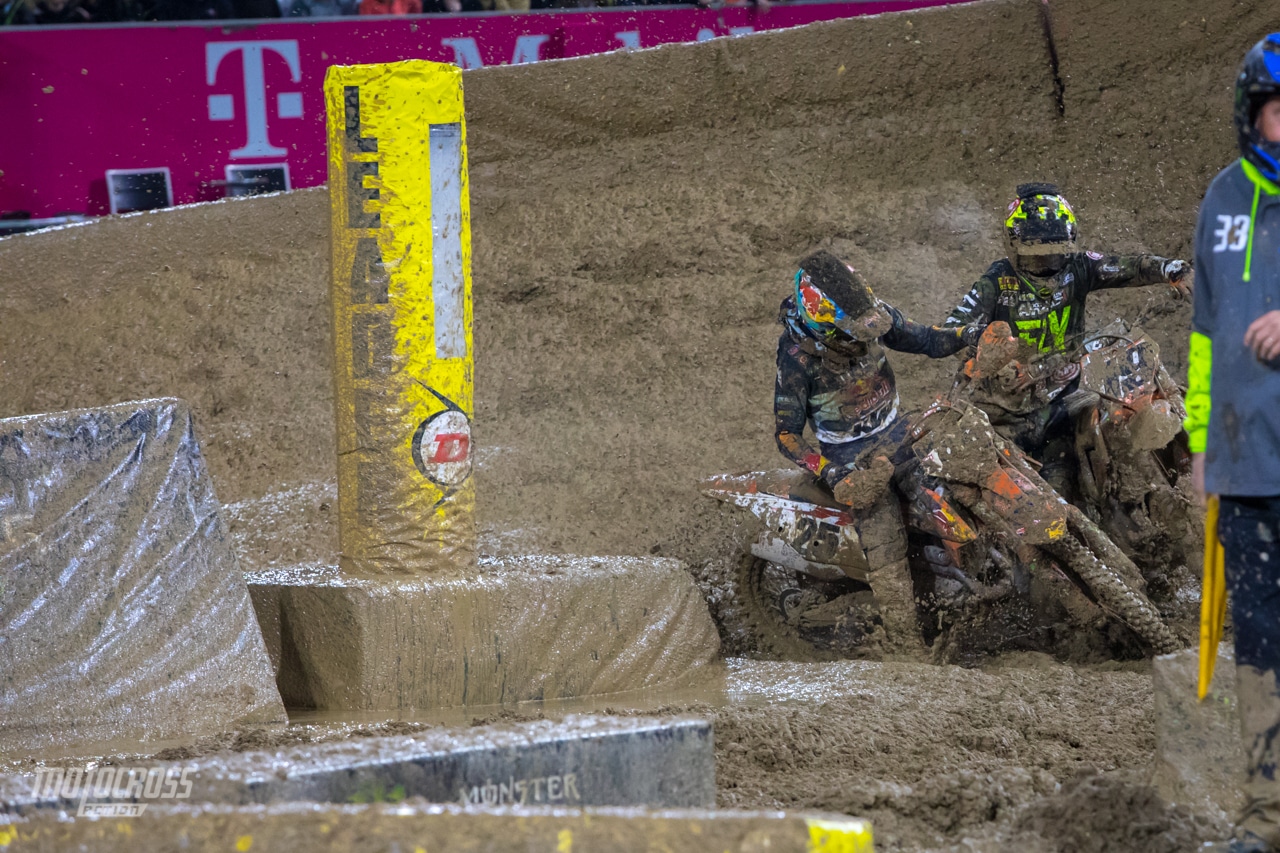 Marvin Musquin eventually pushed his way passed Justin Bogle with a lap and a half to go.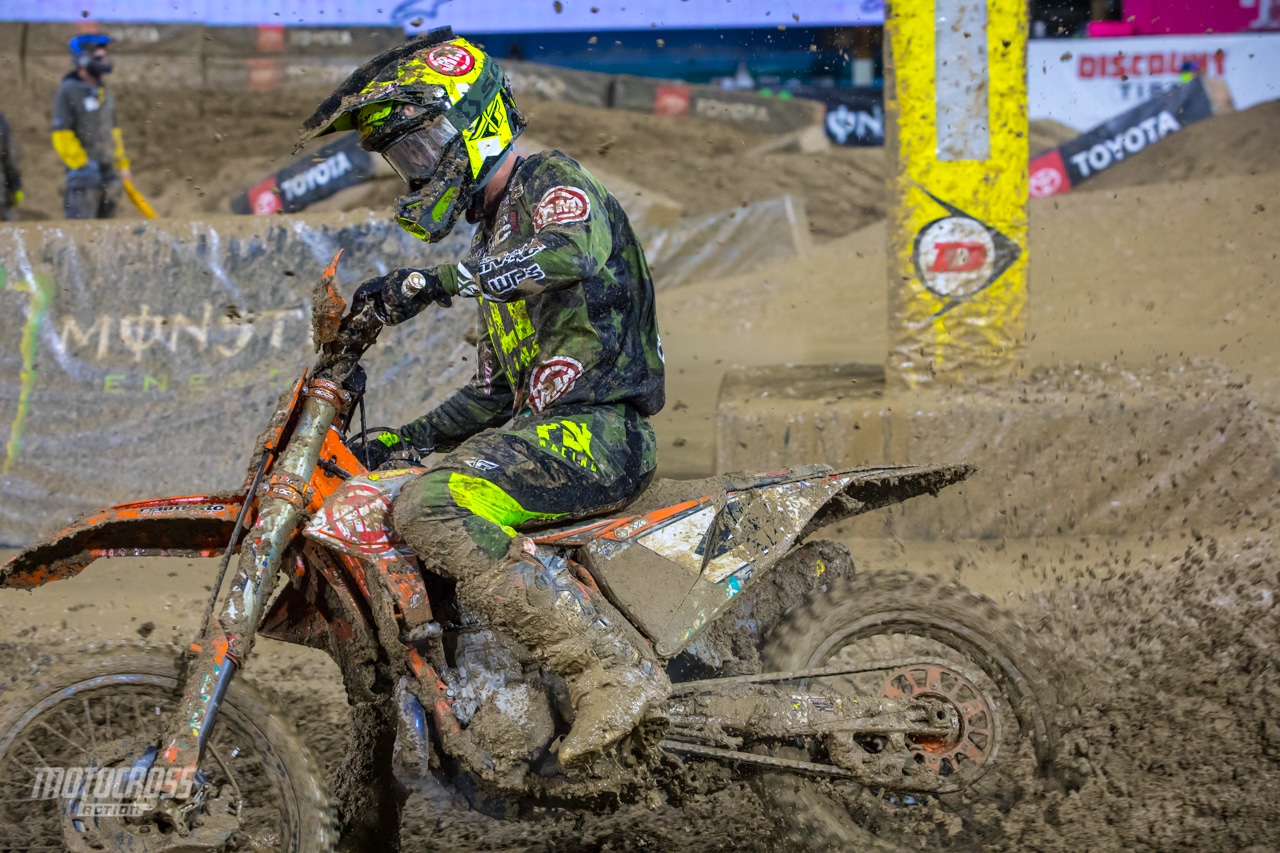 Blake Baggett finished fifth in the heat race and ninth in the main event, he now sits fifth in the Championship point standings. 
The start was extra important in San Diego. If you weren't out front your goggles were covered in mud right away.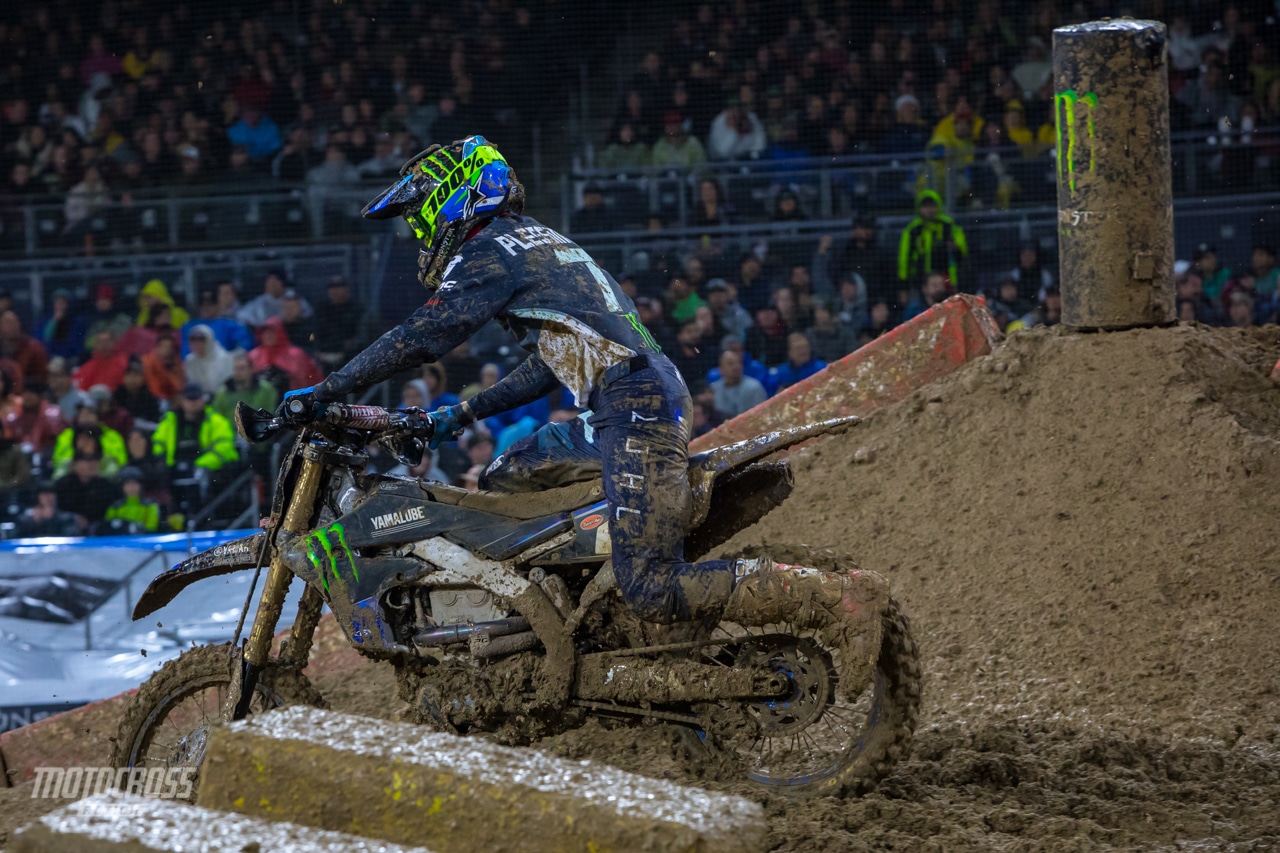 Aaron Plessinger is known for being good in the mud and he finished sixth in San Diego.
Carlen Gardner made his third 450 main event of the year and finished sixteenth on his BWR Honda.
After his 2019 Anaheim 1 win in the mud, the fans had high hopes for Justin Barcia in San Diego. The Yamaha rider qualified sixth, placed fourth in his heat race and he ran in third place in the main event until his bike quit on the third lap.
Justin Bogle is one rider who seemed to accelerate in the mud. With only days on the KTM before Anaheim 1, Bogle was behind the 8-ball when the 2019 season started. However, in San Diego  Bogle ran second for over half of the 450 main event and after Roczen and Musquin passed him, he finished fourth.  
Chad Reed made his 18th  starts in San Diego back in 2019. He has won San Diego six times (2003-2005, 2007-2008, & 2011). Chad Missed the 2020 Oakland Supercross last weekend with rib in juries, but with his drive to round out his resume numbers, he'd probably like to get his 19th start if possible.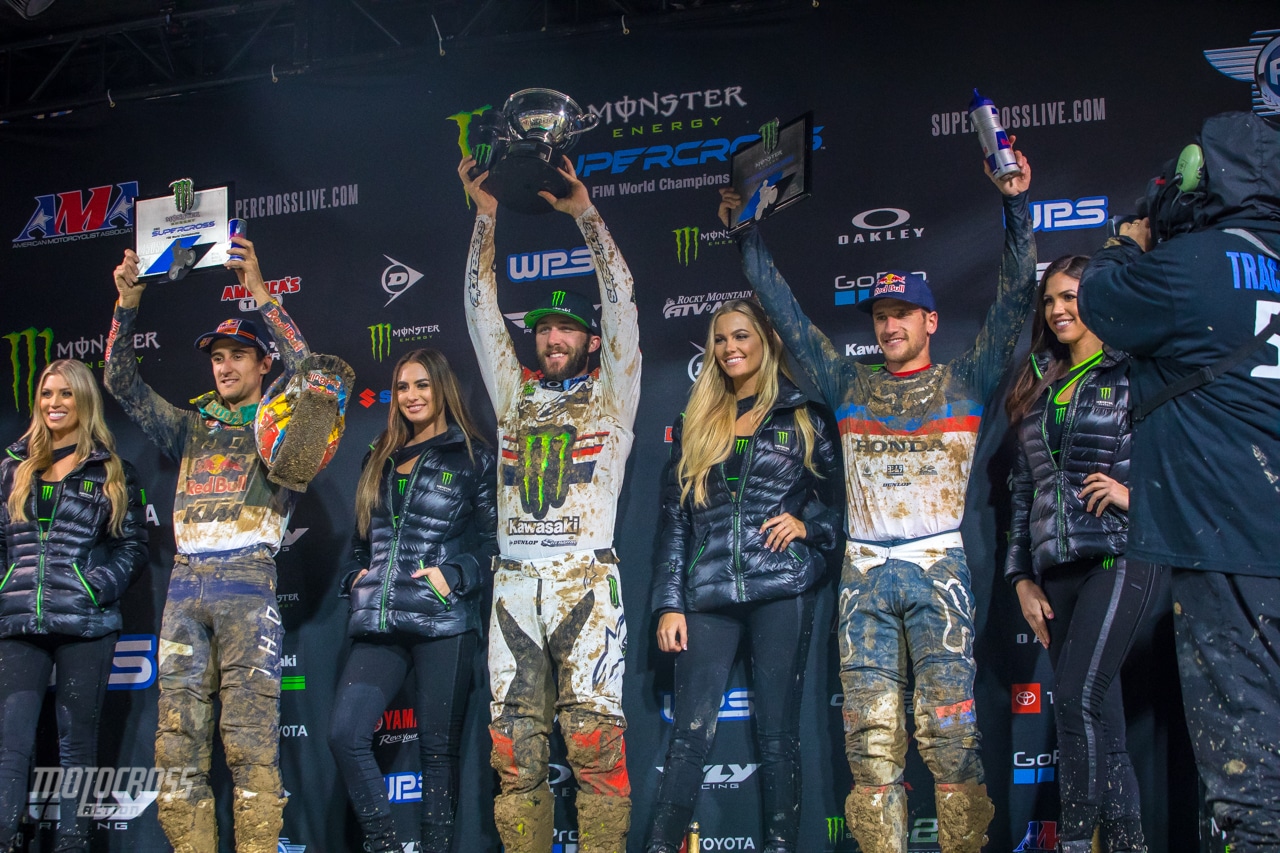 After the first four rounds of 2019 Eli Tomac didn't look like the same guy that we were used to seeing. We expected Tomac, Musquin and Roczen to be battling for wins at the first few rounds, but it wasn't until round five when Tomac earned his first win of the year. Tomac took the points lead in Sandiego and Marvin and Ken are close behind.

WHAT THE 450 RIDERS HAD TO SAY
Eli Tomac first place: "Even from practice it (the track) changed. Once the rain stopped the dirt starting getting thicker, and you know, it starts making the bike really heavy and the rhythm sections and all the lines are just really sketchy and squirlley. It was really night and day (different) even between the practice, the heat and the main."
Ken Roczen third place: "I thought I was in third and obviously I got passed by Marvin with one turn to go so I wasn't really stoked about that. I could have had a second place and it's all really important points, but all in all I've changed some things around this week and we also made some improvements for starts on the bike and also for myself I changed a couple little things that seemed like they paid off. Today starts were really important and I got a super good holeshot but sure enough threw it away in the second turn."
Ken Roczen: "For the Championship we're only four points behind and it's super tight and I think in my mind the season doesn't really start until round ten. That's when you gotta think about being close to the front or leading. So right now I'm kinda just picking my battles a little bit and I just want to get out of the west coast because it's been a long time since I've accomplished that."
Marvin Musquin second place: "We all knew it was going to be tough conditions with a lot of rain. But in the end we're here again in the press conference and that means another podium, another second place and a lot of good points."
Marvin Musquin talks about his knee injury: "I'm really happy because I don't have anymore pain in the knee which feels awesome. I can do all the training I want during the week and just ride pain free so it's a big plus. It was tough at the beginning for the first three rounds. I would say for the first two it was tough and for Anaheim 2 it was a lot better. Now that's behind me and I'm totally focused on the training and the racing."
Dean Wilson said: "Wow!!! That was gnarly. Crashes and stalled four times. Could have probably beat me running around the track. Made it through the night tied for fifth in points. Phew happy to get that one out of the way. Complete quagmire."
Eli Tomac first place: "It was a really good day, the first rounds were up and down. I was never like on you know, having that feeling. So today was kind of wild with the conditions, we weren't on the normal dirt but overall it was the direction we wanted to go, qualifying good, getting better starts, putting ourselves in the right position and it paid off."
Cooper Webb was running fifth on lap five right behind his teammate Marvin Musquin when he went over the bars in a rut. Cooper said: "Not sure what happened but wasn't ideal! Not the best night but felt good riding all day. Was right on track until this (crash). Onto Minneapolis!"
250 WEST ACTION
Shane McElrath salvaged some major points in San Diego. A 13th in the heat race forced Shane to go to the LCQ where he finished second. This gave him the 20th gate pick for the main event. In the main, the KTM rider went down and picked his bike up in last place. Shane crossed the finish line in 19th on the first lap and charged through the pack to end the race 4th earning nineteen points and keep his title hopes alive.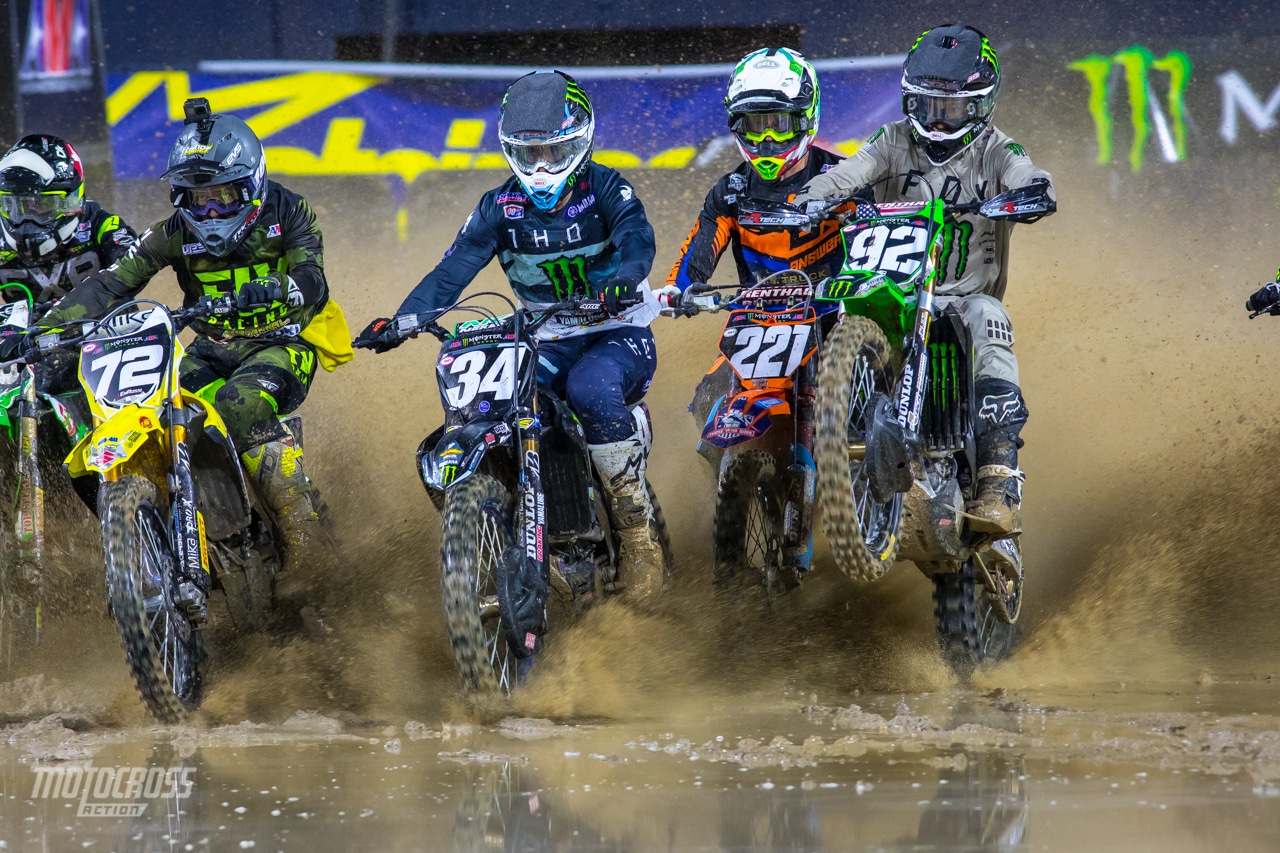 Adam Cianciarulo wheelies his way through the puddles, that's one way to stay clean. Adam finished second in his heat race and first in the main.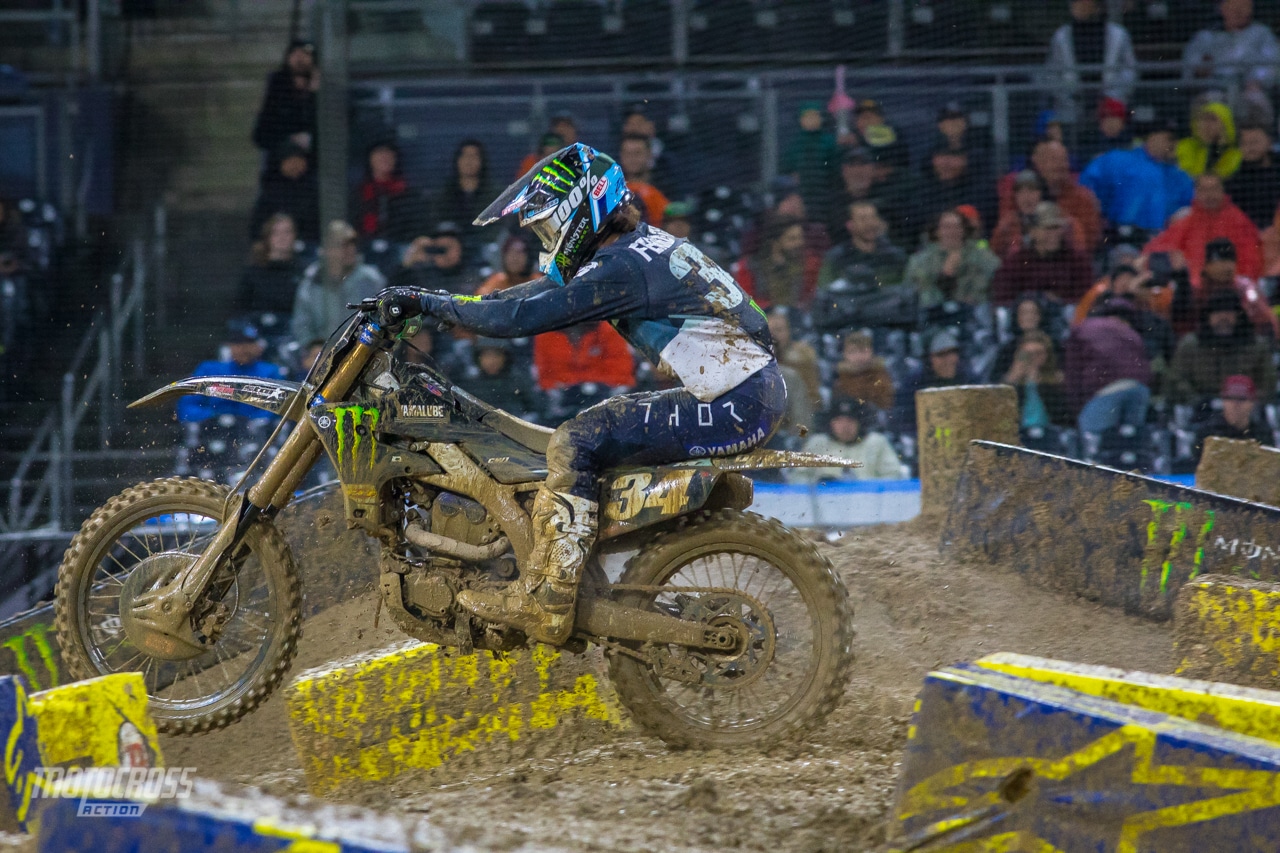 Dylan Ferrandis leans back through the rolling whoop section. Dylan was in third with only one corner left when his bike quite. Luckily for Ferrandis, Adam lapped up to seventh place. Dylan was only passed by four riders which gave him seventh place in the 250 main. 
Colt Nichols won the opening round of 2019 and   held the points lead in the 250 class up until San Diego.
Colt Nichols had a rough at the 2019 San Diego Supercross, he was running in eighth at the beginning of the main event and a crash on lap five put the points leader in 15th. He passed a few riders but would only make it back to tenth.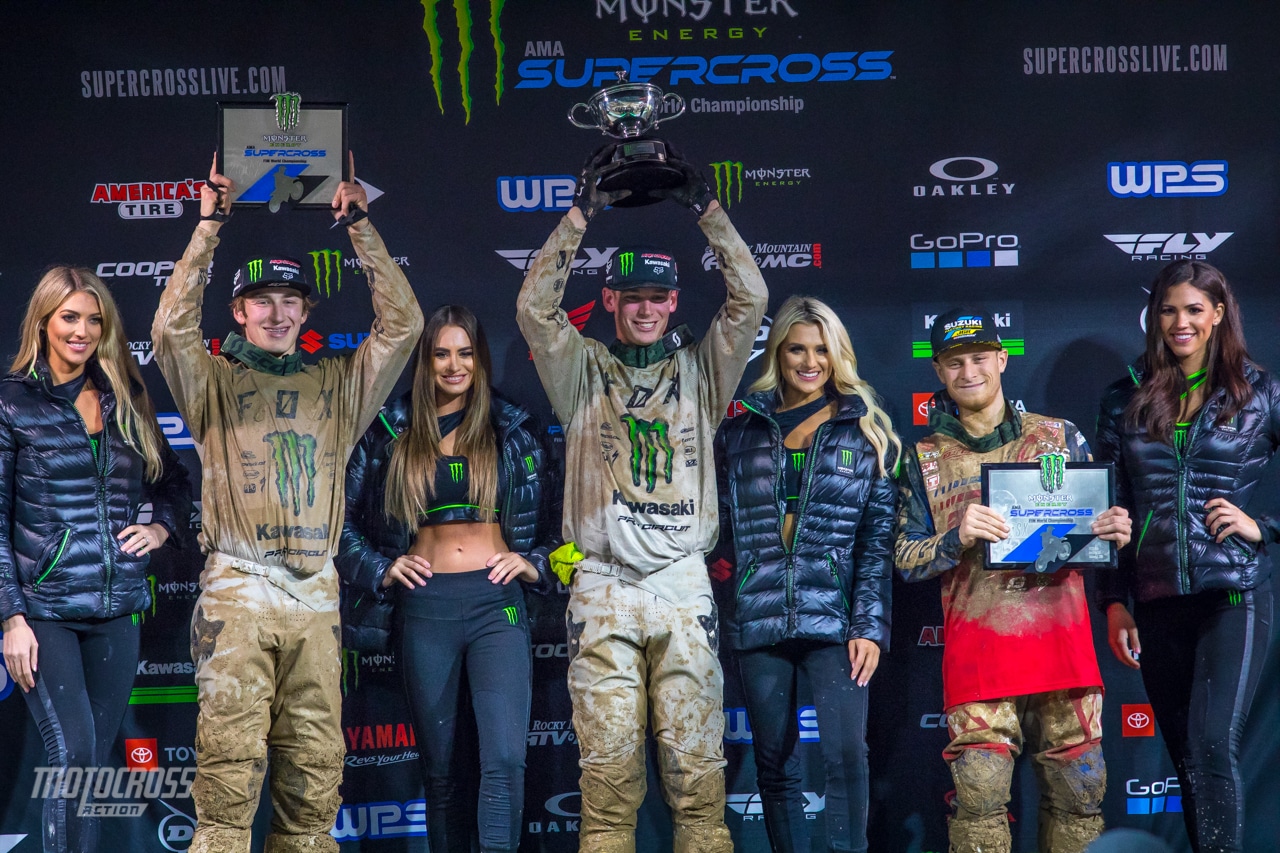 Adam Cianciarulo took advantage of the tough conditions and grabbed an eight point lead over Shane McElrath in the 2019 AMA 250 West Championship standings after San Diego.

Canadian Jess Pettis was impressive in 2019. At San Diego the Red Bull KTM 250 rider almost grabbed the holeshot and he stayed at the front of the pack to finish fifth place in the 250 main event.   
Adam Cianciarulo won the 2019 San Diego Supercross 250 main event by eight seconds over his teammate Garrett Marchbanks and thirty-five seconds over third place Jimmy Decotis.
Colt Nichols in survival mode getting though the rhythm section.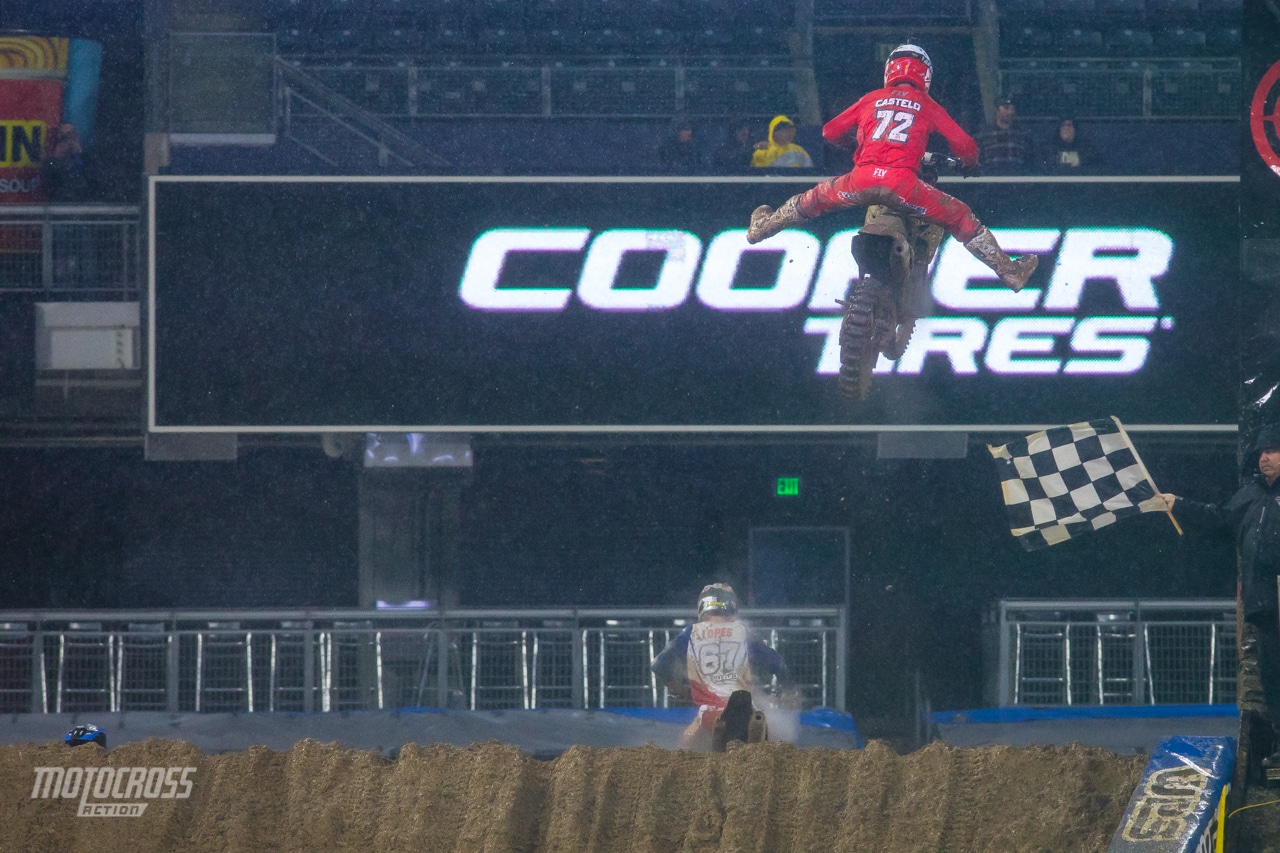 The BarX Suzuki rider from Ecuador, Martin Castelo had a career best sixth place finish in San Diego. Martin's deal with the BarX team in 2019 was only to race the first five rounds of Supercross.
The track in San Diego was biting riders left and right. Here Adam Cianciarulo goes down while on a flat straight away in qualifying.
WHAT THE 250 WEST RIDERS HAD TO SAY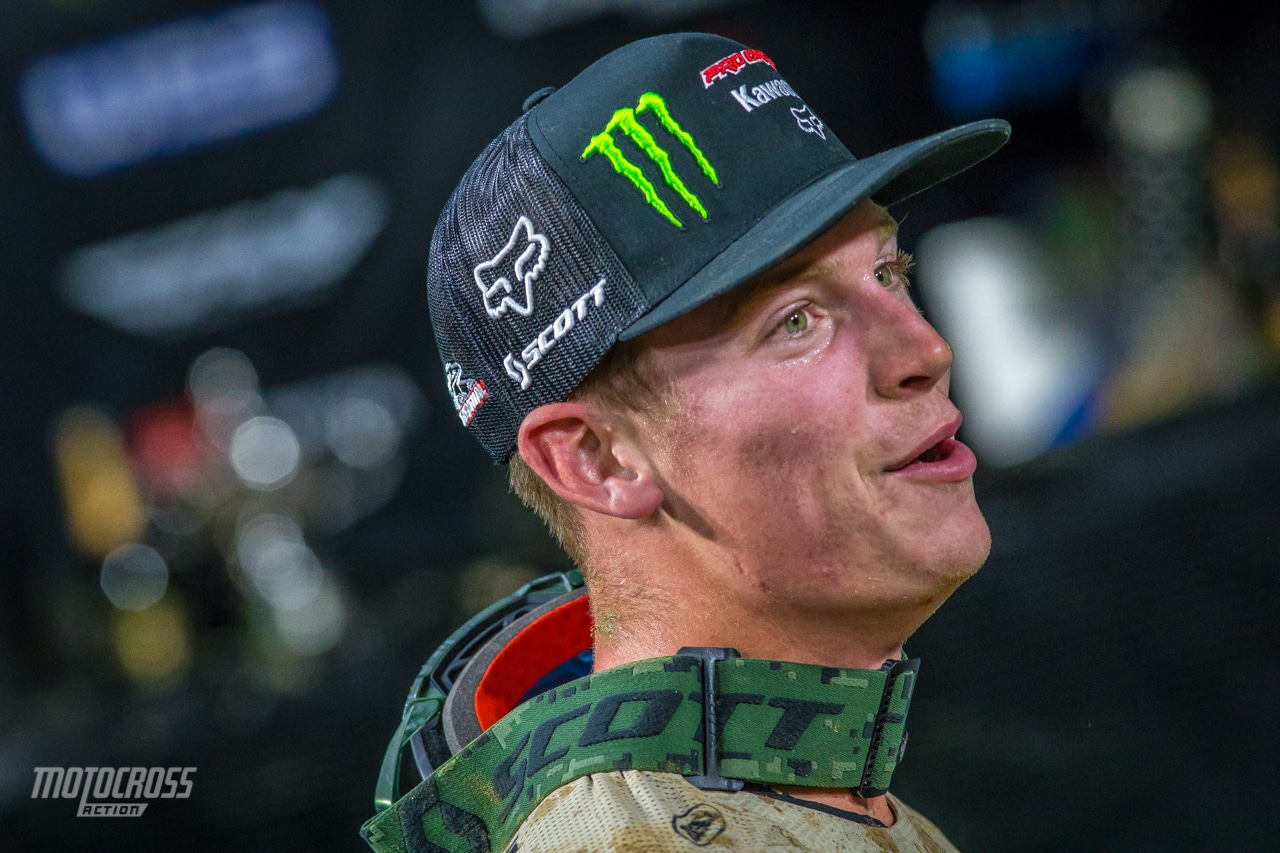 Adam Cianciarulo first place: "It feels good going into the break to put the mind at ease. I haven't had the red plate since I was basically a little kid so that feels good too. I think when you have a stressful kind of day like this you start thinking about a lot of unknowns and a lot of stuff out of control that can happen. I definitely felt better than usual so I'm excited to keep building on this, we're only halfway through and we have a couple weeks to go back to work so I'm excited."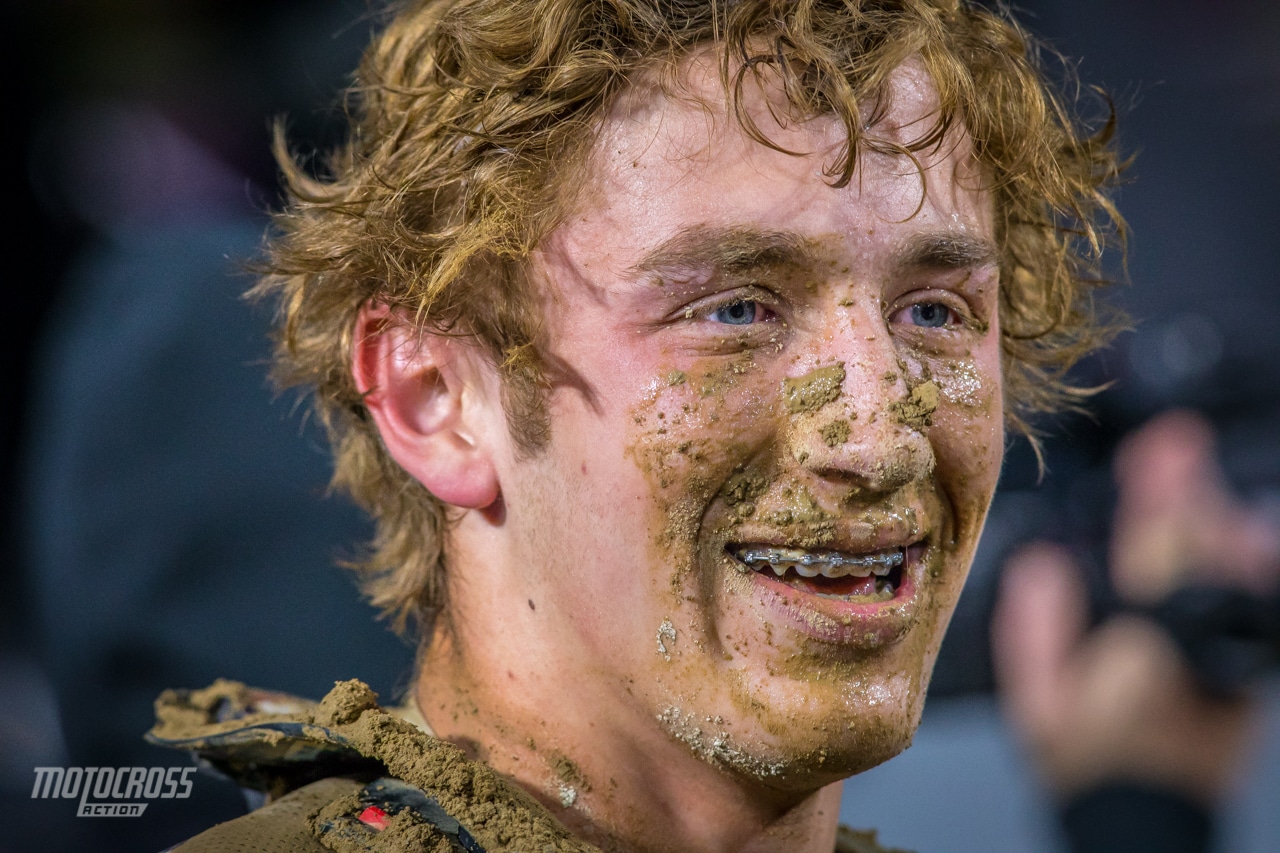 Garrett Marchbanks second place: "I had a little turn track at my house that I used to ride at all the time from age nine to thirteen. Me and my Dad always used to water it with the sprinklers and flood it basically and make it all muddy. It's basically what made me a really good mud rider, so it was kind of fun to ride out here in the mud today, it didn't affect me too bad."
Jimmy Decotis third place: "I actually had no clue (what place I was in), I put my head down on my bars and I was like, 'man I got another fourth place.' I'm over fourth place, and Mikey G came over and told me I got third. I had no clue, I guess Dylan Ferradandis' bike died right there at the end so I really didn't even know at all. I was just trying to do my best to stay up, with my little legs when I'm dabbing and struggling, it's tough. So I was just trying to stand up and stay focused and hit my marks and tonight it ended up being a third so I'm thankful for it."
THE SHORTEST KTM PEE-WEE CHALLENGE RACE ON RECORD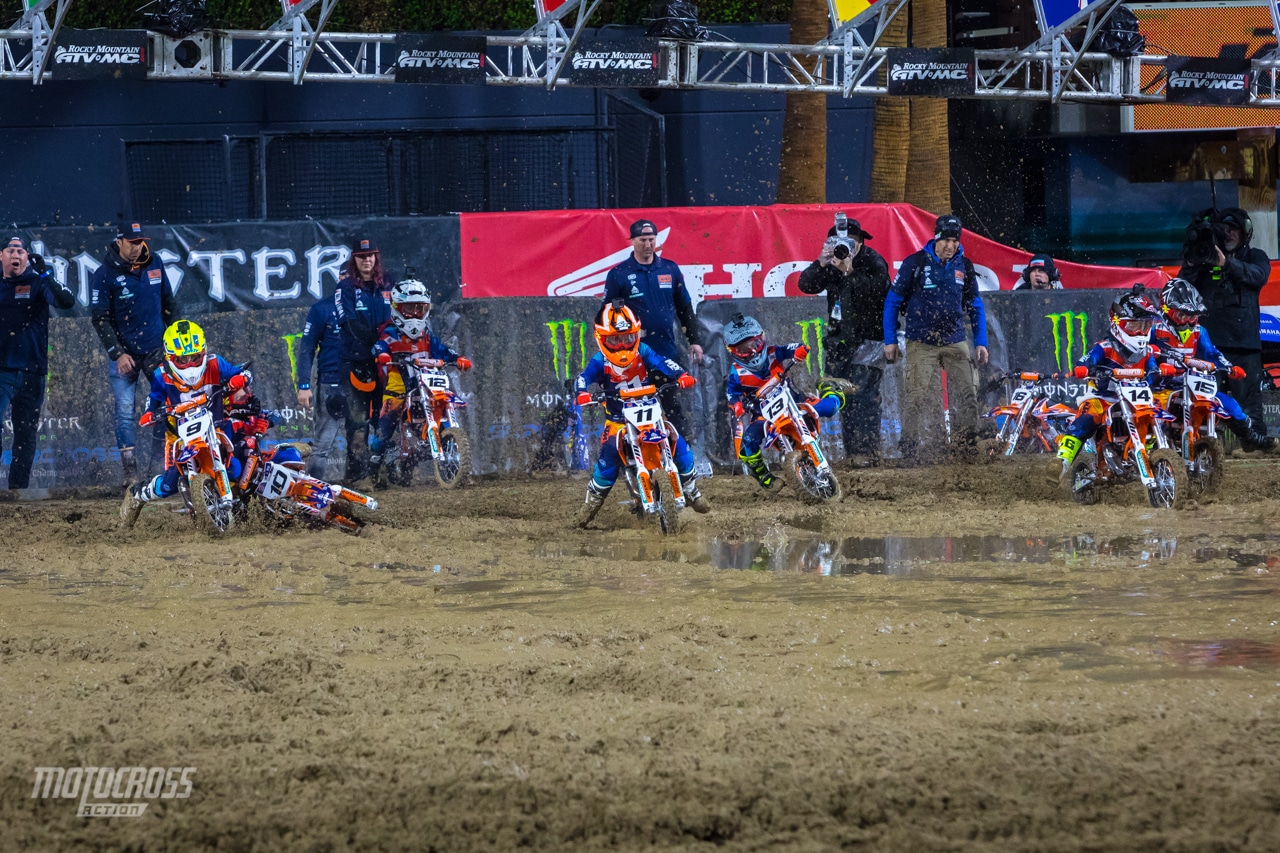 We were surprised to see the KTM Junior Challenge 50 riders attempt to race, it did not go very well and the best 50 riders only made it to the third corner before the whole class was stuck and they black flagged the race. 
The number eleven lost control going down the start straightaway. The mud was gnarly for the little guys!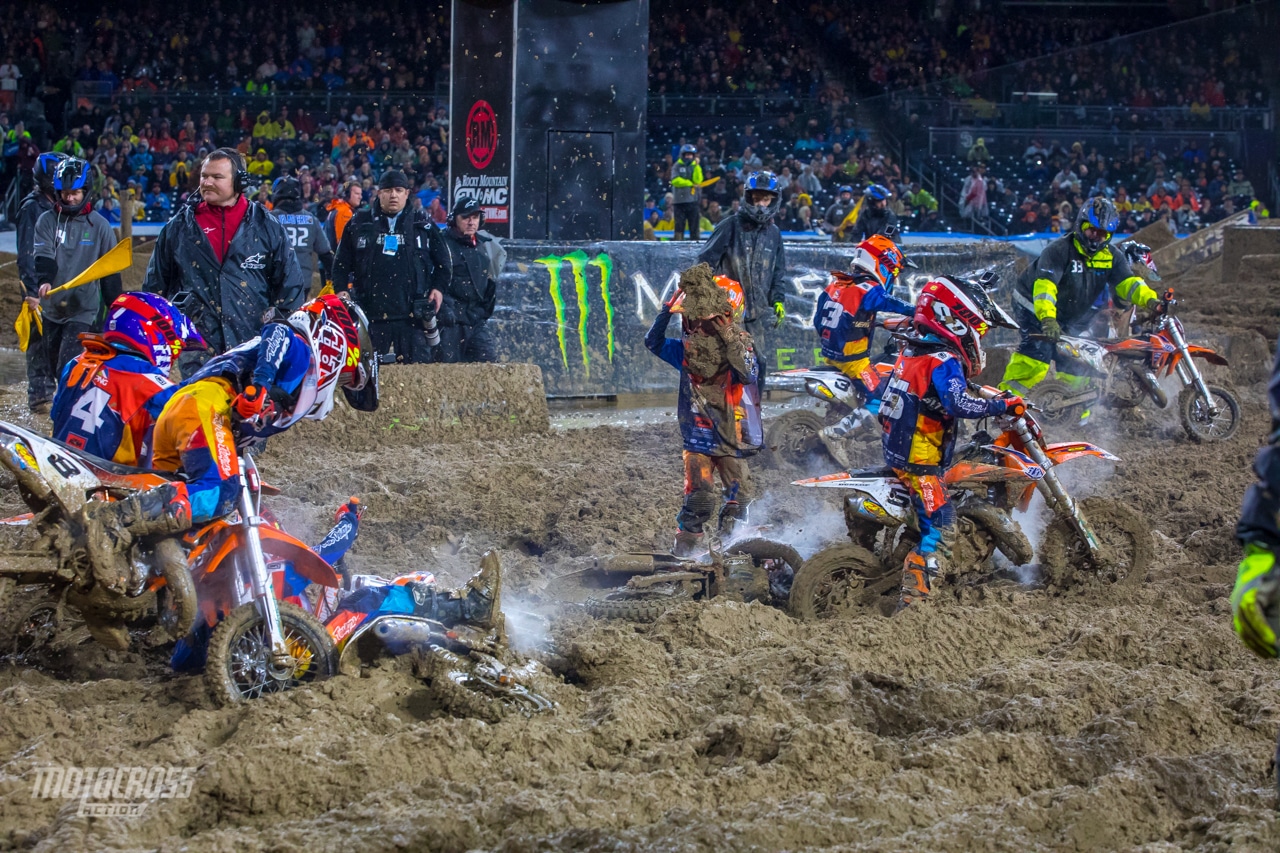 Most of the class didn't make it to the first turn.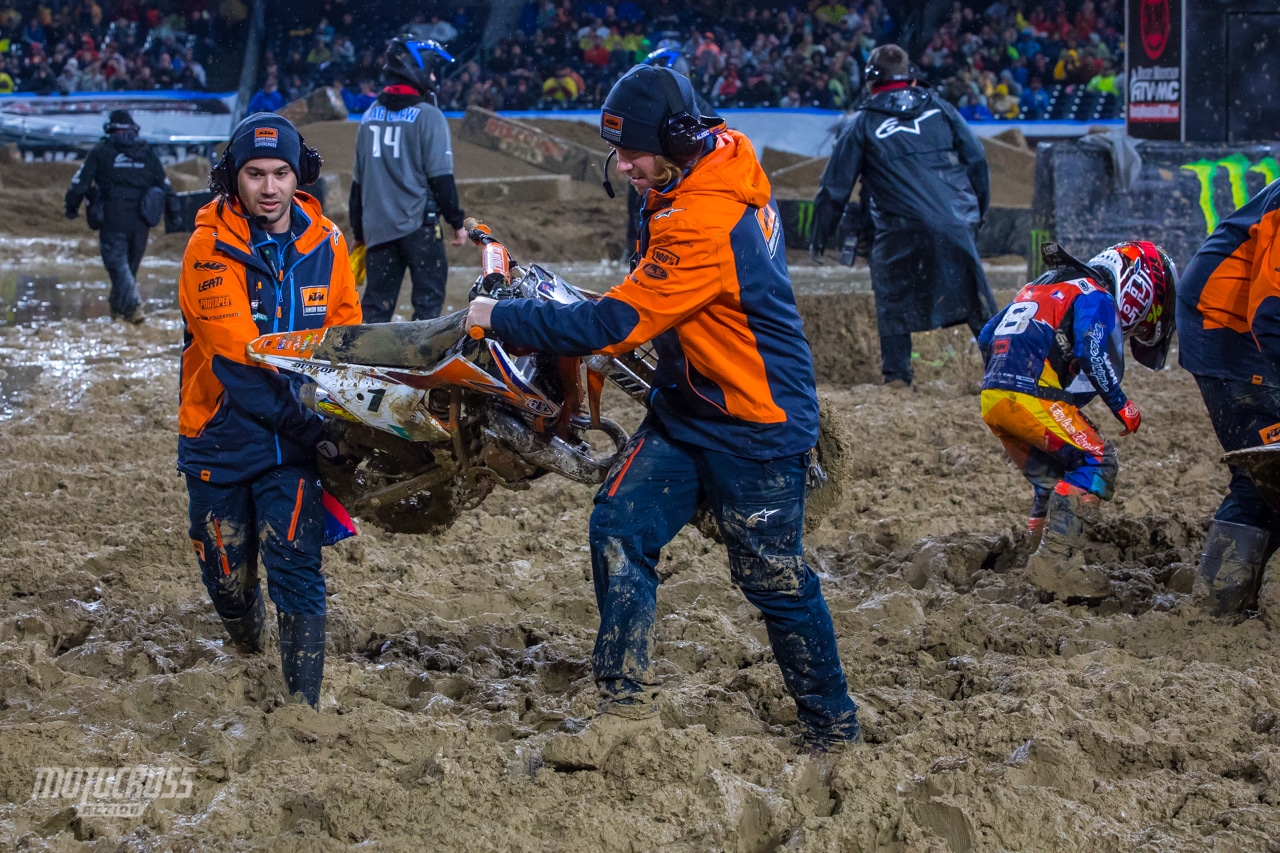 The KTM guys definitely got a good workout in San Diego!
450 CHAMPIONSHIP POINT STANDINGS (AFTER ROUND 5 OF 17)
Eli Tomac-106
Marvin Musquin-102
Ken Roczen-102
Cooper Webb-98
Blake Baggett-80
Dean Wilson-80
Justin Barcia-74
Aaron Plessinger-66
Chad Reed-65
Cole Seely-65
250 WEST POINT STANDINGS (AFTER ROUND 5 OF 10)
Adam Cianciarulo-114
Shane McElrath-106
Colt Nichols-104
Dylan Ferrandis-102
Rj Hampshire-75
Jimmy Decotis-73
Cameron McAdoo-72
Garrett Marchbanks-71
Chris Close-70
Jess Pettis-66