2020 SPANISH GRAND PRIX OF ARROYOMOLINOS RESULTS, BUT LET'S JUST CALL IT MADRID (UPDATED)
THE 250 GP IN SPAIN TO VIALLE
Tom Vialle (28) got a major boost in his 2020 250 World Championship hopes when his closest rival, Jago Geerts, went 5-1 in  Spain to Tom's 1-2. Vialle has a 52-point lead in the 250 World Championship with six races to go (three in Belgium and three in Italy).

Tom Vialle won the opening 250 moto of the Spanish GP to open up a 55-point lead over Jago Geerts in the 250 World Championship standings. But, Vialle didn't have it easy as a suddenly resurgent Thomas Kjer Olsen and Jed Beaton pushed the Frenchman all the way to the checkers.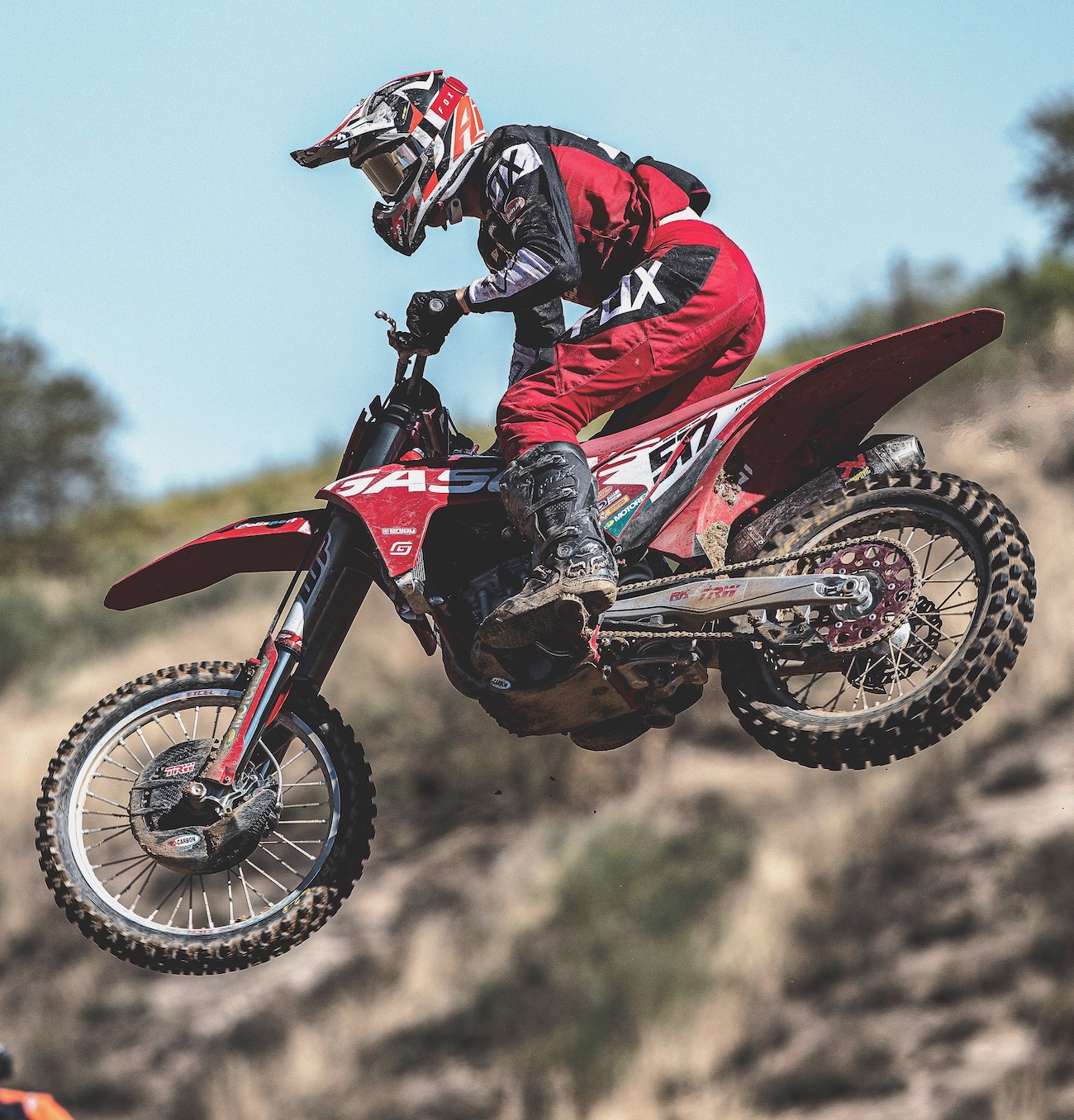 Isak Gifting, who was a mid-season fill in rider for the GasGas 250 team, has been impressive. In the four GPs he has raced for Gas Gas he has made the top ten in three of them.

In the second moto Tom Vialle was leading when he stalled in a corner on the last lap of the race and Geerts went by for the moto win, but Vialle still got the overall with a 1-2 to Geerts' 5-1. Vialle leads the 250 title chase by 52 points—which is one complete race worth of points (plus 2).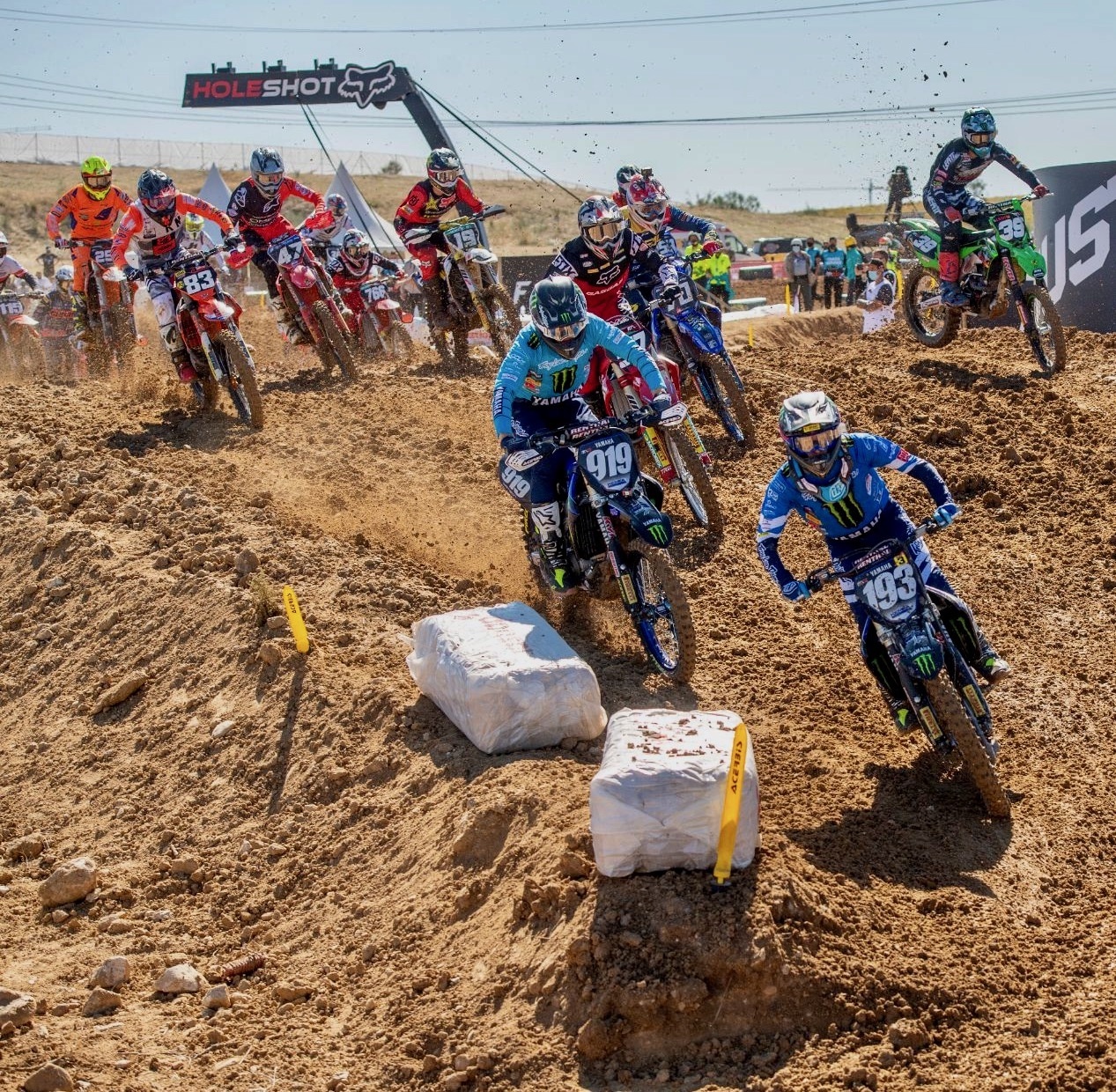 Jago Geerts (193) and Ben Watson (91) holeshot the second moto in Spain.
The Arroyomolos track is on the outskirts of Madrid—which you can see from the track.
2020 SPANISH 250 GRAND PRIX OVERALL RESULTS
1. Tom Vialle (KTM)…1-2
2. Jago Geerts (Yam)…5-1
3. Thomas Kjer Olsen (Hus)…2-7
4. Roan Van De Moosdijk (Kaw)…8-3
5. Maxime Renaux (Yam)…6-5
6. Jed Beaton (Hus)…3-10
7. Ben Watson (Yam)…9-6
8. Conrad Mewse (KTM)…4-12
9. Stephen Rubini (Hon)…7-9
10. Isak Gifting (Gas)…11-8
Other Notables: 11. Ruben Fernandez (Yam); 12. Alberto Forato (Hus); 13. Kevin Horgmo (KTM); 14. Bas Vaessen (KTM); 16. Richard Sikyna (KTM); 17. Alvin Ostlund (Hon); 20. Jan Pancar (KTM); 25. Mathys Boisrame (Kaw).
Jed Beaton  is third in 250 GP points, but only 7 points clear of fourth place Maxime Renaux.
2020 FIM 250 GP POINTS STANDINGS
(After 12 rounds 18 rounds)
1. Tom Vialle (KTM)…525
2. Jago Geerts (Yam)…473
3. Jed Beaton (Hus)…379
4. Maxime Renaux (Yam)…372
5. Thomas Kjer Olsen (Hus)…347
6. Roan Van De Moosdijk (Kaw)…336
7. Ben Watson (Yam)…314
8. Conrad Mewse (KTM)…279
9. Mathys Boisrame (Kaw)…234
10. Ruben Fernandez (Yam)…227
THE 450 GP IN SPAIN TO PRADO

Jorge Prado had home court advantage at the GP of Spain and he didn't disappoint the Spanish crowd—which consisted of the flagmen, janitors and security guards.
In the first moto of the 450 class KTM's Jorge Prado took the victory. It would have made the Spanish crowd ecstatic if they had been allowed to see the race in person. Defending 450 World Champion Tim Gajser was third behind Prado and Romain Febvre. The important thing for Tim Gajser was that Tony Cairoli finished 7th—giving Gajser an 11-point bonus and stretching his points lead over Cairoli to 17 point. Third in Championship points, Jeremy Seewer was running 8th when he fell late in the first moto and lost two places.
In the second 450 moto Prado won again, setting the fastest lap time, while Tim Gajser's 3-2 edge out Romain Febvre's 2-3 for second overall. Coldenhoff was fourth with Seewer fifth and Tony Cairoli sixth. It was a bad day for Cairoli in comparison to his young teammate and Tim Gajser.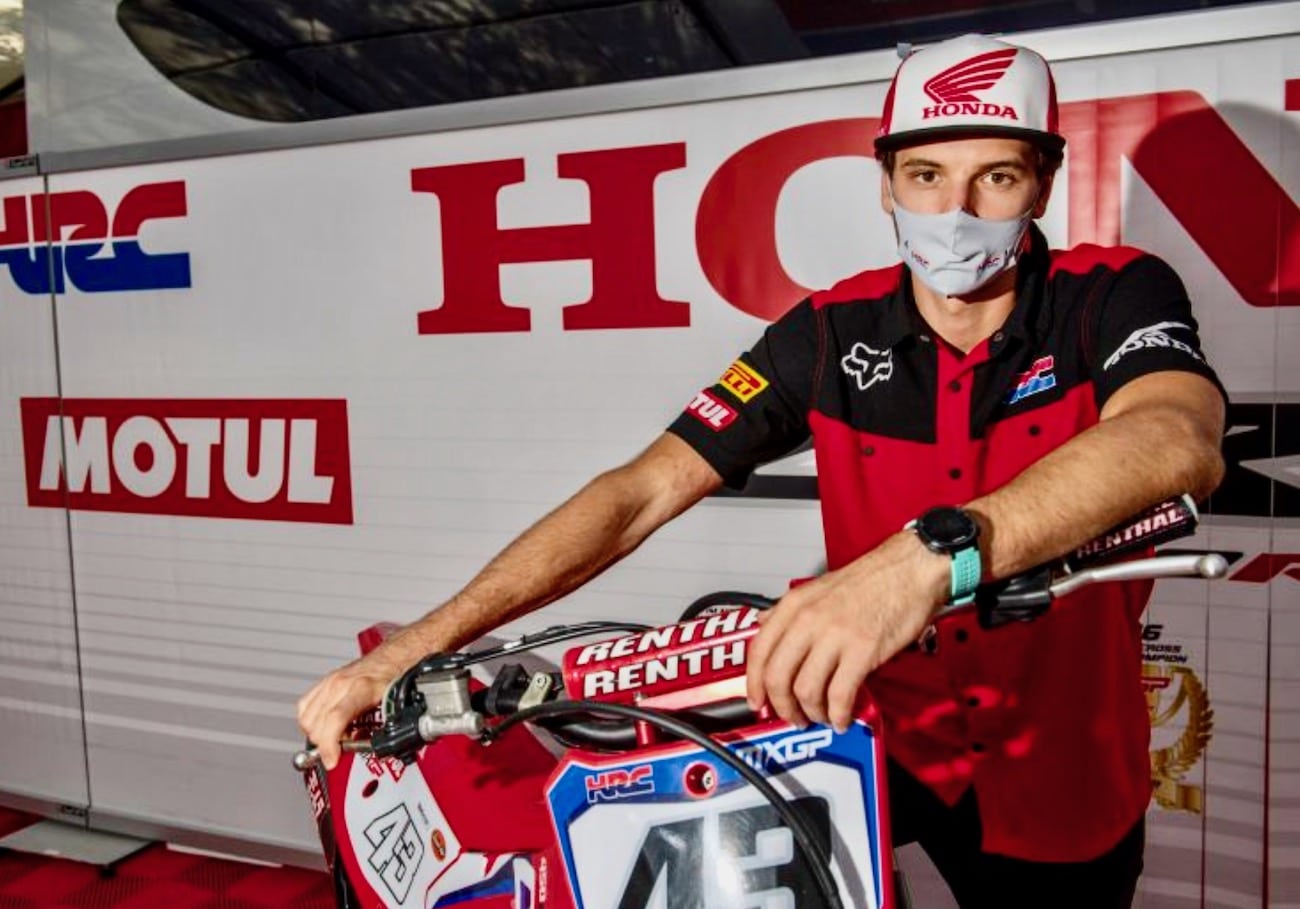 Dylan Walsh score no points in Spain after injuring his wrist and having to pull out of the first moto and not start the second mot. Honda will have his wrist evaluated this week.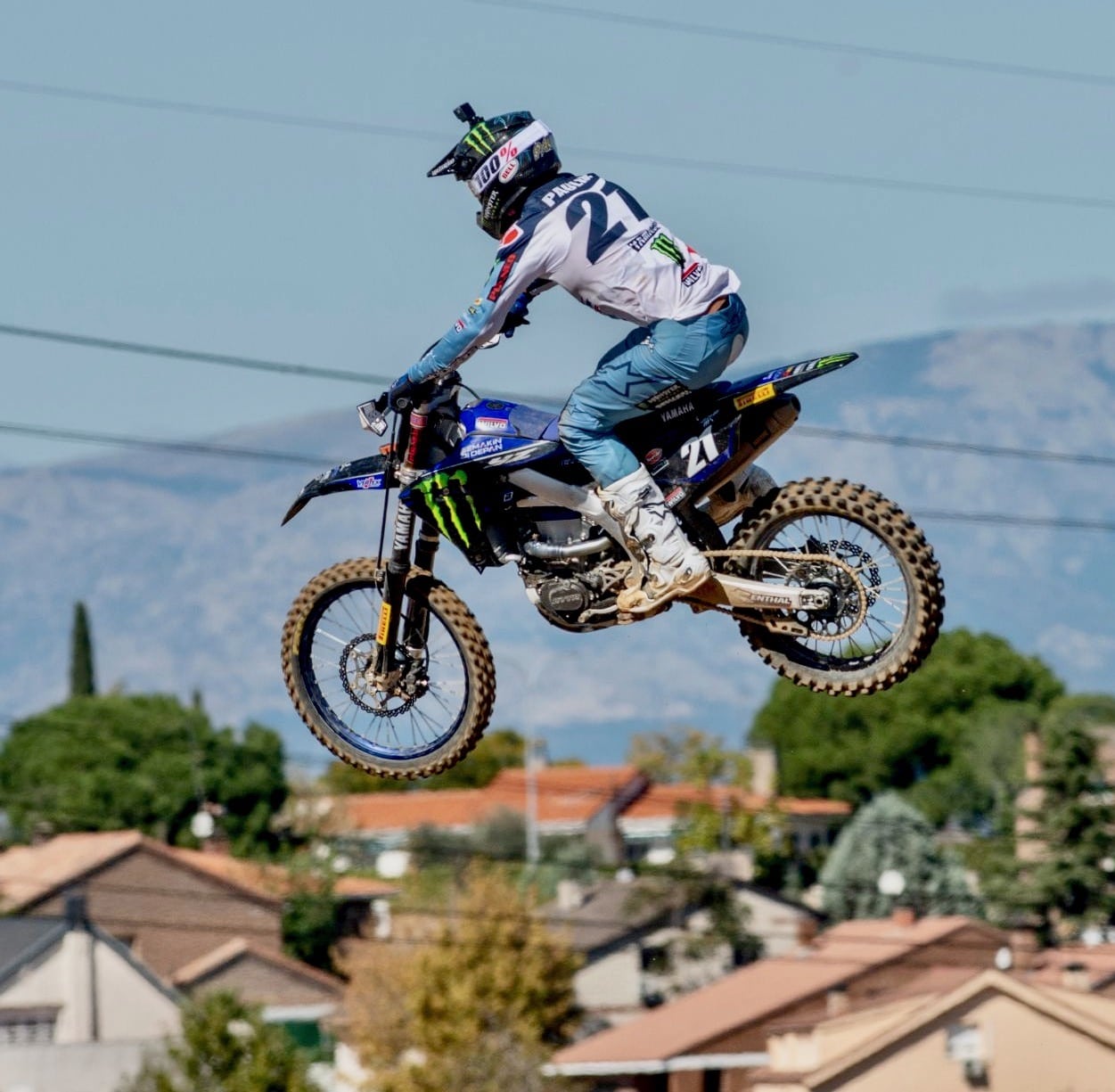 Gautier Paulin (21) could see his house from up here if he moved to Madrid.

The GP track was located near the Intu Xanadu recreational area and shopping center. It is is located 12 miles fromr the center of Madrid. It has 220 shops, theaters, indoor snow park, restaurants and an aquarium.
2020 SPANISH 450 GRAND PRIX OVERALL RESULTS
1. Jorge Prado (KTM)…1-1
2. Tim Gajser (Hon)..3-2
3. Romain Febvre (Kaw)…2-3
4. Glenn Coldenhoff (Gas)…5-4
5. Jeremy Seewer (Yam)…10-5
6. Tony Cairoli (KTM)…7-6
7. Clement Desalle (Kaw)…4-7
8. Brian Bogers (KTM)…8-8
9. Jeremy Van Horebeek (Hon)…9-8
10. Gautier Paulin (Yam)…6-10
10. Henry Jacobi (Yam)…15-
Other notables: 11. Calvin Vlaanderen (Yam); 12. Ivo Monticelli (Gas); 13. Jordi Tixier (KTM); 14. Calvin Vlaanderen (Yam); 18. Jose Butron (KTM); 21. Dylan Walsh (Hon).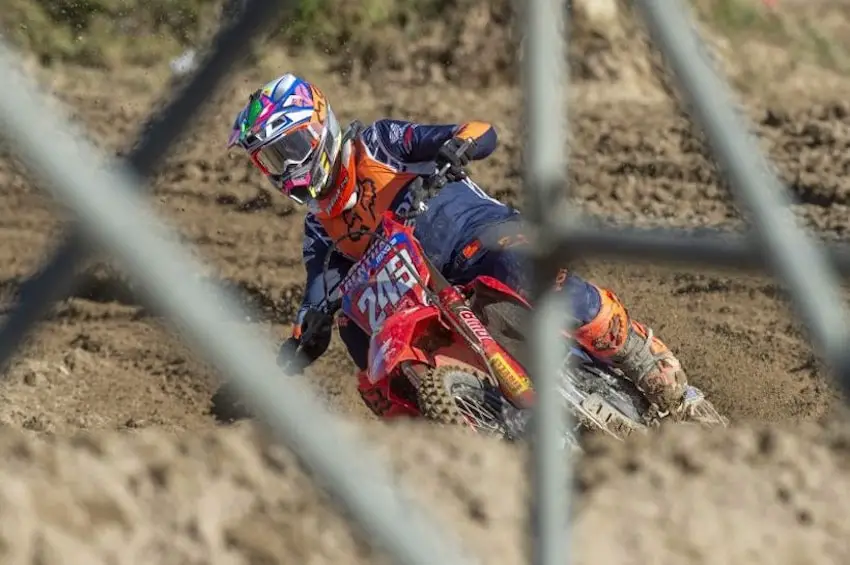 Tim Gajser doesn't care about any other racer in the 450 series except Tony Cairoli. Any time he gain points on Tony it's a win for Tim. Even though Gajser got beat by Prado and Febvre, he Gajser got a double bonus as he finished ahead of second place in points Cairoli and third in points Jeremy Seewer.
Tony Cairoli is hoping things change when he gets to Lommel for the next three races. He lost 15 points in Spain to Tim Gasjer and is suddenly 24 points behind.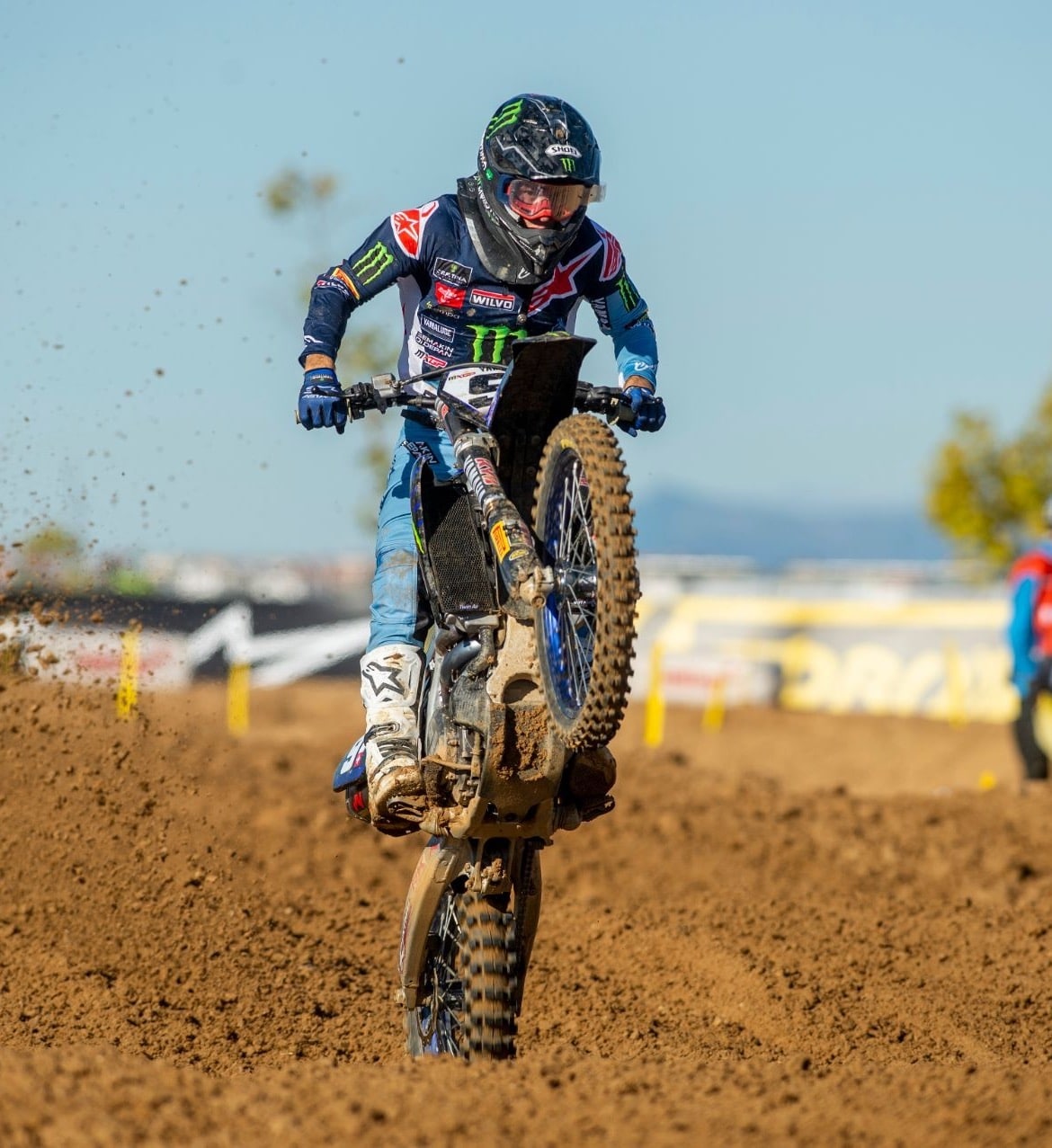 Jeremy Seewer: If you've seen one rolling whoop you don't need to see 20 of them.
CURRENT 2020 FIM 450 GP POINTS STANDINGS
(After 12 of 18 rounds)
1. Tim Gajser (Hon)…441
2. Tony Cairoli (KTM)…417
3. Jeremy Seewer (Yam)…396
4. Jorge Prado (KTM)…391
5. Glenn Coldenhoff (Gas)…375
2. Romain Febvre (Kaw)…346
7. Gautier Paulin (Yam)…311
8. Clement Desalle (Yam)…294
9. Jeffrey Herlings (KTM)…263
10. Arminas Jasikonis (Hus)…248
Photos: Honda, KTM, GasGas, Ray Archer, MXGP