2020 TAMPA SUPERCROSS | BEST IN THE PITS & PRESS DAY ACTION (UPDATED)
2020 TAMPA SUPERCROSS | BEST IN THE PITS & PRESS DAY ACTION
The 2020 Tampa Supercross is here and the riders and teams of Supercross have traveled 2,451 miles across the country from California to Florida to begin the East Coast swing of the season. The conditions are warm and humid in the sunshine state and the Raymond James Stadium is once again full of dirt as Supercross in town. Most of the track is made up of dark soil that can be slick, but also very rutted at times. There's also a big sand section once again in Tampa and if you remember anything about the last time Supercross visited Tampa in 2018, there was an ultra-deep sand rhythm section in the middle of the track and it caused a lot of havoc throughout the day. Cooper Webb is coming into Tampa hot off his first win of the season while Eli Tomac is looking to grab his third win of the season and take over the points lead from Ken Roczen who is just one point ahead. Plus, the 250SX East Coast series is kicking off on Saturday and those riders are all fired up. MXA's Brian Converse is in Tampa, Florida, to capture the action and give you an up close look at the bikes and riders of Supercross.
Click here for our Press Day Video.
Photos by Brian Converse
Chase Sexton's Geico Honda CRF250. How cool is that custom red transponder mount?
It sure is good to see the #20 of Broc Tickle back on the track! To learn more about his new deal with JGR Suzuki, click here.
Zach Osborne whipping over the finish line. Notice the big red logo on his shrouds? This weekend is the St. Jude "This race saves lives" event and some of the teams are getting involved by designing graphics to show their support. 
Ken Roczen's HRC Honda is looking very red. He currently holds a one point lead over Eli Tomac. Click here for the current point standings.
Ken Roczen's bike from the side.
The Raymond James stadium from above.
With the Tampa Supercross being the "This Race Saves Lives" event, some of the teams have gone all-out to support the cause. Here, the BWR Eninges, LTEC, SSI Decals, Fly Racing team is showing full support by using St. Jude patient-inspired artwork on their graphics this Saturday. Afterward the race, the graphics and gear from the different teams will be collected for the St. Jude Supercross online auction. The auction begins at this race and will run through the Finale in Salt Lake City.
Bryce Klippel's BWR Eninges, LTEC, SSI Decals, Fly Racing Honda CRF250 is looking good as well. Interesting to note, the BWR team is one of the only teams to use the NueTech TuBliss tubes in their Hoosier tires. With the TuBliss technology they're able to run a much lower tire pressure and gain traction on starts and in the whoops without getting flats. 
Cooper Webb is coming into Tampa with some more momentum after winning the San Diego Supercross. Cooper is dangerous when he's confident. 
Even though Justin Cooper is racing on the West Coast, the Star Racing Yamaha team still has his bike on the rig in Florida. 
Martin Davalos is going quick and making progress in the 450 class.
Michael Mosiman's bike was also on display in Tampa even though he's racing on the West Coast.
Jo Shimoda is making his Supercross debut this weekend on the Geico Honda team.
Jalek Swoll is making his Supercross debut on the Rockstar Husqvarna FC250 this Saturday in Tampa.

We're happy to see Jeremy Martin back at the races! The Tampa Supercross will be his first 250 race since the Muddy Creek National in 2018.
Josh Hill is back and this time he means business. After taking time off from racing and working at Monster Energy, Josh decided that he wanted to get back behind the starting line. He moved to North Carolina and started training in 2019 and now he's ready to line up in the 250SX class at Tampa. 
Chad Reed was stoked to receive a Tampa Buccaneers jersey during press day.
Troy Lee Designs Red Bull KTM's Brian Moreau will make his American Supercross debut this Saturday in Tampa. Brian will be the only TLD rider this weekend as his teammate, Pierco Brown, hurt his shoulder in December and he has only been on the bike for two weeks. Pierce and the team decided it was best to sit out and he hopes to be ready to race by Atlanta.
French rookie, Brian Moreau has been living with and training with Marvin Musquin. He's coming in under the radar, but the young rookie has all of the tools for success.
Chase Sexton is the defending 250SX East Coast Champion so he will be running the 1E with the red plate this weekend. 
Shane McElrath is excited to make his debut on the Star Racing Yamaha this Saturday.
Justin Barcia on the charge as usual.
Jalek Swoll is the rookie on the Rockstar Husqvarna team for 2020.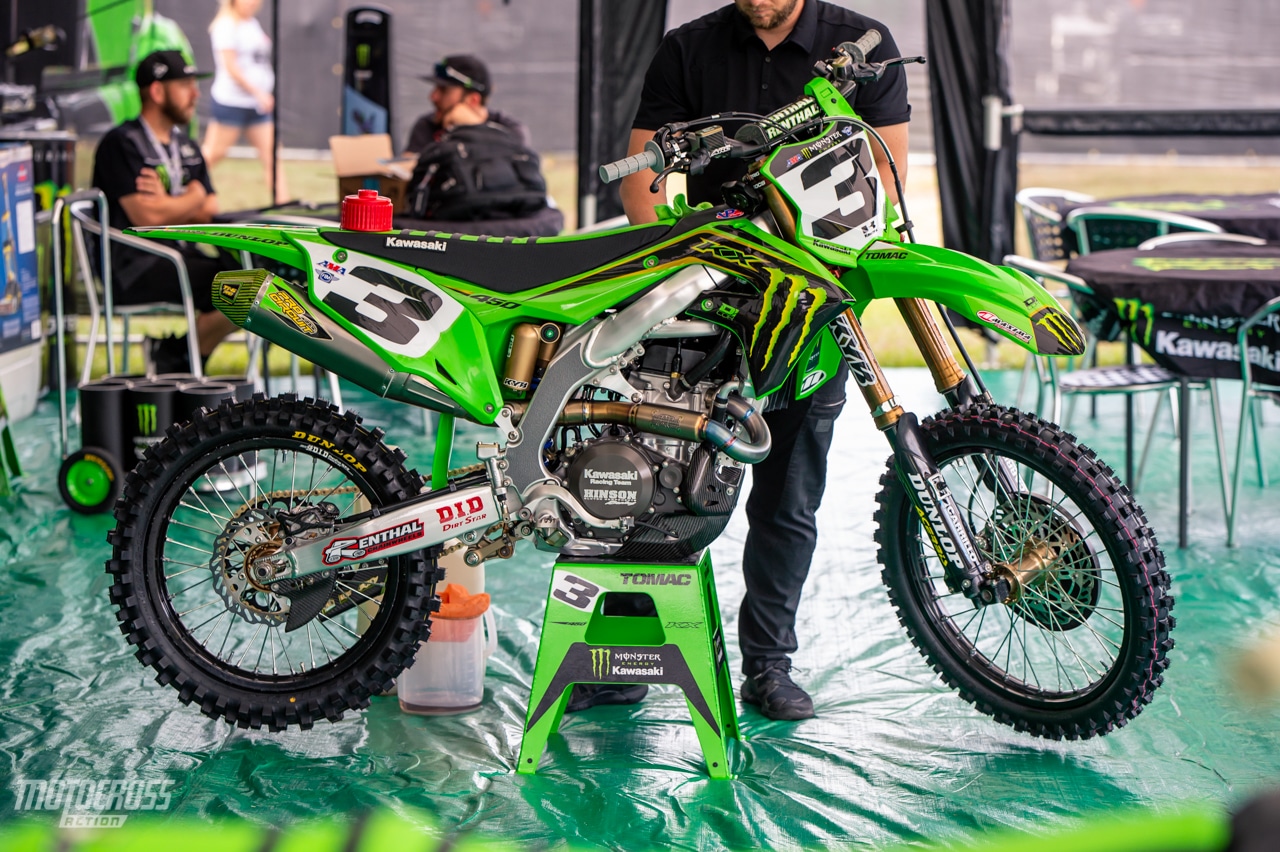 Eli Tomac's KX450 is one point away from having the red plate.
Red Fox boots to match Chase Sexton's red number plate.
Carlos Rivera puts the final touches on Cooper Webb's bike.
Adam Cianciarulo's KX450. Adam has been close to winning twice now, can he make it happen in his home state?
Isaac Teasdale will be riding the JGR Suzuki team this weekend. 
Broc Tickle's JGR Suzuki is decked out in white graphics with colorful details to support the St. Jude Children's research hospital.
The details on Broc Tickle's JGR Suzuki.
Garrett Marchbanks Pro Circuit Kawasaki. 
Dean Wilson throws some style during press day.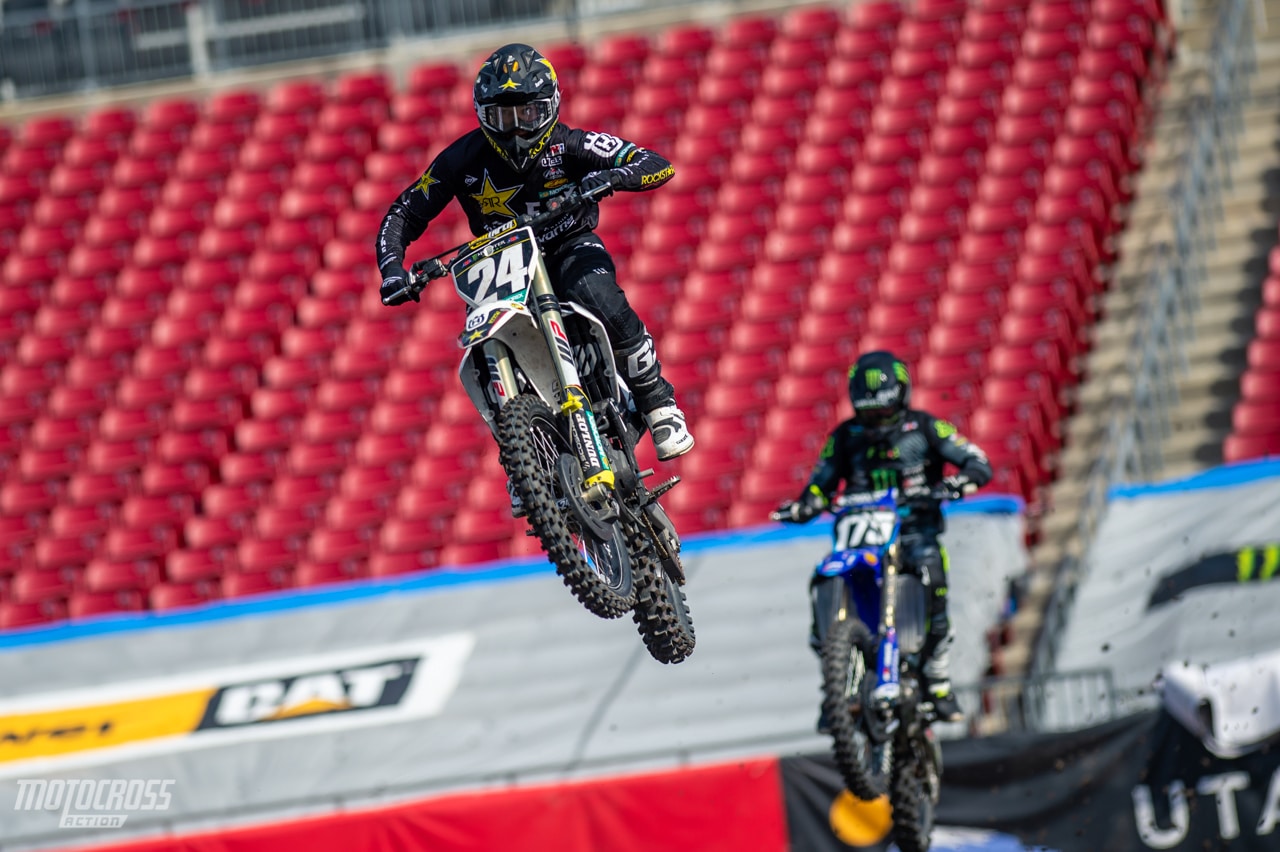 Rj Hampshire is also on a new bike this weekend. Click here to read our interview with Rj about his switch from Geico Honda to Rockstar Husqvarna.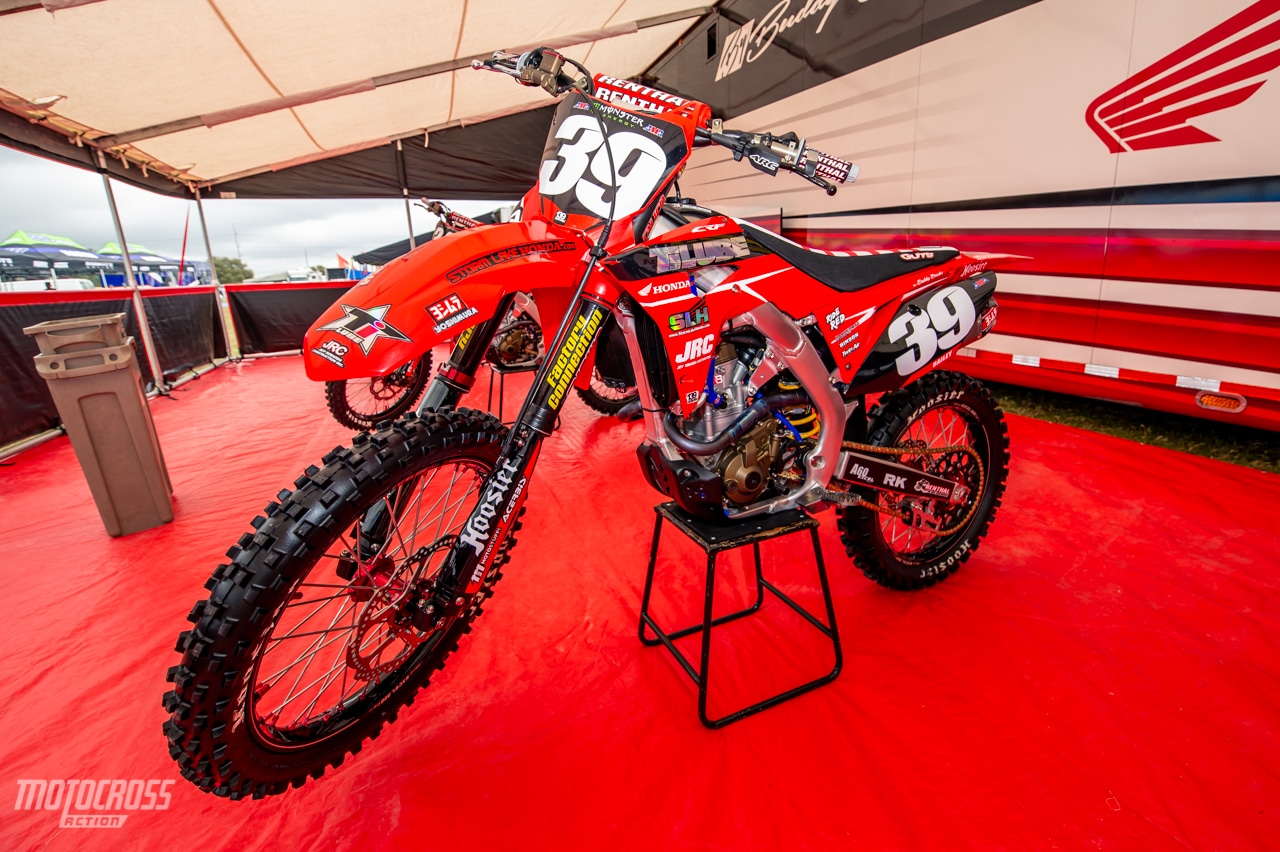 Jordan Bailey is another rider who has changed teams for 2020. Jordan previously rode for the Rockstar Husqvarna team and in 2020, he will be on a TiLube Honda.
Broc Tickle was previously wearing Alpinestars gear, now he has Alpinestars boots and helmet with FXR Racing gear.
Chad Reed's Mountain Motorsports Honda looks really cool up close with the black frame and swingarm.
Blake Baggett's Rocky Mountain KTM. 
Chad Reed was looking good during press day.
Justin Brayton's #10.
Jordon Smith on his new Pro Circuit Kawasaki ride.
Ryan Breece's HEP Suzuki hangs out on the grass in Tampa. This is the first round of the season with a grass parking lot and it makes a big difference. The pits are much warmer and more humid with a grass parking lot when compared to the asphalt parking lots on the west coast.
The Club MX Yamaha 250SX East Coast team are ready for their first race of the year.
Jace Owen's Phoenix Racing Honda. This year Jace will be racing the AMA Arenacross series and the 250SX East Championship whenever the Arenacross races aren't conflicting.
Malcolm Stewart's Smartop Bullfrog Spas Honda.
Aaron Plessinger's Monster Energy Yamaha YZ450F has some cool new graphics for the St. Jude race.
Aaron Plessinger ran up front for a few laps in San Diego. We hope he can keep the momentum going.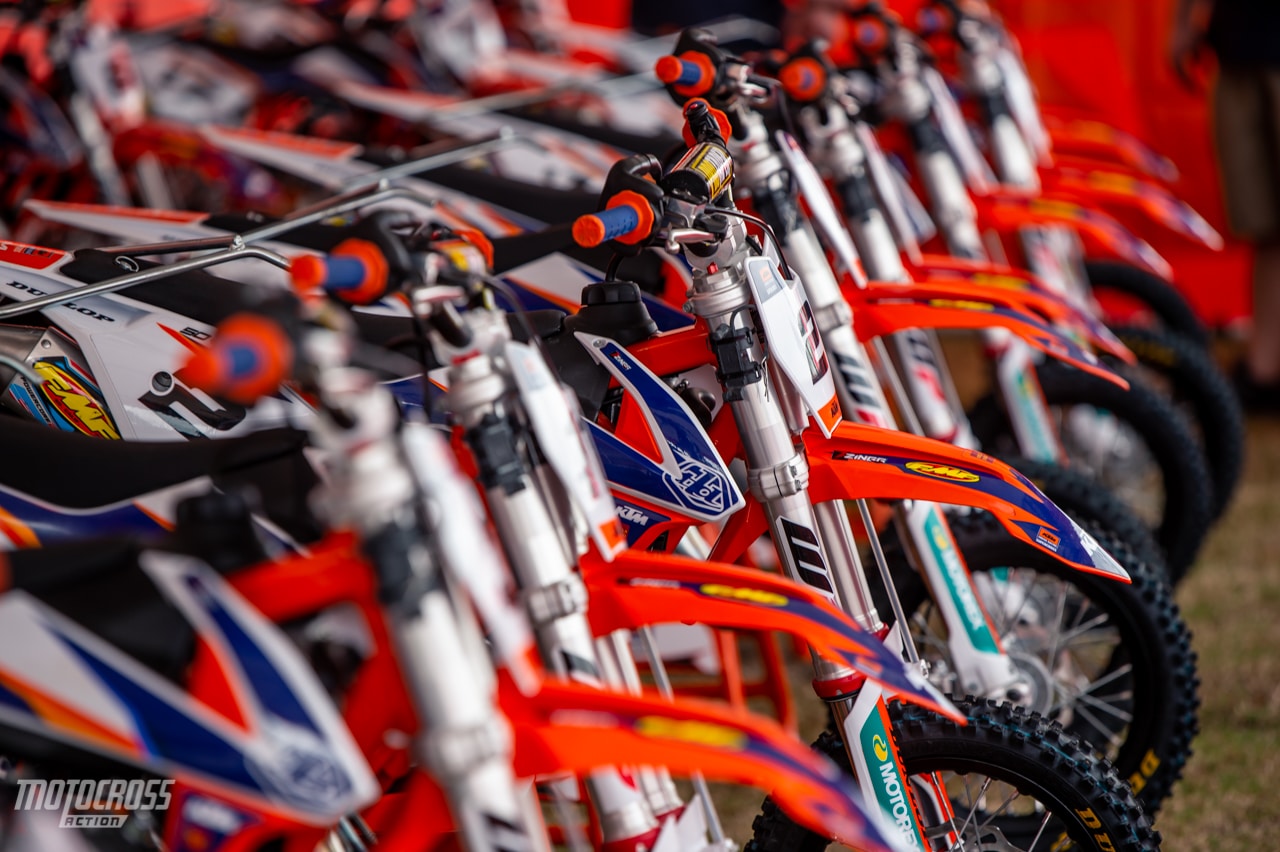 Even the KTM Junior Supercross Challenge bikes made their way from San Diego to Tampa this week.
Ronnie Stewart is racing for the first time this season in Tampa.
Justin Barcia's #51 gets torn apart one more time before race day.
Luke Neese's Phoenix Racing Honda.