2020 TAMPA SUPERCROSS PRE-RACE REPORT: TICKLE'S BACK, TAMPA'S BACK & 250 EAST COAST BEGINS (UPDATED)
2020 TAMPA SUPERCROSS PRE-RACE REPORT: TICKLE'S BACK, TAMPA'S BACK & 250 EAST COAST BEGINS
The 2020 Tampa Supercross is almost here and the series is about to begin it's next chapter as the 250SX East Coast riders are set to go for their first race of the year and the 450 title contenders are looking to maximize points and establish themselves as the front runner as we get further into the series. The 2020 Monster Energy Supercross season has been a memorable one already and as we head across the country 2,451 miles from San Diego, California, to Tampa, Flordia. Only one point separates Ken Roczen and Eli Tomac at the top of the 450SX Point Standings. Meanwhile, Cooper Webb is gaining momentum and closing in on the two points leaders with his win in San Diego and other riders like Adam Cianciarulo, Blake Baggett, Jason Anderson and Justin Barcia have proved that they have speed too battle for podiums and race wins as well. We're excited to watch round seven unfold and we hope you are too. Stay tuned to MXA throughout the weekend for results, news, photos, videos and more from the Raymond James Stadium in Tampa, Florida.
COLT NICHOLS TO MISS OPENING ROUNDS OF 250SX EAST SEASON
Colt Nichols will miss the 250SX East season opener this Saturday in Tampa. 
Colt Nichols posted the photo on the left on October 21st to update everyone about his shoulder injury. Nichols is currently on the road to recovery, but he has not been released to start riding yet and he's currently unsure about when he will start. The Star Racing Yamaha rider will definitely be missed. After a strong 2019 Supercross season where Colt won the season opener and held the points lead for multiple rounds, we can only imagine that Colt could've been a title contender in this year if he were healthy. MXA wishes the best to Colt in his recovery process. Shane McElrath will be the sole 250 rider under the Star Racing Yamaha tent in Tampa as there haven't been any announcements for a Yamaha fill-in rider.
Colt Nichols posted on instagram about his current situation."As most of you know I got hurt back in October and have done a horrible job at keeping my followers updated." Said Nichols. "I will not be racing this weekend In Tampa. Haven't quite got cleared to twist the grip off the YZ but I have my fingers crossed it shall be very soon. Myself and the team want to make sure the shoulder is 100% before I start riding and make my return to racing." Colt also mentioned that he would try to keep his instagram followers updated on the status of his return to racing.
BROC TICKLE IS BACK RACING AFTER TWO YEARS OFF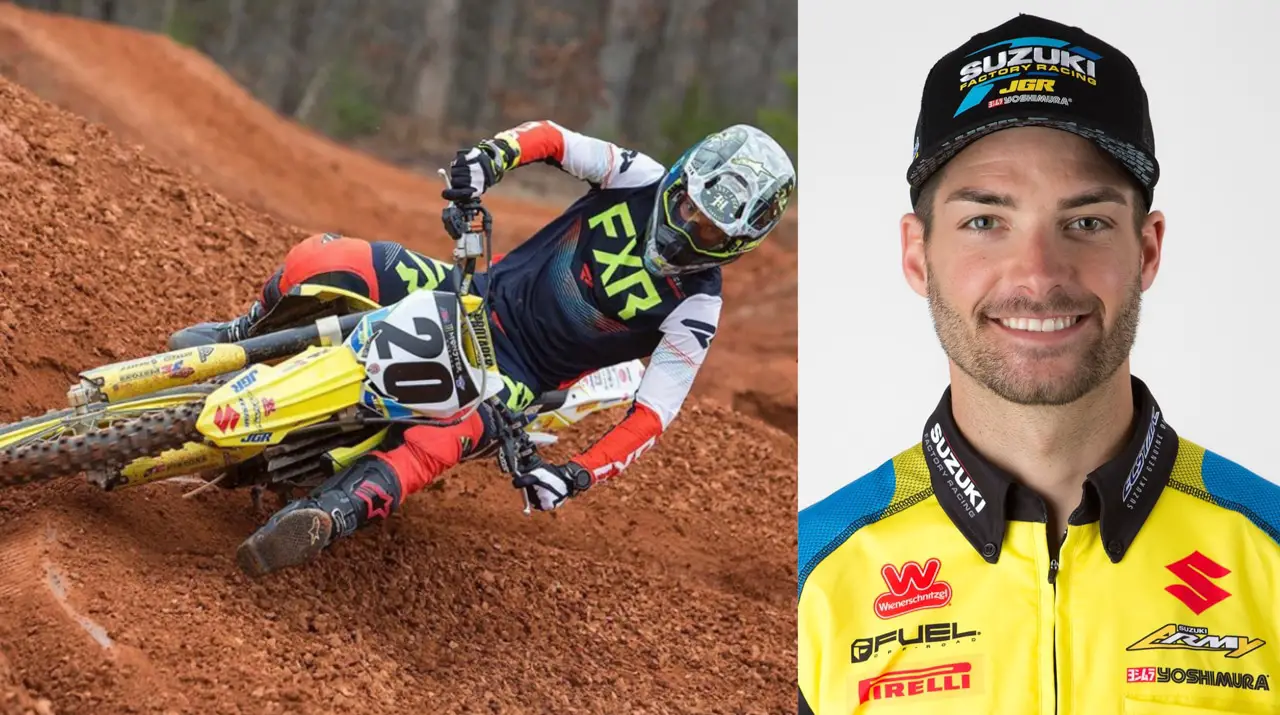 Broc Tickle's FIM ban has been lifted and he will be back racing for the first time in 678 days on Saturday in Tampa. Click here to read the official press release about his last minute switch to the JGRMX Suzuki team.
250SX EAST COAST REGIONAL CHAMPIONSHIP KICKS OFF
Jeremy Martin will make his return to 250 racing this Saturday in Tampa.
The 250SX East Coast regional Championship is set to kick off on Saturday in Tampa, Florida, and the riders are all fresh and ready to go after watching their West coast competitors battle it out for the first six weekends of the year. Jeremy Martin is pictured above on his number six Geico Honda. After he broke his back at the Muddy Creek National in 2018, Jeremy took a year and a half off from racing and made his return at the 2019 Monster Energy Cup last October. He was impressive in the 450 class at MEC when he grabbed holeshots, led laps and finished 6-6-14 for 8th overall. Then he went overseas to race the Paris Supercross where he finished 4th overall on the 450 as well. Now, Jeremy is back on his CRF250 and he's looking to get his first Supercross Championship in the 250SX East division.
SHANE MCELRATH'S STAR RACING YAMAHA DEBUT
Shane McElrath is making his debut on the Star Racing Yamaha this Saturday.
Out of all the riders switching teams for 2020, we were certainly surprised to see Shane McElrath switch. After spending seven years racing for the Troy Lee Designs factory team—first when they were the Lucas Oil Troy Lee Designs Honda team and then when they switched to be the factory KTM 250 effort—Shane decided it was time for a change and he landed himself a deal with the Star Racing Yamaha team. Click here to read our interview with Shane McElrath about his switch from TLD to Star Racing.
CHASE SEXTON 250 EAST DEFENDING CHAMPION
 Chase Sexton is coming into Tampa as the defending champion in the East. 
Chase Sexton is coming into the 2020 season with a unique situation. He has already signed a contract with the Factory HRC Honda to race the 2020 Outdoor Nationals this summer and to make the full-time jump up to the premier class in 2021 with the team. Coming into Supercross the original plan was for Sexton to race on the West coast and then while the 250 West riders took a break and the East coast division started up, he was supposed to be testing his 450 for Outdoors. Unfortunately, a crash while play riding on a pit bike before the season began set Chase's training back a few weeks and forced him to compete again on the East coast.
RJ HAMPSHIRE MAKES ROCKSTAR HUSQVARNA DEBUT

Rj Hampshire and Rockstar Husqvarna's Steve "Scuba" Westfall during their first test day together.
Long-time Geico Honda rider, Rj Hampshire switched to the Rockstar Husqvarna team and when he did it, his entire program changed. He sold his house and private riding facility to move further north in Florida and train with Aldon Baker at the Baker's Factory, he and his wife had a baby and he lost twenty pounds on his new training program with Aldon. Click here to read our interview with Rj Hampshire when he told us all about his switch from Geico to Rockstar.
JORDON SMITH'S PRO CIRCUIT KAWASAKI DEBUT
Jordon Smith's first day on his new Pro Circuit Kawasaki.
Jordon Smith has ridden for the Geico Honda team and then the Troy Lee Designs Red Bull KTM team as a Pro. Now, Jordan has switched to the Pro Circuit Kawasaki team and he's looking for his first Championship on the green machine.
TAMPA SUPERCROSS TV SCHEDULE
Round seven of the Monster Energy Supercross season can be watched LIVE on the NBC Sports channel or online using your smart phone or computer with the NBC Sports Gold Pass. Racing begins at 7:00p.m. Eastern time in Tampa, Florida, which is 4:00p.m. Pacific time. If you want to watch qualifying and get the scoop on how the track is shaping up, you'll need the NBC Gold pass. The NBC Sports Gold Pass will cost you $74.99 for Supercross or you can upgrade and get both the Supercross and Pro Motocross seasons for $84.99. With the NBC Gold Pass you can watch qualifying and the races LIVE on your smart phone or computer. If you're interested in the NBC Sports Gold Pass, click here.
NIGHT SHOW RACING LIVE – 4:00 PM Pacific, 7:00 PM Eastern NBC Sports TV Channel or NBC Gold Pass
RACE DAY SCHEDULE
Below is the full race day schedule for the 2020 Tampa Supercross.
ALL TIMES SHOWN IN EASTERN TIME:
10:30 am – 11:00 am Rider's Track Walk
11:00 am – 11:15 am Riders Meeting (Mandatory)
11:15 am – 11:30 am Chapel Service
12:00 pm – 12:08 pm 250SX Group C Free Practice
12:10 pm – 12:18 pm 250SX Group B Free Practice
12:20 pm – 12:28 pm 250SX Group A Free Practice
12:30 pm – 12:38 pm 450SX Group A Free Practice
12:40 pm – 12:48 pm 450SX Group B Free Practice
12:50 pm – 12:58 pm 450SX Group C Free Practice
1:05 pm – 1:15 pm 250SX Group B Qualifying
1:20 pm – 1:30 pm 250SX Group C Qualifying
1:35 pm – 1:45 pm 250SX Group A Qualifying
1:50 pm – 2:00 pm 450SX Group A Qualifying
2:05 pm – 2:15 pm 450SX Group B Qualifying
2:20 pm – 2:30 pm 450SX Group C Qualifying
2:30 pm – 2:45 pm KTM Junior Racing Practice

2:45 pm – 2:55 pm Promoter Track Walk
2:55 pm – 3:20 pm Track Maintenance
3:20 pm – 3:30 pm 250SX Group C Qualifying
3:35 pm – 3:45 pm 250SX Group B Qualifying
3:50 pm – 4:00 pm 250SX Group A Qualifying
4:05 pm – 4:15 pm 450SX Group A Qualifying
4:20 pm – 4:30 pm 450SX Group B Qualifying
4:35 pm – 4:45 pm 450SX Group C Qualifying
4:45 pm – 5:00 pm KTM Junior Racing Practice

The top 40 times from Qualifying Practice in both Classes transfer directly to the Heat Races
NIGHT SHOW PROGRAM
6:30 pm – 7:05 pm Opening Ceremonies
7:05 pm – 7:13 pm 250SX Heat #1
7:19 pm – 7:27 pm 250SX Heat #2
7:33 pm – 7:41 pm 450SX Heat #1
7:47 pm – 7:55 pm 450SX Heat #2
8:01 pm – 8:07 pm KTM Junior Racing Main Event – 3 Laps – 15 Riders
8:07 pm – 8:19 pm Track Maintenance
8:19 pm – 8:26 pm 250SX Last Chance Qualifier
8:30 pm – 8:37 pm 450SX Last Chance Qualifier
8:37 pm – 8:48 pm Intermission
8:53 pm – 9:10 pm 250SX Main Event
9:28 pm – 9:50 pm 450SX Main Event
*Events subject to change without notice
TAMPA SUPERCROSS TRACK MAP
The 2020 Tampa Supercross will feature a sand section just like it did in 2018.
450 CHAMPIONSHIP POINT STANDINGS AFTER 6 OF 17 ROUNDS
Ken Roczen maintains the points lead by one point going into Tampa.
| | | |
| --- | --- | --- |
| POS. | NAME | POINTS |
| 1 | Ken Roczen | 130 |
| 2 | Eli Tomac | 129 |
| 3 | Cooper Webb | 121 |
| 4 | Justin Barcia | 116 |
| 5 | Adam Cianciarulo | 113 |
| 6 | Jason Anderson | 105 |
| 7 | Blake Baggett | 90 |
| 8 | Malcolm Stewart | 90 |
| 9 | Justin Brayton | 89 |
| 10 | Zach Osborne | 75 |
Stay tuned to MXA for all things Tampa Supercross by clicking the link below.