2020 TAMPA SUPERCROSS | THE AFTERMATH: SAND DUNES AT SUPERCROSS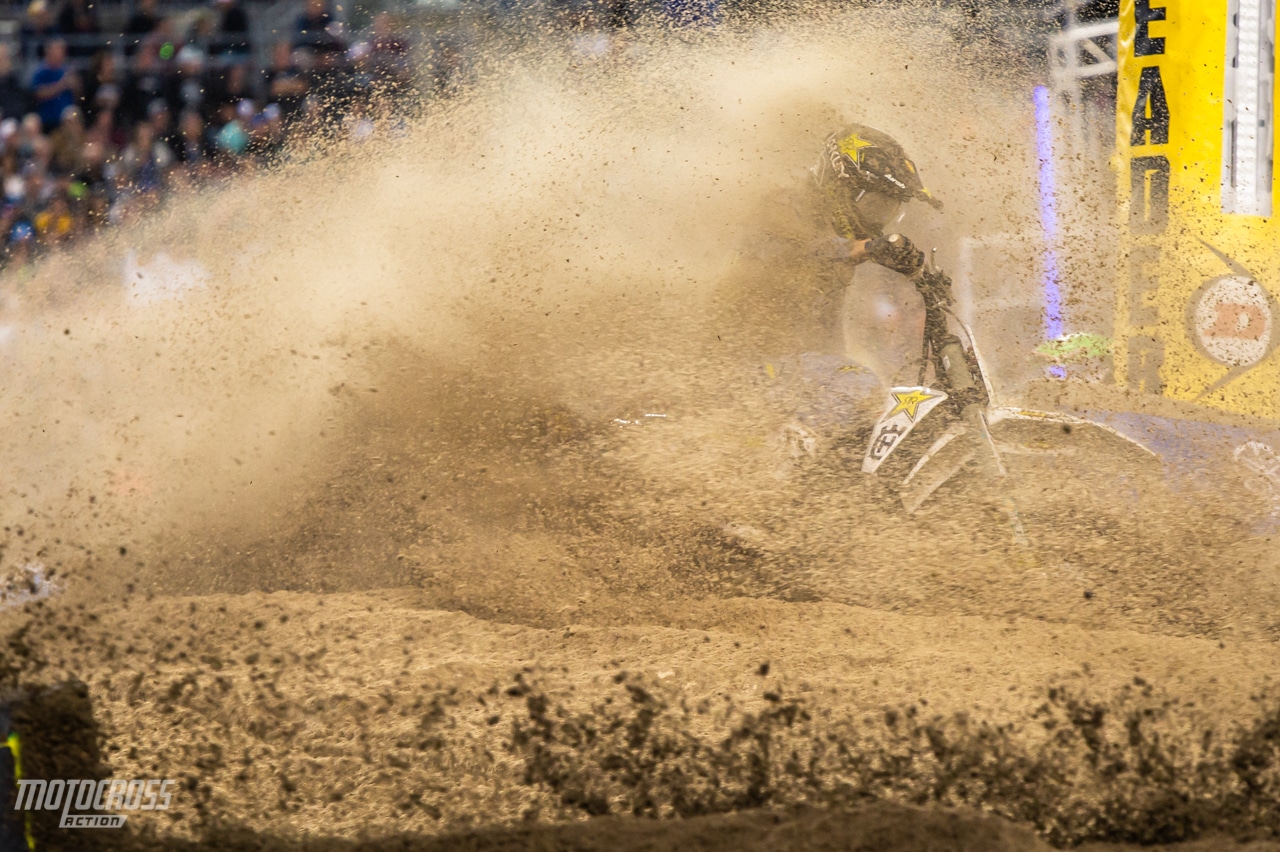 2020 TAMPA SUPERCROSS | THE AFTERMATH: SAND DUNES AT SUPERCROSS
The 2020 Tampa Supercross lived up to the hype and provided for another exciting round of Monster Energy Supercross. The 450SX riders battled hard throughout the field and eventually finished in an exciting fashion with last corner passes being made. If you weren't there in person, it would've been hard to notice on TV, but the fourth, fifth, sixth, seventh and eighth place finishers in the Main Event all crossed the line within four seconds of each other. Yep, it was a tight battle to the wire! The 250SX East riders were hot and ready as expected and the storylines continue with many riders switching teams, Jeremy Martin coming back from injury and Josh Hill coming back from retirement. The track didn't look too hard on paper, but once practice kicked off, everyone quickly realized that the Tampa track was force to be reckoned with, especially the sand. In Motocross Action's The Aftermath, we like to dive into the details of the race and share our favorite photos from the event. MXA's Brian Converse was at the Tampa SX to capture all the action.
Photos by Brian Converse
Words by Josh Mosiman
TOP NEWS:
ELI TOMAC EARNS HIS 30TH CAREER WIN & THE POINTS LEAD
Eli Tomac had been slowly chipping away at Ken Roczen's points lead until there was only one-point separating he and Ken. With Eli's win and Ken's third place in Tampa, Eli has gained the red plate and put a four-point lead on Ken and an eleven-point lead on Cooper Webb going into round eight.  
Eli Tomac was second off the start and he passed Friese to get the lead before turn two in the Main Event.
Eli Tomac's success has came as his starts have gotten better. Eli said in the post-race press conference that he was frustrated earlier in the day when everyone did practice starts leading into the qualifying practices. His starts weren't so hot and he said that he was getting dropped off the back. Eli attributed his better starts in the Heat and Main Event to a better gate pick with more traction. In a field as deep as the 450SX class, a good start is a must-have if you want to win.
COOPER WEBB WAS SILENTLY SECOND
Cooper Webb came into Tampa nine points behind the points leader, Ken Roczen and he left Tampa eleven-points behind Eli Tomac.
Cooper sounded cool, calm and confident in the post race press conference when he said: "It's exciting we have a new points leader (Eli Tomac). I think he had it there (Arlington) last year too, so it should be exciting to get the ball rolling."  That confident statement from the defending Champion tells us that Cooper is feeling good and that he's got more in the tank. It makes us even more excited to see how the season unfolds with Eli Tomac and Ken Roczen fighting for their first 450SX titles and Cooper Webb doing everything he can to make it two in a row.
KEN ROCZEN FINISHES THIRD
Even after crashing, Ken Roczen still managed to finish on the podium in third at Tampa.
Ken Roczen had an eight-point lead on Eli Tomac after he won in Glendale, but since then Eli has chipped away at his lead until he finally took it from the German. In Oakland, Ken lost five points, in San Diego two points and in Tampa he lost five more points. Now, Eli has the red plate and the momentum as we head into the Arlington, Texas, Triple Crown event.
Ken's red mohawk is still going strong.
BOTTOMLESS SAND IN SUPERCROSS:
Ken Roczen gets engulfed in the sand.
Ok, the sand wasn't actually bottomless as we all know the stadium floor wasn't far below. But it definitely seemed like it was! Many riders went down in the sand throughout the day. Most of the crashes were small tip-overs, but a few riders had big get offs in the sand. Not only was the section deep and rutted, but it also had jumps and it was split into an option section with tough blocks down the middle. The tough blocks were really the cause of most riders troubles because they couldn't hold a straight line and eventually they would hit the tough blocks. Even Main Event winners, Shane McElrath and Eli Tomac went off the track while leading. When Cooper Webb was asked about the sand section he said: "It is tough to see with the super white sand…it was tricky all day, easy to make mistakes. A little different, it kind of took your flow away. Overall, it was definitely a weird section for Supercross." 

Here Jason Anderson launches his way through while Broc Tickle swaps in the background.
250 ROOKIE BRIAN MOREAU INJURED:
Troy Lee Designs Red Bull KTM's rookie, Brian Moreau was set to make his Pro debut in American Supercross at Tampa, but unfortunately a crash in the free practice injured the young French rider.
As of Monday morning, there is no official word on the extent of his injury, but we do know that Moreau's family posted an update on Facebook mentioning that Brian injured his back, he underwent immediate surgery on Saturday and he will stay at the Tampa hospital in an intensive care unit until he is stable and they are fully aware of the extent of the injury. It's always heart breaking to see a fellow rider get injured. MXA wishes Brian the best in his recovery.
BROC TICKLE'S BACK:
Broc Tickle made his comeback to racing after the FIM suspended his license for almost two years. 
It was awesome to see Broc Tickle back at the races this weekend in Tampa. After almost two years away, Broc came out and rode awesome to finished fourth in his Heat race and twelfth in the Main Event. The Heat race especially was really impressive knowing that he had been away from racing for so long and he only had three weeks on the JGR Suzuki before the race.
JEREMY MARTIN STRAIGHT BACK TO THE PODIUM:
Tampa was Jeremy Martin first 250 race back from injury and he earned the fastest qualifying time of the 250 class and placed third place in the Main Event. 
Jeremy Martin was very impressive in Tampa. The Tampa SX marked 1 year, 7 months, and 23 days after his crash at the Muddy Creek National in 2018. Yes, Jeremy raced the Monster Cup in 2019 and the Paris Supercross in France, both on 450s, but this was really his first actual race back since he was back on a 250 and everyone was glad to see him going for it again.
ST. JUDE CHILDREN'S RESEARCH HOSPITAL BENEFIT
Broc Tickle's JGR Suzuki and his FXR gear combination was also one of the best St. Jude Children's Research Hospital themed setups of the day in Tampa. 
The Tampa SX wasn't the standard race, it was the official 
"This Race Saves Lives"
event in which teams featured St. Jude patient-inspired artwork on their bikes and gear. The custom graphics and one-of-a-kind gear was collected after the race and will become available in the coming days where fans can bid on items from their favorite teams and riders. The online auction went live during the opening segment of Race Day Live and the first item up for bid was Ricky Carmichael's custom-built Suzuki Boulevard M109R B.O.S.S. Fans can bid on Ricky's bike and other items by visiting
stjude.org/supercrossauction
and the auction will be open through the final round in Salt Lake City, Utah on May 2.
Here one of the patients from the St. Jude Children's Hospital got to try out an electric StayC bicycle on the floor of the Raymond James Stadium.
450SX CLASS:
Eli Tomac meant business in Tampa. He passed his teammate on lap 11 and then pulled away to win the Main Event with a seven-second gap on Cooper Webb.
Ken Roczen's night wasn't looking too hot when he slid out all on his own trying to pass Cooper Webb. After his crash, he picked his bike up in fifth, passed Malcolm Stewart and then Adam Cianciarulo went down which allowed Ken to move onto the podium in third. 
Cooper Webb passed Malcolm Stewart on lap 15 and then on the next lap Adam Cianciarulo crashed all on his own in the whoop section and Cooper inherited second.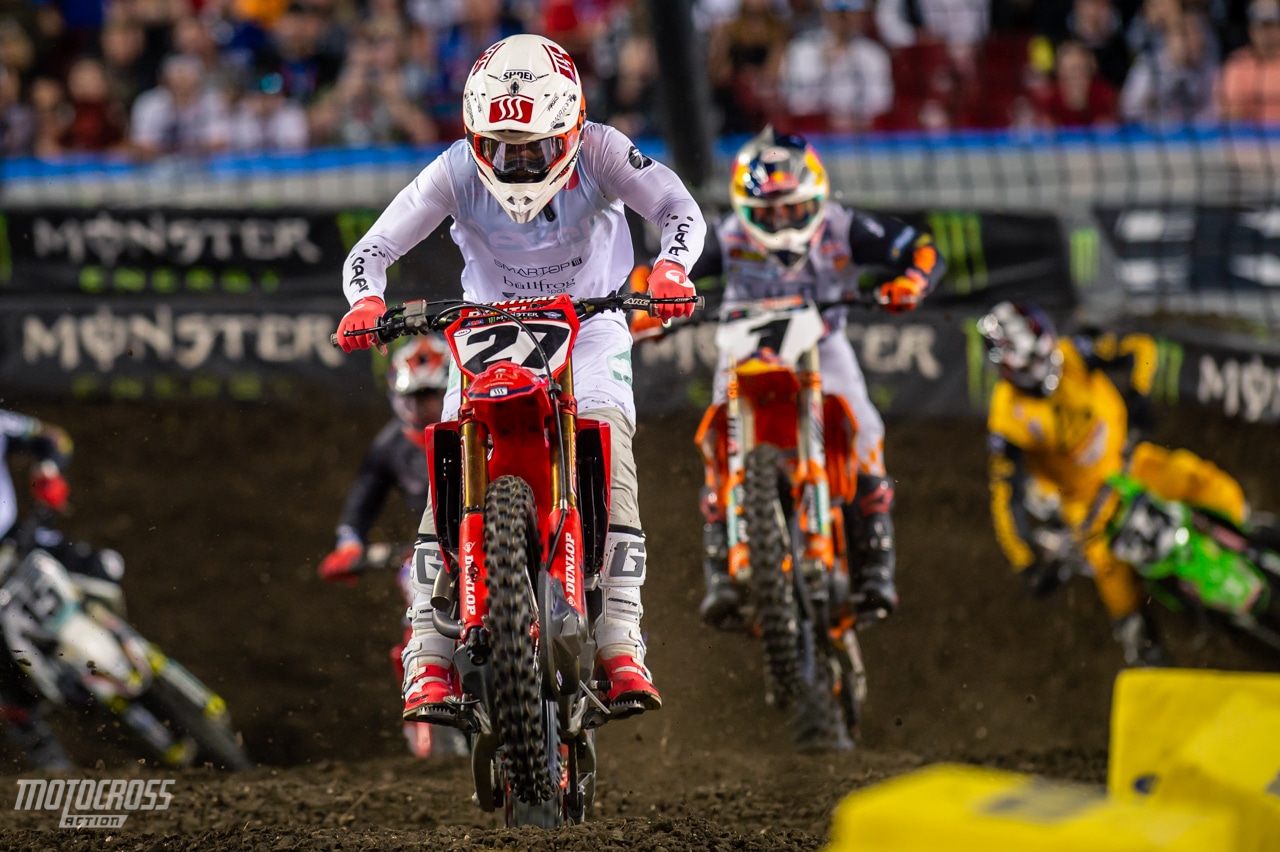 Malcolm Stewart held onto third place until the twelve minute mark when Cooper Webb pushed his way through. Ken Roczen got by him soon after Cooper, but then he slid out all on his own giving fourth place back to Stewart momentarily. 
Adam Cianciarulo was second off the start behind Vince Friese in the Main Event, but he charged hard through the rhythm section to pass Vince and take over the lead in turn-two. 
It was like dejavu for Adam Cianciarulo in Tampa. For the seventh time in a row Adam scored the fastest qualifying time and again, he led the 450SX Main Event for a big portion (10 laps) of the race. But eventually, Adam allowed his teammate go pass him and then he crashed on his own in the whoops. The whoops weren't exceptionally big or long in Tampa, but they were slick and chewed up. A lot of riders crashed in them and even Eli Tomac had a big scare in the whoops during his Heat race. 
Justin Hill finished sixth at the Tampa SX in 2018 during his 450SX debut with the JGRMX team, but the result doesn't show that Justin actually passed for the lead momentarily in the Main Event before he crashed. This time, Justin went back to Tampa and earned his best finish in 450 Supercross with a fifth. He does have one fifth overall in Outdoors at High Point in 2018, but this was his best Supercross finish. His fifth was almost a fourth, but Justin Barcia caught him and passed him in the final turn on the last lap.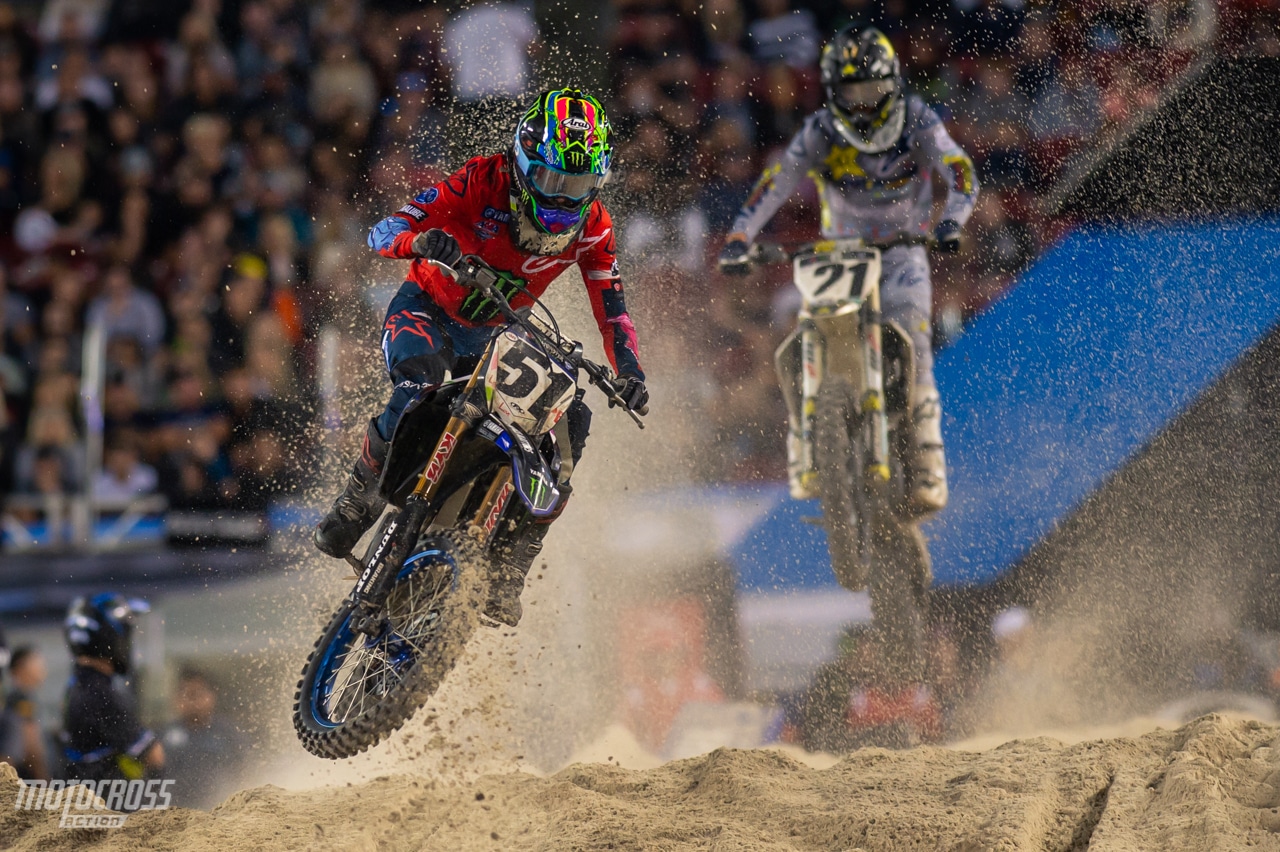 Justin Barcia definitely earned the hard charger award for Tampa. He crossed the finish line in 14th on the first lap, he made it to 10th by lap nine. Then he kept charging to pass Malcolm Stewart and Dean Wilson in the final laps and then get around Justin Hill in the last corner of the race to finish 4th. Barcia hasn't been fighting for wins since Anaheim 1 and St. Louis, but he has definitely made huge improvements when compared to 2019 and it seems like a big portion of his success is related to the newfound comfort he has on the 2020 Yamaha YZ450F. 
Justin Barcia had a big crash during qualifying and it was caught on video. If you haven't seen it, check it out by clicking here.
Dean Wilson's sixth place in Tampa was his best finish of the year. Dean came into the season as a wild card after his hip injury at the 2019 Monster Cup. But, he has put his head down and made the most it. Now Dean is only one point behind his teammate Zach Osborne for 11th overall in the point standings. 11th in the points isn't saying much for Dean, but it is big when you compare it to Osborne's current ranking being that Osborne came into 2020 healthy and touted to be a front runner for race wins and even the Championship by some people.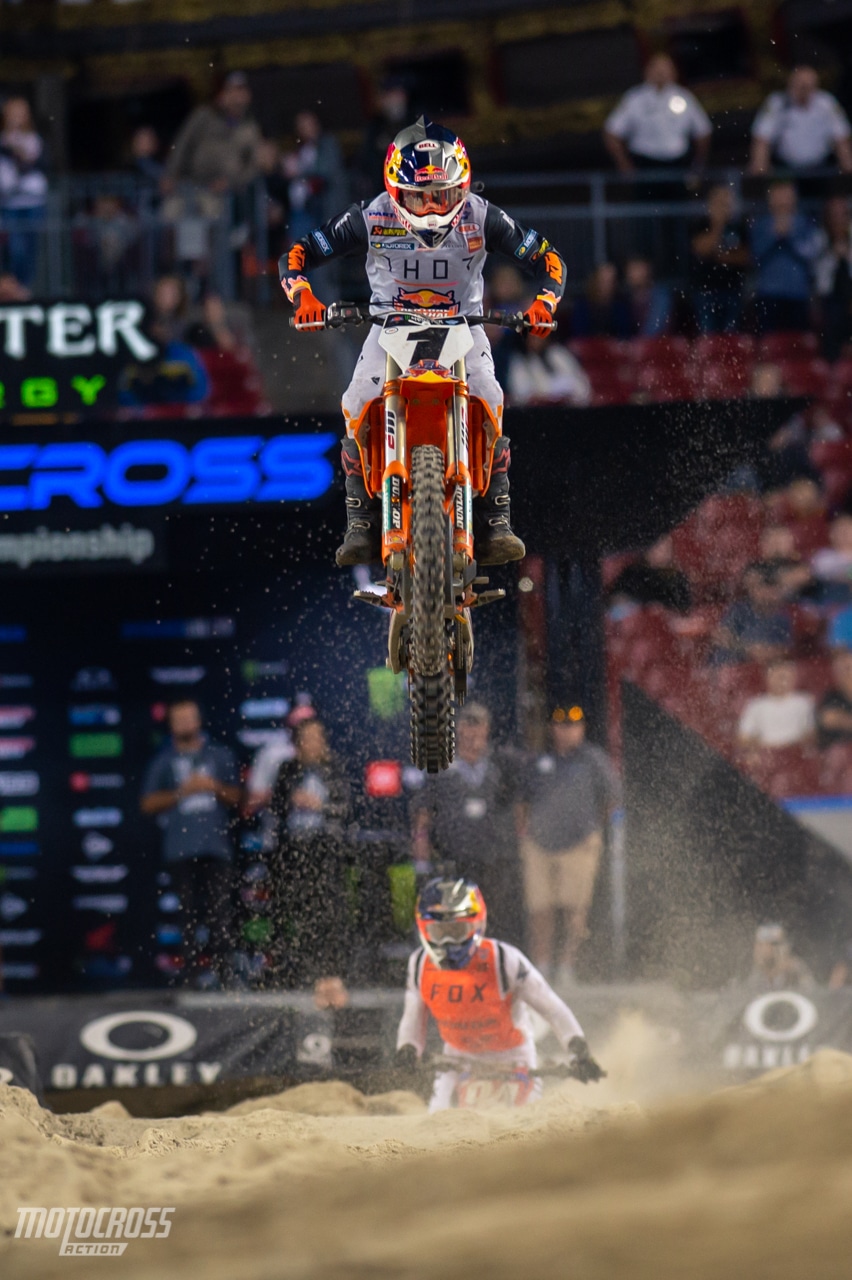 The sand section played a huge role in the outcome of the races in Tampa. 
Zach Osborne was up front on the first lap of the Main Event, but he slid out in the same corner that Ken Roczen crashed in when he tried to pass his teammate Jason Anderson. 
Ken Roczen and Adam Cianciarulo once again found themselves battling each other in the Heat race and again, Ken Roczen was able to get the better of his friend and training partner.
450 SUPERCROSS POINT STANDING (ROUND 7 OF 17)
| | | |
| --- | --- | --- |
| POS. | NAME | POINTS |
| 1 | Eli Tomac | 155 |
| 2 | Ken Roczen | 151 |
| 3 | Cooper Webb | 144 |
| 4 | Justin Barcia | 135 |
| 5 | Adam Cianciarulo | 127 |
| 6 | Jason Anderson | 118 |
| 7 | Malcolm Stewart | 106 |
| 8 | Justin Brayton | 102 |
| 9 | Justin Hill | 93 |
| 10 | Blake Baggett | 91 |
250SX CLASS:
Shane McElrath grabbed the win at the 250SX East Coast season opener in Tampa. This was his third time in the last four seasons that Shane has won the opening round of a 250SX Supercross series. 
Jordon Smith was the first rider across the white line to grab the holeshot in the 250 Main Event. But Shane McElrath had more momentum coming into the rhythm section and was able to jump the triple onto the table top and grab the lead right away.
Coming into Tampa, three of the title hopefuls had changed teams and their debut on the new machinery was in Florida. Shane McElrath moved from the Troy Lee Designs Red Bull KTM team to Star Racing Yamaha, he moved from Florida to California and he switched from training with Tyla Rattray and Aldon Baker to Gareth Swanepoel. After round one, it looks like Shane can be satisfied with his decision as he commandingly won his Heat race and Main Event in Tampa.
Chase Sexton is your defending Champion in the 250SX East Coast region and he was the only title contender who came in without changing teams or coming back from a major injury. Chase managed to finish second and he was never close enough to challenge Shane, but he did look good. It's obvious that the Geico Honda team has made big improvements to their bike this year and Chase explained that he was very happy with it. 
Jeremy Martin passed Jordon Smith at the beginning of lap two right after the finish line, then Jordon did his best to pass him back using the inside line in the sand section, but Jeremy blocked him (as pictured above) in the next corner to secure the second spot. 
Here, Chase Sexton passes his teammate Jeremy Martin for the second place position in the Main Event.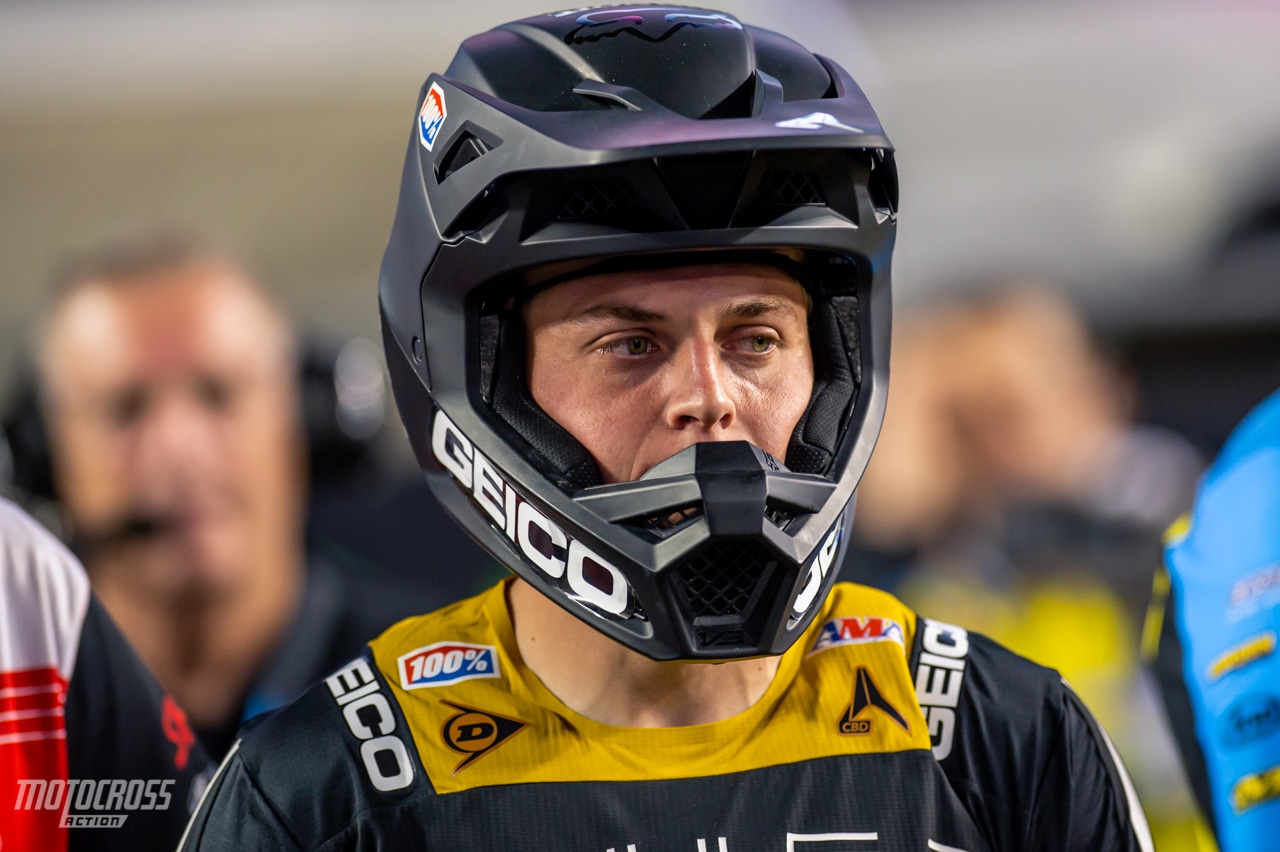 Everybody was happy to see Jeremy Martin back at the races this weekend after his major back injury in 2018. Jeremy has said it multiple times that he feels like he has a second chance at racing and he's determined to make the most of it. He also doesn't plan to take his comeback slowly, Jeremy knows that he needs to make the most of his 2020 season and his goals are right where they were when he got injured 2018, to win.  
Garrett Marchbanks and Jordon Smith battled all day in Tampa. First in the Heat race and then in the Main Event. Coming into Tampa, higher expectations were place on Smith to battle for wins and the Championship while 17-year-old, Garrett Marchbanks has less pressure with more time to mature. But Garrett proved that he's ready to go when he passed his teammate and finished fourth in the Main Event.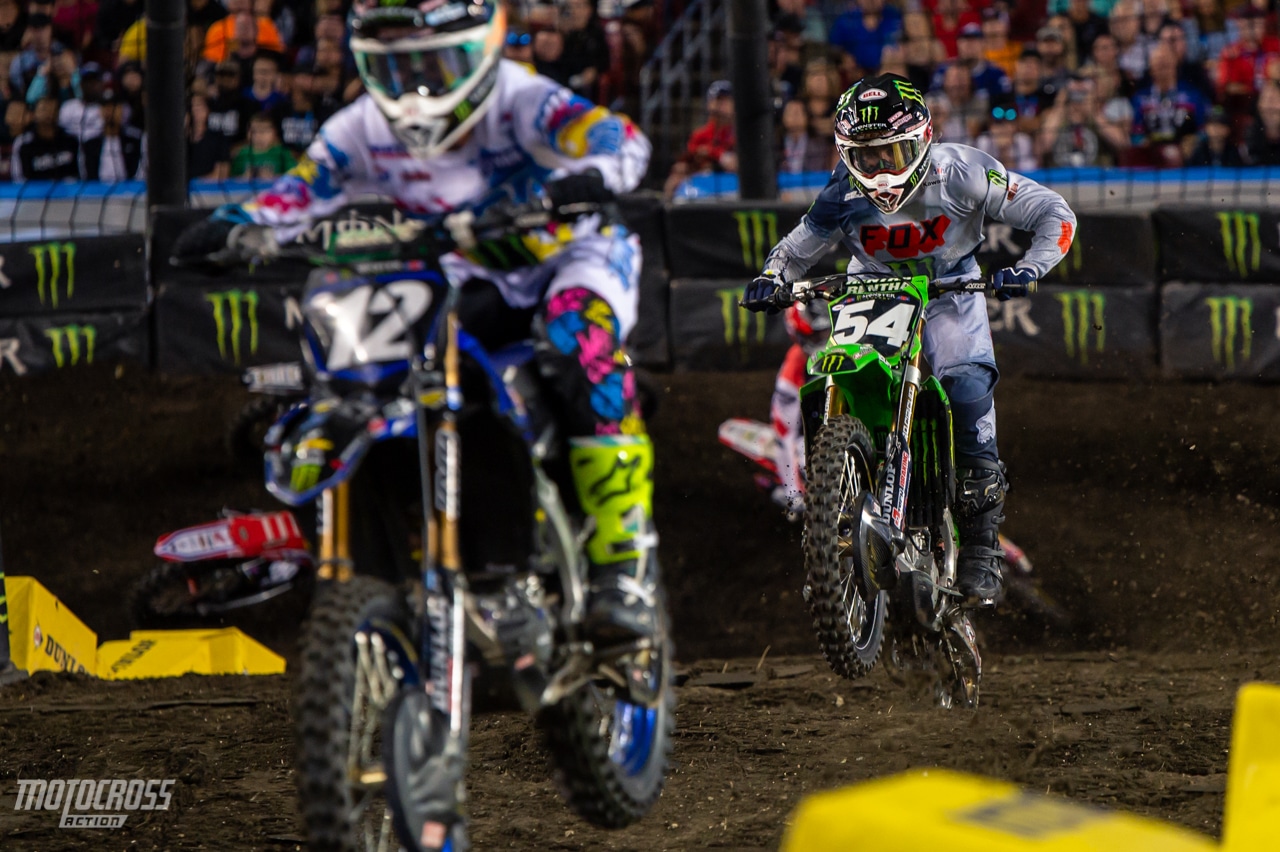 Jordon Smith was another title hopeful coming into Tampa with a new team. Like Shane, Jordon also came from the Troy Lee Designs Red Bull KTM team, but he went to Pro Circuit Kawasaki. Jordon finished fifth in Tampa.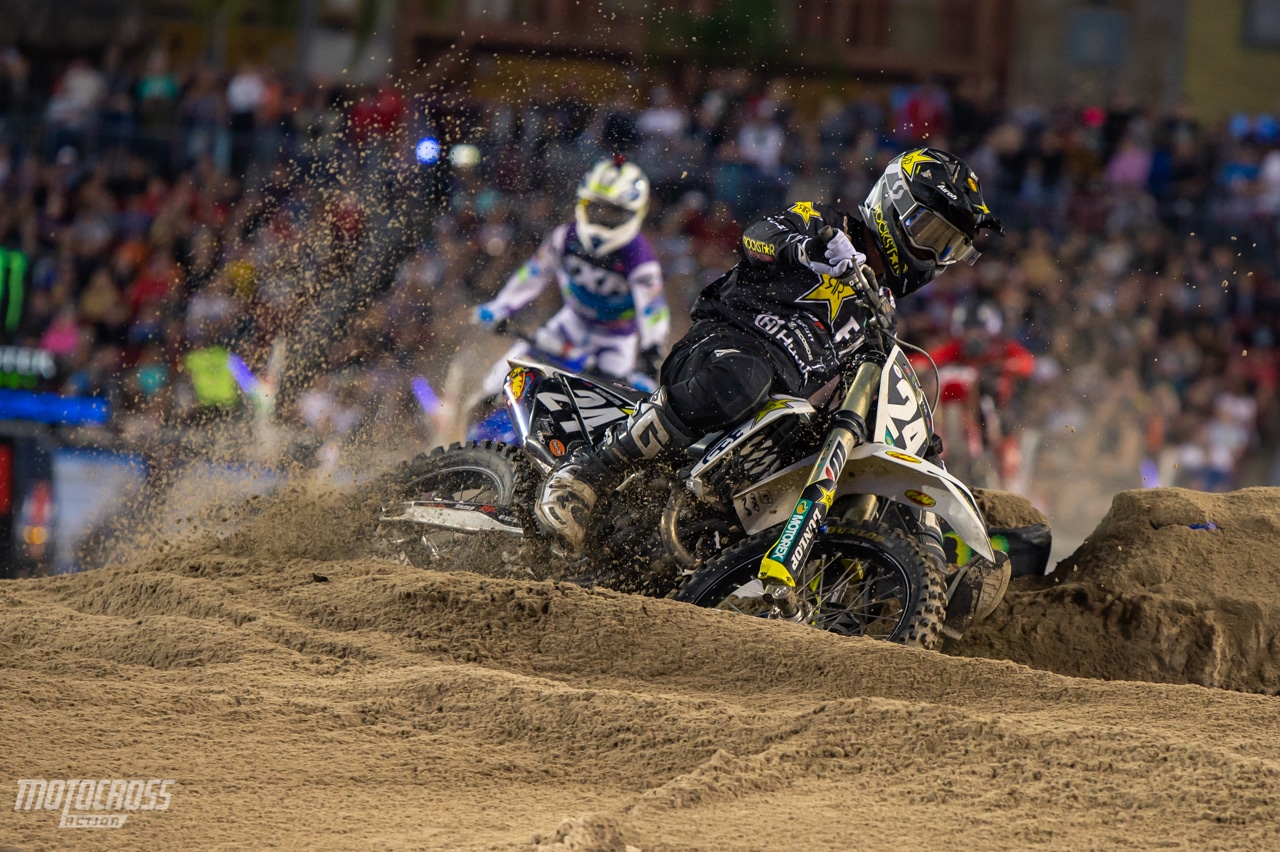 Rj Hampshire was the third title hopeful who switched teams in 2020. Rj was fast in the Main Event, but a bad start set him back early. He charged through the pack and made it up to fourth place before he crashed in the whoops with three laps to go. Rj got up in sixth and finished there. 
Kyle Peters had a quiet, but solid night in Tampa. He is another rider who changed teams for 2020. After the JGR Suzuki team let Kyle go in 2019, he was searching for another ride. Luckily, the Phoenix Racing Honda team picked him up to race the East Coast Supercoss Championship and the AMA Arenacross series in-between. His teammate, Jace Owen is also racing both Supercross and Arenacross, but on the occasions where Arenacross and 250 East are on the same weekend, Jace will be defending his Arenacross title while Kyle will represent the team at Supercross. Kyle was very impressive in Tampa when he finished seventh place in the Main Event.
Josh Hill came back to racing and finished a solid 12th in Tampa.
The ClubMX Yamaha team had a great showing in Tampa when their rider Joey Crown #355 finished 8th in the Main Event. 
Japanese rider, Jo Shimoda made his Supercross debut on the Geico Honda team and finished 10th. 
Jimmy Decotis struggled in Tampa. He shared on instagram that he crashed on Monday before the race. Jimmy said: "I'm nursing a hip injury and some other stuff. I'm racing tonight and am going to give it my all, but it won't be easy."  Decotis qualified for the night show in 23rd, made the Main by winning the LCQ and then he salvaged a 9th in the Main Event to earn some points and show his fans that he wasn't going to give up without a fight.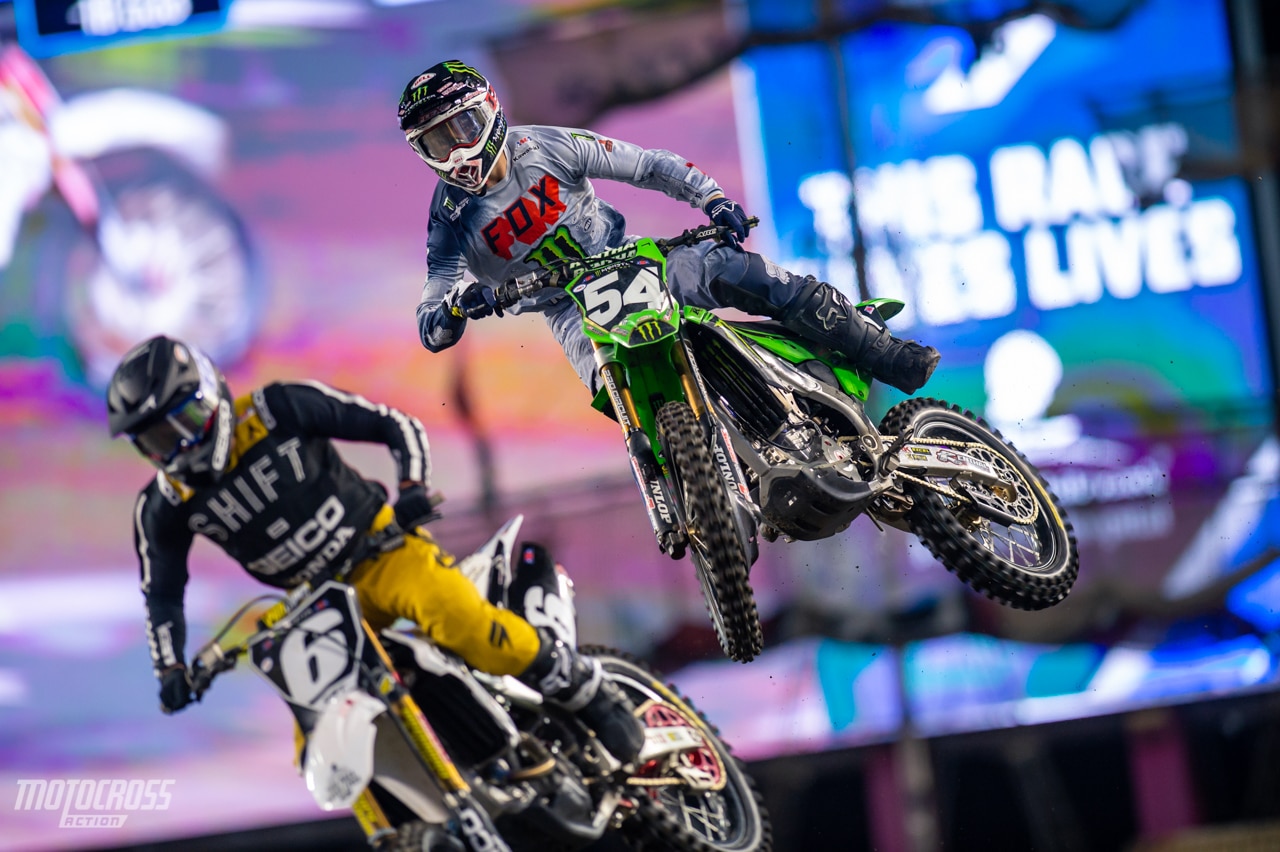 Jordon Smith and Jeremy Martin had their battles in the Heat and Main Event. Jeremy Martin was able to beat out Smith in both races. 
250 EAST COAST POINT STANDINGS AFTER 1 ROUND
| | | |
| --- | --- | --- |
| POS. | NAME | POINTS |
| 1 | Shane Mcelrath | 26 |
| 2 | Chase Sexton | 23 |
| 3 | Jeremy Martin | 21 |
| 4 | Garrett Marchbanks | 19 |
| 5 | Jordon Smith | 18 |
| 6 | Rj Hampshire | 17 |
| 7 | Kyle Peters | 16 |
| 8 | Joey Crown | 15 |
| 9 | James Decotis | 14 |
| 10 | Jo Shimoda | 13 |
BEST PHOTOS FROM THE SAND SECTION: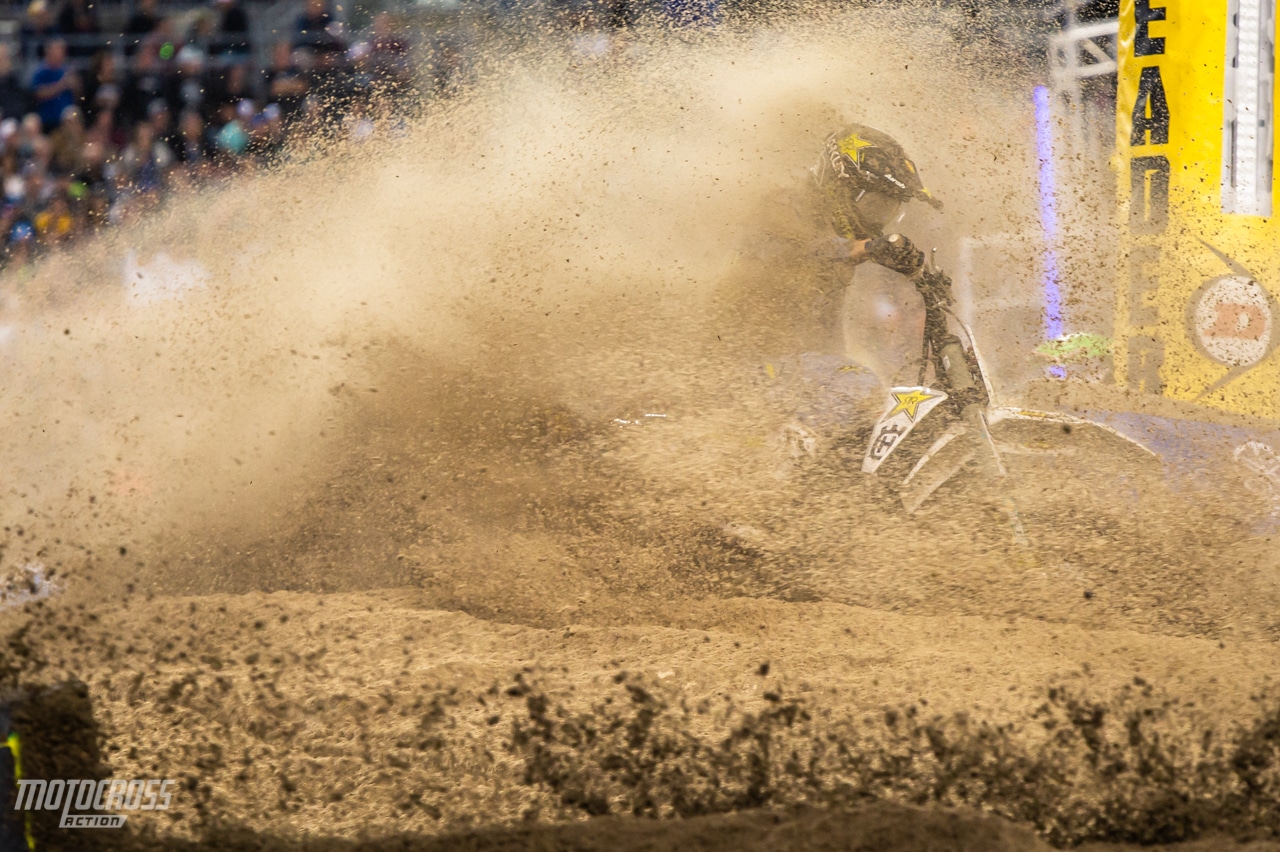 Jason Anderson is hiding in there somewhere underneath all that sand. 
Justin Hill navigating the deep ruts in the sand rollers.
Here Garrett Marchbanks launches his way through the sand. 
Rj Hampshire railing the sand corner.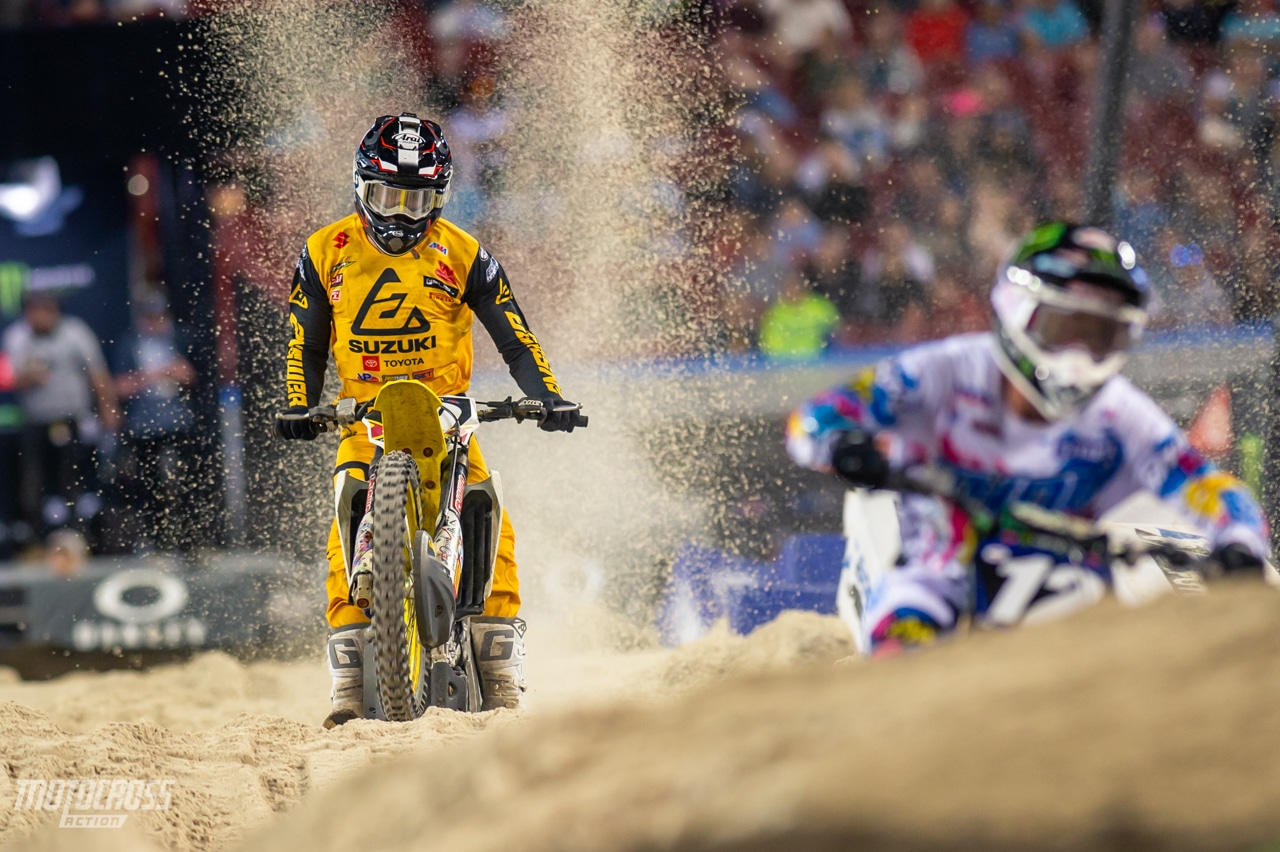 Isaac Teasdale wheelies through the sand.
Eli Tomac coats Malcolm Stewart in sand.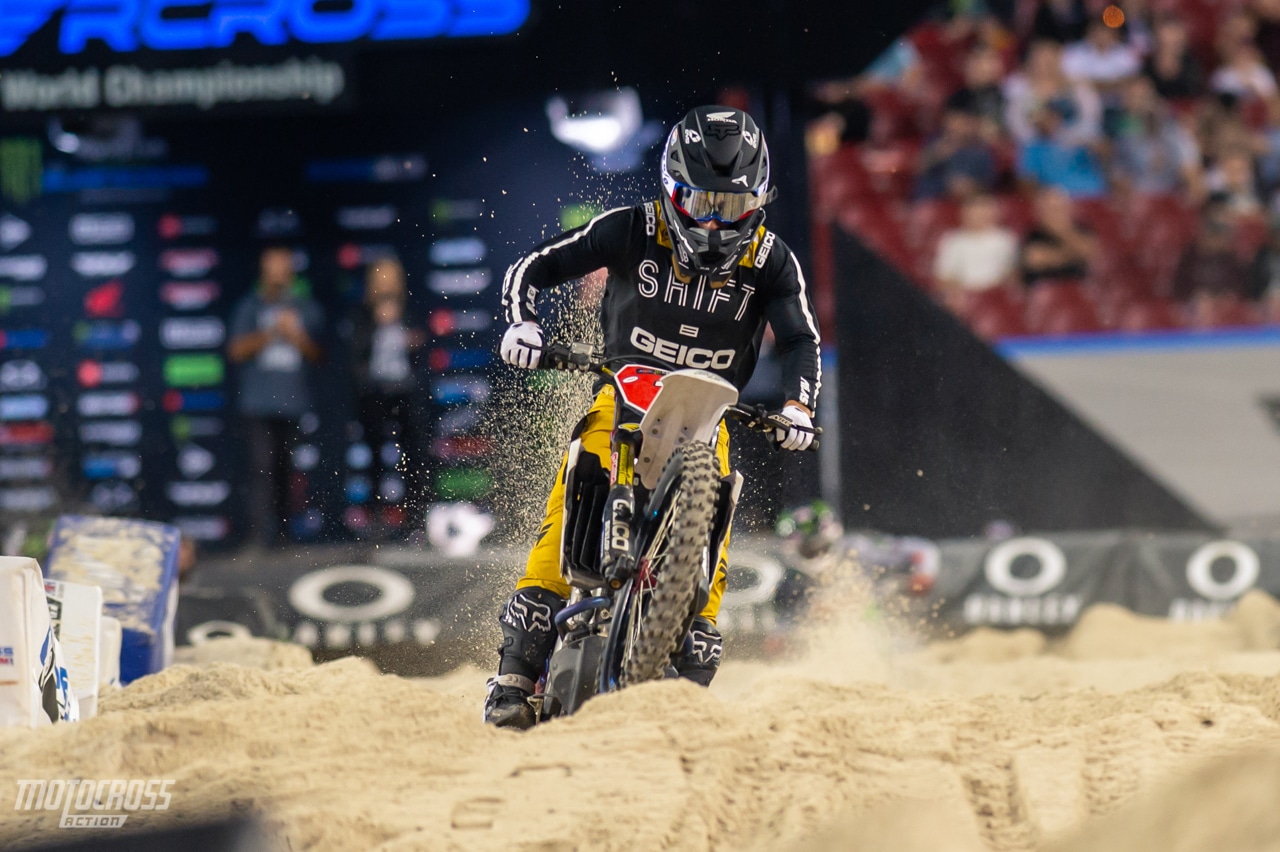 Chase Sexton shows just how deep it was in-between the jumps in the sand.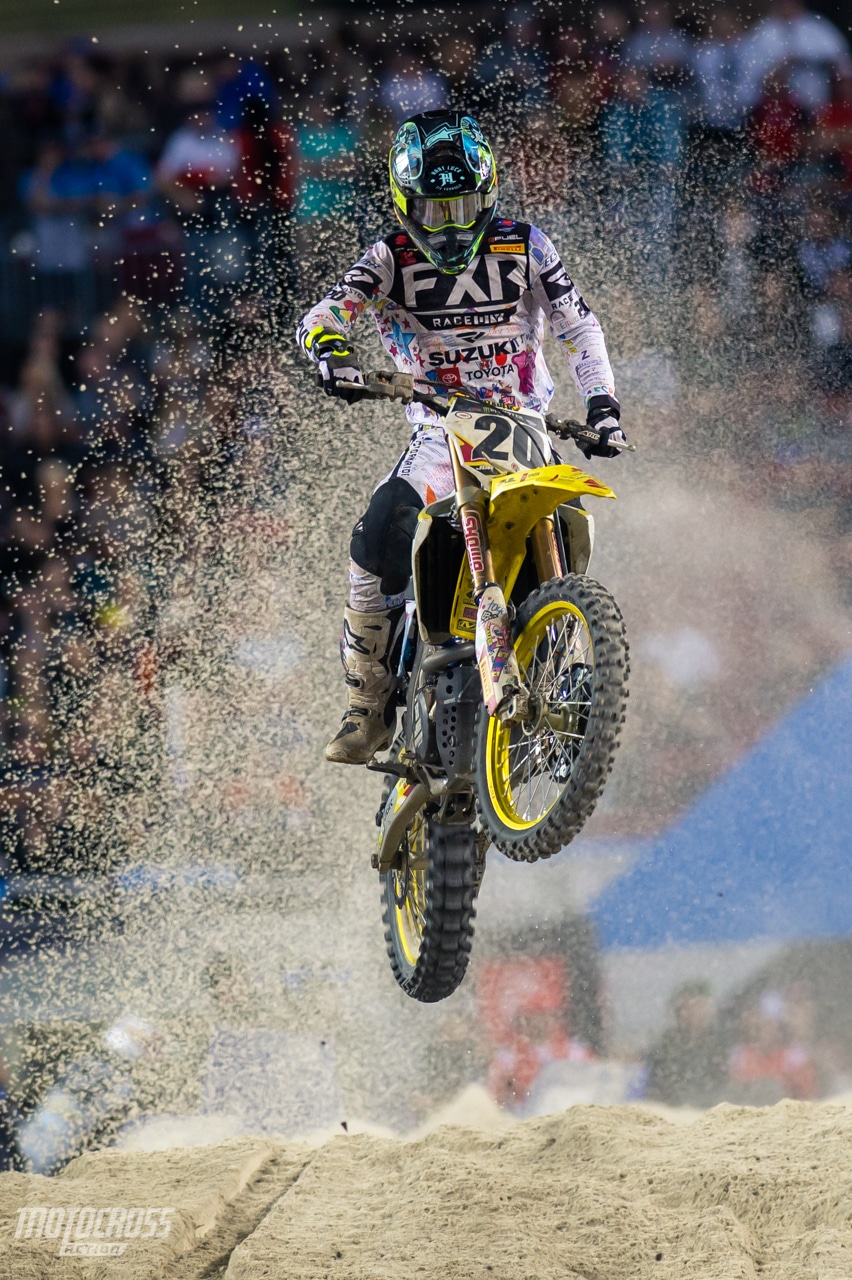 Broc Tickle.
Garrett Marchbanks.
Shane McElrath.
Ken Roczen during qualifying.
WORDS FROM THE RIDERS:
Adam Cianciarulo posted via instagram: "I'm frustrated with myself for making that mistake when we were in a solid position last night. On the bright side, great start and more laps led. We're really close to figuring this thing out—I just need to be better. Excited to try again in 6 days."
Cooper Webb said via instagram: "Solid night at Tampa with P2 on the night. Charged hard after a bad start and left it all out there! Thanks team"
Jimmy Decotis posted on instagram: "I just wanted to update everyone on my situation today. I had a bad crash on Monday and I'm nursing a hip injury and some other stuff. I'm racing tonight and am going to give it my all, but it won't be easy. I'm thankful I'm even able to compete tonight, especially when the doctor told me it was a 95% chance it wasn't gonna happen. This sport is the craziest rollercoaster you can ever imagine. I tried to keep it quiet but at this point everyone knows so I figured I needed to update my fans. Here's to adrenaline baby, get me through the night!"
Dean Wilson said via instagram: "Tampa P-6. Wish I had a little more gas in the tank I feel I could have had P-4 but I will take it learn from it and keep working. This has been by far the toughest come back from injury in a class so deep. I will keep on keepin' on Thanks Team"
Malcolm Stewart said via instagram: "7th last night. It was good to be back in front of my FL fans. i made a few mistakes but it's part of racing. We gonna keep fighting!"
Shane McElrath said via instagram: "Great start to the season! Thanks team"