2-STROKE WORLD CHAMPIONSHIP | 150cc & OPEN PRO RESULTS (UPDATED)
Trevor Stewart (75) and Robbie Wageman (33) racing at the World Two-Stroke Championship at Glen Helen. Wageman made $2700 for the day.

2021 GLEN HELEN WORLD TWO-STROKE CHAMPIONSHIP | OPEN PRO & 150cc RESULTS
The 2021 World 2-Stroke championship race at Glen Helen is finally here. This one-day event brings riders from far and wide to put their smokers, new and old to the test of the Glen Helen terrain. The MXA wrecking crew is out here in full force with a two-stroke fleet of eight bikes. We have three racers in the Pro classes, two of them , Josh Mosiman and Jerry Robin in both the 125 and Open class and Cole Zeller in the 125 Pro Class. The Pasha 125 Pro races, which also included purse money for Over-30 125 Pros and Over-50 125 Pros is the brainchild of Hollywood actor Pasha Afshar, who put up $10,000 of his own money for the three 125 races. Other names at the World Two-stroke race were  Robbie Wageman, Trevor Stewart, Jeff Alessi and more..
---
 PASHA 125 PRO CLASS OVERALL RESULTS
Justin Hoeft went 1-1 in the Pasha 125cc Pro class and picked up $3000. At the World Two-Stroke Championships they allow a displacement of up to 150cc.

Brandon Ray, on his YZ125, was second overall in the Pasha 125 Pro class when his 3-2 nipped Josh Mosiman's 2-3 and also finished fourth on the Open Pro class with a 5-4 .  He collected $2000 for the day's work.

Jerry Robin went 4-4 for fourth in the Pasha 125 Pro class and 3-9 in the Open Pro class for sixth overall.
MXA's Cole Zeller was 7th in the Pasha 125 Pro class on a 2021 KTM 150SX. 
Justin Hoeft 1-1
Brandon Ray 3-2
Josh Mosiman 2-3
Jerry Robin 4-4
Griffin Dexter 6-5
Ryan Surratt 5-6
Cole Zeller 7-7
Sean Borkenhagen 8-8
Max Groom 9-9
Travis Damon 10-10
Jason Lutton 12-11
Vincent Pasdeloup 13-12
Bradley Denton 14-13
Dennis Stapleton 11-22
Jeremy Mairose 16-D
Robert Ballard 16-D
Vicki Golden 17-D
Luke Kalatzian 18-D
Jeff Loop 19-D
Colton Aeck 20-D
OPEN PRO OVERALL RACE RESULTS 
Trevor Stewart won the second Open Pro moto, but his 7-1 score wasn't good enough for the win. He placed third overall and got $1100.
Dare Demartile (200) finished second overall on the Beta 300RX with a 2-3 score and scored $1200 from the purse and additional start money from Beta..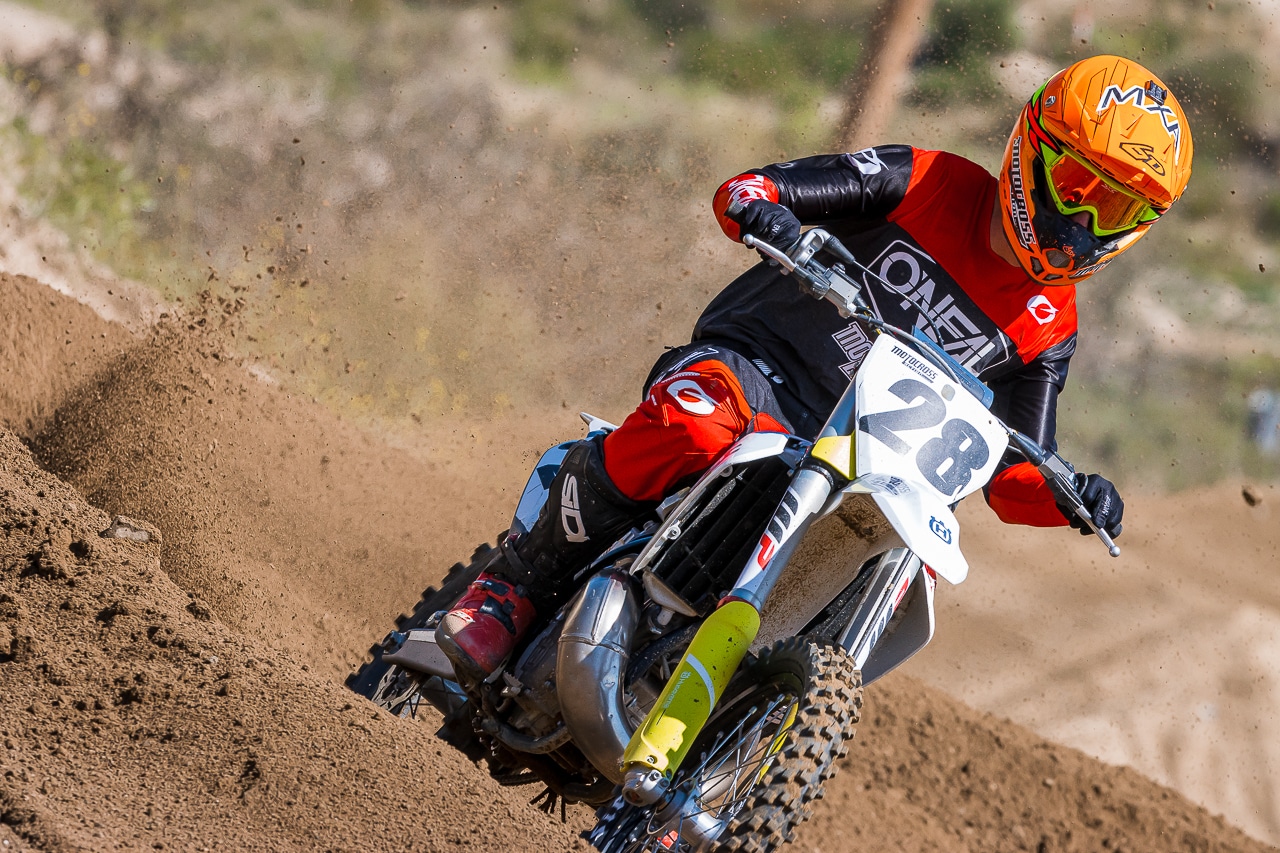 MXA's Josh Mosiman raced a box-stock Husqvarna TC250 for a 4-10 finishes in the Open Pro class., but his second moto was ruined when he went over a berm while running second in the second moto and got high centered on the berm as he was getting back onto the track. He came back to 10th in moto two. Mosiman made a total of $1550 in 125, Open and holeshot money for the day

Robbie Wageman 1-2
Dare Demartile 2-3
Trevor Stewart 7-1
Brandon Ray 5-4
Griffin Dexter 6-6
Jerry Robin 3-9
Sean Collier 9-5
Josh Mosiman 4-10
Jason Potter 8-8
R.J. Wageman 10-7
Dominic Desimone 12-11
Chance Fullerton 11-13
Cole Tompkins 13-12
Nick Nisbet 15-14
Carson Carr 14-16
Tyler Yates 16-15
Billy Lea 18-18
Kurt Thomas 21-19
Korel Caro 19-22
Matthew Cerami 25-17
Austin Wallingford 22-20
Landon Dick 17-25
Michael Smith 23-24
Daniel Vanderviel 20-DNF
Ciaran Naran 28-21
Brody Mclaughlin 27-23
Robert Ballard 24-DNF
Gage Guerin 26-DNF