2021 ARLINGTON SUPERCROSS 2 PRE-RACE REPORT: DELAYED TV BROADCAST, INJURED LIST & MORE
2021 ARLINGTON SUPERCROSS 2 PRE-RACE REPORT: DELAYED TV BROADCAST, INJURED LIST & MORE
The first of three rounds in Arlington, Texas is over and now the riders and teams are preparing for Arlington #2 to go on Tuesday, March 16th in the Lone Star state. The Tuesday schedule will begin one our later than it did on Saturday to give people more time to get off work and come to the race or watch it on TV. Also,  the NBC Sports TV broadcast will show the race two and a half hours late if you don't have Peacock premium subscription streaming service. The first round of Arlington Supercross was a wild one and with it emerged a new points leader. Cooper Webb now tops the leaderboard with a 7 point advantage over rival Ken Roczen, who struggled to perform well in the Main Event. We also saw plenty of unexpected riders do surprisingly well like Seth Hammaker winning his first Main Event in his rookie year, and Dean Wilson, Joey Savatgy, and Chase Sexton outperform heavy hitters like Ken Roczen and Eli Tomac. Observing the track map, the track is pretty different from the track layout held the weekend prior, now with a new start straight, rhythm sections, and directional change. We saw some exciting racing thanks to the line choices and passing opportunities at Arlington 1. Will Arlington 2's unique course provide equally exciting racing or will many of the riders follow each other through obstacles? We will have to wait and find out, but for now, this is what you need to know as we prepare for the second of three Arlington rounds.
---
COOPER WEBB NOW LEADS THE 450 CHAMPIONSHIP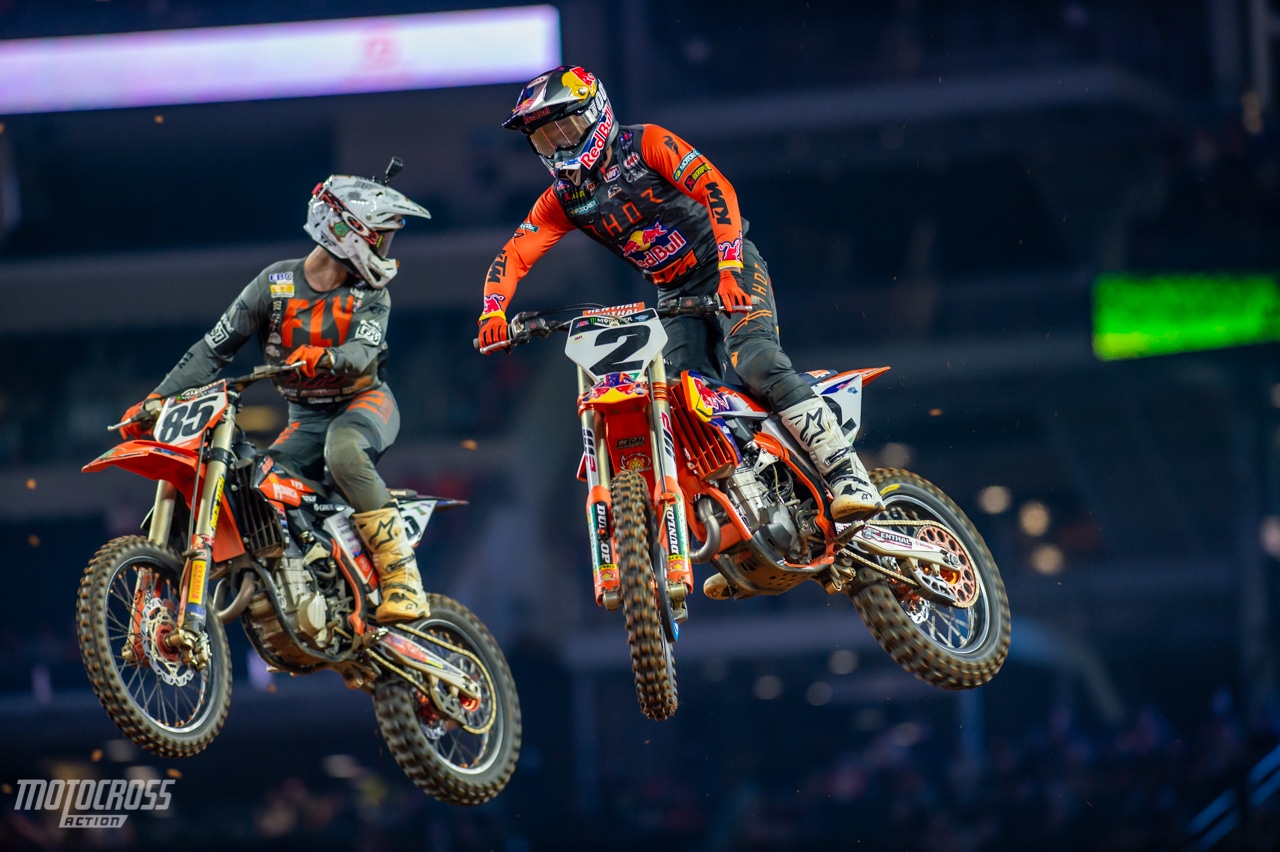 Cooper Webb has been itching to get in front of his rival Ken Roczen in the championship and with a handful of mistakes and poor starts on Ken's end, the points lead was practically handed to him. Well, not to say getting a good start is easy, but it sure helped Cooper's situation in the points hunt. Cooper now leads his competitor by seven points, making up 9-points in one single round. This is championship is close and exciting and we hope to see this back and forth battle all the way to Salt Lake City.
2021 ARLINGTON SUPERCROSS 2: TV & STREAMING SCHEDULE
Eli Tomac side-by-side with Cooper Webb mid-air. 
NBC SPORTS LIVE TV BROADCAST:
The racing will be shown DELAYED on NBC Sports Network at 10:30 PM Eastern Time, 7:30 PM Pacific Time.
PEACOCK PREMIUM LIVE STREAMING:
If you don't have the NBC Sports Channel or you'd prefer to watch the races without any commercials, the weekend races will be aired LIVE on the Peacock Premium streaming service at 8:00 PM Eastern Time, 5:00 PM Pacific Time, the same time as it's aired on TV. Qualifying practice will also be shown LIVE on Peacock Premium starting at 2:00 PM Eastern Time, 11:00 AM Pacific Time.
MORE ABOUT PEACOCK TV:
Beginning with the start of the 2021 Monster Energy Supercross season on Jan. 16, NBC Sports' exclusive streaming coverage will move from NBC Sports Gold's "Supercross and Pro Motocross Pass," "Supercross Pass" and "Pro Motocross Pass" to Peacock Premium, which is available for $4.99 per month.
The Supercross and Pro Motocross packages included on Peacock Premium will serve as a one-stop-shop for all Monster Energy Supercross and Lucas Oil Pro Motocross Championship fans. Peacock Premium will offer comprehensive live coverage and on-demand replays of their respective 2021 seasons, including Supercross qualifiers and races, and Pro Motocross main practice sessions, qualifiers, Moto 1s and Moto 2s.
INJURY LIST:
ADAM CIANCIARULO (COLLARBONE | OUT)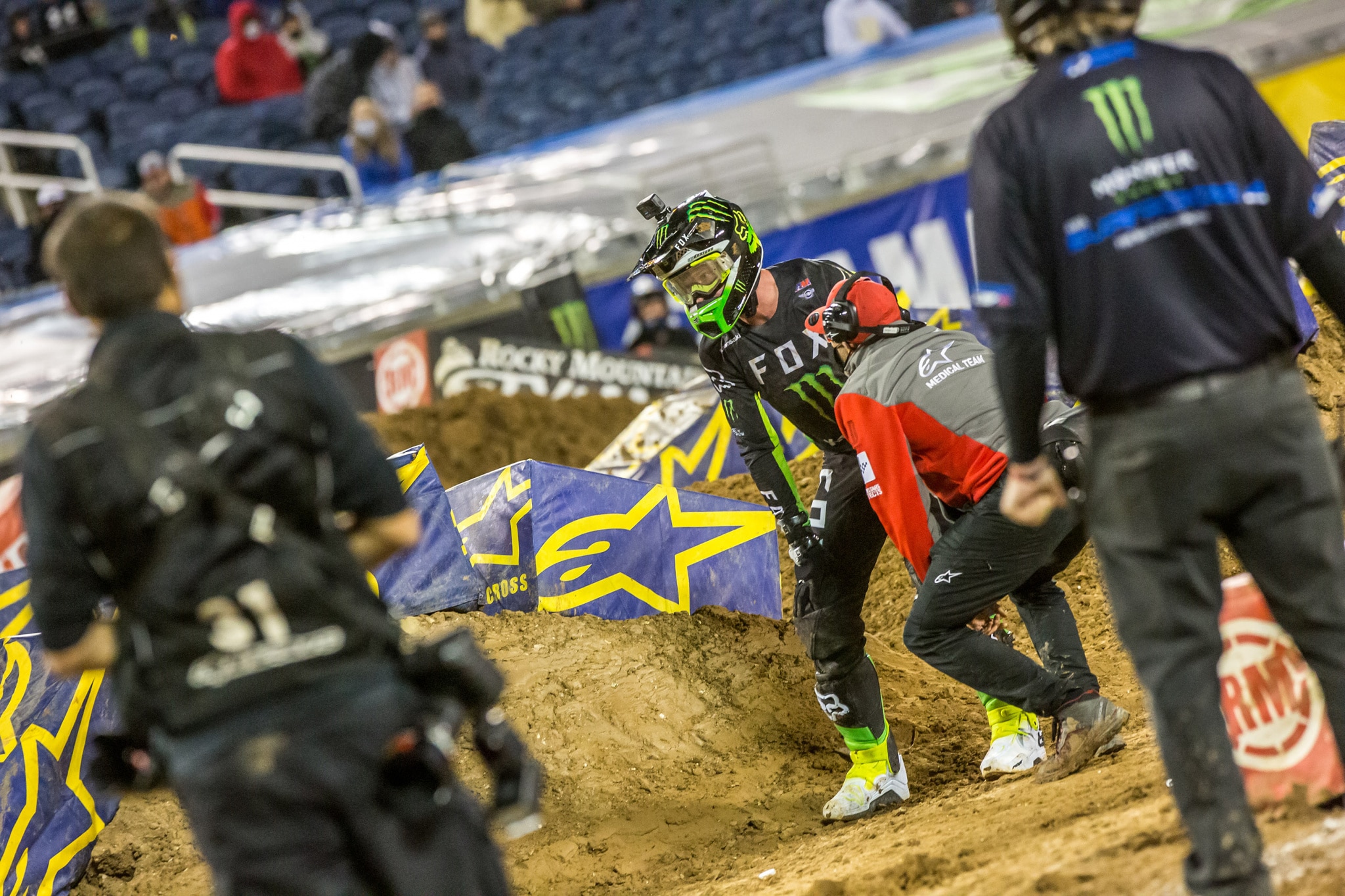 Adam Cianciarulo was the victim of a broken collarbone in Orlando 2 and it is unsure when he will return.
ZACH OSBORNE (INJURED BACK | OUT)
Zach Osborne suffered a nasty back injury but states that he is aiming to be back at the first Atlanta rounds.
MARVIN MUSQUIN (CONCUSSION | OUT)
Marvin posted via instagram to update his fans on his injuries after the race. Marvin Musquin stated: "Our day in Arlington started really good with grabbing the pole at practice. In the Heat race while I was running in 2nd, I hit neutral on an on/off jump and went over the bar. Got a concussion, a few stitches on my arm and an overall really sore body." 
Marvin has taken to Instagram after being evaluated by doctors and has since brought an update: "Hi everyone, I had a big crash on Saturday night as many of you already know. I have been very lucky to get up in one piece, really sore but nothing was broken. I did require a few stitches but nothing bad. But I did get a concussion and I have to follow the concussion protocol that is in place with the Alpinestars Medical Clinic in order to get released to go back to racing. This protocol takes a minimum of a couple days, and unfortunately, it is impossible to get a release to race for today's round. Our goal is to follow every step of the protocol to be rechecked on Friday and we hope I can get cleared to race Saturday. Until then I am working on my recovery"

If you would like to see Marvin's crash video, CLICK HERE.
SHANE MCELRATH (INJURED BACK | RETURN DATE UNCERTAIN)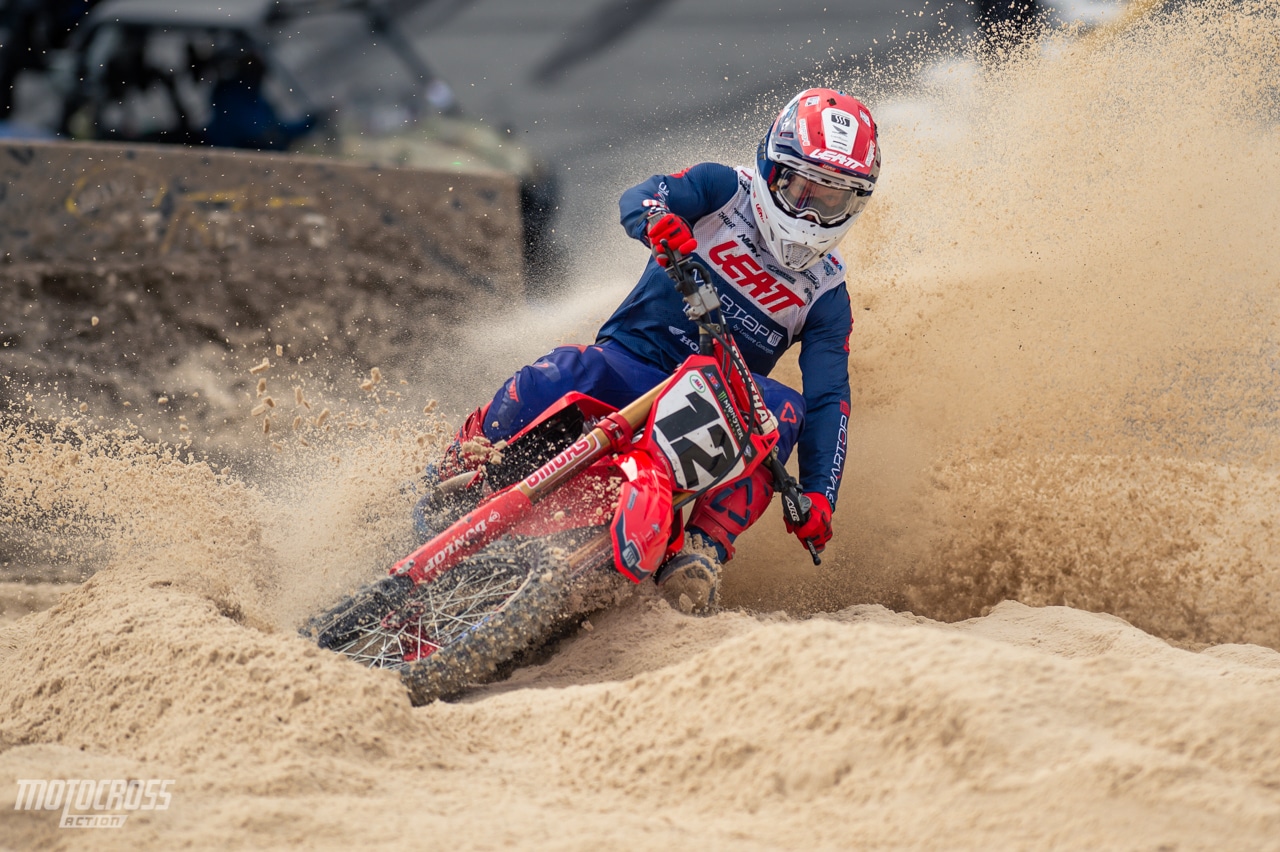 Shane via Instagram: "Pretty disappointed to say I'm not out on the track today. I've been having some slight problems with my back for about 3 months and have been able to somewhat manage it and then on Thursday night flying to Dallas my back locked up and haven't been able to do much since. I'm trying to figure it out and I'll be back out there when I do."
JEREMY MARTIN (SHOULDER | RETURN DATE UNCERTAIN)
Jeremy Martin via Instagram: "Many of you saw the big crash I was involved in off the start in Orlando. Unfortunately, it left me with a dislocated left shoulder. I got an MRI on Monday and have had some really good conversations with some good doctors about what's the best plan for my return. At this early stage, idk when I'll be back yet. I just wanted to say thank you to everyone who reached out to me. I really appreciate the support."
PIERCE BROWN (BROKEN HAND | OUT)
Pierce Brown had a crash in the free practice before qualifying at the first round of Arlington and ended up breaking his hand. Pierce via Instagram: "Unfortunately I had a minor fall in free practice and broke my hand. I wasn't 100% sure if I broke it or not so I rode Q1 and Q2 to salvage P10 but knew something wasn't right so I had it evaluated at the Alpinestars rig and after talking with the team we made the decision to sit out the rest of the night for my health's best interest. All in all I'm bummed for myself but more for my team and supporters. sh*t happens though. Thankful for everyone in my corner still believing. More updates soon."
JOEY CROWN (HEAD | OUT)
Joey Crown via Instagram: "Well Daytona was a rough one which most of you probably seen. Crashed hard on a section that was claiming people all day. Unfortunately going to have to miss some races and not sure when I may return but I'll try to keep everyone updated. Thanks to all the people reaching out to me & sorry if I'm slow to respond."
2021 ARLINGTON SUPERCROSS 2 TRACK MAP
Now that's a big start straight. Arlington 2 doesn't feature any of the interesting split lane obstacles that Arlington 1 did but it does have plenty of fast straightaways and huge berms. It almost seems like there's a lack of obstacles but it's due to the start taking up a third of the entire track. 
---
450 SUPERCROSS POINTS AFTER ROUND 10 OF 17
Cooper Webb has a 7-point lead on Ken Roczen now.  
| | | | |
| --- | --- | --- | --- |
| POS. | # | NAME | Total Points |
| 1 | 2 | Cooper Webb | 223 |
| 2 | 94 | Ken Roczen | 216 |
| 3 | 1 | Eli Tomac | 190 |
| 4 | 51 | Justin Barcia | 176 |
| 5 | 7 | Aaron Plessinger | 152 |
| 6 | 27 | Malcolm Stewart | 152 |
| 7 | 21 | Jason Anderson | 137 |
| 8 | 25 | Marvin Musquin | 135 |
| 9 | 16 | Zach Osborne | 123 |
| 10 | 14 | Dylan Ferrandis | 122 |
Aaron may sit in fifth place but when you add all the other top competitors in the 450 class together, fifth place is extremely impressive. This is the best year we have seen Aaron perform in the 450 class.
---
250 WEST SUPERCROSS POINTS AFTER ROUND 3 OF 9
Cameron McAdoo scored a third at Arlington 1 but was still ahead of Justin Cooper who sits in second place in the points chase. 
| | | | |
| --- | --- | --- | --- |
| POS. | # | NAME | Total Points |
| 1 | 31 | Cameron Mcadoo | 70 |
| 2 | 32 | Justin Cooper | 64 |
| 3 | 41 | Hunter Lawrence | 58 |
| 4 | 48 | Garrett Marchbanks | 57 |
| 5 | 150 | Seth Hammaker | 55 |
| 6 | 47 | Jalek Swoll | 51 |
| 7 | 67 | Stilez Robertson | 44 |
| 8 | 60 | Chris Blose | 37 |
| 9 | 72 | Coty Schock | 37 |
| 10 | 91 | Nate Thrasher | 28 |
Hunter Lawrence has had a good start to the 2021 Monster Energy Supercross season as he currently sits in third place but only 1 point ahead of Garrett Marchbanks.
Justin Cooper will be looking for redemption at Round 4 of the 250 West division.