2021 ATLANTA SUPERCROSS 3 PRE-RACE REPORT: INTENSITY IS AT AN ALL-TIME HIGH

2021 ATLANTA SUPERCROSS 3 PRE-RACE REPORT: INTENSITY IS AT AN
ALL-TIME HIGH COMING INTO ROUND 15
The 15th round of the Monster Energy Supercross season is coming up this Saturday, April 17th, and with how exciting the racing has been so far at the Atlanta Motor Speedway, we can't wait to see what happens next. The 2021 Atlanta Supercross 3 comes as the third of three races in Georgia and, after this Saturday, the 2021 Supercross season heads to Salt Lake City, Utah, for the 16th round on Saturday April 24th and the season finale on Saturday, May 1st.
With only three races left, the Atlanta Supercross #3 will certainly raise the intensity on the Championship contenders like Cooper Webb and Ken Roczen in the 450 class and Justin Cooper, Cameron McAdoo and Hunter Lawrence in the 250 West division. See below for everything you need to know about the Atlanta Supercross 3 including the TV schedule, track map, current point standings, weather forecast and some of the top news heading into the weekend.
CAMERON MCADOO'S CRASH & RE-ENTRY INTO THE RACE, WAS IT LEGAL?
Somehow, someway, Cameron McAdoo was able to remount his Pro Circuit Kawasaki, after he caused the red flag, and then line up again for the restart of the 250 Main Event. How is that legal? We talked about it in our Aftermath article which can be found by clicking here.  
Cameron McAdoo had one of the most violent crashes we've ever seen on Tuesday at Atlanta. He came the seventh round of the 250 West series only four-points behind Justin Cooper and left the race nine-points back. Incredibly, after his insane crash on the tunnel jump which caused the race to be red flagged, Cameron McAdoo was able to remount his bike, with clearance from the Alpinestars Mobile Medical unit, and complete the race on a full restart. He salvaged a third place finish and kept his title hopes alive. Now, with two races left on the schedule, (Atlanta 3 and the Salt Lake City finale) Cameron is sore, but ready to continue fighting.
Justin Cooper, like many people watching, questioned the AMA's decision for allowing Cameron McAdoo to race after he crashed, went a lap down and caused the race to be red flagged and restarted. 
The current points leader in the 250SX West division, Justin Cooper, has received a lot of flack online after the comments he made on the podium after he won the 250 Main Event at Atlanta 2. After everyone got done with the emotional roller coaster that was Cameron McAdoo's crash and revitalization, everyone watching became a Cameron McAdoo fan. Meanwhile, Justin Cooper, not knowing that McAdoo now had won the hearts of every person watching, simply commented that he didn't think the rider who caused a red flag would be able to line up again and race. It wasn't a bad comment, most motorcycle racers would've said the same thing, but Justin's statement might've been said at the wrong time.
Later on, Justin Cooper posted via instagram and said: "I had no clue how bad Cameron's crash was until after the race when i saw a replay. Nothing but respect for someone that is able to get up after a crash like that, let alone race. I would never wish a crash like that upon any one, it's scary to see. I really hope he's all good, see you guys Saturday!"
KEN ROCZEN HEADS INTO ATLANTA 3 WITH NEW MOMENTUM
Ken Roczen's win on Saturday significantly helped him in the 450SX title chase.
With four races left, Ken Roczen struck gold while Cooper Webb was struggling to salvage points. Ken got out to an early lead on Tuesday and went on to win the 450SX Main Event. Surprisingly, this was his first win since February 3rd at Indianapolis and, to add to it, Ken had missed the podium at four out of the eight races he didn't win. Another element that made Tuesday's performance even more impressive, Ken rebounded big-time from the ninth place finish he earned at the same track on Saturday. A ninth place is great for many riders, but it isn't good if your name is Ken Roczen and you're paid the big bucks to win races and Championships. Speaking from MXA's perspective, we were very happy to see Ken rebound and score an uncontested win at round 14 to close up the points gap and make it a little more interesting for the next three races.
CAN COOPER WEBB FIND NEW SPEED ON THE ATLANTA TRACK?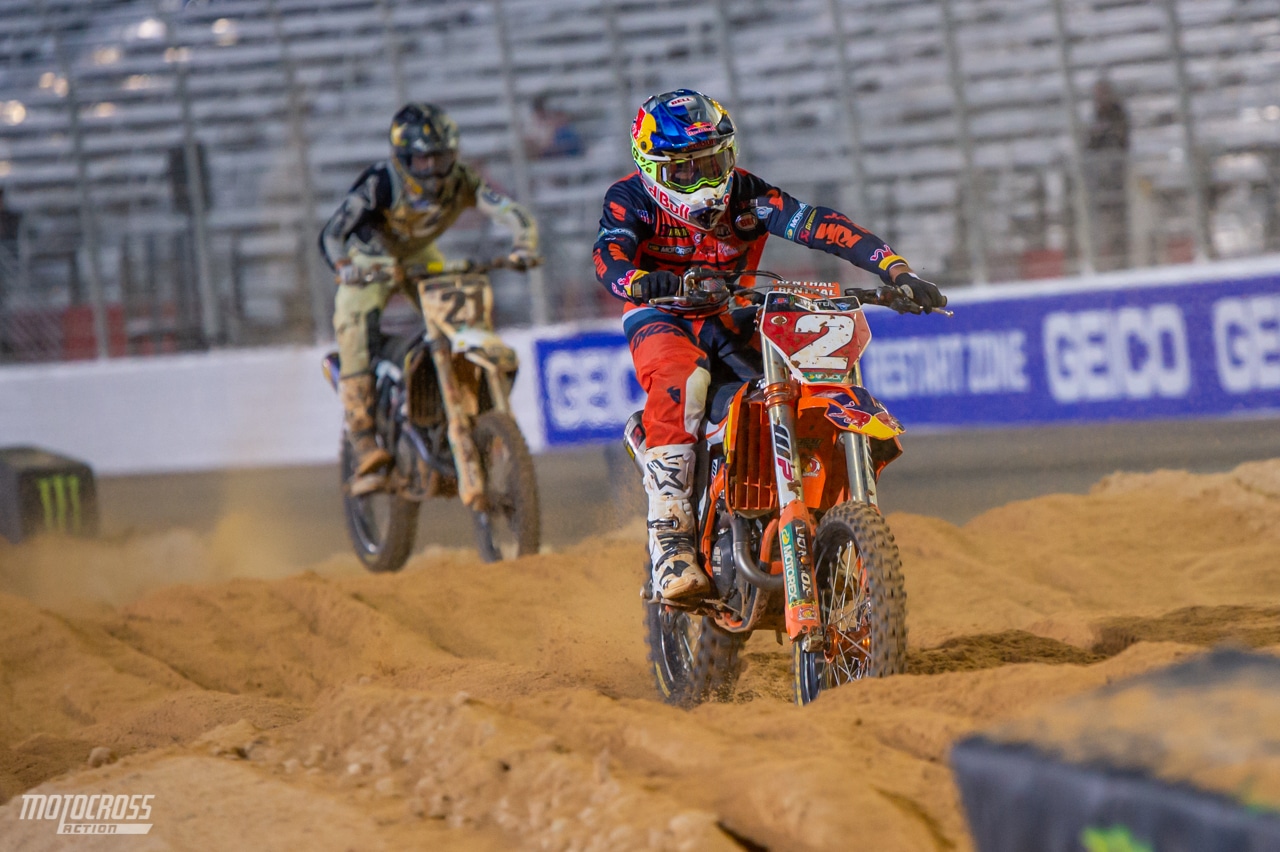 Cooper Webb admitted it himself, he's struggled on the track at Atlanta. He has one more shot at it this Saturday, and if he and Ken Roczen repeat their Tuesday performances (first and sixth), the points will be even closer heading into the final two rounds in SLC. 
Ken's win was great, but something else which added to the sweetness for the HRC Honda team was Cooper Webb's sixth place. The 2019 Champion and current points leader struggled big time in the whoop section at the beginning of the race and was passed by Chase Sexton, Jason Anderson and Justin Barcia, all in the same section because of it. Then, he picked up his whoop speed and was holding onto fifth, fighting for fourth against Justin Barcia, when he ran into Barcia's rear wheel over the wall jump. Justin cut over on Cooper to block his line, and with the design of the wall jump slowing both of them down, Cooper had nowhere to go; he bumped Justin's rear wheel and tipped over. Eli Tomac got around him, putting him sixth place and adding salt on the already open wound.
Cooper Webb doesn't need to win on Saturday, but he needs to find enough speed to finish on the podium if he wants to have a healthy points lead going into Salt Lake City. Either way, it'll be exciting to watch!
2021 ATLANTA SUPERCROSS 3: TRACK MAP
The Dirt Wurx crew is hard at work again creating a new track for this Saturday. 

The track will go in the same general direction as it did on Tuesday, but the starting gate has been flipped around and the tunnel jump has been taken out. The turn after the finish line and the wall jump will also provide a much-needed speed check before the sand rollers section. We got lucky on Tuesday that there weren't any major crashes in the sand section, but you could tell that most riders were timid through that section, and if they threw caution to the wind, they made up big time. Sand sections are tough, and they're especially tough in Supercross because the rider's suspension is valved to be much stiffer. On Tuesday, the riders had a long straight away into the sand rollers, something we never see in Supercross. The riders will be happy about the slower speeds in the sand this time around.
2021 ATLANTA SUPERCROSS 3: TV & STREAMING SCHEDULE
The racing on Tuesday night was brutal. We hope for more battles and fewer crashes this weekend.
NBC SPORTS LIVE TV BROADCAST:
The racing will be shown LIVE on NBCSN at 4:00 PM Pacific Time, 7:00 PM Eastern Time.
PEACOCK PREMIUM LIVE STREAMING:
If you don't have the NBC Sports Channel or you'd prefer to watch the races without any commercials, the weekend races will be aired LIVE on the Peacock Premium streaming service at 4:00 PM Pacific Time, 7:00 PM Eastern Time, the same time as it's aired on TV. Qualifying practice will also be shown LIVE on Peacock Premium starting at 10:00 AM Pacific Time, 1:00 PM Eastern Time.
MORE ABOUT PEACOCK TV:
Beginning with the start of the 2021 Monster Energy Supercross season on Jan. 16, NBC Sports' exclusive streaming coverage will move from NBC Sports Gold's "Supercross and Pro Motocross Pass," "Supercross Pass" and "Pro Motocross Pass" to Peacock Premium, which is available for $4.99 per month.
The Supercross and Pro Motocross packages included on Peacock Premium will serve as a one-stop shop for all Monster Energy Supercross and Lucas Oil Pro Motocross Championship fans. Peacock Premium will offer comprehensive live coverage and on-demand replays of their respective 2021 seasons, including Supercross qualifiers and races, and Pro Motocross main practice sessions, qualifiers, Moto 1s and Moto 2s.
ATLANTA SUPERCROSS 3 WEATHER REPORT
Hopefully we won't have to bust out the rain boots and ponchos this weekend.
As of Thursday afternoon, the forecast for Atlanta, Georgia, showed a 50-percent chance of showers on Saturday with a high of 63-degrees. Now, as of Friday morning, it's updated to being cloudy with a 20-percent chance of precipitation. So things are looking up! But, we knew that showing up to Atlanta in the springtime would be a gamble for weather. The first race at the Atlanta Motor Speedway dealt with strong rain during the day, causing Supercross to cancel free practice and the second qualifying session, only allowing the riders one single qualifying session before they lined up to race. Then, in the night show, the track was pretty slick to begin with, but it turned into a gnarly, but good race track for the Main Events. We expect the rain will stay away, but, at least we know the track handles water well if it does decide to rain and the Dirt Wurx crew is experienced in making the best of it.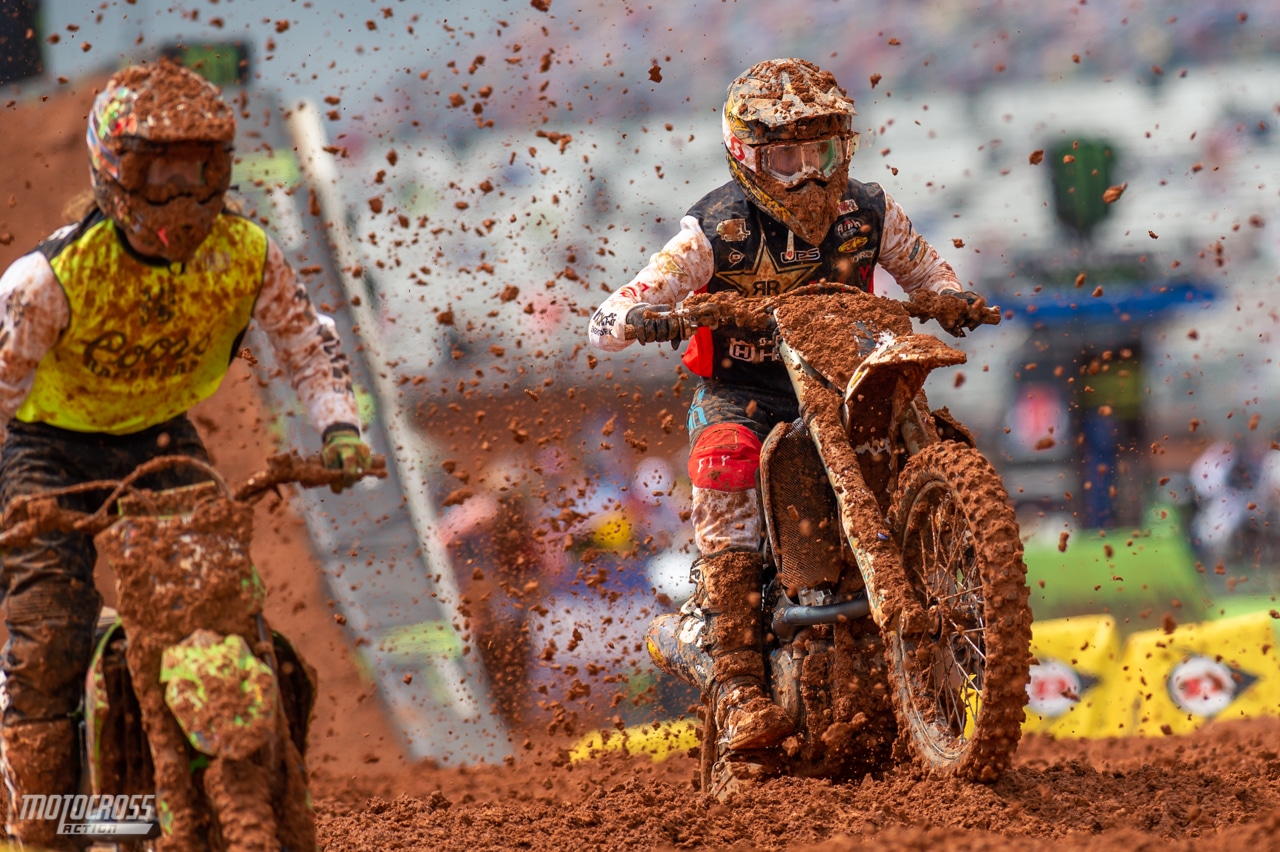 Things are looking up as the forecast for Saturday has shifted from showers to clouds.
2021 450 SUPERCROSS CHAMPIONSHIP POINT STANDINGS AFTER ROUND 14 OF 17
Ken Roczen has three races left to make up 13-points.
| | | | |
| --- | --- | --- | --- |
| POS. | # | NAME | Total Points |
| 1 | 2 | Cooper Webb | 313 |
| 2 | 94 | Ken Roczen | 300 |
| 3 | 1 | Eli Tomac | 278 |
| 4 | 51 | Justin Barcia | 246 |
| 5 | 7 | Aaron Plessinger | 215 |
| 6 | 21 | Jason Anderson | 211 |
| 7 | 27 | Malcolm Stewart | 192 |
| 8 | 14 | Dylan Ferrandis | 183 |
| 9 | 25 | Marvin Musquin | 168 |
| 10 | 17 | Joey Savatgy | 166 |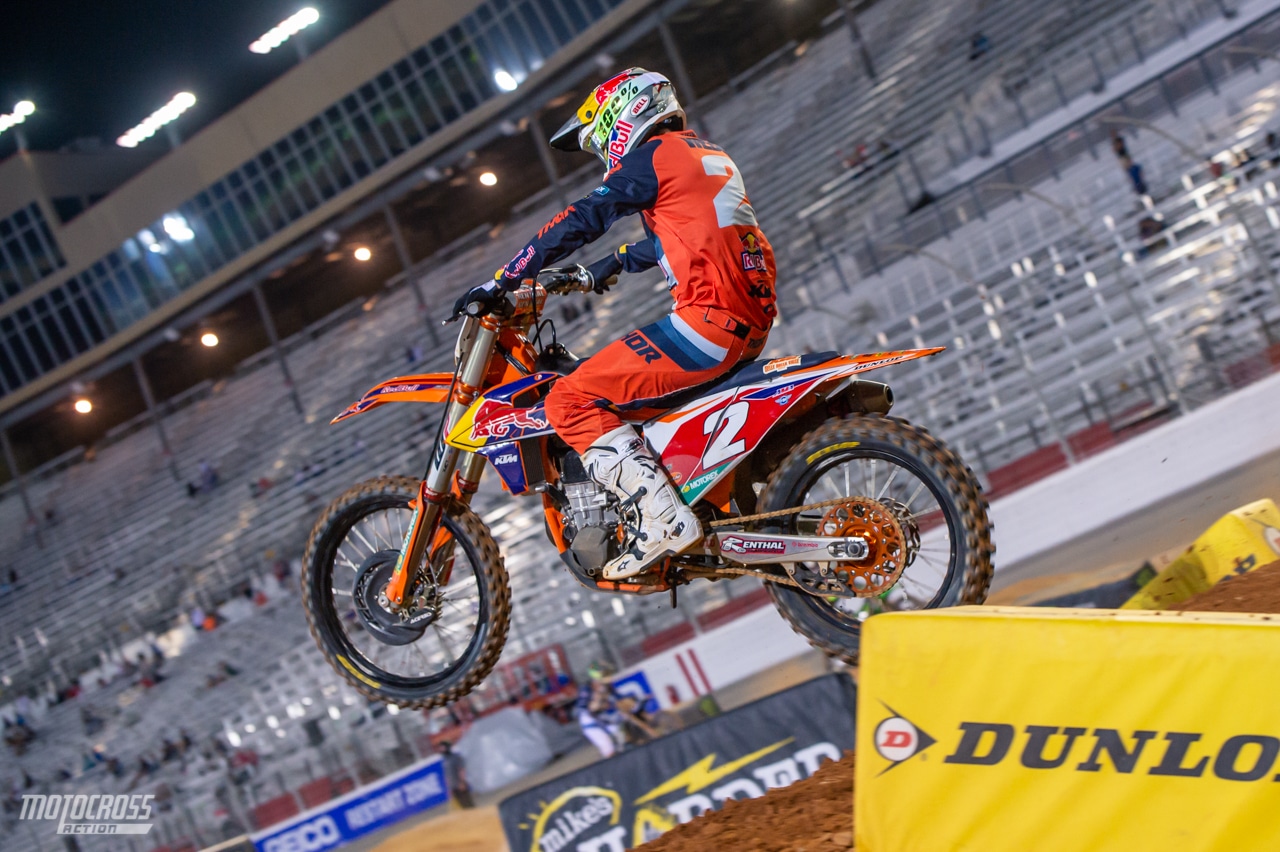 Cooper Webb still leads the points with one more race in Atlanta and two races in Salt Lake City. 
250 WEST COAST SUPERCROSS CHAMPIONSHIP POINT STANDINGS AFTER ROUND 7 OF 9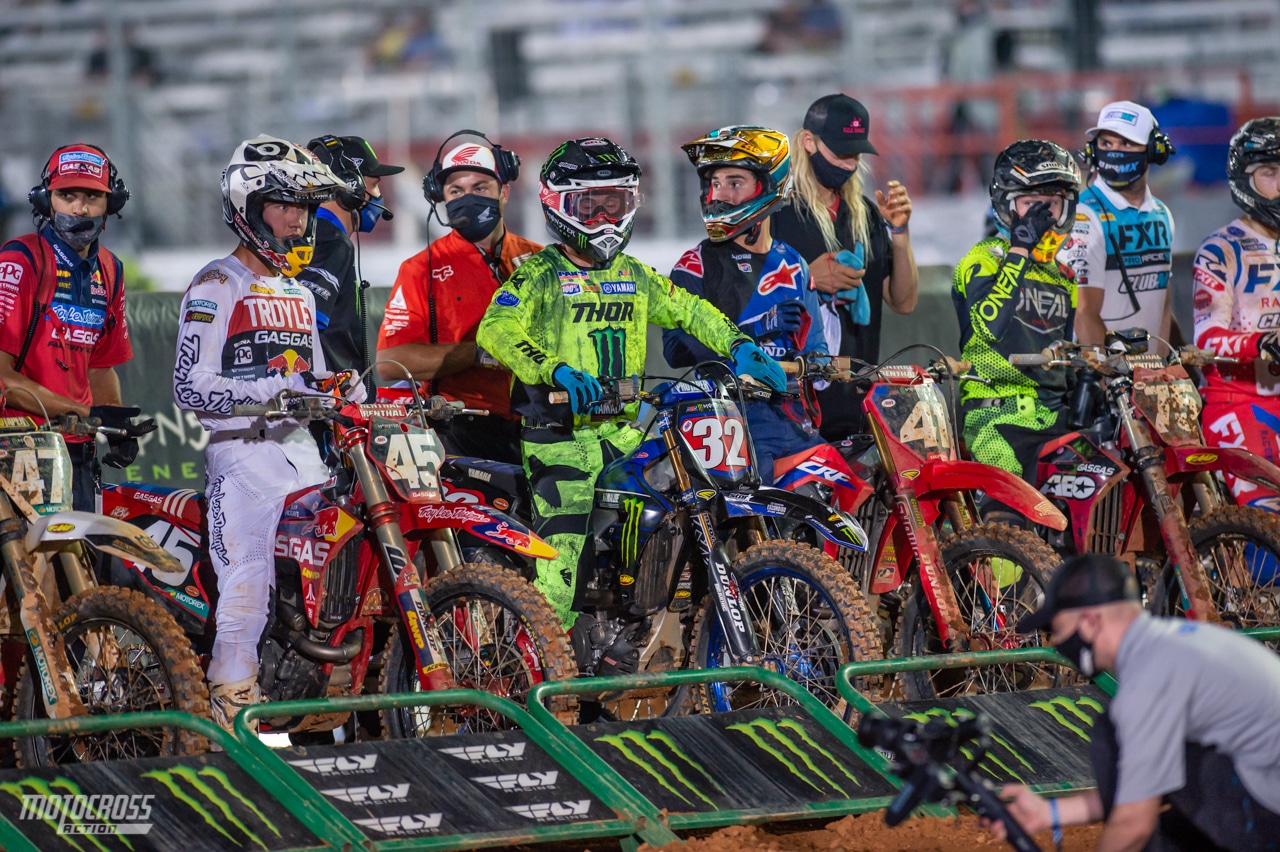 | | | | |
| --- | --- | --- | --- |
| POS. | # | NAME | Total Points |
| 1 | 32 | Justin Cooper | 157 |
| 2 | 31 | Cameron Mcadoo | 148 |
| 3 | 41 | Hunter Lawrence | 141 |
| 4 | 150 | Seth Hammaker | 121 |
| 5 | 47 | Jalek Swoll | 121 |
| 6 | 48 | Garrett Marchbanks | 120 |
| 7 | 91 | Nate Thrasher | 101 |
| 8 | 56 | Kyle Peters | 93 |
| 9 | 60 | Chris Blose | 86 |
| 10 | 72 | Coty Schock | 86 |
Justin Cooper leads the way in the 250 West division with a 9-point lead. 
Hunter Lawrence is 16-points off Justin Cooper. With only two races left, this Saturday and the 250 East/West Shootout finale, the pressure is on if the HRC Honda rider wants to win the Championship.