2021 DAYTONA SUPERCROSS FLASHBACK: REMEMBER WHAT HAPPENED LAST YEAR?
DO YOU REMEMBER LAST YEAR'S DAYTONA SUPERCROSS? CATCH UP ON THE 2020 DAYTONA RACE BEFORE THIS YEAR'S RACE ON SATURDAY, MARCH 6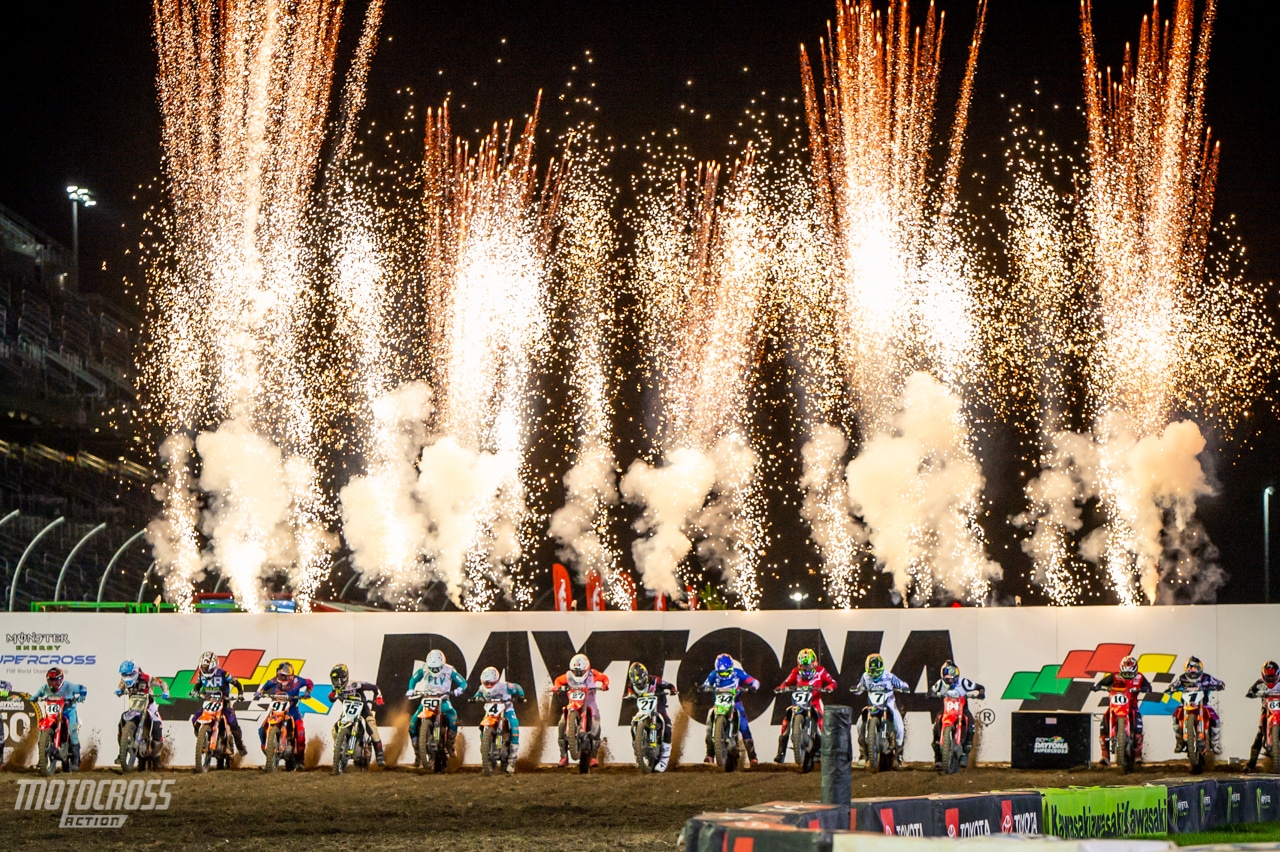 2020 DAYTONA SUPERCROSS RECAP
The 2020 Daytona Supercross is in the books and it was the Kawasaki boys who swept both classes at the 50th anniversary of the Daytona Supercross. Eli Tomac and Garrett Marchbanks  flew the Kawasaki flag high as they conquered the motocross-style track at the Daytona Supercross. Everybody assumed that Eli Tomac would win at Daytona with a riding style that seems to be tailor-made for the unique event. But, most people didn't expect then-18 year old Garrett Marchbanks to beat Chase Sexton, Jeremy Martin, Shane McElrath and the rest of the 250 East Coast class. Either way, it was another great night of racing. Here are the top Daytona Supercross story lines from one years ago. 
ELI TOMAC: THE KING OF DAYTONA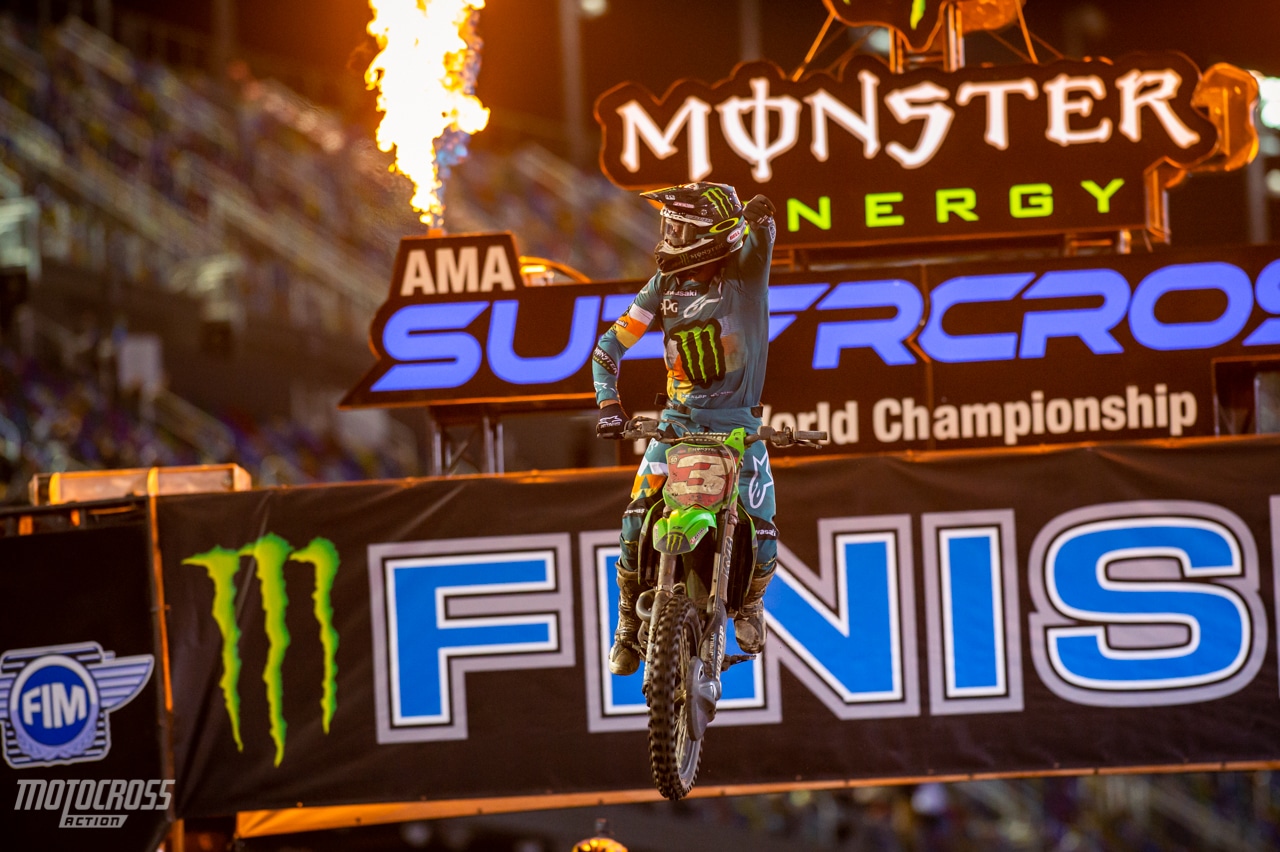 Eli Tomac would not be denied in Daytona. 
All the chips were on Eli Tomac to win in Daytona last year. His stats are undeniable. Coming into the 2020 race, Eli Tomac had three wins in Daytona and he had never placed outside of the top five at that venue. But, after the first laps, it looked like Roczen might  have been able to dethrone the King of Daytona. Eli was sixth across the finish line on the first lap, while Ken was out front and pulling away quickly. The track was challenging with soft ruts on the lips of the jumps, deep sand sections and super tight corners—but there wasn't an obvious separator. It was hard to pick out one portion of the track where Eli was making up time and Ken was losing it. Still, Eli had a more intensity, everywhere and he was reeling in the Honda HRC rider. Eli Tomac passed Anderson and Webb and then caught up to Ken and got around him with four laps to go. Eli went on to grab his fifth win of the season, claim the points lead as his own and earn his fourth 450SX Main Event win at Daytona.
Eli Tomac was very happy after his win last year. If he wants to stay in the 2021 Supercross points chase this year, he needs to dominate the 2021 Daytona Supercross again. 
KEN ROCZEN WAS HAPPY WITH BEING CONSISTENT
After leading 14 laps, Ken Roczen was passed by Eli Tomac with four laps to go.
Ken Roczen pushed hard to try and hold Eli off and finally he went down in the off camber corner when Eli made the pass. Ken said that his front tire pushed over the rut and that caused him to fall. Ken was very quick to remount, it almost looked like he didn't even stop, he just kept the bike rolling as he picked it up and jumped on. Eli pulled away, but Ken wasn't giving up and he actually reeled him back in on the final lap to finish a close second, only .707 behind Eli.
Since he made the jump to the 450 class full-time, Ken Roczen has only raced at Daytona three times before the 2020 year. Because of injury, Ken missed Daytona in 2015, 2017 and 2018. During his first full 450 season, Ken finished second at Daytona in 2014, but since then he has struggled in the Florida sand. He finished fifth in 2016 and 8th in 2019. Obviously, Ken wasn't wishing for a second place on Saturday, especially after leading most of the race. But, in the end, he was happy with a consistent second and he's keeping his attitude positive as the series heads to round eleven in Indianapolis.
Ken Roczen saluting the crowd after his second place finish.
COOPER WEBB WAS IMPRESSIVE, BUT NOT TOMAC IMPRESSIVE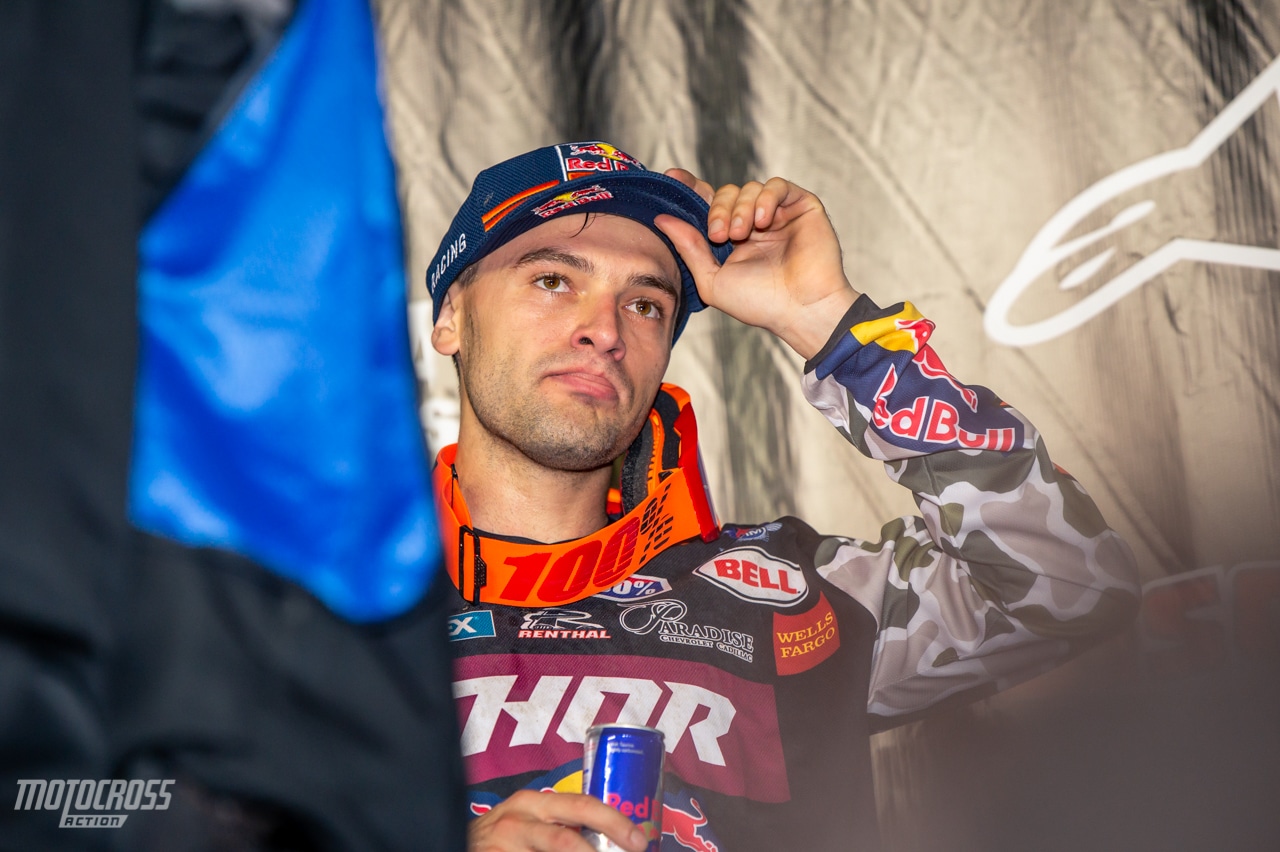 Cooper Webb's face sums up his night in Daytona, it could've been better, but could've been worse.
Cooper Webb was, once again, impressive at Daytona, but unfortunately for his title campaign, he lost points in the chase. Cooper's night started out well when he held off a hard charging Jason Anderson and Eli Tomac to win his Heat Race. In the Main Event, Cooper was fifth off the start and he passed the Yamaha boys, Aaron Plessinger and Justin Barcia to get into third by lap three. Then, he made his way passed Jason Anderson who was riding very strong on lap six. Eli Tomac got around Anderson on lap nine and then he pressured Webb until he made a mistake in the sand on lap 12. Eli got around and Cooper held strong momentarily, but soon, Eli was able to gap the defending Champion and go on to pass Ken Roczen for the win.
Coming into Daytona, Cooper had another week to recover from his crash in Arlington, but this week he also had to nurse a sore rib cage as he had displaced two ribs during the Main Event at Atlanta. We aren't sure exactly how that happened because he didn't crash, but it sounds like his ribs were taped too tightly and that knocked them out of position at some point during the race. That also explains why he didn't make it to the post race press conference after Atlanta. Cooper's third in Daytona was good, but unfortunately for the Red Bull KTM squad, it dropped him back five points on Tomac in the points. Now, Cooper sits in third, 29-points back.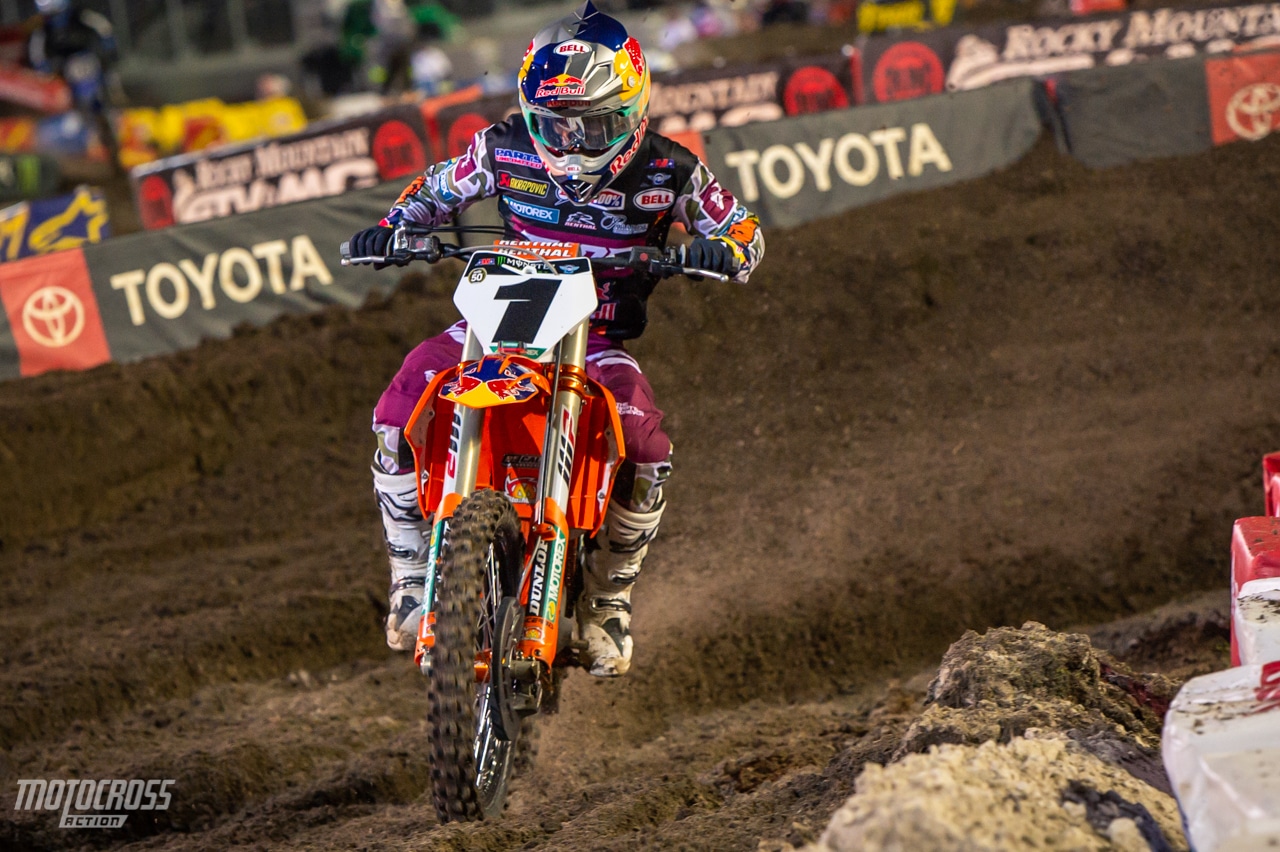 With seven rounds to go, Cooper Webb sits 29-points behind the leader in the overall point standings.
JASON ANDERSON COMES TO LIFE

Jason Anderson has been hot and cold this season, but he was hot in Daytona and finished fourth.

Jason Anderson qualified eleventh overall in Daytona, but he came to life in the night show and rode well. He pressured Cooper Webb and held off Eli Tomac in the second 450 heat race of the night. Then, in the Main Event, he rode to a strong fourth place. During an interview, Jason mentioned that his goal is to keep racing for as long as he's having fun with it. He also mentioned that it was stressful being the defending Supercross Champion in 2019 and he didn't like the pressure that came with that. Now, Jason is doing his best to keep his attitude light mannered at the races and he's doing his best to shy away from the pressure of racing and just do his best.
Jason Anderson had three 2nd place finishes, one fourth place finish, three 5th place finishes, a 10th, an 11th and a 14th to this point in the 2020season. When you do the math, his average result is 6th. 
AARON PLESSINGER'S SEASON BEST
Aaron Plessinger rode well in Daytona and finished sixth in the Main Event. 
Aaron Plessinger badly injured his heal at the Daytona Supercross in 2019 and it kept him off the bike and away from the races for months. He returned for the final seven rounds of the 2019 utdoors series, but it was a struggle for the 2018 AMA 250 Supercross Champion. Aaron rode much better in Daytona this year. In the first 450 heat race of the night, Aaron grabbed the holeshot and led over Ken Roczen for two laps before Ken was able to get by. But still, Aaron held on to finish a solid second place. Then, in the Main Event, Aaron was third early, but he dropped back to sixth. Then, Plessinger got around his teammate Justin Barcia for fifth and rode there for eight laps, but Barcia got back around Aaron with two laps left dropping him to sixth which is Aaron's best finish of the season so far.
RYAN SIPES STARTS HIS EXTRAORDINARY SEASON OFF AT SUPERCROSS
Ryan Sipes kicked off his 2020 campaign of racing many different disciplines of motorcycle racing at Daytona with a 16th place in the Main Event.
Ryan Sipes posted via instagram about his race: "P-16 last night at Daytona 🤔🤷🏼‍♂️😊 Man I had a lot of fun. Daytona is just cool, right? This year's track was more like an outdoor than a real SX. Way different than last year even. I Had one good qualifying run where I was around 11th overall, which felt pretty good. Qualified straight to the main out of the heat race (huge relief). In the main, I had a top ten start from the outside on the 3-fiddy (thanks @twisteddevelopmentracing) but tangled with someone first lap and went down in the sand. Got up last 👎🏻 I wanted to be a little upset that I didn't do better, but you know what? Every guy on that track was a bad dude. SX is no joke man. It's asking a lot to just show up and beat them. I gotta be happy that I can still hang with the top 20 in the world. Thank you to all my sponsors for making this possible. I love riding for and working with you guys! I've never had more fun racing dirtbikes and I'm proud to represent you all."
Next on Ryan Sipes' insane schedule of motorcycle racing is the Daytona Flat Track TT, Hawaiian Supercross, Erzberg enduro, Megawatt enduro, Washougal National, Sturgis Flat Track TT, Peoria TT, Weston Beach Race, Red Bull Straight Rhythm and the Aus-X Open Supercross to finish it off.
CHAD REED'S LAST DAYTONA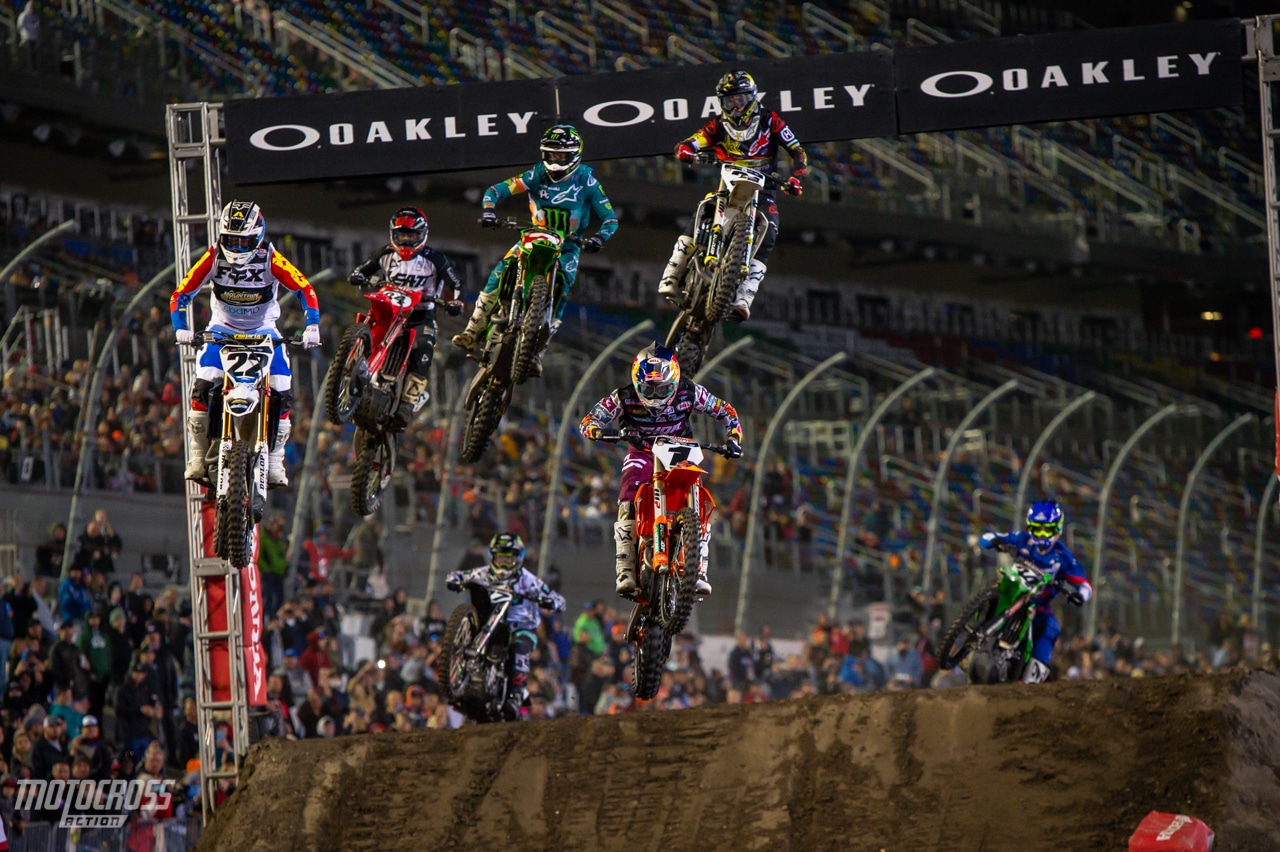 Chad Reed grabbed the holeshot in 450 heat tace two and held on for a fifth place finish to transfer directly into the Main Event again. It was cool to see Reedy leading, even if it was only for a brief half of a lap. 
2020 450 OVERALL POINT STANDINGS AFTER 10 OF 17 RACES

Eli Tomac now has a three-point lead on Ken Roczen going into round eleven. 
| | | | |
| --- | --- | --- | --- |
| POS. | # | NAME | POINTS |
| 1 | 3 | Eli Tomac | 226 |
| 2 | 94 | Ken Roczen | 223 |
| 3 | 1 | Cooper Webb | 197 |
| 4 | 51 | Justin Barcia | 195 |
| 5 | 21 | Jason Anderson | 170 |
| 6 | 27 | Malcolm Stewart | 152 |
| 7 | 46 | Justin Hill | 141 |
| 8 | 10 | Justin Brayton | 129 |
| 9 | 15 | Dean Wilson | 129 |
| 10 | 9 | Adam Cianciarulo | 128 |
THE DAYTONA MOTOR SPEEDWAY TRACK CONDITIONS: MORE SAND 
Eli Tomac said in the post race press conference: "I felt like this was maybe one of the most single file Daytona's. It's hit and miss that way just because they made it easier, not as jumpy, not as technical. The way the sand played out I feel like that was the time to be made, getting momentum through the sand."
When asked about the shorter amount of laps in the 450 Main Event, Ken Roczen and Eli Tomac both expressed that it felt like it went by quicker than a normal Main Event. With the races being on a time limit, 20 minutes + one lap, the races are theoretically the same length at each event. But, with shorter tracks in the baseball and football stadiums the riders have to do more laps which makes the races seem longer. At Daytona, with the lap times being longer, the 450 Main only went 18 laps and that made it feel shorter for them. Cooper Webb's comment was along the same lines, but he, like Eli, also mentioned that the track was easier this year than it was in the past: Cooper said, "I didn't think it was too bad tonight. I feel like I've raced it here when the track is definitely tougher. It did seem like a short Main Event"
Click here to see a video of the crash in the whoops during the second 250 Heat Race.
During the practice and qualifying sessions in Daytona, the whoops in the section shown above were small and the riders were hitting them fast, jumping and wheeling through them. Then, the whoop section was rebuilt before the night show into much steeper Supercross whoops which required a lot more from the riders. Unfortunately for the 250 heat races, they didn't get a sight lap. So they landed off the triple and went straight into the whoops completely unprepared. Even Ricky Carmichael almost crashed in the whoops during his opening ceremonies parade lap because he was caught off guard. In both 250 heat races, the third rider going into the whoops crashed and  started a pile up. Obviously, these riders were all capable of hitting these whoops. They weren't impossible to ride through. But, they were blind sided by it and completely unprepared. 
250 EAST WINNER GARRETT MARCHBANKS FIRST-EVER VICTORY!
Garrett Marchbanks was very impressive at Daytona and he held of the defending Champion, Chase Sexton for the entire race to grab his first win. 
18-year-old Garrett Marchbanks was extremely impressive at the Daytona Supercross. Garrett turned Pro in 2018 at the opening round of the Outdoor Nationals and he only made it five rounds into the series before getting hurt. Then, he raced Supercross for the first time in 2019 on the West Coast and his best finish came at the San Diego mud race when he earned his first podium with a second place. Besides that result, his best second finish came at the opener when he was sixth. Last year, Garrett Marchbanks wasn't a contender and coming into the 2020 season, and with Garrett being so young, most expected Jordon Smith to be the top Pro Circuit Kawasaki rider. Garrett has been putting in the work with his trainer Ivan Tedesco and it's showing. He earned a strong fourth place at the Tampa SX and then in Daytona he rode outstandingly. He led every lap in his Heat race and in the Main Event. This wasn't a mud race and it wasn't a fluke. With the defending Champion, Chase Sexton on his heals, Garrett Marchbanks pulled away and won his first 250 Supercross.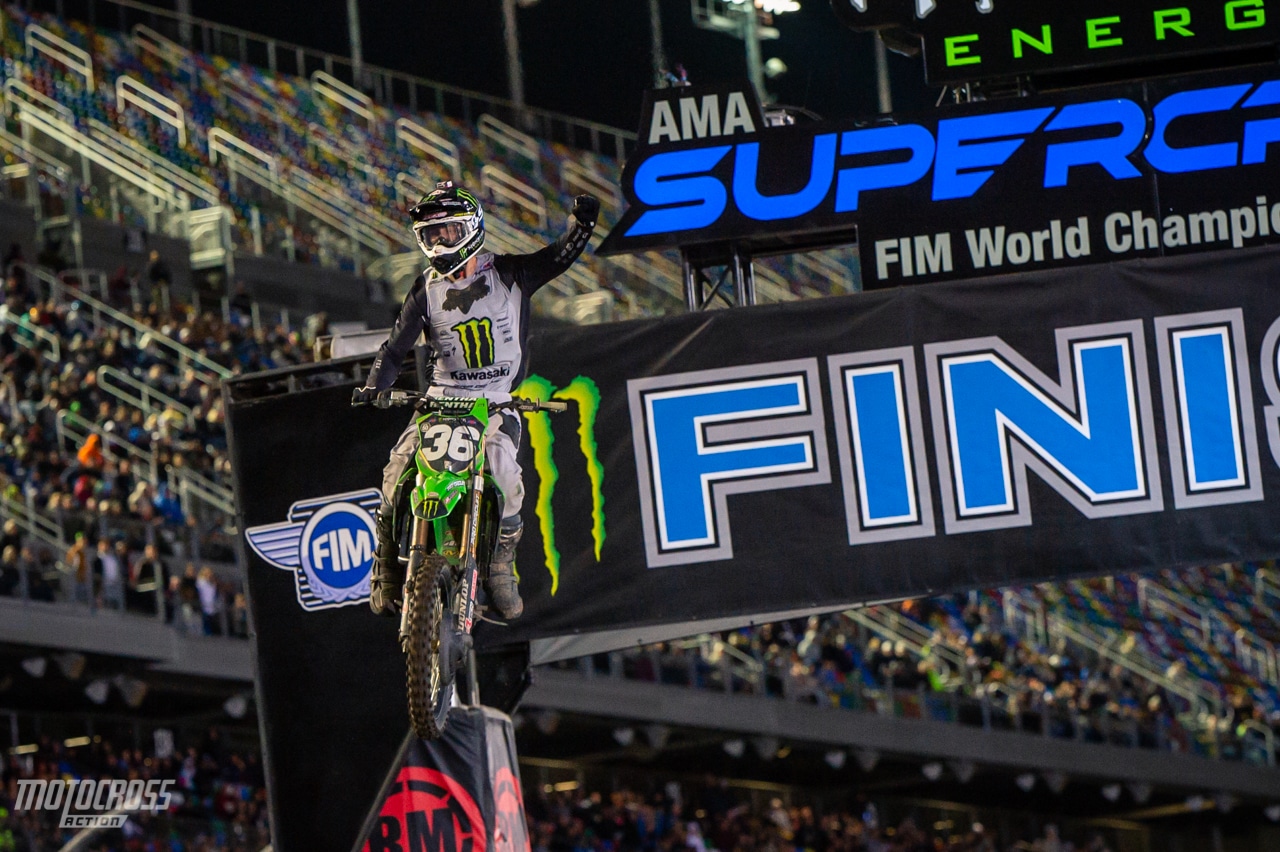 Garrett Marchbanks celebrates across the finish line at the 50th anniversary of the Daytona Supercross.
Mitch Payton was stoked on his rider, Garrett Marchbanks after the race.
CHASE SEXTON EXTENDS HIS POINTS LEAD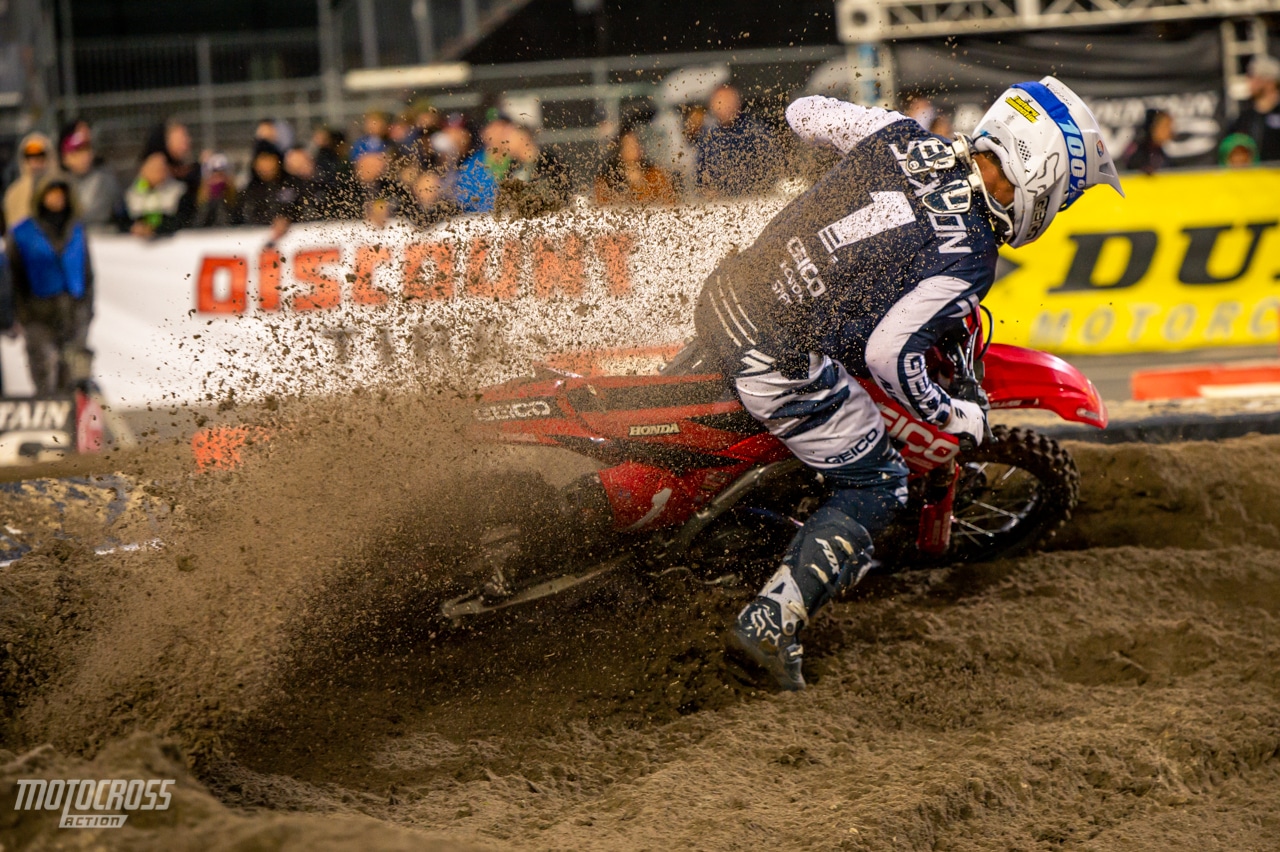 Chase Sexton finished second in Daytona, but he still extended his five-point lead to a ten-point lead.
Chase Sexton was good in Daytona, but when compared to Garrett Marchbanks, nobody else was great. Chase got in behind Garrett early in the race and it looked like he would get around the 18-year-old Kawasaki rider and maximize his points gained over Shane McElrath, but that wasn't the case. Garrett rode a flawless race and won, while Chase was better than the rest and finished second. Chase said in the post race press conference that he wasn't happy with a second, but he couldn't take any credit away from Marchbanks because he rode so well. Chase was happy to extend his points lead by another five-points over Shane McElrath going into his home state race in Indianapolis next weekend.
The look of frustration. Chase wasn't excited about second in Daytona, but he is definitely happy about doubling the size of his points lead.
SHANE MCELRATH 250 EAST MAIN EVENT TROUBLES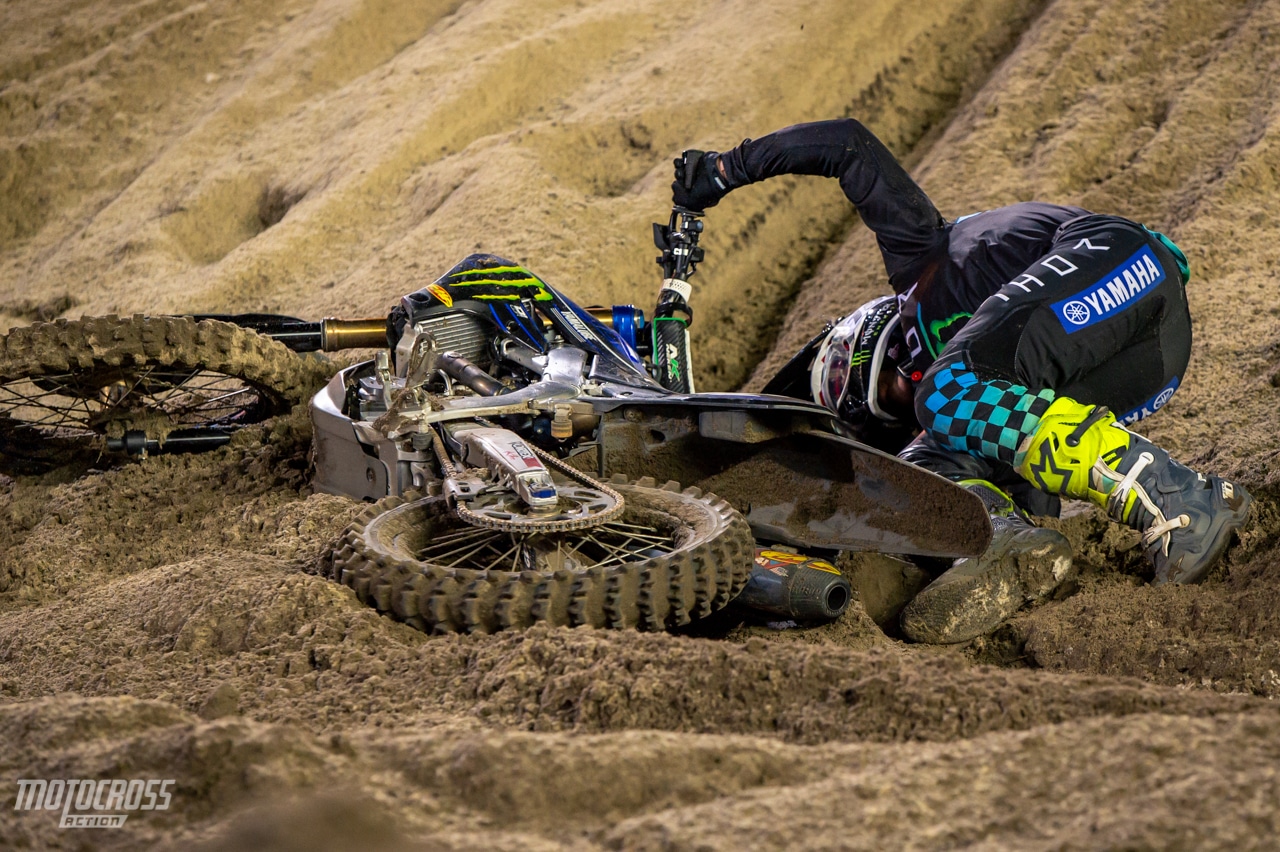 Shane was pressuring Jeremy Martin and Rj Hampshire for the third place position, but this crash put him back about 10-seconds and solidified his race in fifth place.
Shane McElrath was strong in qualifying, his time was second behind Jeremy Martin. Then, pulled away to a big lead and won his heat race. But the Main Event wasn't so great for McElrath. He was eighth across the finish line on the first lap and he pressed forward to get into fifth quickly. Then, he caught up to Jeremy Martin and RJ Hampshire slowly, but the crash pictured above kept him from challenging them for the position and ultimately he came home in fifth place. It was definitely devastating for Shane to lose another five points in the Championship, but it could've been worse for the Yamaha rider. At least Chase didn't win the race, if he had, Shane would be 13 points down right now instead of 10. With five rounds left and two East/West shootouts, Shane is going to need to make some big improvements if he wants a shot at the Championship.
Shane McElrath looked strong all day, but he had a bad start and a crash went it counted most.
JEREMY MARTIN GET ON THE 250 EAST PODIUM

Jeremy Martin finished third in Daytona.
Jeremy Martin and Eli Tomac have similar riding styles, they both train together at the Tomac's facility in Cortez, Colorado, and they both like Daytona. Eli Tomac has three wins in Daytona and he's never placed outside of the top five there. Jeremy Martin's stats aren't quite that good, but they're close. Jeremy has one win at Daytona from 2016. He was two 2nd place finishes, one from 2018 and the other from 2017 when he jumped up to the 450 class. Ironically, he finished second behind his training partner and fellow Daytona specialist, Eli Tomac.  He has three 3rds, one from this year, one from 2015 the other from his first time there in 2013. His worst finish at Daytona came in 2014 and it was a 6th.
After the qualifying sessions were over, both Eli Tomac and Jeremy Martin found themselves leading their class with the fastest times. Unfortunately for Jeremy, he wasn't able to grab the win, but another podium isn't bad and it keeps his Daytona results consistently at the front. His average finish at Daytona is 2.85.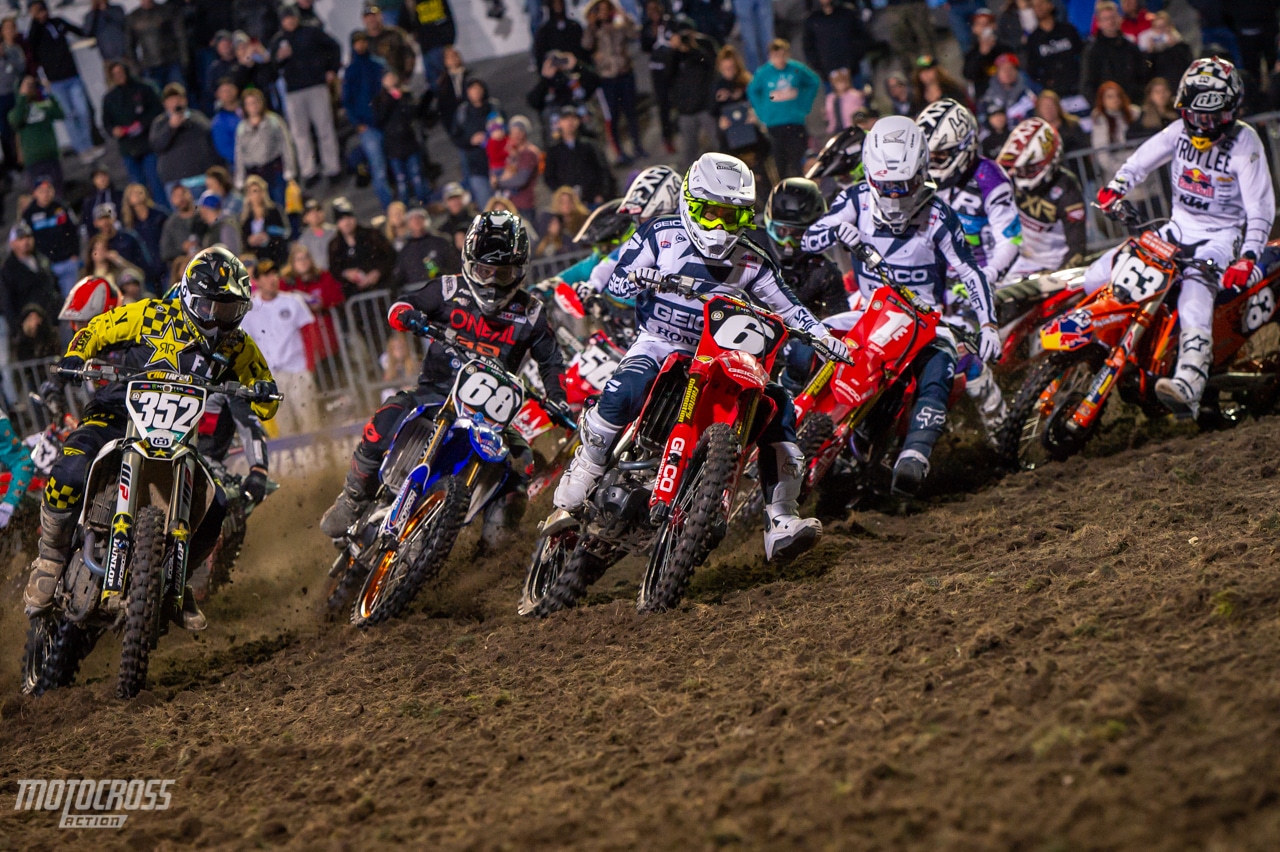 Jeremy Martin grabbed the holeshot in the second 250 heat race, but he was quickly passed by Garrett Marchbanks who was on fire in Daytona. 
250 EAST COAST POINT STANDINGS AFTER 4 OF 9 RACES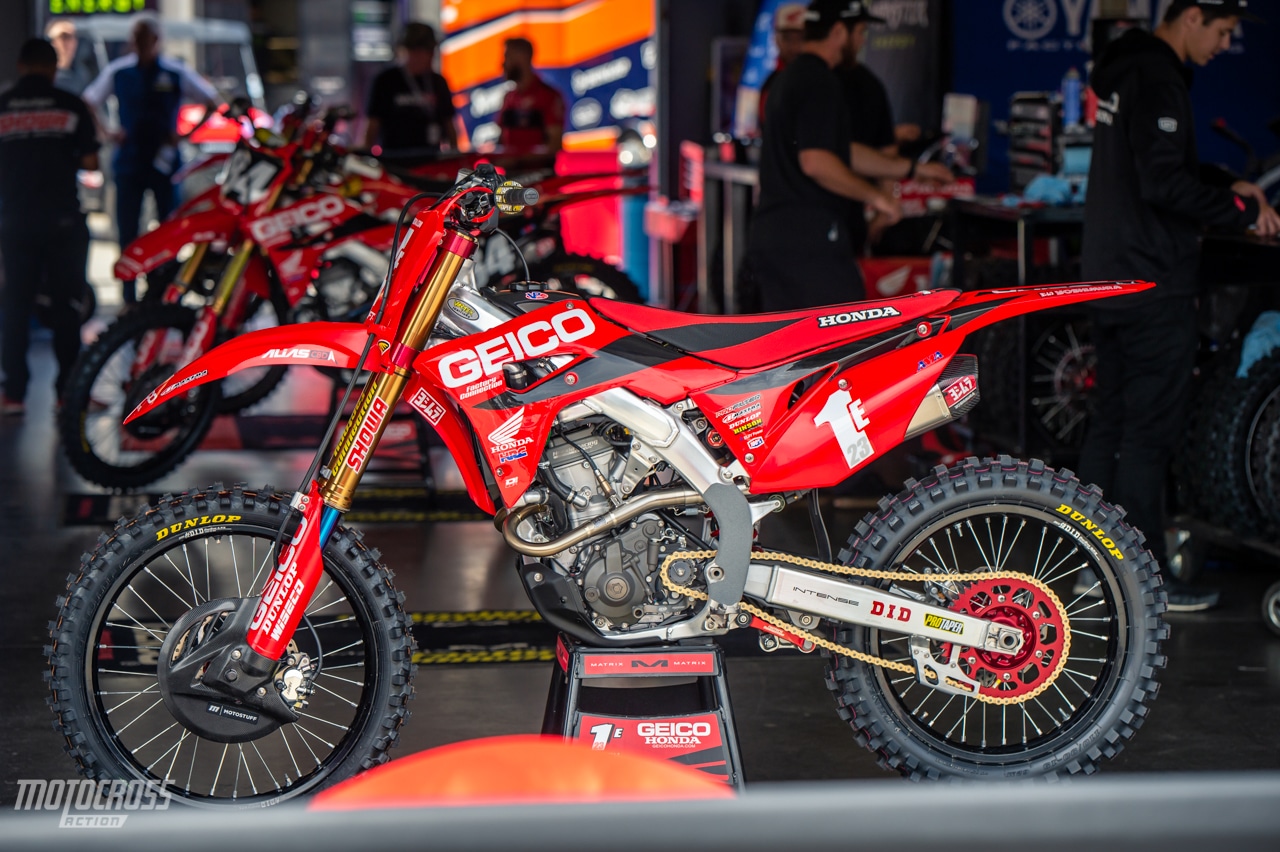 Chase Sexton holds a ten-point lead over Shane McElrath going into round five.
| | | | |
| --- | --- | --- | --- |
| POS. | # | NAME | POINTS |
| 1 | 1E | Chase Sexton | 98 |
| 2 | 12 | Shane Mcelrath | 88 |
| 3 | 24 | Rj Hampshire | 80 |
| 4 | 36 | Garrett Marchbanks | 79 |
| 5 | 6 | Jeremy Martin | 65 |
| 6 | 84 | Jo Shimoda | 60 |
| 7 | 66 | Enzo Lopes | 51 |
| 8 | 54 | Jordon Smith | 48 |
| 9 | 175 | Joshua Hill | 43 |
| 10 | 352 | Jalek Swoll | 42 |
A COUPLE DAYS AFTER THE 2020 DAYTONA SUPERCROSS,  THE SERIES' REMAINING SEVEN ROUNDS WERE CANCELED BECAUSE OF COVID-19 RESTRICTIONS—THE SERIES RESUMED TWO MONTHS LATER ON MAY 31, 2020, IN SALT LAKE CITY. IN FACT, ALL OF THE REMAINING SEVEN RACES IN
THE 2020 WERE HELD IN SALT LAKE WITHOUT SPECTATORS. ELI TOMAC WOULD WIN HIS FIRST-EVER AMA SUPERCROSS CHAMPIONSHIP
IN FRONT OF NO FANS.