2021 HOUSTON 1 SUPERCROSS | THE AFTERMATH: 3-PEAT FOR BARCIA
2021 HOUSTON 1 SUPERCROSS | THE AFTERMATH: 3-PEAT FOR BARCIA
The first round of the 2021 Supercross season is one many may not forget. It was a round that was different amongst many, starting in Houston for the season opener, COVID regulations for fans and riders, and of all things, a sight that we haven't seen in 25 years. The brief break in between the opening round of this year's Supercross season and the 2020 outdoor National season felt short for some but even shorter for the riders and teams as they scrambled to come up with a plan of action for the 2021 season. Several teams did not line up for the opening round, those being Factory Connection Honda and JGR Suzuki, and some like Muc-Off Honda (previously Penrite Honda) and TLD RedBullGasGas showed up with a coat of fresh paint and hit the ground running. Many riders found new homes for their two-wheel career before the 2021 season started and left us wondering how well they would perform when the gates dropped during the night show.  In Motocross Action's The Aftermath, we like to dive into the details of the race and share our favorite photos from the event. MXA's Brian Converse was at the Houston 1 SX to capture all the action.
Photos by Brian Converse
Words by Trevor Nelson
TOP NEWS:
JUSTIN BARCIA SUCCESSFULLY WINS THREE SEASON OPENERS IN A ROW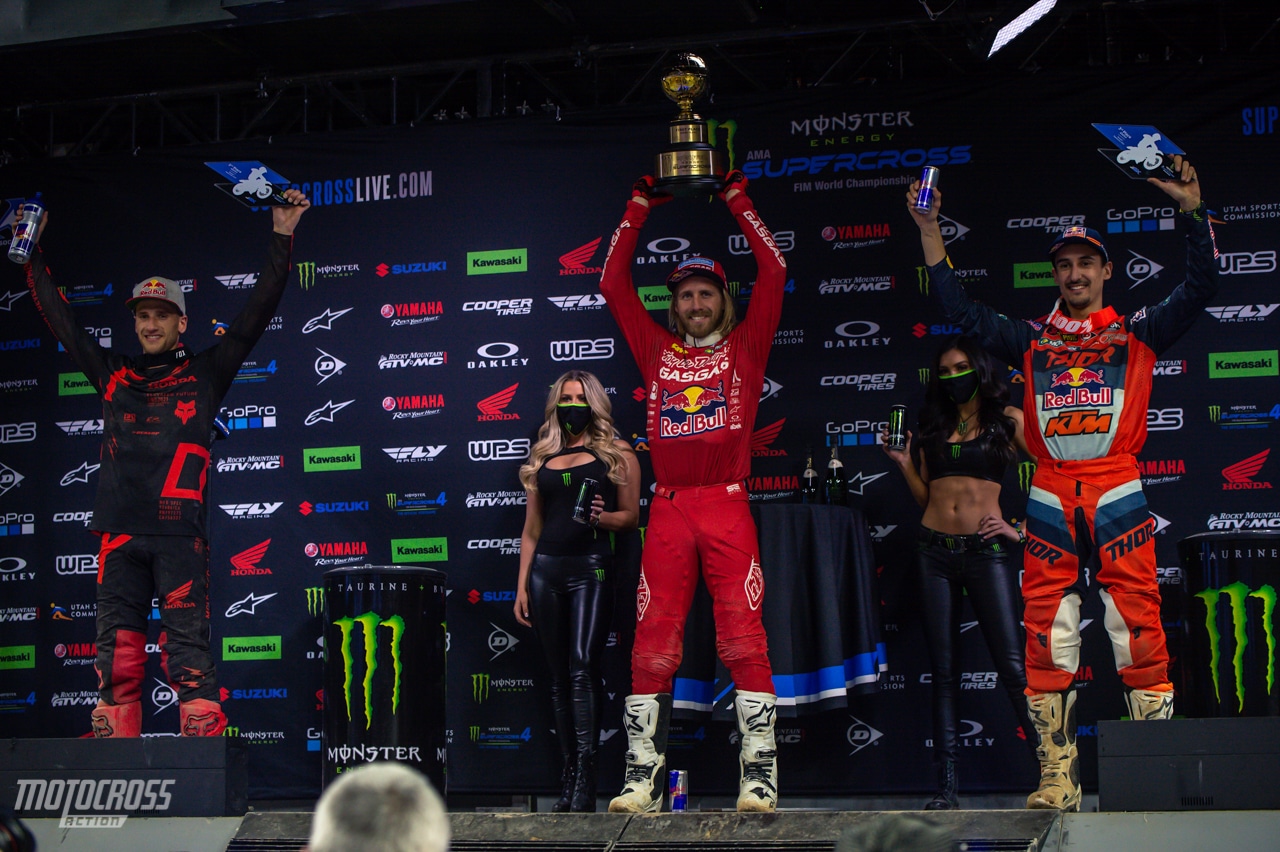 Justin Barcia silenced the Instagram critiques by successfully winning three season openers in a row.
Many were doubtful that Justin Barcia would come close to winning the real season opener after the GasGas athlete teamed up with the team and RedBull to make a fake Anaheim 1 victory that was aired the week before. Thousands of keyboard warriors took to the comment sections of all social media platforms to leave their opinion of how dumb they thought it was while many rejoiced in the lightheartedness the video was about. GasGas is trying to be the "fun team" this year and honestly, the sport needs more of it. The last one to ever complete the task of winning three season openers in a row was Jeremy McGrath 25 years ago.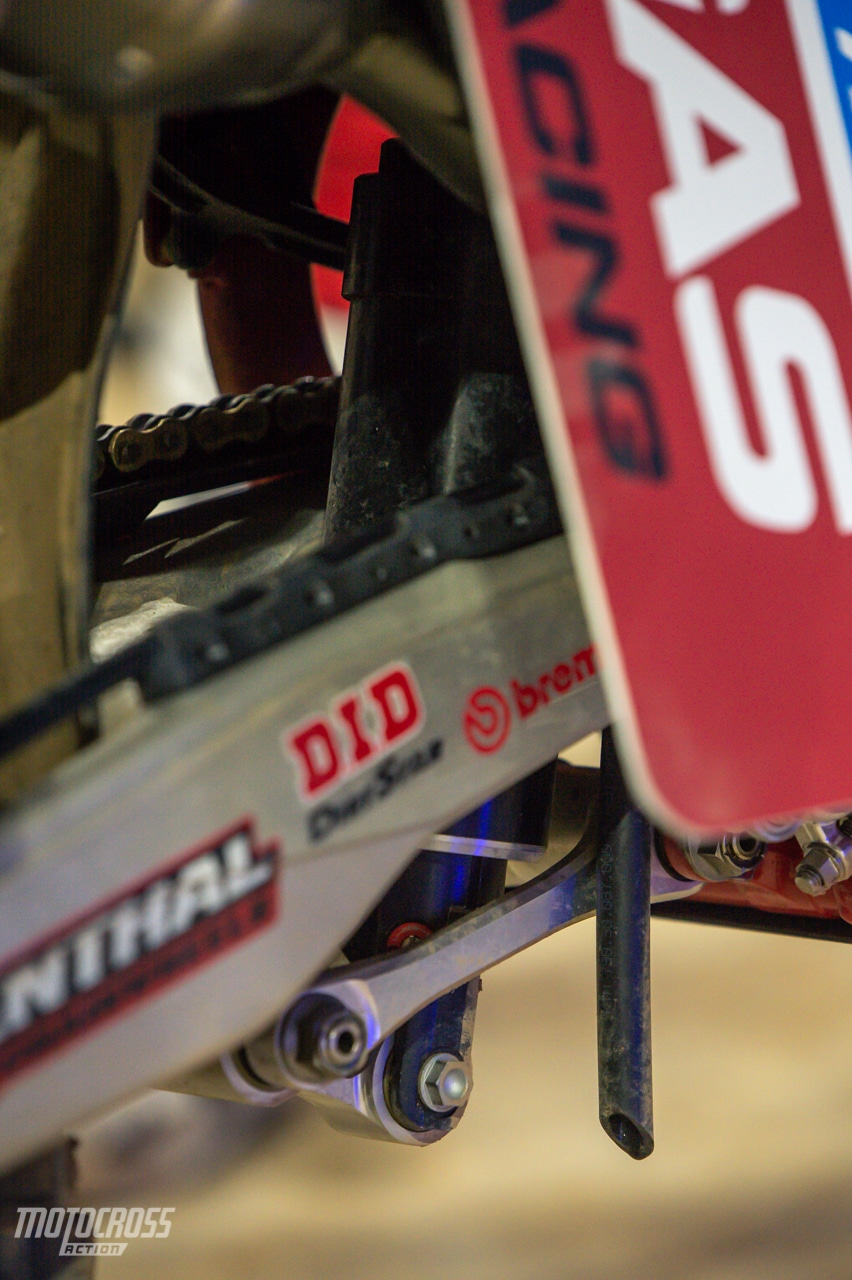 Another interesting hot topic related to Justin Barcia was that he was repping the all-new WP Air Shock that they are currently developing.
Justin stated his thought on the air shock, "The air shock is just very consistent and you don't get any fade like the spring shock." Not only did it seem to work for the 51 but we also noticed how different Justin looked on the GasGas 450. He had stated in the post-race press conference that the bike was considerably more nimble, narrow, and he could put the bike wherever he wanted.
AFTER 5 YEARS, CHRISTIAN CRAIG WINS A MAIN EVENT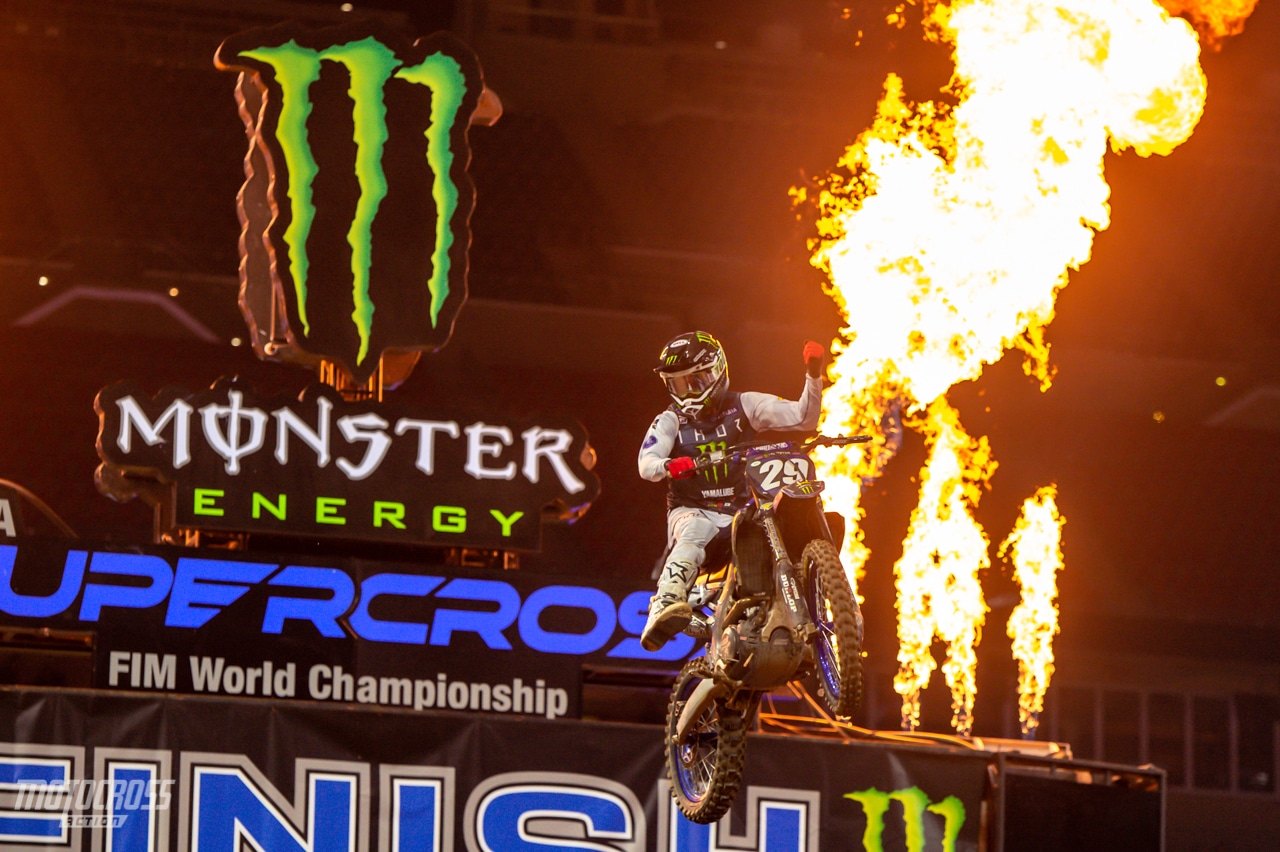 It was an emotional day for the Craig family as Christian won a main event after 5 years.
The 29 of Christian Craig stated that many were doubtful of whether or not he has the speed and talent in him to win a main event. After getting the fastest laptime of the day out of everyone in Houston, winning his heat race, and then winning the main event by a good gap in between himself and second, the chip on Christian's shoulders was finally relieved. Now, Christian is going to rest for the next few days while he gets ready for the next gate to drop on Tuesday.
Christian on top of the podium.
KEN ROCZEN FINISHES SECOND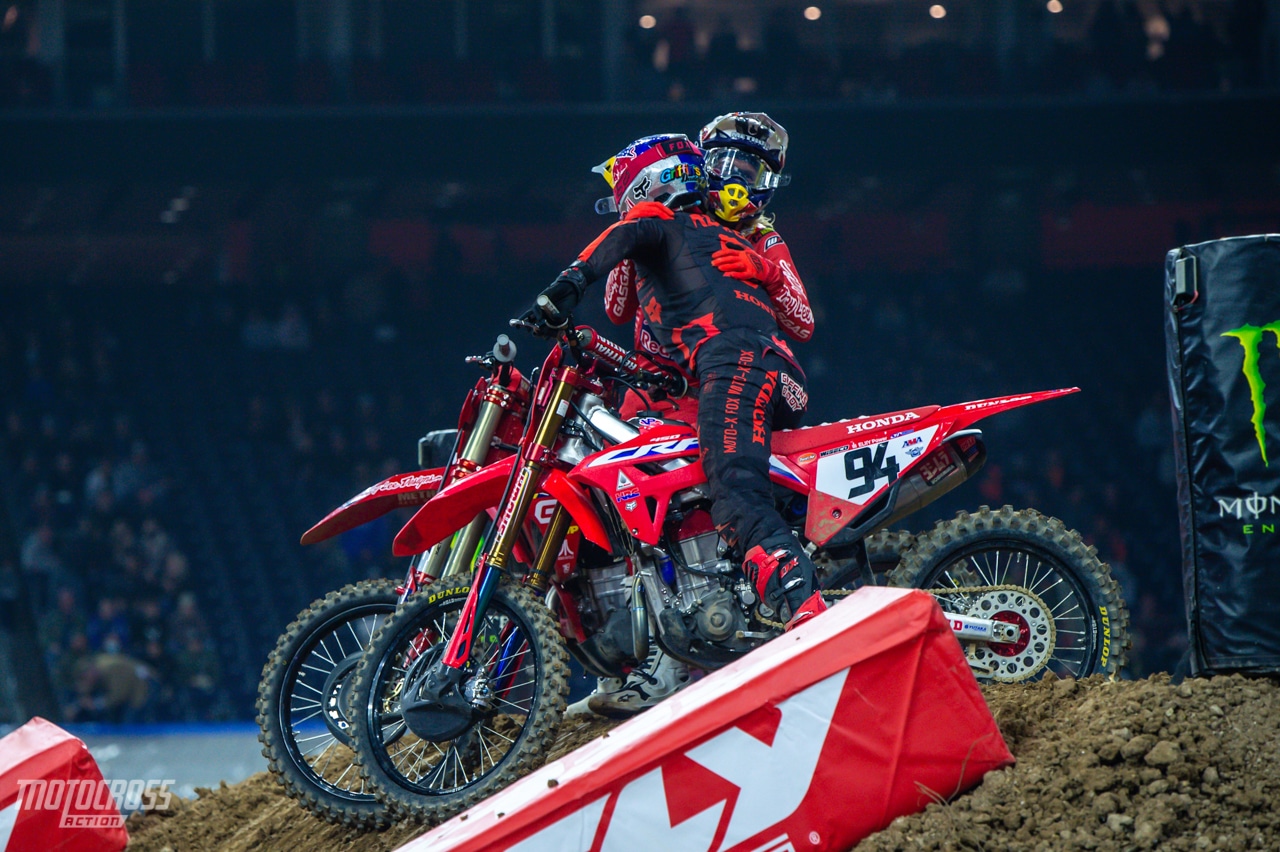 It was awesome to see the sportsmanship of Kenny ofter the race. 
Ken had stated during the post-race press conference that, "It felt like it had been forever since we got a normal race, like it felt like the good ol' days. now being a father, I have completely changed my outlook on racing. It felt like we were in the middle of a season out there." Many were concerned whether or not the new 2021 Honda 450 was going to have enough development time before the racing started. Thankfullly for Honda, they have seasoned racer Trey Canard under their belt to do all the development and testing on during the week. Ken hopped on the saddle and said he immediately "felt at home right away. With a few tweaks we were able to get the bike where I wanted." Ken spent a lot of time in California with Trey and the team getting the bike ready for sx and the opening round proved to show that he was more than ready. Ken rode smooth through the entire night and walked away with a second place finish.
623 DAYS LATER, MARVIN RETURNS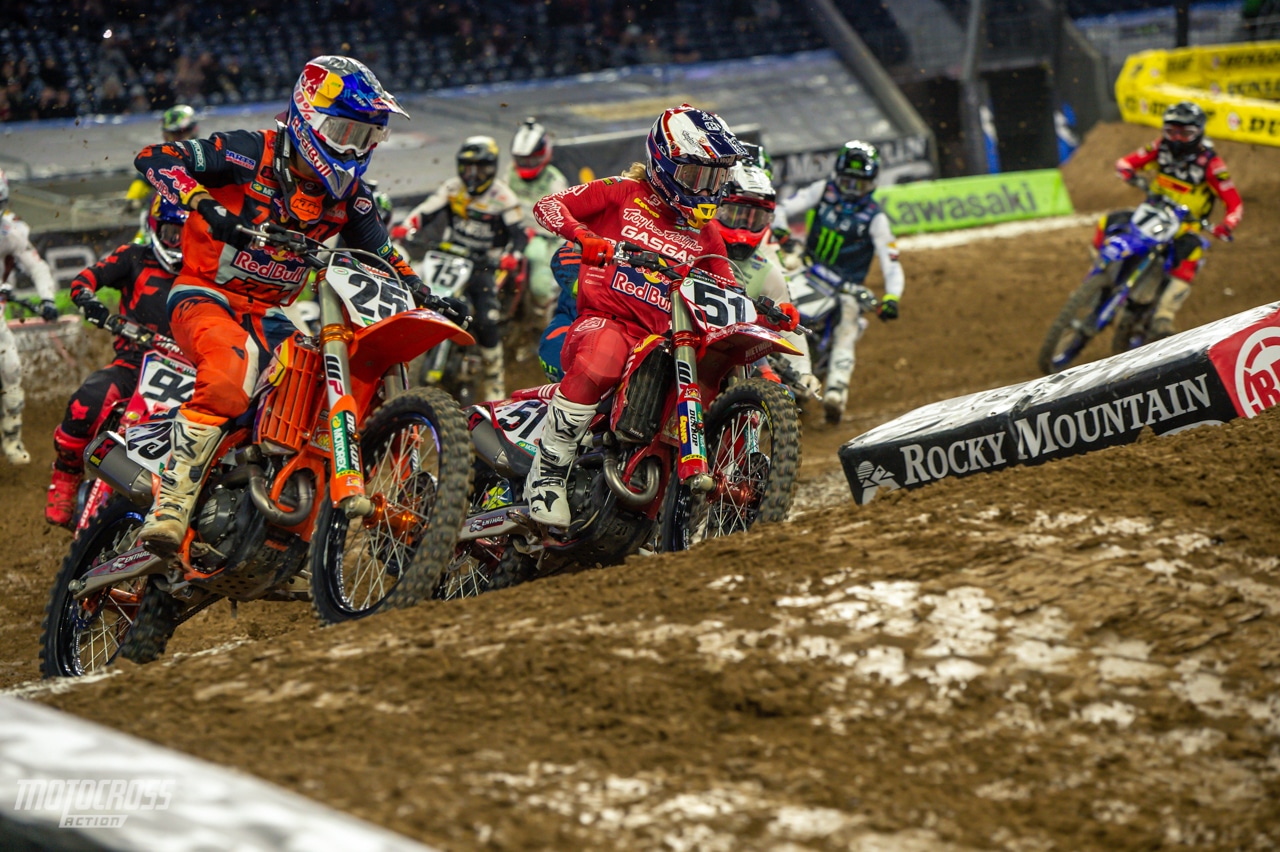 Marvin Musquin and Justin Barcia fight for the main event holeshot. 

After a very long hiatus from Supercross racing, Marvin Musquin made a comeback and ended up getting third in the night show. His last Supercross race was Las Vegas in 2019. An injury resulted in him missing out from the 2020 season but now he says he feels like he still has his speed, he just needs to work on his fitness. Marvin may not have qualified first but when it came to the night race, Marvin got the holeshot and held onto the third place spot.
THE TRACK VIEWING PARTY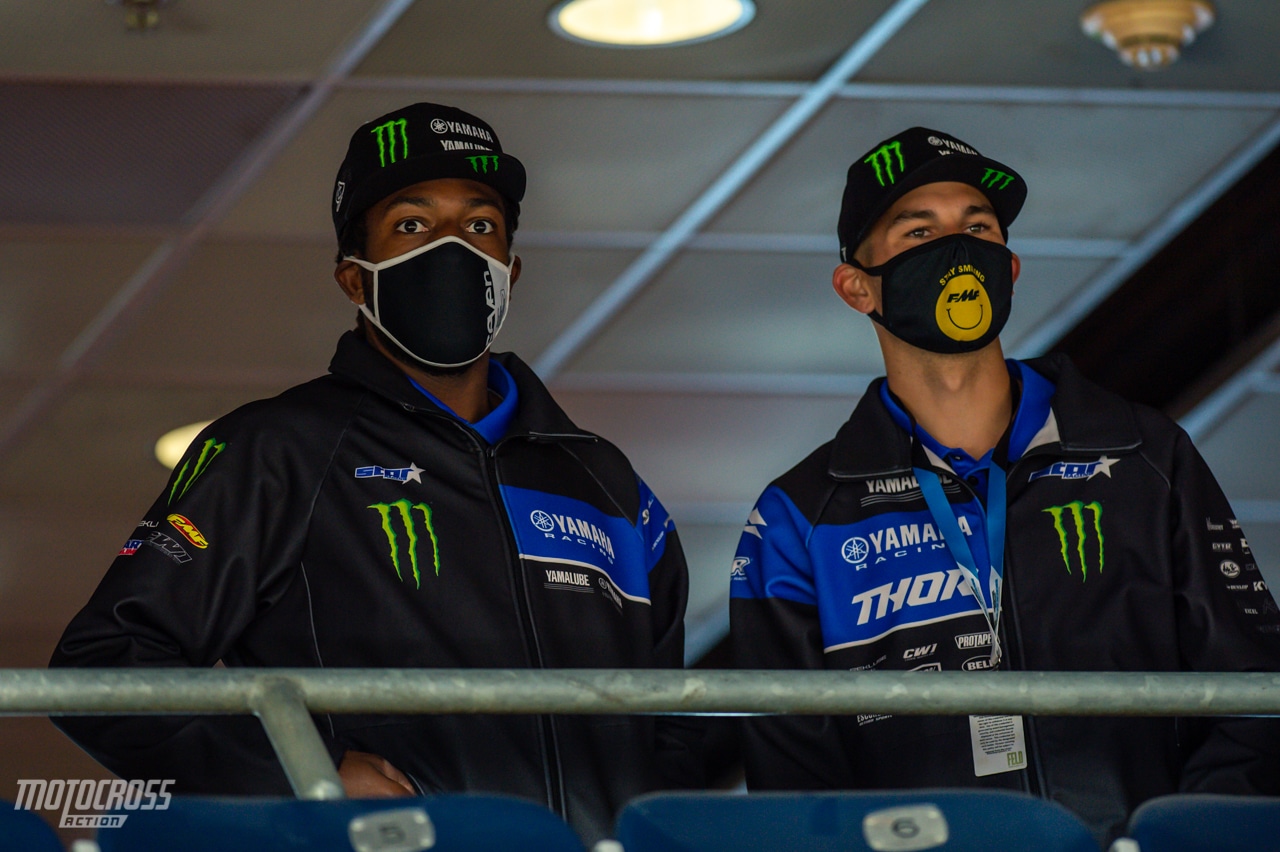 Something we've never seen before was the track walk, well lack thereof. Instead of being able to walk the track to assess the obstacles and jumps, the riders and teams were instructed to view it from the stands. While this may not be ideal when you're going to have to race on it within the day, it is better than not seeing the track at all. Here are a few pics of riders scoping out the Houston 1 Track.
Dean Wilson pulling snacks out of his pocket maybe?
Aaron said he felt like a changed man, like 2018 Aaron Plessinger. We're hoping to see the number 7 up front in the pack this year on his Star Yamaha ride.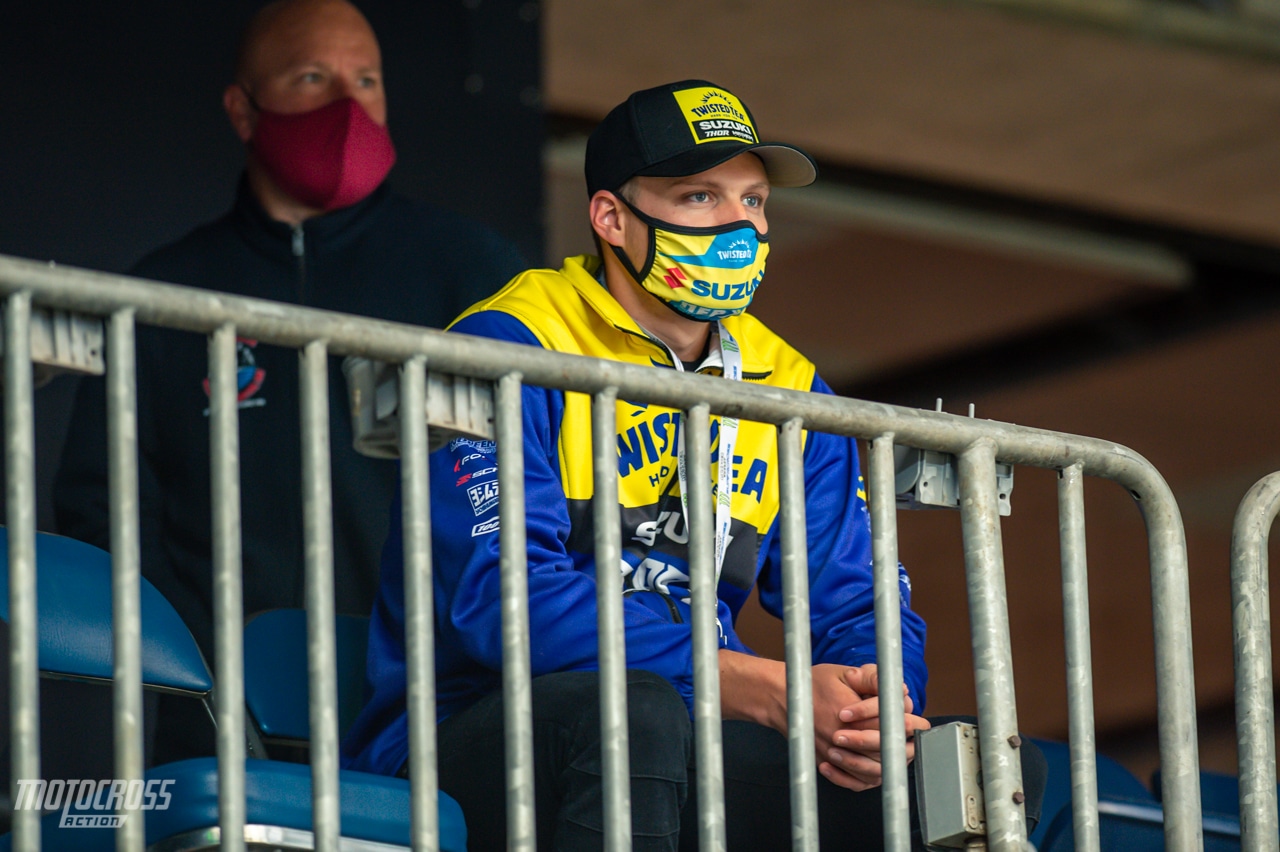 Brandon Hartranft has been pretty pumped about his new Twisted Tea sponsor.
The HRC guys.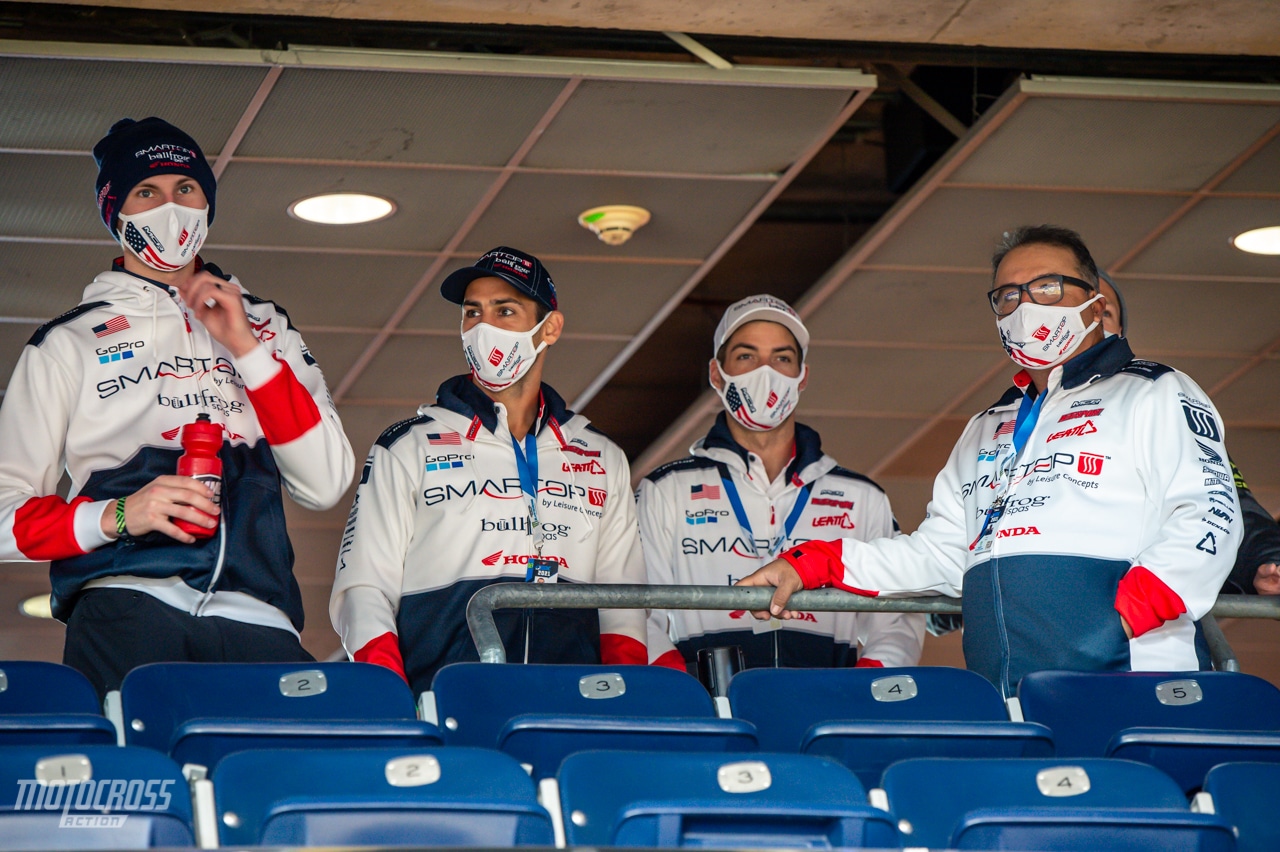 Unfortunately Shane McElrath on the SmartTop Bullfrogs Spa/MotoConcepts team was unable to line up for the weekend but states that he will be back shortly.
450 SX CLASS:
Justin Barcia's exceedingly smooth riding and focused attitude would win him the main event at the opening round of the 2021 season.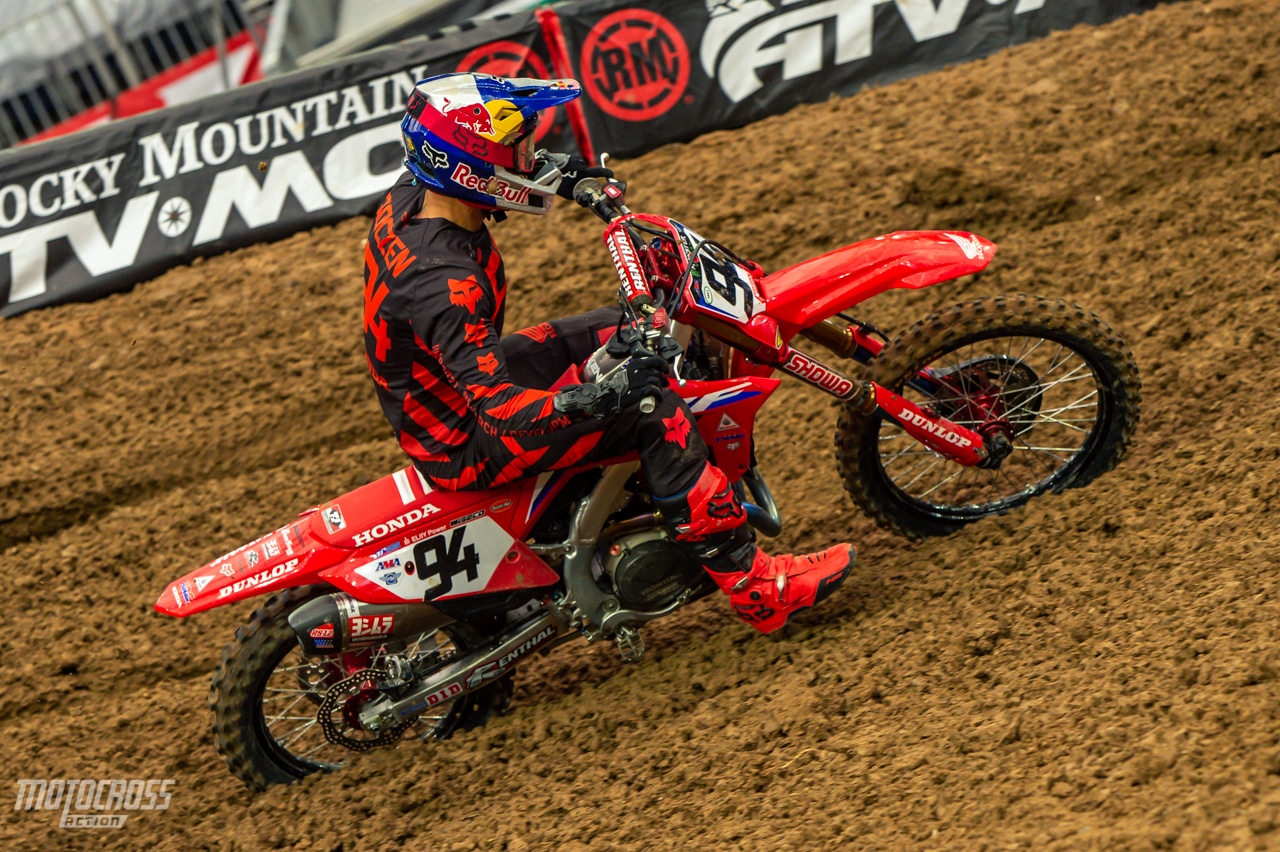 Ken Roczen put the heat on Barcia for a second place. A handful of times Ken looked like he may have had the ability to pass the 51 but stated in post-race press conference that due to the ruts being where they were and how nasty the track got, he would've taken himself and Justin out and no one wins at that point.
It's been 623 days since we've seen the 25 of Marvin Musquin line up for a Supercross race and to come back and get a third is quite impressive.
Adam Cianciarulo rode great all day but in Supercross, starts are everything. Adam would finish in a very respectable fourth place and we feel like he might be the underdog when compared to the rest of the 450 top dogs.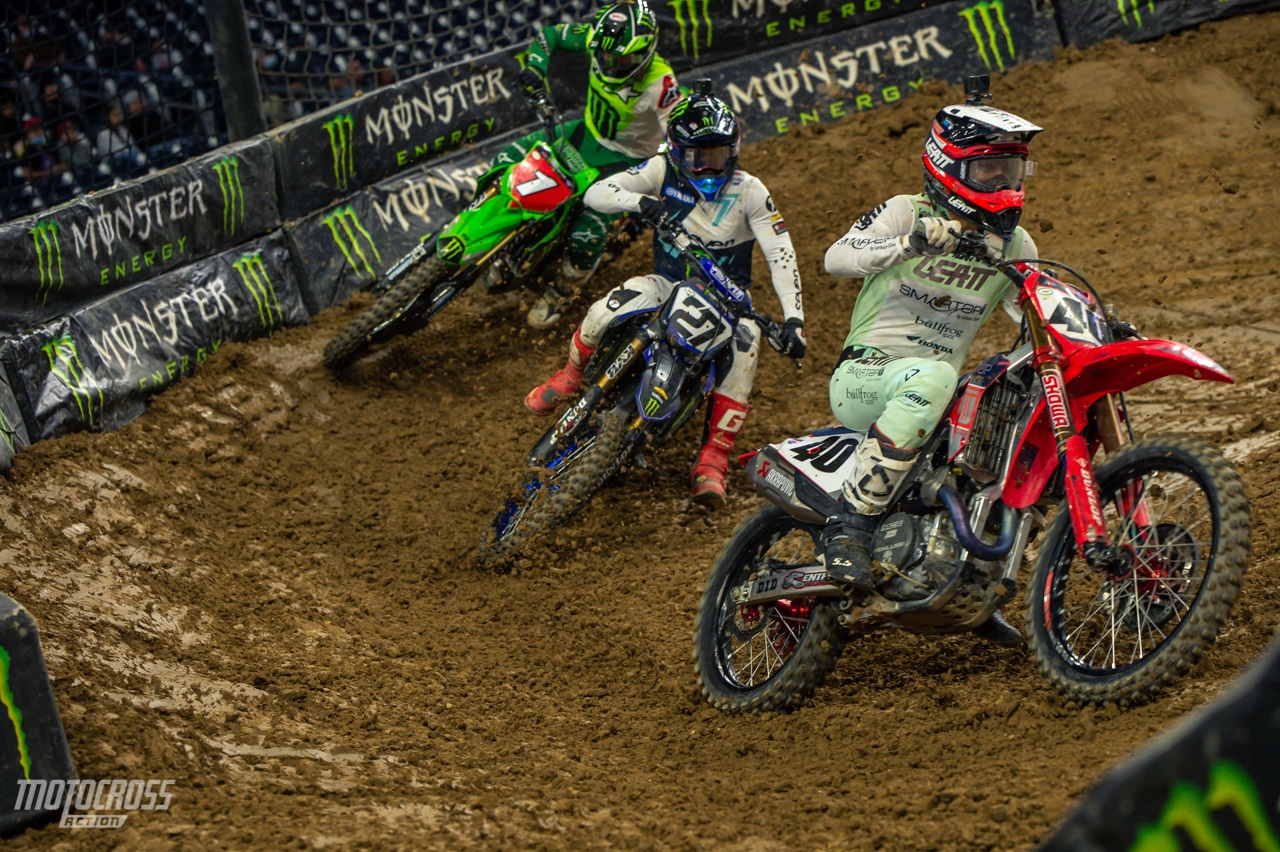 Malcolm Stewart would ride smooth throughout the entire 450 main. A few laps in he would make the pass on Justin Brayton earning him a fifth place position in the night show.
The number 14 of Dylan Ferrandis would have less than desirable results when it came to qualifying but in the main event would sit in seventh place. Dylan has had very little time back on the bike ever since his injury so we expect his results to be better throughout the season as he gets more familiar with the 450 power. 
Chase Sexton ended the night in fourteenth. Chase had the fastest qualifying time out of all the 450s but when it came to the main, Chase would get a poor start. This start would become disastrous as a lap in, Martin Davalos would crash on a tuff block right in front of the 450 rookie and with nowhere to go, Chase would end up going down as well.
The 2020 champ would also have a rough night in the first round of the season. Eli attempted to make a block pass on Vince Friese, and similar to Ken's reason for not making the pass on Justin, and the two would end up falling over. But this wasn't the end with the number 1 of Tomac and 40 of Vince Friese as a few laps later they would run into each other again! Not sure if this is beef or where this beef came from but we will have to wait till round 2 to see if it continues.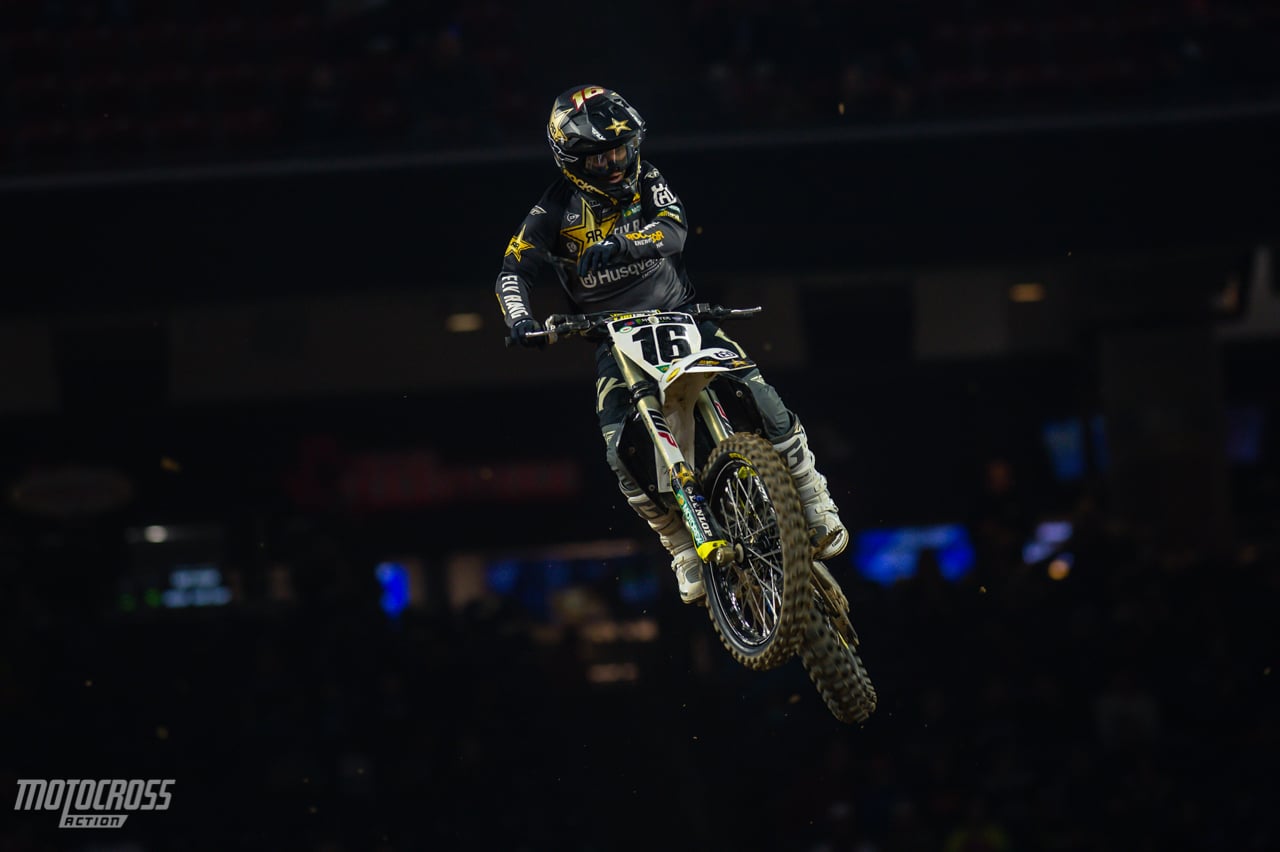 Zach Osborne had a bad start at the beginning of the main event resulting in him being in dead last. However, the 2020 Pro Motocross Champion has always been a determined racer and moved all the way up to 10th place by the end of the night show. He had a bad crash the day before in press day if you haven't seen it check it out.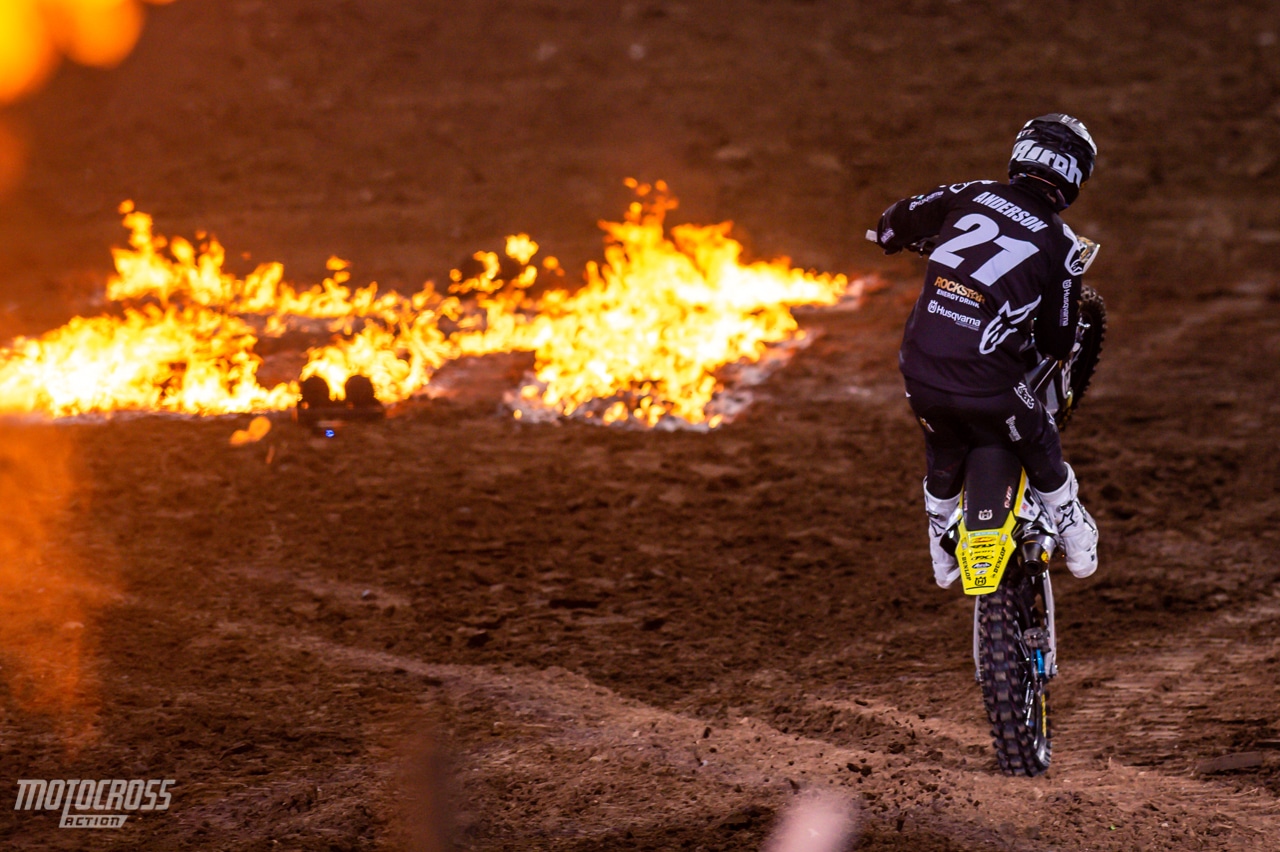 2018 Supercross champ, Jason Anderson had a mediocre night placing 15th. 
Cooper Webb didn't look like the bulldog we are used to seeing.
| | | | |
| --- | --- | --- | --- |
| POS. | # | NAME | TOTAL POINTS |
| 1 | 51 | Justin Barcia | 26 |
| 2 | 94 | Ken Roczen | 23 |
| 3 | 25 | Marvin Musquin | 21 |
| 4 | 9 | Adam Cianciarulo | 19 |
| 5 | 27 | Malcolm Stewart | 18 |
| 6 | 10 | Justin Brayton | 17 |
| 7 | 14 | Dylan Ferrandis | 16 |
| 8 | 7 | Aaron Plessinger | 15 |
| 9 | 2 | Cooper Webb | 14 |
| 10 | 16 | Zach Osborne | 13 |
For full 450 results click here. 
---
250 SX CLASS:
Christian Craig would move past Rj Hampshire in a block pass a few laps in and walk away standing on top of the podium.Here is the start of the 250 main event.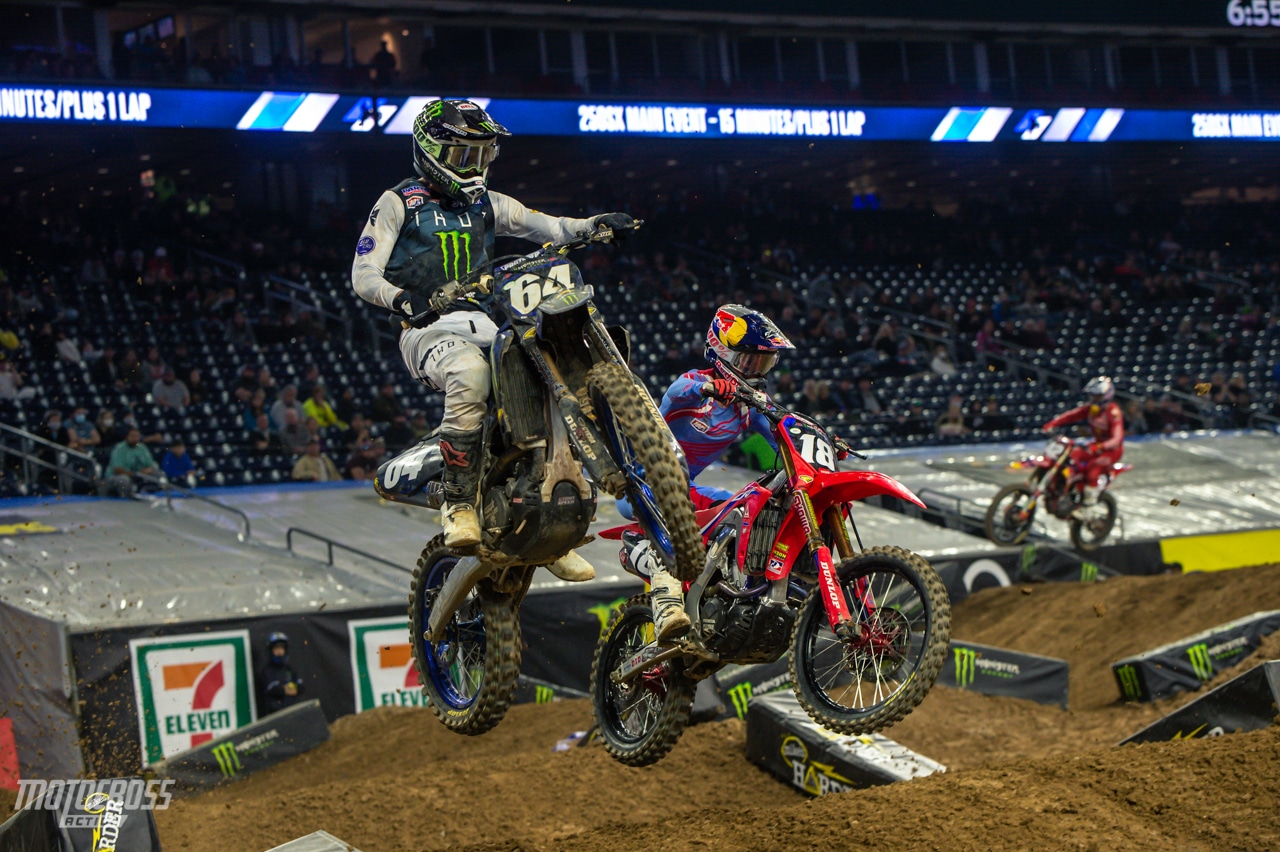 One of the riders who took a break from racing the 2020 Pro Motocross season to heal from an injury was Colt Nichols. We saw Colt prepping to be back on the bike near the end of the 2020 outdoor season and he's been primarily training on Supercross. Now that he's back, he's showing us that he is strong as he used to be and is ready to race for the championship. Colt finished third place on the podium.
The Pro Circuit Kawi guys would ride when it came time for the main event. Austin Forkner would end up getting second and expressed that he was really happy with his performance because he was making passes through the main instead of being the one getting passed. Jo Shimoda would finish in fourth and for someone who got their bike just under a month ago, this is quite impressive. Jo Shimoda was part of the Factory Connection Honda team before they folded at the end of the 2020 outdoors season.
Rj Hampshire rode exceptionally well the entire day. Unluckily though for Rj, he would fall over right before the race ended losing several positions. He still got a very respectable fifth place but we expect him to be on the podium as the year goes on.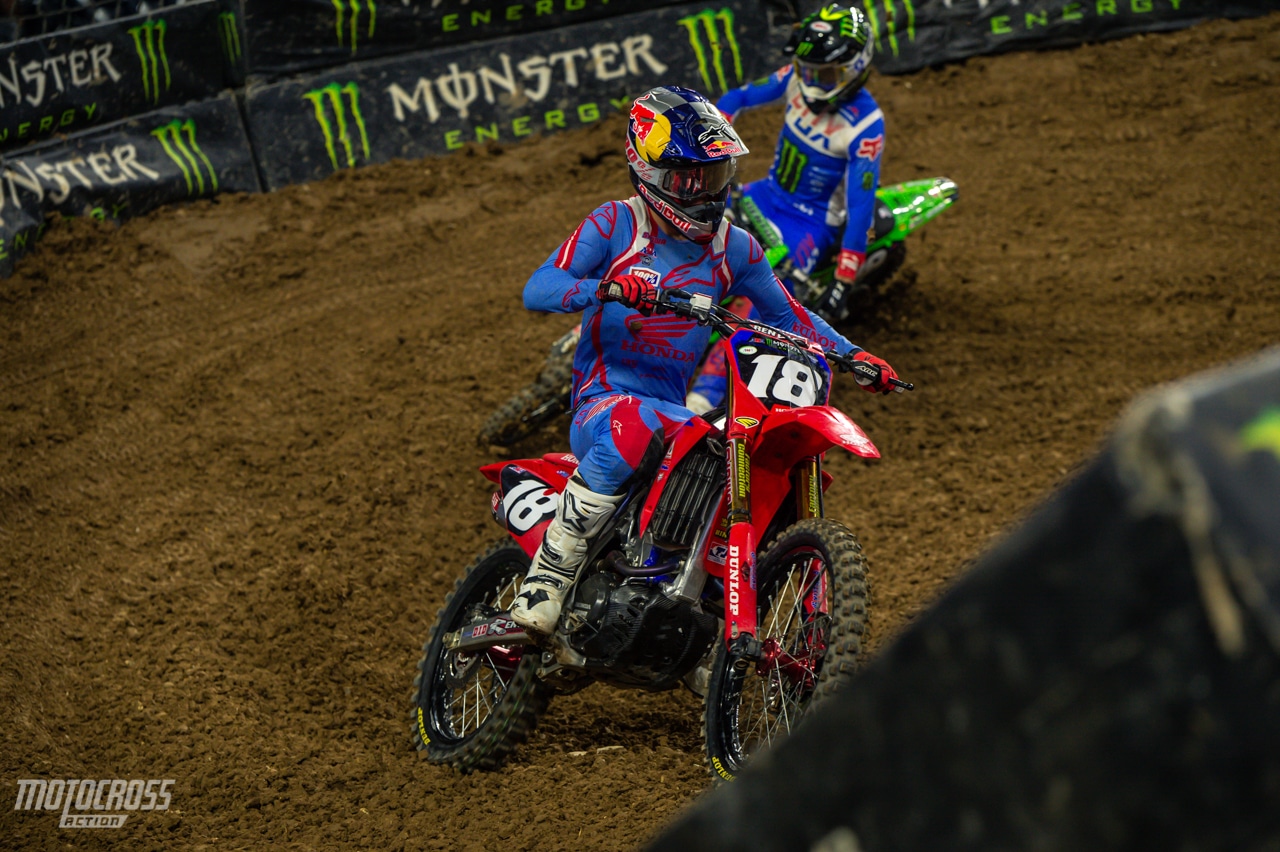 Jett Lawrence showed to have great speed throughout the day but after losing some of that spark during the main event, would fall back to sixth place.
Halfway through the main event, Michael Mosiman and Jo Shimoda would battle for sixth place. After going through a rhythm section, a lapper crossed in front of the 42 GasGas rider causing him to tumble across the ground. Michael finished in seventh place. 
Houston 1 was Max Vohland's first ever Pro Supercross race. At the age of 17, Max showed a lot of fight in him and that sparked interest in KTM. KTM decided to bump him up in the ranks from his amateur career and send him straight to race with the Pros. Max Vohland finished in ninth place and we're excited to see how well he does this season as he gets his toes wet.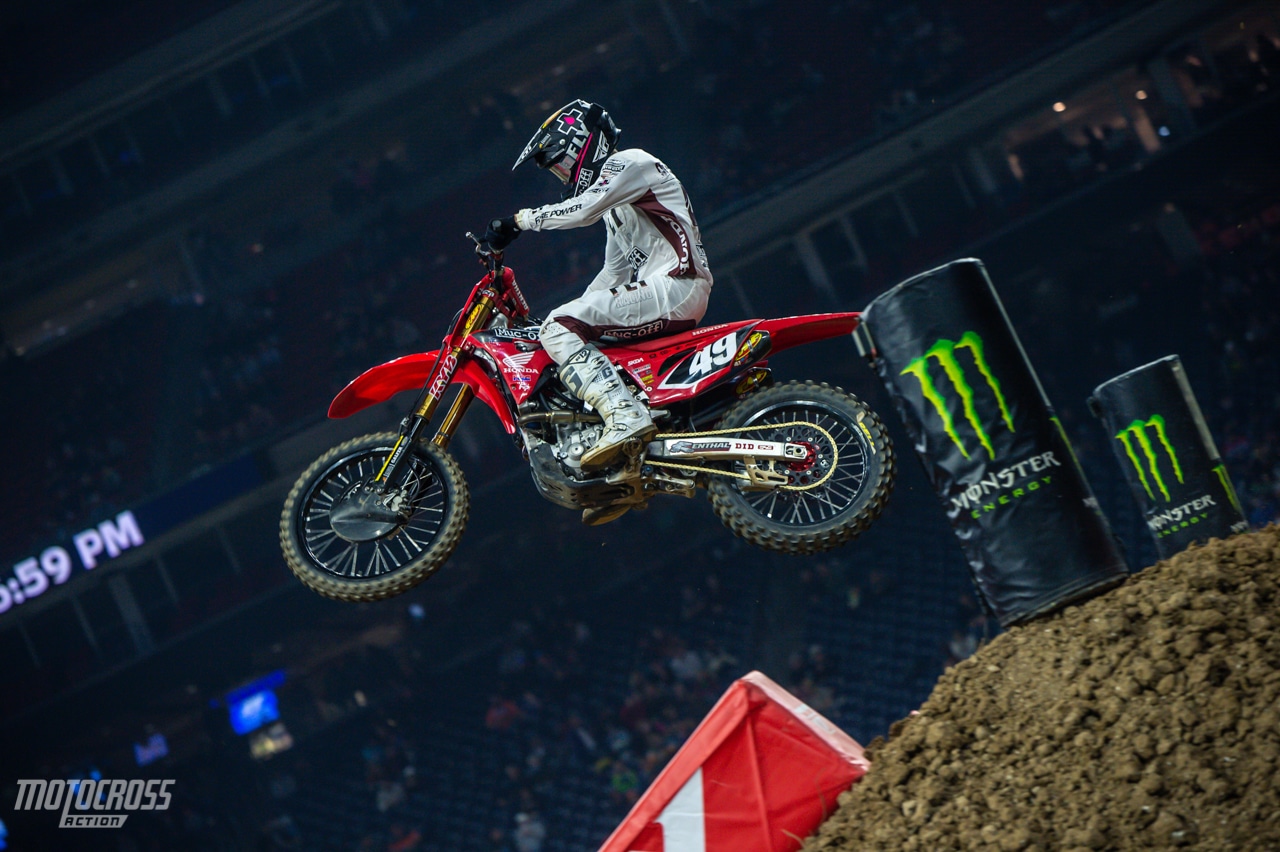 The once Penrite Honda team, now Muc-Off Honda, decided to send Mitchell Oldenburg to go racing on the East Coast series for 2021 and Mitchell Harrison on the West. Mitchell Oldenburg put the Muc-Off Honda 250 up in eighth place when the main event ended.
| | | | |
| --- | --- | --- | --- |
| POS. | # | NAME | TOTAL POINTS |
| 1 | 29 | Christian Craig | 26 |
| 2 | 38 | Austin Forkner | 23 |
| 3 | 64 | Colt Nichols | 21 |
| 4 | 30 | Jo Shimoda | 19 |
| 5 | 24 | Rj Hampshire | 18 |
| 6 | 18 | Jett Lawrence | 17 |
| 7 | 42 | Michael Mosiman | 16 |
| 8 | 49 | Mitchell Oldenburg | 15 |
| 9 | 115 | Max Vohland | 14 |
| 10 | 95 | Joshua Osby | 13 |
For full 250 results click here. 
---
WORDS FROM THE RIDERS:
Christian Craig during the post-race Press Conference: "The whole day was good and I have had so many days where I could qualify well and win a heat race but then make a mistake in the main where I can't control it sometimes. I had this chip on my shoulder and I had to prove it to myself. When I crossed that finish line there was so much emotion and I am happy I stuck with it."
Justin Barcia via Instagram: "Incredible night of racing. Grateful to be racing and have fans back in the stands! That was a race, Kenny kept me on my toes all night from the heat to the main I'm really looking forward to a lot more racing like that this year!"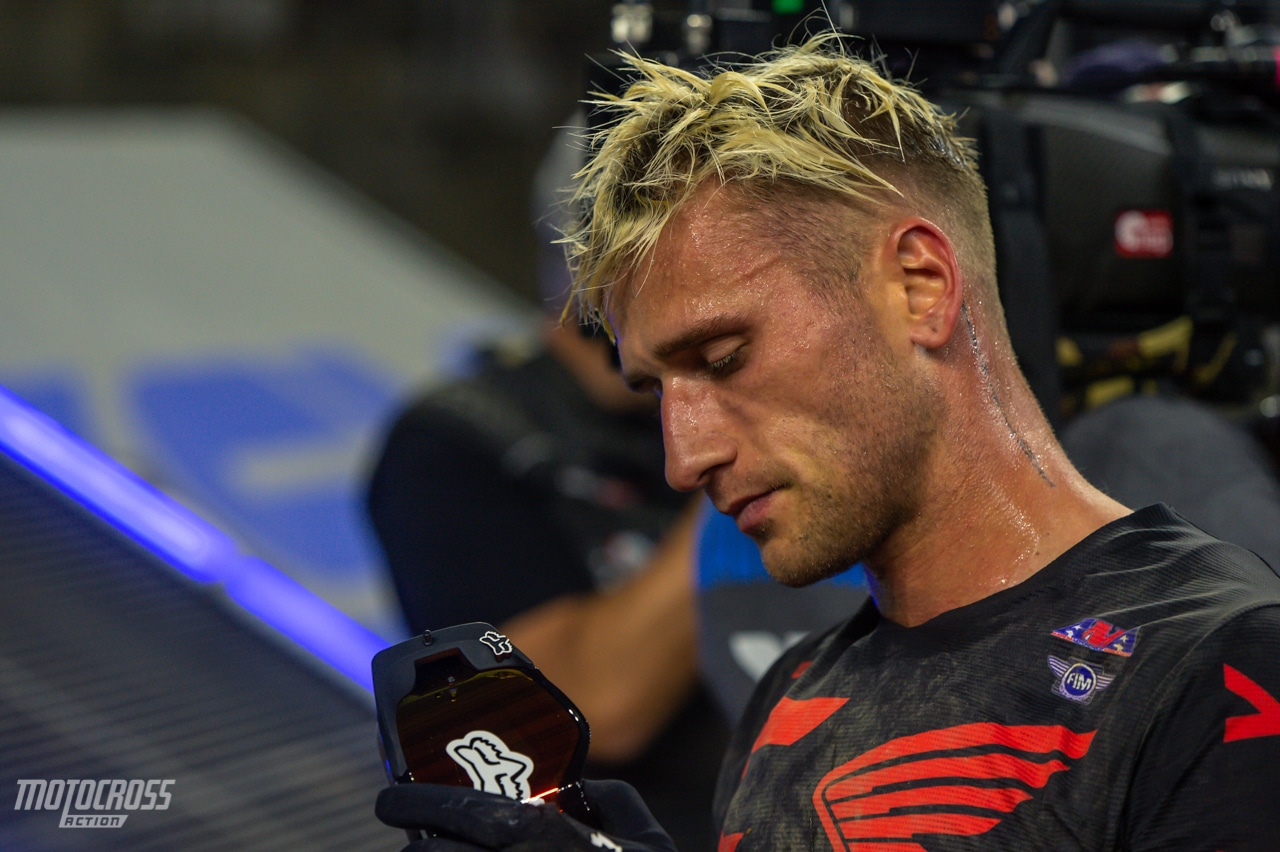 Ken Roczen via Instagram: "What a great way to start of the 2021 season. Finished the night with a solid 2nd place after a good battle with Justin. Looking to continue a good attitude throughout the whole season and enjoy the process. Thank you team for an incredible crew. Looking forward to Tuesday"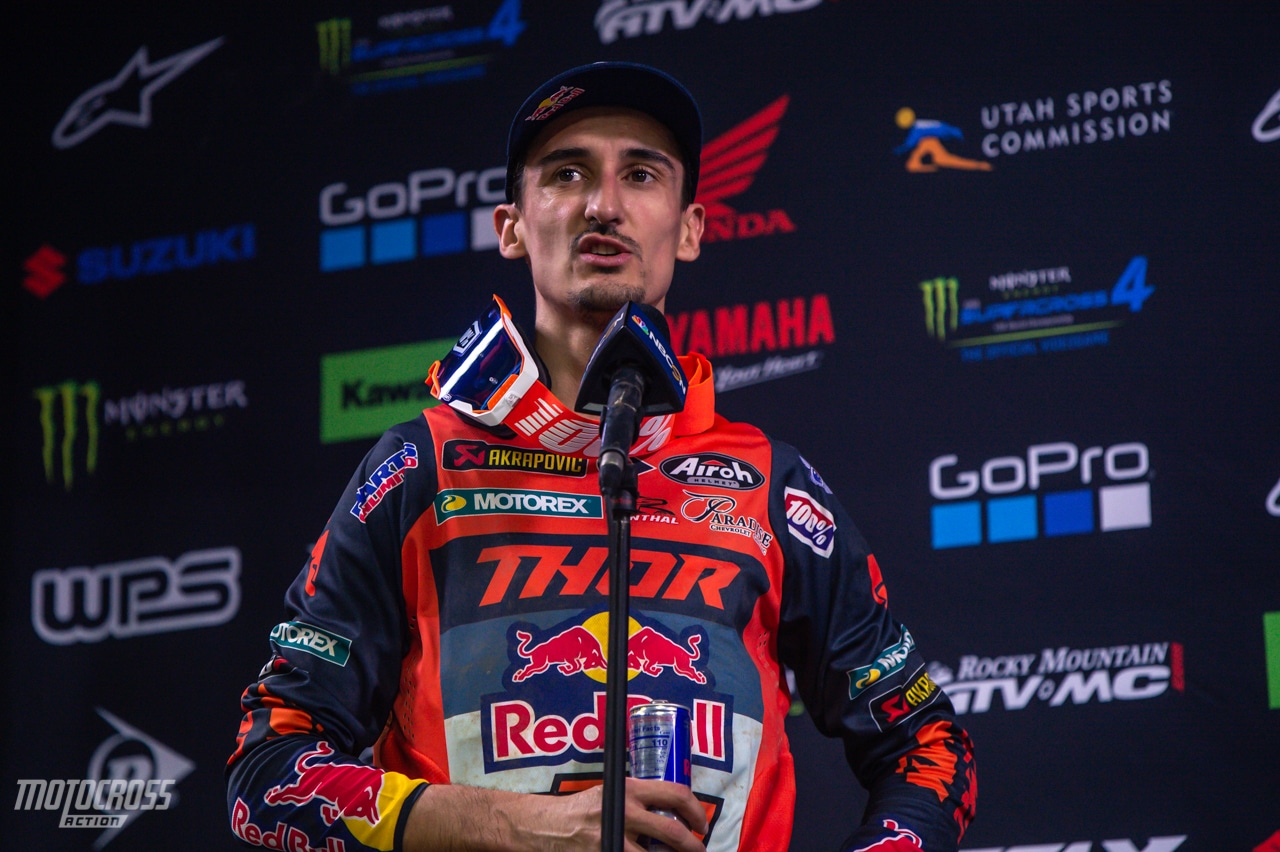 Marvin Musquin via Instagram: "623 DAYS … that's how long it's been since my last Supercross Race in Vegas '19. This sport is so demanding and you never know how good you will come back after a big injury. Today we had a good qualifying time, a not so good qualifying race, but we turned it around to grab a holeshot and a 3rd place finish. Tonight I'm happy. You guys have been amazing by your support… Thank you! Now let's focus on Round 2 next Tuesday!"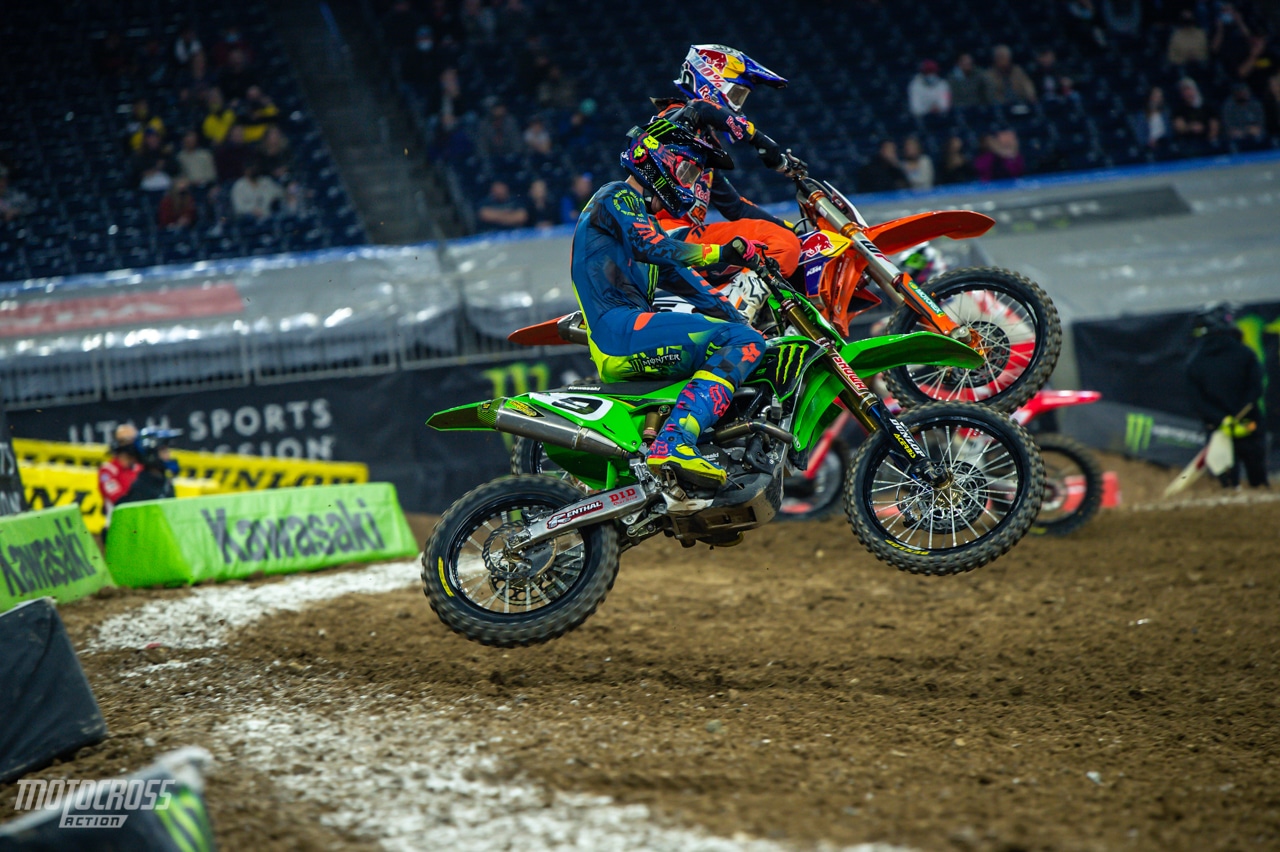 Adam Cianciarulo via Instagram: "P4 and a relatively quiet round 1 for me. As I've mentioned previously, I had surgery a few weeks ago to repair some nerve damage in my arm I've been dealing with the past year. Not feeling my best quite yet but it will continue to get better and I plan to as well. Regardless, enjoyed being back out there battling!"
Rj Hampshire via Instagram: "Starts were solid, finishing the main event wasn't! Regroup and be better on Tuesday. Thanks team."
Dean Wilson via Instagram: "H-1 is done. Started the day off p-1 in free practice which doesn't mean anything but makes you feel good. Main was hectic with a bad start & carnage in such a deep field and only could get P-12. Not what I want but we try again on Tuesday. Thank you all for supporting!"