2021 HOUSTON SUPERCROSS 1 PRE-RACE REPORT: EVERYTHING YOU NEED TO KNOW
The 2021 Houston Supercross 1 track build is underway. – Photo by Todd Jendro
2021 HOUSTON 1 SUPERCROSS PRE-RACE REPORT | ROUND #1 OF THE 2021 MONSTER ENERGY SUPERCROSS SEASON
The 2021 Supercross season is here and thanks to Feld, the teams, and the riders, we are able to witness one of the most exhilarating sports on wheels in 2021. This time around, Angel Stadium in Anaheim, California, will not be the season opener and there won't be any rounds held in California. Instead, this season of Supercross is primarily going to be featured on the East Coast and Central USA ending in the same city as last year, Salt Lake City, Utah. Doubleheaders, Triple Headers, and races being held on Tuesdays will be a weekly occurrence this season. Along with the crazy schedule is the huge amount of riders switching teams and bikes.
With the closure of Factory Connection Honda and JGR Suzuki at the end of the 2020 Pro Motocross season along with a lot of other shake-ups, many riders have changed teams and the two top riders from the 2020 season won't be lining up. Neither Blake Baggett nor Justin Hill will be racing this weekend and their futures are currently uncertain as neither of them has released an official statement on their plans. Other shake-ups for 2021 was Jeremy Martin Star Racing Yamaha,  Justin Barcia joining the new TLD GasGas team, Michael Mosiman transferring from Husqvarna to GasGas, Joey Savatgy going from JGR Suzuki to Rocky Mountain KTM, Jett and Hunter Lawrence transferring from Geico Honda to HRC Honda, Christian Craig moving from Geico Honda to Star Yamaha and more.
Riders like Eli Tomac, Cooper Webb, Ken Roczen, Zach Osborne Justin Barcia, Adam Cianciarulo and more have our attention as potential 2021 Championship contenders. Eli Tomac won the 2020 Supercross season but had less than desirable results heading into the 2020 Pro Motocross Championship. With a Supercross Championship under his belt already, will he be more motivated or less motivated to do what it takes to win again? Cooper Webb is back after suffering a back injury in Supercross last year and then resigning from the Nationals early to let it heal. Ken Roczen took the outdoor season off as he prepared for his newborn child and took time to heal from the lingering health issues that he mentioned hindered his endurance last year. Zach Osborne is coming in hot after winning the season finale in Salt Lake City and winning the 2020 AMA National 450 title. After making the switch from blue to red, Justin Barcia is now looking strong on his new GasGas ride. More top riders are Adam Cianciarulo and Chase Sexton. Adam Cianciarulo moved up to the 450 class for Supercross last year and looks to build on his solid foundation for 2021. Chase Sexton moved up to the 450s for the Nationals and will make his Supercross debut on the 450 this weekend. Marvin Musquin is also back from injury after missing the entire 2020 Supercross season and 2018 Supercross Champion Jason Anderson is also coming into 2021 with a new training program (not at the Baker's Factory) and we expect him to be strong. The 2021 Monster Energy Supercross season is officially here and we're excited for it to get underway!
2021 HOUSTON SUPERCROSS 1: TV & STREAMING SCHEDULE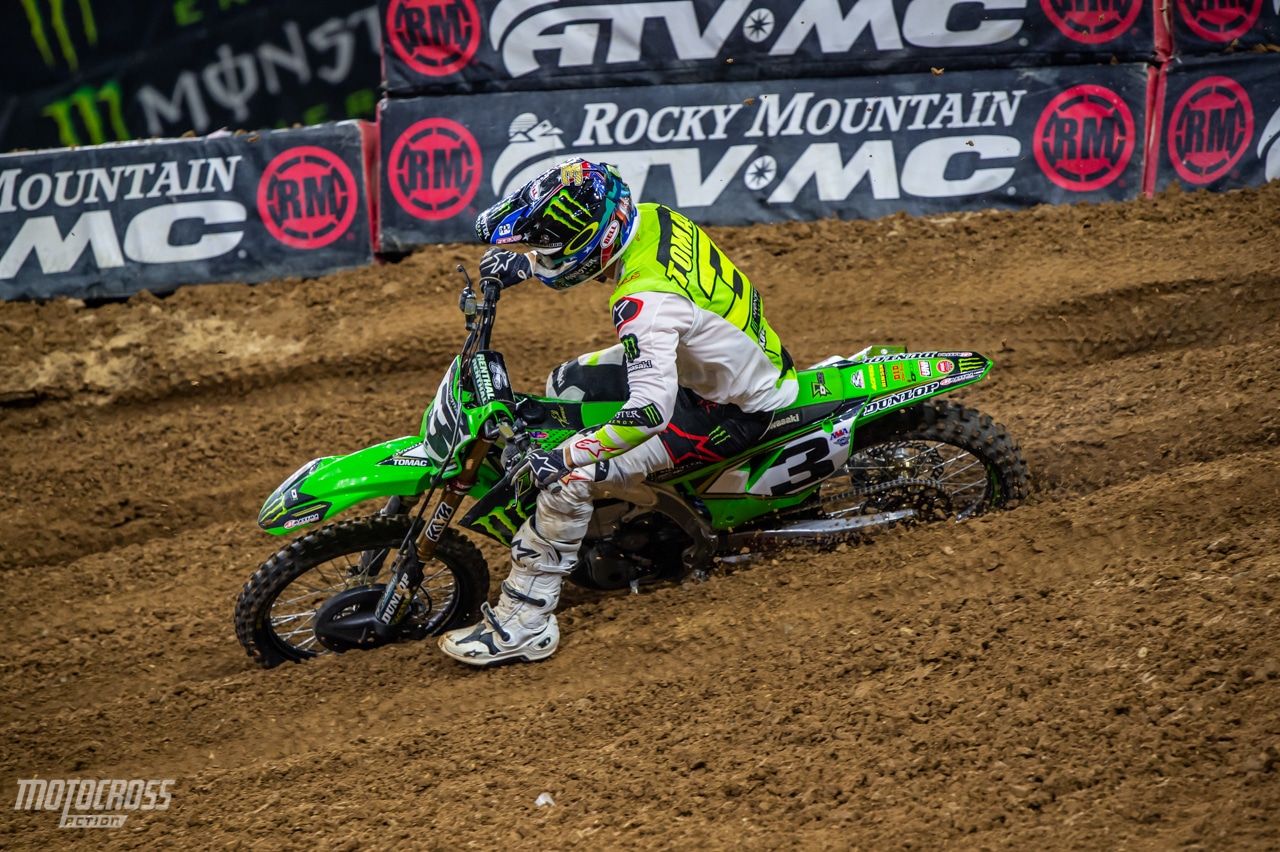 Will Eli defend his title against Ken Roczen and Cooper Webb?
Supercross will be airing on Television as always on both NBC Sports Network and NBC channels. Joining veteran commentators Leigh Duffey and Todd Harris for the play-by-play action is five-time Supercross Champion and seven-time AMA Nationals Motocross Champion Ricky Carmichael along with host and former racer Daniel Blair, and reporter Will Christien. Sadly though, after 15 years of Supercross announcing, Ralph  Sheheen will not be coming back to announce the races. 11 of the 17 rounds including Houston 1 will be aired on Television with others still being aired on TV but with a delay. If you would like to view all the races in real-time along with more exclusive features such as qualifying and practices. Peacock is replacing the previous popular option to view NBC Sports, NBC Sports Gold and starts at $4.99 a month. This is a far better solution than NBC Sports Gold as not only do you now get both motocross and Supercross, but you also get access to a lot of the other popular services, shows and movies within the platform.
QUALIFYING SHOW 11:00 AM Central Time | 9:00 AM Pacific Time on PeacockTv.com.
NIGHT SHOW RACING –  5:00 PM Central Time | 3:00 PM Pacific Time on NBCSN & PeacockTV
2021 HOUSTON SUPERCROSS 1: WHAT YOU SHOULD KNOW

It was no easy task for FELD to orchestrate the return of Supercross in January.
Unlike most Supercross series', this season will be primarily featured on the East Coast. No Anaheim 1, Anaheim 2, or San Diego. A lot of the Supercross riders are based in California and they spend their weekdays at the Supercross test tracks. Now, with the unique ebb and flow of the 2021 Supercross schedule, riders will be stuck in Houston for over a week while racing on Saturday, Tuesday and then Saturday again. It will be a unique experience, as the final seven rounds of 2020 were in Salt Lake City, Utah. The 2021 schedule is set with 17-rounds in 7-different venues in 5-different states. The schedule will be different, however, it can be seen as a good thing because more rounds are going to be covered in less time and they will require less money to be spent on travel for the teams and riders. Unfortunately for the West Coast privateers, they are going to have to break the bank with extensive travel across the country to get their Supercross fix in. Doubleheaders and triple headers will be the mainstay for this season as riders will race heavily for a week at a time with more extensive breaks in between the rounds with Covid testing split in between each round.
LIMITED SPECTATOR SEATING AND MASKS REQUIRED: IN-PERSON FAN INFORMATION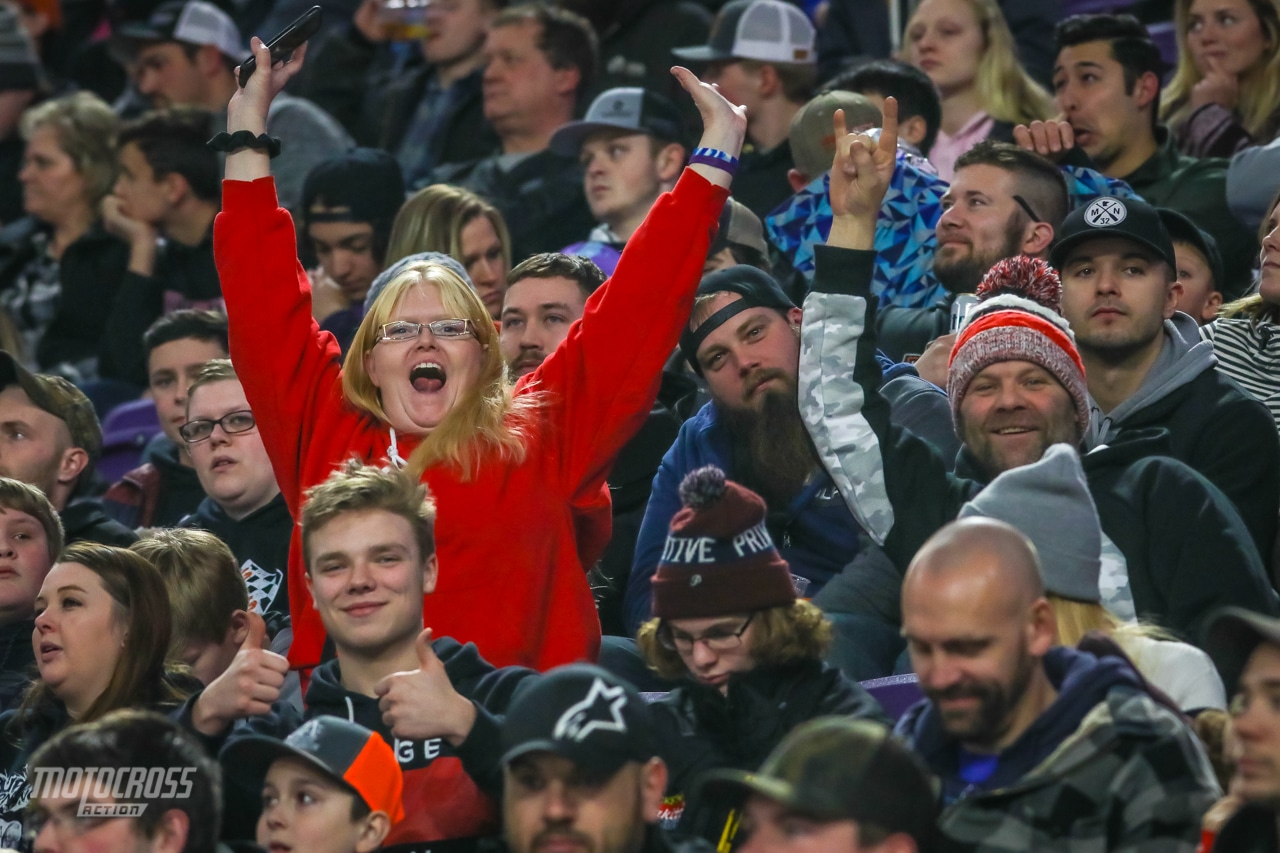 The stadiums will host fans, but the seating arrangements will look different in 2021. Everyone will be wearing masks.
Fans are allowed but at a reduced capacity with Supercross's new implementation of health measures and seating will be separated via pods in the stadium. More information about each stadium's safety protocols can be found on their individual websites – NRG Stadium, Lucas Oil Stadium, AT&T Stadium. Supercross was the first sport to complete its championship in 2020. Other sports like the NBA, NHL and MLB followed the success of Supercross with its "bubble" style environment to complete their events as well. After the NFL brought back fans, Supercross is now following their lead and is able to bring back fans after rigorous planning done by FELD and the other organizers. Masks are required for everyone above the ages of 2 years old unless actively eating or drinking.
More information about Monster Energy Supercross' Fan Wellness can be found here.
2021 HOUSTON 1 SUPERCROSS TRACK MAP

The track map for Round 1.

2021 HOUSTON SUPERCROSS 1: RACE DAY SCHEDULE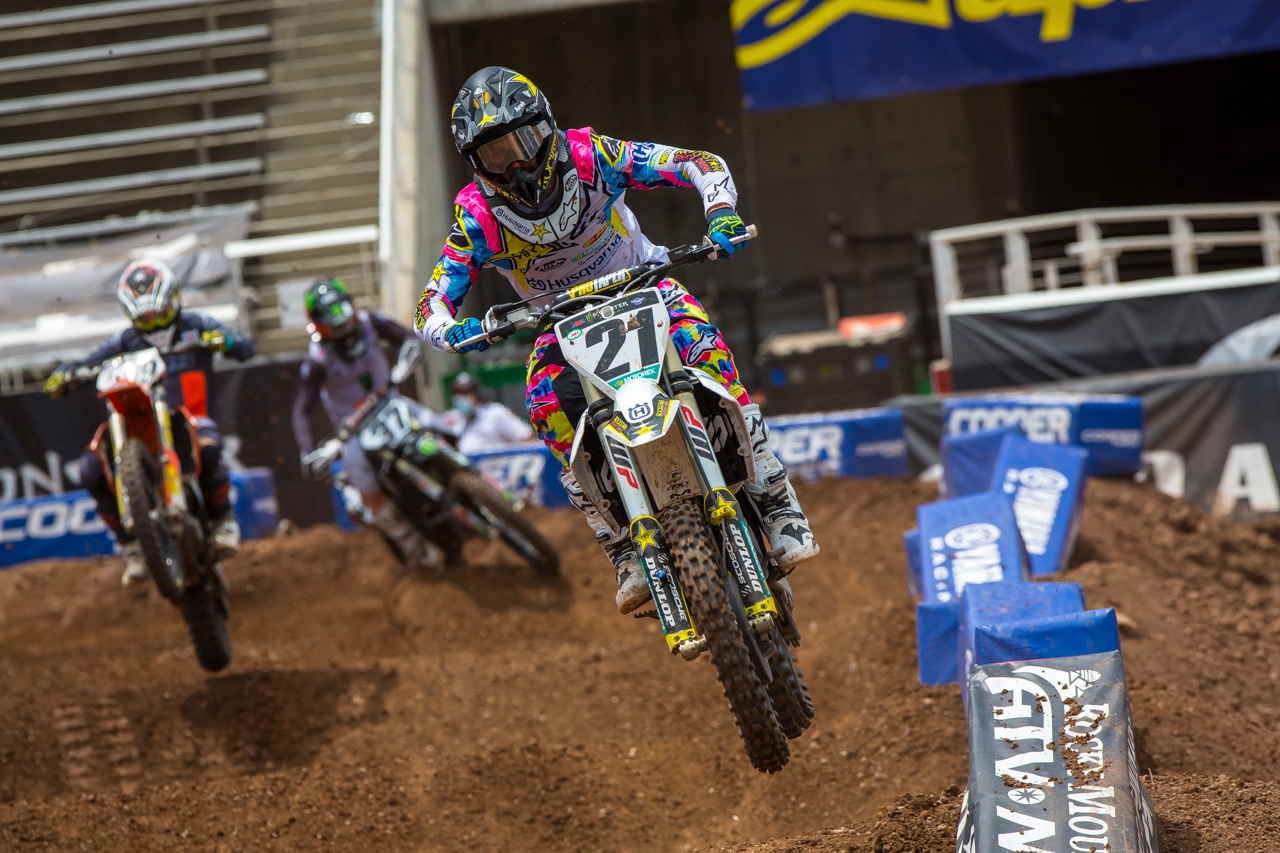 Check below for the full race day schedule for Houston. Times are in the Houston, Texas, Central Time Zone. 
11:05 am – 11:15 am 250SX Group B Qualifying
11:20 am – 11:30 am 250SX Group C Qualifying
11:35 am – 11:45 am 250SX Group A Qualifying
11:50 am – 12:00 pm 450SX Group A Qualifying
12:05 pm – 12:15 pm 450SX Group B Qualifying
12:20 pm – 12:30 pm 450SX Group C Qualifying
1:20 pm – 1:30 pm 250SX Group C Qualifying
1:35 pm – 1:45 pm 250SX Group B Qualifying
1:50 pm – 2:00 pm 250SX Group A Qualifying
2:05 pm – 2:15 pm 450SX Group A Qualifying
2:20 pm – 2:30 pm 450SX Group B Qualifying
2:35 pm – 2:45 pm 450SX Group C Qualifying
THE TOP 40 TIMES FROM QUALIFYING PRACTICE TRANSFER DIRECTLY TO HEAT RACES
4:30 pm – 5:11 pm Opening Ceremonies
5:11 pm – 5:19 pm 250SX Heat #1 – 6 Minutes/Plus 1 lap – 20 riders (1 – 9 to Main)
5:20 pm – 5:28 pm 250SX Heat #2 – 6 Minutes/Plus 1 lap – 20 riders (1 – 9 to Main)
5:33 pm – 5:41 pm 450SX Heat #1 – 6 Minutes/Plus 1 lap – 20 riders (1 – 9 to Main)
5:47 pm – 5:55 pm 450SX Heat #2 – 6 Minutes/Plus 1 lap – 20 riders (1 – 9 to Main)
6:10 pm – 6:17 pm 250SX Last Chance Qualifier – 5 Minutes/Plus 1 lap – 22 riders (1 – 4 to Main)
6:28 pm – 6:35 pm 450SX Last Chance Qualifier – 5 Minutes/Plus 1 lap – 22 riders (1 – 4 to Main)
6:48 pm – 7:05 pm 250SX Main Event – 15 Minutes/Plus 1 lap – 22 riders
7:29 pm – 7:51 pm 450SX Main Event – 20 Minutes/Plus 1 lap – 22 riders
*Events scheduled to change without notice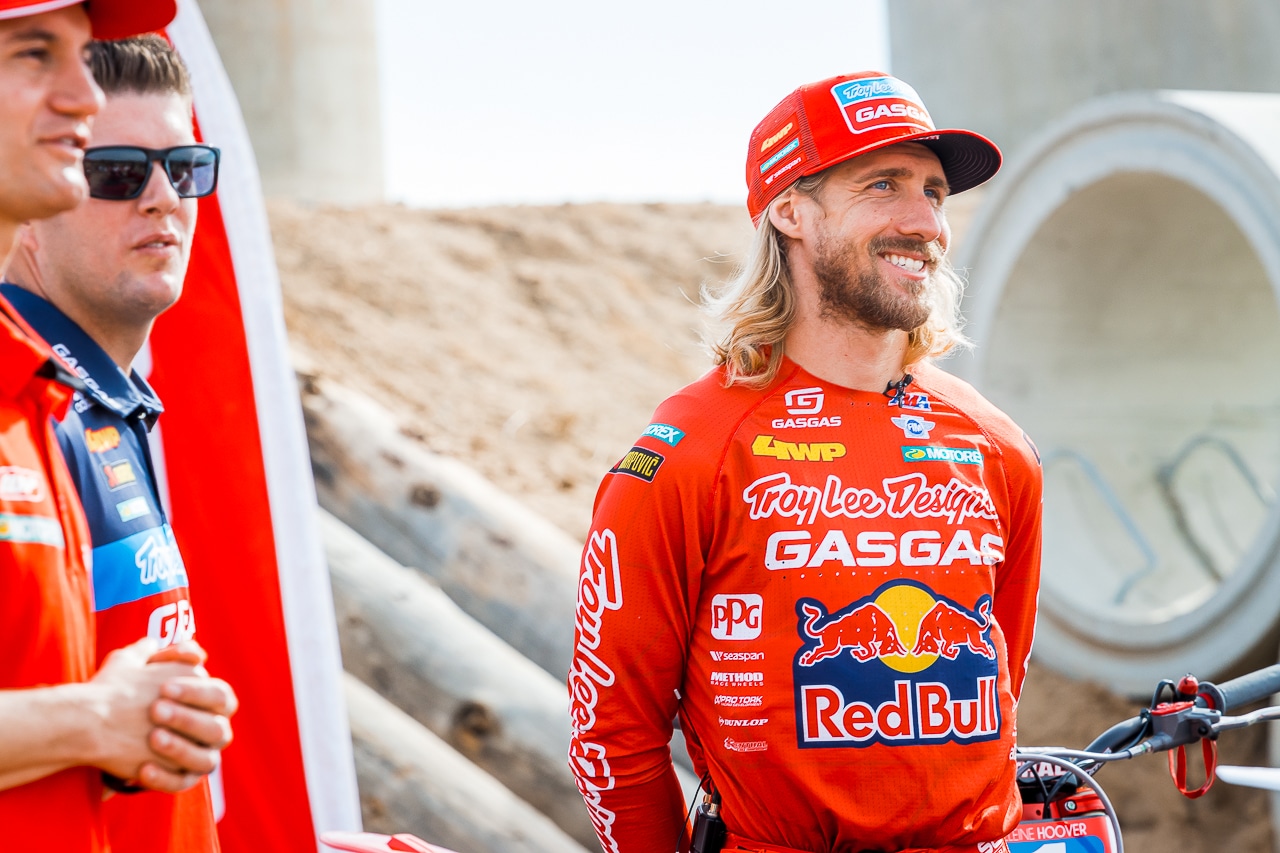 Justin Barcia looks happy with his new team for 2021.

Dean Wilson: "Honestly, my goal is just to get really good starts. I want to be up there on the starts and that will lead me to good finishes.  It is such a stacked class, in that if you don't get that start, you are going to make life really tough on yourself."

Christian Craig and his new Star Racing Yamaha YZ250F. 
Rockstar Husqvarna's Dean Wilson, Zach Osborne and Jason Anderson ready for the season opener.
Michael Mosiman will debut the Troy Lee Designs GasGas in the 250 class this weekend in Houston. 
The Star Racing Yamaha team has six riders in the 250 class (and that's not counting their three 450 riders). Three of the six will race this weekend to start off the 250SX East division and the other three will wait until the "West" division starts at Orlando Supercross #2. (From top left to right) Jeremy Martin, Christian Craig, Justin Cooper, Colt Nichols, Jarrett Frye, Nate Thrasher make up the Yamaha 250 team. 
REMEMBER THE FINAL POINT STANDINGS FROM LAST YEAR? SEE BELOW: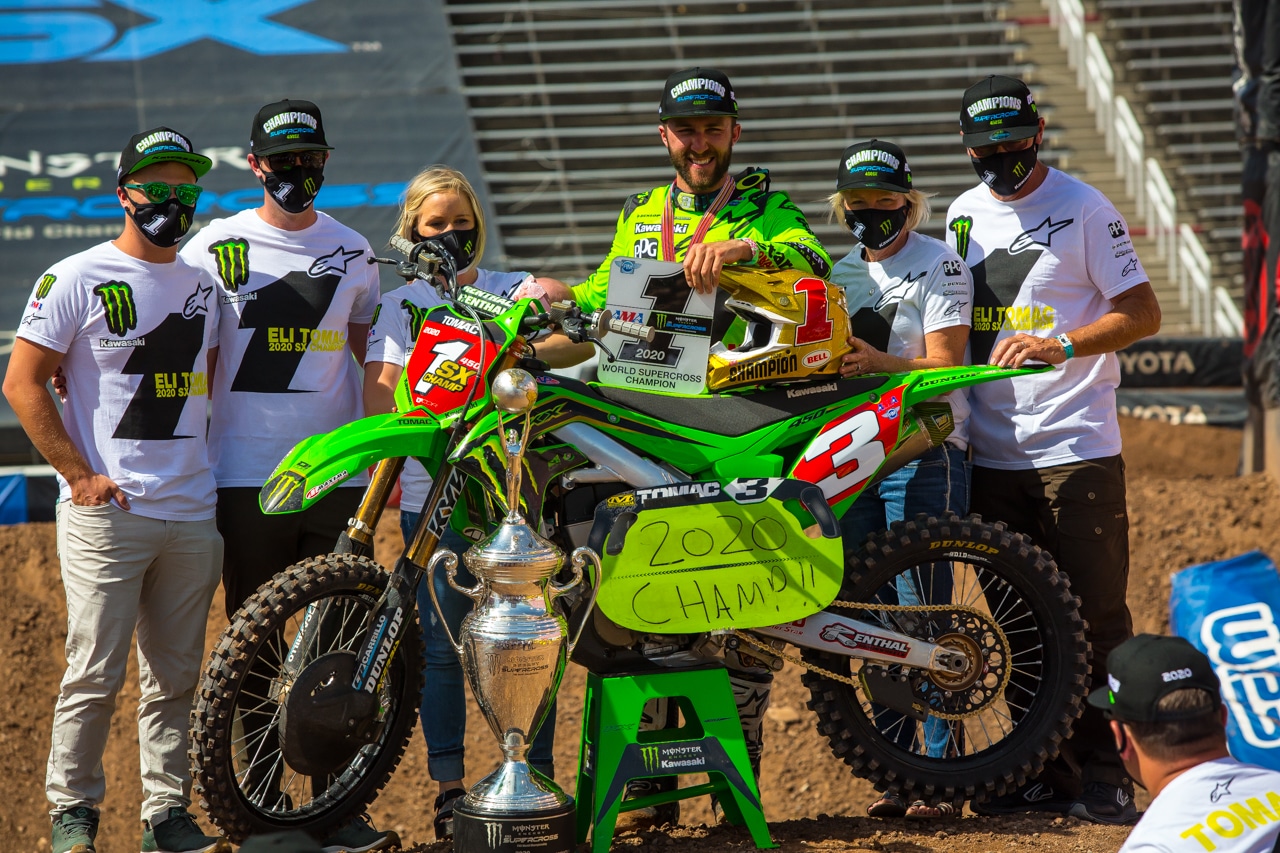 Eli Tomac will wear the red number one plate in 2021.
| | | |
| --- | --- | --- |
| 1 | Eli Tomac | 366 |
| 2 | Cooper Webb | 344 |
| 3 | Ken Roczen | 338 |
| 4 | Justin Barcia | 269 |
| 5 | Jason Anderson | 264 |
| 6 | Malcolm Stewart | 233 |
| 7 | Zach Osborne | 226 |
| 8 | Dean Wilson | 218 |
| 9 | Justin Brayton | 216 |
| 10 | Justin Hill | 199 |
HOUSTON'S NRG STADIUM LAST YEAR
PROS TRAINING FOR THE UPCOMING SEASON
Justin Barcia and his new TLD GasGas MC 450F. Click here to see our latest video of Justin on the new bike.