2021 HOUSTON SUPERCROSS 2 PRE-RACE REPORT: EVERYTHING YOU NEED TO KNOW (UPDATED)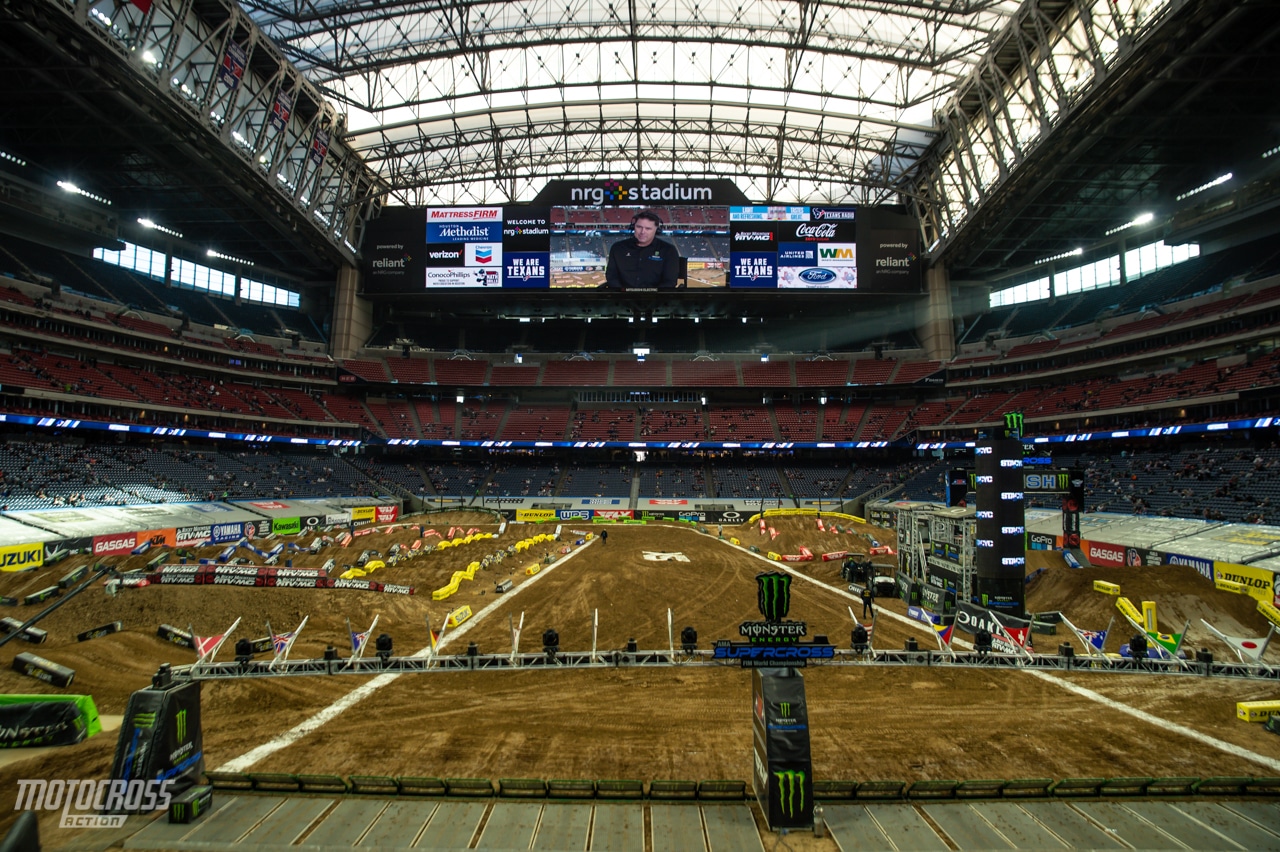 2021 HOUSTON SUPERCROSS 2 PRE-RACE REPORT: EVERYTHING YOU NEED TO KNOW
Supercross is back in Houston for the second round of the Monster Energy Supercross season. Last Saturday was nothing short of exceptional racing as riders from all around the United States showed up to make an impression on the competitors in the opening round. A sight we haven't seen in a while was the return of the fans back in the stadium. One thing we heard from the majority of racers was how big of a difference hearing the crowd in the stadium was. Last season in 2020, riders often said that having no fans often felt like a scrimmage match for racing. Now with the noise of cheering in the background, they were able to put their race face on and compete for the red plate.
In the opening round of Supercross, we knew the 450 field was going to be stacked but we did not expect that between the fastest qualifying time to 20th, there was only going be a difference of three seconds. Now with the first round over we can gauge who has a chance in the 250 class but anyone who qualifies for the 450 main has winning potential.  Ken Roczen and Justin Barcia battled it out for first place leaving Justin victorious. In the first time in 25 years, Barcia would win three season openers in a row, last one to do this was Jeremy McGrath.
We also saw another rider silence the critiques in the first round. Someone who is often overlooked in the sport and written off as lacking the speed they once had now has a fire ignited in them to win the championship. The number 29 of Star Yamaha's Christian Craig showed up to Houston  1 with one goal in mind. After getting the fastest lap time of the day out of all riders, winning his heat race, and then winning the main event, Christian knocked that chip off his shoulder that he has had for the past 5 years. Many emotions were expressed on the podium and the entire stadium cheered for the BluCru racer.
One last thing we saw that sparked our interests was the all-new WP Air Shock that was debuted not only on Justin Barcia's bike but the rest of the 450 factory riders that run WP suspension including Zach Osborne, Marvin Musquin, Jason Anderson, and Cooper Webb. The news of the Air Shock has been under the table info for now as WP has been developing the Air Shock for quite some time. Past riders who have tested the Air Shock but have had little success are Ryan Dungey and Andrew Short. Both riders have had the air shock deflate on the starting line in past races so it makes sense for WP wanting to perfect the technology before releasing the info to the public.
2021 HOUSTON SUPERCROSS 2: TV & STREAMING SCHEDULE
GasGas's Michael Mosiman had an unfortunate get off after having a run in with a lapper. He's ready for tomorrow and we hope to see the 42 charge on the pack.
Similar to the Houston 1, Houston 2 will be streamed on both NBC Sports Network and NBC channels. However, qualifying and the races will start later than normal being two and a half hours later than Houston 1's times.  And if you expect to watch the race live on TV, you will, unfortunately, be streaming the race hours after it will have already happened.  To watch Houston 2 live, you will have to subscribe to Peacock Premium which starts at $4.99 a month or else be stuck scrolling social media or our Live Supercross coverage to find out if your Supercross Fantasy picks came to fruition. If are on the fence of getting Peacock Premium, you also get a plethora of tv shows, movies, and more.
TIMES CAN CHANGE AT ANY MOMENT WITHOUT NOTICE
QUALIFYING SHOW 1:30 PM Central Time | 11:30 AM Pacific Time on PeacockTv.com.
NIGHT SHOW RACING (LIVE) –  7:30 PM Central Time | 5:30 PM Pacific Time on & PeacockTV
NIGHT SHOW RACING (DELAYED) –  9:30 PM Central Time | 7:30 PM Pacific Time on NBC Sports

2021 HOUSTON SUPERCROSS 2: WHAT YOU SHOULD KNOW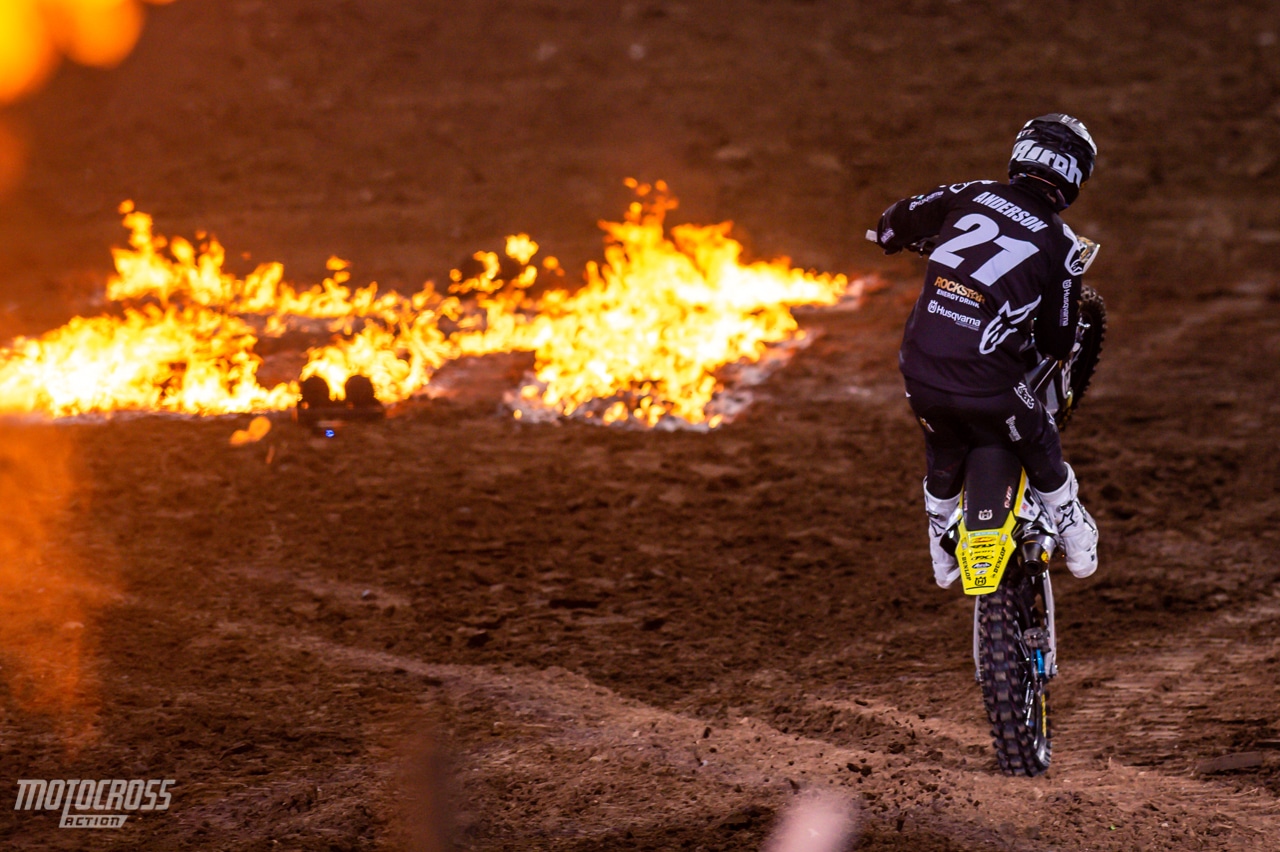 Opening ceremonies are back, and so is the fire.
The 450 class is one of the most stacked 450 fields we have seen in a long time. It wasn't very certain where the riders might place before the first round and to be honest, it is still hard to predict exactly who may win the championship. We can look at the current point standings to get a good idea but still, some riders underperformed/undelivered from what we expected. Eli Tomac is currently sitting 16 points behind the leader Justin Barcia while Cooper Webb got a ninth-place finish. Eli's worst finish in 2020 was a 7th and now he's starting off the season with a 13th. For being two former Supercross champions in the past two years, we kind of expected them to perform better, but then again, it is also the first round and anything could be expected.
Eli Tomac's worse finish in 2020 was a 7th overall. He started off the 2021 season with a 13th. Not a good start for the champ. 
The past 2020 Pro Motocross Champion, Zach Osborne got a rough start in main event, but managed to bump into tenth by the end of the race. If Zach gets a good start on Tuesday, we may see him perform really well and land a spot on the podium. Another rider who ran out of luck was Chase Sexton. Martin Davalos crashed in front of the Team HRC rider and unfortunately, with nowhere to go, Sexton would end up crashing as well. However, Chase also qualified as the fastest 450 in the day and in a similar situation to Osborne, if he can get a good start, we might expect him to do very well in the upcoming race.
If you are a fan heading to the races, you may not want to head through the gates with the highest expectations assuming it'll be just like previous years fanfest as a lot has changed due to COVID regulations. Fans do not get COVID tested unlike team personal and riders; however, there is a 10 foot radius around all of the trucks and trailers so no autographs on your baby's forehead this year. There is a 10,000  limit to fans in the stadium but on the bright side you won't be separated from your loved ones as groups have the ability to sit amongst one another in isolated "bubbles".
2021 HOUSTON 2 SUPERCROSS TRACK MAP

This is the track map for the second Houston Supercross race.
2021 HOUSTON SUPERCROSS 2: RACE DAY SCHEDULE
Check below for the full race day schedule for Houston. Times are in the Houston, Texas, Central Time Zone. 
QUALIFYING
1:50 pm – 2:00 pm 250SX Group C Qualifying
2:05 pm – 2:15 pm 250SX Group A Qualifying
2:20 pm – 2:30 pm 450SX Group A Qualifying
2:35 pm – 2:45 pm 450SX Group B Qualifying
2:50 pm – 3:00 pm 450SX Group C Qualifying
3:30 pm – 6:30 pm Stadium Doors Open (FanFest Pass Holders Only)
3:50 pm – 4:00 pm 250SX Group C Qualifying
4:05 pm – 4:15 pm 250SX Group B Qualifying
4:20 pm – 4:30 pm 250SX Group A Qualifying
4:35 pm – 4:45 pm 450SX Group A Qualifying
4:50 pm – 5:00 pm 450SX Group B Qualifying
5:05 pm – 5:15 pm 450SX Group C Qualifying
6:00 pm FanFest Entry Closed

EVENING PROGRAM
7:00 pm – 7:36 pm Opening Ceremonies
7:36 pm – 7:44 pm 250SX Heat #1 – 6 Minutes/Plus 1 lap – 20 riders (1 – 9 to Main)
7:50 pm – 7:58 pm 250SX Heat #2 – 6 Minutes/Plus 1 lap – 20 riders (1 – 9 to Main)
8:04 pm – 8:12 pm 450SX Heat #1 – 6 Minutes/Plus 1 lap – 20 riders (1 – 9 to Main)
8:18 pm – 8:26 pm 450SX Heat #2 – 6 Minutes/Plus 1 lap – 20 riders (1 – 9 to Main)
8:41 pm – 8:48 pm 250SX Last Chance Qualifier – 5 Minutes/Plus 1 lap – 22 riders (1 – 4 to Main)
8:52 pm – 8:59 pm 450SX Last Chance Qualifier – 5 Minutes/Plus 1 lap – 22 riders (1 – 4 to Main)

9:19 pm – 9:36 pm 250SX Main Event – 15 Minutes/Plus 1 lap – 22 riders
9:59 pm – 10:21 pm 450SX Main Event – 20 Minutes/Plus 1 lap – 22 riders
*Events scheduled to change without notice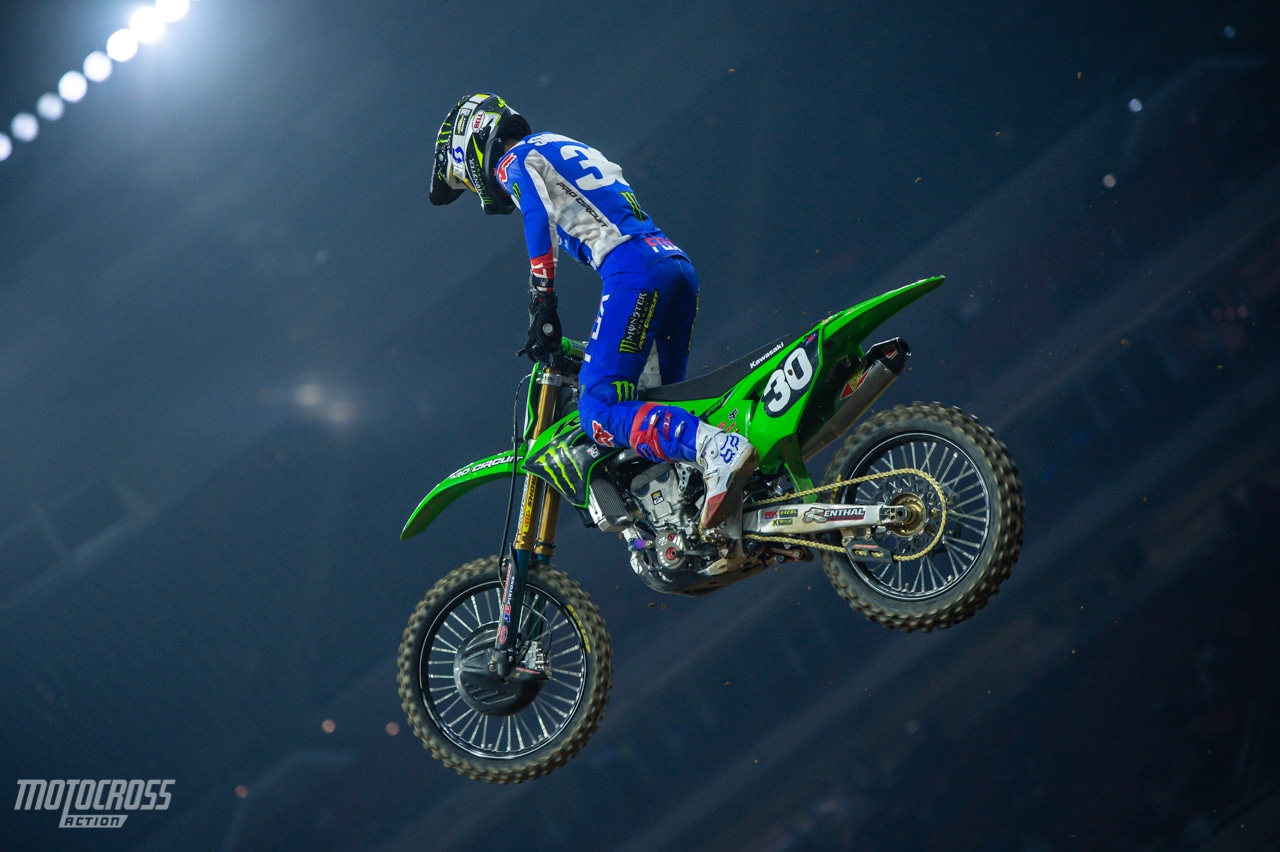 Jo Shimoda performed quite well in Houston 1 finishing with a fourth in the main event.
Rj Hampshire shared this photo on social media Tuesday morning. Looks like he'll be racing with stitches in his hand tonight. 
Colt Nichols skipped the 2020 outdoors season to heal from an injury and his rest looks like it has paid off as he managed to get third in the main event. Colt on Instagram, "H1 in the books,  third place on the night. Ready to do it all again Tuesday"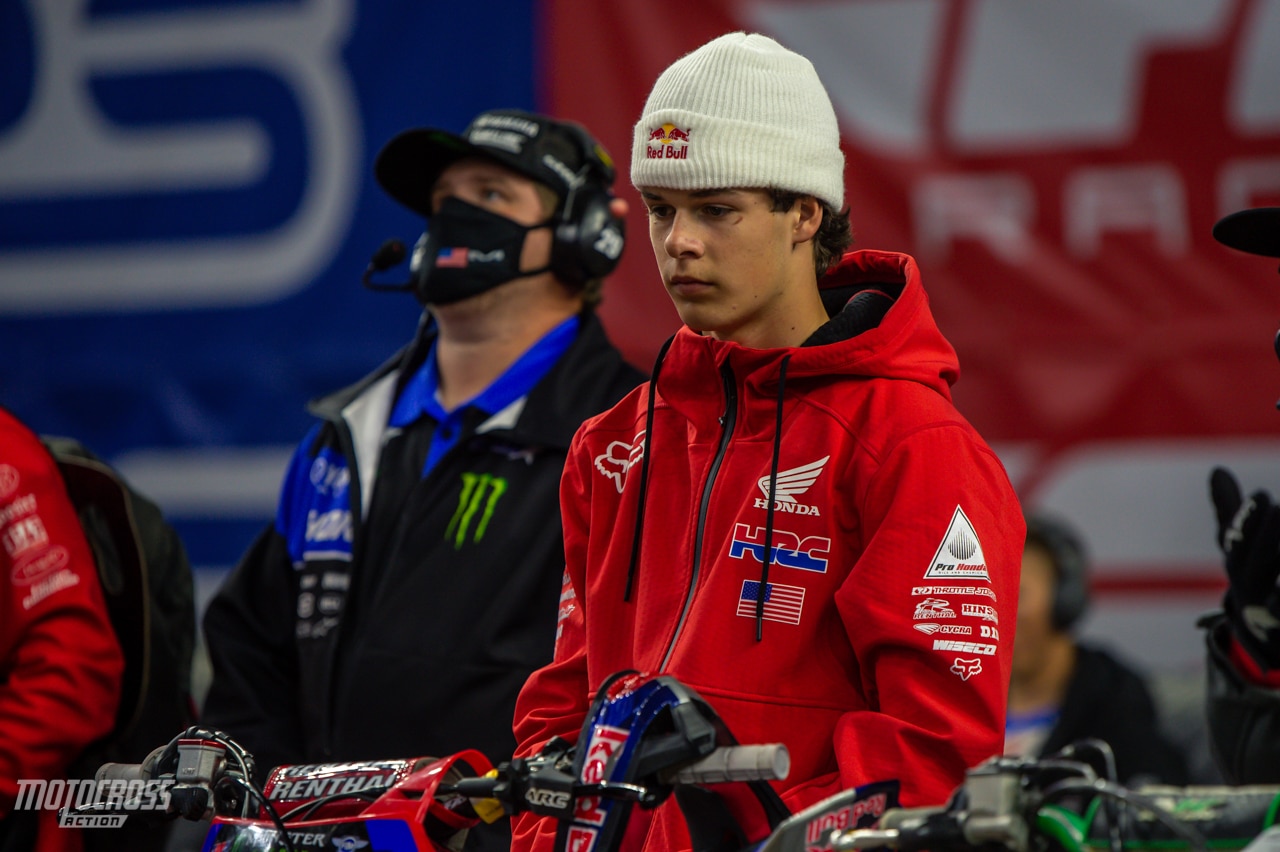 Jett is one rider that is on our radar. While he may still be young, he's got a lot of fight in him and we're expecting to see some very good results from the young Australian. Jett on Instagram, "Houston 1 done and dusted. Everything is there just need to put them all into place in the main. Thanks everyone for the messages and support I see them all and it means a lot thank you"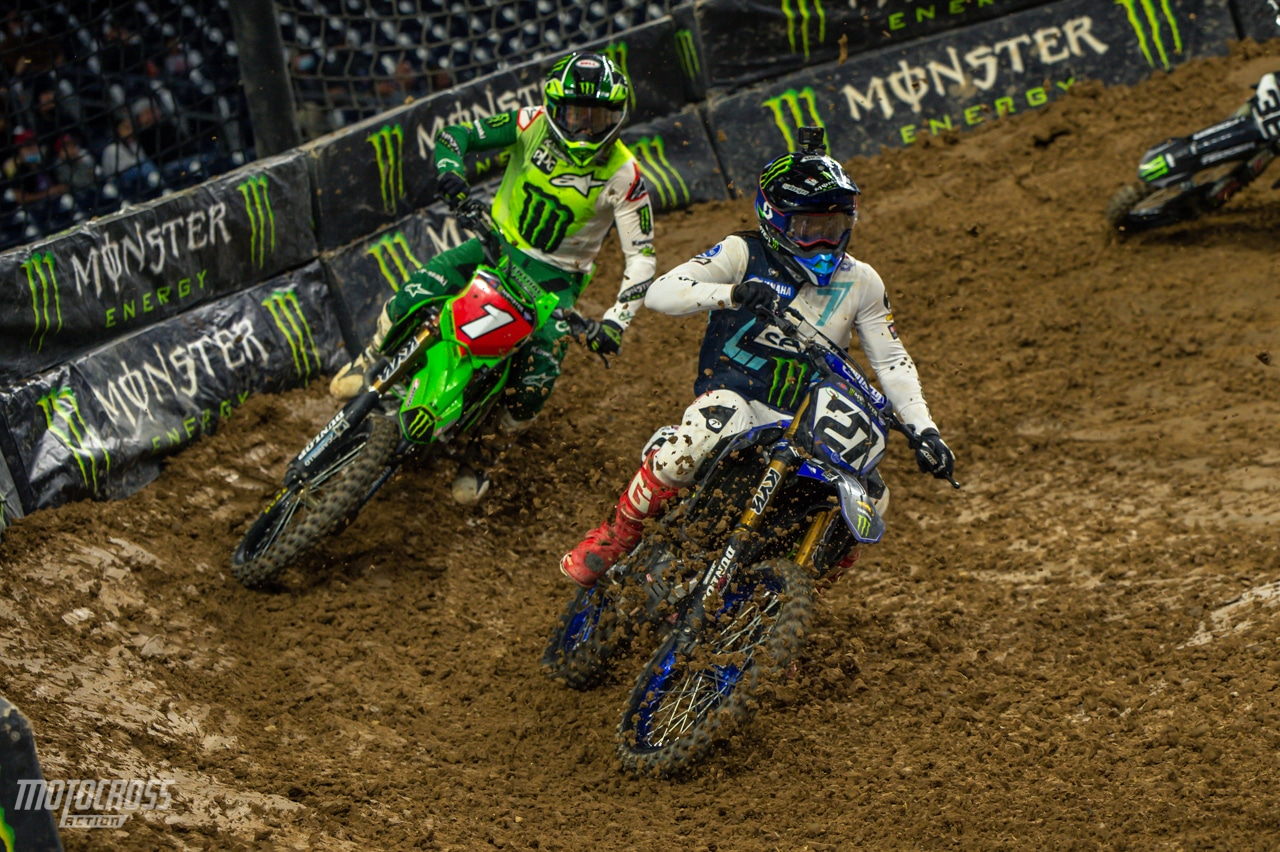 Malcolm Stewart on Instagram: "My first race with the new Star Racing 450 team is in the books and we came out with a solid P-5. It was a great way to start off the season. It felt good to have fans in the stadium again"
Justin Brayton may be 36 years of age, but his performance doesn't seem like anything over the age of 25. Justin is still one fastest riders in the world and finished a very respectable sixth place during the Houston 1 night show. Justin via Instagram, "Solid start to the new season with a 6th last night. Looking forward to round two on Tuesday!"
Interested in seeing some raw footage from Houston 1? Click Here to watch the riders spin some laps in NRG Stadium.