HOUSTON SUPERCROSS 3 PRE-RACE REPORT: TRACTION CONTROL, POINTS PENALTY & MORE
2021 HOUSTON SUPERCROSS PRE-RACE REPORT
The third round of the Monster Energy Supercross series is the last of three in Houston, Texas that will take place this Saturday, January 23rd inside NRG Stadium. The series has been nothing but edge of your seat action in Houston. There has been a different winner in each class at each round and the results have been mixed round to round. You would have better luck throwing a dart blindfolded with all the riders on the wall then guessing who would finish where.
If you haven't paid attention to any Supercross news after Tuedays race in Houston, then you wouldn't know that Ken Roczen and Jason Anderson were penalized 4 championship points each. That penalty took the factory Honda rider out of the points lead, giving it back to Justin Barcia heading into round three. Ken didn't like the decision as he voiced his opinion on his Instagram page (below) stating that he could not see the Red Cross flag because Dylan Ferrandis was blocking his view. We agree with Ken here and we are surprised that the AMA is sticking to their decision. Maybe if he was a Monster Energy sponsored rider then there would be exceptions? We hope the AMA is sticking to the rules without wavering this year. Only time will tell.
Official quote from Supercross: "Per AMA Rule 4.16.E.9.C, four riders in Tuesday's Houston Supercross have been penalized for jumping on a red cross flag. The penalty for each rider is the loss of championship points and purse equal to two positions for that race, plus two additional points. Riders affected are Ken Roczen, Jason Anderson, Vince Friese and Martin Davalos."
Ken highlighted AMA Rule 4.16.E.9.C and 4.16.E.9.G in the rulebook:
C. During a Main Event race, if no positions were gained, the penalty will be points and purse to two equal positions in the final results for that race plus two additional points.
G. If at any time, Race Direction determines that it was not a blatant violation of the rule, a warning or fine may be issued."
https://www.instagram.com/p/CKRtXvsA0ch/
JETT LAWRENCE HAS SOMETHING UNIQUE GOING ON
Jett Lawrence was asked in the post race press conference after he won last weekend if he had traction control. He said he didn't know. We looked at his bike more closely and found this. 
In the post race press conference after he won last weekend he was asked if he was running some sort of traction control. This is what he had to say:
"That's under the radar. That's some HRC stuff that we didn't really get at Geico.No, I've got no idea. You're asking the wrong guy for the testing part. I just go and ride the bike. All I've got to know is that it has two wheels and they're a circle. That is all I got to know."
Another view of what we suspect is some sort of data logger. 
In the AMA Supercross rule book it stats that traction control in illegal, so we are assuming this contraption is a data logging device. Here is what the rule stats:
1.15 Telemetry and Traction Control
Electronic devices designed specifically for traction control are prohibited. This includes sensors that can determine front wheel speed and any electronic control to the brake systems.
Electronic transmitting of information, including radio communication to or from a moving motorcycle, is prohibited with the following exceptions:1. Official transponders utilized for scoring purposes (mandatory equipment assigned by Timing and Scoring).2. Data or video transmitted or recorded for the sole use by the approved event television production.3.Electronic lap timing devices are permitted. Transmitter beacons must be in an approved area. GPS may be used for lap timing and track mapping only. Receivers/antennas shall not be mounted on the front area of the front number plate.
Data logging is permitted but the information may not be downloaded in real time from a moving motorcycle.
Information downloaded from the motorcycle may be reviewed by the Chief Technical Inspector at any time. Any data viewed by the Chief Technical Inspector will remain confidential.
CHASE SEXTON OUT FOR 2021 HOUSTON SUPERCROSS 3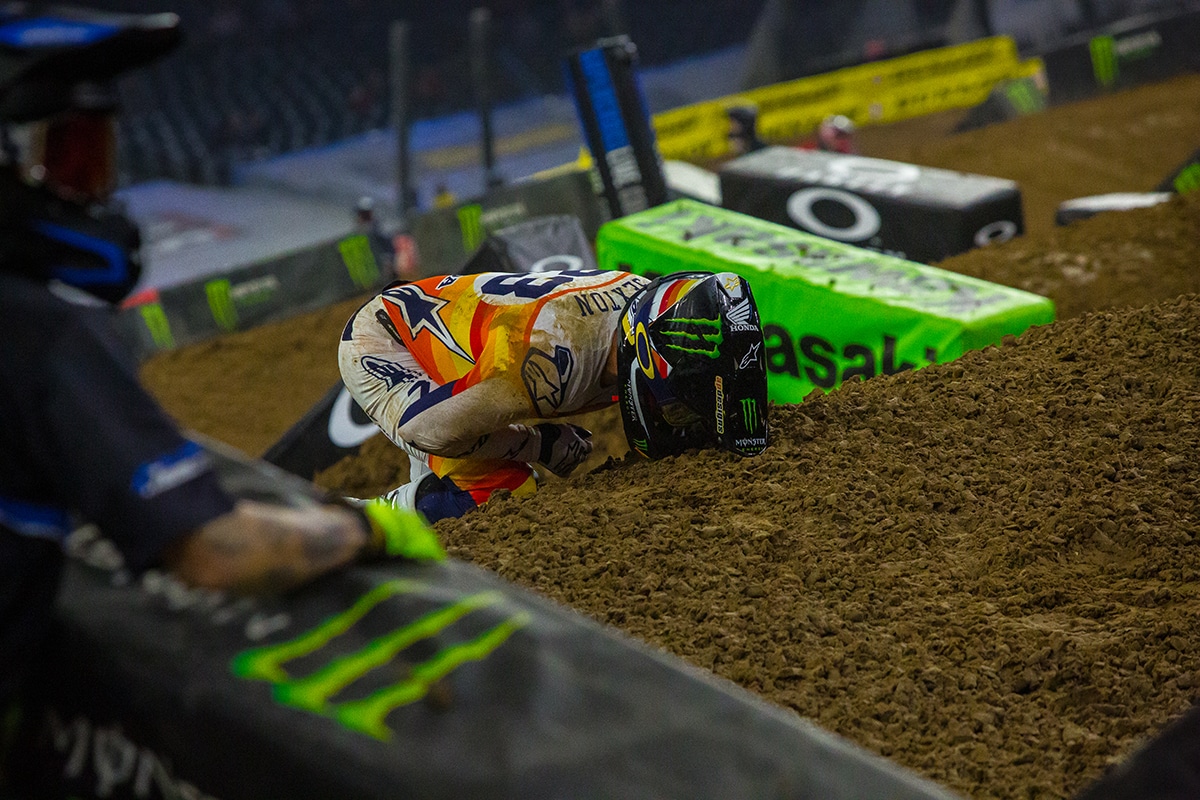 Chase Sexton went down hard in the sand section while in the lead at the second Houston SX round. 
The 450 rookie sensation, Chase Sexton went on to lead the 450 Main Event in front of the best in the world. He was riding exceptional until the dreaded sand section caught Chase off guard throwing him over the bars and into the the next jump. His shoulder took the brunt of the hit. Unfortunately, Chase Sexton will not line up for the race this weekend and he's headed home to Florida to get further evaluated. Without much protection and such a hard hit (see for yourself in the video below at the 48 second mark) it could take some time for this one to heal. To learn more, click here.
HOUSTON 3 SUPERCROSS TV SCHEDULE
Don't miss this weekends race! Watch it on Peacock or NBC Sports. 
This weekends race will air live on Peacock and NBCSN at 8:00 pm Eastern time. Qualifying will be live on Peacock at 2:00 pm Eastern time. For more details on the live Peacock coverage read below:
Beginning with the start of the 2021 Monster Energy Supercross season on Jan. 16, NBC Sports' exclusive streaming coverage will move from NBC Sports Gold's "Supercross and Pro Motocross Pass," "Supercross Pass" and "Pro Motocross Pass" to Peacock Premium, which is available for $4.99 per month.
The Supercross and Pro Motocross packages included on Peacock Premium will serve as a one-stop shop for all Monster Energy Supercross and Lucas Oil Pro Motocross Championship fans. Peacock Premium will offer comprehensive live coverage and on-demand replays of their respective 2021 seasons, including Supercross qualifiers and races, and Pro Motocross main practice sessions, qualifiers, Moto 1s and Moto 2s.
Supercross and Pro Motocross streaming coverage on Peacock will complement robust linear coverage in 2021 of both series as part of NBC Sports' 'Home of Motorsports' programming. The Supercross season kicks off on Saturday, Jan. 16 in Houston while the Pro Motocross season begins later in 2021.
HOUSTON 3 SUPERCROSS TRACK MAP: RIGHT HAND FIRST CORNER?

This is the track map for Houston 3. The right-hand first turn seems like an odd choice given the excessive number of first turn crashes in the first two races.

450 SX POINT STANDINGS
Justin Barcia will still have the red plate heading into the third round. 
| | | | |
| --- | --- | --- | --- |
| POS. | # | NAME | POINTS |
| 1 | 51 | Justin Barcia | 40 |
| 2 | 14 | Dylan Ferrandis | 39 |
| 3 | 10 | Justin Brayton | 38 |
| 4 | 25 | Marvin Musquin | 38 |
| 5 | 94 | Ken Roczen | 37 |
| 6 | 1 | Eli Tomac | 36 |
| 7 | 27 | Malcolm Stewart | 34 |
| 8 | 2 | Cooper Webb | 33 |
| 9 | 9 | Adam Cianciarulo | 30 |
| 10 | 16 | Zach Osborne | 26 |
250 SX POINT STANDINGS
Christian Craig means business. 
| | | | |
| --- | --- | --- | --- |
| POS. | # | NAME | POINTS |
| 1 | 29 | Christian Craig | 47 |
| 2 | 64 | Colt Nichols | 44 |
| 3 | 18 | Jett Lawrence | 43 |
| 4 | 38 | Austin Forkner | 40 |
| 5 | 30 | Jo Shimoda | 37 |
| 6 | 42 | Michael Mosiman | 35 |
| 7 | 24 | Rj Hampshire | 32 |
| 8 | 49 | Mitchell Oldenburg | 31 |
| 9 | 115 | Max Vohland | 29 |
| 10 | 95 | Joshua Osby | 26 |