2021 INDIANAPOLIS SUPERCROSS 1 PRE-RACE REPORT: SEXTON & HAMPSHIRE OUT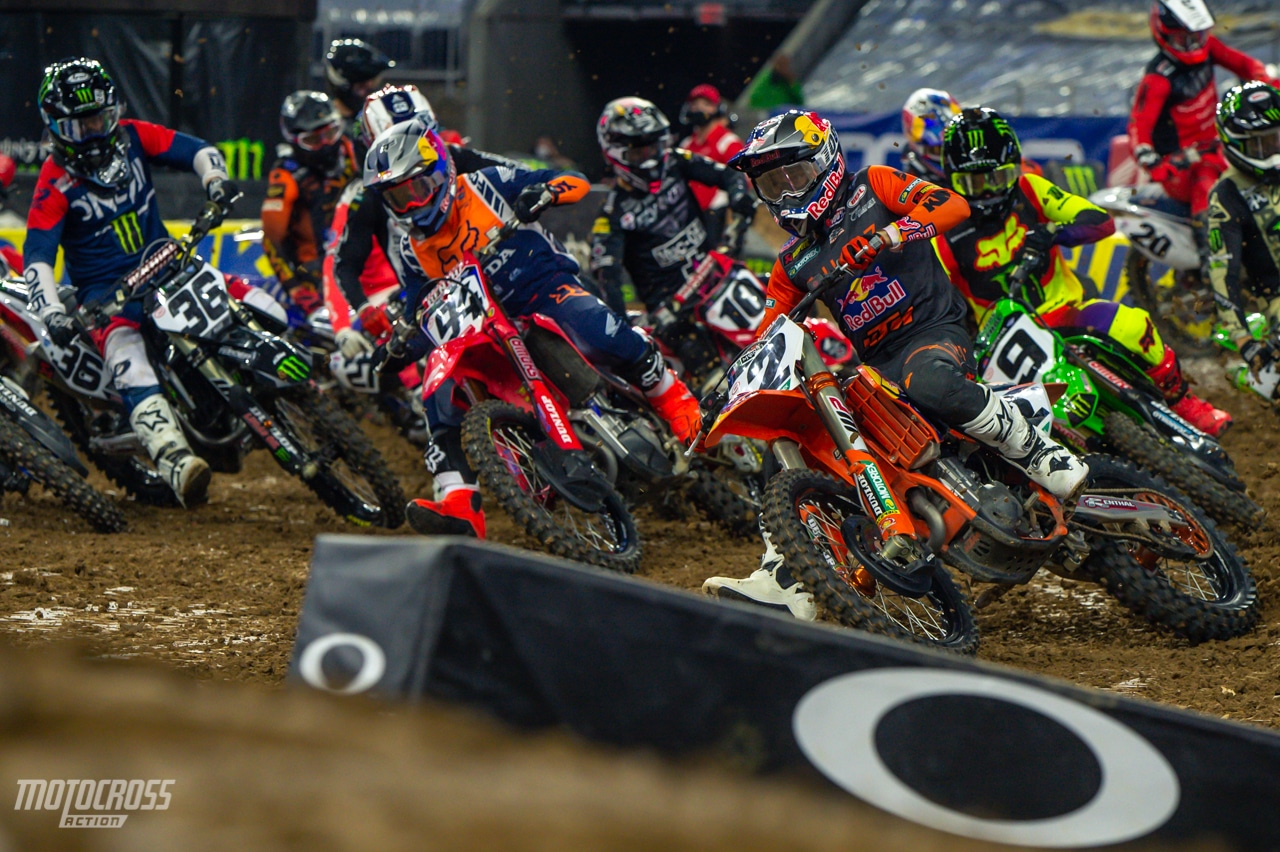 INDIANAPOLIS SUPERCROSS PRE-RACE REPORT | ROUND #4 OF THE 2021 MONSTER ENERGY SUPERCROSS SEASON
The 2021 Monster Energy Supercross finally changes locations after a stellar three-round series located in NRG Stadium in Houston, Texas. Now with the series heading to Indianapolis, Indiana, the fourth round is about to begin as the riders and teams take their week-long break before the gate drops. Something we've come to expect with a triple header in Indy is that the track layout will have defined lanes that the track crew will then alternate the direction and turns along with the rhythm sections for each separate round of the series. This gives riders some amount of variation and Dirt Wurx, the track crew, the ability to crunch a lot of changes in a short amount of time.
Already observing round 4's track map, we have significant differences from the first three rounds. A shorter start straight, two sets of whoops, and an over-under will provide more variety for the riders. The Houston dirt was considered by many to be some of the tackiest, stickiest dirt in the entire series with the track barely resembling what it looked like before practice due to the very short lap times. Shorter lap times meant riders were riding over the same spots more frequently as well as lap traffic playing a larger role. Lap traffic would have a profound effect in the Houston rounds as the leaders started to ride the rear fenders of the slower riders only a few laps into the race. Looking at Indy's first round, we may expect similar results.
As Indy is about to host the next location of the Monster Energy Supercross series, many riders have already made a huge impact in the points chase. Riders like Christian Craig and Colt Nichols head to the fourth round tied for first in the championship while riders like Ken Roczen and Cooper Webb are only separated by a point. Heavy hitters like Austin Forkner and Rj Hampshire weren't able to make the main in Houston giving the two Star Yamaha riders, Jett Lawrence, Jo Shimoda and Michael Mosiman an easier path to championship points. We don't think anyone was really expecting the 2021 Monster Energy Supercross season to be this filled with good racing and a very exciting championship chase, but we look forward to the fourth installment of the series located in Lucas Oil Stadium.
CHASE SEXTON OUT FOR INDIANAPOLIS SUPERCROSS 1
Unfortunately, Chase Sexton's shoulder hasn't full healed since his crash at Round 2 of Supercross. He won't be lining up this Saturday but he hopes to return to racing on February 6th for the third Round in Indianapolis. For more info on Chase Sexton's current condition, click here.
RJ HAMPSHIRE OUT FOR 2021 INDIANAPOLIS SUPERCROSS 1
Sadly, Rj Hampshire is out for Indy. Read his instagram post below:  
Rj Hampshire:"Last week was rough. Saturday I had a crash in free practice which resulted in a Perilunate dislocation to my right wrist, chipped my ulna and fractured a metacarpal in my left hand. They reset my wrist in the hospital Saturday but had surgery Wednesday to repair the ligaments. Obviously it's devastating. I'm disappointed in Myself and for the people that support me. All there's to do is continue to be the best person I can be on and off the bike, pick myself up and move on. I have a lot left and will work on being better. I appreciate the support and looking forward to a better comeback!"
AUSTIN FORKNER OUT FOR 2021 INDIANAPOLIS SUPERCROSS 1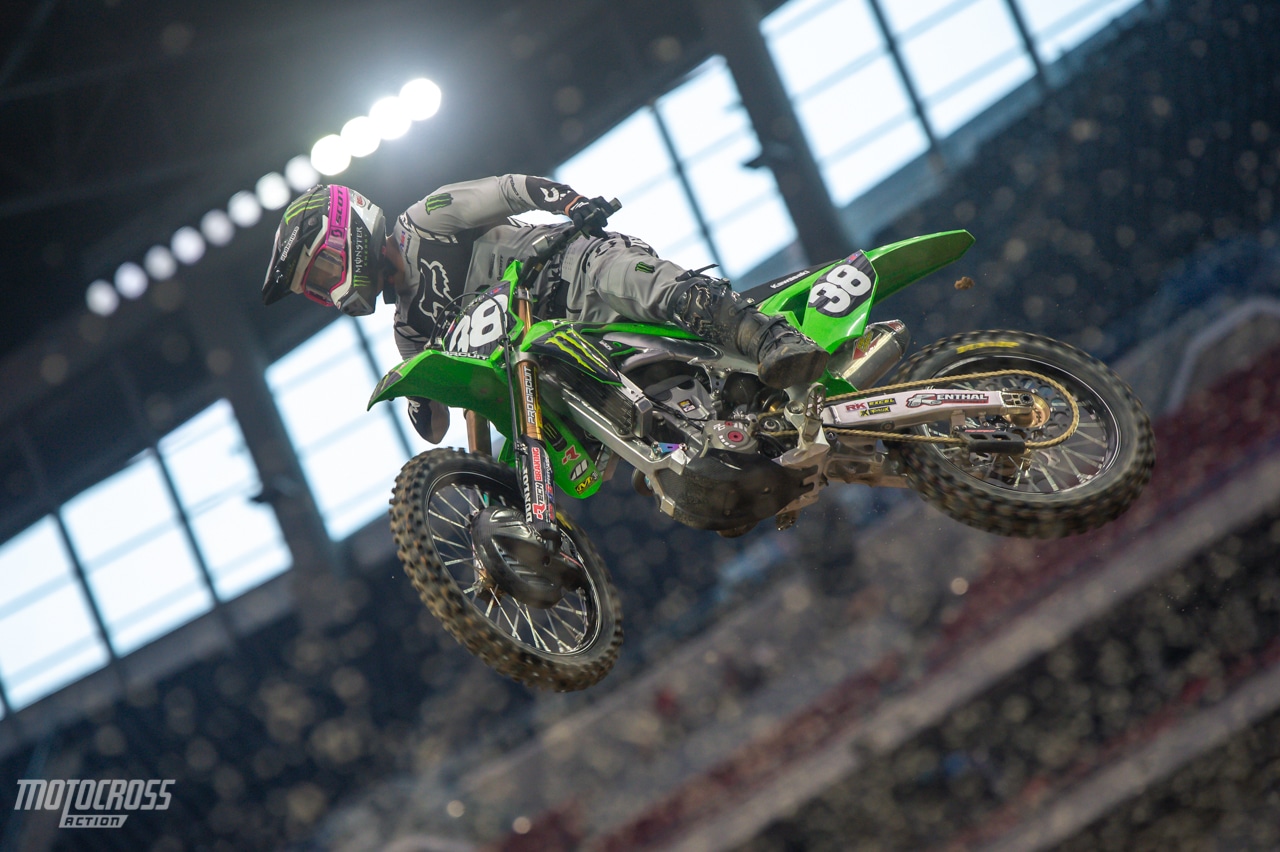 Kawasaki released a statement on Austin Forkner Friday afternoon before Saturday's race stating that Austin will not line up for Round 4 and that "he is working closely with medical professionals to determine a return to racing."
DEAN WILSON BANGED UP AFTER PRACTICE CRASH, STILL RACING
Dean Wilson had a big crash this week while training. He shared a photo of his foot and an update via instagram.
Dean Wilson:"Well I'm no foot model but pretty sure it's not suppose to look like this. Unfortunately somehow got a neutral off a jump with 3 laps to go on Wednesday. I ejected off my bike landing on my feet cartwheeling. Ended up breaking my big toe, sprained ankle & got lucky with my knee after getting mri it's just a contusion / bone bruising but had to get 165cc drained out of it. It's Friday and im still at home, I originally wasn't going to go to the race but I'm feeling a little better & will give it a go tomorrow. Thank you everyone that has my back. – Deano"
2021 INDIANAPOLIS SUPERCROSS 1: TV & STREAMING SCHEDULE
The points lead is separated by 1 point. Ken Roczen has the lead while Justin Barcia and Cooper Webb are tied for second.
The weekend races will be aired live on Peacock Premium and NBCSN at 8:00PM Eastern Time, 5:00PM Pacific Time. Qualifying will be live on Peacock Premium starting at 2:00PM Eastern Time, 11:00AM Pacific Time.

Beginning with the start of the 2021 Monster Energy Supercross season on Jan. 16, NBC Sports' exclusive streaming coverage will move from NBC Sports Gold's "Supercross and Pro Motocross Pass," "Supercross Pass" and "Pro Motocross Pass" to Peacock Premium, which is available for $4.99 per month.
The Supercross and Pro Motocross packages included on Peacock Premium will serve as a one-stop shop for all Monster Energy Supercross and Lucas Oil Pro Motocross Championship fans. Peacock Premium will offer comprehensive live coverage and on-demand replays of their respective 2021 seasons, including Supercross qualifiers and races, and Pro Motocross main practice sessions, qualifiers, Moto 1s and Moto 2s.
Supercross and Pro Motocross streaming coverage on Peacock will complement robust linear coverage in 2021 of both series as part of NBC Sports' 'Home of Motorsports' programming. The Supercross season kicks off on Saturday, Jan. 16 in Houston while the Pro Motocross season begins later in 2021.
INDIANAPOLIS 1 SUPERCROSS TRACK MAP: MORE WHOOPS AND AN OVER-UNDER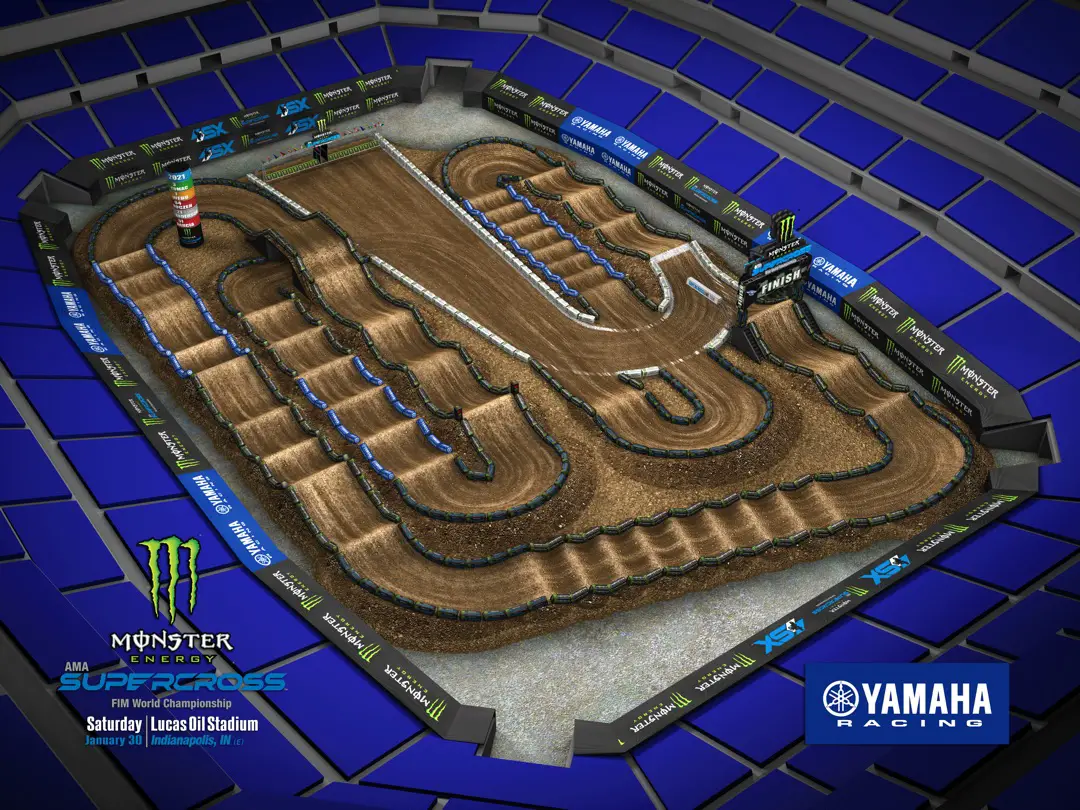 This is the track map for the first round in Indianapolis. It adds some variety to the series with two sets of whoops, an over-under jump, and a shorter start.
450 SX POINT STANDINGS
Ken Roczen comes into round 4 with the red plate and points lead. Well point lead if you're counting the fact that he only has a one-point advantage over both Cooper Webb and Justin Barcia. It's pretty crazy how close the championship is this year.
| | | | |
| --- | --- | --- | --- |
| POS. | # | NAME | Total Points |
| 1 | 94 | Ken Roczen | 60 |
| 2 | 2 | Cooper Webb | 59 |
| 3 | 51 | Justin Barcia | 59 |
| 4 | 1 | Eli Tomac | 54 |
| 5 | 14 | Dylan Ferrandis | 51 |
| 6 | 9 | Adam Cianciarulo | 51 |
| 7 | 10 | Justin Brayton | 51 |
| 8 | 27 | Malcolm Stewart | 51 |
| 9 | 25 | Marvin Musquin | 49 |
| 10 | 16 | Zach Osborne | 40 |
250 SX POINT STANDINGS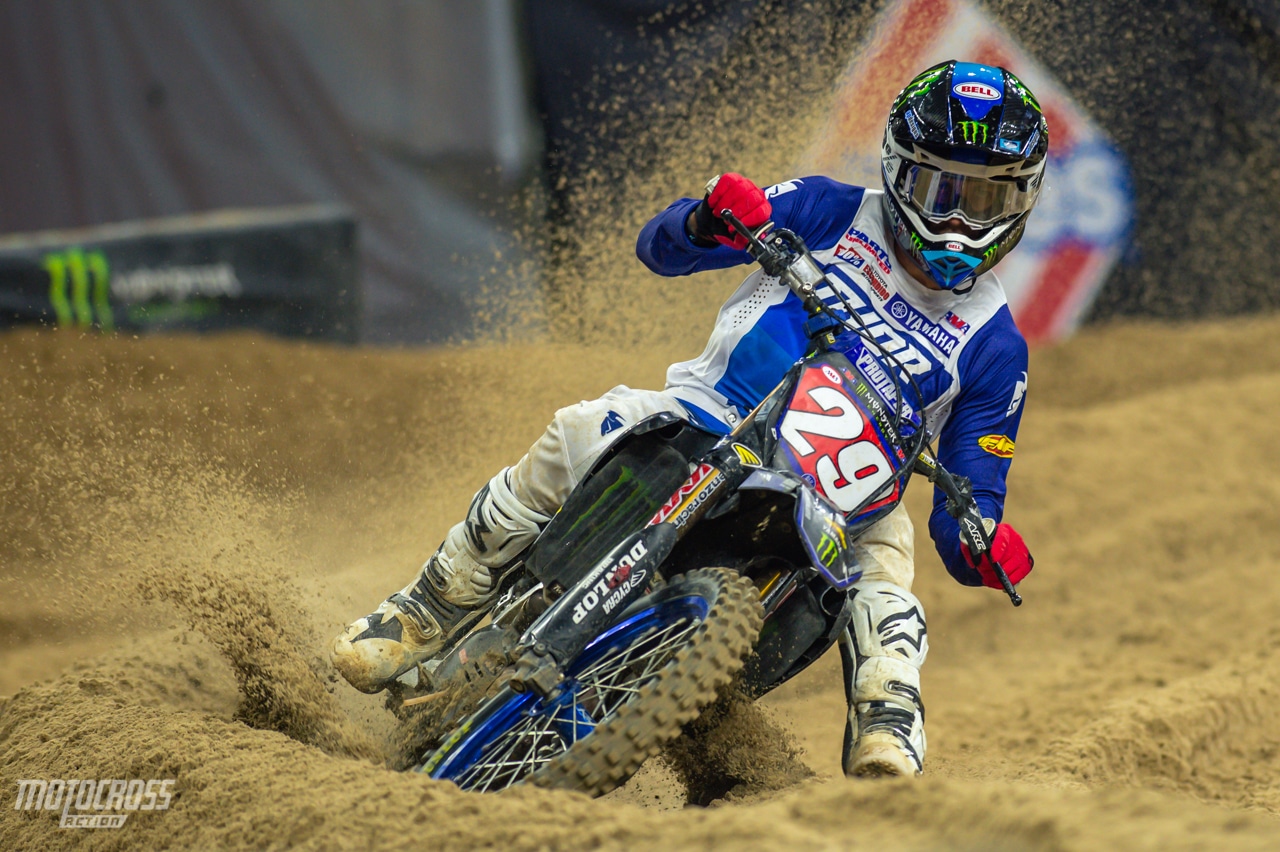 Both Christian Craig and Colt Nichols are sharing the points lead for the championship coming into round four. 
| | | | |
| --- | --- | --- | --- |
| POS. | # | NAME | Total Points |
| 1 | 64 | Colt Nichols | 70 |
| 2 | 29 | Christian Craig | 70 |
| 3 | 18 | Jett Lawrence | 64 |
| 4 | 30 | Jo Shimoda | 56 |
| 5 | 42 | Michael Mosiman | 53 |
| 6 | 115 | Max Vohland | 46 |
| 7 | 95 | Joshua Osby | 42 |
| 8 | 38 | Austin Forkner | 40 |
| 9 | 55 | John Short | 39 |
| 10 | 49 | Mitchell Oldenburg | 34 |