2021 IRONMAN NATIONAL PRE-RACE: MUSQUIN, BARCIA, ANSTIE, CRAIG, WILSON, MARCHBANKS & HAMMAKER ARE OUT

BREAKING NEW! MUSQUIN, WILSON, CRAIG, ANSTIE, BARCIA, MARCHBANKS & HAMMAKER ARE OUT OF INDIANA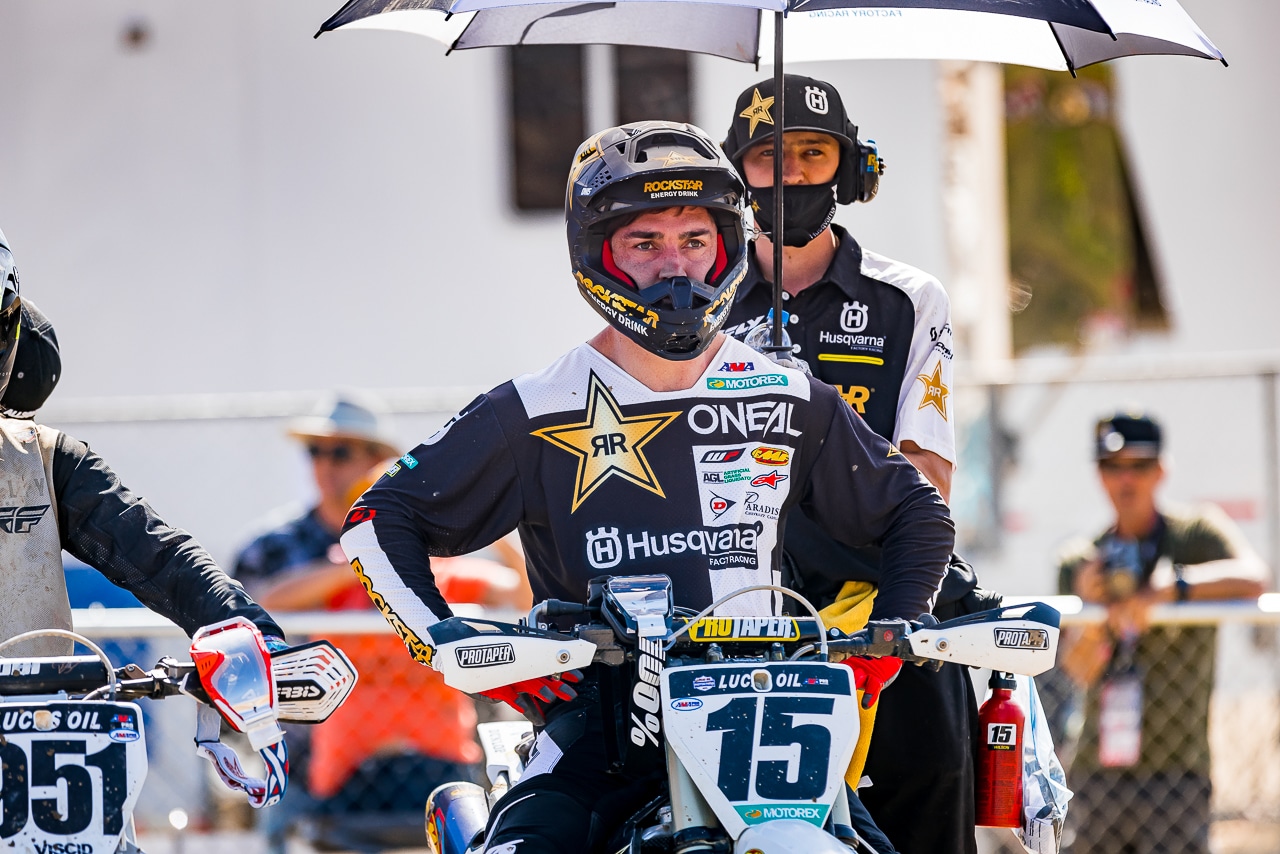 Dean Wilson has been racing through the Epstein-Barr Virus, which exhibits itself as extrem fatigue, but  he will not be in Crawfordsville tomorrow because, the virus has won the battle over Dean's effort to help the short-handed Husqvarna team, that lost both Jason Anderson and Zach Osbonrne to injuries. Dean says that he isn't getting better and needs to take time off to rest.
Twisted Tea Suzuki rider Max Anstie has been diagnosed with Covid-19 and will have to quarantine himself, which means that he will not be at the 2021 Ironman National on Saturday. No word on what MX Sports plans to do about riders, mechanics or team personnel who may have been in contact with Max in the last week.
MXA saw Justin Barcia ridng at Glen Helen this past Tuesday, but he was obviously taking it easy. Baraci suffered a concussion two weeks ago and had to miss Budds Creek and will not be racing Crawfirdsville this week.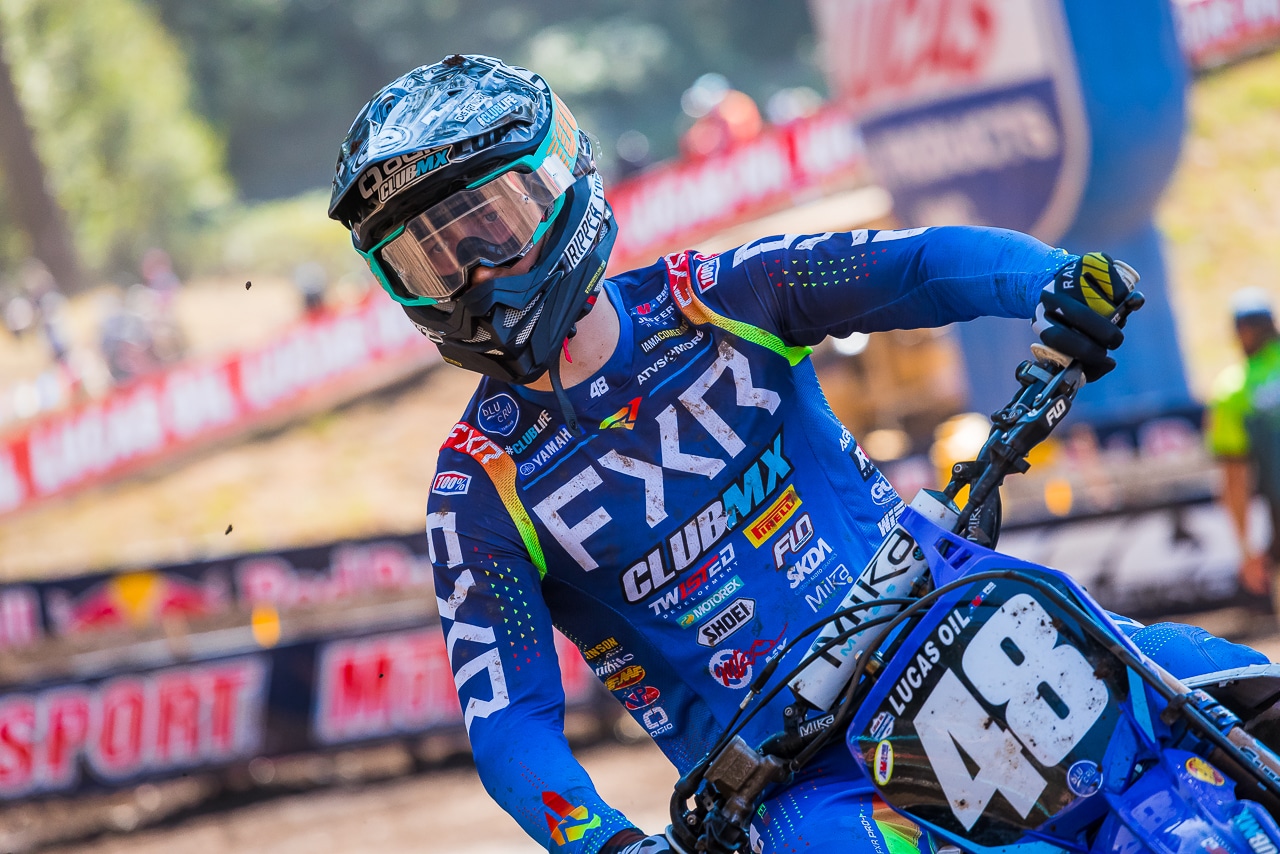 Garrett Marchbanks will not be at Crawsfordville this weekend either after suffer from complications after arm pump surgery. He is expected to return at Pala on September 4.
Seth Hammaker crashed twice last week at Budds Creek and the second crash forced him to sit out the second moto. He will miss the 2021 Ironman National in Indiana, and will be re-evaluated weekly.
Marvin Musquin was a last-minute drop-out from the Ironman National with Covid-19.
Christian Craig is not on the line at Crawfordsville because of injuries suffered in last week's Budds Creek Crash. When you add 450 riders Anstie, Musquin, Barcia, Wilson and Craig to previously injured Adam Cianciarulo, Zach Osborne and Jason Anderson, you have a seriously depleted 450 field. 
The tenth round of the 2021 Pro Motocross season is at Ironman Raceway located in Crawfordsville, IN. While the season is coming close to an end, there is still plenty of great racing at each and every round, and we expect the same to take place at the tenth round of the season as Dylan Ferrandis and Justin Cooper hold the lead in the points. Like many of the tracks on the circuit, Ironman is a beautiful Motocross track with lush green trees surrounding the area, which also tend to create dark spots on the track. Once the track is hammered by the racers, the racing becomes even more technical as the riders have to dart in between the lines and the shadows of the Indiana terrain. Nonetheless, it is always amazing to see how much speed some of the riders can carry in and out of the shadows.
If you want to learn more about the TV schedule, who's injured and out of the weekend, and a quick refresher of where your favorite rider lands in the points, scroll down below as we'll be reporting all the action from the races.
2021 IRONMAN NATIONAL TV SCHEDULE
Both Washougal motos will be shown LIVE on MavTV, Peacock, and NBCSN. Pretty sweet.
QUALIFYING SHOW – 7:00 AM Pacific, 10:00 AM Eastern – Peacock Premium

250 MOTO 1 – 10:00 AM Pacific, 1:00 PM Eastern – MAVTV & Peacock

450 MOTO 1 – 11:00 AM Pacific, 2:00 PM Eastern – MAVTV & Peacock


250 MOTO 2 – 12:00 PM Pacific, 3:00 PM Eastern – NBCSN & Peacock

450 MOTO 2 – 1:00 PM Pacific, 4:00 PM Eastern – NBCSSN & Peacock
Coverage of the Ironman National will begin at 1 p.m. PT / 4 p.m. ET on the MAVTV. The opening motos of both the 250 Class and 450 Class will kick off the afternoon and will transition directly into the second and deciding set of motos for each division on NBCSN, starting at 3 p.m. PT / 6 p.m. ET.
---
RED ON BLUE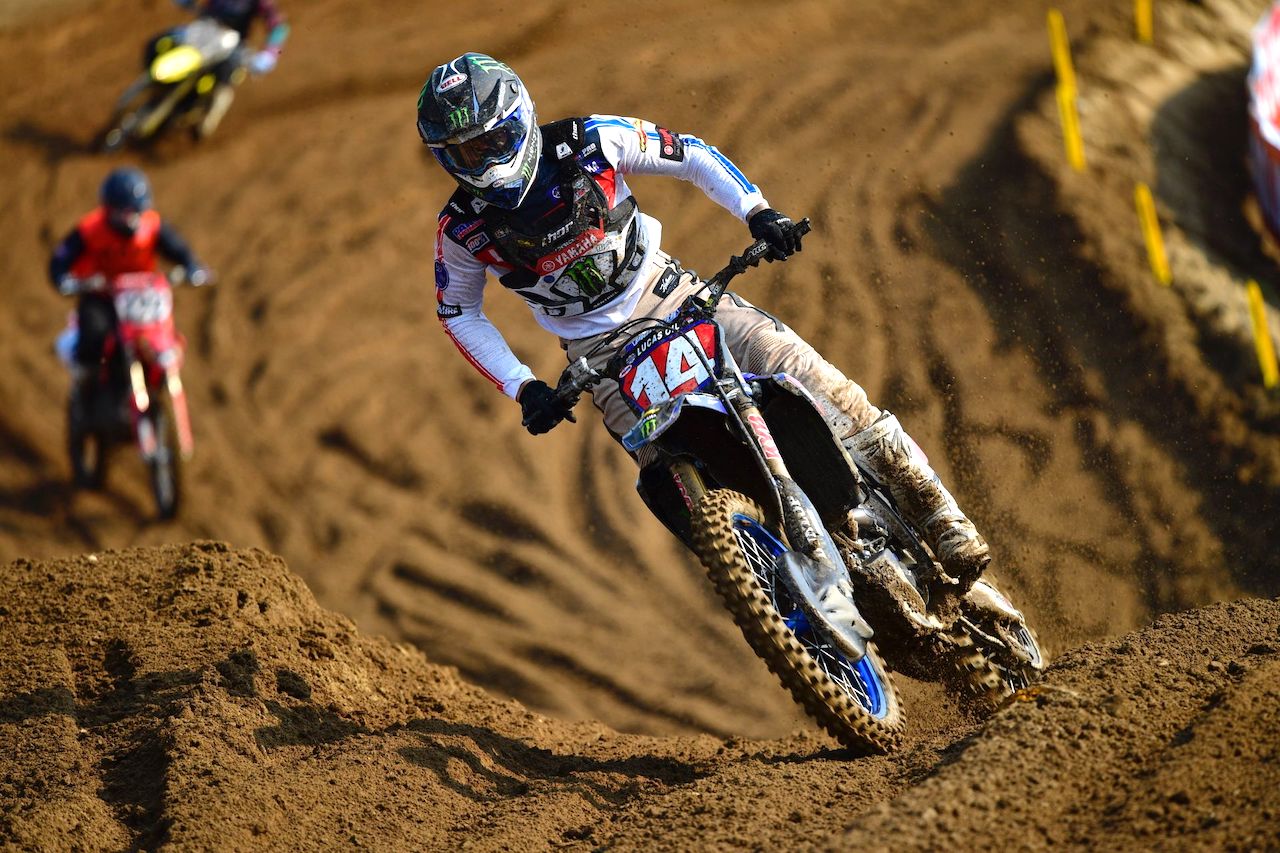 It's going to be tough to beat these Yamaha guys.
After an extremely close set of motos the weekend prior, Dylan Ferrandis walked away with the overall after winning the second moto, beating Ken Roczen. Dylan remains in charge with a 39 point lead over Ken Roczen after the two both went 1-2 and 2-1 at Budds Creek.
There are two riders throwing a wrench in Justin Cooper's plans on holding the red plate, Jett Lawrence, and his teammate Jeremy Martin. 
Now, Justin Cooper is in the points lead only leading with 3 points over Jett Lawrence. However, it seems as if there are no team tactics from stopping his very fast teammate Jeremy Martin from winning the motos. It is pretty remarkable to see this late season charge being put on by Jeremy Martin as he missed several rounds earlier in the season after taking a tumble at Thunder Valley. Jeremy is also the first rider this season to obtain three overalls and we wonder two things. Where would Jeremy be in the points had he been at every round this season? And can he catch up to the points leaders? Guess we'll just have to wait and find out till this weekend.
---
INJURED LIST:
JUSTIN BARCIA | CONCUSSION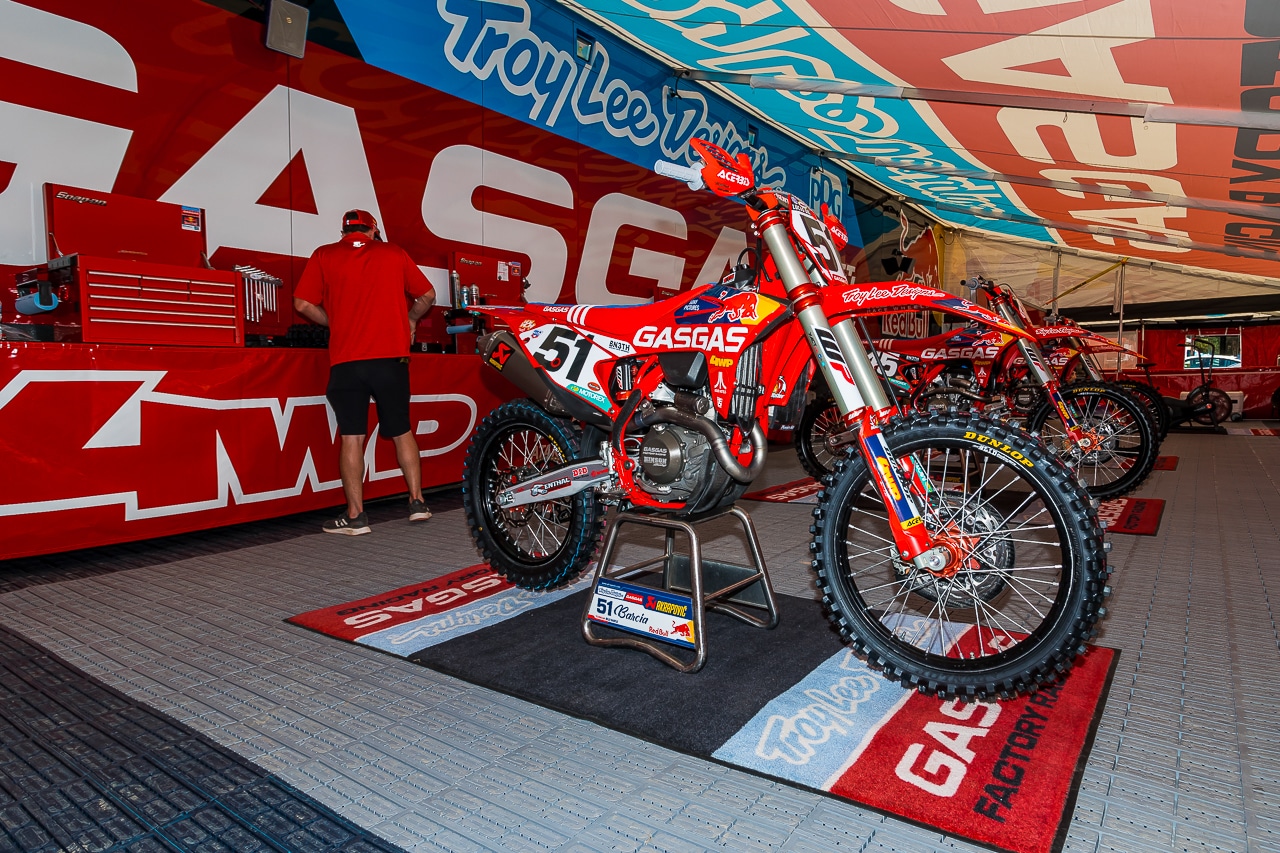 Justin Barcia, Round 6 winner, crashed last week during a routine practice session. His doctor advised taking this week off before being re-assessed for future races. No word from GasGas on the extent of his injuries
ALEX MARTIN | WRIST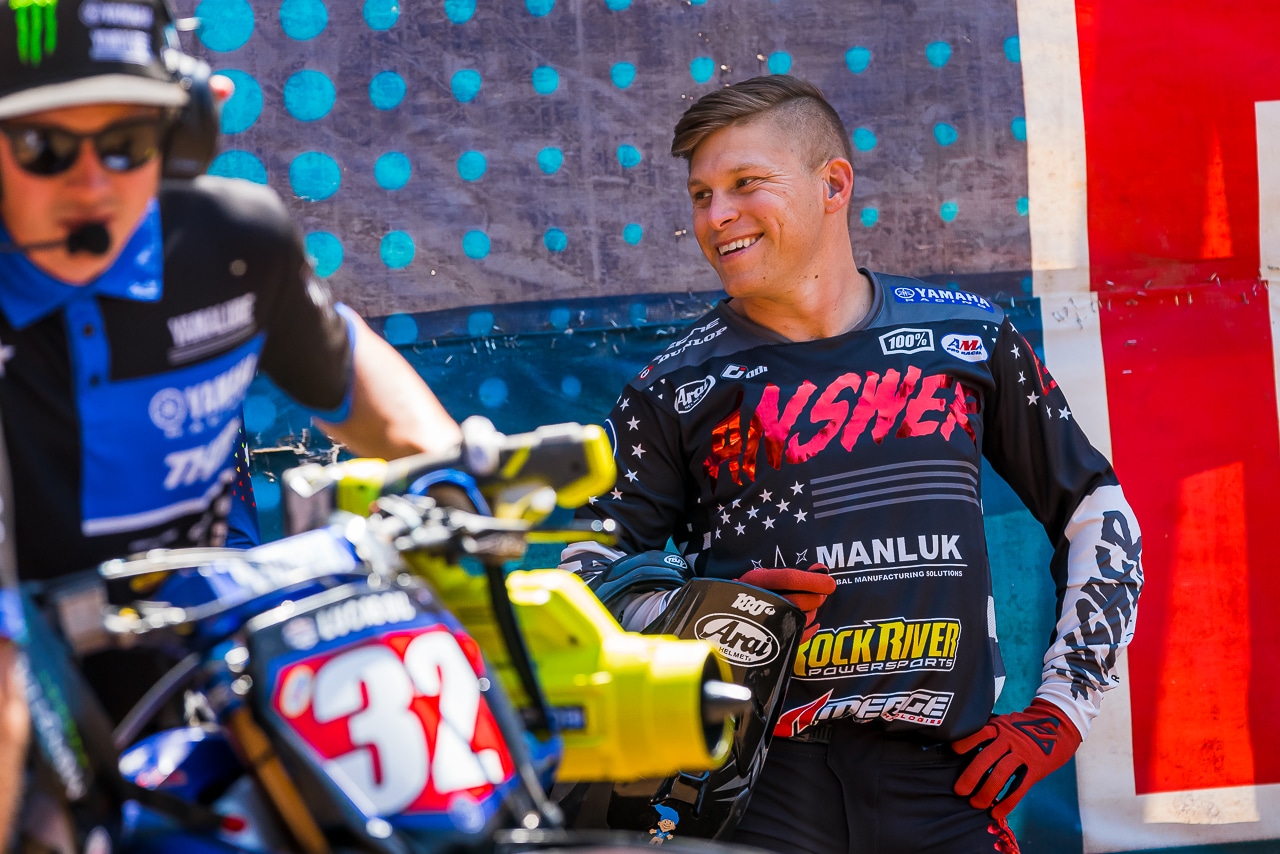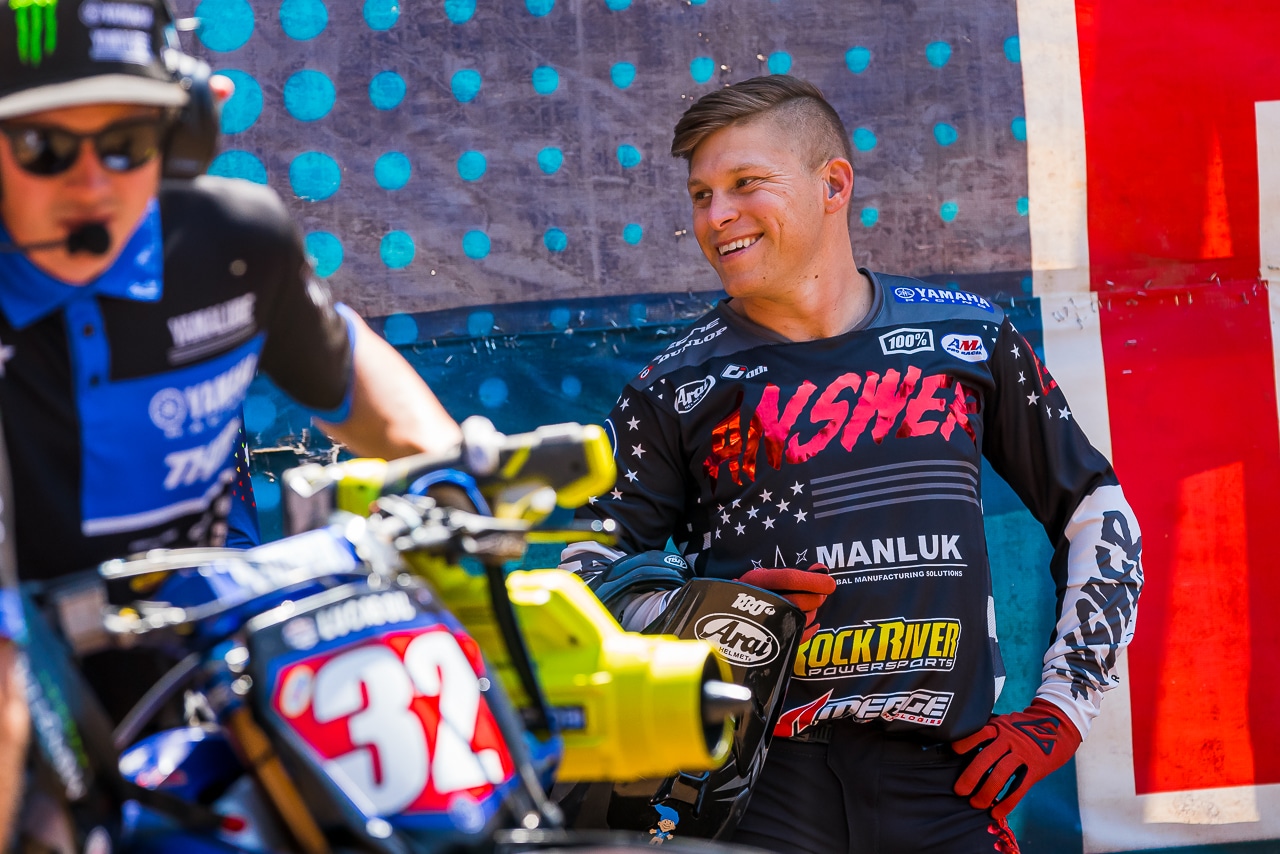 Alex Martin posted via instagram: "Whelp, it's been that kind of year. Had a small crash at Unadilla in the 2nd moto last weekend and reinjured the wrist I hurt in Supercross. I've been working very hard to come back from numerous injury's this year, but the reality is I've missed a lot of seat time and have been more focused on rehab and physical therapy this summer than actual training and riding. It's a tough decision as I want to be at the races doing what I love and representing my sponsors, but at this point I've decided to be done racing for the summer and let all of my injuries heal properly. Thanks to everyone that supported us this year!"
MICHAEL MOSIMAN | CONCUSSION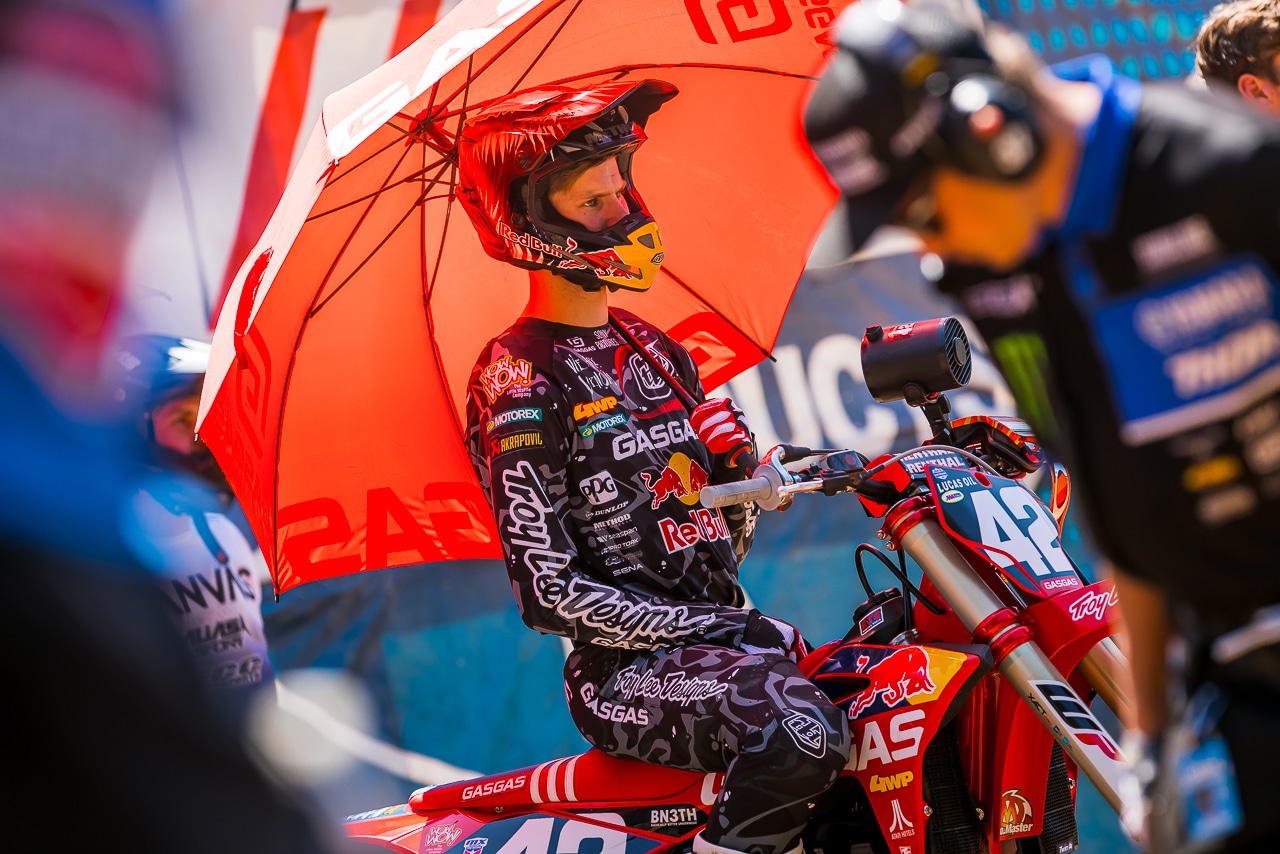 Michael Mosiman crashed while training on Monday before the Unadilla National and missed Budds Creek, but plans to race at Ironman this weekend.
PIERCE BROWN | CONCUSSION/COLLARBONE
Pierce Brown posted via instagram: "Little update for you guys: had a crash last weekend at Unadilla that cost me a fractured collarbone and a concussion. Bummed, but it's the way things go sometimes. My main goal now is to get back to 100%. Big thanks to the people around me for still believing and supporting me."
COLT NICHOLS | INJURED SHOULDER
Colt Nichols will also miss Budds Creek. He posted via instagram: "UPDATE — I gave riding another shot this week. but my shoulder just simply is not where it needs to be yet for Budds Creek. As soon as the strength is back to be competitive I'll be back out there, hopefully sooner than later"
ADAM CIANCIARULO | INJURED ARM
Adam Cianciarulo has struggled with a nerve issue in his arm. Originally he planned to get it fixed when the 2021 Pro Motocross season was over, but after Spring Creek, he decided to go under the knife to get it fixed and he will miss the remainder of the season. 
ZACH OSBORNE | INJURED BACK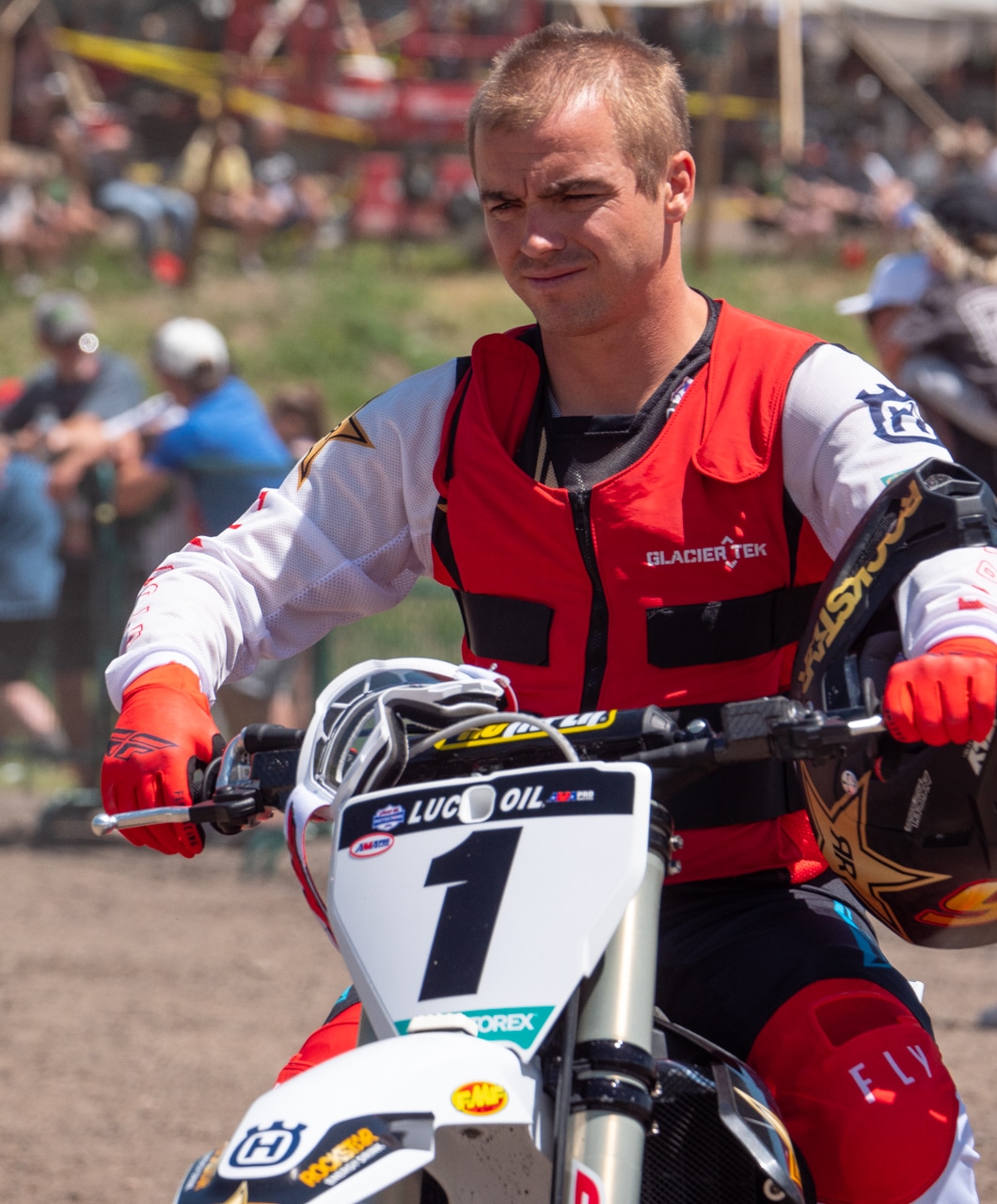 Zach Osborne re-aggravated the back injury he sustained while training during the Supercross season at the Thunder Valley National and he is out for the summer. 
JASON ANDERSON | BROKEN HAND
A bad get-off in practice resulted in a broken hand for Anderson. It is uncertain when or if Jason will be back.
PHIL NICOLETTI | KNEE SURGERY
Phil Nicoletti recently had a full ACL reconstruction in his knee. He is out for the season. 
CAMERON MCADOO | FRACTURED TIBIA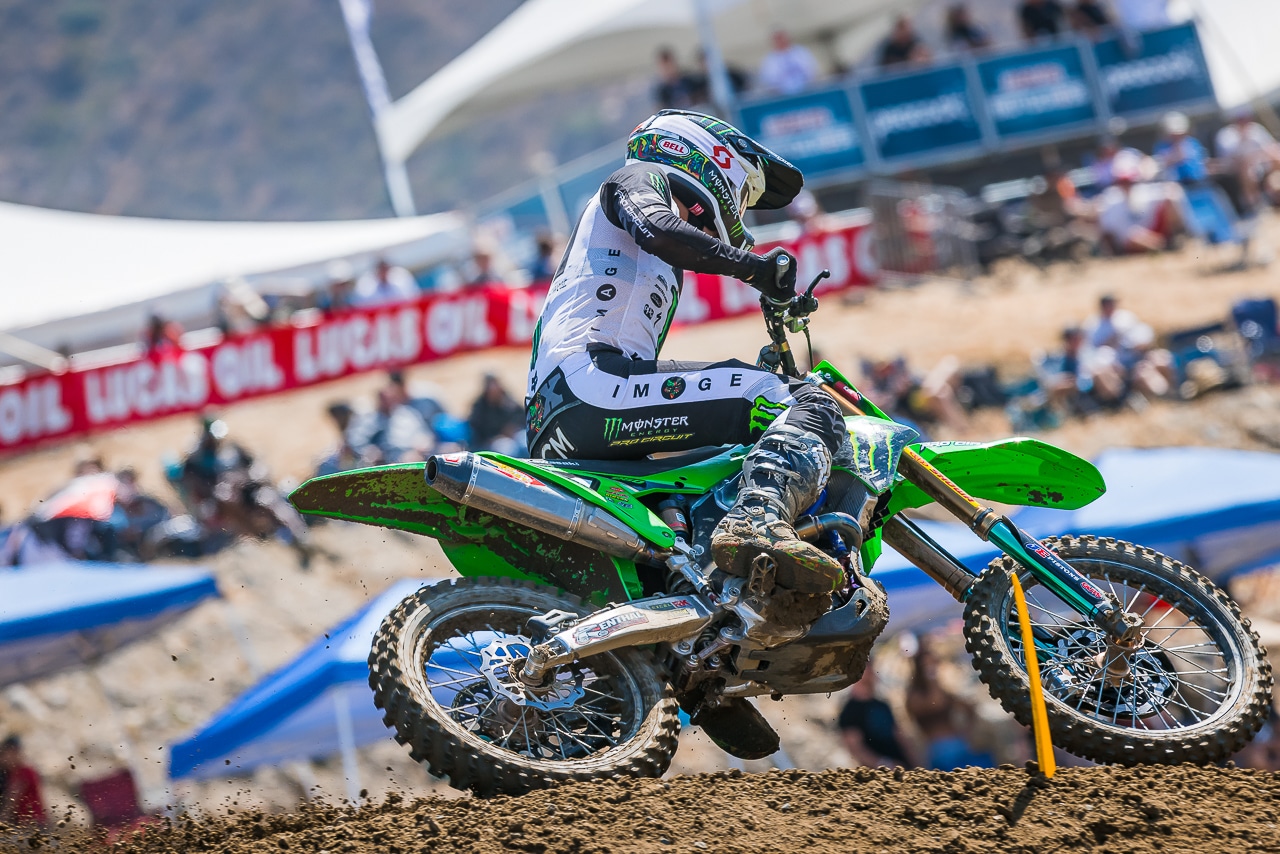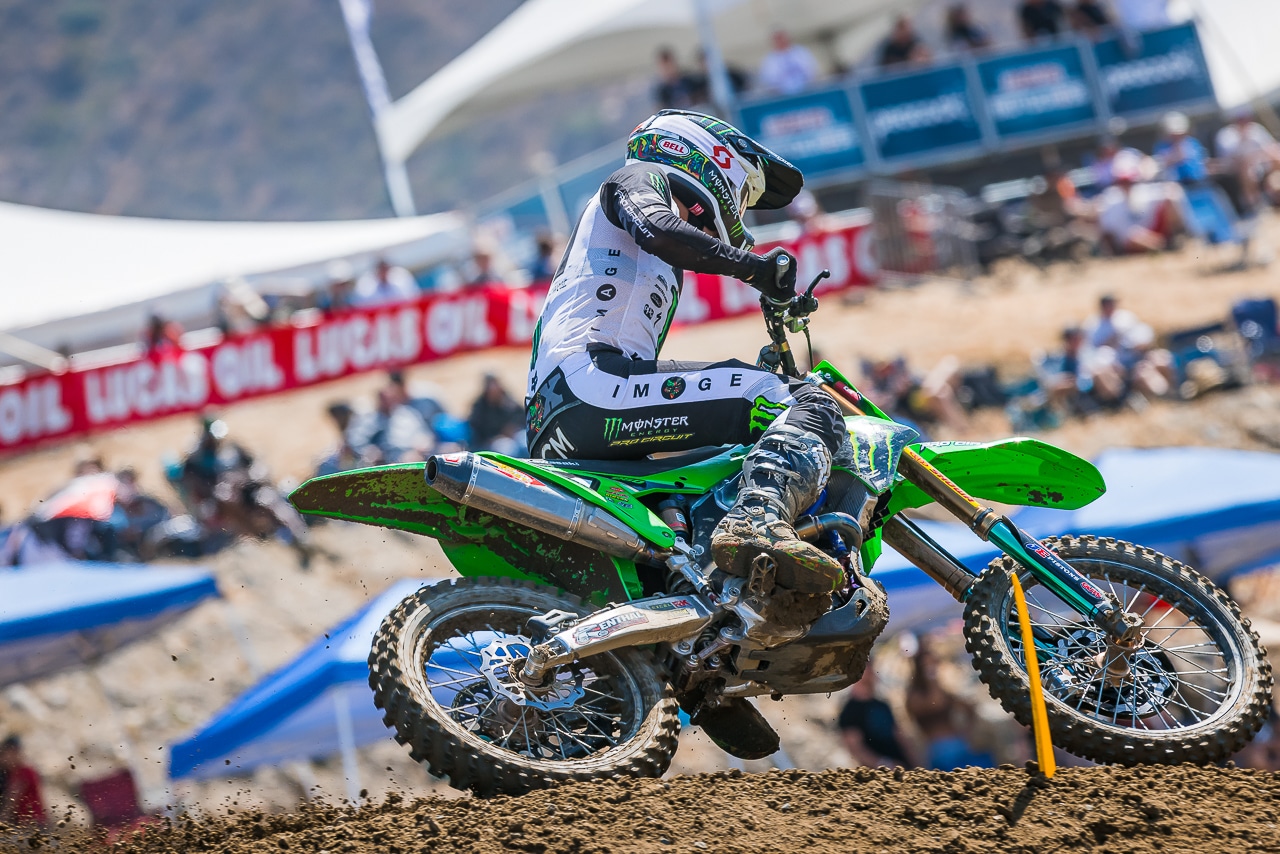 Cameron McAdoo was decommissioned after a very unfortunate crash during the second moto at Fox Raceway, fracturing the top of his tibia and pulling his ACL. Cameron has already had surgery and begun the healing and therapy process. He's out for the season. 
---
450 POINT STANDINGS AFTER ROUND 9 OF 12
Dylan is on a steamroll this season. It's safe to say that we expected him to do well, but for him to as well as he is now? Not sure if anyone saw that coming.
| | | | |
| --- | --- | --- | --- |
| POS. | # | NAME | Total Points |
| 1 | 14 | Dylan Ferrandis | 392 |
| 2 | 94 | Ken Roczen | 353 |
| 3 | 3 | Eli Tomac | 321 |
| 4 | 23 | Chase Sexton | 308 |
| 5 | 25 | Marvin Musquin | 240 |
| 6 | 2 | Cooper Webb | 240 |
| 7 | 51 | Justin Barcia | 239 |
| 8 | 29 | Christian Craig | 224 |
| 9 | 7 | Aaron Plessinger | 217 |
| 10 | 17 | Joseph Savatgy | 189 |
---
250 POINT STANDINGS AFTER ROUND 9 OF 12
Want to know the speed Justin Cooper is capable of? Well, he's qualified as the fastest rider seven times out of the nine rounds this year.
| | | | |
| --- | --- | --- | --- |
| POS. | # | NAME | Total Points |
| 1 | 32 | Justin Cooper | 367 |
| 2 | 18 | Jett Lawrence | 364 |
| 3 | 6 | Jeremy Martin | 307 |
| 4 | 41 | Hunter Lawrence | 298 |
| 5 | 24 | RJ Hampshire | 270 |
| 6 | 30 | Jo Shimoda | 220 |
| 7 | 47 | Jalek Swoll | 195 |
| 8 | 38 | Austin Forkner | 186 |
| 9 | 64 | Colt Nichols | 172 |
| 10 | 115 | Maximus Vohland | 168 |