2021 MONSTER ENERGY SUPERCROSS RACE SCHEDULE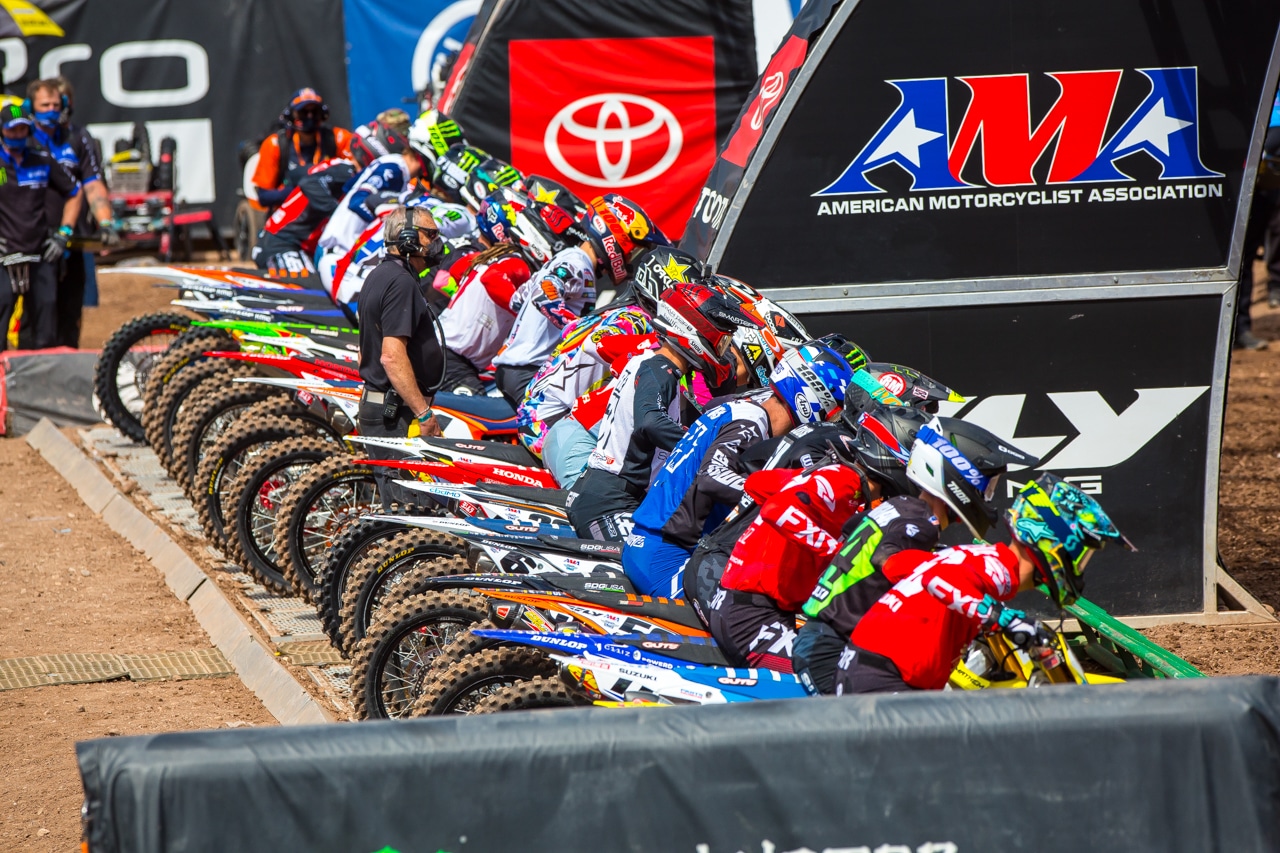 2021 MONSTER ENERGY SUPERCROSS RACE SCHEDULE
The 2021 Supercross schedule has finally been released! Well, most of it. Round one of the 2021 Monster Energy Supercross season is set to go on Saturday, January 16th and for the first time in twenty-five years, it will not be held in California. For 2021, the opener will be held in Houston, Texas and it will kick off a three-peat of races inside of the same Houston, Texas, NRG Stadium. These races will take place on Saturday, Tuesday and then Saturday again before the series heads to Indianapolis for a double-header on Saturday and Tuesday again. All of the first five rounds will be considered East coast events, which means that the 250SX East riders will actually kick the season off. After Indy, the series will head West for Round 6 of the 2021 Supercross season and the first round for the 250SX West coast region. Glendale will host a triple-header with racing on Saturday, Tuesday and Saturday again. Next, the series travels cross-country to Daytona for the first single-night event of the year with the 250SX East coast riders lining up again. Next, the series heads to Arlington, Texas for a triple-header with the 250SX West riders on the track to get the series into Round 12. Still to be determined are Rounds 13, 14, 15, and 16. However, FELD Entertainment is planning to host those rounds and finish off the series again in Salt Lake City, Utah, on a date that is still undecided.
Typically, the following year's schedule will be released around the Supercross finale in May, but this year, with current circumstances our world is facing due to the Covid-19 pandemic, live events like Supercross have been severely affected. With California having some of the highest restrictions in the country, it appears Anaheim and San Diego were both left off the schedule and without a miracle, it doesn't sound like any 2021 Supercross races will be held in California next year. See below for the 2021 Supercross schedule that has been pushed back two-weeks from it's normal start date.
ARE FANS ALLOWED?
Yes, fans will be allowed at a reduced capacity. Supercross has implemented enhanced health measures to help ensure the highest standards of wellness when it comes to today's live experience. Seating capacity will be reduced at each stadium with a Pod Seating structure, which will allow family and friends to safely enjoy all the action while social distancing from other groups in attendance. More information about each stadium's safety protocols can be found on their individual websites – NRG Stadium, Lucas Oil Stadium, State Farm Stadium, AT&T Stadium.
Supercross was the first sport to complete its season and championship in a bubble environment in 2020 due to the pandemic. Bubbles are now widely popular and being used by the NBA, NHL, WNBA, and MLB to great success. The NFL was one of the first sports to welcome fans back to stadiums and Supercross is excited to follow their lead while also using some of their own bubble-environment tactics in the 2021 season by hosting multiple races in a single location.
ARE MASKS REQUIRED?
Yes. Unless otherwise exempted by law, guests age 2 and older must wear a face covering except when actively eating and drinking – local venue rules also apply. More information about Monster Energy Supercross' Fan Wellness can be found here.
---
2021 SUPERCROSS SERIES SCHEDULE
The 2021 season will feature double-headers, triple-headers and races on Tuesdays and Saturdays.
ROUND 1-SATURDAY, JAN 16 | Houston, TX [EAST] NRG Stadium
ROUND 2-TUESDAY, JAN 19 | Houston, TX [EAST] NRG Stadium
ROUND 3-SATURDAY, JAN 23 | Houston, TX [EAST] NRG Stadium
ROUND 4-SATURDAY, JAN 30 | Indianapolis, IN [EAST] Lucas Oil Stadium
ROUND 5-TUESDAY, FEB 2 | Indianapolis, IN [EAST] Lucas Oil Stadium
ROUND 6-SATURDAY, FEB 20 | Glendale, AZ [WEST] State Farm Stadium
ROUND 7-TUESDAY, FEB 23 | Glendale, AZ [WEST] State Farm Stadium
ROUND 8-SATURDAY, FEB 27 | Glendale, AZ [WEST] State Farm Stadium

ROUND 9-SATURDAY, MAR 6 | Daytona Beach, FL [EAST] Daytona International Speedway 
ROUND 10-SATURDAY, MAR 20 | Arlington, TX [WEST] AT&T Stadium
ROUND 11-TUESDAY, MAR 23 | Arlington, TX [WEST] AT&T Stadium
ROUND 12-SAT, MAR 27 | Arlington, TX [WEST] AT&T Stadium
ROUND 13-16-ANNOUNCED AT A LATER DATE!
ROUND 17-DATE TBA | Salt Lake City, UT | Rice-Eccles Stadium
The 2021 Supercross season is set to be a good one. 
WHEN WILL WE KNOW ABOUT ROUNDS 13-16?
Supercross plans to announce by mid-February, at the latest, when and where Rounds 13-16 will be and when the season finale, Round 17 in Salt Lake City will be. As of right now, Supercross is looking to find more venues to host those Rounds so that the series won't have to go back to the same venues which are already on the schedule.
WILL THE RACES BE LIVE ON TV?
Dave Prater mentioned that they don't have the TV schedule locked in yet, but they hope to get it locked in as soon as possible.
SUPER TUESDAY MID-WEEK RACING
One of the unexpected surprises of racing in the bubble in Salt Lake City was the creation of mid-week races due to the condensed nature of the schedule. Racing every Wednesday during the three-week stretch became a fan-favorite while also boosting television ratings in an otherwise non-traditional broadcast window for Supercross. With that in mind, Supercross will host four SuperTuesday races, one in each of the host cities – Houston, Indianapolis, Glendale, and Arlington, a first in the sport's 48-year history.
TRACK CHANGES AT DOUBLE & TRIPLE-HEADERS
Talking to Dave Prater of Feld Entertainment, we were able to confirm that extensive track changes will be made to adjust the tracks in between rounds at the double and triple header events. They said that they've gotten comfortable with changing the tracks over just a few short days and they plan to change the track even more drastically than they did at Salt Lake City during the 2020 season.
ARE TICKETS FOR SALE?
Supercrosslive.com states that tickets for the 2021 season will go on sale Tuesday, December 8th to the general public and preferred customers can sign up to buy tickets a week early on December 1st.
2021 SUPERCROSS HYPE VIDEO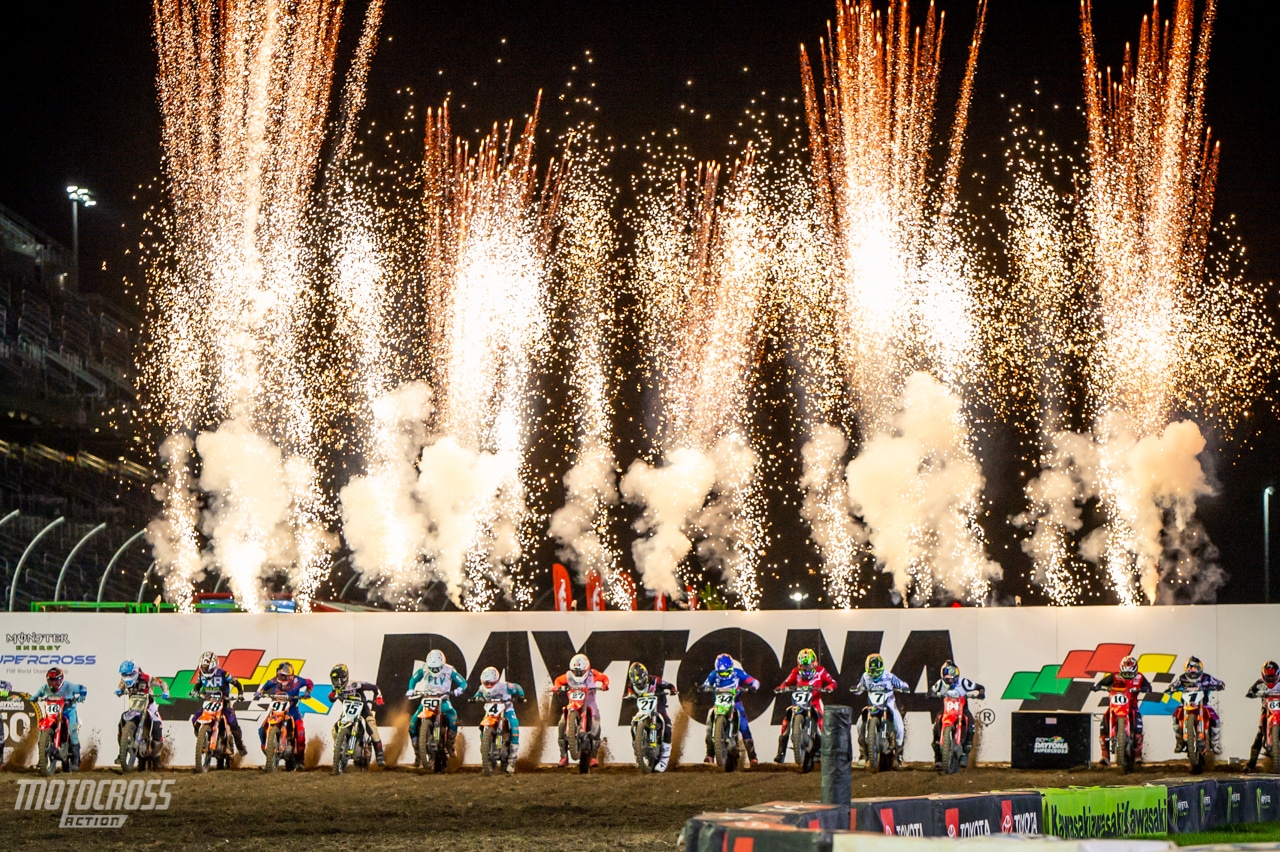 Daytona is back for 2021 and, so far, it is the only race that will not be a double or triple header.