2021 ORLANDO SUPERCROSS 2 PRE-RACE REPORT: 250 WEST SERIES KICKS OFF
2021 ORLANDO SUPERCROSS 2 PRE-RACE REPORT: 250 WEST COAST SERIES KICKS OFF
The first round of the Orlando Supercross round had everyone worried when there was rain on the horizon, but thankfully the sky opened up and dried the track to really interesting conditions. Now back in Camping World Stadium for the second Orlando round, the 250 West riders will join the 450 class for their chance to race Supercross while the East Coast class gets an 10-week break to relax, test and prep for the outdoor season before heading to Salt Lake City for the final rounds. The West Coast 250 riders have been hard at work developing both their bikes and skills for a couple of months now and we are very eager to see them start racing. With how the schedule was planned out this year, it isn't really a West Coast class, since none of the races are going to be held on the West Coast of the United States except for Salt Lake City. The majority of the 250 riders that have been racing on the East Coast are the best riders the factory teams have while those who are racing on Saturday might have needed more preparation or healing off an injury before racing right away. This also gives the better factory riders the opportunity to prepare for the outdoors while those on the West Coast will have far less time than their teammates.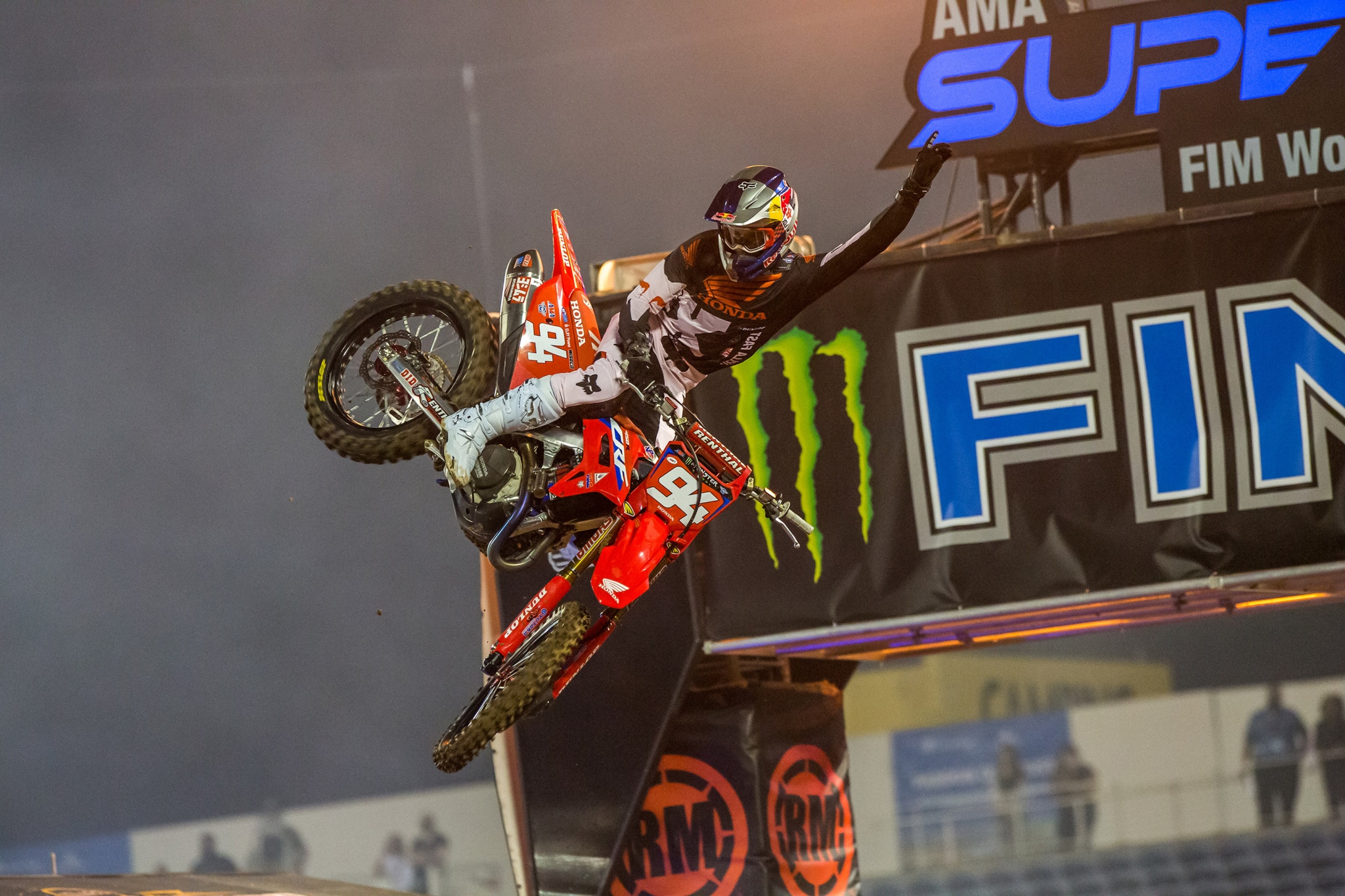 Kenny is usually one of the most stylish riders. 
As for the track, it was originally planned that Orlando #2 would have a completely different layout, but, rainy weather in Orlando, Florida, has caused the Dirt Wrux crew to pull an audible and simply groom the track that was used for Round 7 and change a few of the jumps while still utilizing the same layout. See below for more info on the new track layout.
---
250 WEST COAST SERIES KICKS OFF THIS WEEKEND
Jeremy Martin switched from Geico Honda back onto the Star Racing Yamaha team over the off season. He'll make his debut on the blue bike (again) this Saturday. MXA recently shot a video of Jeremy Martin riding at the Yamaha test track and talking about the upcoming season, click Here to watch it.

The West Coast riders finally get the chance to compete against each other this Saturday in Camping World Stadium for the eighth round of the 2021 Monster Energy Supercross season. Pro Circuit Kawasaki will have three riders: Jordon Smith, Cameron McAdoo and Seth Hammaker. Star Yamaha will have four riders: Jeremy Martin, Justin Cooper, Nate Thrasher and Jarrett Frye. Rockstar Husqvarna will have two riders: Jalek Swoll and Stilez Robertson. And then HRC Honda will have Hunter Lawrence as well. As of right now, it looks like the 250 West region Troy Lee Designs GasGas rider, Pierce Brown, will sit out the beginning of the series. Pierce was off the bike for a few months while recovering from a knee injury and he just started riding again only two weeks before the series kicks off.
CHASE SEXTON OUT FOR ORLANDO 2, SET TO RETURN AT DAYTONA 
Chase Sexton and the HRC Honda team have announced that he will not be on the line this Saturday in Orlando, Florida, but Chase plans to line up at the Daytona Supercross in two weeks. Click here for more on Chase Sexton.
MAX ANSTIE ON THE FENCE FOR ORLANDO #2 
HEP Suzuki's Max Anstie is looking to make his Supercross debut this Saturday, but he hasn't confirmed whether he's in or out yet. 
Max Anstie crashed on Tuesday, March 12th, just days before the 2021 season opener in Houston and injured his back. Max posted via instagram: "Hey everyone, I won't be going to Orlando 1 this Saturday. I have only ridden a little bit of SX in the last couple of days and will need a few solid days (at least) under my belt before I get into racing. If I have a good few days coming up then the plan is to be out there and get my feet wet next weekend at Orlando 2. Then use the two weeks before Daytona to get up to speed and close to 100%. I'm at 4 weeks since my crash, doing all I can and making steps forward every day"
2021 ORLANDO SUPERCROSS 1: TV & STREAMING SCHEDULE
NBC SPORTS LIVE TV BROADCAST:
The racing will be shown LIVE on the NBC Sports Network at 7:00 PM Eastern Time, 4:00 PM Pacific Time.
PEACOCK PREMIUM LIVE STREAMING:
If you don't have the NBC Sports Channel or you'd prefer to watch the races without any commercials, the weekend races will be aired LIVE on the Peacock Premium streaming service at 7:00 PM Eastern Time, 4:00 PM Pacific Time, the same time as it's aired on TV. Qualifying practice will also be shown LIVE on Peacock Premium starting at 1:00 PM Eastern Time, 10:00 AM Pacific Time.
MORE ABOUT PEACOCK TV:
Beginning with the start of the 2021 Monster Energy Supercross season on Jan. 16, NBC Sports' exclusive streaming coverage will move from NBC Sports Gold's "Supercross and Pro Motocross Pass," "Supercross Pass" and "Pro Motocross Pass" to Peacock Premium, which is available for $4.99 per month.
The Supercross and Pro Motocross packages included on Peacock Premium will serve as a one-stop-shop for all Monster Energy Supercross and Lucas Oil Pro Motocross Championship fans. Peacock Premium will offer comprehensive live coverage and on-demand replays of their respective 2021 seasons, including Supercross qualifiers and races, and Pro Motocross main practice sessions, qualifiers, Moto 1s and Moto 2s.

ORLANDO SUPERCROSS 2 TRACK MAP (ALMOST)
This photo here is of the previous Orlando Supercross track layout. This Saturday's race will utilize the same layout with a few new jump options in the rhythm sections. 
The second race in Orlando, Florida, was originally planned to have an all-new layout. Unfortunately, the Dirt Wurx crew had to pull an audible after rainy weather during the week in Florida made changing the track unreasonable. Read what Mike Muye, Director Of Operations for Monster Energy Supercross had to say about the changes for this Saturday's track here:
Mike Muye: "Immediately following Orlando 1 Supercross, we did a full maintenance of the track and re-covered it in plastic to preserve what we had. 3 Full days are required to safely change over the track to the original concept for Orlando 2 and unfortunately the weather throughout. This week did not cooperate and the base was saturated to the point we did not want to traverse equipment on it. The best course of action to provide the best racetrack for Saturday's Orlando 2 race was to keep the same track configuration with new obstacles."
450 SUPERCROSS POINTS STANDINGS
Ken Roczen holds on to the points lead with a 13 point gap on Cooper Webb.
| | | | |
| --- | --- | --- | --- |
| POS. | # | NAME | Total Points |
| 1 | 94 | Ken Roczen | 161 |
| 2 | 2 | Cooper Webb | 148 |
| 3 | 1 | Eli Tomac | 132 |
| 4 | 9 | Adam Cianciarulo | 118 |
| 5 | 51 | Justin Barcia | 115 |
| 6 | 25 | Marvin Musquin | 110 |
| 7 | 27 | Malcolm Stewart | 109 |
| 8 | 16 | Zach Osborne | 108 |
| 9 | 7 | Aaron Plessinger | 99 |
| 10 | 14 | Dylan Ferrandis | 97 |
250 EAST SUPERCROSS POINTS STANDINGS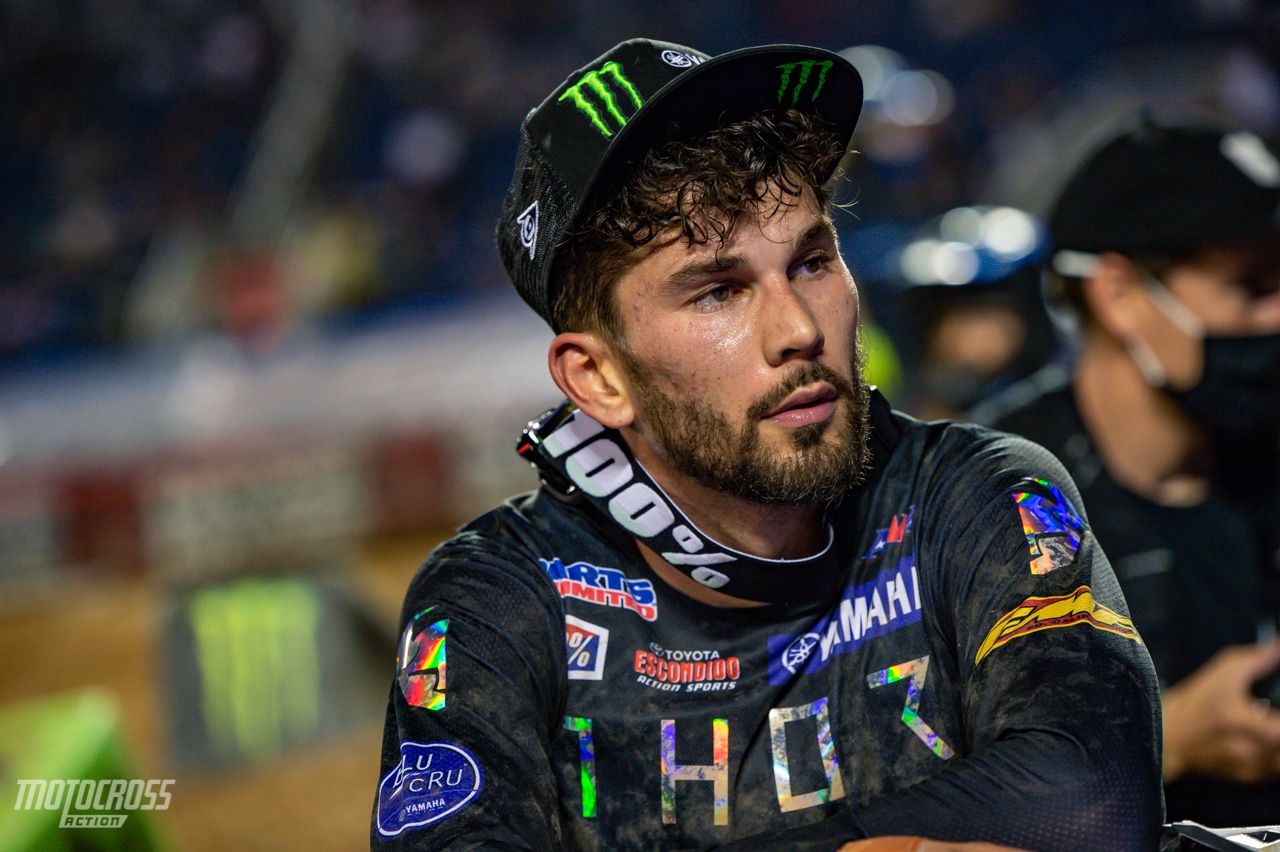 Even though these guys won't be racing for a while, here are the point standings for the 250 East Coast class.
| | | | |
| --- | --- | --- | --- |
| POS. | # | NAME | Total Points |
| 1 | 64 | Colt Nichols | 166 |
| 2 | 29 | Christian Craig | 158 |
| 3 | 30 | Jo Shimoda | 138 |
| 4 | 18 | Jett Lawrence | 128 |
| 5 | 95 | Joshua Osby | 103 |
| 6 | 42 | Michael Mosiman | 97 |
| 7 | 49 | Mitchell Oldenburg | 91 |
| 8 | 241 | Joshua Varize | 81 |
| 9 | 773 | Thomas Do | 74 |
| 10 | 76 | Grant Harlan | 71 |