2021 SALT LAKE CITY SUPERCROSS 1 PRE-RACE REPORT: 250 EAST IS BACK 9-WEEKS LATER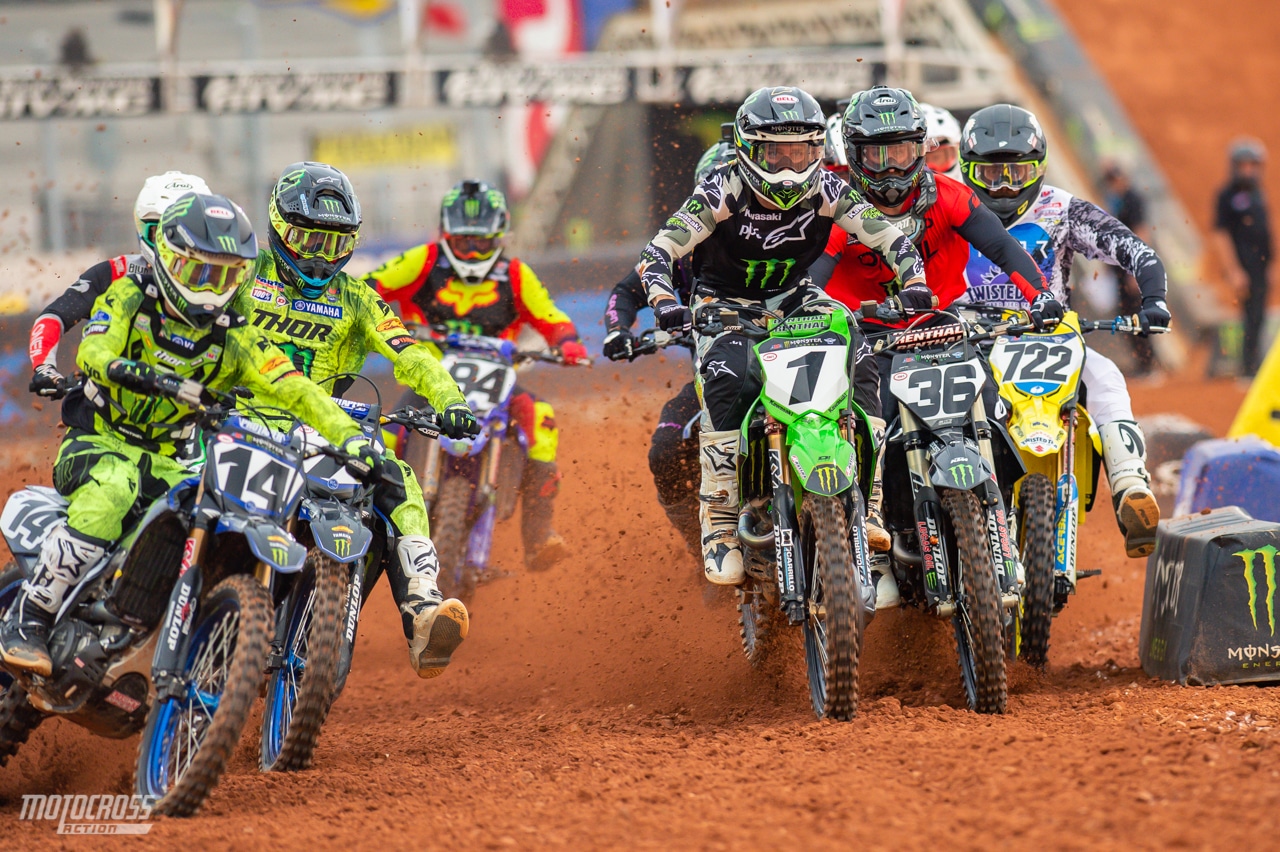 2021 SALT LAKE CITY SUPERCROSS 1 PRE-RACE REPORT: 250 EAST IS BACK 9-WEEKS LATER
The final two rounds of the 2021 Monster Energy Supercross season are coming to Salt Lake City where the 450s and 250 coasts will duke it out for the championship. Last year, Salt Lake City was the host of almost half of the Supercross season as the riders raced in Rice Eccles Stadium for seven rounds. However, the entire stadium was a ghost town due to the very strict Covid regulations at the time, only allowing 400 individuals inside the stadium at a time. Thankfully, we've come a long way since last year and now, the once empty stadium will host fans again for the final two rounds of the 2021 season. Observing the track map, it is as basic of a Supercross track layout as it gets, especially when compared to the dynamic and massive Atlanta rounds held prior.  Typical rhythm sections, two Supercross triples, and a set of whoops will test the riders to see who is best on a standard Supercross track. Scroll down below to see what there is to know coming into the second to final round of the 2021 Monster Energy Supercross season.
---
COOPER WEBB LEADS THE 450 CHAMPIONSHIP
Cooper Webb has a 16-point gap on Ken Roczen with two races left.
It's safe to say that the majority of us thought that Ken Roczen had the win in the bag at Atlanta 3, but with a fumble in the whoops, his rival Cooper Webb gained ground closing the gap, and ultimately making the pass. Now that Cooper has yet another win under his belt, he sits 16 points ahead of Ken Roczen and we only anticipate that the tighter Supercross track will work in his favor. Does Ken have what it takes to beat Cooper Webb in the points or will Cooper Webb walk away with the championship?
250 EAST CHAMPIONSHIP BATTLE: YAMAHA VS. YAMAHA
Colt Nichols leads Christian Craig in the 250 East standings by eight points.
These two Star Racing Yamaha riders have outlasted Austin Forkner, Rj Hampshire, Jett Lawrence, and Michael Mosiman, all of whom were injured during the 250 East series. Jett Lawrence only missed one race due to injury, but Mosiman missed two rounds and Forkner and Hampshire are out for the season.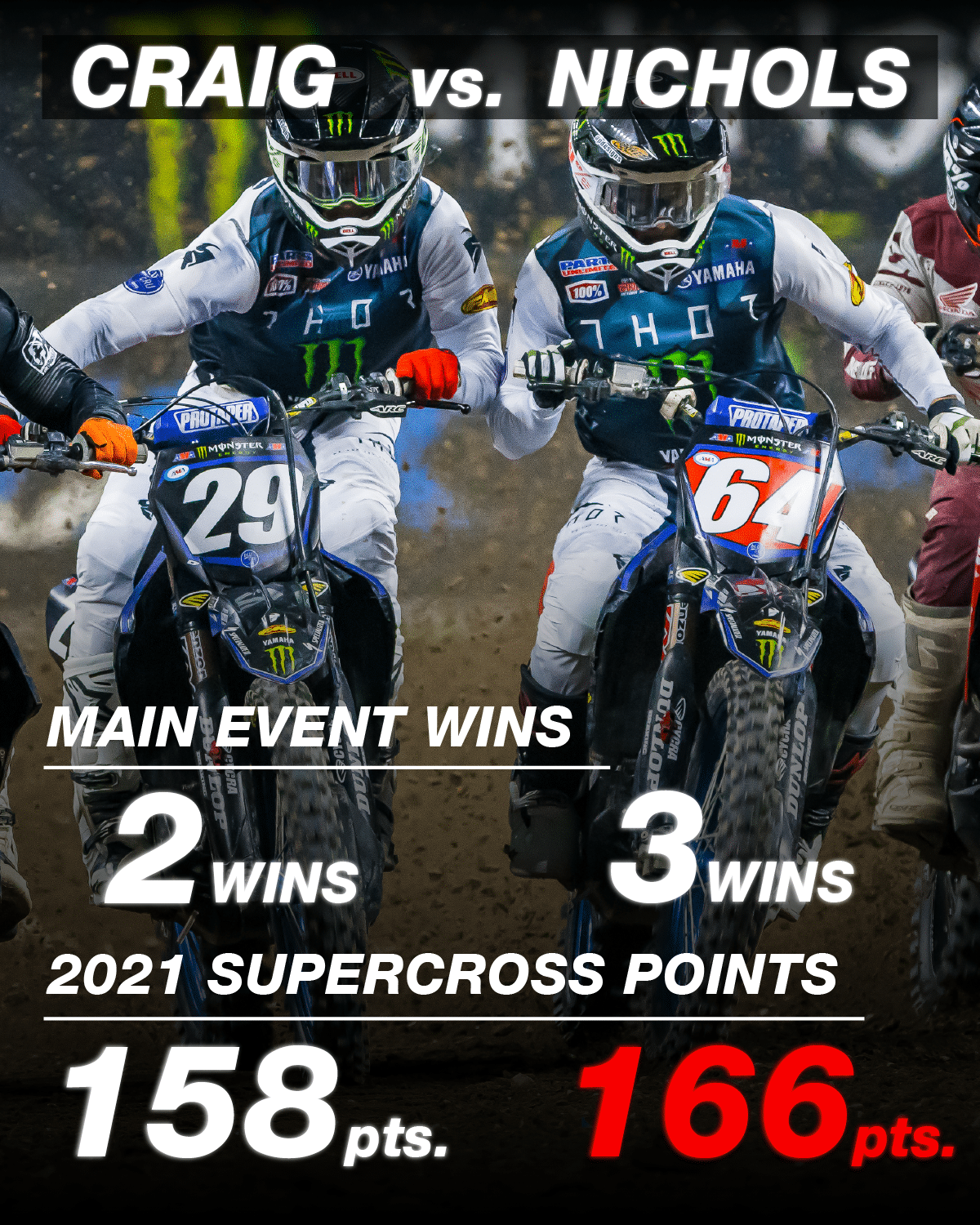 THE 250 EAST RIDERS RETURN: WHERE HAVE THEY BEEN?
COLT NICHOLS
The Star Yamaha team has been hard at work developing their bikes for the 2021 outdoors season. Colt Nichols has been spotted riding a 250F for a handful of weeks before returning to Supercross training at their private test track. Heading into the final rounds of the season, Colt Nichols currently sits first in points, eight points ahead of teammate Christian Craig. 
CHRISTIAN CRAIG
In this long hiatus, Christian Craig has also been seen riding outdoors, however, Christian has been spending most of his seat time on a 450 before heading back to the test tracks to get back on the 250 saddle. Christian has also taken this time to just hang out with his family and enjoy the time off from having to duke it out with his teammate.
JO SHIMODA
Like many of the other riders, Jo Shimoda has been spending time practicing outdoors, practicing Supercross, and most importantly, upping his golf game. Jo sits third in points in the championship.
JETT LAWRENCE

Jett Lawrence might have had the most relaxing break of the top 5 in the East Coast Points championship. Sitting in fourth, Jett has spent most of his break testing, playing golf, eating dounts, riding pit bikes, training riders even younger than himself, and overall just having a good time. Jett sits 10 points behind his friend, Jo Shimoda for third in the championship. 
JOSHUA OSBY
You might not remember where everyone was sitting in the points months ago, but Josh Osby is currently holding down the fifth place position in the championship. Josh has been testing in the outdoors, riding some Supercross, and may even race a GNCC later this year. 
MICHAEL MOSIMAN
Michael Mosiman may have been fairly quiet on social media, but he's been back on the bike preparing to race once again on Saturday. We're super stoked to see him back after breaking his hand and he may give a run at fifth place in the championship. 
MITCHELL OLDENBURG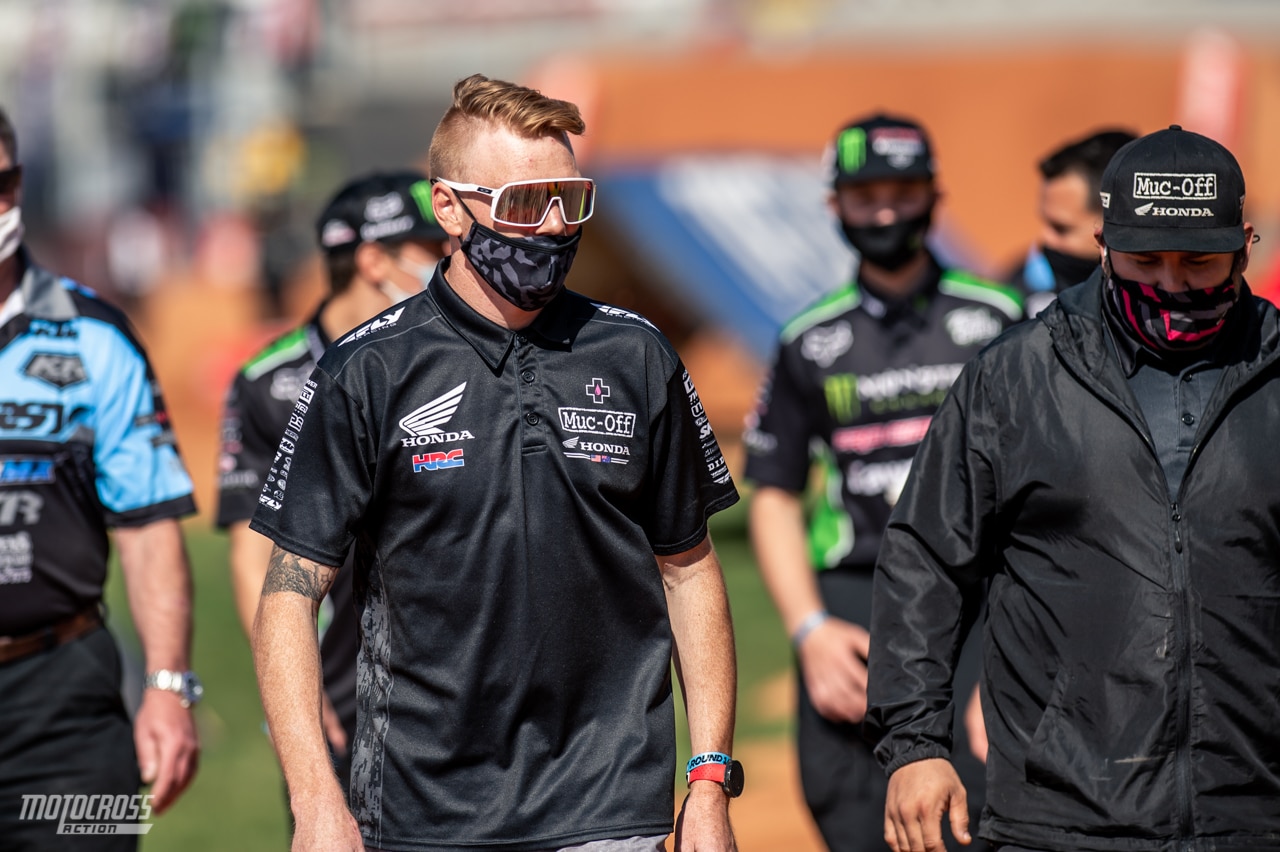 It seems like the one rider who has had no break at all is Mitchell Oldenburg. Besides a handful of privateers, it's hard to find riders who are willing to keep racing after the season they initially only planned on racing paused. Mitchell Oldenburg has been filling in for Justin Brayton on the 450 and has been doing remarkably well too. Unfortunately, Mitchell broke his hand when he was landed on at the Atlanta Supercross and he won't race the final rounds. 
AUSTIN FORKNER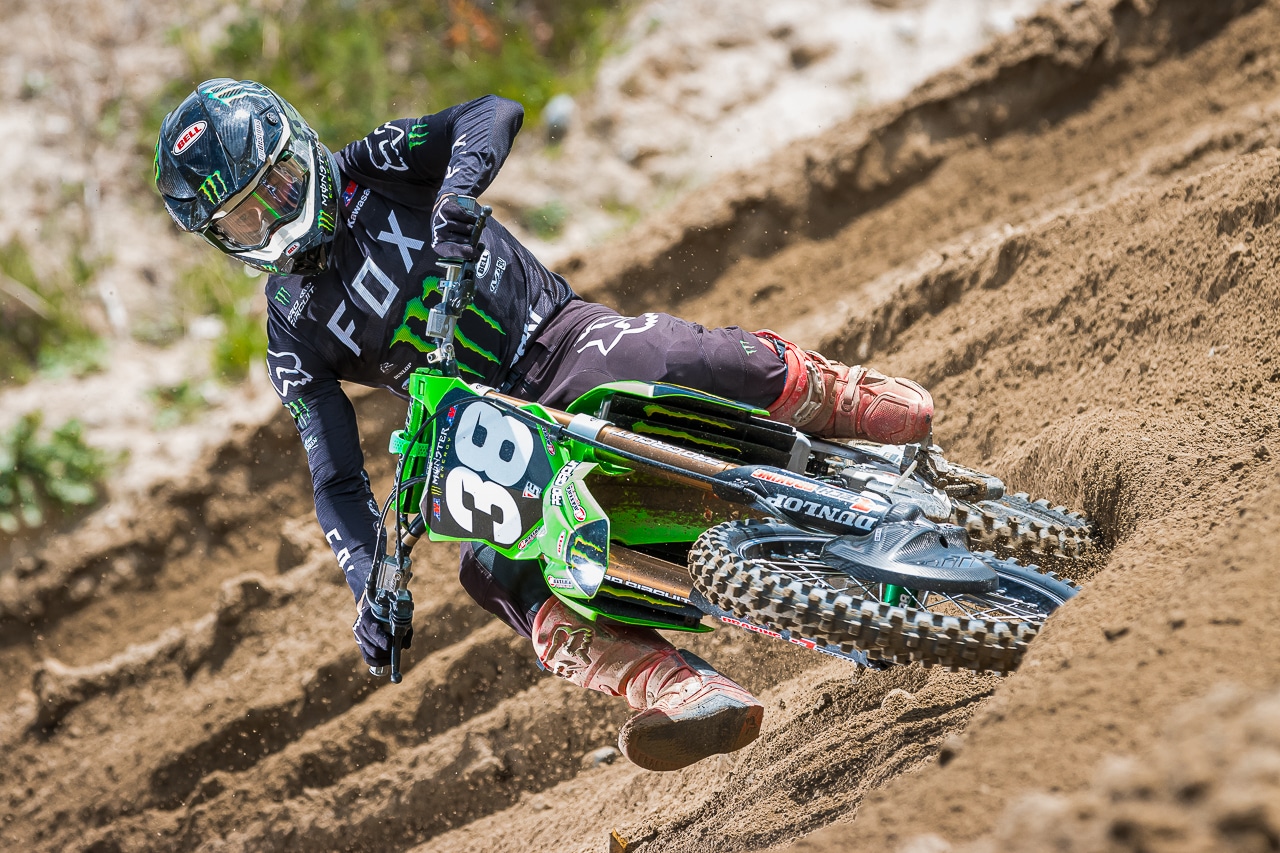 A broken collarbone would definitely throw off Austin's 2021 Supercross season but after healing, Austin has been practicing for the outdoors season primarily and he won't return to Supercross for the two final rounds.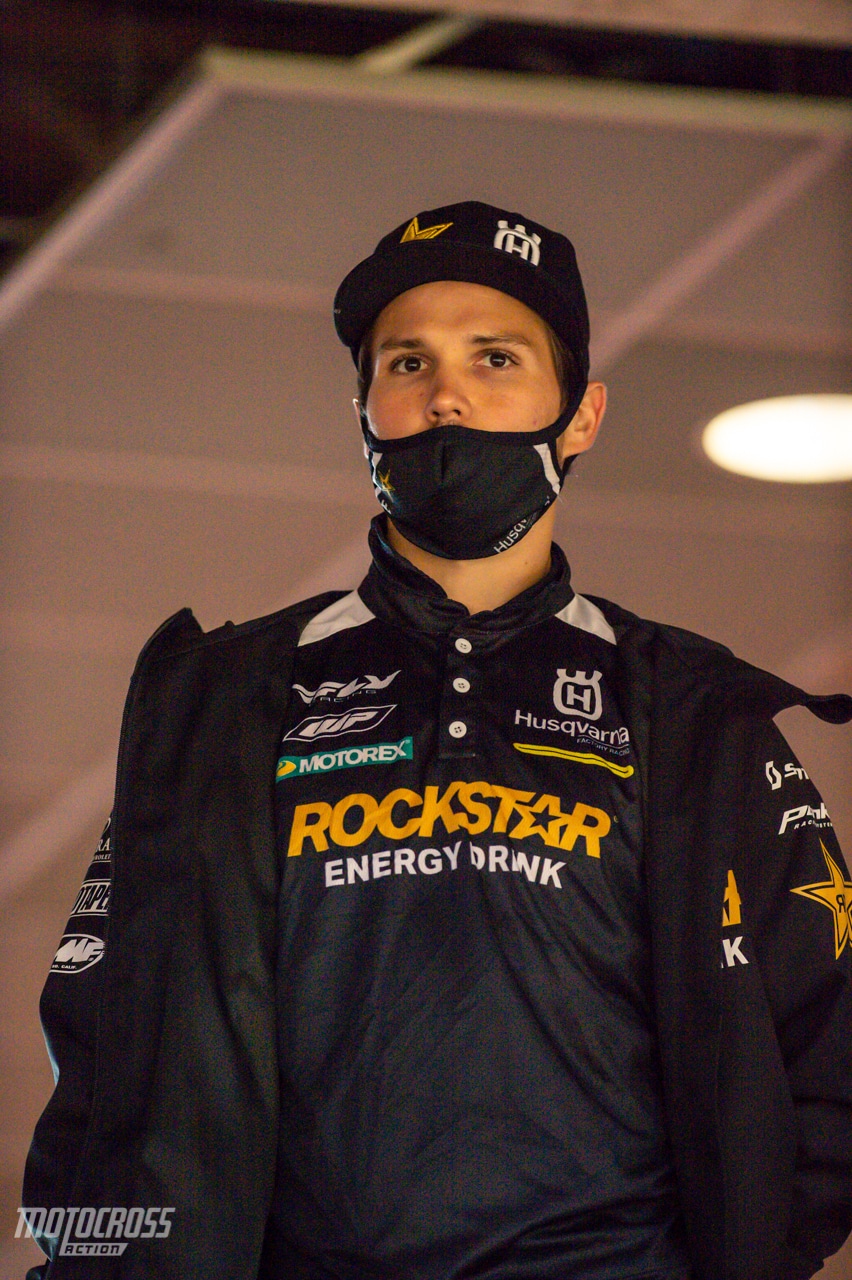 Rj Hampshire is another rider who recently recovered from his injuries and has been practicing again. Similar to Austin, Rj has no plans on racing the final two rounds of the 2021 SX season.
2021 SALT LAKE CITY SUPERCROSS 1 TRACK MAP
We expect to see the riders choosing one line in the races and some like Cooper Webb, to perform extremely strong on the small tight Supercross track. 
2021 SALT LAKE CITY 1: TV & STREAMING SCHEDULE
Jason Anderson was the fastest qualifier all three rounds at Atlanta, but mistakes and misfortune would not pay off in his favor as his race results were less than desirable. Will Jason have another strong performance in Salt Lake City?
NBC SPORTS LIVE TV BROADCAST:
The racing will be shown LIVE on NBCSN at 4:00 PM Pacific Time, 7:00 PM Eastern Time.
PEACOCK PREMIUM LIVE STREAMING:
If you don't have the NBC Sports Channel or you'd prefer to watch the races without any commercials, the weekend races will be aired LIVE on the Peacock Premium streaming service at 4:00 PM Pacific Time, 7:00 PM Eastern Time, the same time as it's aired on TV. Qualifying practice will also be shown LIVE on Peacock Premium starting at 10:00 AM Pacific Time, 1:00 PM Eastern Time.
MORE ABOUT PEACOCK TV:
Beginning with the start of the 2021 Monster Energy Supercross season on Jan. 16, NBC Sports' exclusive streaming coverage will move from NBC Sports Gold's "Supercross and Pro Motocross Pass," "Supercross Pass" and "Pro Motocross Pass" to Peacock Premium, which is available for $4.99 per month.
The Supercross and Pro Motocross packages included on Peacock Premium will serve as a one-stop shop for all Monster Energy Supercross and Lucas Oil Pro Motocross Championship fans. Peacock Premium will offer comprehensive live coverage and on-demand replays of their respective 2021 seasons, including Supercross qualifiers and races, and Pro Motocross main practice sessions, qualifiers, Moto 1s and Moto 2s.
SALT LAKE CITY SUPERCROSS 1 WEATHER REPORT
Looks like it might be a Glen Helen Thursday in Salt Lake City, at least it won't be a mudder though. 
In the morning, Salt Lake City will be mostly under the clouds with average winds ranging from 12 to 18 mph with a temperature ranging in the high 60s. Last year we saw several weather occurrences affect the racing as the stadium went underwater and high temperatures dried the track out. Thankfully this year, the weather looks to be more consistent with clouds and wind. As the day progresses on Saturday, it looks like the temperatures will increase to roughly 67-degrees but nothing higher. The day after predicts rain but it is tough to say whether or not the rain will make an early appearance on race day.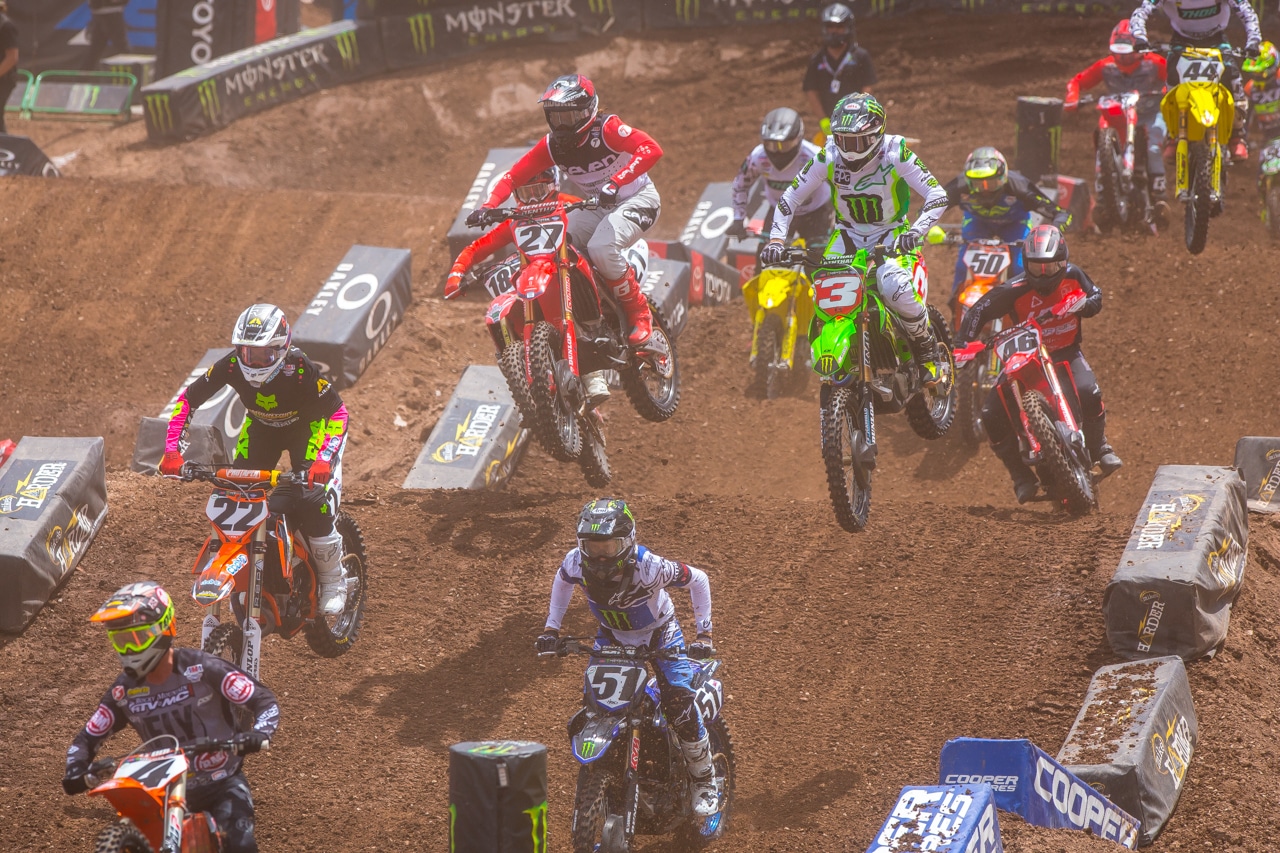 Last year, several of the rounds looked like they were in the dust bowl, and with low winds, the dust became stagnant. 
2021 450 SUPERCROSS CHAMPIONSHIP POINT STANDINGS AFTER ROUND 15 OF 17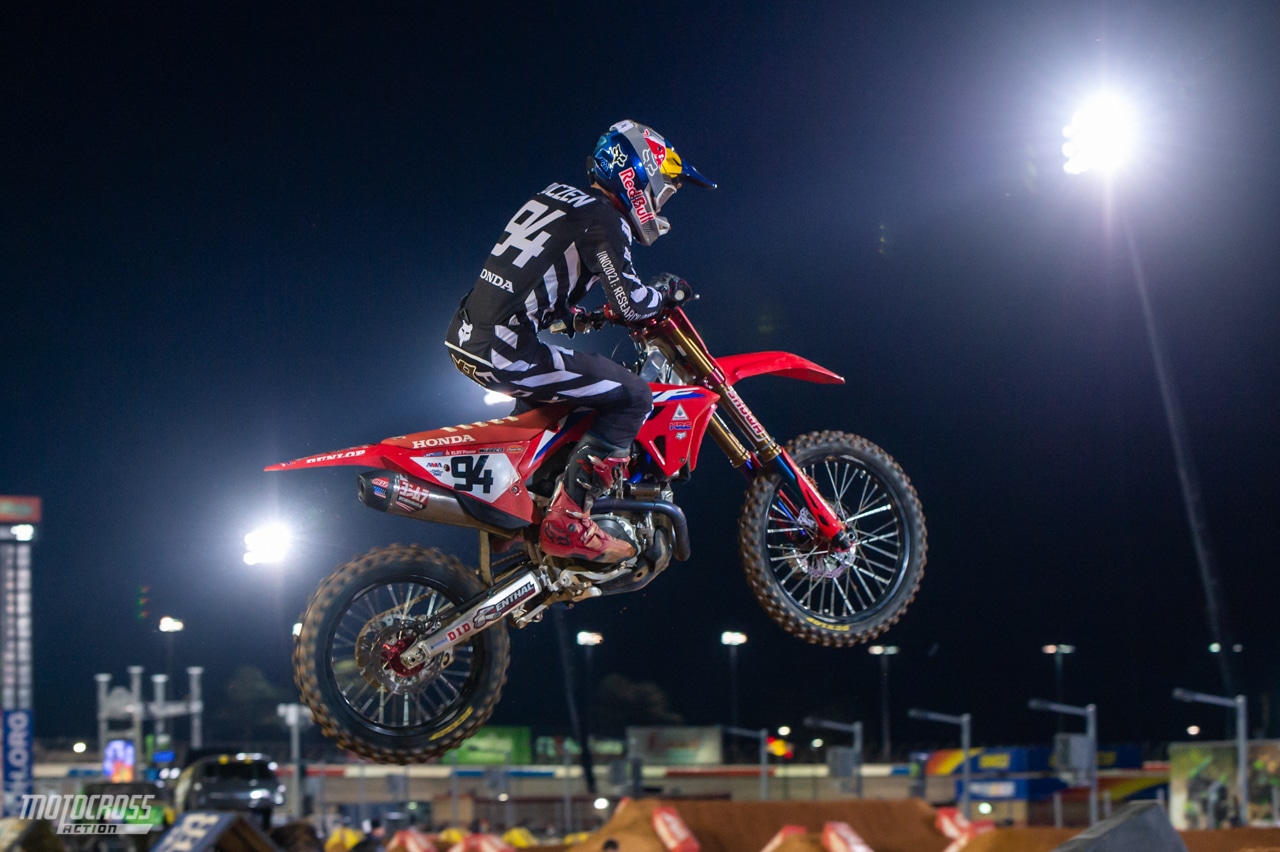 Ken Roczen is 16-points off Cooper Webb.
| | | | |
| --- | --- | --- | --- |
| POS. | # | NAME | Total Points |
| 1 | 2 | Cooper Webb | 339 |
| 2 | 94 | Ken Roczen | 323 |
| 3 | 1 | Eli Tomac | 299 |
| 4 | 51 | Justin Barcia | 264 |
| 5 | 7 | Aaron Plessinger | 234 |
| 6 | 21 | Jason Anderson | 220 |
| 7 | 27 | Malcolm Stewart | 209 |
| 8 | 14 | Dylan Ferrandis | 199 |
| 9 | 25 | Marvin Musquin | 182 |
| 10 | 17 | Joey Savatgy | 178 |
Eli Tomac is practically out of Championship contention, but he rode well at Salt Lake City last year and we expect him to fight hard for wins at the final two rounds.
2021 250 EAST SUPERCROSS CHAMPIONSHIP POINT STANDINGS AFTER ROUND 7 OF 9
The 250 East Coast championship has two close battles, between Christian Craig and Colt Nichols, and then in between Jo Shimoda and Jett Lawrence for third place.
| | | | |
| --- | --- | --- | --- |
| POS. | # | NAME | Total Points |
| 1 | 64 | Colt Nichols | 166 |
| 2 | 29 | Christian Craig | 158 |
| 3 | 30 | Jo Shimoda | 138 |
| 4 | 18 | Jett Lawrence | 128 |
| 5 | 95 | Joshua Osby | 103 |
| 6 | 42 | Michael Mosiman | 97 |
| 7 | 49 | Mitchell Oldenburg | 91 |
| 8 | 241 | Joshua Varize | 81 |
| 9 | 773 | Thomas Do | 74 |
| 10 | 76 | Grant Harlan | 71 |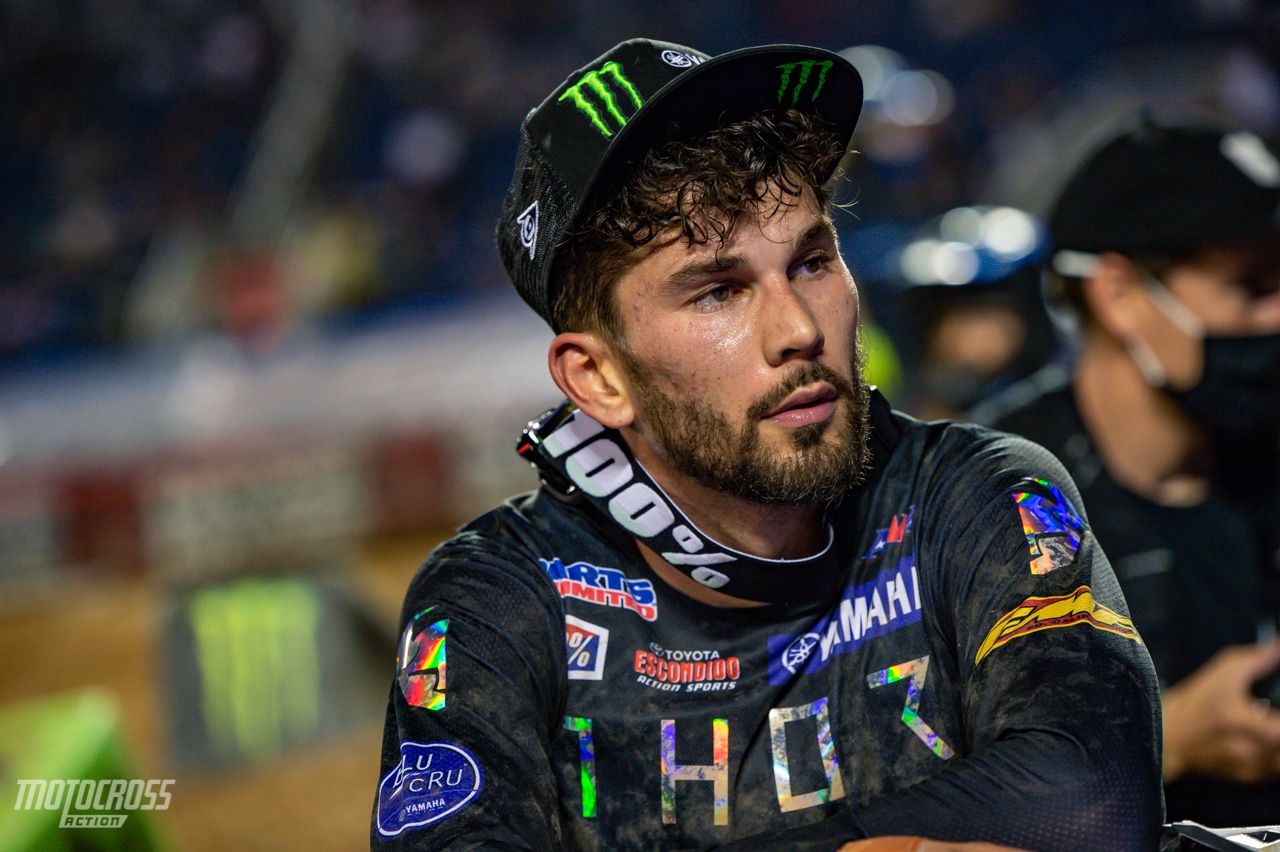 Who do you think will win the 250 East Coast Championship? Will Colt Nichols hold off Christian Craig, or will Craig pass him?