2022 ATLANTA SUPERCROSS PRE-RACE REPORT // TV SCHEDULE, INJURED LIST & TRACK MAP

2022 ATLANTA SUPERCROSS PRE-RACE REPORT // TV SCHEDULE, INJURED LIST & TRACK MAP
Woohoo! One of the most highly anticipated races of the year has finally come around! Atlanta is another speedway-cross track that is Supercross by nature but features motocross speeds and some obstacles. Not only does the insanely fast straightaways make it exciting, but we'll be seeing both coasts in the 250 class duke it out in the East/West Showdown! Craig vs. Lawrence. Mosiman vs. McAdoo (hopefully). And Lawrence vs. Lawrence. Either way, we're stoked to finally see more than 3 factory riders line up on the gate and watch the many privateers battle it out. Scroll down below to find out everything you need to know about the upcoming Atlanta Supercross!
---
RETURNING FROM INJURY: 
COOPER WEBB | RETURNING AFTER MISSING ST. LOUIS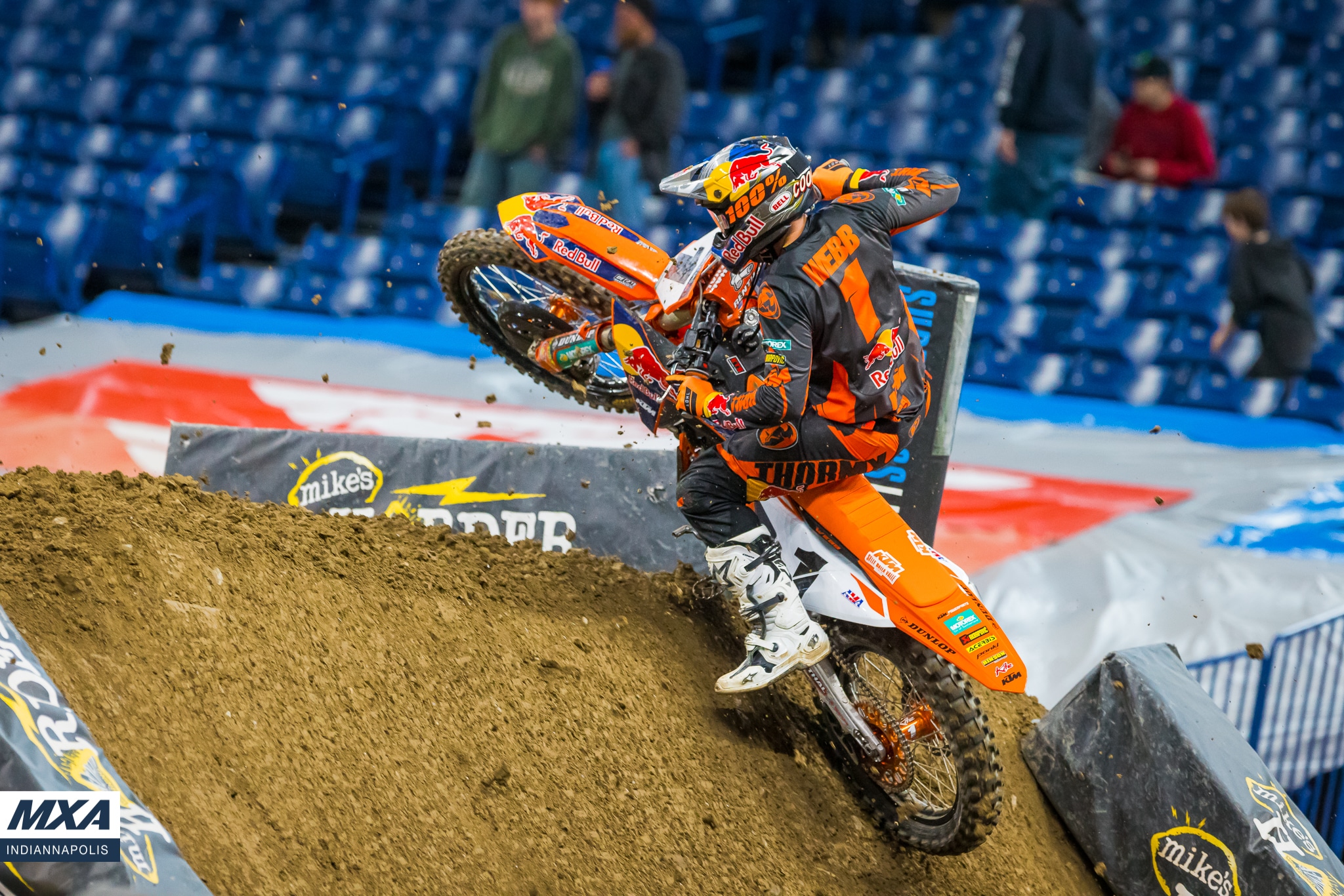 Cooper Webb posted via instagram: "Did some riding this week and feel good enough to go racing. See y'all in HOTLANTA"
AUSTIN FORKNER | RETURNING AFTER MISSING 4 ROUNDS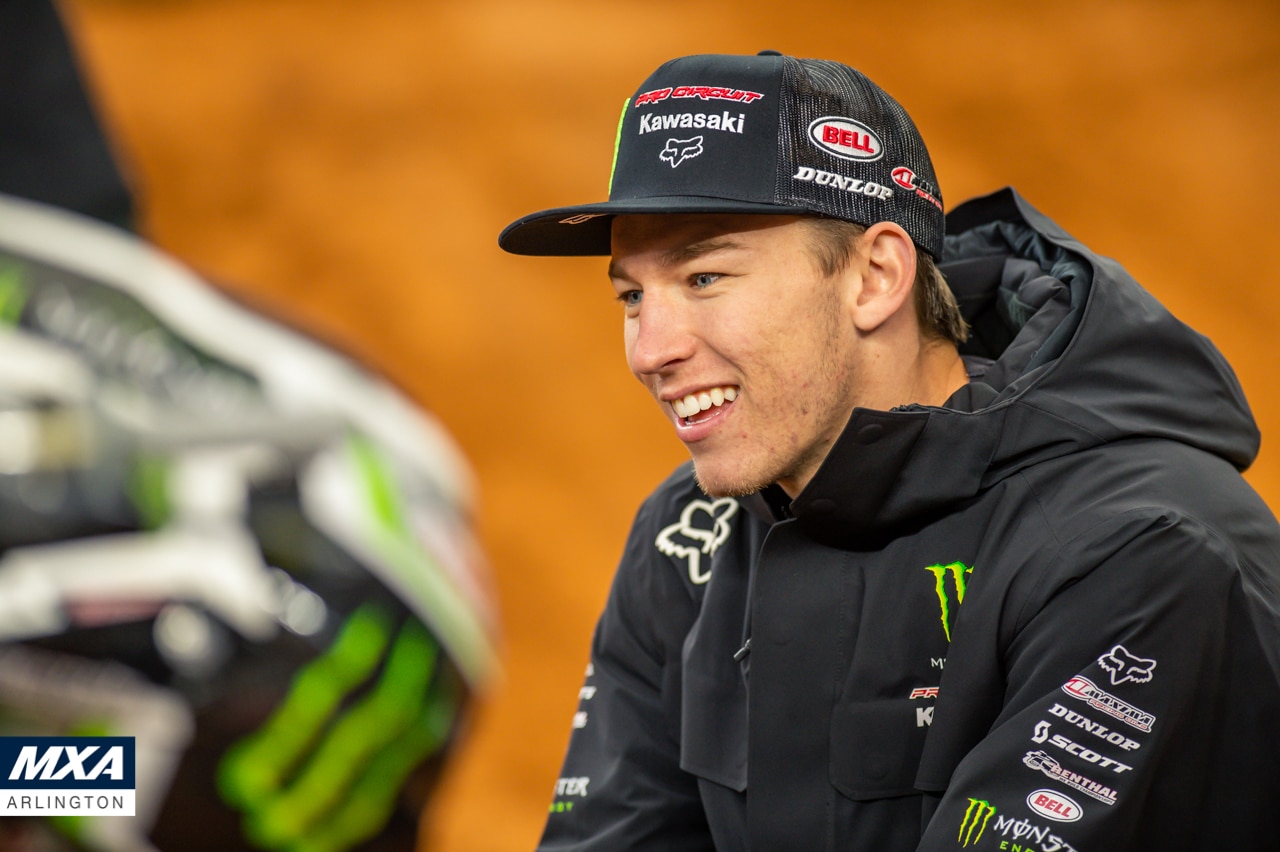 Jett Lawrence crossed jumped into Austin Forkner mid-air at Arlington at Austin walked away with a broken collarbone. Now he's back in action for the Atlanta East/West Showdown. 
---
2022 ATLANTA TRACK MAP // YA LIKE SAND?
Well, there sure are a lot of bumps on this track. Two sets of whoops and two sets of sand, with one featuring a massive roller section. Also, check out that massive sweeping left-hander, this track is going to be fast!
---
2022 ATLANTA SUPERCROSS TV & STREAMING SCHEDULE:
With NBC Sports going away for 2022, American Supercross have been juggling between three channels to watch Supercross—CNBC channel, NBC channel and the USA Network.  This weekend's race will be aired on both Peacock and NBC. 
The Peacock premium streaming service costs $4.99 per month and it provides LIVE coverage of the daytime qualifying sessions at each Round and live coverage of each Supercross race. International Supercross fans can watch using the Supercross Video Pass streaming service which costs $129.95 for a one-year subscription.
Atlanta: Qualifying show – 6:00 AM (pacific) – Peacock Premium
Atlanta: Night show – 12:00 PM (pacific) –  Peacock Premium & NBC
---
MISSING FROM THE LIST: ROCKY MOUNTAIN KTM TEAM
The Rocky Mountain KTM team has fallen apart after title sponsor Rocky Mountain pulled it's support from the team. Joey Savatgy was already missing after hurting his ACL early in the season, but now Max Anstie and Shane McElrath have missed St. Louis and their future, along with the "BBMX" (Butler Brother's MX Team) future is uncertain. 
---

INJURED LIST:
DYLAN FERRANDIS | WRIST
Dylan Ferrandis has decided to skip the rest of the season and prep for the Nationals. Click here for his words.
CAMERON MCADOO | SHOULDER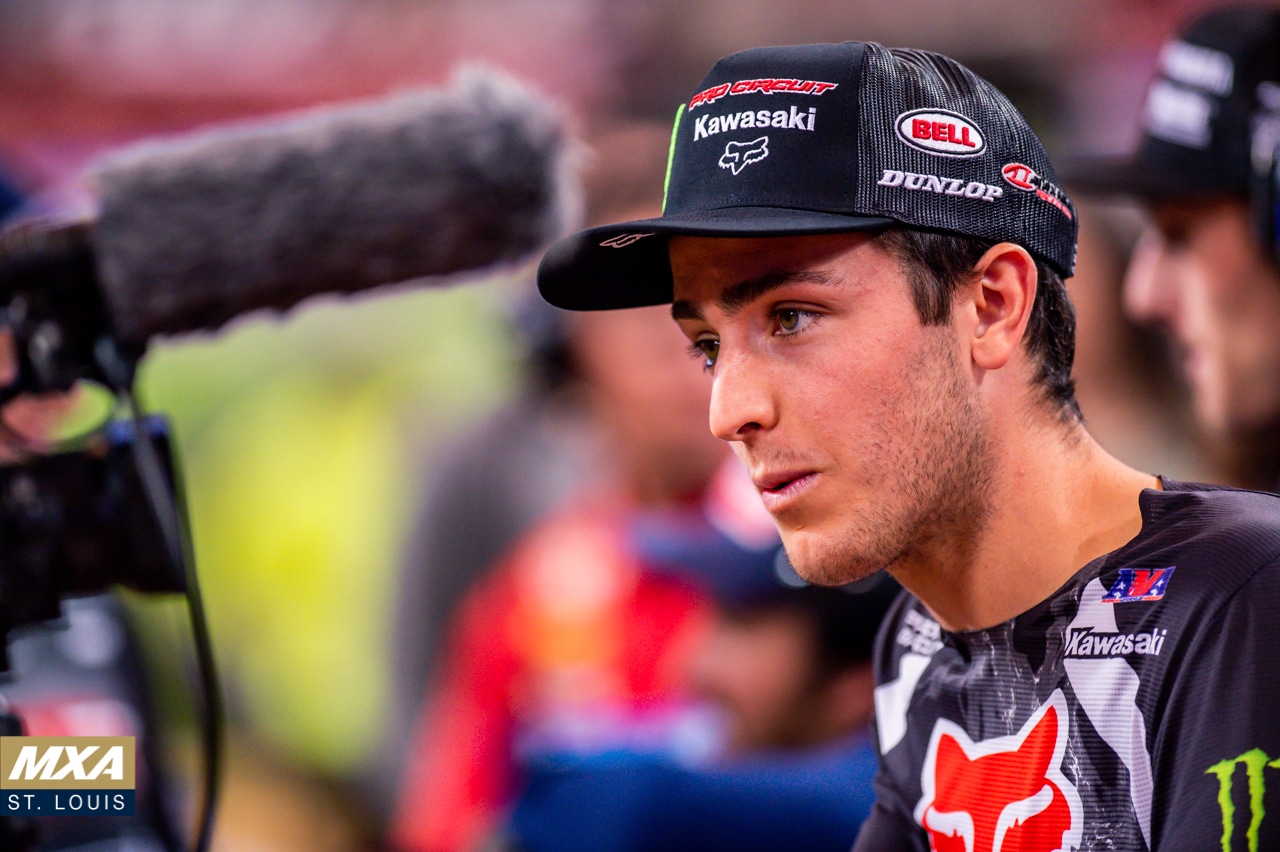 Cameron McAdoo missed St. Louis after crashing during press day and he is also out for Atlanta. He posted: "Quick update. As most of you know last week during press day I had a small crash that resulted in a grade 3 AC separation. Unfortunately I will not be racing in Atlanta this weekend as my shoulder just isn't strong enough yet to race competitive and safely. I am obviously very disappointed there is nothing I want more than to be out there racing and I have been feeling so good on the bike lately. We are doing everything possible to be back strong and racing ASAP! Thanks everyone for your support see you soon"
DEAN WILSON | DEEP LACERATION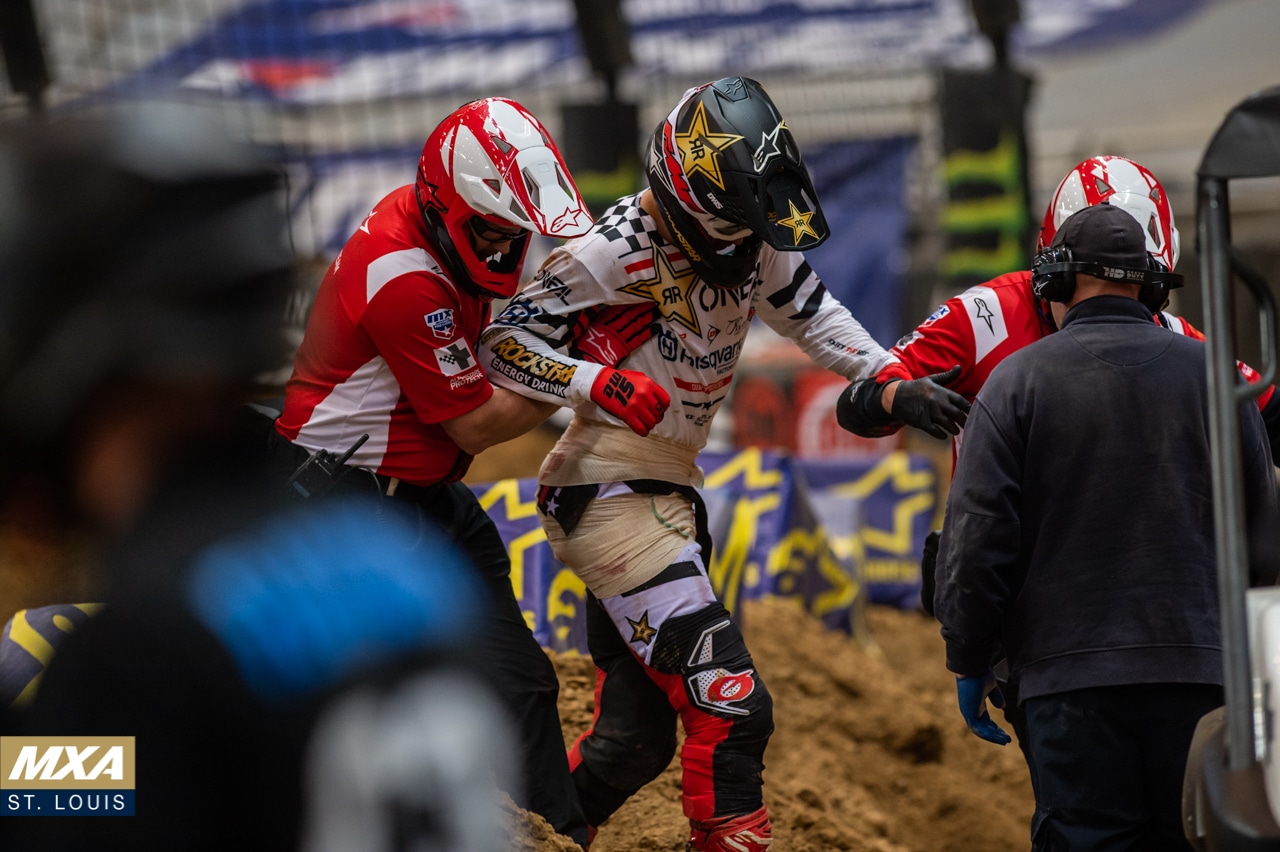 Dean suffered one of the most horrific accidents we have seen this season. After crashing through the whoops at St. Louis, Dean caught his razor sharp footpeg in the process slicing open his lower area. It is unclear when or if he will be back soon, but our guess is that Dean will be sitting out Atlanta after going through multiple surgeries after St. Louis.
KEN ROCZEN | EPSTEIN-BARR
Ken Roczen is taking a break from the 2022 Supercross until further recovery from an ongoing illness. To read more up on the situation, CLICK HERE.
AARON PLESSINGER | BROKEN ARM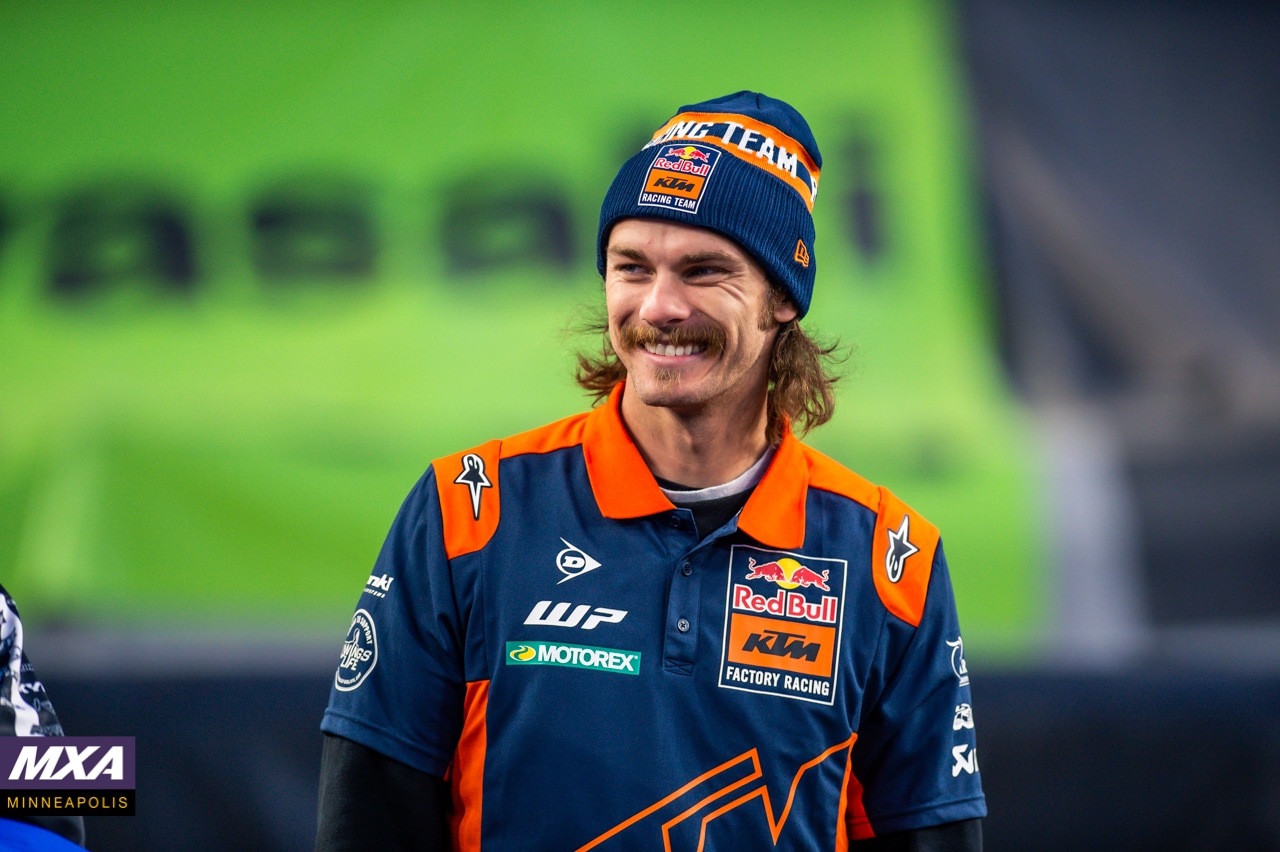 Sadly, Aaron Plessinger's Supercross season has come to a halt after breaking his arm in a practice crash. Read more here.
ADAM CIANCIARULO | KNEE
Adam Cianciarulo was already racing with an injured shoulder and was forced to dropped out with an injured knee, but he turned out to be a great on-track announcer for the TV coverage. Click here to read more. 
JOEY SAVATGY | KNEE 
Joey Savatgy tore his ACL in his right knee during practice on Tuesday after Anaheim 1. He raced through the injury at Oakland and finished 11th, but a first turn crash in his Heat race at San Diego ended his night and season early. He then underwent surgery on his knee and is recovering now. 
BENNY BLOSS | ANKLE/COLLARBONE
Benny Bloss switched from MotoConcepts Honda to Team Tedder KTM for 2022, but he was injured before the season. Benny has had surgery on his ankle and collarbone. He has been riding lately, but we are unsure when he will return to Supercross. 
JOSH HILL | DISLOCATED HIP/BROKEN PELVIS
Josh Hill ended up with a dislocated hip and a fractured pelvis after crashing at the Anaheim 3 Supercross. 
JUSTIN HILL | SHOULDER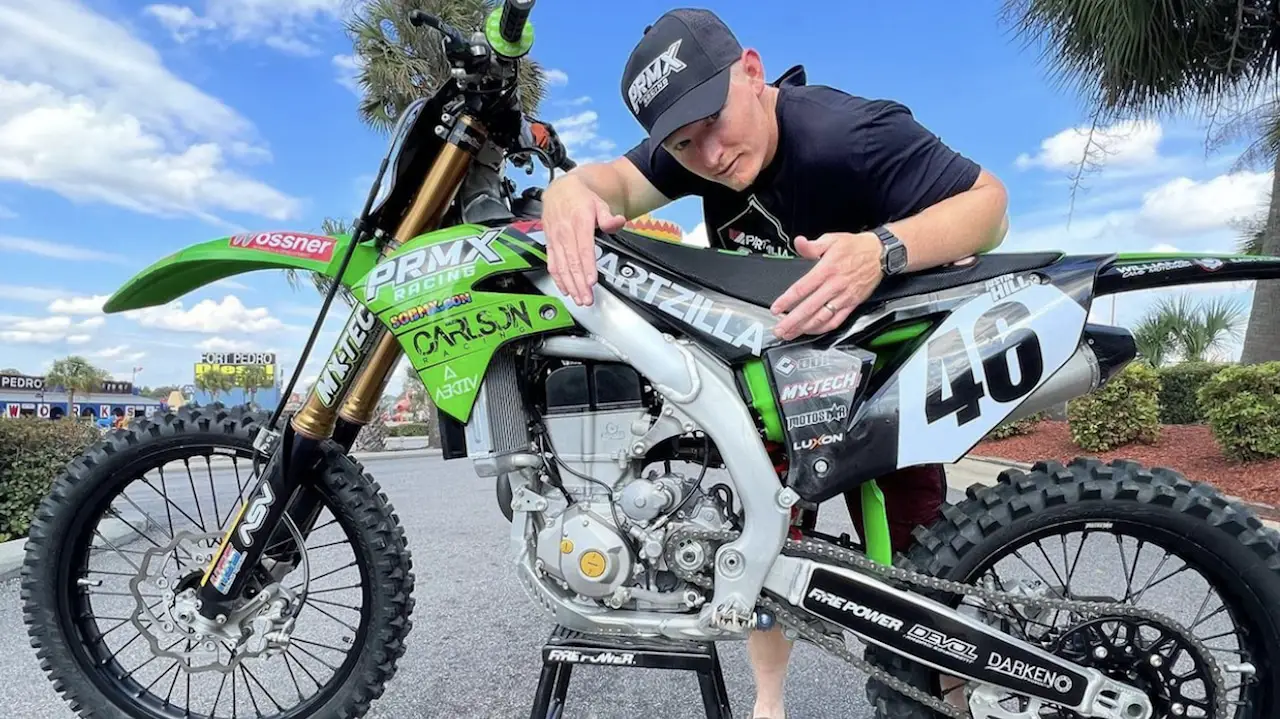 Justin Hill planned to race this season, but a late December crash injured his shoulder and took him out.
JETT REYNOLDS | FRACTURED HAND
Jett Reynolds said via Instagram: "UPDATE from last weekend…. I was stoked to make my Supercross Debut in Minneapolis, with a unfortunate crash on Press day resulted a fractured hand that required surgery, I'm all fixed and recovering well now. Bummed this is the way it started out but what's done is done and we're moving forward not looking back, going to regroup get healed up and bounce back strong"
SETH HAMMAKER | LACERATED SPLEEN & FRACTURED T7/T8 VERTABRA

Pro Circuit's Seth Hammaker had finished second in each of the first two rounds, but after a crash at the test track, he will be out of action for an undetermined amount of time.
Seth Hammaker posted on Instagram: "Hey guys I hate to post this news but unfortunately this week I had a practice crash getting ready for San Diego. Grade 3 spleen laceration and compression fractures in T7 and T8 in my back. I'm gutted to say the least. The team and I have been working hard to bring our best every weekend. I appreciate there support through all of the good and bad! The main goal now is to heal up right and completely before we get back to racing. I will keep y'all informed of how long I will be out as we know a little more. Thanks to everyone for the support I will be back better and stronger."
JUSTIN COOPER | BROKEN FOOT
Sadly, the defending 250 West Coast Champion is out for the entire Supercross season in 2022. Read his post on Instagram below:
Justin Cooper stated: "Hey guys unfortunately I had a crash yesterday at the track. I got a little bit off line in a rhythm and didn't get the lift for the next triple and cased it pretty hard which was fine. Almost had it saved and when I finally laid it down my foot got pinched under the footpeg. That being said it turns out i have broken and dislocated 4 metatarsals and have some fractures in the center of my foot as well. Will most likely get surgery early next week. Not the way I wanted to start the year off, everything has been going really good until this. This is called a Lisfranc injury and will probably put me off the bike for about 6 months. Tough pill to swallow but this is part of life and you have these obstacles. How you overcome these difficulties is what defines you. I'll keep you guys updated once I know more, it's all very fresh so just giving a quick update on what I know so far. I will be missing all of SX, hopefully will be good to go for MX"
COLT NICHOLS | INJURED BOTH ARMS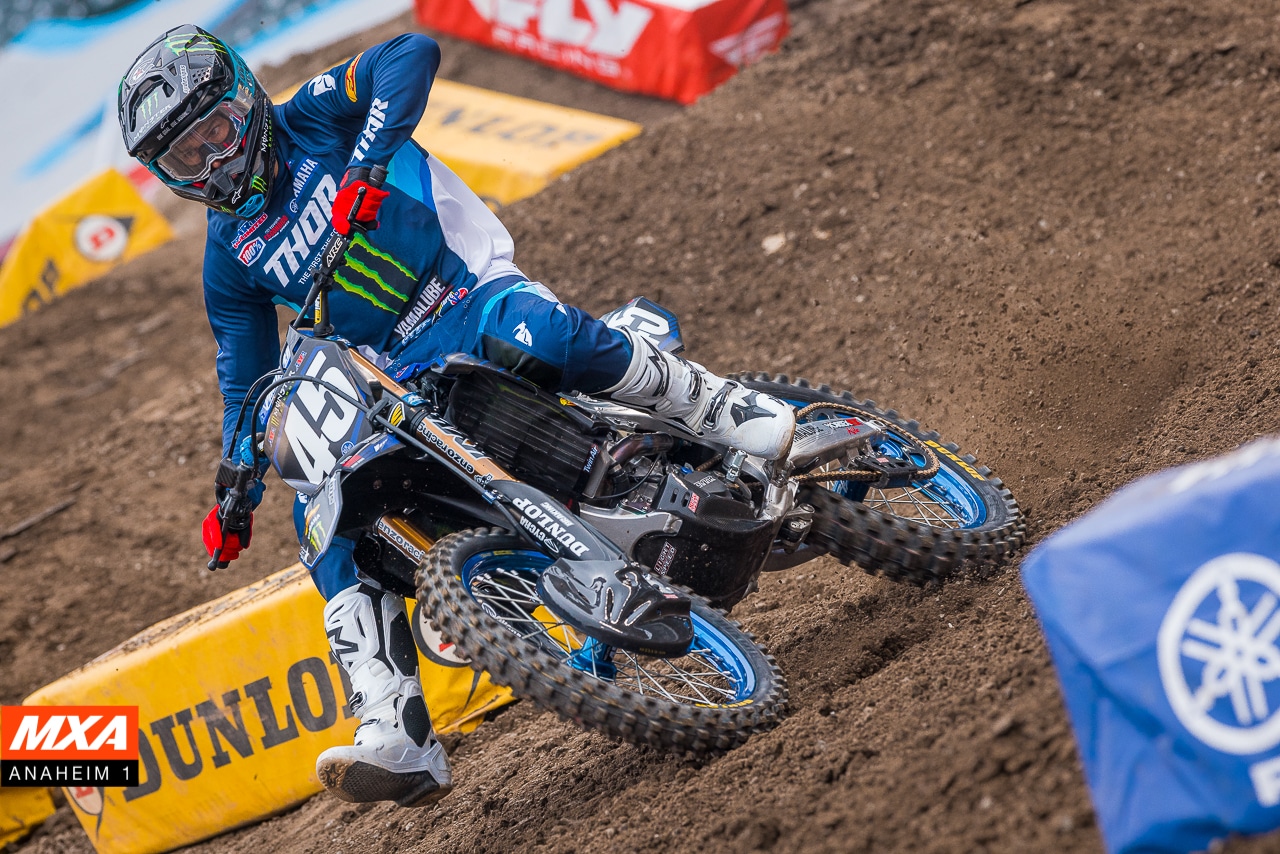 Colt Nichols crashed in the whoops while leading the first 250 Heat race of the night at Anaheim. Sadly, it ended his chances of battling for the 250 West Coast title this season. 
---
450 SUPERCROSS POINT STANDINGS (AFTER ROUND 13 OF 17)
Eli has a huge lead.
| | | | |
| --- | --- | --- | --- |
| POS. | # | NAME | Total Points |
| 1 | 3 | Eli Tomac | 302 |
| 2 | 21 | Jason Anderson | 246 |
| 3 | 51 | Justin Barcia | 240 |
| 4 | 27 | Malcolm Stewart | 235 |
| 5 | 25 | Marvin Musquin | 232 |
| 6 | 1 | Cooper Webb | 208 |
| 7 | 23 | Chase Sexton | 206 |
| 8 | 15 | Dean Wilson | 152 |
| 9 | 14 | Dylan Ferrandis | 141 |
| 10 | 94 | Ken Roczen | 133 |
250 EAST SUPERCROSS POINT STANDINGS (AFTER ROUND 6 OF 9)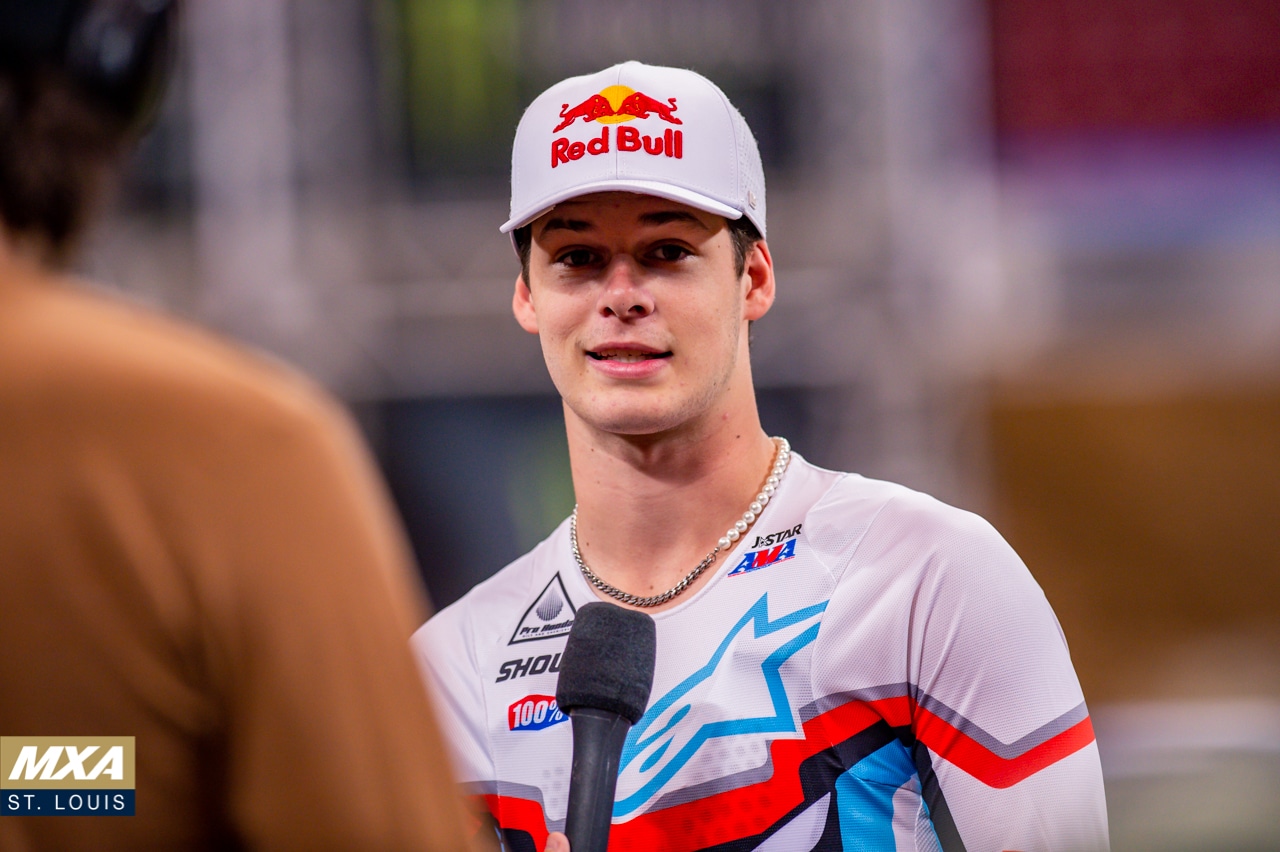 Jett has a huge lead.
| | | | |
| --- | --- | --- | --- |
| POS. | # | NAME | Total Points |
| 1 | 18 | Jett Lawrence | 148 |
| 2 | 48 | Cameron McAdoo | 114 |
| 3 | 24 | Rj Hampshire | 107 |
| 4 | 90 | Jordon Smith | 95 |
| 5 | 44 | Pierce Brown | 94 |
| 6 | 80 | Enzo Lopes | 92 |
| 7 | 54 | Mitchell Oldenburg | 89 |
| 8 | 715 | Phillip Nicoletti | 76 |
| 9 | 81 | Jace Owen | 71 |
| 10 | 50 | Stilez Robertson | 67 |
250 WEST SUPERCROSS POINT STANDINGS (AFTER ROUND 7 OF 10)
And you probably guessed it, Christian has a huge lead.
| | | | |
| --- | --- | --- | --- |
| POS. | # | NAME | POINTS |
| 1 | 28 | Christian Craig | 171 |
| 2 | 96 | Hunter Lawrence | 145 |
| 3 | 29 | Michael Mosiman | 141 |
| 4 | 62 | Vince Friese | 117 |
| 5 | 30 | Jo Shimoda | 106 |
| 6 | 49 | Nate Thrasher | 94 |
| 7 | 69 | Robbie Wageman | 94 |
| 8 | 35 | Garrett Marchbanks | 90 |
| 9 | 910 | Carson Brown | 83 |
| 10 | 66 | Chris Blose | 79 |