2022 BARBER VINTAGE FESTIVAL: EVERYTHING, EVERY WHERE AND ALL KINDS OF MOTORCYCLES
Flying the flag over the world's largest motorcycle museum.
Motorcycle enthusiasts from around the world gather for the Barber Vintage Festival in Birmingham, Alabama, for three spectacular days of everything motorcycles. This year the weather leading up to and during the three-day event was fantastic with milder temperatures and an autumn coolness in the air. Jammed into those three days are factory demo rides, motorcycle vendors, thrill shows, two different swap meets, concours show competition at the VJMC area and motorcycle competitions in road race, enduro, trials and, of course, motocross.
Many of the motordycles inside the Barber Museum are displayed as if they are in action.
This year there were seminars on motorcycle restoration, pin-striping, wheel truing, mechanics, motorcycle design, MotoGP technology, 3D printing concepts and the future of motorcycle design. In your spare moments, when you needed time to rest, you could visit the world's largest motorcycle museum and view over 900 displayed motorcycles (plus car and boat motors) of Barber's 1600-plus motorcycle collection. It is one of the most beautiful facilities ever created for motorcyclists thanks to the vision of Mr. George Barber and his excellent staff.
The Barber Museum at night.
Friday evening at 6:00 p.m. the museum opened its doors for "Motorcycles by Moonlight," a dinner and the only fundraiser during the year for the museum. Each year a motorcycle legend is selected as the Grand Marshall and this years recipient was Mr. Brian Slark, a long time contributor in the motorcycle industry and also managed the service and competition departments for Norton and AJS and became the communications manager for Norton-Villiers in the USA.
Massive sculptures and an inflatable T-Rex.
This once a year event is a great time to experience he history of motorcycle sin one place. With a beautiful parklike atmosphere, world class road race course, great hospitality by the staff and all of its volunteers, motorcycles of all kinds everywhere you look and a chance to gather with other like minded enthusiasts it is a venue to mark on your calendar for next year. We will certainly be back to experience it again.
Never sold to the public, and hidden under wraps, the Barber Museum proudly displays the Buell 450MX prototype. It is part real, part clay and the engine is from a quad..
The Buell was dropped as a project, but some of the people working on the bike thought it was edging closer to Cannondale territory than moden motocross technology.
This is the ill-fated Cannondale that naysayers believed that the Buell 450MX was destined to turn into.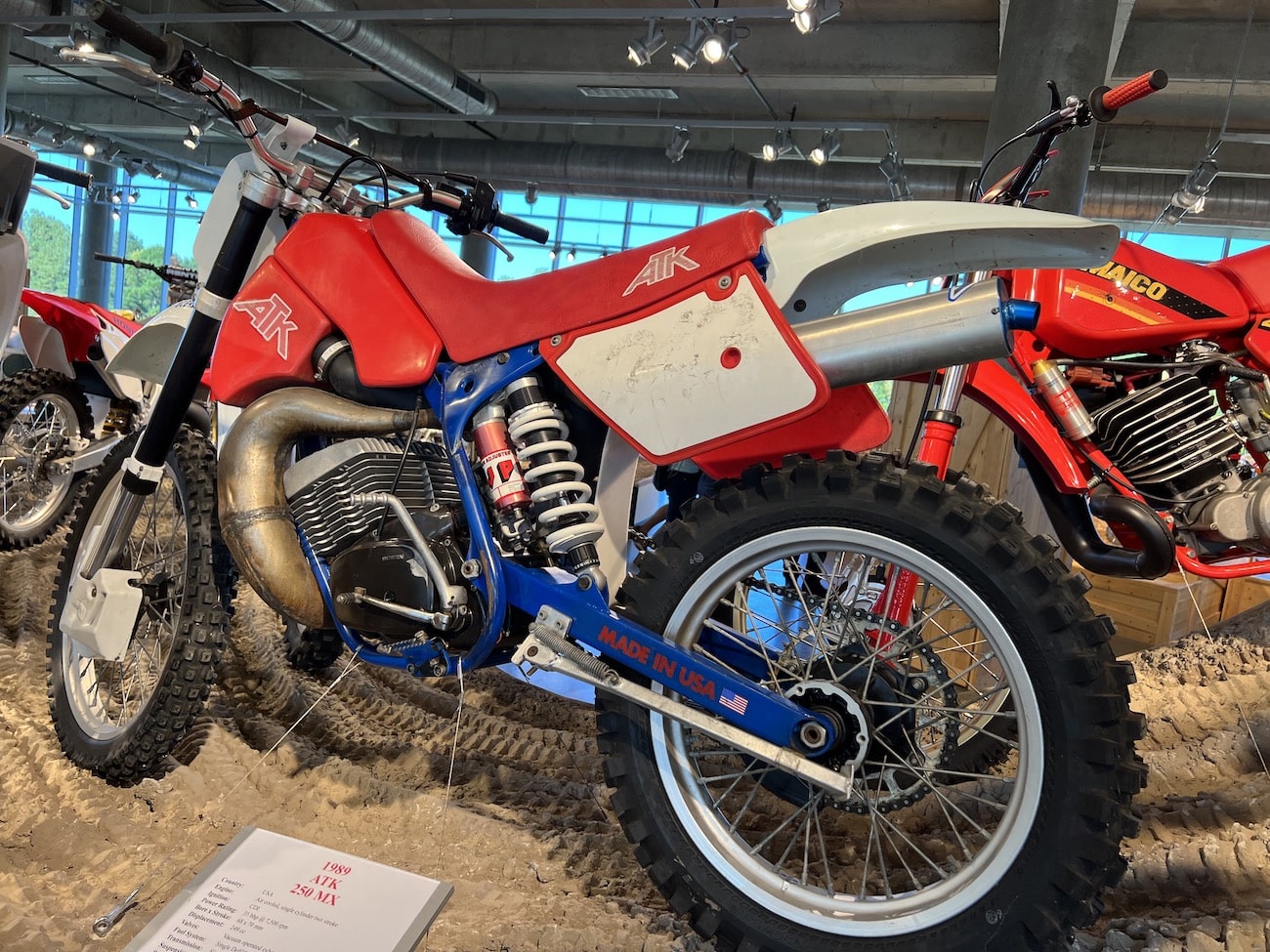 ATK motorcycles, like this 250MX, were a very successful brand of quirky off-road and motocross bikes designed by prolific inventor Horst Leitner. Originally designed for Can-Am, who closed its motorcycle division before the bike was finished, it became the favorite bike of old school riders looking for a lightweight, air-cooled bike. Note the airbox under the gas tank.
Horst Leitner wanted to lower unsprung weight on the rear wheel so he mounted the rear brake on the countershaft. Note the backwards facing rear brake that could not be damaged or bent by debris and the ATK anti-chain torque device on the swingarm.
The 1968 Suzuki TM250 was Suzuk's first effort to build a true-to-life motocross bike. Built from the input of Japanese engineers sent to watch 250 World Championship motocross it looked right, but was mostly wrong..
The sand-cast TM250 engine had the clutch mounted on the crankshaft. It also had twin pipes borrowed from CZ. Suzuki built 100 production models—they are valuable collector item today.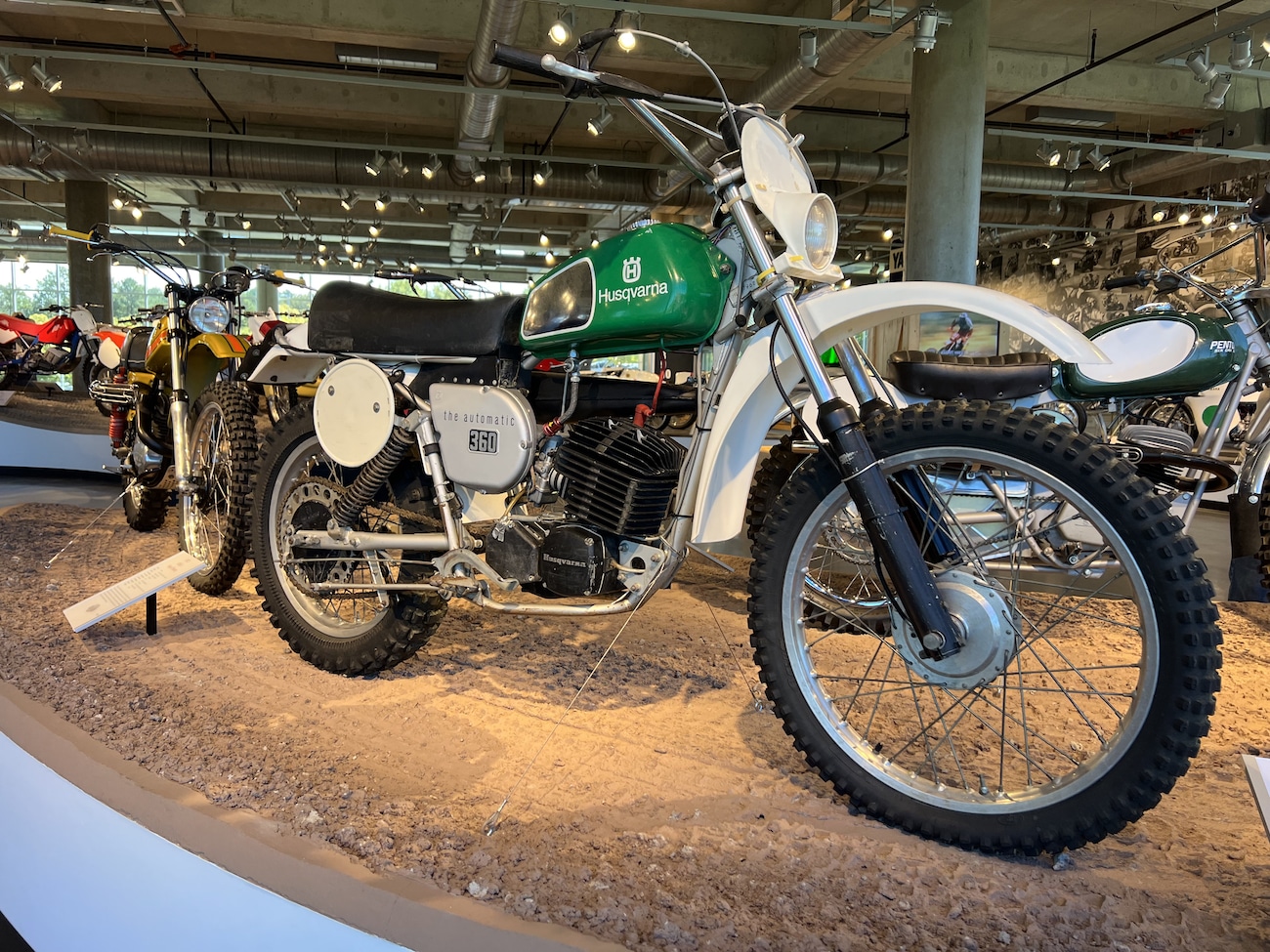 The Husvarna 360AF was equipped with a complicated automatic transmission, originally developed for the Swedish Army so they wouldn't have to teach soldiers how to use a clutch or shift gears. It had limited success in motocross with Arlo Englund in the AMA Nationals and Bo Edberg in the 500 GPs. But it dominated the AMA Enduro Championship for many seasons.
Originally called the Sach 125, it got a name change to DKW 125 when DKW bought Sachs. Rider could choose between leading link forks (shown) or telescopics..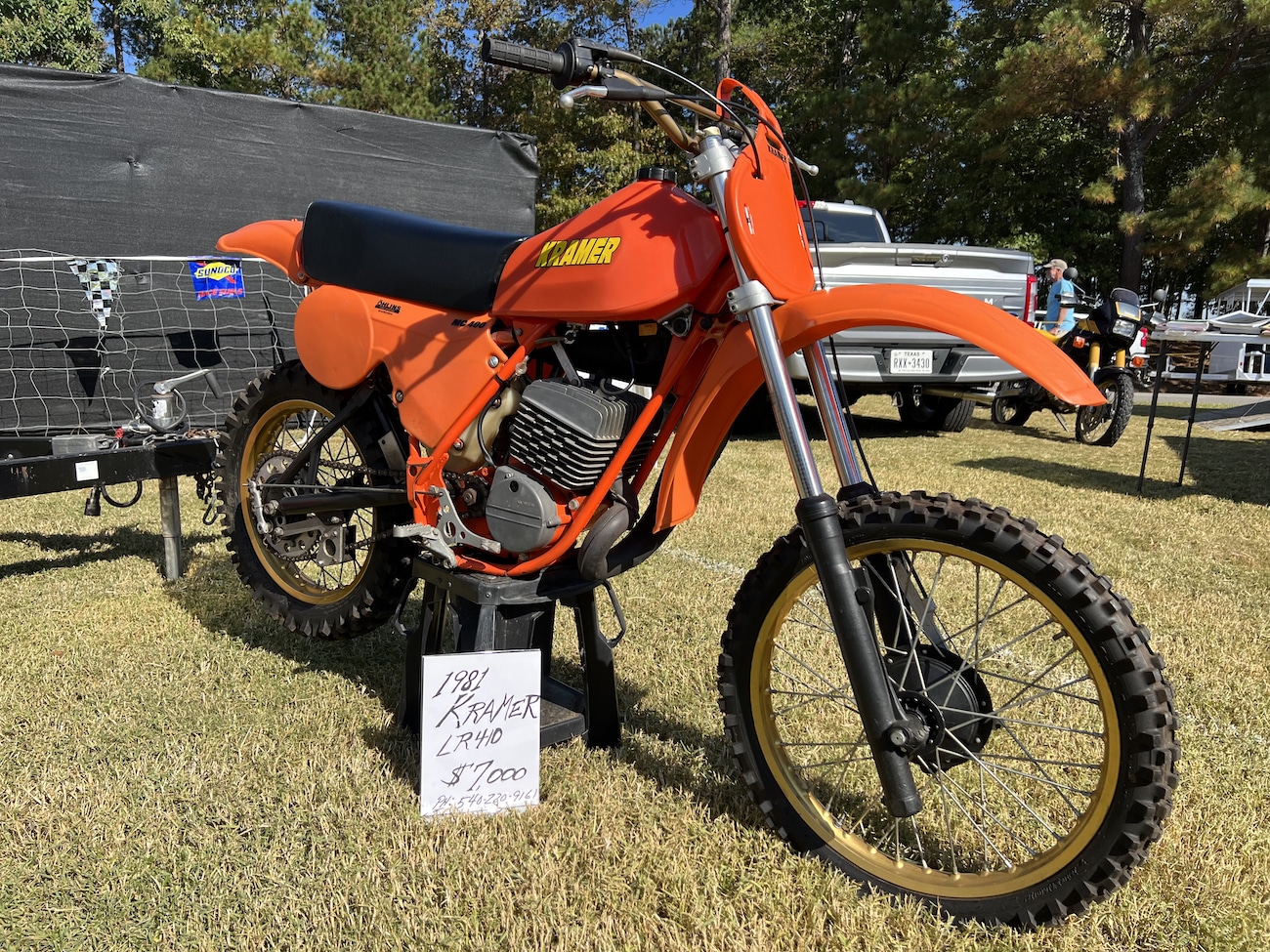 This 1981 Kramer 410 looks like it has a monoshock rear suspension system, but instead it has two shocks under the seat. That way Kramer didn't have to design a complicated single shock.
This is Jeff Ward's 2004 Honda CRF450 SuperMoto bike. Ward used this bike to win the AMA SuperMoto Championship on 2004, but today SuperMoto, a hybrid of dirt and pavement, is all but ignored in the USA.
The 1967 Bridgestone SR175 was a hand-assembled factory racer based on the production Bridgestone DT175 Dual Twin street bike and HS174 Hurricane Scrambler. It retailed for $580 and featured dual-rotary valves, polished ports, stuffed cranks and a tube steel frame. It was a wildly popular short track racer.
The Yamaha YD-1 twin was the first bike that Yamaha brought to race outside of Japan—when the Yamaha engineers still believed that a twin would work better in the dirt.
You meet the nicest people on a Honda CL70. Honda's bevy to small displacement and bulletproof four-strokes paved they way for who they are today.
No bike show is complete without some serious metal work, always trying to capture the future. This is a Honda Dream project.
The Bultaco Alpine was half trials bike and half trail bike, but the only real compromise made to make it feasible as a trail bike was the padded seat.
Spanish manufacturer Sanglas, ignored the off-road market to focus on bikes for the Spanish police and miliary. The engine is a copy of a Matchless 500. Sanglas went out of business when they were purchased by Yamaha, who just wanted the assembly plant.
Trials bikes were a hot commodity in the 1970s, when Japan joined the Spanish brands in making trials bikes for what they presumed was going to be the "next big thing." It wasn't, but every company needed a star and Mick Andrews rode for AJS and Rickman, before signing with Ossa to develop the Ossa Mick Andrews Replica (above). Six year later he moved to Yamaha to develop the Yamaha TY250 Mike Andrews Replica.
All you need is a Volkswagen Bug fender and a 100cc lawnmower/utility engine to build your own VW mini bike.
When you lace your front wheel radially, you'd be crazy not to use a radial airplane engine as a powerplant.
And we say goodbye to the Barber Motorcycle Museum Vintage Festival until next year. See you there.