2022 BUDDS CREEK NATIONAL PRE-RACE REPORT: TV SCHEDULE, INJURED LIST & MORE

2022 BUDDS CREEK NATIONAL PRE-RACE REPORT: TV SCHEDULE, INJURED LIST & MORE
We've arrived to the tenth round of the 2022 Pro Motocross season and we're now on the final stretch of the series. With only a handful of rounds left in the season, the 450 class remains to be the premier entertainment while things (kinda) got interesting in the 250 class. Chase Sexton's and Eli Tomac's rivalry is heating up as now Chase holds on to the red plate with only 1 point separating the two. Jett Lawrence had an extremely rough day at Unadilla but gave a masterclass on how to salvage points while Jo Shimoda would strike first and grab his second overall of the season. Scroll down below to find out everything you need to know about the upcoming round at Budds Creek!
---
HOW TO WATCH PRO MOTOCROSS 2022
TV BROADCAST & ONLINE STREAMING SCHEDULE
Domestic television coverage in the United States from Budds Creek will feature a live broadcast of the motos on MAVTV Motorsports Network & Flo Racing.
Use the MAVTV channel finder to see if the network is available in your area. MAVTV Motorsports Network is available from most cable and satellite television providers, including DIRECTV, Fios by Verizon, Optimum, and Spectrum, and is also available from streaming services like Fubo TV, Hulu + Live TV, and YouTube TV.
In addition to network coverage, fans in the U.S. and in countries all over the world can stream all the action from Southwick online through their smart TV, streaming device, or mobile device using the new "MAVTV on FloRacing" channel. Qualifying coverage can also be seen on @AmericanMotocross YouTube.
FloSports can be found on the iOS App Store, Google Play, Apple TV, Roku, Amazon FireTV, and Chromecast, in addition to smart TVs including Vizio, Samsung and LG. New subscribers to "MAVTV on FloRacing" can take advantage of an exclusive, limited-time offer of $6.99 a month.

STAR RACING YAMAHA BRINGS SPANISH TALENT IN FOR U.S. DEBUT
Press release: Monster Energy Yamaha Star Racing is pleased to announce that Guillem Farres will join the 250 team at Round 10 of the Lucas Oil Pro Motocross Championship at Budds Creek MX Park on Saturday, August 20. One of the sport's rising talents overseas, the team is happy to give the Spaniard the opportunity to make his debut in the U.S. Unfortunately, Nick Romano was injured while preparing for the upcoming round and will not line up this weekend.
From Balsareny, Spain, Farres was the 2020 Spanish 125 national motocross champion and is currently leading the MX Youngster Cup, the 250 class in the German national motocross championship. The 19-year-old has also won some rounds this season in the European Motocross Championship and has scored three top 10 finishes in the FIM 250 World Motocross Championship. Guillem will also compete in this year's Motocross des Nations at Red Bud for Team Spain on a 250.
As for Nick Romano, he was a fourth-place finisher last weekend at Unadilla  and looking to build on the momentum from his home race. Unfortunately, on Tuesday, the rookie crashed while training at the team's track in Cairo, Georgia, and injured his thumb. An update on his return will come at a later date, as will an update on teammates Matt LeBlanc and Levi Kitchen, who are back riding and working on getting back to racing.
Star Racing 250 Team Manager, Jensen Hendler: "We were really impressed with Guillem and are looking forward to seeing what he can do this weekend. We're bummed for Nick. He really had a great ride at Unadilla, and we were looking forward to this weekend, but that's racing. The team has been hard at work all week, and we're ready for Budds Creek."
Guillem Farres: "It all started two weeks ago when I got the call to come over here while I was on a little holiday in Spain. In the beginning, I couldn't believe it, and I just figured out a way to come here to America. I was not supposed to race, but I had a good week. I think they were happy, and I was really happy with the bike, everyone, and how things were going. They offered me to ride at Budds Creek, which is a dream for me. I'm really grateful for the opportunity, and I'm really looking forward to the weekend. The bike is unbelievable, and everyone on the team has been really helpful and friendly to me. We will see how it goes, but I'm really pumped and motivated to race this weekend."

Star Racing rookie, Nick Romano, joins his teammates Matt Leblanc and Levi Kitchen on the injured list. He will miss the final three Rounds with a thumb injury.
JAMES STEWART JOINS THE TV ANNOUNCERS BOOTH
James Stewart won the 125 class (now 250 class) at the Budds Creek National in 2002, 2003 and 2004, and he won the 450 class a few years later in 2008. This year, James is back at Budds Creek, but in the TV booth. To celebrate the 50th Anniversary of the Pro Motocross series, MX Sports is bringing a rotating panel of Champions to help announce the races. This week, it's Bubba's turn.
NINE-TIME MXGP CHAMPION ANTONIO CAIROLI RETURNS FOR BUDDS CREEK 
Antonio Cairoli injured his knee at the High Point National, but now he's back to riding and will be making his return for the final three Nationals starting this weekend at Budds Creek.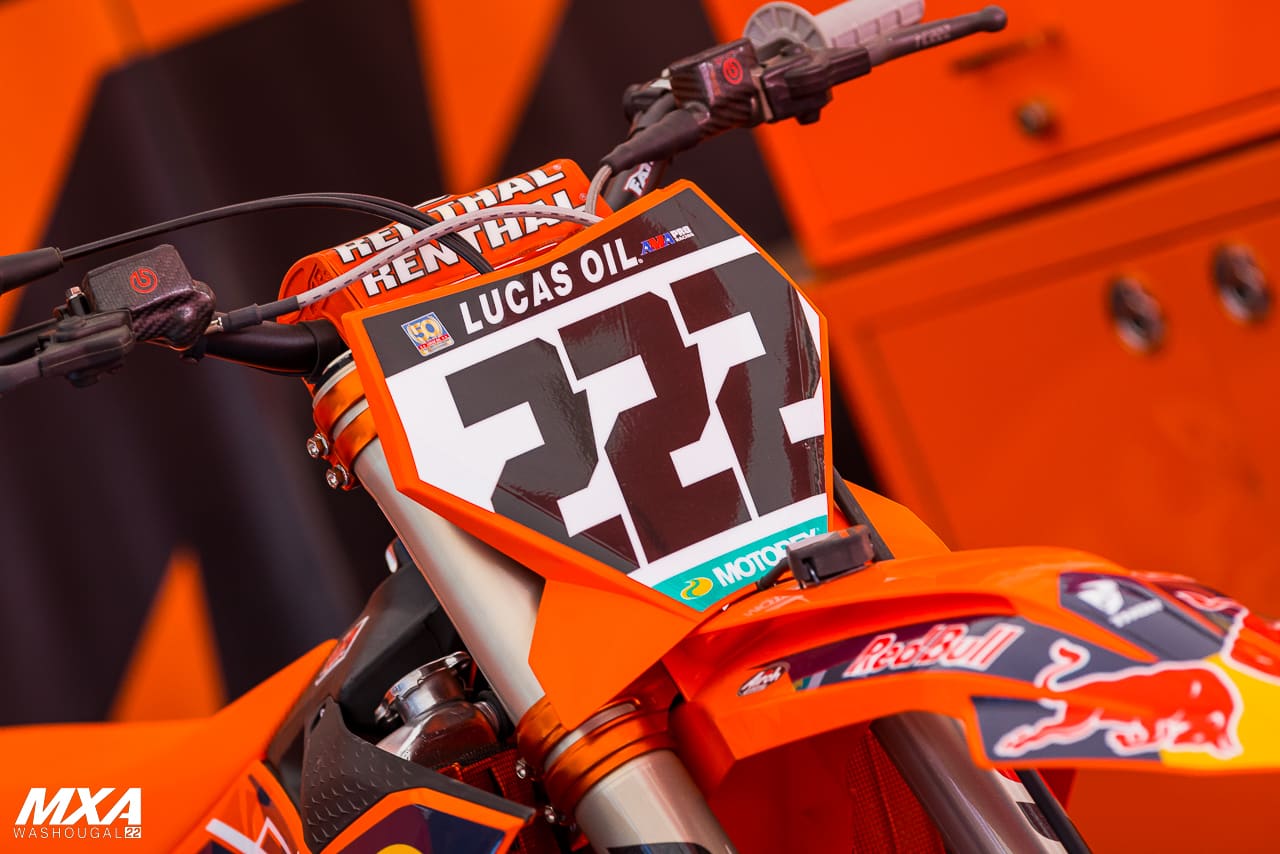 The MXA wrecking crew recently tested Cairoli's Red Bull KTM 450SXF, click here to watch the video. 
MICHAEL MOSIMAN RETURNS FROM INJURY AT BUDDS CREEK
After crashing in 250 Moto 1 at Millville, Michael Mosiman sat out the Washougal and Unadilla Nationals. Now he's returning to the starting line for Budds Creek. Here he is with his mechanic Jay Burgess.
WHO'S WHO AND WHO'S NEW (PLUS INJURY REPORT)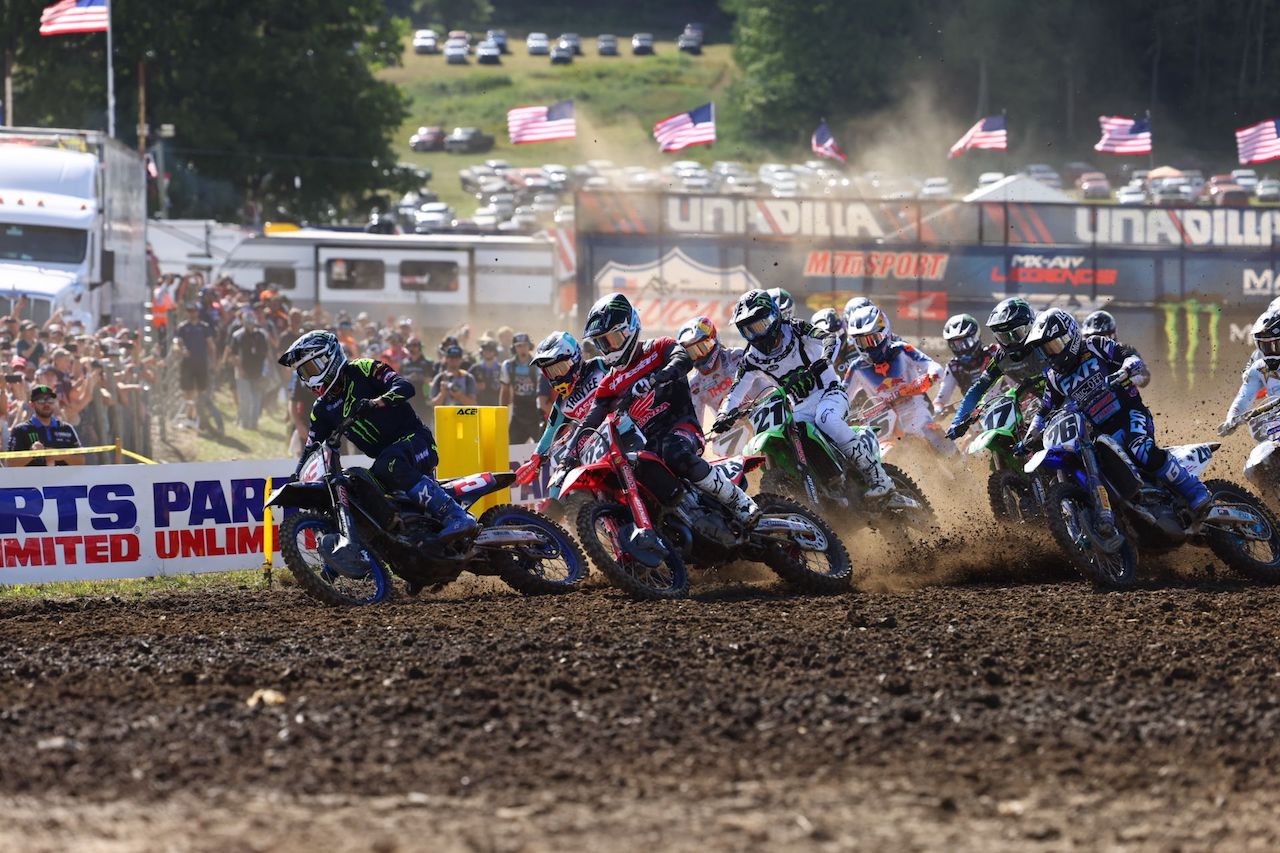 Below is a list of some of the Factory and Privateer teams with who's in and who's out for Budds Creek.
450 CLASS
HONDA HRC

KEN ROCZEN 
CHASE SEXTON (won both motos at Unadilla last weekend)

STAR RACING YAMAHA

DYLAN FERRANDIS (The defending Champion returned at Unadilla last Saturday)
ELI TOMAC (Went 2-2 at Unadilla)
CHRISTIAN CRAIG (Current 250 West Supercross champ has moved up permanently to the 450 class)

MONSTER ENERGY KAWASAKI

JASON ANDERSON
JOEY SAVATGY

ADAM CIANCIARULO

 (Injured: taking the summer off to heal from his shoulder injury)

RED BULL KTM

RYAN DUNGEY (Returned after a 5-year hiatus)
AARON PLESSINGER (Recovered from his 2022 Supercross injuries)

TONY CAIROLI (Went home to Italy, but is back racing this weekend at Budds Creek)
COOPER WEBB (Out for 2022 Outdoor season to heal multiple injuries, has a Supercross-only contract for 2023 with KTM)

MARVIN MUSQUIN

 (Not racing this summer, has a Supercross-only contract for 2023 with KTM)

ROCKSTAR ENERGY HUSQVARNA

MALCOLM STEWART (Missed the first 8 races the season with a knee injury sustained at St. Louis Supercross, but returned at Unadilla)
DEAN WILSON (Dean has missed all of the current 2022 Nationals due to an injury but came back at Unadilla)

TROY LEE DESIGNS / REDBULL / GASGAS
MUC-OFF / FXR / CLUBMX YAMAHA

GARRETT MARCHBANKS
ALEX MARTIN (This is A-Mart's final season as he recently announced his plan to retire after Outdoors)
SHANE MCELRATH (Shane rode for Husky while Dean/Malcolm were injured. Now he's filling in for Phil Nicoletti at ClubMX Yamaha for the remaining rounds.)

PHIL NICOLETTI

 (Sustained a wrist injury a few weeks ago, out for the season)

TWISTED TEA / HEP SUZUKI

BRANDON HARTRANFT 

(suffered an ankle injury at Washougal)

MARSHALL WELTIN (Fill-in rider for Justin Bogle)
JUSTIN BOGLE (Decided to pull out of the 450 Nationals)


TEAM BBMX KTM (Previously known as Rocky Mountain KTM)

FREDDIE NOREN (Returned from injury at Millville)
BENNY BLOSS (Rode for Team Tedder KTM in Supercross, but Team Tedder doesn't race outdoor motocross)

FIREPOWER HONDA 

MAX ANSTIE

 (Max raced his new Firepower Honda at Red Bud, Southwick and Millville. After an injury, Max did not race at Washougal and we are unsure if he will race at Unadilla)
---
250 CLASS
STAR RACING YAMAHA

JUSTIN COOPER (Moving to the 450 class in 2023)

NATE THRASHER
GUILLEM FARRES (fill-in rider starting at Budds Creek)
COLT NICHOLS (Recently announced that he is leaving Star Racing Yamaha to prepare for his 2023 season in the 450 class with a new team)

LEVI KITCHEN

 (Broken wrist, most likely will miss remainder of season)
MATT LEBLANC
NICK ROMANO (Out for season with a thumb injury)
HONDA HRC

JETT LAWRENCE (Current 250 title holder in both Motocross and Supercross)
HUNTER LAWRENCE (Finished second in the 2022 Supercross season)
MONSTER ENERGY PRO CIRCUIT KAWASAKI

JO SHIMODA (Jo won his second 250 Nationla last week at Unadilla)
CAMERON MCADOO  (Returned to racing last week after an injury at the opening round at Pala
SETH HAMMAKER

(Out for Budds Creek after big crash at Unadilla)




RYDER DIFRANCESCO

 (Out for Budds Creek with injured shoulder)

JETT REYNOLDS

AUSTIN FORKNER (Injured: Austin raced Pala, but now will undergo shoulder surgery, most likely will miss the summer)
ROCKSTAR ENERGY HUSQVARNA

RJ HAMPSHIRE

STILEZ ROBERTSON

 (injured his ankle at Millville, out for the season)
JALEK SWOLL

TROY LEE DESIGNS / REDBULL / GASGAS

MICHAEL MOSIMAN

(

Returning at Budds Creek after taking a couple weeks off for a concussion)

PIERCE BROWN

BARX CHAPARALL SUZUKI

DEREK DRAKE
DILAN SCHWARTZ
CARSON MUMFORD 

MUC-OFF / FXR / CLUBMX YAMAHA

ENZO LOPES
JEREMY MARTIN (Jeremy left the Star Racing team and will be joining the ClubMX roster for 2023. Plus, he plans to line up for the final two rounds if all goes well)

BRANDON SCHARER

 (Injured: compression fracture in his back from crashing at Pala)
450 POINT STANDINGS AFTER ROUND 9 – RACE RESULTS
With Chase Sexton and Eli Tomac are duking it out, it was clear that Chase was the superior rider at Unadilla, but Eli has won more Nationals than Chase this season. They are only a single point apart heading to Budds Creek.
| | | | |
| --- | --- | --- | --- |
| POS. | # | NAME | Total Points |
| 1 | 23 | Chase Sexton | 409 |
| 2 | 3 | Eli Tomac | 408 |
| 3 | 21 | Jason Anderson | 325 |
| 4 | 94 | Ken Roczen | 304 |
| 5 | 28 | Christian Craig | 273 |
| 6 | 5 | Ryan Dungey | 264 |
| 7 | 51 | Justin Barcia | 246 |
| 8 | 7 | Aaron Plessinger | 230 |
| 9 | 17 | Joseph Savatgy | 195 |
| 10 | 12 | Shane McElrath | 165 |
250 POINT STANDINGS AFTER ROUND 9 – RACE RESULTS
Jett Lawrence crashed three time in the first mot at Unadilla at Unadilla. However, Jett still has a 26-point lead in the 250 National Championship.

| | | | |
| --- | --- | --- | --- |
| POS. | # | NAME | Total Points |
| 1 | 1 | Jett Lawrence | 391 |
| 2 | 96 | Hunter Lawrence | 365 |
| 3 | 30 | Jo Shimoda | 351 |
| 4 | 32 | Justin Cooper | 316 |
| 5 | 24 | RJ Hampshire | 227 |
| 6 | 36 | Maximus Vohland | 222 |
| 7 | 47 | Seth Hammaker | 207 |
| 8 | 59 | Levi Kitchen | 180 |
| 9 | 29 | Michael Mosiman | 169 |
| 10 | 50 | Stilez Robertson | 169 |