2022 DUBYA WORLD VET CHAMPIONSHIP RESULTS (DAY ONE)
2022 DUBYA WORLD VET CHAMPIONSHIP RESULTS (DAY ONE)
The first day of racing at the 2022 Dubya USA World Vet Championships at Glen Helen is in the books and day two is set to go. For the 38th running of this event, the format of the racing has been switched up. The amateur classes have a new three-moto format with the racing being spread between Saturday and Sunday. While the Pro's, and the World Cup race, still have a two-moto format. The 40+ Pro, 50+ Pro and 30+ Pasha 125 Open were Saturday only classes and we have the results posted below.
Sunday is the second and final day of racing and the classes to keep an eye on are the 30+ Pro, 50+ Pasha 125 Open classes and the second moto for the World Cup class. See below for results from day one and check out GlenHelen.com for first moto results from the amateur classes.
---
VET 40+ PRO CLASS (SATURDAY ONLY)
Mike Brown grabbed the win in a convincing fashion. Even though Mike is 50 years old, he chose wisely to his energy racing in the 40+ Pro class and 30+ Pasha 125 Open classes on Saturday. He could've raced the 50+ Pro class too, but he let Kurt Nicoll get the glory in that class. 
1- #3 MIKE BROWN 1st-1st
2- #165 KRIS KEEFER 2nd-2nd
3- #2 JEREMY MCGRATH 4th-3rd
4- #7 MICHAEL STAUFER 3rd-4th
5- #95 MARK TILLEY 5th-5th
6- #111 DANNY HAM 6th-6th
7- #804 SHAWN BUSHNELL 7th-7th
8- #107 RYAN GAULD 10th-8th
9- #120 JIM FREDERICKSON 9th-10th
10- #753 JEREMIAH MOORE 8th-11th
11- #562 JR VIELLE 11th-9th
12- #431 JUSTYN MCCABE 12th-12th
13- #94 RONNY HERLITSCHKE 13th-13th
14- #123 MATTHIEU SMITH 14th-DNF
---
VET 50+ PRO CLASS (SATURDAY ONLY)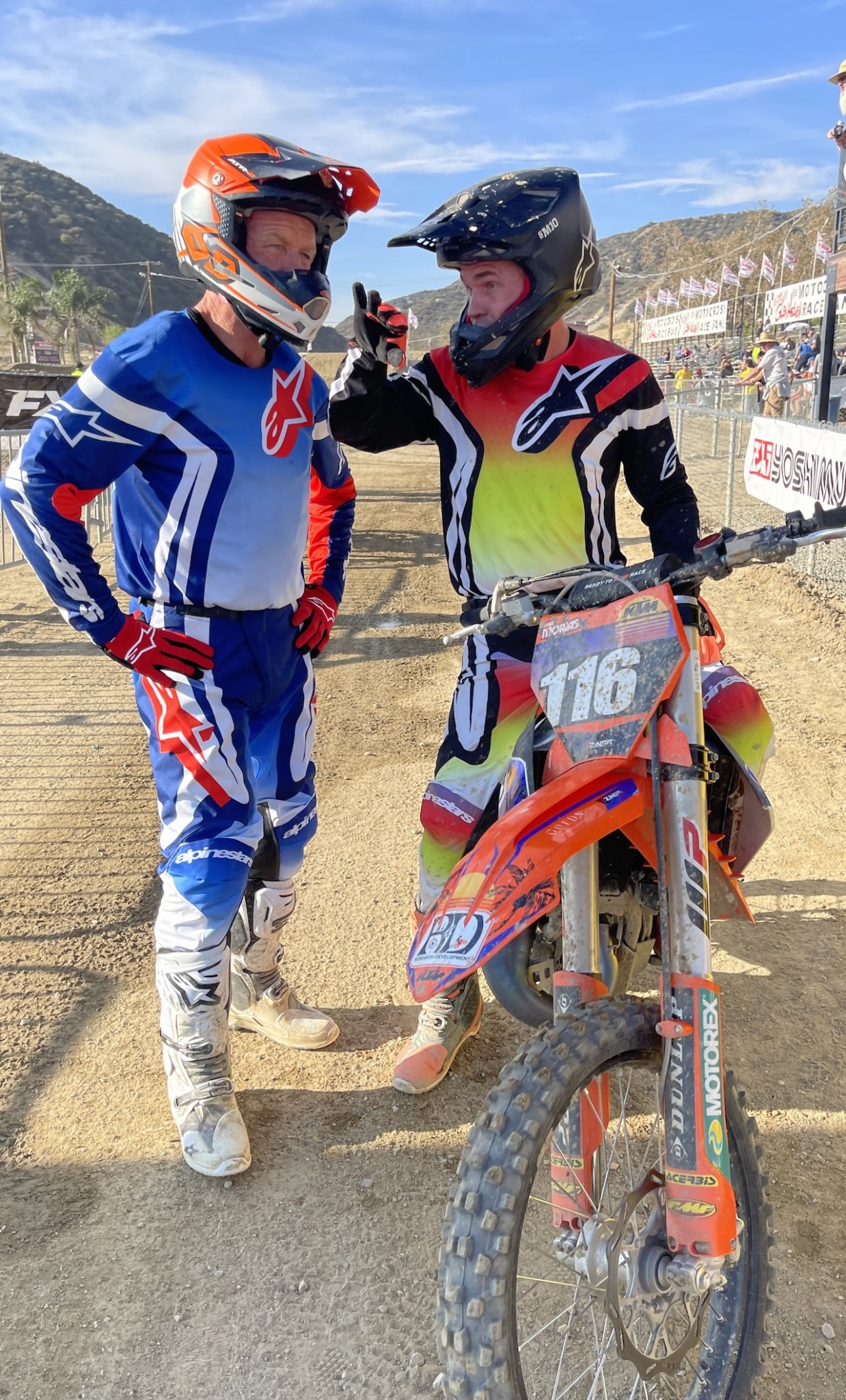 Kurt Nicoll and Ryan Morias are both KTM test riders. Here Morias, on the fuel-injected 2023 KTM 125SX, is giving Nicoll some tips before his second moto. The track was rough and even the fastest and most experienced Glen Helen riders were asking for line choice advice. 
1st- #2 KURT NICOLL 
2nd- #117 JULIAN CERNY 
3rd- #511 BRYAN SABBAUGH 
4th- #75 SCOT STEFFY 
5th- #431 JUSTYN MCCABE 
6th- #311 BILL SAURO 
7th- #326 ED FOEDISH 
8th- #759 STEVE NELSON 
9th- #2 LUTHER FRENCH 
10th- #79 ARKADIUSZ KRUK 
11th- #73 RALF SCHMIDT 
12th- #852 KEVIN BARDA 
13th- #4 CHAD SCHOLZ 
14th- #52 JOHN KERNAN 
15th- #211 JIM MAROSTICA 
16th- #991MICHAEL ADCOCK 
17th- #l7 PASHA AFSHAR 
18th- #23 ANDREW HOPSON 
19th- #70 ALAN JULLIEN 
20th- #118 JERRY HAMPTON 
21st- #214 CHRIS HEINRICH 
22nd- #18 ED HEACOX 
23rd- #599 BRYAN SCHRITTER 
24th- #111 JEFF MATIASEVICH 
25th- #581 RODERICK TAPIA 
26th- #28 JAYSON CROTTEAU 
27th- #861DISCO CINCOTTA 
---
VET 30+ PASHA 125 OPEN CLASS (SATURDAY ONLY)
1st- #207 SEAN COLLIER 2nd-1st
2nd- #3 MIKE BROWN 1st-2nd
3rd- #116 RYAN MORAIS 3rd-3rd
4th- #l7 PRESTON TILFORD 4th-4th
5th #187 BRYCE HUFFMAN 6th-5th
6th #49 GUENTER SCHMIDINGER 5th-6th
7th #112 DUSTIN PULLIAM 8th-7th
8th #105 BEN GRIFFITH 7th-8th
9th #159 JOE HALL 9th-9th
10th- #530 MICHAEL BROWN 10th-10th
11th- #406 ROBERT WORTH 11th-11th
12th- #810 TREVOR POLLOCK 13th-12th
13th- #626 WILL HANSEN 14th-13th
14th- #1 ROBERT KURHY 12th-DNF
15th- #419 MICHAEL LOPEZ 15th-DNF
16th #174 KENN KIBBY 16th-DNF
17th #37 CHRIS LOREDO 17th-DNF
Pete Murray won the 60+ Expert class, but Husqvarna's Andy Jefferson (#36) was close behind. See more results from the first day of racing at GlenHelen.com. Sunday is the second and final day of racing and we'll MXA post the results after we get off the track ourselves.