2022 MOTOCROSS DES NATIONS // NATION POINT STANDINGS

2022 MOTOCROSS DES NATIONS // NATION POINT STANDINGS
The 2022 Motocross des Nations has come to a conclusion and Team USA has claimed victory for the first time since 2011. It was a close battle each and every moto with the likes of Australia's Jett Lawrence and France's Maxime Renaux taking two moto wins, but it was the talent of Eli Tomac, Chase Sexton, and Justin Cooper whose combined score would win at the end of the day. Scroll down below to find out where every country placed at the Motocross des Nations and make sure to click on our race results to find out what went down at Red Bud!
---
OFFICIAL POINT STANDINGS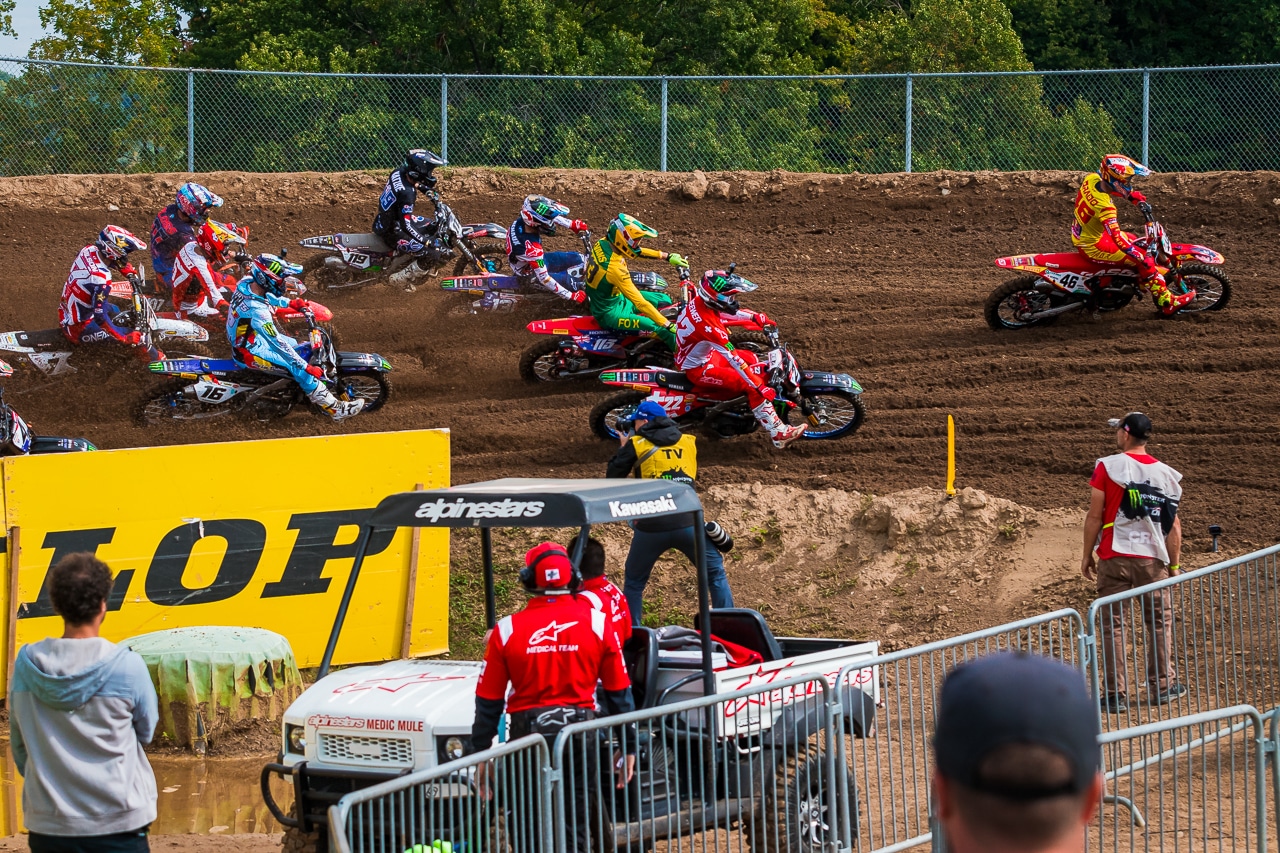 For the scoring system, 5 out of the 6 rounds count for the overall score. The lowest score is eliminated from the overall score. Each position equals the same point value. For example, 1st place equals 1 point, 10th place equals 10 points. The country with the lowest score wins MXDN. 
Pos
Country
Points
Race
Nr
Name
1
USA
16
1
Race 1
101
TOMAC, Eli
2
Race 2
103
SEXTON, Chase
3
Race 3
103
SEXTON, Chase
4
Race 2
102
COOPER, Justin
6
Race 3
101
TOMAC, Eli
9
Race 1
102
COOPER, Justin
Pos
Country
Points
Race
Nr
Name
2
France
23
1
Race 3
13
RENAUX, Maxime
3
Race 1
13
RENAUX, Maxime
4
Race 3
15
FERRANDIS, Dylan
6
Race 2
15
FERRANDIS, Dylan
9
Race 2
14
MUSQUIN, Marvin
14
Race 1
14
MUSQUIN, Marvin
Pos
Country
Points
Race
Nr
Name
3
Australia
26
1
Race 2
115
LAWRENCE, Jett
2
Race 3
115
LAWRENCE, Jett
5
Race 1
113
EVANS, Mitchell
8
Race 1
114
LAWRENCE, Hunter
10
Race 2
114
LAWRENCE, Hunter
28
Race 3
113
EVANS, Mitchell
Pos
Country
Points
Race
Nr
Name
4
Italy
49
3
Race 2
3
GUADAGNINI, Mattia
7
Race 1
1
CAIROLI, Antonio
9
Race 3
1
CAIROLI, Antonio
15
Race 2
2
ADAMO, Andrea
15
Race 1
2
ADAMO, Andrea
19
Race 3
3
GUADAGNINI, Mattia
Pos
Country
Points
Race
Nr
Name
5
Belgium
50
2
Race 1
16
GEERTS, Jago
11
Race 3
16
GEERTS, Jago
12
Race 3
18
VAN HOREBEEK, Jeremy
12
Race 1
17
EVERTS, Liam
13
Race 2
18
VAN HOREBEEK, Jeremy
14
Race 2
17
EVERTS, Liam
Pos
Country
Points
Race
Nr
Name
6
Spain
51
5
Race 2
48
FERNANDEZ, Ruben
6
Race 1
46
PRADO, Jorge
7
Race 3
46
PRADO, Jorge
8
Race 3
48
FERNANDEZ, Ruben
25
Race 1
47
FARRES, Guillem
27
Race 2
47
FARRES, Guillem
Pos
Country
Points
Race
Nr
Name
7
The Netherlands
62
7
Race 2
6
VLAANDEREN, Calvin
10
Race 1
5
DE WOLF, Kay
13
Race 1
4
COLDENHOFF, Glenn
14
Race 3
6
VLAANDEREN, Calvin
18
Race 2
5
DE WOLF, Kay
36
Race 3
4
COLDENHOFF, Glenn
Pos
Country
Points
Race
Nr
Name
8
Germany
71
11
Race 2
32
LAENGENFELDER, Simon
11
Race 1
31
NAGL, Maximilian
16
Race 2
33
KOCH, Tom
16
Race 3
31
NAGL, Maximilian
17
Race 1
32
LAENGENFELDER, Simon
18
Race 3
33
KOCH, Tom
Pos
Country
Points
Race
Nr
Name
9
Switzerland
90
4
Race 1
22
SEEWER, Jeremy
5
Race 3
22
SEEWER, Jeremy
22
Race 3
24
BRUMANN, Kevin
28
Race 2
23
GUILLOD, Valentin
31
Race 2
24
BRUMANN, Kevin
36
Race 1
23
GUILLOD, Valentin
Pos
Country
Points
Race
Nr
Name
10
Great Britain
98
15
Race 3
9
SEARLE, Tommy
16
Race 1
7
WILSON, Dean
17
Race 2
9
SEARLE, Tommy
20
Race 3
7
WILSON, Dean
30
Race 2
8
ANSTIE, Max
37
Race 1
8
ANSTIE, Max
Pos
Country
Points
Race
Nr
Name
11
Latvia
101
13
Race 3
43
SABULIS, Karlis
20
Race 1
43
SABULIS, Karlis
22
Race 2
45
MACUKS, Toms
23
Race 3
45
MACUKS, Toms
23
Race 2
44
REISULIS, Karlis Alberts
23
Race 1
44
REISULIS, Karlis Alberts
Pos
Country
Points
Race
Nr
Name
12
Sweden
109
19
Race 2
56
GERHARDSSON, Albin
19
Race 1
55
ÖSTLUND, Alvin
21
Race 3
57
NOREN, Fredrik
24
Race 2
57
NOREN, Fredrik
26
Race 1
56
GERHARDSSON, Albin
34
Race 3
55
ÖSTLUND, Alvin
Pos
Country
Points
Race
Nr
Name
13
Norway
116
18
Race 1
95
HORGMO, Kevin
22
Race 1
94
TOENDEL, Cornelius
24
Race 3
94
TOENDEL, Cornelius
25
Race 2
96
OSTERHAGEN, Haakon
27
Race 3
96
OSTERHAGEN, Haakon
34
Race 2
95
HORGMO, Kevin
Pos
Country
Points
Race
Nr
Name
14
Finland
124
21
Race 2
35
WECKMAN, Emil
24
Race 1
35
WECKMAN, Emil
25
Race 3
36
HAAVISTO, Jere
26
Race 3
34
SIHVONEN, Miro
28
Race 1
34
SIHVONEN, Miro
33
Race 2
36
HAAVISTO, Jere
Pos
Country
Points
Race
Nr
Name
15
Canada
129
10
Race 3
40
WRIGHT, Dylan
29
Race 3
42
MEDAGLIA, Tyler
29
Race 2
42
MEDAGLIA, Tyler
30
Race 1
41
MCNABB, Ryder
31
Race 1
40
WRIGHT, Dylan
Pos
Country
Points
Race
Nr
Name
16
Chile
130
12
Race 2
111
MUNOZ, Hardy
26
Race 2
112
GARIB, Benjamin
27
Race 1
111
MUNOZ, Hardy
32
Race 1
110
PAVEZ, Matías
33
Race 3
110
PAVEZ, Matías
37
Race 3
112
GARIB, Benjamin
Pos
Country
Points
Race
Nr
Name
17
Guam
147
20
Race 2
108
VARIZE, Joshua
29
Race 1
108
VARIZE, Joshua
32
Race 3
109
LIPANOVICH, Sean
32
Race 2
109
LIPANOVICH, Sean
34
Race 1
107
BLOSS, Benjamin
35
Race 3
107
BLOSS, Benjamin
Pos
Country
Points
Race
Nr
Name
18
Rep. of South Africa
154
21
Race 1
59
MC LELLAN, Camden
30
Race 3
58
PURDON, Tristan
31
Race 3
60
DUROW, Cameron Anthony
35
Race 2
60
DUROW, Cameron Anthony
37
Race 2
59
MC LELLAN, Camden
38
Race 1
58
PURDON, Tristan
Pos
Country
Points
Race
Nr
Name
19
Estonia
98
8
Race 2
21
KULLAS, Harri
17
Race 3
21
KULLAS, Harri
35
Race 1
19
LEOK, Tanel
38
Race 3
19
LEOK, Tanel
Pos
Country
Points
Race
Nr
Name
20
Venezuela
108
33
Race 1
68
TRASOLINI, Raimundo
36
Race 2
69
LOCURCIO, Lorenzo
39
Race 1
67
RODRIGUEZ, Anthony