2022 PARIS SUPERCROSS: TOMAC WINS FIRST NIGHT IN PARIS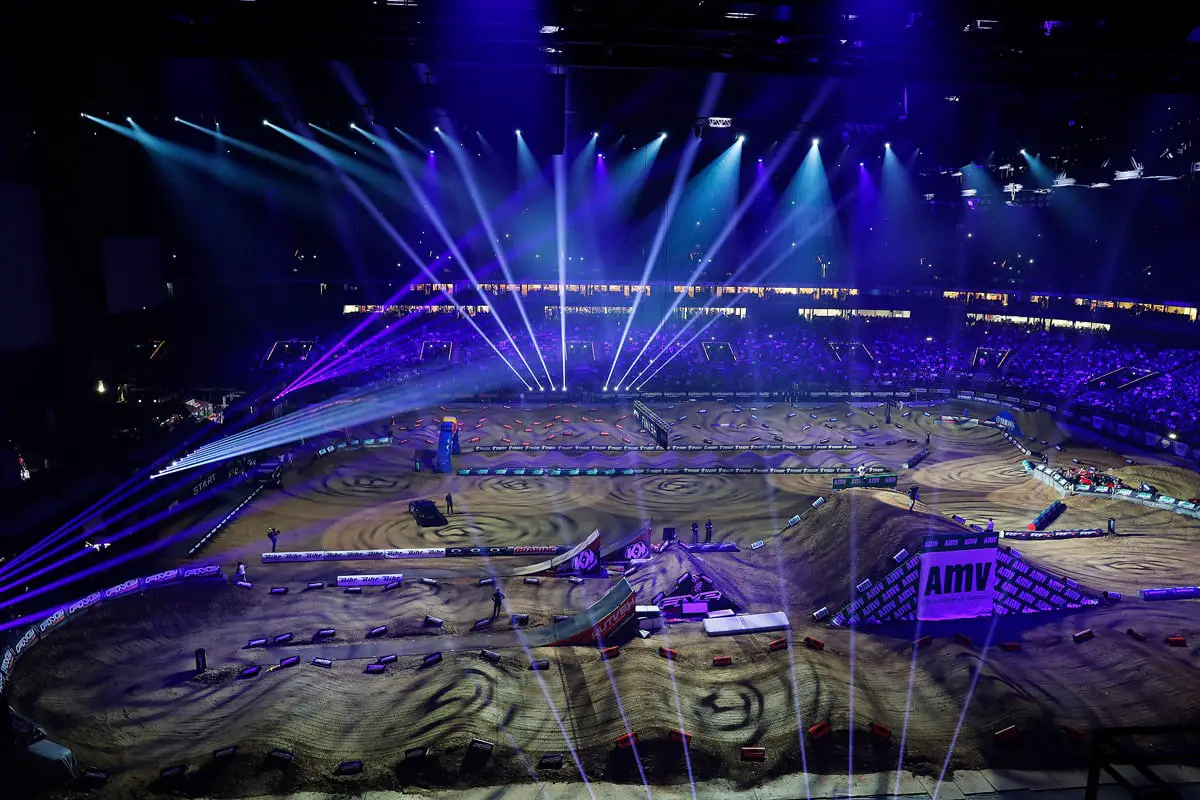 The Paris La Defense Arena was awash with lights. Paris is always a great show for the sold-out crowd.
The first night in Paris was a great one and the racing in the 450 class was exciting during the three races (two sprint and one main). Eli Tomac and Ken Roczen each won one of the sprint races, and before the main event they were close in the points with 3 for Eli (1-2) and 4 points for Ken (3-1). As Eli got the holeshot in the main event, Ken was back in fifth after the first corner. Marvin Musquin (who lost his chances for the overall with two crashes during the second sprint) was in second place but Roczen was flying and mid-race he had moved into second place behind Tomac. Ken reduces the gap lap after lap, and cut Tomac's lead down to less than a second as they entered the last lap of the race; the fans were cheering both riders
Eli Tomac is on an amazing winning streak and he kept it going on the first night in Paris.
Marvin Musquin's crash in moto two cost him any chance of a podium in Paris
This is the fans came to see on Saturday night. Ken Roczen (94) versus Eli Tomac (3).
Eli Tomac kept the advantage to win the main and take the Overall win on the first night of Paris with a 1-2-1 ahead of Ken's 3-1-2 and Justin Brayton's 2-7-4). Cooper Webb finished fourth with a 5-3-5, one position ahead the best of the French riders, who were who were Cedric Soubeyras with a 6-4-6 and Marvin Musquin with a 4-10-3.
Chris Blose swept all three 250 motos on his Bud Racing Kawasaki KX250.
In the 250 class, Chris Blose was the boss with three straight wins! Jace Owen went 3-2-2, while Yannis Irsuti saved the French honor with a 2-3-5)in third ahead of of Australian Matt Moss (6-4-4) and American Cullin Park (5-8-3).
Justin Brayton, Eli Tomac and Ken Roczen were the top three in the 450 class.
PARIS NIGHT ONE 450 RESULTS
(Lowest three moto score wins)
1. Eli Tomac (Yam)…4
2. Ken Roczen ( Hon), 6
3. Justin Brayton (Hon), 13
4. Cooper Webb (KTM)…13
5. Cedric Soubeyras (Hon)…16
6. Marvin Musquin KTM)…17
7. Grgeory Aranda (KTM)…22
8. Maxime Desprey (Yam)…24
9. Julien Roussaly (Yam)…26
10. Anthony Bourdon (Yam)…30
Yannis Irsuto (left) was the highest placing French rider behind Americans Chris Blose (center) and Jace Owen. Along with the purse money, they each got a YCF mini four-stroke.
PARIS NIGHT ONE 250 RESULTS
(highest point total wins)
1. Chris Blose (Kaw)…60
2. Jace Owen (Hon)…49
3. Yannis Irsuto (Kaw)…43
4. Matt Moss (Kaw)…36
5. Cullen Park (Hon)… 34
6. Julien Lebeau(Kaw)…28
7. Brice Maylin (GasGas)…27
8. Lucas Imbert (Yam)…23
9. Thomas Do (Hon)…22
10. Quentin Prugnières (Kaw)…20