2022 SAN DIEGO SUPERCROSS PRE-RACE REPORT: INJURED LIST, TV SCHEDULE & MORE (UPDATED)

2022 SAN DIEGO SUPERCROSS PRE-RACE REPORT: INJURED LIST, TV SCHEDULE & MORE
The most patriotic race of the Supercross season is just around the corner as teams deck out their bikes with Military themed graphics and gear threaded with red, white, and blue. We weren't able to experience San Diego last year thanks to Covid but now that we're back this year, we're expecting the teams to really go all out with the camo. The San Diego venue is also an extremely beautiful location, located in Petco Park where the Padres play baseball. So scroll down below to find out everything you NEED to know heading into the third round of the 2022 Monster Energy Supercross season.
---
2022 SAN DIEGO TRACK MAP
The very long and fast start straight will provide a very interesting first turn. The track also features several 90-degree turns which are quicker to get in and out of as opposed to your standard 180-degree berm. 
---
2022 SAN DIEGO SUPERCROSS RACE DAY SCHEDULE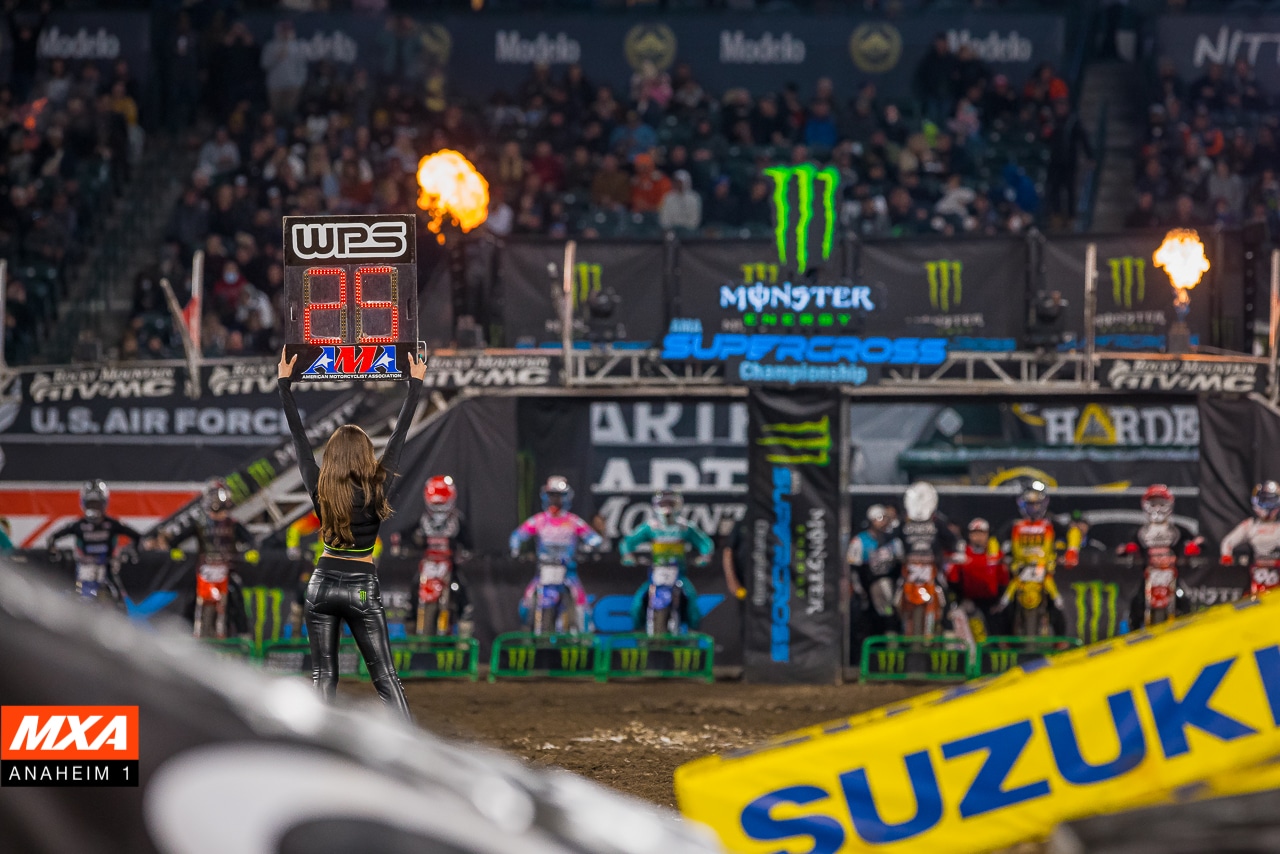 Who's ready for some racing?
11:50 am – 11:58 am 250SX Group B Free Practice
12:05 pm – 12:13 pm 250SX Group A Free Practice
12:20 pm – 12:28 pm 450SX Group A Free Practice
12:35 pm – 12:43 pm 450SX Group B Free Practice
1:20 pm – 1:30 pm 250SX Group B Qualifying
1:35 pm – 1:45 pm 250SX Group A Qualifying
1:50 pm – 2:00 pm 450SX Group A Qualifying
2:05 pm – 2:15 pm 450SX Group B Qualifying
3:35 pm – 3:45 pm 250SX Group B Qualifying
3:50 pm – 4:00 pm 250SX Group A Qualifying
4:05 pm – 4:15 pm 450SX Group A Qualifying
4:20 pm – 4:30 pm 450SX Group B Qualifying
Evening Program
6:30 pm – 7:06 pm Opening Ceremonies
7:06 pm – 7:14 pm 250SX Heat #1 – 6 Minutes/Plus 1 lap – 20 riders (1 – 9 to Main)
7:20 pm – 7:28 pm 250SX Heat #2 – 6 Minutes/Plus 1 lap – 20 riders (1 – 9 to Main)
7:34 pm – 7:42 pm 450SX Heat #1 – 6 Minutes/Plus 1 lap – 20 riders (1 – 9 to Main)
7:48 pm – 7:56 pm 450SX Heat #2 – 6 Minutes/Plus 1 lap – 20 riders (1 – 9 to Main)
8:19 pm – 8:26 pm 250SX Last Chance Qualifier – 5 Minutes/Plus 1 lap – 22 riders (1 – 4 to Main)
8:31 pm – 8:38 pm 450SX Last Chance Qualifier – 5 Minutes/Plus 1 lap – 22 riders (1 – 4 to Main)
8:53 pm – 9:10 pm 250SX Main Event – 15 Minutes/Plus 1 lap – 22 riders
9:28 pm – 9:50 pm 450SX Main Event – 20 Minutes/Plus 1 lap – 22 riders
---
SAN DIEGO STATS TO KNOW: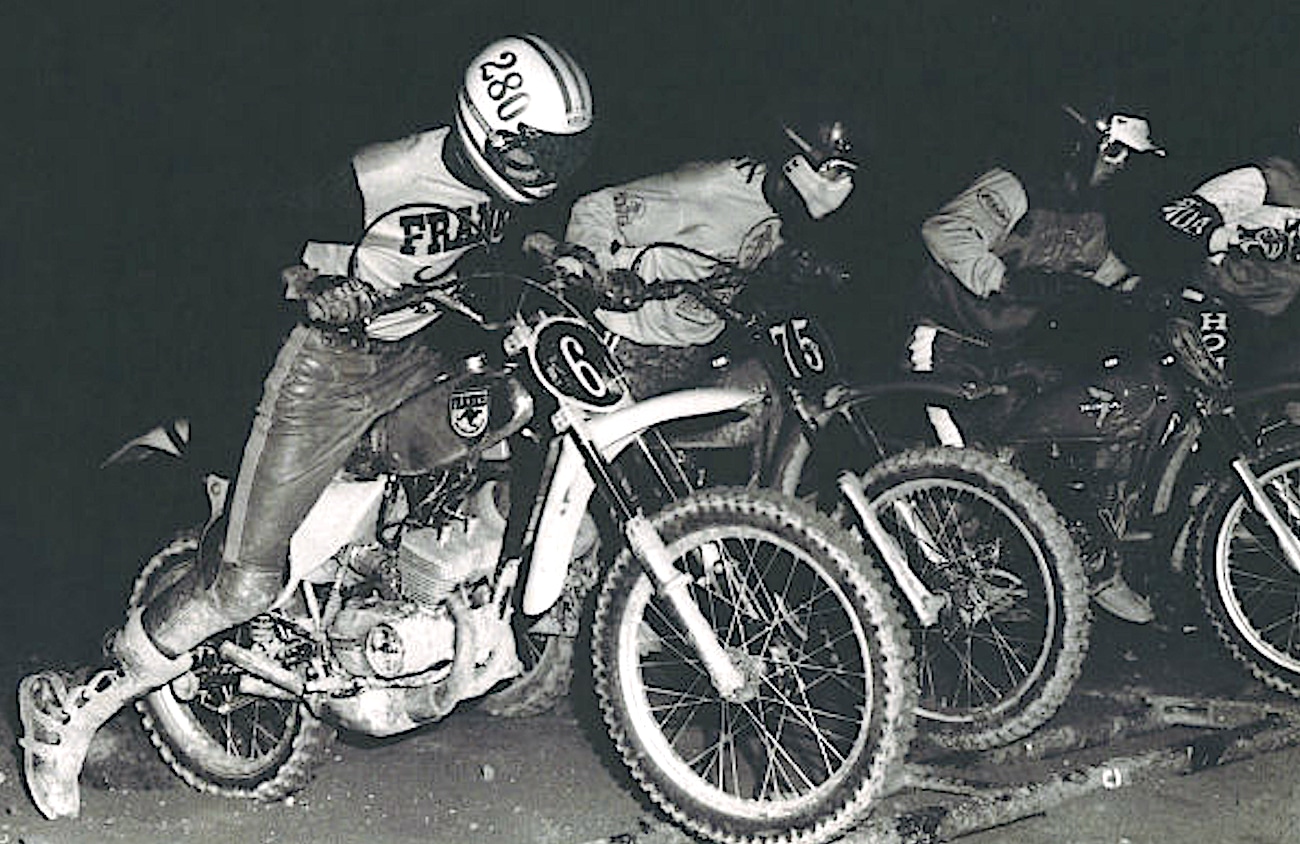 Mike Bell was the first winner of the San Diego Supercross in 1980. 2022 marks the 39th annual Supercross race and has only dropped off the schedule 5 times. (Photo was taken in 1976 on a Frank TA125 Yamaha twin.)
Petco Park didn't host Supercross until 2015, where Qualcomm Stadium hosted the series since 1980.
No one has been more victorious at San Diego than Chad Reed. Chad has made 19 starts at the venue and has won 6 times, 10 podiums, 14 top fives, and 16 top-10 finishes. 
---

INJURED LIST:
SETH HAMMAKER | LACERATED SPLEEN AND FRACTURED T7/T8 VERTABRA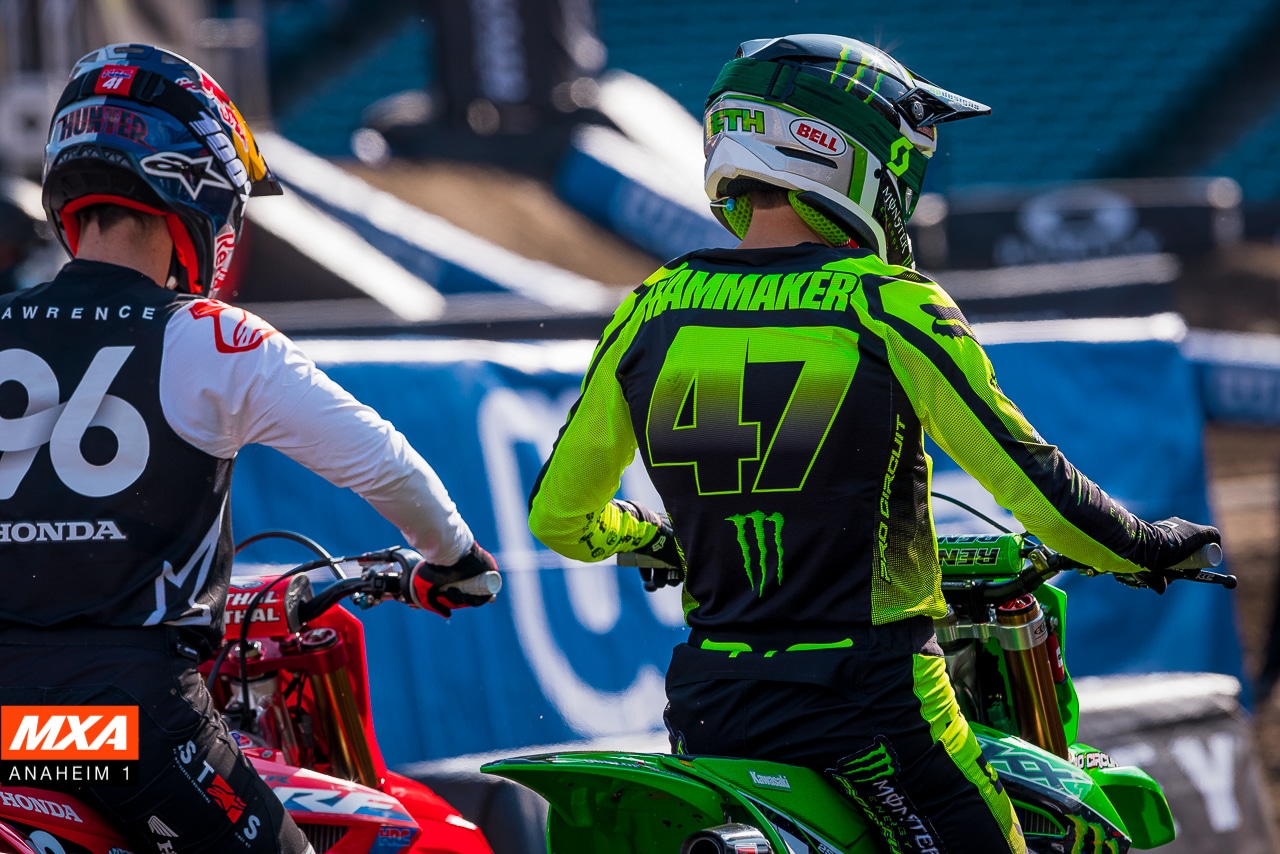 Pro Circuit's Seth Hammaker had finished second in each of the first two rounds, but after a crash at the test track, he will be out of action for an undetermined time.
Seth Hammaker posted on Instagram: "Hey guys I hate to post this news but unfortunately this week I had a practice crash getting ready for San Diego. Grade 3 spleen laceration and compression fractures in T7 and T8 in my back. I'm gutted to say the least. The team and I have been working hard to bring our best every weekend. I appreciate there support through all of the good and bad! The main goal now is to heal up right and completely before we get back to racing. I will keep y'all informed of how long I will be out as we know a little more. Thanks to everyone for the support I will be back better and stronger."
JUSTIN HILL | SHOULDER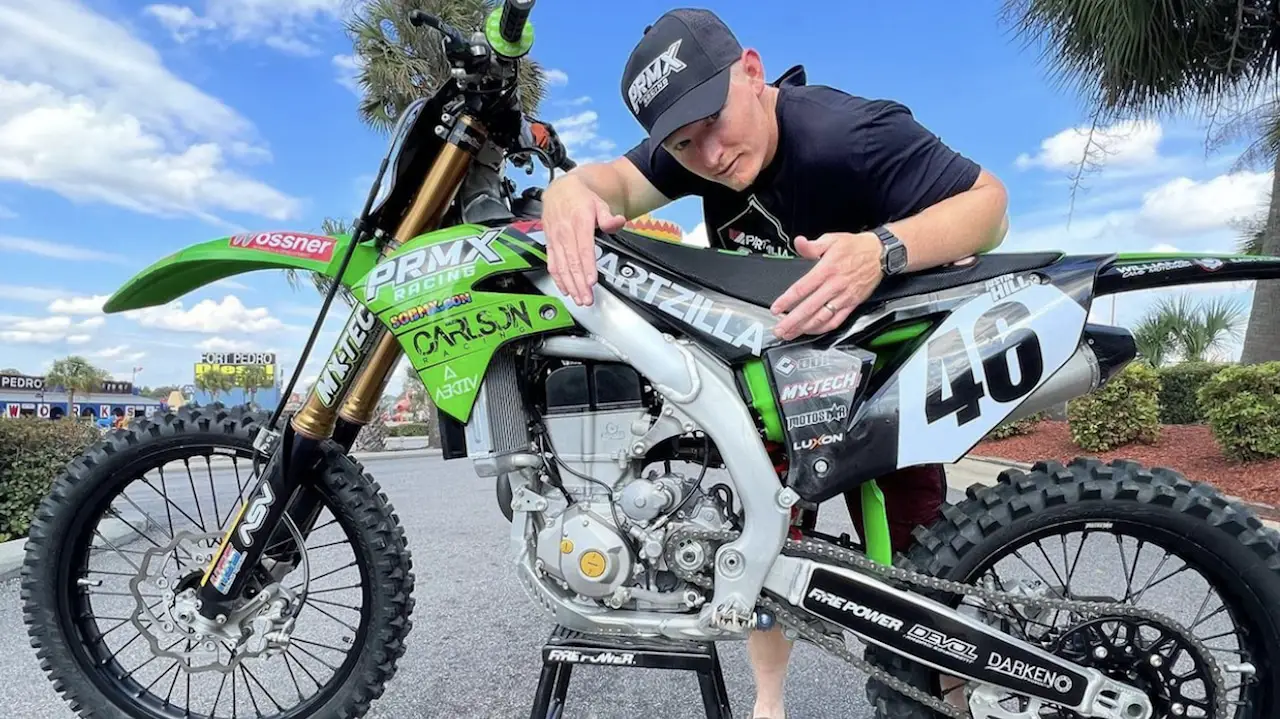 We don't know when Justin Hill will be back at the races, hopefully sooner than later. 
JUSTIN COOPER | BROKEN FOOT
Sadly, the defending 250 West Coast Champion is out for the entire Supercross season in 2022. Read his post on Instagram below:
Justin Cooper stated: "Hey guys unfortunately I had a crash yesterday at the track. I got a little bit off line in a rhythm and didn't get the lift for the next triple and cased it pretty hard which was fine. Almost had it saved and when I finally laid it down my foot got pinched under the footpeg. That being said it turns out i have broken and dislocated 4 metatarsals and have some fractures in the center of my foot as well. Will most likely get surgery early next week. Not the way I wanted to start the year off, everything has been going really good until this. This is called a Lisfranc injury and will probably put me off the bike for about 6 months. Tough pill to swallow but this is part of life and you have these obstacles. How you overcome these difficulties is what defines you. I'll keep you guys updated once I know more, it's all very fresh so just giving a quick update on what I know so far. I will be missing all of SX, hopefully will be good to go for MX"
COLT NICHOLS | INJURED ARMS
Colt Nichols crashed in the whoops while leading the first 250 Heat race of the night at Anaheim. Sadly, it ended his chances of battling for the 250 West Coast title this season. 
The Star Racing Yamaha team posted an update on Colt after A1: "Injury Update: @_coltnichols suffered injuries to both arms in his crash while leading the 250 Heat race in Anaheim last night. He will be undergoing surgery today and more info will be shared once available."
---
NON-INJURED LIST: RIDERS WHO ARE BACK RACING AGAIN
JALEK SWOLL | RECOVRED FROM A CONCUSSION
Jalek Swoll was taken out mid-air off the triple on the opening lap of the 250 Main Event at Anaheim 1 when Hunter Lawrence doubled the triple and Nate Thrasher shot from the right side to the left side of the jump to miss Hunter. Unfortunately, Thrasher collided with Jalek mid-air and took him down. Jalek was knocked out and was taken off on a stretcher. Jalek did not make a return to Oakland but he is lining up this Saturday at San Diego. 

It's good to have Jalek back at the races. 
JUSTIN BRAYTON | POSITIVE COVID TEST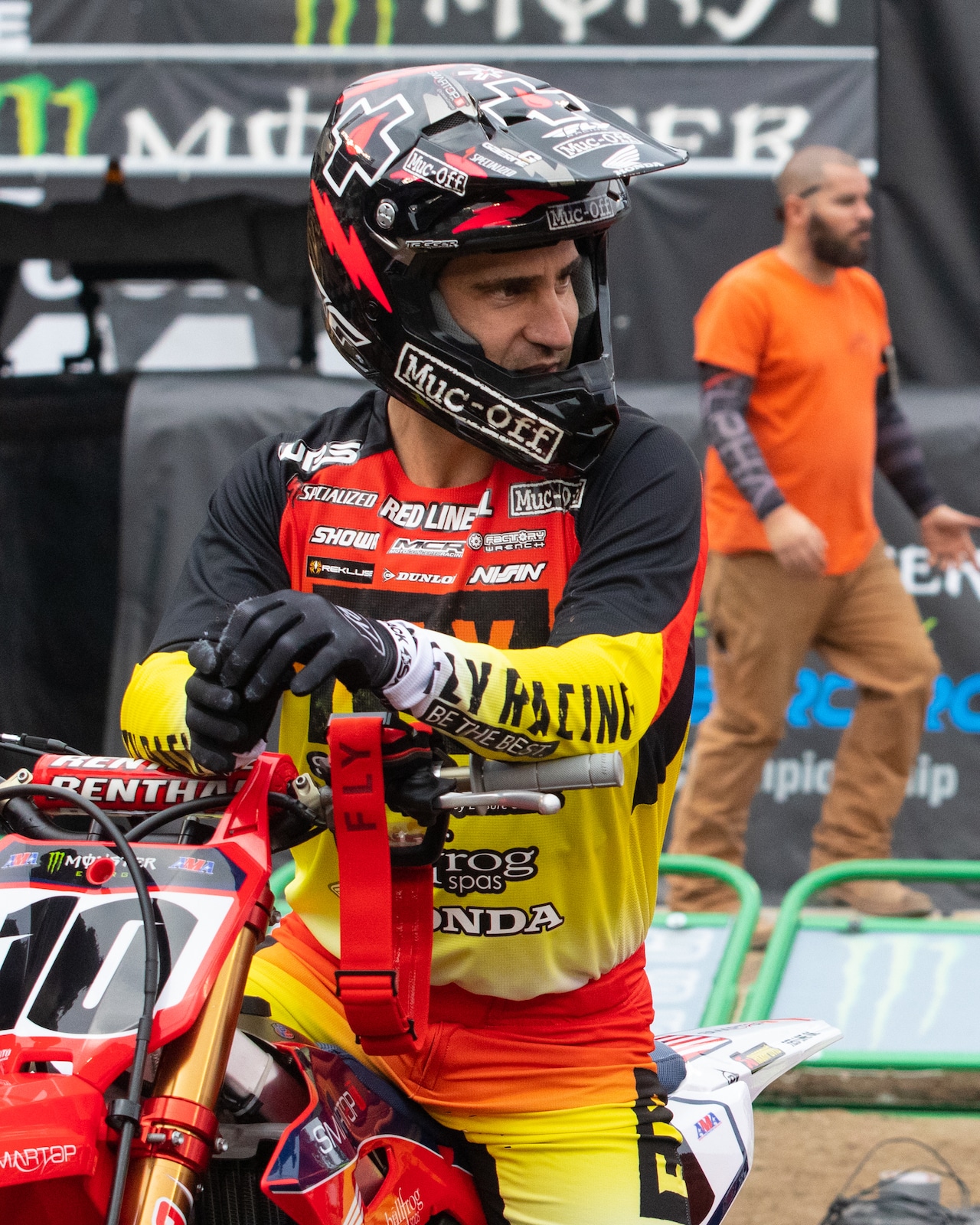 Justin Brayton missed the Oakland Supercross after testing positive for Covid-19, even though he didn't feel sick. For 2022, the Supercross covid protocol requires non-vaccinated riders, mechanics, crew members and media to be tested for Covid each weekend before entering the pits, however individuals with proof of vaccination cards can bypass the testing. Thankfully, Justin Brayton is back for San Diego Supercross and will continue his last full season of Pro Supercross racing.
FREDDIE NOREN | RECOVERED FROM COVID-19
Freddie Noren also missed Oakland after getting sick and testing positive for Covid-19. He has recovered and is back racing for Round 3. 
---
2022 AMA SUPERCROSS CHAMPIONSHIP TV SCHEDULE (CNBC, USA, NBC & PEACOCK)
---
2022 SAN DIEGO TV & STREAMING SCHEDULE
With NBC Sports going away for 2022, American Supercross fans will need to juggle between three channels to watch Supercross—CNBC channel, NBC channel and the USA Network. These channels will host 16 out of 17 races on LIVE TV. However, on February 12th, Anaheim 3 (Round 6) will not be on LIVE TV. It will be available to watch LIVE only on the Peacock Premium streaming service.
The Peacock premium streaming service costs $4.99 per month and it will provide LIVE coverage of the daytime qualifying sessions at each Round and LIVE coverage of each Supercross race. International Supercross fans can watch using the Supercross Video Pass streaming service paying $129.95 for a one-year subscription.
San Diego: Qualifying show – 1:00 PM – Peacock Premium 
San Diego: Night show – 7:00 PM – USA Channel & Peacock Premium
---
THIS WEEK IN MXA: 450 LCQ TAKE-OUTS & CRAZY PHOTO FINISH
---
2022 SAN DIEGO SCHEDULE OF EVENTS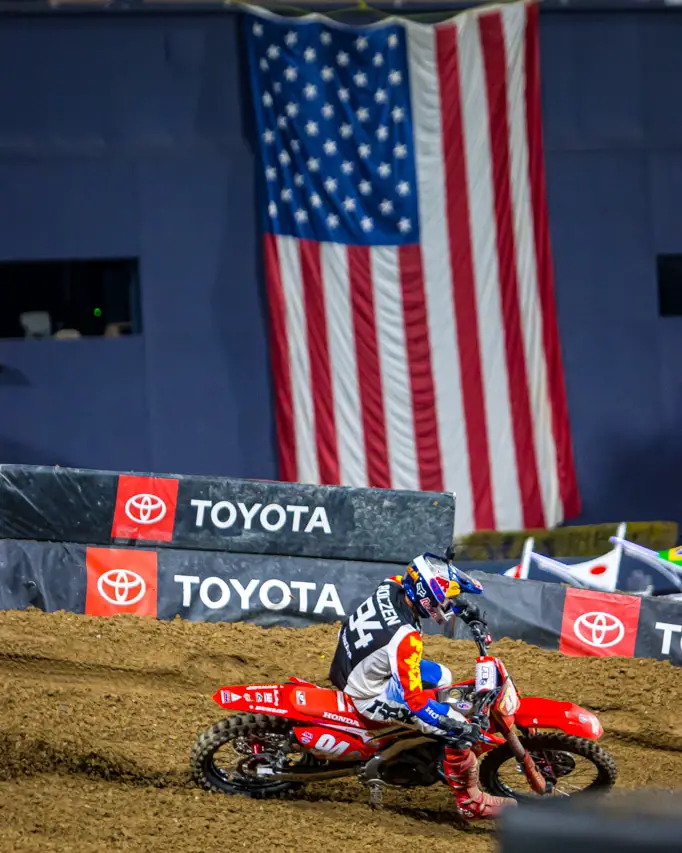 – FanFest Open – 12:00 PM PT
– Stadium Open for Qualifying – 12:00 PM PT
– Opening Ceremonies – 6:30 PM PT
– Gate Drop – 7:00 PM PT
---
RED, WHITE, BLUE, AND CAMO
The San Diego Supercross round is known for its military-inspired gear and bikes. Here are some examples from the last time we here.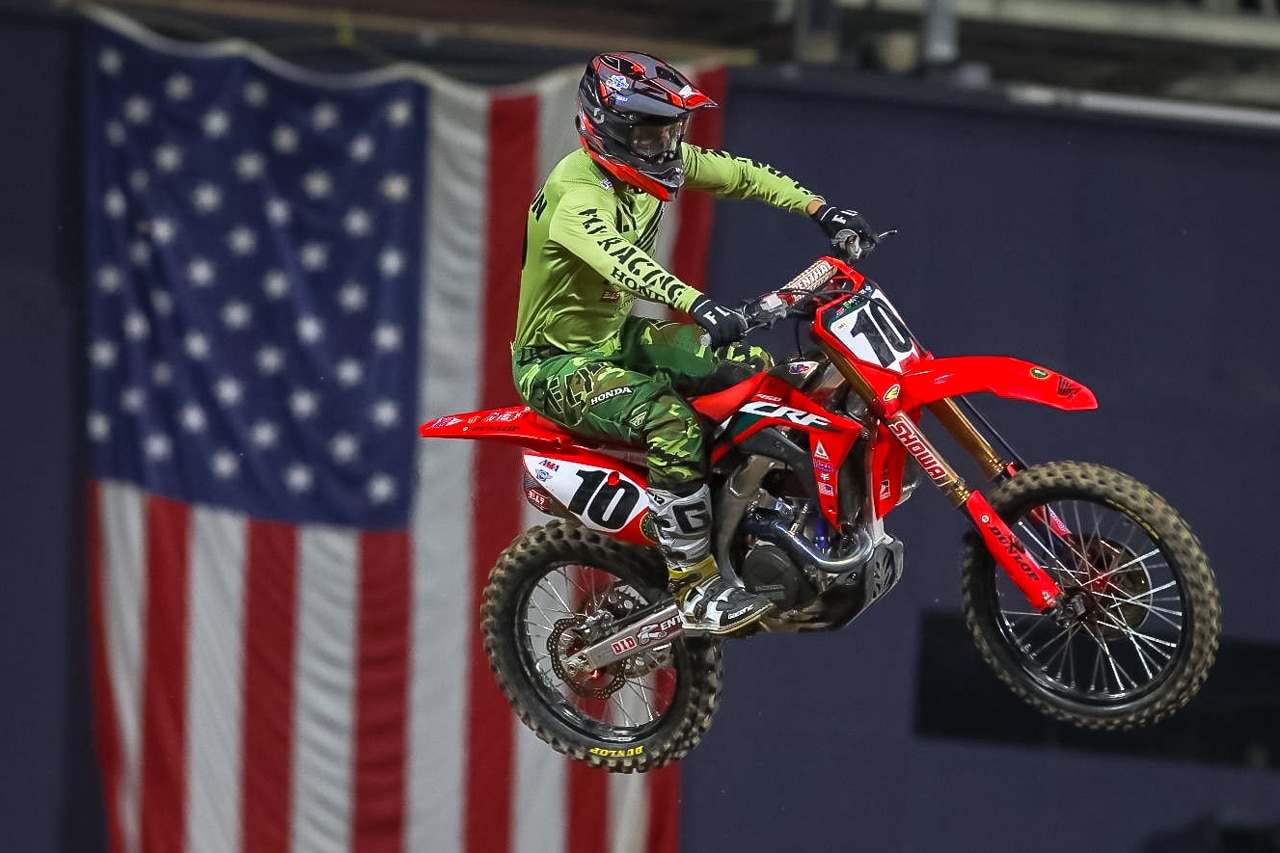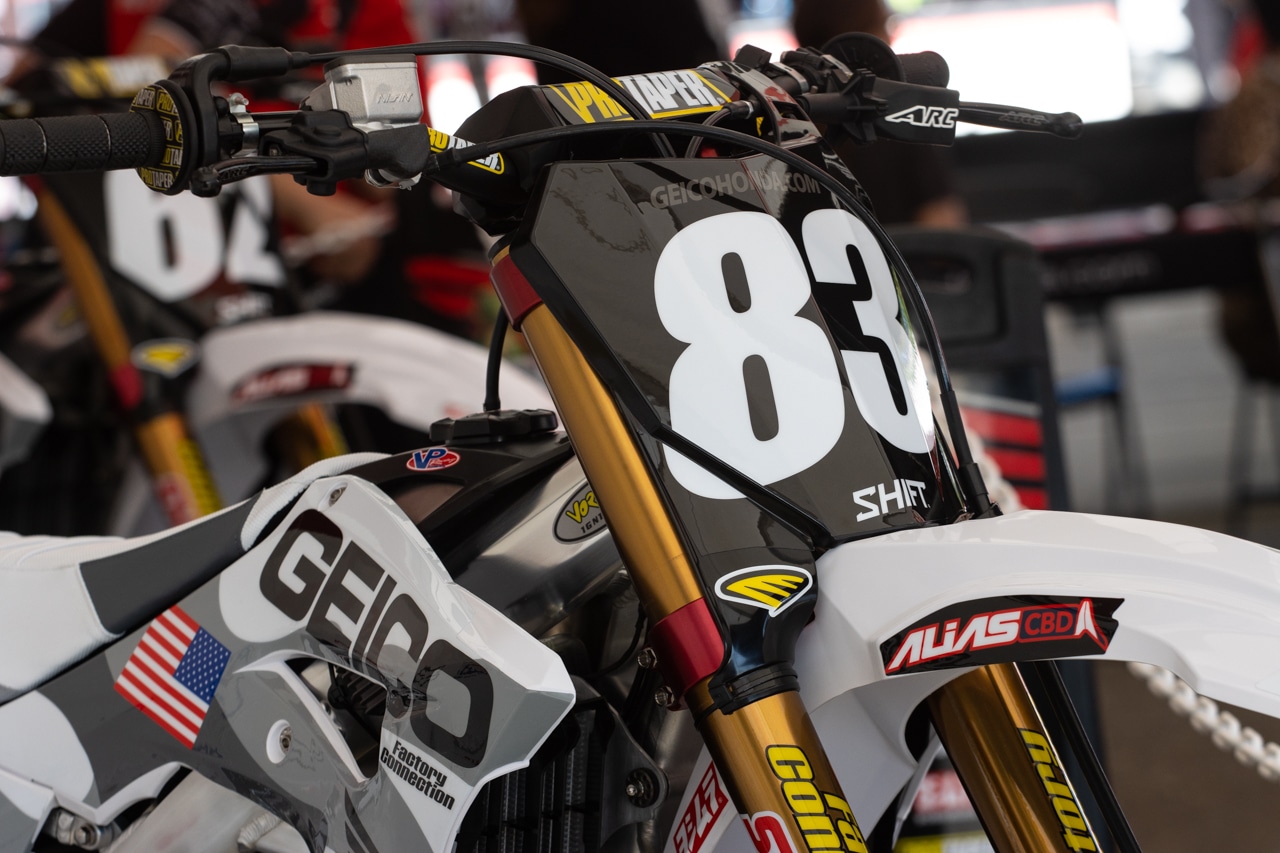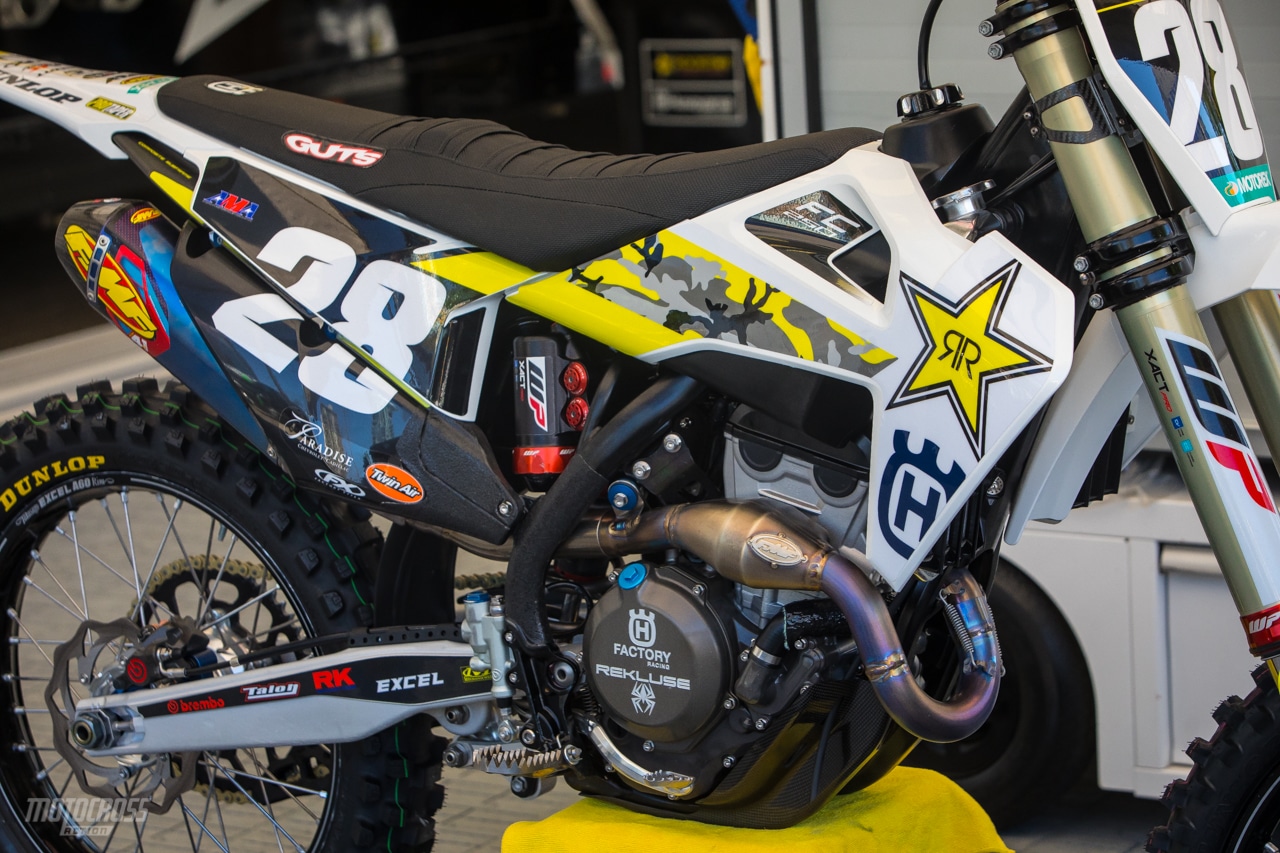 ---
450 POINT STANDINGS (AFTER ROUND 2 OF 17)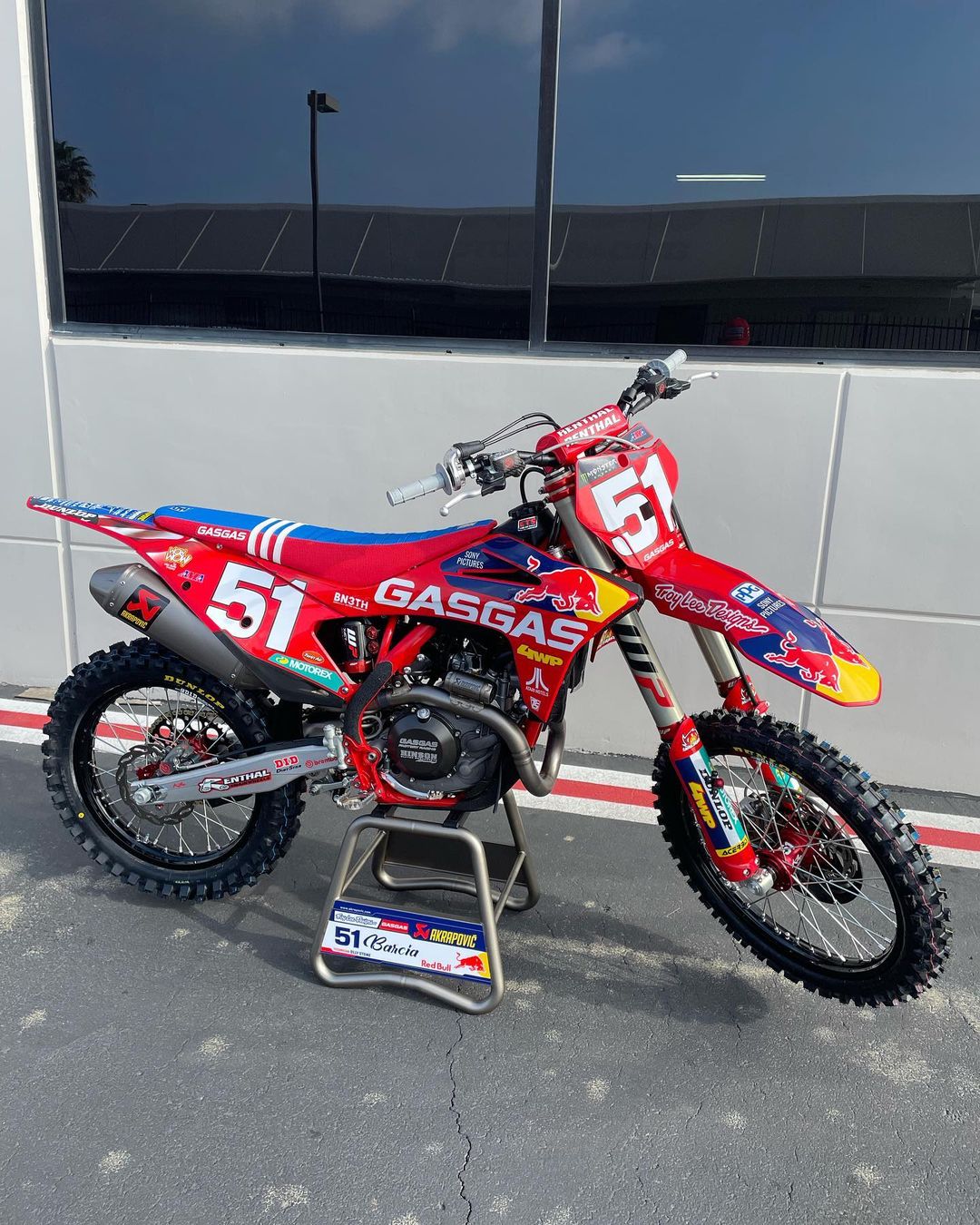 Justin Barcia is running the red plate again this weekend. Photo credit to his mechanic, @olly_stone.
| | | | |
| --- | --- | --- | --- |
| POS. | # | NAME | Total Points |
| 1 | 51 | Justin Barcia | 42  |
| 2 | 21 | Jason Anderson | 39  |
| 3 | 1 | Cooper Webb | 39  |
| 4 | 7 | Aaron Plessinger | 37  |
| 5 | 94 | Ken Roczen | 36  |
| 6 | 3 | Eli Tomac | 36  |
| 7 | 25 | Marvin Musquin | 34  |
| 8 | 27 | Malcolm Stewart | 34  |
| 9 | 23 | Chase Sexton | 32  |
| 10 | 17 | Joey Savatgy | 27  |
250 WEST POINT STANDINGS (AFTER ROUND 2 OF 10)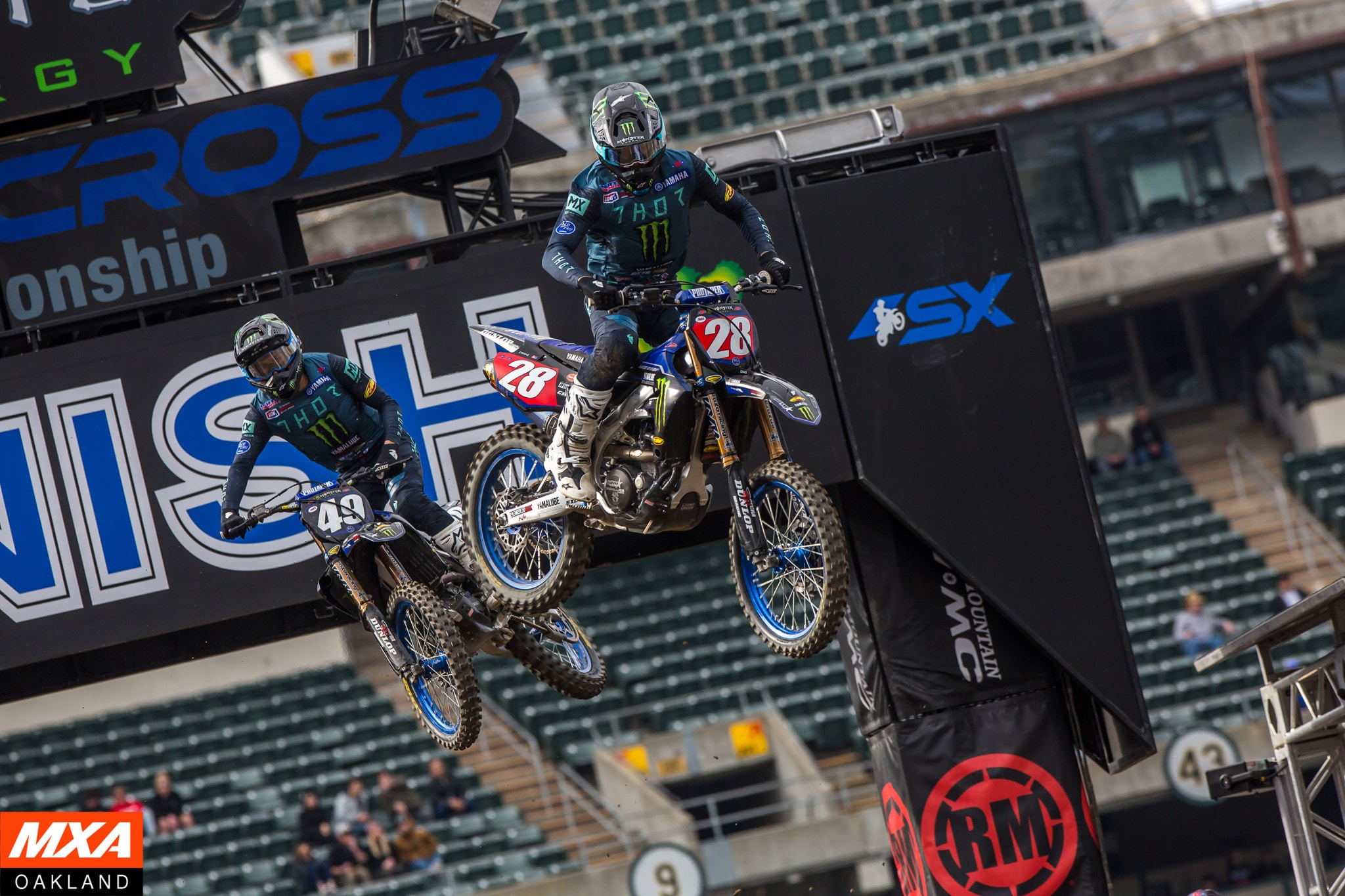 Christian's red plate is gonna stay red heading to San Diego.
| | | | |
| --- | --- | --- | --- |
| POS. | # | NAME | Total Points |
| 1 | 28 | Christian Craig | 52  |
| 2 | 96 | Hunter Lawrence | 44  |
| 3 | 47 | Seth Hammaker | 44  |
| 4 | 29 | Michael Mosiman | 36  |
| 5 | 62 | Vince Friese | 35  |
| 6 | 35 | Garrett Marchbanks | 34  |
| 7 | 30 | Jo Shimoda | 32  |
| 8 | 49 | Nate Thrasher | 29  |
| 9 | 69 | Robbie Wageman | 28  |
| 10 | 66 | Chris Blose | 26  |