2023 SEATTLE SUPERCROSS 450 VIDEO HIGHLIGHTS: ALL TIED UP AFTER 11 ROUNDS
Everyone  thought that the Seattle Supercross was the make-it to break-it race that would finally have someone pull away to a commanding lead in the 450 Supercross title chase. Instead of someone breaking away, Webb and Tomac came out of the Pacific Northwest tied for the 2023 AMA Supercross points lead at 248 points each. However, they did pull away from Chase Sexton, who lost the rear end of his CRF450 and stuck the front end into a rut simultaneously. That crash not only cost him the win, but sent him back to fifth for the night. Chase is now 22 points behind the two leaders.
AMA 450 RESULT: SEATTLE SUPERCROSS
1. Eli Tomac…(Yam)
2. Cooper Webb…(KTM)
3. Justin Barcia…(Gas)
4. Jason Anderson…(Kaw)
5. Chase Sexton…(Hon)
6. Ken Roczen…(Suz)
7. Aaron PLessinger…(KTM)
8. Adam Cianciarulo…(Kaw)
9. Christian Craig…(Hus)
10. Justin Hill…(KTM)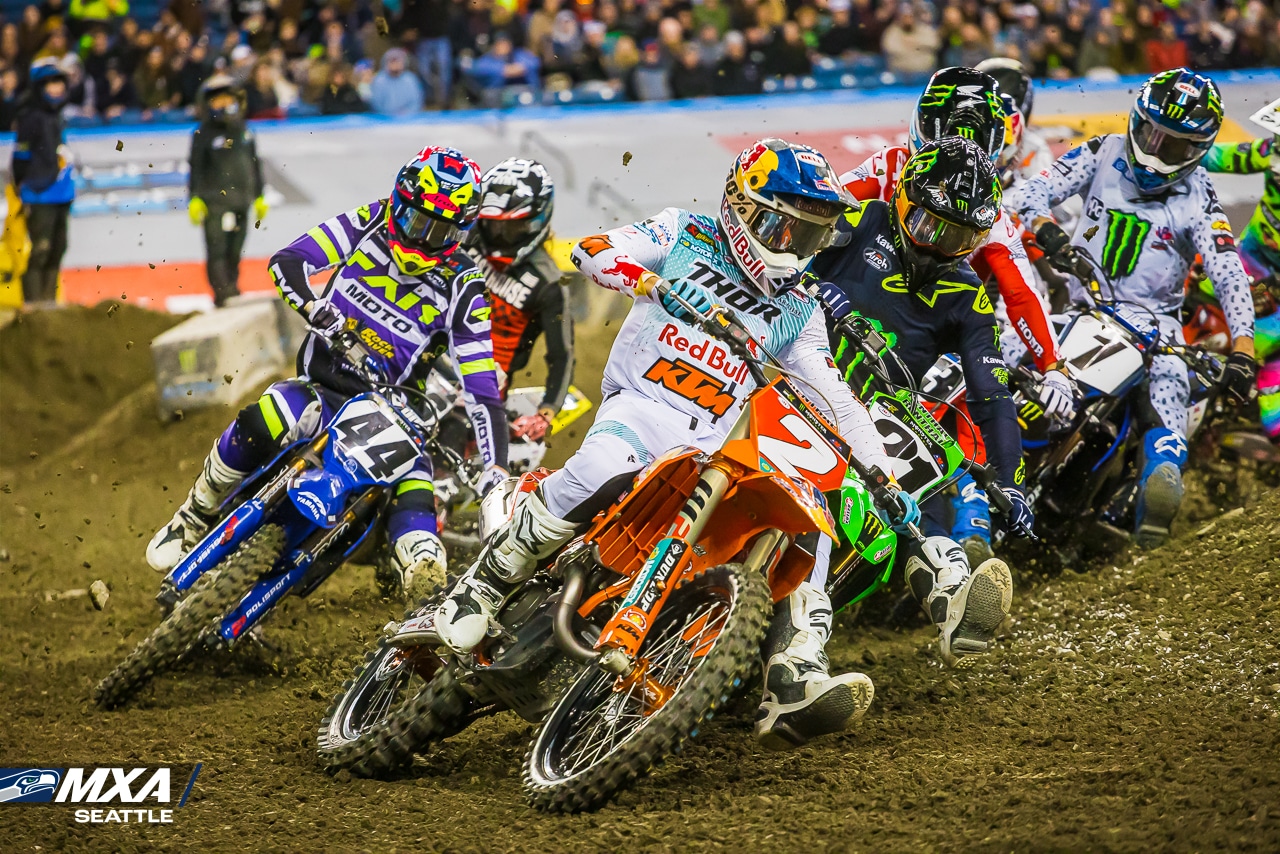 Cooper Webb (2) gets to keep the Red Plate when the series returns in Phoenix on April 8, but Eli Tomac (1)  also gets the Red Plate because they are tied on points.
AMA 450 SUPERCROSS POINTS STANDINGS
(after Seattle)
1. Eli Tomac…248
2. Cooper Webb…248
3. Chase Sexton…226
4. Ken Roczen…199
5. Jason Anderson…199
6. Justin Barcia…195
7. Aaron Plessinger…180
8. Christian Craig…150
9. Adam Cianciarulo…122
10. Justin Hill…116
\