250 FASTEST QUALIFIERS | 2018 SEATTLE SUPERCROSS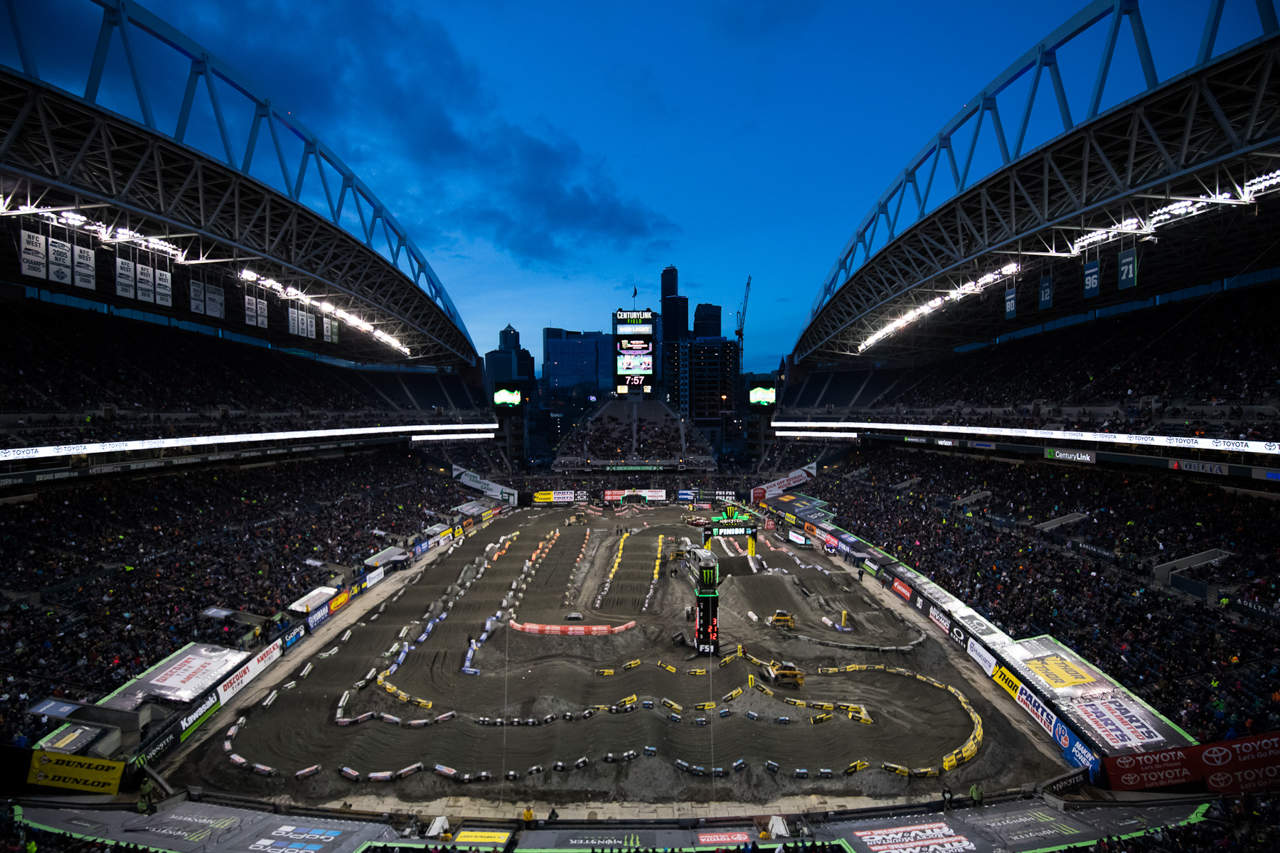 Seattle has been known to host many memorable races in the history of Monster Energy Supercross. And we're sure you will be adding round 13 to that list. Rain has taken over the city, and flooded the stadium floor of Century Link Field. Some new faces jumped to the top of the leader board in the first and only session of the day.
OVERALL 250 QUALIFYING TIMES
Brandan Leith (Kaw)–

1:08.115

Jess Pettis (Yam)–

1:08.352

Dylan Merriam (Yam)–

1:09.597

Adam Cianciarulo (Kaw)–

1:09.628

Joey Savatgy (Kaw)–

1:09.747

Chase Marqier (Hon)–

1:10.22

Aaron Plessinger (Yam)–

1:10.933

Shane McElrath (KTM)–

1:11.099

Dylan Summerlin (Hus)–

1:11.166

Mitchell Oldenberg (Yam)–

1:11.818

Justin Starling (Hus)–

1:12.255

Josh Mosiman (Hus)–

1:13.485

Hayden Mellross (Yam)–

1:13.544

Chris Howell (Hus)–

1:13.881

Robbie Wageman (Yam)–

1:14.071

Chase Sexton (Hon)–

1:14.855

Mitchell Harrison (Hus)–

1:15.532

Marten Castello (Yam)–

1:15.797

Chase Blackburn (KTM)–

1:15.831

Dakota Alix (KTM)–

1:15.893

Justin Hill (Suz)–

1:15.910

Phillip Nicoletti (Suz)–

1:16.154
Todays conditions are certainly no joke. Rain flooded Seattle's Century Link Field. Brandan Leith capitalized on these conditions. But mostly because the track was smoother for the B practice riders. Followed behind him was Jess Pettis in second, and Dylan Merriam in third. All riders in the 250 B practice. 
Note: Aaron Plessinger qualified seventh overall. He needs to stay smooth and mistake free if he wants to gain more points in his championship run. The conditions tonight will be interesting.