250 LATVIAN #2 GP RESULTS: JAGO GEERTS TIGHTENS UP 250 GP BATTLE
Yamaha's Jago Geerts won his second 250 Grand Prix of the four-race-old 2020 series. The other two were won by KTM's Tom Vialle.
In the first Wednesday Grand Prix ever held, Yamaha's Jago Geerts felt right at home on the Latvian sand as he went 1-1 for the win on the Kegums circuit. Second overall went to Dutch sand specialist Roan Van de Moosdijk, who took his Kawasaki to a 2-2 day. Third place went to the second of the F&H Kawasaki team riders Mathys Boisrame with 3-3. The 250 Grand Prix points leader, Tom Vialle, came into Wednesday's Latvian GP with a fairly big points lead, but his 4-4 results compared to Geerts 1-1 whittled it down to only 8 points.
Winner Jago Geerts said, "It was a good day for me. The first moto a good start, I was second and after a couple of laps passed Tom Vialle. In the second moto I got the holeshot, but the second moto was more difficult because they were pushing me, but I am happy with my second Grand Prix win."
In the 250 World Championship points race, Tom Vialle leads with 170 points, Jago Geerts has 162, Jed Beaton 123, Maxime Renaux 116 and Roan Van De Moosdijk 115. The third of the the three Latvain GPs will be held on Sunday, August 15.
2020 LATVIAN 250 GP #2 RESULTS
1. Jago Geerts (Yam)…1-1
2. Roan Van De Moosdijk (Kaw)…2-2
3. Mathys Boisrame (Kaw)…3-3
4. Tom Vialle (KTM)…4-4
5. Maxime Renaux (Yam)…5-5
6. Jed Beaton (Hus)…6-6
7. Mikkel Haarup (Kaw)…7-8
8. Ruben Fernandez (Yam)…8-7
9. Simon Laengenfelder (Gas)…9-12
10. Alvin Ostlund (Hon)…10-10
Other notables: 11. Cyril Genot (Yam); 12. Conrad Mewse (KTM); 13. Thomas Kjer Olsen (Hus);14. Ben Watson (Yam); 17. Stephen Rubini (Hon); 20. Rene Hofer (KTM); 22. Alberto Forato (Hus)…22-32.
Tom Vialle still leads the 250 points standings by 8 points over Geerts.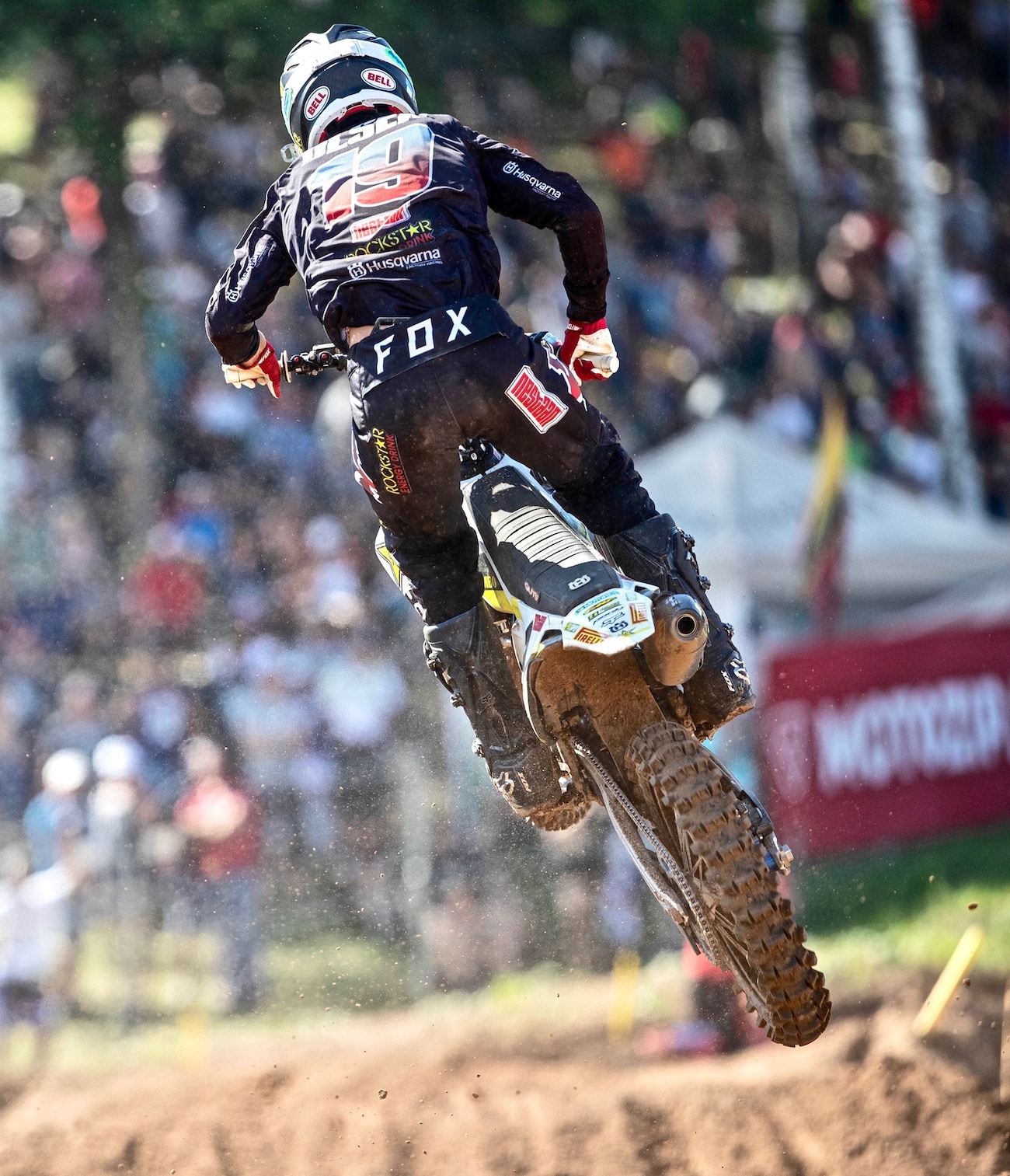 Husqvarna's Thomas Kjer Olsen  is a distant 9th in 250 points.
CURRENT 2020 FIM 250 GP POINTS STANDINGS
(After 4 of 16 rounds)
1. Tom Vialle (KTM)…170
2. Jago Geerts (Yam)…162
3. Jed Beaton (Hus)…123
4. Maxime Renaux (Yam)…116
5. Roan Van De Moosdijk (Kaw)…115
6. Mathys Boisrame (Kaw)…110
7. Mikkel Haarup (Kaw)…92
8. Ben Watson (Yam)…91
9. Thomas Kjer Olsen (Hus)…89
10. Rene Hofer (KTM)…73