MXA'S WEEKEND NEW ROUND-UP: 2015 SECRETS REVEALED
 Click on photos to enlarge
RUMORS, GOSSIP & UNFOUNDED TRUTHS ABOUT NEXT YEAR'S TEAMS
Lots of the sport's most famous rumor mongers just throw up a barrage of flak and hope for two things: (1) Some of it will come true. (2) People will forget the stuff that was blatantly wrong. That is the basis of rumors and gossip—so, here are some unfounded truths. How many of these tidbits are confirmed? None. How many are true? All of them right now. As for the future, we are banking on you forgetting…or spreading these rumors yourself and taking the blame for us. Thank you.
Jake Weimer.
JAKE'S PLACE
Breaking news! Jake Weimer hasn't signed a deal for next year just yet. It's rumored that Weimer is talking with JGR Yamaha, RCH Suzuki, Husqvarna and Kawasaki. Andrew Short should be re-signed with BTO Sports. Matt Goerke will probably lose his BTO ride.
Jason Anderson's Husqvarna FC450 is already waiting for him.
ZACH ATTACK
Zach Osborne and Martin Davalos have signed for the factory Husqvarna 250 team, for 2015. They will join Jason Anderson, who will be in the 450 class, on the Rockstar supported team (which is KTM supported in 2014).
Davi hasn't raced in over a year.
IN ABSENTIA
Davi Millsaps has reportedly signed with Monster Kawasaki for 2015. And what about Brett Metcalfe? He might still have a shot on Kawasaki's two-man team for 2015 because of the next bit of news.
Ryan Villopoto.
VILLO BYE-BYE
Word in the pits is that Ryan Villopoto is considering hanging it up. Although still in the rumor stage, Villopoto's knee surgery may require a second go, and if that happens he will retire—probably making an official announcement in September…after many denials. Either way, he will not be on the 2014 MXDN team. You can probably count Ryan Dungey out of the team also.

Ken Roczen.
KENNY BOY
Monster Kawasaki didn't move fast enough to sign Ken Roczen. They had a slim chance of getting him to switch to the Monster Kawasaki team, but Kenny is closely tied to Red Bull and didn't want to leave his lifelong sponsor. Red Bull didn't want him to leave either and upped the ante for K-Roc to keep Monster at bay. Dean Wilson will become Ryan Dungey's new KTM teammate, while K-Roc goes to RCH Suzuki.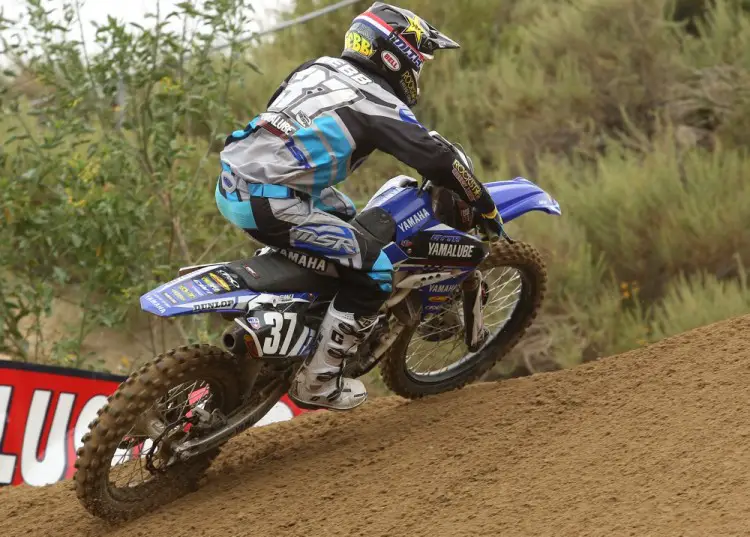 Cooper Webb.
THE KIDS ARE ALRIGHT
Jeremy Martin and Cooper Webb have re-signed with Star Yamaha.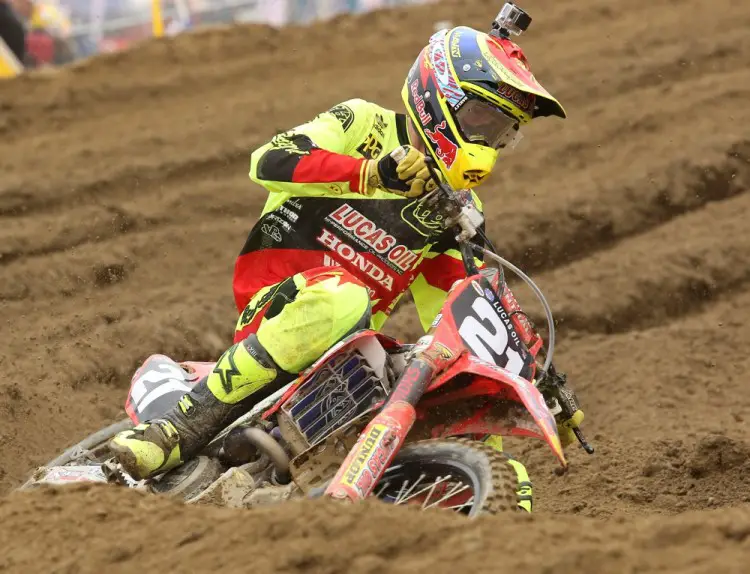 Cole Seely.
TREY'S NEW BEST FRIEND
Cole Seely will be at the Muscle Milk Honda team next year with Trey Canard.
Justin Barcia.
BARCIA AND BRAYTON?
The Justin Barcia/JGR deal is done. Apparently Honda is miffed that Barcia didn't talk to them before making his decision to switch brands. This is common courtesy and is very big with team managers. They can live with a rider leaving the team, but they hold a grudge if they leave without at least negotiating first.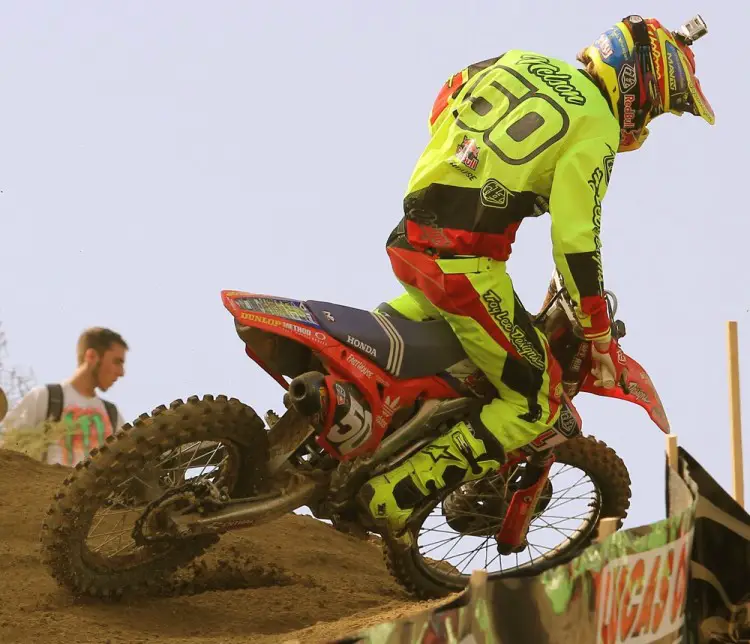 Will Troy Lee be going orange in 2015.
TLD/KTM
In other Honda news, it is strongly hinted that the Troy Lee Design Honda team may become the Troy Lee Design's KTM team in 2015.
Josh Grant.
FIGHTING BACK
Josh Grant will most likely leave JGR and is looking for an opening—the new Husky team is a possibility.
Arnaud Tonus (200).
23-YEAR-OLDS
A few 23-year-old Grand Prix riders have been fishing around to see if they can get a deal to race in the USA, because once they turn 23 they cannot race the 250 GPs in Europe. And, given that the 450 class only has 23 riders in it, there aren't a lot of 450 rides in Giuseppe's Luongo's dead-end advancement system. Sadly, the American season starts with 17 Supercross races—and few, if any GP riders, have true-to-life Supercross experience. At least 7 top ranked 250 GP riders have to move out of the class in 2015. If they don't find a 450 GP ride, their racing careers are over in Europe.
2014 AMA NATIONAL MOTOCROSS CHAMPIONSHIP TV SCHEDULE
All times are Eastern
MONSTER ENERGY THOR KAWASAKI ANNOUNCES 2014 CANADIAN MOTOCROSS LINE-UP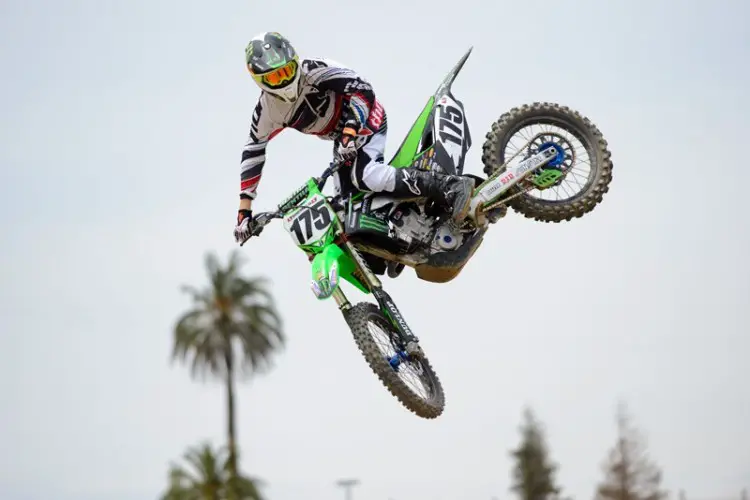 Josh Hill.
With the kickoff of the 2014 Canadian Motocross National series starting this Sunday, June 1, the Monster Energy Thor Kawasaki team has announced their new team. With defending Canadian 450 Champion Brett Metcalfe replacing the injured Ryan Villopoto in the U.S. Nationals, Josh Hill will replace Metcalfe in Canada. Hill raced for the RCH Suzuki team in the 2014 Supercross series, but did not have an outdoor deal. Joining Hill in the 450 class will be two-time Canadian 250 National Champion Teddy Maier.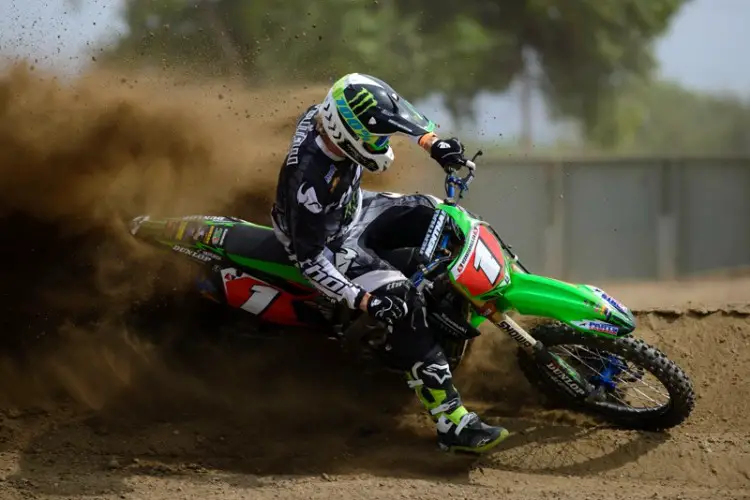 Austin Politelli.
Austin Politelli, the 2013 Canadian 250 National Champion, will return to defend his number one plate. Also competing in the 250 class will be rookie Pro Jess Pettis. The Prince George, British Columbia, native has been an amateur support rider of the team and is excited to make the jump to the big rig for 2014.
SUNSTAR LAUNCHES NEW WEBSITE
Sunstar has launched its new revamped website at www.sunstar-mc.com. It features improved graphics, functionality and product searches. It should be a good tool for consumers, dealers and distributor sales reps to learn about the Sunstar product line and view every poduct available. There is a tech section with sprocket cross reference tools and part number searches that give all the applications. Product info, online catalog, news, photos and more can be found at www.sunstar-mc.com.
MORE WORLDS TO DOMINATE? KTM DIRT TRACKER

What are the odds of Antonio Cairoli racing the AMA Grand Nationals Dirt Track series? Roland Sands has a KTM ready and waiting.
PHOTOS OF THE WEEK: TOO TIGHT? A ROCK? TOO TIGHT & A ROCK?
A steel snake. Beat it with a stick.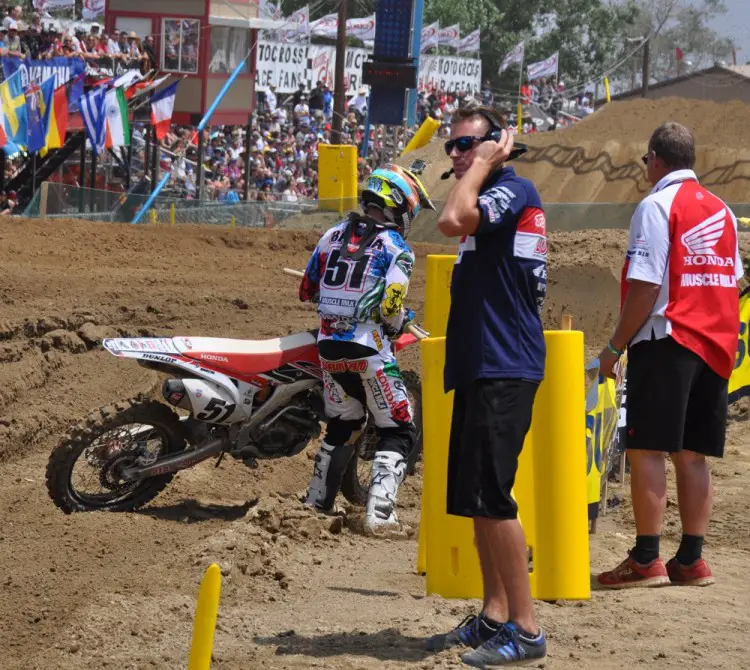 Justin Barcia almost made it to the corner before the finish line.
Andrew Short had to push much farther. Two chains, from two different chain companies, broke on the same lap, on the same part of the track.
WHAT'S HAPPENING THIS WEEK IN THE WORLD OF MOTOCROSS?
May 31……………..AMA Hangtown 250/450 National……………….Sacramento, CA
May 30-June 1….AMA Supermoto National……………………………Elkhart Lake, WI
June 1………………Canadian 250/450 National………………………..Nanaimo, Canada
June 1………………FIM World 250/450 World Championship…..France
June 1………………FIM World Women's Championship…………….France
June 7………………AMA Thunder Valley 250/450 National……….Lakewood, CO
June 8………………All-Japan National……………………………………..Sugo, Japan
June 8………………Canadian 250/450 National………………………..Kamloops, Canada
ONE LAST GLEN HELEN VIDEO—THEN, ON TO HANGTOWN
ZACH OSBORNE OUT UNTIL WASHOUGAL WITH A THUMB INJURY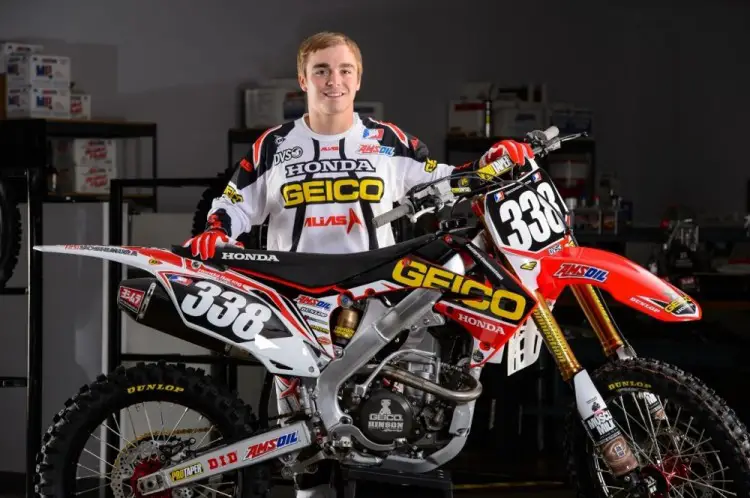 Zach missed a big chunk of the 250 West and now he will miss most to the 250 Nationals.
Geico Honda's Zach Osborne will undergo surgery Thursday to repair a torn ulnar collateral ligament in his left thumb. Zach injured his thumb in the red flagged second moto start last Saturday. Zach is expect to be out until Washougal on July 26.  Zach said,"I'll try to get a few rounds in at the end of the season. I'm really bummed because I was ready to fight for the championship this year. It happened in the first turn of the second moto when everyone got stacked up. It's a high-speed area and I was riding my line, but someone came across my front and took my bike out. My momentum carried me forward over the bars and just ripped my thumb all the way back. There really wasn't anything I could do."
THIS WEEK'S BIRTHDAY BOYS: GARY SEMICS IS 60
May 30…Andrew McFarlane 1977

May 31…Gary Semics 1954
May 31…Rick Burgett

May 31…Dylan Ferrandis 1994
June 1…Tanel Leok 1985
June 2…Ray Sommo 1968

June 2…Steve Wise 1957
June 2…Randy Skinner 1958
June 5…John Knowles
June 5…Paul Delaurier
June 6…Terry Baisley
2014 AMA NATIONAL CHAMPIONSHIP POINTS STANDINGS LEADING INTO HANGTOWN
Ryan Dungey.
450 class:
(After 1 of 12 races)
1. Ryan Dungey…………..45
2. Ken Roczen…………….44
3. Trey Canard……………34
4. Brett Metcalfe………….34
5. Josh Grant………………31
6. James Stewart…………30
7. Malcolm Stewart……..26
8. Jake Weimer…………..25
9. Weston Peick………….24
10. Chad Reed…………….23
Jeremy Martin.
250 class:
(After 1 of 12 races)
1. Jeremy Martin………….50
2. Cooper Webb……………44
3. Cole Seely………………..36
4. Blake Baggett……………33
5. Christophe Pourcel……30
6. Justin Bogle……………..28
7. Matt Bisceglia……………24
8. Marvin Musquin……….24
9. Jessy Nelson……………..21
10. Jason Anderson……….20
Photos: James Lissmore, John Ker, John Basher, Kawasaki Canada, Mark Chilson, Kawasaki Canada, MXGP, Massimo Zanzani, Jody Weisel