39TH ANNUAL DUBYA WORLD VET MX CHAMPIONSHIP PRE-ENTRIES OPEN ON JUNE 1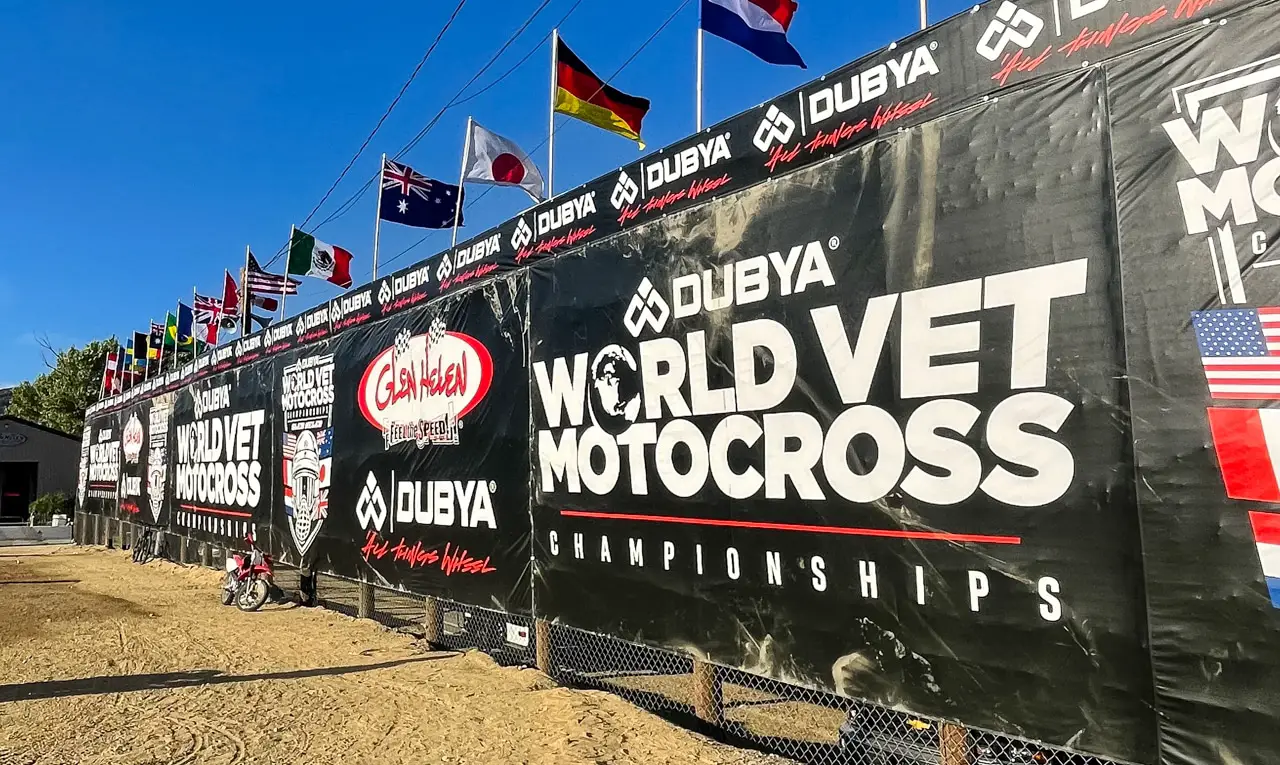 The 2023 Dubya World Vet Motocross Championship will be held at the famous Glen Helen Raceway on November 3-5. This is the original and most prestigious Vet Motocross event in the world! If you plan to attend, Glen Helen is pleased to announce that "Early Bird" Pre-Entries will open on June 1 at 12:00 noon (Pacific Time) for the 2023 Dubya World Vet Motocross Championships.
This will be the 39th year of the Dubya World Vet MotocrossChampionships. Additionally, the "World Vet Cup of Nations team race" will also be held race during the event. There are Vet classes for everyone, ranging from Over-25 years old to Over-80 years old  (often in 5-year increments for Novice, Intermediate and Expert skill levels). A three-moto format will be run for all amateur classes (Pros will race two long motos).
You haven't lived until you've been tapped out in fifth gear on your way to the massively steep Talladega first turn. It is banked at 45 degrees and riders can go through it seven-wide.
There will be Pro classes for riders Over-30, Over-40, and Over-50, with special purse paying Pasha 125 two-stroke Pro races for riders Over-30 and Over-50. The Over40 Pros, Over-50 Pros and Over-30 Pasha 125 Pros will race two moto on Saturday. The Over-30 Pros and Pasha 125 Over-50 Pros will race two motos on Sunday. The World Vet Cup team race will race its first moto on Saturday and second moto on Sunday.
There will be special Friday, November 3, practice on the whole track for World Vet. It is limited to riders who are entered in the World Vet. There is also an open practice on Thursday, November 2, open to riders of all ages. It will not be run on the whole track as certain sections are saved for eligible riders for Friday's practice and Saturday and Sunday's races.
Glen Helen is the Disneyland of American motocross. There are thrill rides just waiting over the next hill.
EARLY BIRD SPECIALS
Take advantage of the special Early Bird entry fee of only $50 for pre-entries (second class entries are only $40) This offers runs from June 1 to June 30, 2023.
On July 1 the Early Bird entry fee is $60 for the first class and $50 for a second class—this awesome deal ends on July 31, 2023.
There is an August 1 to August 31 special entry fee of $70 for the first class (and $60 for a second class).
The September Early Bird Special is $80 for the first class (and $70 for a second class).
If you wait until October to pre-enter, the entry fee will be $100 for the first class (and $90 for a second class). This offers ends on November 3, when all pre-entries are closed.
Whatever you do, don't wait until race day to enter because post entries at the track are $150 for the first class and $90 for a second class. It may sound expensive, but with almost 1000 riders at the race, there is no one the track personnel can handle a late rush of post entries—which is why Glen Helen offers entries on a tiered price schedule starting at $50 on June 1, 2023.
2023 WORLD VET CUP OF NATIONS TEAM RACE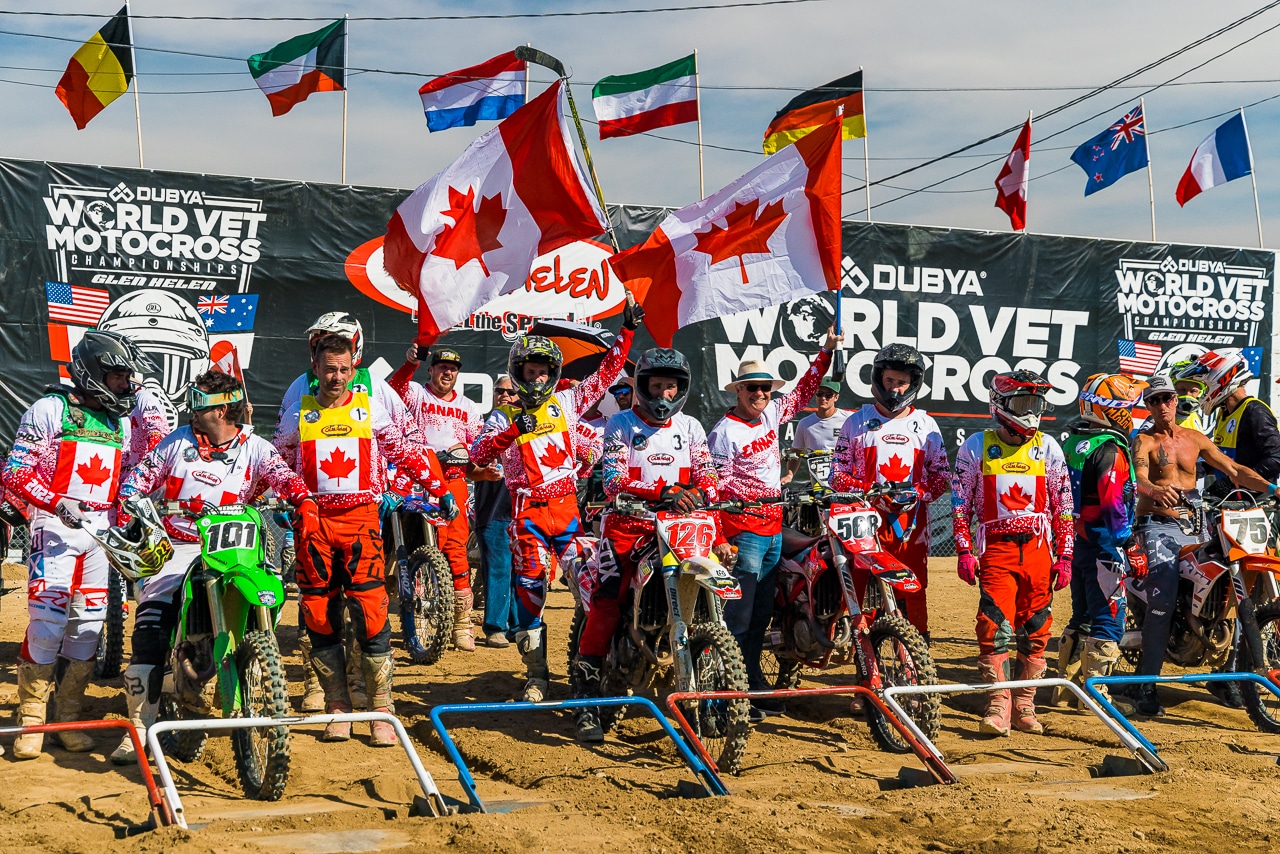 The World Vet Cup of Nations allows each country to field three three-man teams with riders from three different age groups. Here are the powerful Canadian teams from the 2022 event.
Each nation can enter up to three teams in the World Vet Cup—each team will consist of three riders made up of riders who meet the age requirements to race in the Over-30, Over-40 and Over-50 classes. Any rider over the age of 30 can fill the team's Over-30 spot, however,  only riders over 40 years of age can fill the Over-40 spot on the team and only riders over 50 years old can fill the Over-50 year-old team spot.
There are new rules for the 2023 a World Cup of Nations:
(1) To be deemed a valid representative of a country, the rider must possess and present an official birth certificate or passport from the country being represented.
(2) All three team riders should be from the country they are representing. However, if only 2 riders from that country are available, a third rider can be drafted from another country to fill out the third spot on a team, but there will be a 5-place penalty assessed to the team's overall finish points for each moto.
(3) Racing consists of two motos, one on Saturday and one on Sunday. Points are scored based on finishing position within each age group. A country whose team finished 1st in the Over-30 group, 1st in the Over-40 group and 1st in the Over-50 group would have a team total of 3 points for the moto. The country team with the lowest score after both motos scores are combined will be the overall World Vet Cup of Nations Championship team.
(4) National flag race bibs will be provided to each rider of the country being represented. Failure to wear your bib will result in a 5-place penalty for your team.
With 1000 riders from 25 different countries, the World Vet is like a "Woodstock of Motocross"—with lots of racers who are old enough to have been at Woodstock.
NEVER BEEN TO GLEN HELEN? TAKE A LAP OF THE GREATEST TRACK IN THE WORLD
Don't miss out on this prestigious event! Mark your calendars & secure your pre-entries as early as June 1 (which is Thursday). You can pre-enter for the "Early Bird" discount by
Clicking Here
\