MOTOCROSS ACTION'S WEEKEND NEWS ROUND-UP: IT'S CRUNCH TIME
Click on images to enlarge
LAST WEEK IN FINLAND: FERRANDIS AND BUTRON PENALIZED TEN SPOTS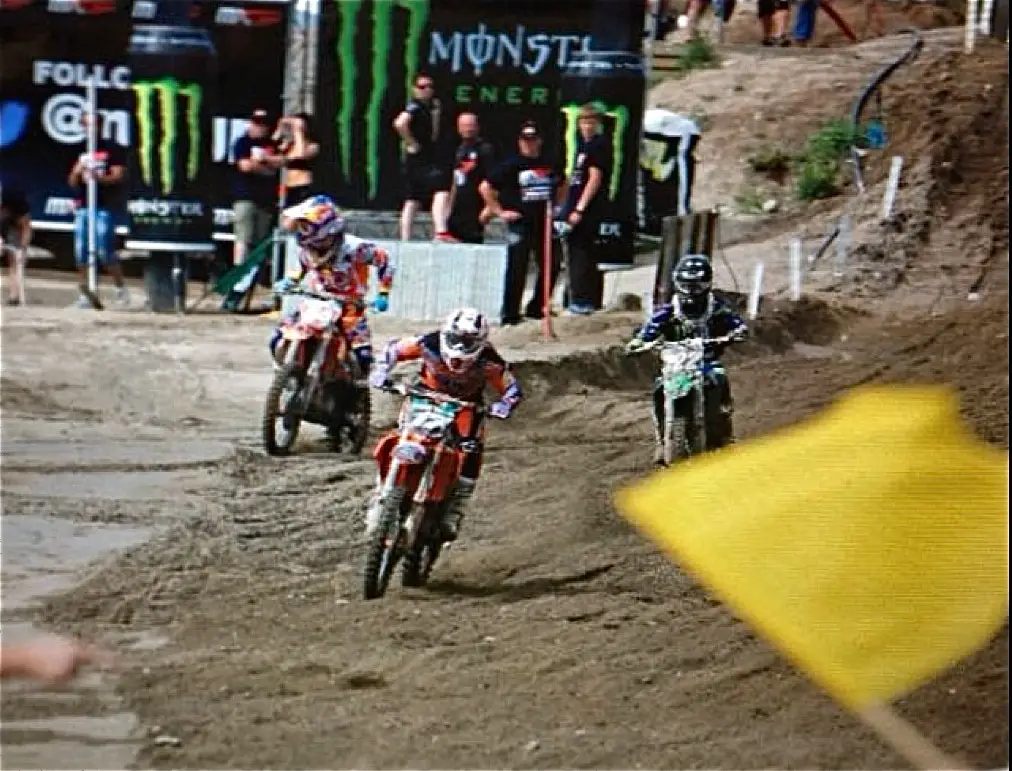 Jeffrey Herlings (left) must have mistaken the yellow flag for a red flag because he is definitely off the racing line. Butron (center) and Ferrandis (right) passed Herlings, but did the FIM expect them to follow the KTM rider off the track?
While running second and third behind Jeffrey Herlings last week in Finland, Jose Butron and Dylan Ferrandis were penalized 10 spots for passing Jeffrey Herlings on a yellow flag. Ferrandis even gave the spot back. Both Butron and Ferrandis claimed that Herlings raised his hand and pulled off the track (which video from the race confirms). However, the rules say that you can't pass on the yellow flag in the GPs—and the two riders were sent back ten places. Both riders were philosophical, but Ferrandis announced that as soon as his 2015 GP contract expires that he will move to America (where you can pass on the yellow in the Nationals).
LAST WEEK IN CANADA: ALESSI RUNS OUT OF GAS AND FINISHES 18TH, MAKES PIT STOP IN MOTO 2
Mike Alessi.
While winning the first moto at Gopher Dunes during the 2014 Canadian National Championships, Mike Alessi ran out of gas on the final lap. Because he had lapped a lot of riders, he was eventually scored in 18th place. For the second moto, his team arranged to have fuel in the mechanics area and Alessi was able to stop, get a splash of fuel and still hold on to the lead. But his 18-1 landed him in 8th overall. Colton Facciotti, who leads the Alessi by 28 points, took the overall win with a 1-2.
LAST WEEK IN AUSTRALIA: JAY MARMONT CALLS IT QUITS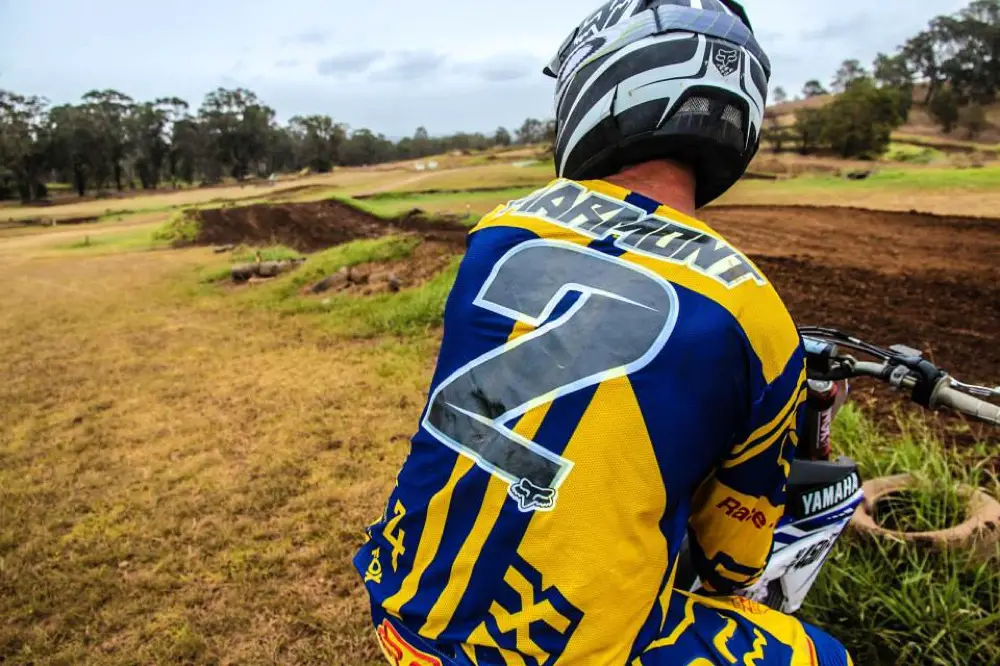 Jay Marmont.
Four-time Australian National Champion Jay Marmont announced that at the end of the 2014 season he will retire. Marmont said, "I really like the way Ricky Carmichael conducted himself after racing. He gives back to the sport in the right way. Through his off-road academy schools and also being an ambassador for the sport/team manager, he basically makes the sport better. I think that would be a good role for me. I have been around the sport for a long time now as probably one of the youngest riders who have been on both sides of the fence coming off the track and stepping into that role in life. I think I can bring a lot of experience, so who knows, hopefully a few doors will open after the end of this year and I can help out as many people as I can. Hopefully I can find that same fuel that fired me to win all my championships in Australia." Marmont was the Aussie 450 champ in 2008—2011.
LAST WEEK IN AMERICA: MALCOLM STEWART GETS SICK…WILL MISS MILLVILLE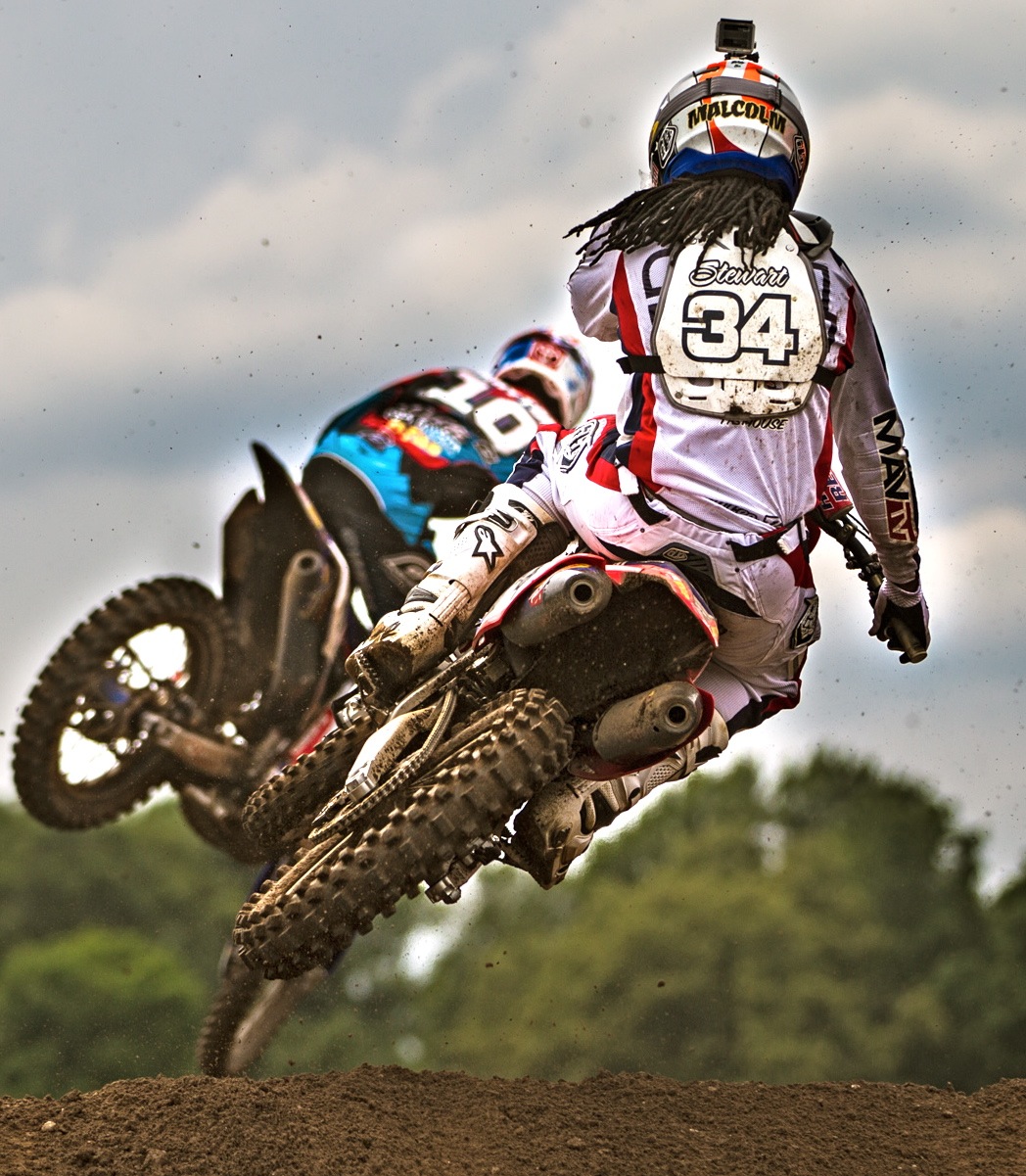 Malcolm Stewart (34) chases Justin Brayton.
While running 10th in the 2014 AMA 450 National Championships, Troy Lee Designs Malcolm Stewart suffered dehydration and will sit out this weekend's Millville round—and lose his current top ten place. There are four Nationals to go in the season (Washougal, Unadilla, Indiana and Utah), so Malcolm can regain the lost points. Plus, after Washougal there is a weekend off to help him recover fully.
LAST WEEK IN FRANCE: MOTOCROSS DES NATIONS TEAM ANNOUNCED

Gautier Paulin (21) is injured at the moment, but the French have faith that he'll be back up to speed soon.
France announced that its team for the 2014 MXDN in Latvia will be Gautier Paulin, Steven Frossard and Dylan Ferrandis. This not a surprise, although some French fans wanted Jordi Tixier, Romain Febvre or Marvin Musquin to get the spot. Meanwhile, Italy announced its team of Davide Guarneri, Davide Philippaerts and Antonio Cairoli. The big surprise on the Italian squad is that Cairoli will raced the 250 class (kinda odd for the 450 World Champ to move down to the 250, but he has the most experience on a 250 and is the lightest of the three named riders).
LAST WEEK IN FINLAND: FERRIS TO STAY IN EUROPE —STYKE PROBABLY NOT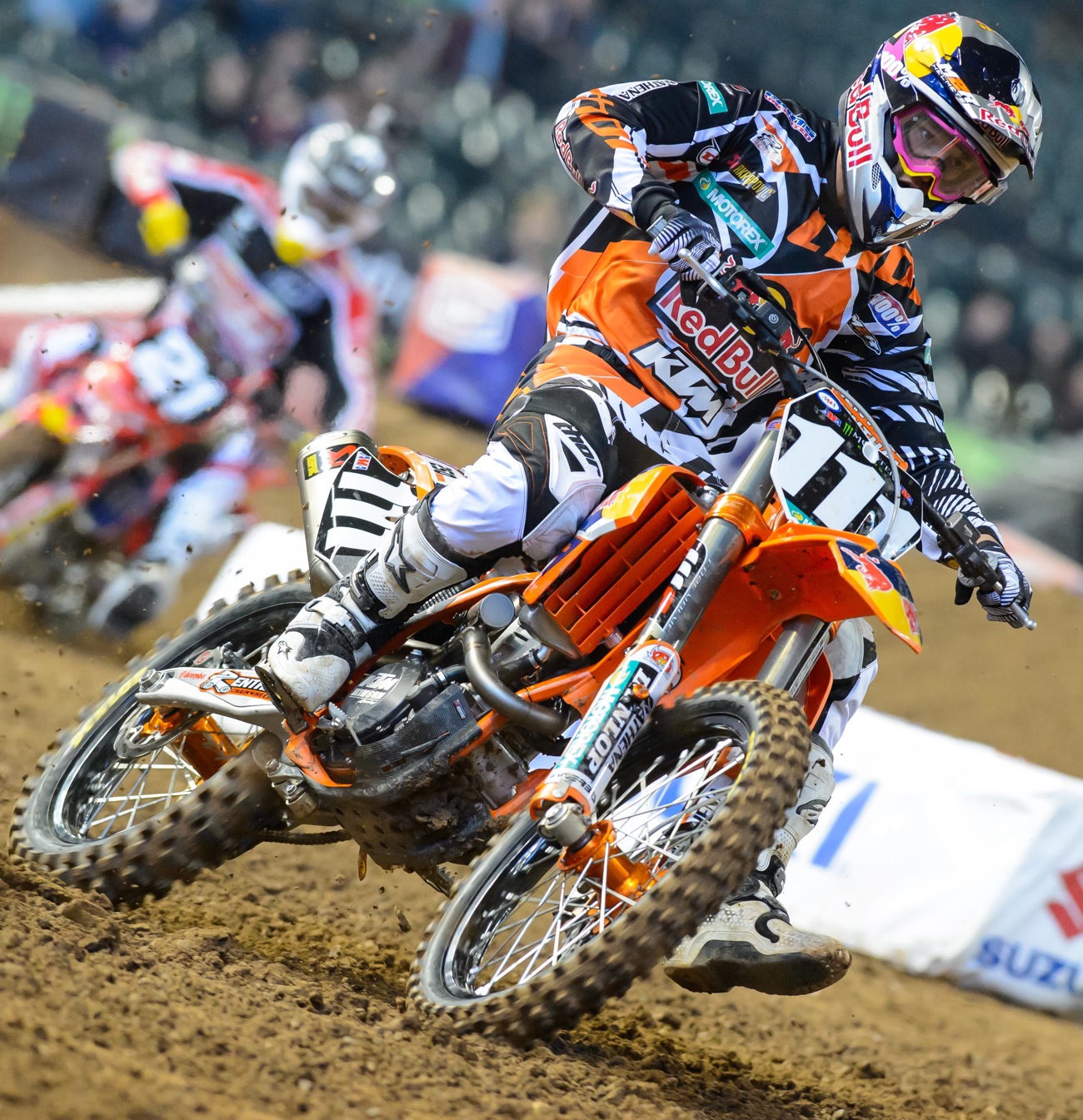 Dean Ferris' American adventure ended when he got hurt back in February.
Roger DeCoster lent Dean Ferris to Husqvarna to fill in for their injured riders (Todd Waters and Tyla Rattray), but given that Ferris is actually signed to race the AMA Nationals in 2014, this mid-season trade seemed a little strange. However, since Ferris got hurt during the Supercross series and wasn't ready for the first few AMA Nationals, Roger had nothing to gain by sending him out to race a few Nationals rounds. It was in Ferris' best interest to go to Europe and try to impress a GP team—because he will not be re-signed at KTM USA for 2015. Ferris finished sixth overall in Finland. Because of the situation in the Ukraine, that GP has been dropped from the schedule, which means that after the August 3 Belgian round, Ferris could return to the USA and race Unadilla (with Herlings), Indiana and Utah before having to be in Brazil on September 7. Hopefully, Ferris can sign on with a GP team for next year.
Fellow Aussie Luke Styke has had a bad 2014 FIM 250 Grand Prix season. Styke failed to score points in Qatar, Thailand, France, Italy and Finland and is currently 23rd in 250 GP points. Now, after hurting his shoulder in a first turn crash last week, he will miss even more GPs. It is likely that Luke Styke will return to Australia for the 2015 season.

SPANISH ODE TO REM…WITH A SENSE OF HUMOR
Spanish FIM Vet World Cup racer Kim Sunol fell in love with Glen Helen when he raced the two USGP's there in 2010 and 2011. He liked the vibe so much that he returned to race the 2012 and 2013 World Vet Championship at Glen Helen as part of Spain's national team. He even has a collection of Spanish-made T-shirts (click on photo above) that are reprints of popular REM race posters (even though he has never raced at REM). Nothing odd about that—except for the fact that these T-shirts aren't available in the United States (not even at REM races). You may recognize some of the posters…and, in fact, the one for this weekend race (second from the left) has already been made into a T-shirt in Spain.
Equally funny is Kim Sunol's personal logo for his race team. It turns out that Kim Sunol, motorcycle racer, is actually Doctor Kim Sunol M.D., one of Spain's best known plastic surgeons. His T-shirt says, "The Real Doctor—The Fastest Plastic Surgeon On The Planet." The tongue-in-cheek T-shirt pokes fun at both James Stewart's Fastest Man on the Plant reputation and Doug Dubach's "Doctor D" nickname. It's all in fun as Dubach's DR.D Racing team sponsored Kim Sunol and let him pit out his truck at the USGP. We are now waiting for the "Fastest Proctologist On The Planet" or the "Fastest Funky Disco DJ On The Planet" to make their claims.
THIS WEEKEND'S REM RACE POSTER…AS SEEN IN SPAIN
For more info go to www.remsatmx.com
USED IT, ABUSE IT, TESTED IT: DICK'S RACING QUAD FLOW TORQUE WING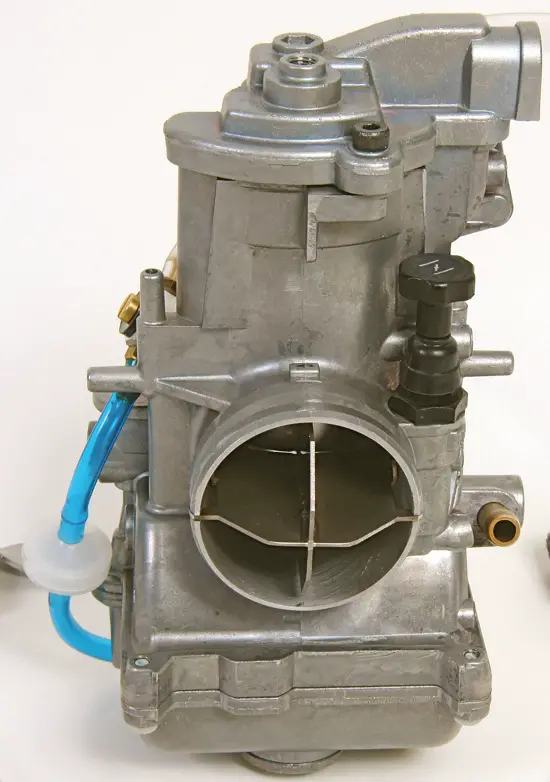 The Quad Flow Torque Wing is an intake tract winglet for two-stroke carbs, we tested it on a 2013 KTM 250SX, that changes turbulent air in laminar flow air to improve throttle response. Unlike most winglets, the Quad Flow Torque wing mounts on the cylinder side of the carb instead of the airbox side.
VERDICT: Every test rider felt increased throttle response at low rpm, a smoother transition from the low-end to the midrange and a more flexible powerband across the range. Power take-up felt crisper and, best of all, the dips in power curve were ironed out. The benefit of increasing air velocity is that more air carries more fuel which results in more effective combustion. It is a win-win. $150.00?www.dicksracing.com or (916) 722-2373.
BIRTHDAYS OF THE WEEK:  BADSHAW & THE FLYIN' HAWAIIAN


July 19…Damon Bradshaw 1972
July 19…Cole Siebler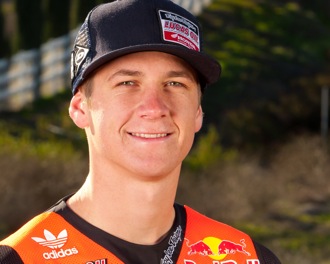 July 19…Christian Craig 1991
July 19…Mel Pocock 1992

July 19…Jonathan Barragan 1985

July 20…Christophe Charlier 1991
July 21…Allan Brown

July 21…John DeSoto 1947
July 23…Adam Jones 1984
July 24…Bobby Moore

July 24…Petar Petrov 1994
WHO'S WHO IN THE AMA NATIONAL ZOO: HEADING TO WASHOUGAL

Eli Tomac (3) missed the first four AMA 450 Nationals, but earned 118 out of a possible 150 points since returning.
DATE………..TRACK………..450………………..250
May 24………Glen Helen……….Ryan Dungey……….Jeremy Martin
May 31………Hangtown…………Ken Roczen………….Jeremy Martin
June 7……….Thunder Valley….Ken Roczen………….Blake Baggett
June 14………Mt. Morris……….James Stewart………Blake Baggett
June 28………Muddy Creek…..Ken Roczen…………..Cooper Webb
July 5…………Red Bud………….Ken Roczen…………..Jeremy Martin
July 12……….Budds Creek…….Ryan Dungey…….….Blake Baggett
July 19……….Millville…………..Eli Tomac……………..Jeremy Martin
July 26……….Washougal………
Aug. 9…………Unadilla…………
Aug. 16……….Indiana…………..
Aug. 23………..Miller …………..
450 Points Leader: Ken Roczen
250 Points Leader: Jeremy Martin
WHAT'S HAPPENING IN THE WORLD OF MOTOCROSS?
The NMA Grand National Championship runs from July 18 to July 23.
July 18-23…NMA Grand National Championship.…….…Oklahoma City, OK
July 20……..World Sidecarcross Championship……………Germany
July 20……..All-Japan National Championship………..…..Fujisawa, Japan
July 20……..Maxxis British National Championship……..Doncaster, GB
July 20……..Canadian National Championship……..……..Sand Del Lee
July 26……..250/450 AMA National Championship………Washougal, WA
July 27……..AMA Supermoto Championship…………………Salt Lake City, UT
July 27……..250/450 FIM World Championship……………Czech Republic
July 27……..WMX Women's World Championship………..Czech Republic
July 27……..Canadian National Championship……..……….Deschambault
July 27-Aug.2……Loretta Lynn National Amateur….………Hurricane Mills, TN
USED IT ABUSED IT, TESTED IT: PRO CIRCUIT KTM 250SX EXHAUST PIPE
This pipes adds 7 horsepower to the 50-horsepower KTM 250SX. No, that doesn't mean that it now makes 57 horsepower, but that it makes 7 more horses in places where it was weak. In stock trim, the KTM 250SX two-stroke makes the most horsepower of any 250cc two-stroke sold. It peaks out at 50 horsepower. If the KTM 250SX has a weak link, it is that the power doesn't do much after its 8400 rpm peak. Bolting the Pro Circuit pipe onto the stock KTM 250SX adds a half horse at 8500 rpm, 5-1/4 horses at 9000 rpm and an amazing 7 horses more at 9500 rpm. That power makes an incredible bike even better by broadening out the two-stroke thrust.
VERDICT: The pipe was awesome, but just the Pro Circuit silencer had the ability to add two horses to the powerband from 8600 rpm to 10,000 rpm. $229.95 (pipe only), $119.95 (R-304 silencer). www.procircuit.com or (951) 738-8050.
HOW MANY MOTOS BEHIND ARE THE CHASERS?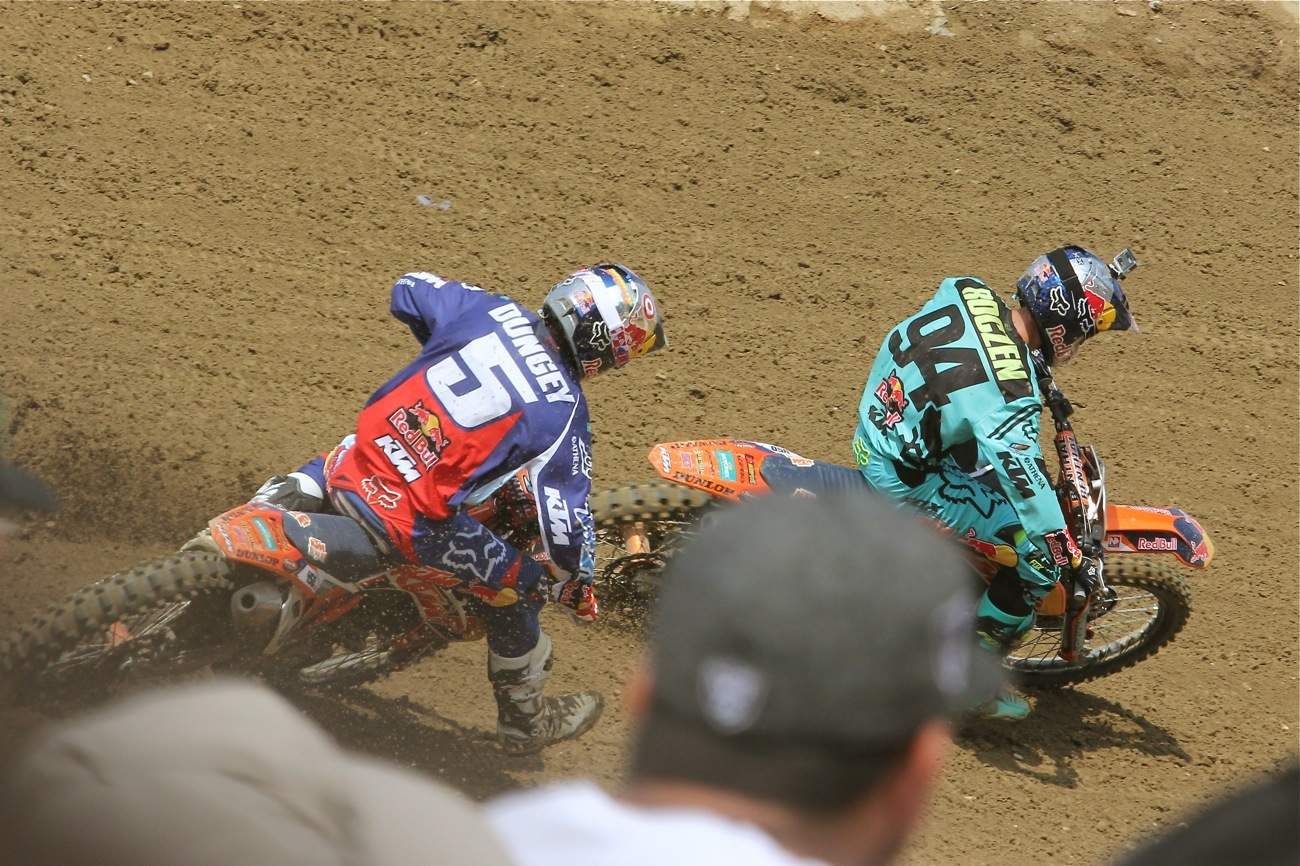 Ken Roczen (94) has a one moto lead over everyone except Ryan Dungey, who is  24 points behind.
Since the AMA pays 25 points per moto win (which adds up to 50 points for a 1-1 day), you can simply count how many points behind the chasers are from the points leader or, as the season progresses, you can start to count how many motos the top 15 riders are behind (which then leads to how many complete races they trail the leader). For example, Ken Roczen has 367 points and Ryan Dungey is 24 points behind Kenny at 343. That means that Ken and Ryan are still racing in the same moto. If Kenny has a bad moto and DNF's at Washougal, he will be one point behind Ryan Dungey (assuming Dungey wins the same moto). With this mathematical concept in hand, let's list how many motos the major contenders trail Ken Roczen in the 450 Nationals (with 4 races to go — or 200 points to go). Anyone more than 200 points behind is mathematically eliminated from the title chase.
ON THE SAME MOTO (within 25 points)
1. Ken Roczen…………….367
2. Ryan Dungey………….-24
ONE MOTO BEHIND (within 50 points)
No one
TWO MOTOS BEHIND (within 75 points)
3. Trey Canard………….-66
THREE MOTOS BEHIND (within 100 points)
No one
FOUR MOTOS BEHIND (within 125 points)
No one
FIVE MOTOS BEHIND (within 150 points)
4. James Stewart……….-141
5. Brett Metcalfe………..-145
6. Josh Grant…………….-149
SIX MOTOS BEHIND (within 175 points)
No one
SEVEN MOTOS BEHIND (within  200 points)
7. Weston Peick…………-179
8. Andrew Short………..-180
9. Eli Tomac……………..-199
EIGHT MOTOS BEHIND (within 225 points)
10. Chad Reed…………….-221
NINE MOTOS BEHIND (within 250 points)
11. Malcolm Stewart…….-239
TEN MOTOS BEHIND (within 275 points)
12. Fredrik Noren………..-258
13. Phil Nicoletti………….-262
14. Matt Goerke…………..-268
15. Ben Lamy……………….-271
MEMORIES OF THE WAY WE WERE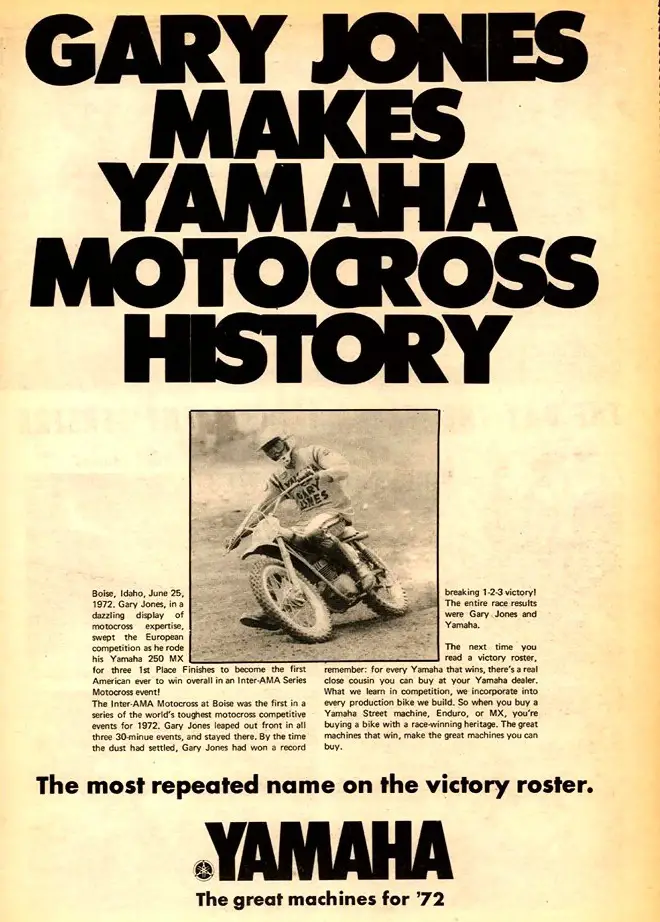 Yamaha win ad for the 1972 Inter-AMA series with Gary Jones.
Photos: John Basher, John Ker, Ray Archer, Geico Honda, Moto Magazine, Marmont Facebook, Scott Mallonee, Kawasaki, KTM