450 FASTEST QUALIFIERS | 2018 MINNEAPOLIS SUPERCROSS (UPDATED)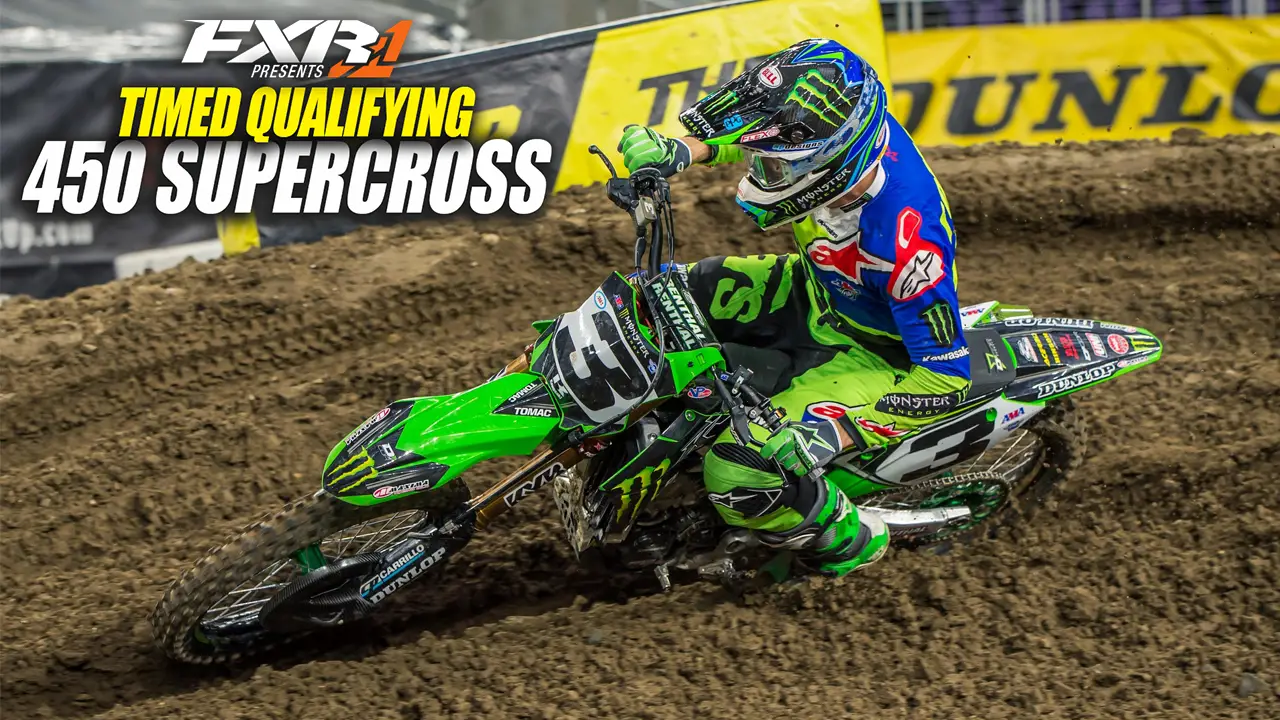 In 450 session one, it was an all out brawl between Justin Brayton, Eli Tomac, Weston Peick and Jason Anderson. But in session two, things were completely different. The leader boarded changed names almost every lap here in Minnesota. The track is slowly breaking down and rutting up, so you can best bet on an exciting race tonight.
OVERALL FASTEST TIME (TOP 20)
Eli Tomac (Kaw)–

48.709

Malcolm Stewart (Suz)–

48.726

Marvin Musquin (KTM)–

48.818

Christian Craig (Hon)–

49.262

Weston Peick (Suz)–

49.307

Jason Anderson (Hus)–

49.312

Justin Brayton (Hon)–49.362

Tyler Bowers (Kaw)–49.636

Blake Baggett (KTM)–

50.126

Cooper Webb (Yam)–

50.520

Justin Barcia (Yam)–

50.673

Vince Friese (Hon)–51.226

Benny Bloss (KTM)–

51.241

Cedric Soubeyras (Suz)–

51.390

Dakota Tedder (KTM)–

51.415

Ben Lamay (Hon)–

52.106

Kyle Cunningham (Suz)–

52.117

Henry Miller (Suz)–

53.064
This could be a very big night for Eli Tomac. Why? Because so far he is 2 for 3 in the triple crown. He's won the first two–and by the way he looked in session two, he could clinch it.
Its been a few weeks since we've seen Malcolm Stewart up on the qualifying board. He qualified in second today, and looked smooth while doing it.
Marvin Musquin could be a dark horse coming into the night show. He likes this triple crown format, and looks to possibly be a fan favorite to step in the middle.
450 QUALIFYING SESSION 1
Justin Brayton (Hon)–

49.934

Eli Tomac (Kaw)–

49.961

Weston Peick (Suz)–

50.140

Jason Anderson (Hus)–

50.152

Dean Wilson (Hus)–

50.171

Malcolm Stewart (Suz)–

50.203

Marvin Musquin (KTM)–

50.229

Blake Baggett (KTM)–

50.308

Justin Barcia (Yam)–

50.673

Christian Craig (Hon)–

50.934

Cooper Webb (Yam)–

51.080

Tyler Bowers (Kaw)–

51.147

Benny Bloss (KTM)–

51.760

Chad Reed (Hus)–

51.784

Cedric Soubeyras (Suz)–

51.876

Vince Friese (Hon)–

51.992

Kyle Cunningham (Suz)–

52.225

Ben Lamay (Hon)–

52.933

Adam Enticknap (Hon)–

53.558