450 FASTEST QUALIFIERS | 2018 SALT LAKE CITY SUPERCROSS (UPDATED)
The 450 class has stirred up quite a bit of controversy over the last few weeks. Especially after last weekend's Marvin Musquin vs. Eli Tomac scandal. The fans piled in to Salt Lake City for round 16, and we can ensure you that you will not be disappointed.
450 OVERALL QUALIFYING TIMES (TOP 22)
Eli Tomac (Kaw)–46.618
Marvin Musquin (KTM)–

47.272

Weston Peick (Suz)–

47.845

Dean Wilson (Hus)–

47.913

Justin Barcia (Yam)–

47.914

Benny Bloss (KTM)–

48.025

Jason Anderson (Hus)–

48.083

Blake Baggett (KTM)–

48.172

Tyler Bowers (Kaw)–

48.275

Malcolm Stewart (Suz)–

48.310

Christian Craig (Hon)–

48.616

Chad Reed (Hus)–

48.865

Justin Brayton (Hon)–

49.055

Cedric Soubeyras (Suz)–

49.536

Vince Friese (Hon)–

49.733

Alex Ray (Yam)–

50.138

Austin Politelli (Hon)–

50.426

Kyle Cunningham (Suz)–

50.515

Henry Miller (Suz)–

50.752

Aj Catanzaro (Kaw)–

50.766

Josh Hill (Yam)–

51.022

Carlen Gardener (Hon)–

51.148
Eli Tomac jumped to the top of the 450 leaderboard in session one, and in session two. He's coming into round 16 with a chip on his shoulder, no doubt.
It was a mirror image of session one between these two in the second session. Marvin Musquin was not far behind Tomac. Unfortunately for you guys, we won't see these two together again until the main (as they will be in separate heats).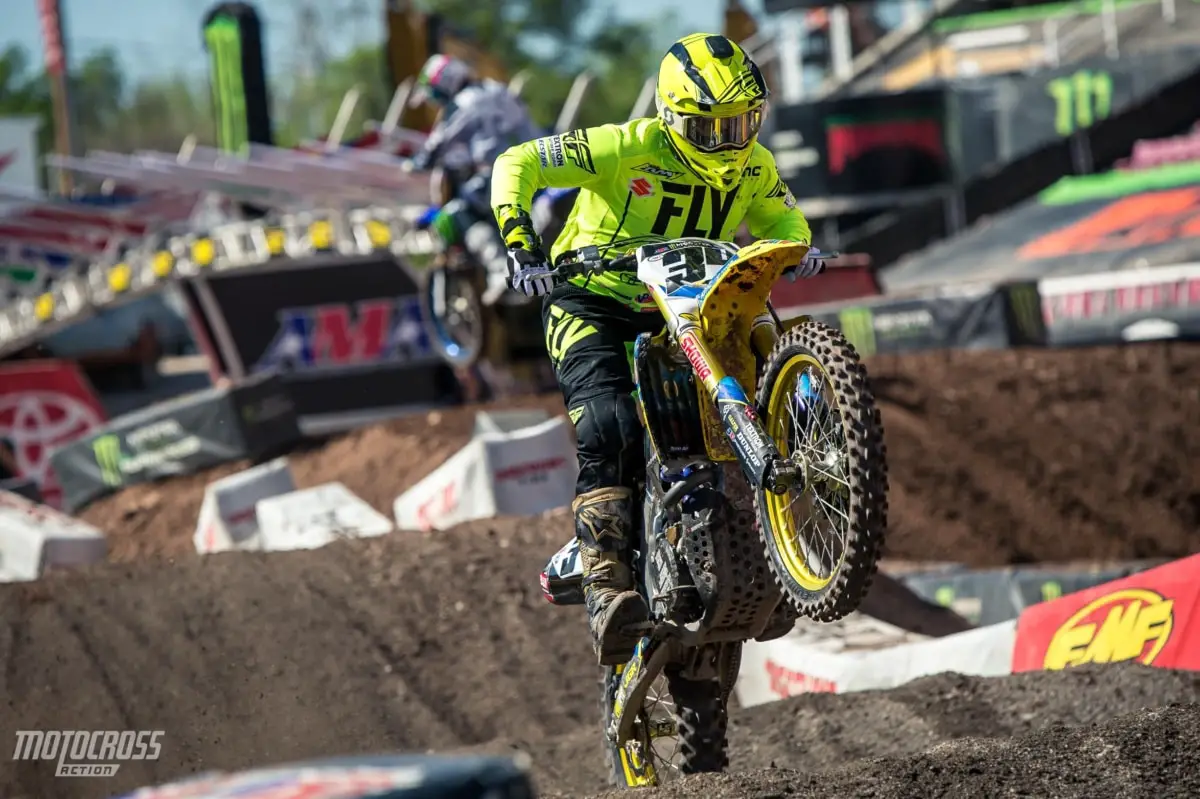 Another Autotrader Suzuki rider hopped up into the third spot, and that is Weston Peick. There is no question that the number 34 is long overdue for a podium. Could tonight be the night?
450 QUALIFYING SESSION 1
Eli Tomac (Kaw)–

47.378

Marvin Musquin (KTM)–

47.855

Malcolm Stewart (Suz)–

48.310

Weston Peick (Suz)–

48.583

Dean Wilson (Hus)–

48.595

Christian Craig (Hon)–

48.616

Justin Barcia (Yam)–

48.701

Blake Baggett (KTM)–

48.793

Tyler Bowers (Kaw)–

48.976

Jason Anderson (Hus)–

48.999

Justin Brayton (Hon)–

49.393

Benny Bloss (KTM)–

49.682

Chad Reed (Hus)–

50.763

Cedric Soubeyras (Suz)–

50.817

Vince Friese (Hon)–

51.586

Kyle Cunningham (Suz)–

51.884

Alex Ray (Yam)–

51.936

Josh Hill (Yam)–

52.109

Henry Miller (Suz)–

52.150

Jacob Weimer (Hon)–

52.354

Aj Catanzaro (Kaw)–

53.665

Brandon Scharer (Yam)–

54.909